SEO has changed dramatically in the past few years, resulting in drastic changes to SEO strategies. One of the biggest changes to emerge is the shift to high-quality content.
Content has become crucial to a website or business's credibility. The main focus is to create helpful and useful resources that will grab your audience's attention and establish yourself as a credible source of information.
In order to get to this point, it is important that you:
Understand how this will help your audience;
Break down your audience;
Establish what topics you want to focus on; and
Execute.
How This Will Help
Content comes in various forms including blog posts, videos, webinars, PDF guides, infographics, podcasts and many others. By creating this content and sharing it with your audience, you are generating discussion and creating "buzz" that can then spark an increase in visitors to your site and, eventually, customers.
Audience
Before conducting content research, it is essential that you establish what kind of content you want to create. The best way to determine this? Know your audience.
Defining what age demographic as well as what industry your main focus is will help determine what topics to consider when creating new content. If you already know what industry you are focusing on and your age group, these will provide a great starting point.
Topic
The next step will be to determine the best topic for you to focus on. It can become quite hard to come up with these topics without conducting any research as to what you should target. A great first step would be to research your competitors and see what keywords they are targeting and which ones you would like to compete for.
Semrush offers various tools that can assist with this function. A great first step would be to use the Organic Research Positions report. This report will show you where your competitors are ranking for specific keywords.
By analyzing this list you can start to sift through and determine based on the Traffic %, which keywords are providing the most traffic for your competitor. By compiling these keywords from your competitors, you can start to develop a clearer picture of the content you may want to provide your customers.
By selecting the keywords from the Organic Positions Report, you will then be redirected to the Keyword Overview page for that specific keyword. In doing so, you will see two reports that will help in narrowing down to a more specific topic. Both the Related Keywords and the Phrase Match Keywords will assist in generating these specific keyword ideas.

For those who do not know, the Related Keywords Report will show you related keywords to the query entered or searched. The Phrase Match Report will provide results that include the particular phrase entered or searched. You can now look at these reports and narrow down exactly what specific topic you wish to focus on in your content.
Another great tool to help analyze content ideas would be the Backlinks tool. By reviewing your competitors' backlinks, you can see which landing pages have been generating the most links back to the site.
The Indexed Pages Report will show what content your competitors are creating and which landing pages are generating the most backlinks. This will then give you a better understanding of your competitor's top pieces of content. With this information you can then come up with a piece of content that can compete against this and rival your competitors' information.
If you want to target keywords you are already ranking for or improve the position of a keyword, the Domain vs. Domain tool will show you your position along with that of your specified competitor. From there, you can compare rankings.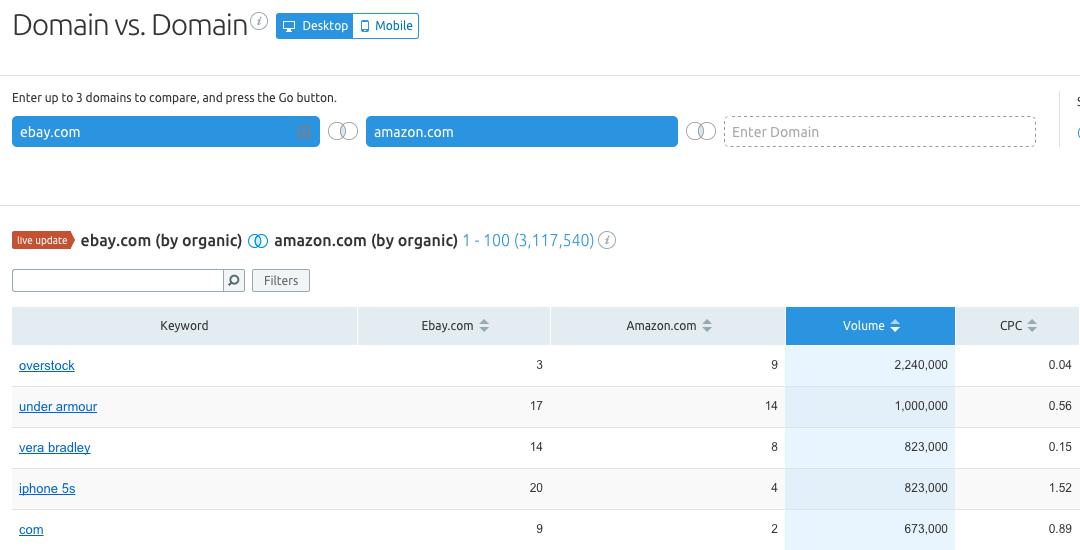 By reviewing this information, you can then look more closely at what keywords you need to improve on. Also, if you want to get more specific with these keywords, you can click on a specified keyword and review the Related Keywords report and the Phrase Match report as noted earlier.
Execution
With this information, you can now determine which topics you should focus on as well as determine what form will work best. By reviewing what forms of content your competitors have used along with your own analytics, you can see which forms have performed the best and which have not. By reviewing your competitors' content and seeing which have generated the most backlinks, you can determine which form has been most successful for them. Also, by reviewing past pieces of content you have created, you can determine what has historically worked best for you.
Another thing to keep in mind is that different forms of content will work better depending on the industry. For example, there may be some industries that do not utilize blogs as much as others. A video or a podcast might be more suitable in that case.
Conclusion
Utilizing this information will help you generate content, grow your audience and provide endless possibilities for your brand. Have any questions about any of the Semrush tools mentioned in this article? Leave a comment!
If you still have questions about any of this information, please feel free to reach out to our Customer Success Team at: (855) 814-4510 or by email at mail@semrush.com.