The importance of acquiring non-branded traffic from AdWords, GDN and other paid traffic sources can not be neglected.
It's essential for any business that wants to attract new customers. So, basically, for every business.
Looking back over the past nine months, SEMrush's revenue from non-branded pay-per-click campaigns has increased by 94 percent: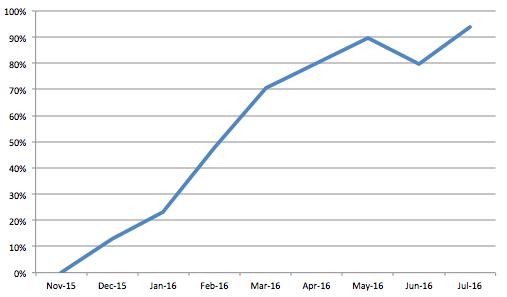 The level of our advertising spends, at the same time, has remained the same:

We love great case studies. And when there's one inside your own company, you can't help highlighting it.
So we held five in-depth interviews with members of SEMrush's PPC team to find out how they achieved this result.
The actions taken can be categorized into five key practices:
We relied on big data and thoroughly analyzed user behavior
We optimized our keyword strategy from soup to nuts (coming soon)
We conducted dozens of experiments with landing pages and ads (coming soon)
We monitor and take advantage of Google updates (coming soon)
We made good use of tools to automate and improve as much as possible (coming soon)
Should I read it if I sell shoes while SEMrush is subscription-based?
Of course. When calculating profits, only first payments are taken into account. SEMrush functions on recurring subscriptions, but the initial transaction hurdle is still as hard to overcome as it is in any other industry. This is why the techniques used by our PPC team are relevant for other types of businesses, including those that function on a single purchase system as well.
So, let's jump to the first key practice:
Big data analysis techniques that helped SEMrush increase its revenue from non-branded PPC campaigns by 94%
We started with a profound analysis of how our users behave and how to communicate with them.
This is how we dip our hands into big data and got many useful insights from it.
Few but precious: we used our analytical tools to their full capacity
Before September 2015, our insights were mainly based on Google Analytics data. GA is a fantastic (and free) tool that allows you to track and analyze thousands of parameters.
But when it comes to big websites (ones that have 100k sessions for the active date range or more than 1 million conversions), the data are aggregated:

We think Avinash Kaushik was so right in saying, " All data in aggregate is crap." This is why having complete data was vital for us.
We also didn't have the capability to analyze our data at the user level. And we were never sure that our metrics and dimensions were grouped correctly by the free version of GA.
Here's why…
We took advantage of BigQuery
This tool, which is powered by Google, gave us the ability to extract any data concerning source, destination or conversion – right down to every click the user made on any page of our website.
It took us quite a while to get acquainted with BigQuery's opportunities (and we are still in the process of learning). We first started using it occasionally and then on a more regular basis in March 2015; and in September 2015, we started making full use of it.
In our first tentatives, we created a couple of simple queries regarding registrations and payments, specifying only the source (paid traffic).
Then we started playing with more parameters. Here are some examples:
We integrated AdWords data into BigQuery, so we now have up-to-date statistics on clicks and spends. This is a pretty basic thing for any business running paid ads – otherwise, we wouldn't have a full picture of our spend in relationship to the goals we set.

Now we specify the date range. If a prospect makes a purchase more than 40 days after interacting with our ad, he or she isn't registered as a PPC lead.

We started considering refunds (using subscribers' transaction IDs). Sometimes a refund can mislead you and seriously affect your ROI calculation.

Now we identify cheaters and exclude them from our advertising audiences to save budgets. Using ClientID we identify the number of accounts created by each user. If we see that a particular user created multiple profiles, we conclude that he or she most likely does so to bypass the limitations of a free SEMrush account.
All "extraordinarily large" purchases of PPC leads are taken care of individually. An X-thousand-dollar conversion can strongly impact data interpretation, so we double-check these prospects' paths and track their activities after their purchases.
However, we still use GA to compare and verify our data.When it comes to analyzing large volumes of data, you can't rely on a single tool. Incorrect queries, loss of data, errors of any kind – these can occur any time. That's why we keep using Google Analytics. It also helps us сreate remarketing audiences.
Another handy GA feature is a Real-time view that allows getting an immediate snapshot of a website's traffic.
When it comes to analyzing large volumes of data, you can't rely on a single tool. Incorrect queries, loss of data, errors of any kind – these can occur any time.
We added data visualization solutions to be more transparent
Despite its whole range of opportunities and advantages, BigQuery remains a very niche tool. The format of data it provides is quite difficult to elaborate upon and understand for those who are not into analytics – and sometimes even for those who are.
Because visualizing the results of our analysts' work was becoming a huge challenge, we started looking for a tool to make our life easier.
So we discovered Tableau.
This tool allowed us to unite data from multiple sources and represent it in a friendly manner:

Technically, Tableau allows you to connect up to 44 sources. We mainly use the following ones:
Google Analytics

BigQuery

SalesForce

MySQL

Excel

And some more
So you paid $1,999... just to build nice graphs?
Yes, but don't underestimate the power of graphs. Tableau is used by our analytics team to share reports with other departments: business owners, product owners, sales and, of course, marketing department. Not only does it help our analysts get insights more easily, it also involves others in noticing thought-provoking behavior patterns overlooked by colleagues.
Data visualization tools are not only about nice graphs. They help others notice thought-provoking behavior patterns overlooked by colleagues.
And almost immediately we got a confirmation that four eyes (in our case, more than a hundred eyes) see more than two.
Based on data, we identified our bottleneck and improved both conversion and retention
More profound data analysis provided us with justification for many minor tweaks that contributed to improving our conversion and ROI. But we also made some major changes.
Another study of our analysts regarding the reasons why users bounce revealed the relationship between the use of Projects and churn rate. Users with at least one active project were much less likely to churn.
(Why using Projects is helpful for retention: unlike SEMrush analytics reports which you need to generate every time from scratch, projects allow you to accumulate a lot of precious data on a domain and then track its performance over time.)
At the same time, our paid traffic team discovered that the conversion rates of our Project-related landing pages (Site Audit, Position Tracking etc.) were low compared to our other landing pages.
So we tried to understand why this happened.
And we found out that the user had to complete eight steps between clicking the 'Get a free trial' button and getting his first report. Many of these actions weren't intuitive at all.
So we figured out that improving the user experience of Project-related landing pages would provide us with more qualified leads with a longer lifetime value.
This is why we shortened the journey from landing page to completed project as much as possible.
What our submission form looked like before: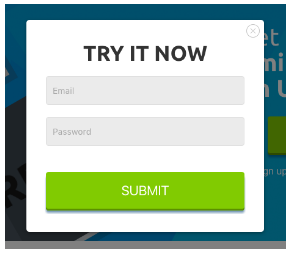 Just two fields. Great, right? But then you need to:
Confirm your email address

Go to SEMrush

Perform a search to get to the dashboard

Find the link to Projects in the left menu and follow it

Click the 'Add New Project' button

Choose the types of projects you want to launch (Site Audit, Position Tracking, etc.) – assuming here you still remember which one you wanted to try

Enter the required parameters (domain name, location, keywords to track or other)

Get the data (finally!)
Those who made it to the last step were really determined. However, we needed to get conversions, not test our users' determination.
So we modified the path this way: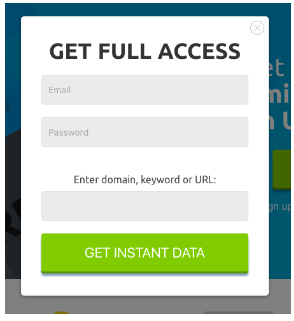 Now the user only needs to fill out one more field. All the following actions occur behind the curtain.
For the user, the process shortened from eight to three steps:
Fill out an additional field (a domain, a keyword or a URL)

Confirm email address

Get redirected to a ready project with instant data (for example, Site Audit):
What was the result?
This additional field slightly reduced form submission clicks, but dramatically increased the number of active users.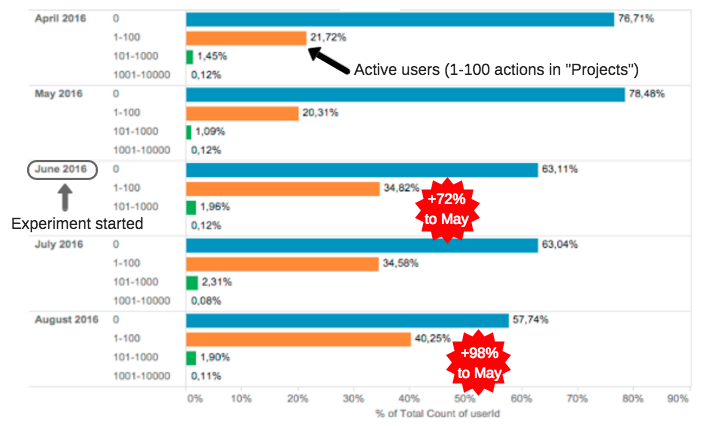 In June, after implementing the shortcut, we had 1,129 new active Site Audit users, compared to 664 in May.
(Only paid traffic leads were considered, obviously.)
What's the takeaway?
Any conversion path has a bottleneck. Finding it is half the battle.
Most often bottlenecks appear at a point where the users would be ready to try your product, so you should avoid asking too much of them at this stage. Don't give them:
Incredibly long forms to fill out

Too many steps to take before getting what was promised

Too much content to read. Content is king, but a king's speech should be succinct.
If you provide a complicated service or product (like ours) that requires some time and effort to dive into, this is essential.
Bottlenecks appear when you start asking too much from the users. Don't frighten them with incredibly long forms or texts. Content is king, but a king's speech should be succinct.
To sum it up:
Google Analytics is a powerful tool, but it's not enough for big websites (in its free version).

An insight based on aggregated data is a poor insight. To avoid data sampling, use tools like BigQuery to get full and accurate information about your users' behavior.

Visualize your data and don't just share it with those who are into analytics. Two heads are better than one.

Choose a few tools and use them to their full capacity. The more tools you use, the more time and efforts you'll spend on ensuring correct data integration.

Identify bottlenecks in your conversion paths and focus on fixing them.

You can never say you're perfect at data analysis. Keep experimenting, optimize queries and look for new ways to represent the big data in a clear and understandable format.
What else did we do to increase our revenue?
Based on our analytical insights, we also took a lot of actions to optimize our approach to researching and managing keywords. Stay tuned for the second chapter of our case study regarding our keyword strategy.