The SEMrush PPC Team's challenge in 2016 was to increase profits from non-branded campaigns by 10-15% every month.
Looking back over the past nine months, SEMrush's revenue from non-branded pay-per-click campaigns increased by 94%: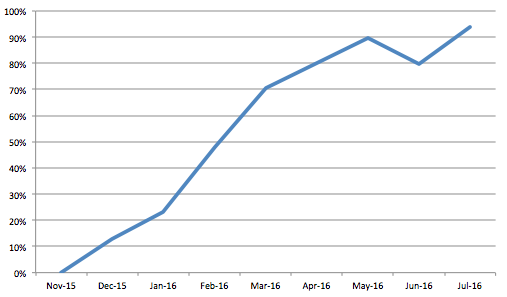 Our revenue from non-branded pay-per-click campaigns increased.
At the same time, our advertising spend has remained the same:

Our advertising spend level has remained the same.
We found out that there were five reasons for our growth:
We optimized our keyword strategy at different angles.
We conducted dozens of experiments with landing pages and ads (coming soon)
We're still keeping up with Google updates (coming soon)
We used tools to automate and improve as much as possible (coming soon)
So what do we do exactly when creating our keyword strategy? Follow us step by step! 
We beef up our keywords list using three tools
We work really hard to gather our keywords, as our campaign's efficiency depends on them.
We use a combination of official Google's services, SEMrush tools and other free tools to discover more non-branded keywords than any other service can offer.
The first step is to use SEMrush. We use Phrase Match and Related Keywords reports to gather as many keywords as possible. This is our main tool for every campaign in every region. Our work results in a huge list, but we're still greedy. We are going to use every keyword we can get.
Our second step is to use Keywordtool.io, which helps us build both USA and regional campaigns. It shows us some new long tail keywords from Google's search suggestions. Its interface is quite simple:

We build our list with SEMrush tools. Then we try to discover some more keywords.
Our third step is to use Google Keyword Planner. We rarely use this tool because it suggests too many irrelevant words, but sometimes it helps. 
After a campaign is created and launched, we look at the Search Terms tab in AdWords to see if we've missed any search terms. This list shows real users' search queries.

Our freshly launched campaign for Spain just found us a list of new matches
Let's not waste time with a long tale about long tails and how to gather them. For those of you who are craving a step-by-step guide, Hubspot has already created one.
We are quite sure that you are seasoned enough to know better than us how to create Phrase Match and Related Keywords reports. Let's just say that we revamp our keyword lists regularly.
Every new SEMrush feature or tool is a reason to expand our keywords set.
Yes, we revise our keyword lists every time we have something new to promote. So we update our ad campaigns frequently.
We also use another secret keyword source...
We ask other SEMrush teams for new ideas – our senior developers always know why a user may be interested in the tool they're working on. For example, one of our experienced teammates offered us to add the keyword "PR" in the campaign dedicated to the Brand Monitoring tool.
After we've made our initial keyword list, we revise it vigorously.
We add cross-group negatives (it helped us to reduce our CPC by 15%)
Most PPC specialists are familiar with the practice of adding negatives to prevent an ad from being shown to people who aren't interested in the offer.
Cross-group negatives are less famous.
Sometimes keywords within a campaign cannibalize each other. For example, we have several ad groups with such keywords as:
how to find backlinks
what is my trust rank?
backlink checker, etc
Then SEMrush gets a new feature (this happens frequently), and a new keyword is added:
backlink toxicity checker 
We use broad match and phrase match. So with this structure, ads in the second group compete with ads in the first group:
backlink toxicity checker vs. backlink checker 
We have plenty of groups, and they compete for impressions: root terms sometimes steal impressions from long tail keywords. As a result, CPC increases.
This happens because Google doesn't consider the difference between ads from the same advertiser and those from different advertisers.
We know we are not alone. You can come across this issue in almost any campaign. It happens when you manage one campaign with several ad groups (like we do), or several campaigns at the same time. 
To prevent this, we add cross-group negatives:
We started adding cross-group negatives in all our campaigns. Our CPC reduced by 15 %, while our CTR improved by 20 %.
Initially, we used Excel and we managed the issue manually.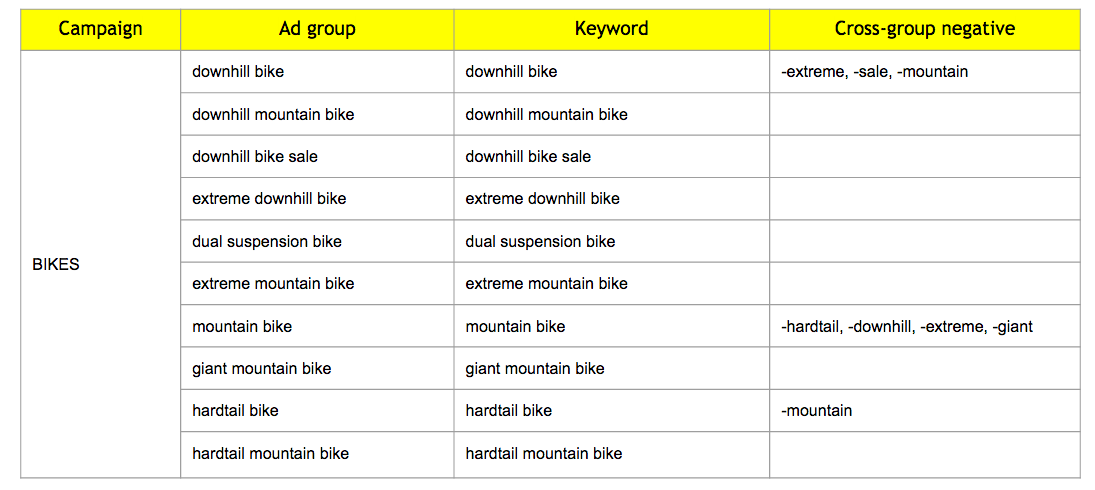 It worked pretty well. We had no reason in the world to stop doing this, as our CPC was reducing drastically, while our CTR was improving. But just imagine adding cross-group negatives if you have 10 campaigns with 500 ad groups each!
It's SEMrush's turn, as no tool on the Internet could simplify our everyday routine like this one.
Automating our process with SEMrush PPC Keyword tool saved us hours of grunt work. Discovering cross-group negatives was hell no longer.
This tool is a relatively new addition to the Projects section. It helps not only with optimizing your keywords list, but gives you the ability to:
UsePhrase Match and Related Keywords reports to import keywords directly into your ad groups
Filter keywords by CPC and Volume
Create new campaigns and ad groups with the click of a button
Set match types for all your keywords
Add negatives and cross-group negatives
The best part about starting a project by uploading a file is that SEMrush will automatically register cross-group negative keywords based on the groups your keywords are set up in.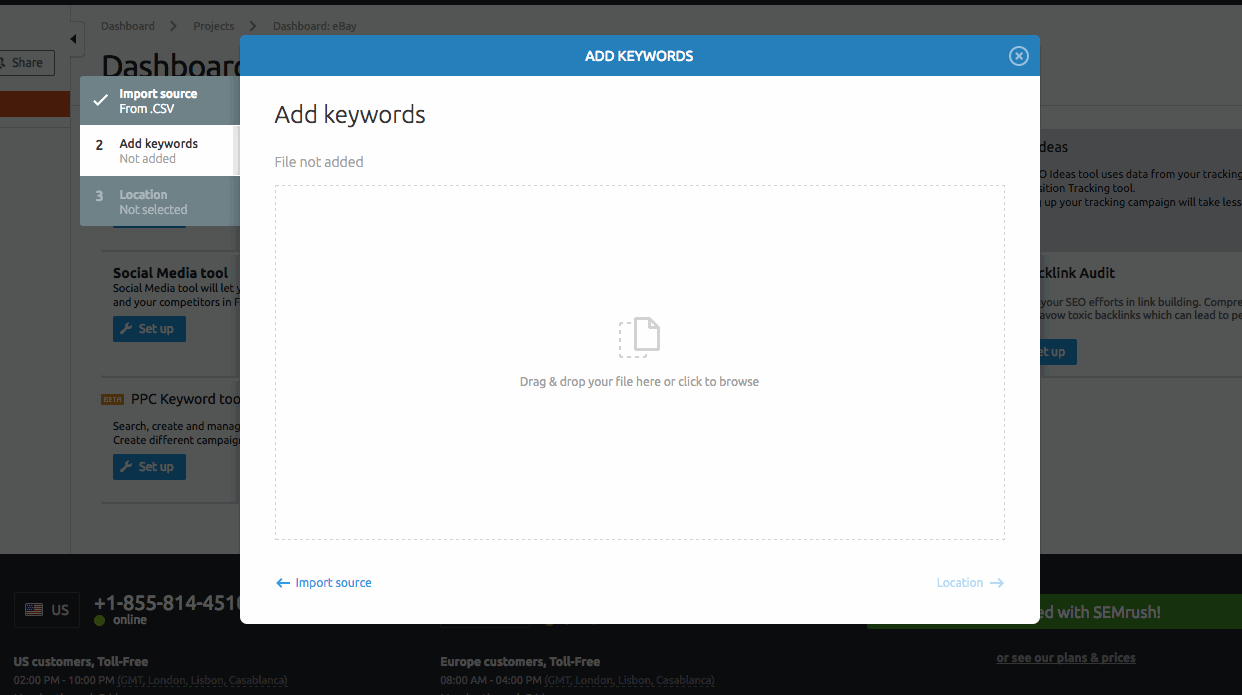 After the campaign is set up, a notice will appear showing you how many cross-group negatives SEMrush found for a campaign: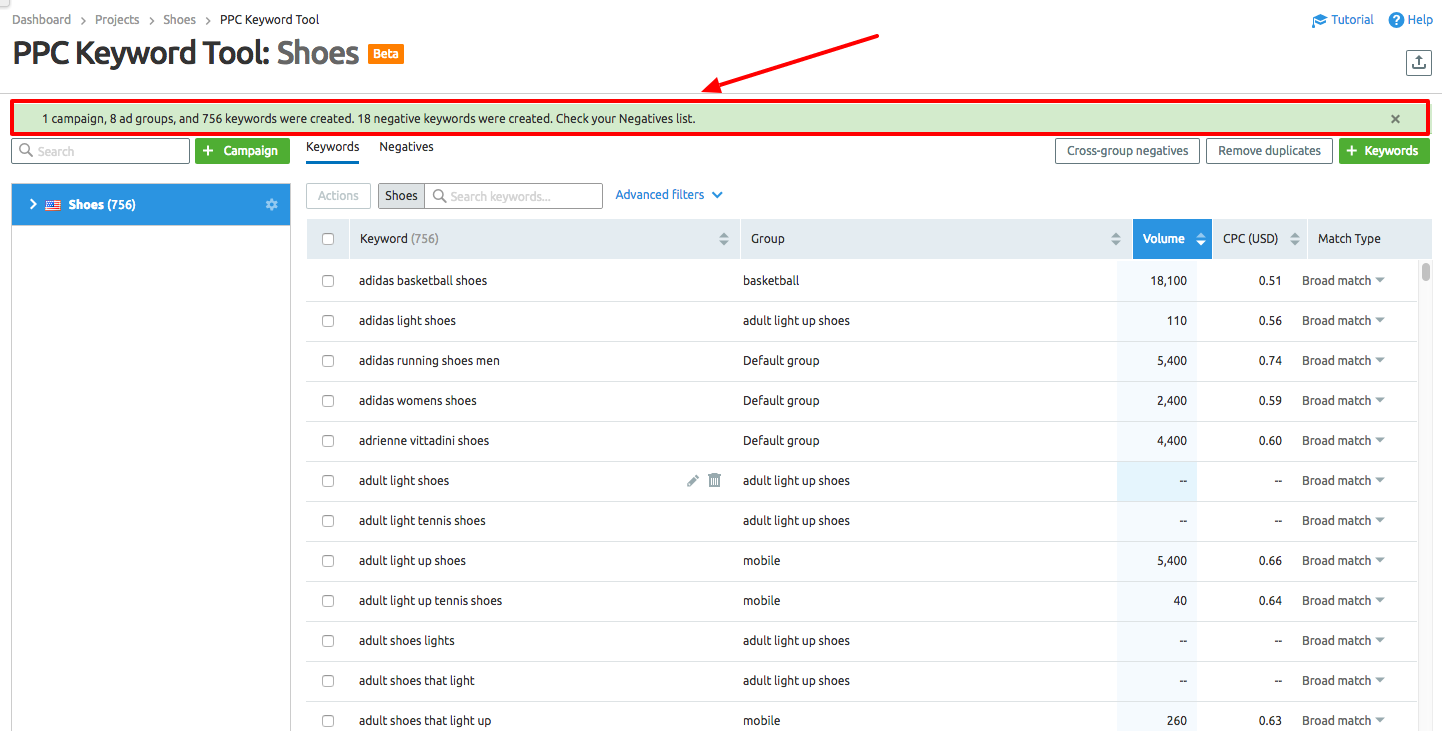 We never relax after a launch
We inspect our campaigns on a regular basis after they're launched. We want keywords to gather vital stats, so we observe how a keyword "behaves", and we always try to find out "why" it succeeds or fails.
We never make our decisions based on select data. How long it takes to gather the data, depends on our campaign's region. 
It takes us about a week before a keyword gathers enough stats in USA campaigns, while we wait about four weeks if the campaign is launched for Europe. 
The following stats help us decide whether a keyword "works" or "doesn't work":
Registration (conversion) is too expensive.
Getting clicks but little to no registrations.
Getting impressions but little to no clicks.
Branded campaigns often involve the "cost per conversion" parameter, as you raise brand awareness. But we are focused on ROI here, so we consider only registrations.
Sometimes our regional campaigns' success depends on market characteristics, which is not automatically a PPC issue. Often we can make a difference.
Sometimes adding new keywords and negatives doesn't change anything – we just don't get enough ROI. But that's OK.
Of course not! That's far from OK. But we discovered a way to turn thing around. If a keyword is fully relevant to SEMrush, but it's too expensive, we modify it: 
We decrease our bids to drop the ad impression. The visitors who are more interested to find data will scroll to the bottom of the page, so we still get conversions.
We narrow down our audiences. As a result, an ad copy is shown only to a narrow group of users who visited our site, but bounced without any action we need (they didn't click, register, buy, or even visit a page).
We used this in our Position Tracking campaign, and it worked pretty well.
We use BigQuery. 
We fully realized the importance of doing so when we found "wolf in sheep's clothing".
A couple of months ago, while managing our Backlinks AdWords campaign in Spain, we found out that all our keywords converted perfectly, with a low CPC and an average CTR.
However, the results of this campaign showed that the campaign's ROI didn't increase at all. After doing thorough research using BigQuery, we found out that the particular keyword cheated us.
Fifty percent of users who entered this keyword in Google, and who then bought SEMrush account after clicking our ads, asked for a refund or unsubscribed later.
Our successful keywords may have a negative effect. BigQuery helps to identify them. We delete such "wolves in sheep's clothing", or try to further modify them.
We generously spend our budgets for keywords, but only in the first days after we've launched a campaign. 
After we've launched a keyword, we wait for the stats to be gathered. We also don't skimp on CPC, as this is the only way to get enough information to make a decision.
We try to get a new keyword to the top of Google's results page – the second or third positions are acceptable. If the keyword matches our prospect's expectations, the ad copy's quality score increases very soon, while its CPC decreases.
Don't be like Mr. Scrooge – this is our take away from bidding too carefully in the first days of a campaign. If you spare money for a keyword, it may never rise to the top of Google's page. And you will never learn anything about it.
Sometimes we utilize a psychological trick: we decide how much we're ready to spend on a keyword before looking at actual bids.
Takeaway
There's no reason to relax after you've launched your AdWords campaign. The party is just beginning. We check our campaign's stats regularly. We continue to add new negatives, check keywords' efficiency based on the proper indexes, and make only careful data-based decisions.
To succeed with a non-branded keywords campaign, we:
Gather large numbers of keywords using different tools

Add both negatives and cross-group negatives

Create only single-word ad groups in order to get more data

Check keywords' stats daily after a campaign is launched 

Delete words that don't work, or modify them 
Choosing the right keywords is only the beginning of the journey. What happens when the user lands on a page? Stay tuned to find out which experiments helped us. The third part of our case study is coming soon!