Promo codes are a valuable marketing tool for any size e-commerce store. They help create buzz about your products, attract traffic, encourage people to buy, and more. But many don't realize the real power promo codes have to improve SEO as well.
According to an analysis by SEO expert Brent Payne, there are over 15 million monthly searches for coupon-related queries. That is a huge opportunity to attract a demographic of people who are ready to buy.
Promo codes can also affect your online presence in other ways that impact your domain authority and rank overall. Here's how to make the most of promo codes for SEO.
Create Buzz and Attract More Traffic
Promo codes aren't all about driving sales. They can also be used to reach all sorts of marketing goals, improving your SEO in the process.
Target promotion-related keywords (e.g., promo code, discount, sale, coupon) to attract a new type of search traffic.
Share promo codes on your social media profiles and work with influencers to spread the word about them as well. Include them in your paid search campaigns, print ads, and everywhere else you can think of. You can also attract traffic from your current customers by offering email promos, like Agoda's hotel offer does in this email: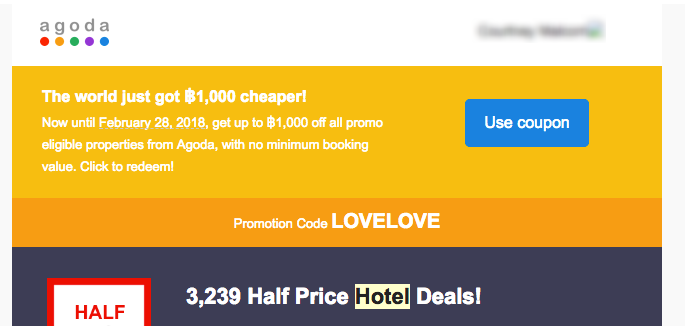 This extra buzz improves overall site traffic, click through rates, conversions, and other factors that tell search engines your e-commerce store is valuable for search results.
The main goal of your promo code doesn't even have to be encouraging conversions. You can easily attract searchers with a discount offer, then optimize your landing page to encourage them to click through, explore your site, and learn more about your products before they convert.
Here are some of the different kinds of promo codes you can offer to create buzz and attract site traffic:
Free Shipping — Shipping cost is one of the biggest factors that discourages people from shopping online. Offer free shipping to attract people to your site, and include a minimum purchase amount to improve your margins (E.g., Free shipping on purchases of $100 or more).

X Dollars off — Offer a flat discount on an individual product, a category of products, or on your entire store (E.g., Get $10 off your first purchase).

X Percent off — Offer a percentage off an individual product, a category of products, or on your entire store (E.g., Get 10% off all children's shoes).

Free gift — Offer a free giveaway with purchase or buy-one-get-one. This is a great promo for cleaning out inventory.

Expiring promotion — Offer a promotion for a limited period of time. It can be recurring (e.g., a weekly promo) or seasonal (e.g., spring cleaning discount).

Discount for signing up — Offer new customers a percentage or dollar amount off when they sign up for your newsletter. This is a great strategy to generate leads and conversions.
Optimize for Conversions with Expiration Dates
Clickthrough rate is an important rank factor for search engines. E-commerce stores can attract search traffic all sorts of different ways, but using promo-related keywords can improve your conversion rate and SEO.
Attract traffic that is actively looking for promotions and deals. Present them with an irresistible offer, and they are bound to click through. You can make this strategy even more effective by including a sense of urgency.
Offer your promo for a limited time and highlight it on your landing page, so visitors feel compelled to act now. Create a clear expiry date for each coupon, and use conversion-driving language with your CTAs, like "Today only" or "Exclusive offer ends Sunday."
Here is a great example of "sense of urgency" from Old Navy: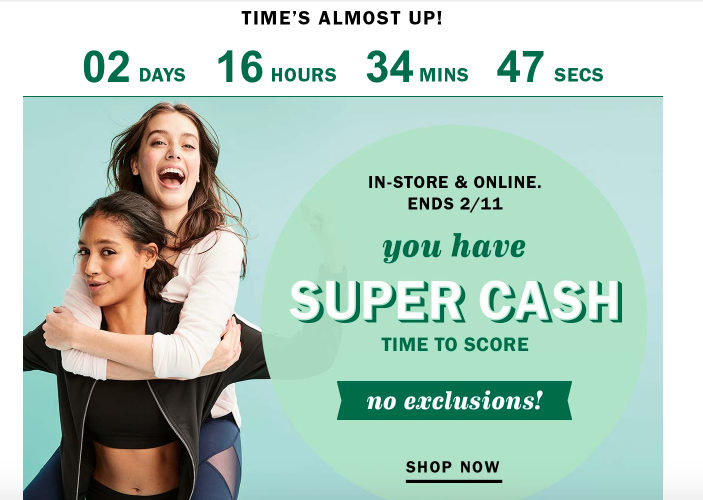 They sent out an email full of promotional codes and included an active countdown to encourage their audience to act.
Keep Your Site Fresh with Regular Promotions
Ever since the Google Caffeine update, content freshness has become an important ranking factor. How often your pages have been updated over time and the significance of those changes imply a freshness factor that Google considers for time-sensitive searches.
Creating and posting new promo codes on your site regularly is a great way to optimize for this. Have a weekly or seasonal promotional sale and update the promo codes across your site to keep it fresh.
You should include these promos right on your product pages, but also create an independent promo/coupon code page that you update with all your deals. Optimize it for promotion-related keywords and keyword modifiers that are relevant (e.g., reduced price, deal, affordable, markdown, etc.).
Next, create internal links from your product pages and other areas of your site pointing back to your promotion page. Optimize the anchor text for a variety of relevant related keywords that help search engines understand what your promotion page is all about.
When your promo ends, you can simply replace it with a new one, or tell visitors to check back later for the next deal.
Sales Strategies
Create buzz-worthy, generous sales (e.g., buy-one-get-one-free) to attract even more traffic to your promo page from search and elsewhere. It is a great strategy to use if you need to clean out inventory and refresh your product listings.
Clothing e-commerce store Jachs New York does a great job of integrating promotions into their e-commerce store to attract traffic, improve internal links, encourage conversions, and more.
They offer 40% off storewide with a seasonal winter promo code:
And they also offer 25% off for referrals: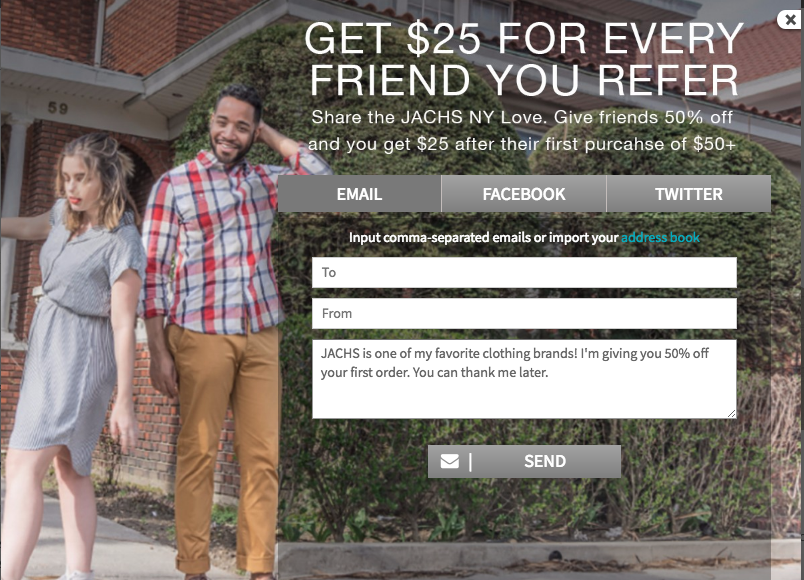 Encourage Reviews
Offer promo code discounts to your audience as an incentive provide reviews of your products. If you are already familiar with e-commerce SEO, you realize how important reviews are for Google Shopping search results.
Invest in product listing ads (PLAs), and Google displays your e-commerce products in "Shopping" search results. With it, they provide star rating reviews aggregated from merchant websites, third-party review aggregators, editorial sites, and consumers. It is easy to see how positive/negative reviews can determine whether or not searchers click on your product ad.
Use promo codes to encourage reviews across the web to improve your product's appearance in search results. You can include special promo deals to your existing customers through your marketing emails (e.g., Get 15% off your next purchase if you review our product!).
Build Links with Promo Codes
Probably the best way promo codes can help your SEO is through link building. Promo codes are designed to be shared off of your website, making it a prime opportunity to get new links pointing back to your site.
Working with affiliate sites is one way to build links. By working with affiliates, you can get links back to your site when they feature your promotions.
More specifically, coupon affiliate sites are a large part of link building with promo codes. Big coupon sites like Savings.com and even cash back sites like Ebates are great candidates for this. You can also look for niche coupon sites to submit to—but be warned; there are plenty of spam coupon sites out there.
These spam sites rank high in search results themselves, giving the appearance of a high-quality site. But what they are doing is showcasing spam codes for stores. Visitors will click through on these codes, but none of them will work—meaning you will be paying out commissions but not driving any sales to your site.
A good way to check for a reliable coupon affiliate site is to make sure it has good metrics (i.e., a high Trust Flow on Moz) and a high domain authority or authority score, so their backlinks benefit your SEO.
A composite metric like Alexa Ranking can help you get an idea of a platform's domain authority. It is a free browser plugin that tells you how many sites are linking into a domain and their traffic rank: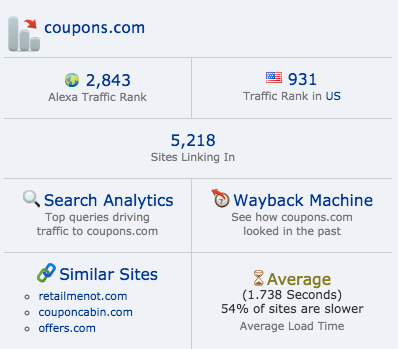 Blogs and Influencers
Bloggers and influencers are other possible ways to get links with your promo codes. Keep track of blogs and other sites in your niche and look for opportunities to collaborate.
They could feature one of your products on their blog, for example, then you can offer a 10% off promo code to encourage their audience to buy. It is a much more affordable way to spread the word about your products and get extra traffic than advertisements.
If you have trouble connecting with bloggers naturally through outreach, try using an influencer marketing platform. With them, you can discover and pay bloggers to promote your promo codes and perhaps link back.
Here are some influencer marketing platforms to check out:
Influencer marketing platforms are also a great place to find and pay Instagram, Twitter, or Facebook influencers to share your promo codes. This can help you build more links in the process, by creating buzz about your promotion and attracting traffic.
Wrapping Up
The e-commerce boom has been in full swing for years now, making it a competitive challenge to stand out. No matter the size of your e-commerce store, you need to employ unique strategies to spread the word about your products.
Creating and promoting promo codes across the web is a great way to cut through the noise and reach niche audiences. At the same time, you can improve your SEO by creating buzz, targeting new keywords, encouraging reviews, and building links.
Keep SEO in mind when putting your next promo code campaign into action to get double benefits from your efforts.