Over the last few years, the increasing shift towards digital marketing has led marketers to focus more on growth and results, rather than advertising reach or an over-emphasis on sales. That is why we invited Christoph Trappe, Chief Content Engagement Director at Stamats, to discuss how effective content marketing can jumpstart customer acquisition, user engagement and increase brand loyalty. Drawing from his extensive experience in Public Relations, Writing, Speaking, and running the Authentic Storytelling Project, Christoph, along with our other guests, discussed some sales-focused approaches to planning and executing a content strategy. Here is what they had to say: 
Q1. What are your top strategies for ideation in content marketing?
Christoph is a storytelling advocate and says that "Stories happen around us all the time. Document them, write them up, and share them." Don't stop there, though. Align your stories with your business goals and make sure every story has an action for the consumer to take. Then, track content performance in Google Analytics to see if customers are really reading and engaging with your stories.
The ideal content strategy consists of narrowing down the audience and knowing their preferences well. Think about who your audience is, why they would want to consume your content, and how they will use and benefit from it. Adjust your tone and brand voice accordingly. Your products, services, or other offerings must closely match the preferences and motivations of your audience.
If you get your research right, you will know the kind of solutions they want and the kind of content that inspires them. For this, you need to dig into what they are googling. Look for patterns, repetitions, and language. Use tools like SEMrush, Google Search Console, and Answer the Public to collect and mine these search queries. Analyze these terms to determine your audience's interests and then create content that matches their interests.
In addition to search patterns, you need to study your sales funnel, your competitors and sales interactions to identify gaps and growth opportunities, and then translate those opportunities into content that inspires engagement.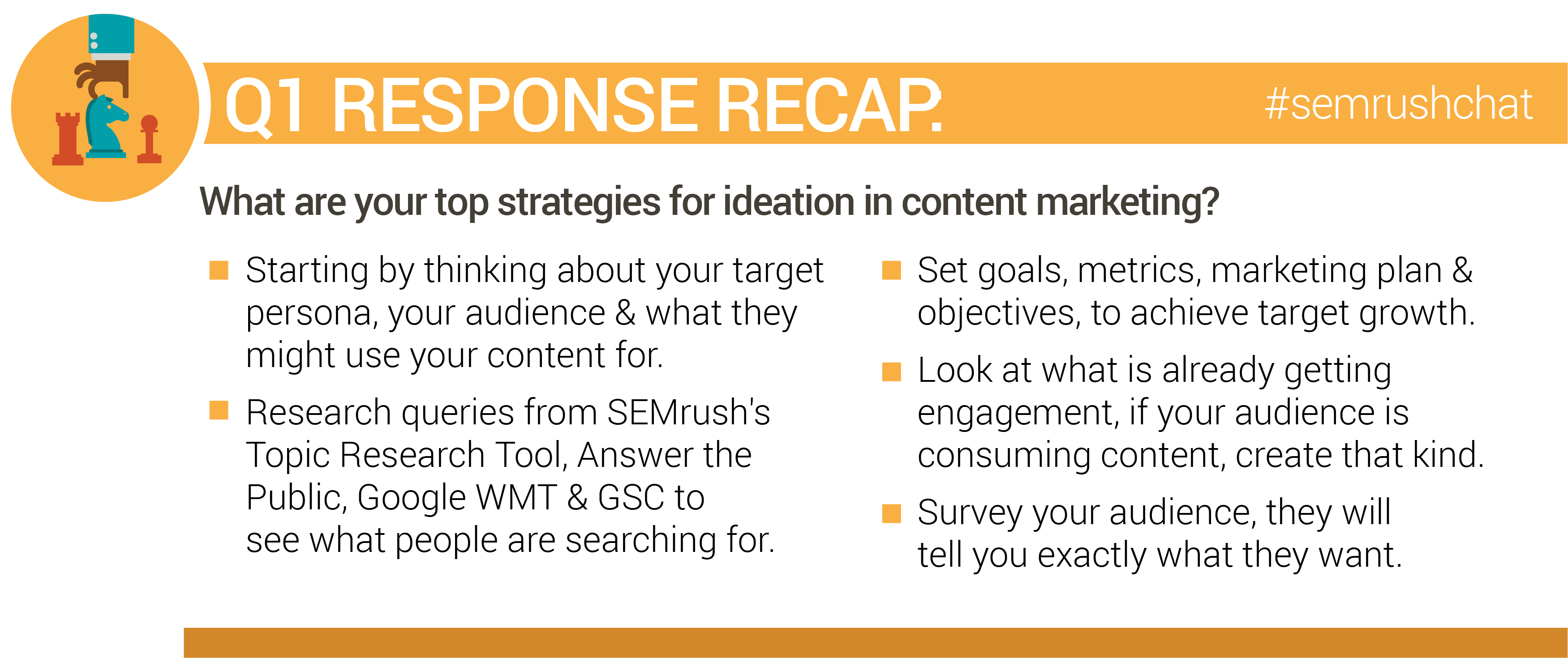 Q2. How can a business best utilize content marketing to bring in sales leads?
Christoph offers a step-by-step solution:
1. Create content that your audience actually wants.
2. Make it easy for your customers to buy from you.
3. Align your product with your brand messaging.
4. Make sure your content is helpful.
Aim to build the credibility and authority of your business in your niche, along with a reputation for good content. Continue to build on this credibility with integrated marketing strategies. No matter the format of your content, it should encourage engagement from readers and push them further down the sales funnel . It is also important to target the right customers with contextual, high-quality content while leaving out those who aren't likely to convert.
The most effective content is content that solves and/or answers a user or customer's problems and questions. As @CallRail stated, "Users are searching because they have a pain point, address those points with your content and let your solution shine." Sometimes, they don't even realize what their pain point is or that they even have one. It is up to you to help them to identify and resolve their problems with your content.
Pay close attention to the quality of your content at all times and think about the next steps, such as what your readers will do after. Test and experiment! Do a deep dive into your analytics to see what works and what doesn't and then use that data to improve your targeting.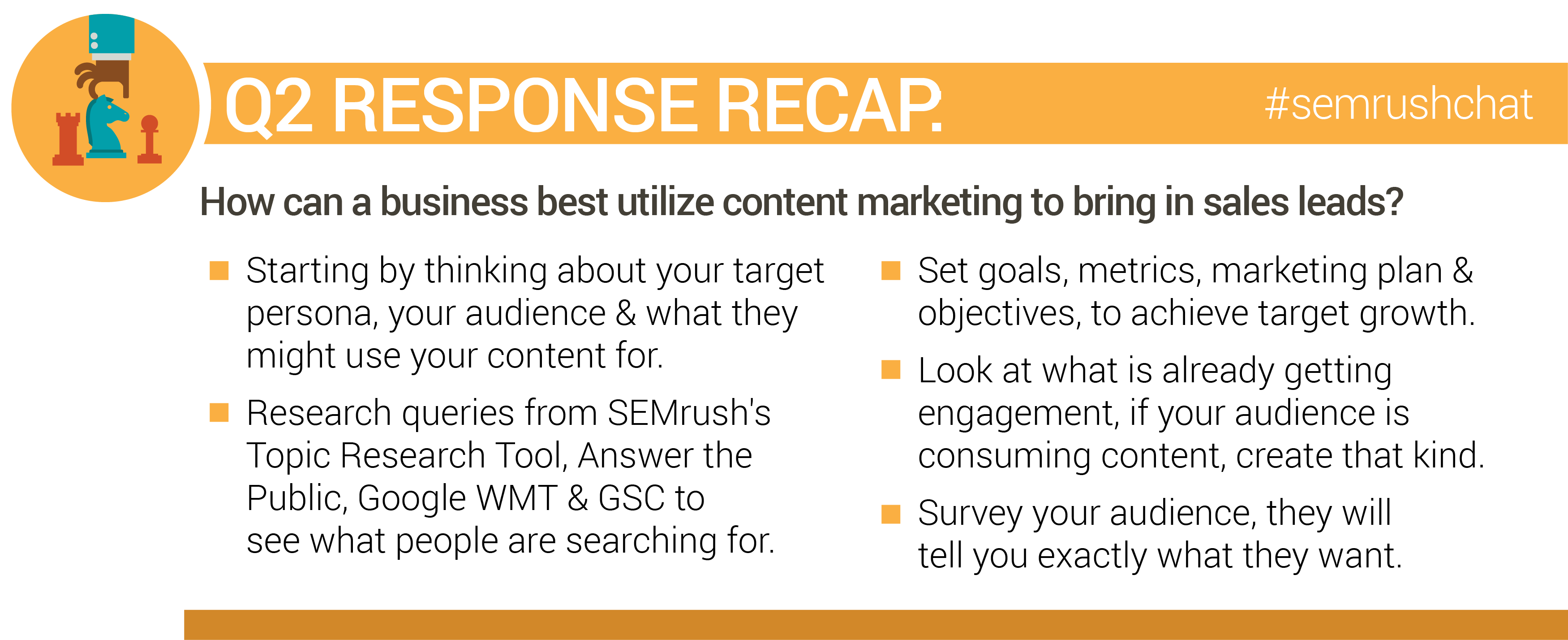 Q3. How often do you find yourself adjusting your content strategy? Is there a timeframe you would recommend?
Just like life, change is the only constant when it comes to your content strategy. Continuously adjusting the direction of your content marketing will only make it better. Just make sure it is cohesive by lining it up with your high-level business goals.
Most participants agreed that content strategies should be flexible, according to the needs of both your business and audience's point of view. You can put guidelines, best practices, templates, and checklists in place, but other than that, feel free to tweak and update your approach to content marketing on an as needed basis.
There are a lot of warning signs that indicate your content strategy could be off the mark; the most obvious is a lack of leads and sales. Others are insignificant traffic and engagement. You should be able to notice these signs within a quarter or so, and be ready to revise your plans if the campaign isn't working by then.
There are a lot of external factors that may compel you to change your content strategy, in addition to your audience's (direct and indirect) feedback. These include competitors' tactics, new product launches, world events, government regulations, and organizational changes. It is your job to be ready for all of these!
Paul Shapiro - @fighto says that while your content strategy shouldn't be set in stone, it shouldn't change at the drop of a hat. You can change your targeting methods, tactics, metrics, and so on according to changes in your market, but make sure your overall strategy is solid and balanced. Let data guide your strategic and tactical decisions.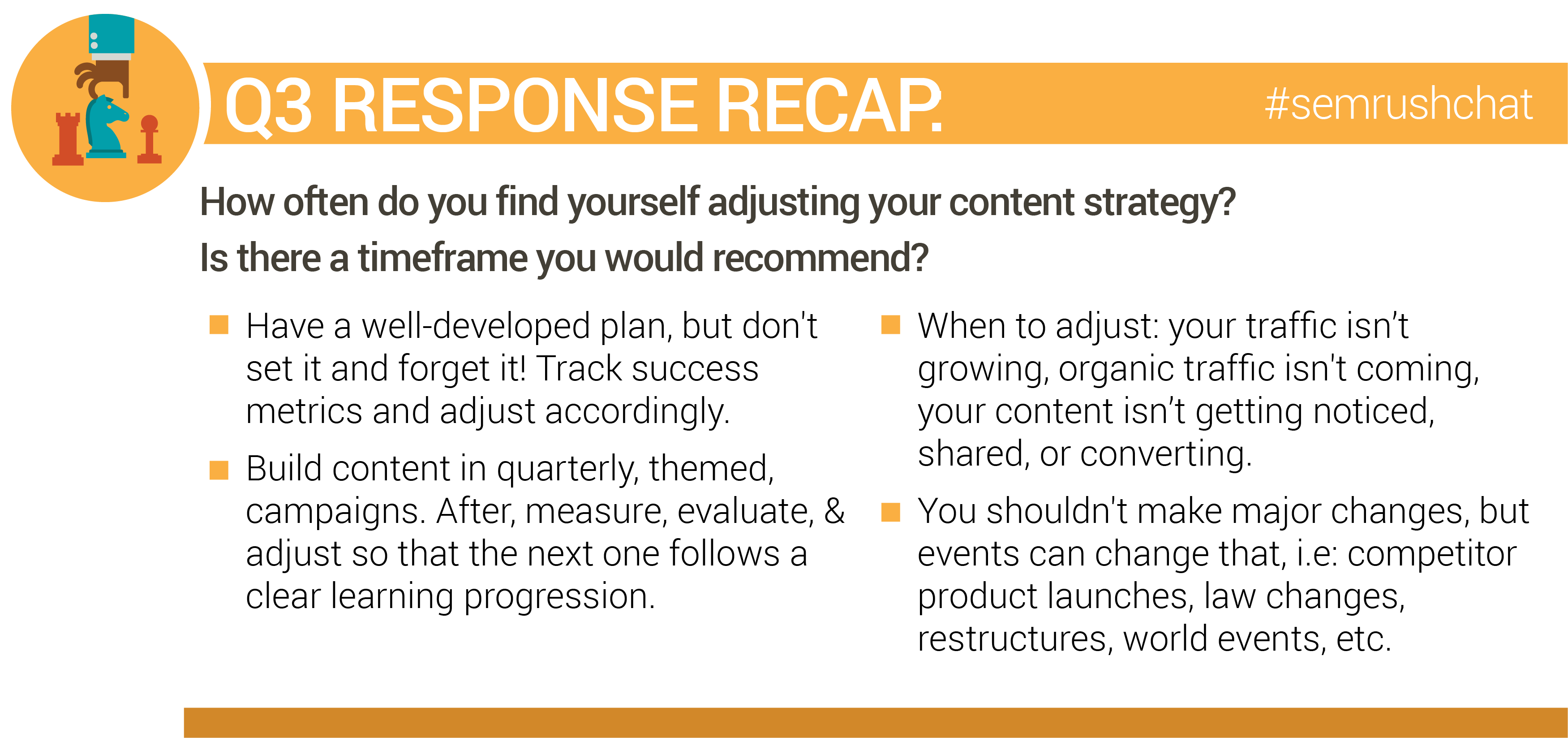 Q4. Which other teams within a company do you think are most necessary to collaborate your content strategies with? Why?
Buy-in for an organization-wide content strategy must flow down from the top. Without the C-suite's approval, marketers will never have full authority to carry out an extensive content marketing campaign that influences PR, communications, and branding. From there, the web developers and design department play a critical role in getting content onto the website. Further, customer-facing staff such as sales and support will have first-hand stories to contribute.
Your content team should have a clear structure and well-defined roles, consisting of writers, editors, social media managers, market researchers, and PR/outreach specialists. 
The marketing and sales teams are, of course, crucial for ideation. People working on various digital channels like organic search, PPC, social media, and UX are bound to have great perspectives on the kind of content that might work to keep your users happy.
Every staff member in your company probably has something to add to your content strategy, just like your customers. That includes the legal, product marketing, investor relations, and customer service teams. All you need to do is get their input.
Q5. What are the best ways to create a content marketing strategy that works best for SEO?
SEO and content marketing go hand in hand, and Christoph firmly believes that they are incomplete without each other.
Start by getting all stakeholders to agree with you on an integrated SEO and content marketing strategy. You need to map out the customer journey, determine the CLTV, look at the strengths and weaknesses of the competition, tie content ideas to expected ROI, and then craft your content strategy accordingly.
When you move to the content creation phase, keyword research is fundamental to long-term success. Researching relevant topics that relate to your audience on top of creating content optimized for search engines is no small task.
Research isn't limited to just keywords and topics; you also need to identify your audience and their preferences. 
Without technical optimization of content, all your keyword research efforts will go to waste. You need to get your HTML tags, metadata, and other on-site elements right from the start. You also need to choose the right CMS, with good functionality, to allow you to focus on creating and promoting your content.
While all of this will attract readers to your site, the quality of your content will be what keeps them there.
The end goal of all content creation for SEO is to maximize natural link acquisition. Links were, are, and will be the pillars of SEO.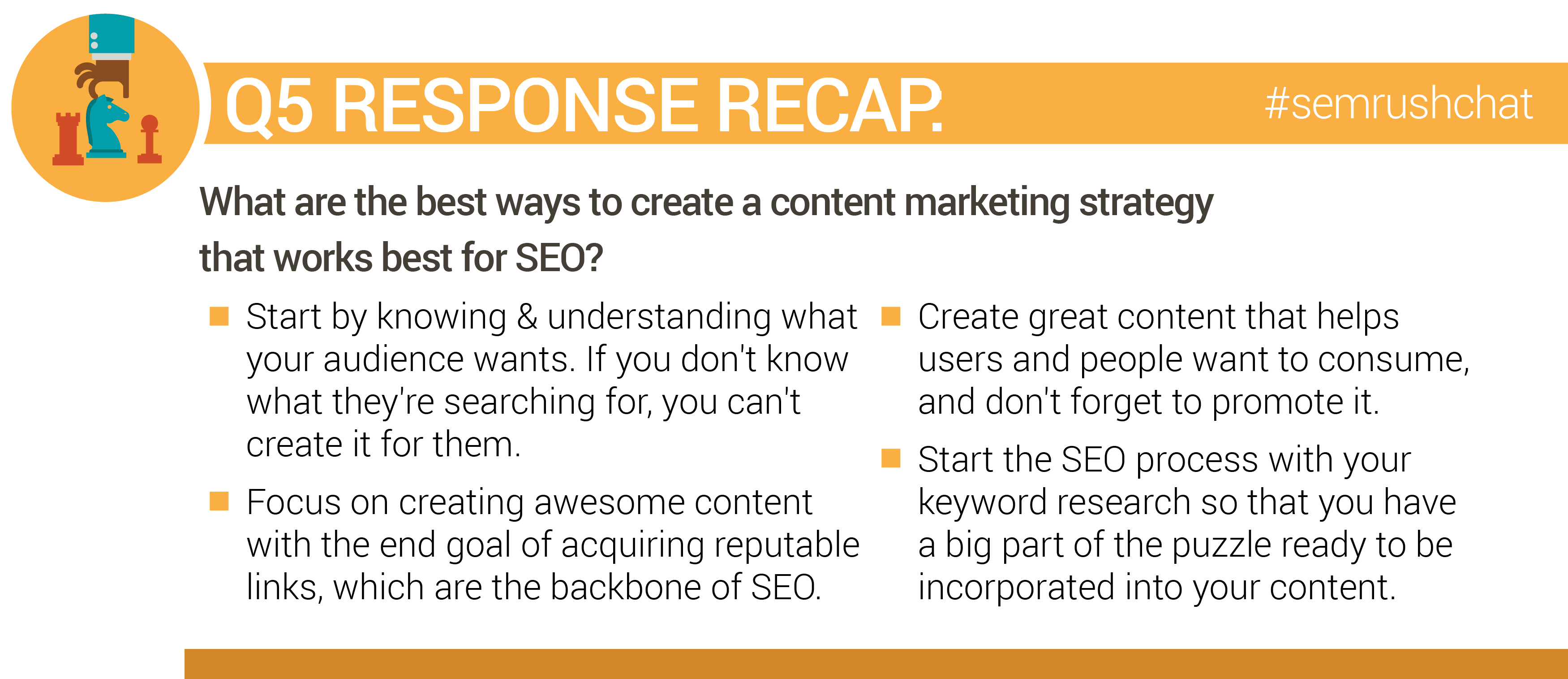 What are your thoughts on content marketing? Do you find it fundamental to maximizing business growth in terms of users or sales? Even if you missed this excellent discussion, you can continue the conversation – leave a comment below and share your thoughts!
We'd also love to chat with you live on this Wednesday's #SEMrushchat, where Arsen Rabinovitch will join us as we do a real-time site audit of www.thebbqdepot.com! See you at 11 AM EST/4PM GMT!