Every person starting their own business faces plenty of challenges, and opening an SEO agency is no exception. How you can get clients without having a portfolio yet? How do you hire a perfect team? What is the best way to organize and manage your agency workflow? How you should present the results to your customers? 
Recently we organized an online meetup with three awesome experts that answered all of these questions and shared their own twists and turns in building their SEO agencies. You can watch the whole video below, and for this post I've picked up some of the most interesting advice on organizing a SEO agency, getting your first clients and delivering awesome results.

In his presentation, Frederic Chanut suggested 12 practical tips for those who are starting their own SEO agency:
1. Quit entrepreneur press. If you spend all your time monitoring what media outlets like TechCrunch are doing, you'll completely lose focus of your own goals.
2. Accept the fact that, if you're running your own business, you're not your own boss. In truth, you have a lot more bosses when you run your own company than you do when you work in a corporate structure: your customers, your suppliers, your bank, your teammates – they're all your bosses.
3. Focus on your core market. If you pick the wrong niche, your product or service won't succeed.
4. Be transparent. SEOs are the used car salesmen of the web – they have a bad reputation. And the only way to fight this is to be honest and transparent. You have to be clear with your clients about who you are, what your limitations are and what results they should expect.
5. Set up a method and an approach. This will help you not only present your ideas to your clients, but also to present the work you've done and your progress.
6. Build a minimum viable product. You won't have a perfect product or solution from the get-go, but start by delivering your results gradually – even if that means a few things will not be as organized as you'd like from the start.
7. Be agile and learn to adapt. Adapt to any new algorithms that Google rolls out, to what clients are requesting, and to anything that's coming up.
8. Move on and do so quickly. You can't do everything at the same time, so focus on a few aspects you're really good at. It's better to be an expert at one thing than to be mediocre at everything.
9. Build a profile and share your expertise. Search for opportunities to teach your skills for free, such as joining meetups, publishing content on your blog, etc.
10. Try to get testimonials and case studies ASAP. These are trust signals for your clients and they demonstrate who you are as a consultant.
11. Be more numbers-oriented than your clients. Speak in terms of returns on investment, revenue and generated leads. People will take you more seriously if you report more than an average rank and visibility score. They want to know exactly how your work will impact their business. Will they make more money year after year or not?
12. Tools can't do everything. Tools can only do 10 percent of the work; people have to do the other 90 percent. So take time to hire the right team members.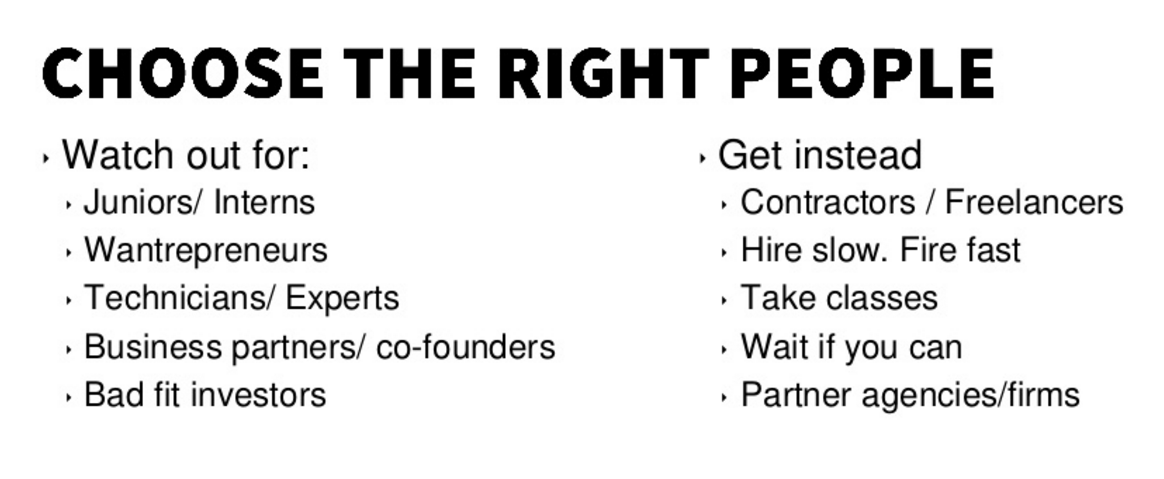 Q&A session
Where are the best places to get your first customer?
Frederic: 100 percent – it's your network! Go to LinkedIn and make it clear what you're working on. First, you need to tell the world about yourself, and secondly, you need to contact people who have worked with you, who know you and who are more likely to trust you. And my network has been extremely helpful in finding first-hand clients. Go and have a coffee with the people you used to work with. Tell them what you're up to; ask them what they're doing and how they're working and something may come of it.
How do you show that you're different from other SEO providers?
Frederic: This is probably one of the toughest questions, so I'll go back to my point on transparency. The reason why I suggested including a lot of testimonials and case studies on your site is because they are physical proof that you're relevant to your targeted market. You really want to show the relevance of your previous work or the solutions you provide.
James Reynolds focused his presentation on the key challenges that one faces when selling SEO services: winning bigger clients, establishing authority and converting leads into customers. Let's take a closer look at how your agency can gain authority.
When you don't have authority, sales are a challenge. When you do have authority, it works like a silent salesperson, making sales easier. According to Jim, typically their customers choose their company because they trust them more. According to Jim, customers choose his company because he's generated trust through brand authority.
Here is what James recommends for building brand authority:
1) Create content for other people's audiences – bigger and more influential websites than your own.
Start by creating a list of publications or websites in your market and contacting their editors or managers. Tell them that you'll be happy to create content for them, and include a link to some credible source on your "About" page. If you come to them with genuine expertise that is relevant to their audience, they'll accept your content.
Jim especially recommends two websites:
CNN iReport allows you to submit content to be posted at CNN.com. Write an interesting and newsworthy article that meets their guidelines and make sure your content is not sales-driven. The point is not to sell your business, it's simply about getting your company featured on CNN!

MyBlogU is a group of content creators and producers who need content for their posts. This could be guest posts for TechCrunch, The Huffington Post and other resources like that. Go on MyBlogU, find relevant categories and offer your insights.
2) Speak at events.
Public speaking not only instantly increases your authority, it also helps you get bigger and better clients. Here's how you can get speaking invitations: go to Google, find events in your area, find their organizers and send them your bio.
3)Interview industry experts.
James says that interviewing people like Rand Fishkin or Perry Marshall for his podcast has helped him gain clients, as these names are well-known in the marketing world. Networking with influencers definitely helps you win better clients.
4)Get yourself interviewed.
You can find interview opportunities through simple outreach. Jim's advice: "Your outreach doesn't need to be complex. You could just say, 'I found your excellent interview series and wanted to let you know that I enjoyed it! I've got a few weeks to spare right now, and I'd love to contribute some content, if you think I'd be a good fit.' You should probably also link to your 'About' page to show that you're credible."
Q&A session
What should do before a meeting or pitching a proposal?
James: The most important thing is to understand their site's current situation,as well as the goals of the business and how to bridge the gap between those two scenarios. You'll want to do some basic auditing and analysis to understand their site's domain authority, how likely it is to rank, and what technical components of the site need to be fixed in order to deliver results. If you can explain what needs to be done and then offer up the perfect solution, you're giving the customer exactly what they want.
How can you effectively demonstrate a clear value to clients who may be exploring SEO for the first time?
James: Once you've delivered results for other clients, you can align your new customers' expectations with the results that others have achieved. That might be necessary when you first get started and say to your client, "Well other companies similar to you have done SEO in the past, and have gotten this sort of results. Hopefully we can get similar results for you." So it is useful to have good testimonials and good case studies to demonstrate the value of your services. And then just pick the right clients – the ones that are questioning the value of SEO are, potentially, not a great fit for you.
If I do not have any clients or a portfolio yet, do you recommend doing free work to build up my portfolio and case studies?
James: Better than free would be to barter. I know lots of people who have experienced success with that. For example, they've gone to a motorbike rental company and asked for a motorbike to rent and offered to do SEO for them in exchange.

David Jenyns analyzed the three major steps for scaling a digital agency: onboarding, delivery and reporting. You can watch his entire presentation on video. Now let's discover some tips for the reporting step.
Most clients do not know how to measure success, says David. They're asking questions like "Why aren't I ranking for this and that keyword? How many backlinks are you going to build for me? How many number one rankings are you going to get me?" You must move away from that.
The fact is that, as an SEO, you can't focus on something that you don't have control over. If a client is judging the success or failure of a campaign based on the rankings of a handful of keywords, then you're not going to keep them for very long. Your reports need to include more than just ranking data – for example, conversions and growth in organic content, and the engagement that you get with that content.
David says that he doesn't include keyword rankings in his reports, unless a client specifically asks for it. "I want them to look at growth and organic traffic; I want them to look at conversions. And I think that makes much more sense, rather than me saying that I can have control over Google. No one has control over Google and no one can provide those sorts of guarantees."
One more piece of advice from David: make your reports well-rounded; don't just list keywords and their current and targeted rankings.
Q&A session
What are the first steps in planning for growth?
David: Before you tipping people in front of your funnel, you need to make sure that you can handle it. I've seen a lot of businesses scale very quickly without their back-end processes and procedures in place; and they ended up imploding, because they were unable to deliver a great experience to their clients. To prepare for growth, you really need to make sure that you've got the capacity.
How do you keep everything under control when your business is growing quickly, other than using project management tools?
David: You need to think about the right structure for your business. The way that we do it is by having different heads of different departments. One team looks after the main SEO delivery, another team looks after the main graphics component, and another one looks after the video. And you need a product manager, someone who serves as the interface between the client and your team. These individuals should capture your clients' questions, handle all of the communication, deliver a weekly update, and then filter things through to the team.
When dealing with a lot of online clients, how do you handle multiple or different website systems and very technical issues?
David: From an implementation point of view, we only work with WordPress, which means we are experts in that space, and it's a very frequently used CRM. When it comes to any other sites, we suggest that the client have their own development team, and we will make recommendations and advice.
James: We're pretty similar, and I just hire people smarter than me who know that sort of stuff.
Frederic: Same thing. We provide recommendations, and if we realize that we're working with a tech team that really doesn't get SEO and that has never really looked into their company's SEO metrics or its conversion rates, we suggest that the client run seminars and workshops with the team. The other good thing is the fact that when you're not touching any systems, CRMs or software, you can look at potentially reducing your public liability.