There are many ways to capture leads - create amazing content, put  content upgrades on that content, run PPC ads, or even write guest posts like this one.
But there's one method that's helped businesses like CoSchedule capture tens of thousands of leads:
Creating a free web-based tool to compliment your marketing strategy.
In this post, I'll be talking about how to come up with an idea for a web-based tool, how to validate your idea with a minimum viable product (MVP), and how to develop and promote it.
To help with all that, I interviewed Nathan Ellering, the content marketer behind CoSchedule, to get all the juicy details on why and how they created their Headline Analyzer tool.
According to Nathan, this tool has "introduced CoSchedule to thousands of fans among our 139,670 subscribers. It's also gotten us thousands of organic backlinks, hundreds of thousands of searches, and millions of page views."
I also received some excellent input from Larry Kim, founder of WordStream and creator of their AdWord's Grader Tool, of which has graded over $9 billion in annual ad spend!
Convinced yet? Good. Let's dive in!
Step 1: Come Up with a Web-Based Tool Idea
Before you even think about developing a tool to capture leads, you need to come up with a solid idea!
Nathan's advice?
"Look to your audience for ideas and don't neglect keywords. Find the demand for what you're creating before you commit, so you don't waste your time. At CoSchedule, we try to figure out what will be the biggest driver of growth with the least amount of effort before we put resources into it."
In other words, don't just grab an idea and go. You need to validate it. You can do this a multitude of ways:
Send a survey to your email list.
Hold a Twitter poll to see what pain points people are struggling with.
Reach out to individual customers or followers on social media.
Look at the posts you've already written to see which topics are the most popular - perhaps, instead of writing more posts on that topic, a tool would work better.
Use a keyword research tool to find keyphrases with high search volume (CoSchedule saw that "Headline Analyzer" was getting a lot of traffic, for example).
Interacting with your current fans not only tells you which topics they care about and pain points they're struggling with, but also shows you the exact wording they use to describe it. Copy their language word-for-word, as you'll likely find many others use that same wording, and you'll increase your conversion rate.
For some extra inspiration, here are a few other web-based tools that have done extremely well:
Basically, analyzers, optimizers, graders, and generators tend to perform well - likely because these all solve a very specific problem that plagues a large audience of people. Here's Larry's take on it:
Don't just do what already exists out there. (eg: Don't bother making another "AdWords Grader", we've already done it). The reason why this was such a hit was because it was so valuable, providing insights and data to users that wasn't available anywhere else. Basically, your tool has to be innovative and differentiated or don't bother. Creating yet another "mortgage payment calculator" will not work. We've created other free tools that went nowhere, and it's because they weren't as innovative.
Step 2: Create a Minimum Viable Product
Simply finding out your customer's pain points may not be enough to validate an idea. To ensure you're not about to sink loads of time (and money) into building a web-based tool, you should create an MVP.
For example, if your tool will perform a mathematical formula (such as a mortgage calculator), create a spreadsheet that will perform the basic calculations. Nothing fancy - remember, this is a minimum viable product.
(Tool doesn't do math? Create an MVP by writing a blog post on the topic instead.)
Once you've created your MVP, send it to the masses - email, social media, influencers, the works. If it's a hit (lots of downloads, shares, time on page, comments, etc.) you may be on to something. If not... well, hey, at least you didn't build a full tool that flopped!
Step 3: Develop Your Tool
Once you've gotten a great idea and tested your MVP, it's time to think about actually developing the tool.
There are two ways to do this: In-house or by hiring a developer. Of course, each has its pros and cons.

CoSchedule's co-founders built their app themselves in a single week, then launched it within one more week. It works great for them because their co-founders are also developers - we're not all so lucky!
However, Nathan did have some more input here:
If you don't have an in-house developer, you can always hire someone else. It's not so much about cost, it's more about customer acquisition cost - can you justify how much you'll spend compared to how much you'll get out of it?
If you don't have an in-house developer, don't let that stop you from building the tool. While in-house is desired over the long run, if you work with a great developer, you'll be fine. Besides - getting the ball rolling and creating the tool is more important than letting a lack of in-house developers hold you back.
The possible returns are enormous!
Step 4: Promote Your Tool
Once you've finally created your web-based tool, it's time to promote it! 
Of course, you should share your tool on social media, send it to your email list, and talk about it everywhere you go. However, Nathan has one solid tip for what they did to promote their tool:
Create a blog post around the pain point your tool solves, then link it to your tool.
Sounds so simple, right? CoSchedule actually wrote several posts about how to write amazing headlines and they all sent tons of targeted traffic right to their tool... where they captured the visitor's email.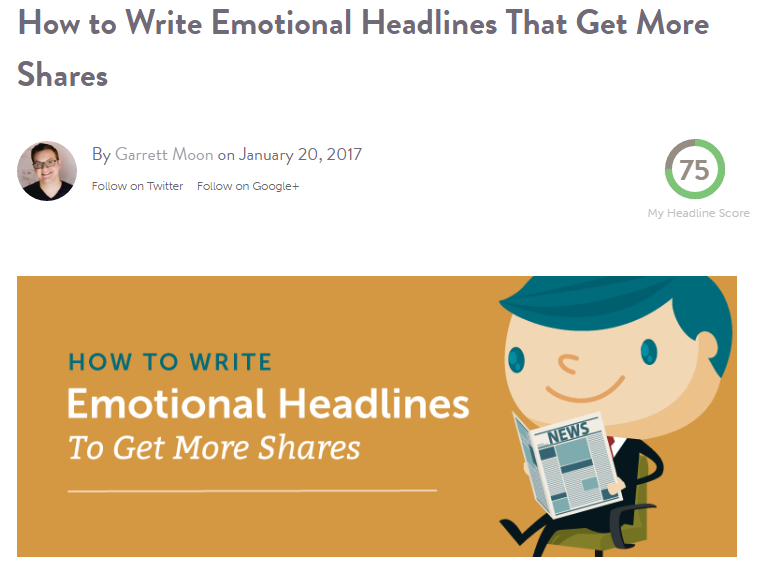 If you wrote a blog post as an MVP, you already have your post! Just add the tool as a call-to-action, and re-promote the post as if it were new.
One other tip? Send an email to all the people who opted in to download your MVP spreadsheet. They already expressed interest. Chances are, they'll bite.
Finally, focus on word of mouth.
CoSchedule's headline analyzer became an almost overnight success because their visitors shouted it from the rooftop. Keep in mind, they only had around 17,000 people on their email list when the tool first launched. Besides, it's not the size of the list that counts, but how engaged your subscribers are!
An additional way to gain word of mouth is by including influencers in your promotion plans. You can find influencers using tools like Influence.co, BuzzSumo, or Ninja Outreach.
Here are a few parting words of wisdom from Larry Kim, in case you're still not convinced you need a web-based tool:
Tools gather a tremendous amount of data which can be leveraged for publishing research studies (which generates more usage) or making the product smarter (which also generates more usage). It's a virtuous cycle, and also a huge competitive barrier to entry.
There you have it - how to create a web-based tool, which tips for every step of the way. I hope you enjoyed this post! I want to give a huge thank you to Nathan Ellering and Larry Kim for taking the time to make it happen and answering all my crazy questions.
What do you think? Will you create a web-based tool? Let me know in the comments below!