Sadly, in the amount of time it will take you to read this post (approximately 6 minutes), 42 of your ad impressions were likely ignored.
According to Red Crow, we see 10,000 brand messages a day. At eMarketer's established display CTR of roughly .5%, only .035 of ads are interacted with each minute.
This could be the case for many different reasons, but likely it is a combination of one of three things: you reached the wrong person, you reached the right person at the wrong time, or, you reached the right person at the right time—but failed to get their attention.
This article was created to talk about problem #3.
To compete with today's noise and fight creative fatigue, your creatives have to be incredibly engaging; this is especially true for all forms of native advertising: paid advertising where the ad matches the form, feel, and function of the content of the media on which it appears.
This information is important because display budgets are shifting to native, and the competition for is only going to get tougher; this counts for native ads that appear in search, social, and discovery platforms.
eMarketer says native advertising will account for nearly 65% of digital display ad spending and is forecast to reach $44 billion by the end of 2019; this is $8.66 billion more than in 2018. So, if you are going to capture new audiences and consumers in the midst of this noise, first you have got to build a creative that delights them.
Our company  analyzes millions of native-ad campaigns to glean meaningful insights on what this data means to advertisers. In this article, we are diving into some of our data-driven best practices and industry-specific considerations for designing native campaigns.
Native Advertising Best Practices Across All Verticals
Display budgets are shifting to native because it works—it offers a plethora of benefits, including full-funnel opportunities that help companies stay competitive against the biggest names in their niche.
As you dive into designing your creative, you will see better results and higher branding ROI by following tried-and-true best practices across all industries.
Building Your Creative: Choosing an Image
Across the board, content that comes across as authentic and genuine resonates the strongest with native advertising consumers. So, you need to carefully choose images that correlate with the content you're promoting, as well as support your brand's perception.
When you are choosing those images, there are a few characteristics you should keep in mind.
Keep it real: Opt for real-life photos instead of illustrations. Our data shows that they land you a 39% increase in click-through rates (CTR).

Ditch the color: Black and white photos earn you a 38% CTR boost over their colorful counterparts.
We see this trend flip back and forth week-by-week. Staying informed of weekly trends will help you best identify opportunities in real-time.

People love people: Research shows time and again that ads with people are more relatable – 33% more relatable when it comes to CTR, that is.

No need to explain: Our data shows that a photo without any text overlay snags 33% more clicks. Use your words wisely.
Man's best friend indeed: Ads featuring animals have a 16% CTR boost over native ads that don't.

Before you rush to purchase black and white photos of women holding kittens for all of your upcoming native campaigns, remember that what's most important is to stay true to the content you're promoting and to your brand.
Here are some examples of campaigns that would get our thumbs up:
Building Your Creative: Writing Headlines
Headlines are a bit trickier than photos. We have all heard the tried and true formulas that seem to work across the board:
How To Insert Relevant Task

15 Ways To Insert Relevant Task

The Ultimate Guide To Insert Relevant Task

...and various others.
But it is important to remember that creative fatigue doesn't just happen with photos. The more we use these headline templates, the more consumers get tired of them—and grow to ignore them, making competition tough.
To help, we have identified keywords and phrases that currently engage consumers, those where there's already a lot of competition.
Engagement keywords: The top-performing engagement keywords are 'she,' 'looks,' and 'photos.' The use of engagement keywords leads to higher CTRs; it may benefit your campaigns to include them.
When you are thinking about writing your headlines, try incorporating some of these words for better performance. For example:
She Won This Year's Entrepreneur Awards—Here Is Why

This Is What Healthy Eating Really Looks Like Day By Day

These Old Muscle Car Photos Are Incredibly Rare
On the flip-side, there are some keywords that are overused.
Competitive keywords: The three most competitive keywords are 'insurance,' 'game,' and 'check.' Competition means it is a saturated market; these keywords are, therefore, associated with lower CTRs.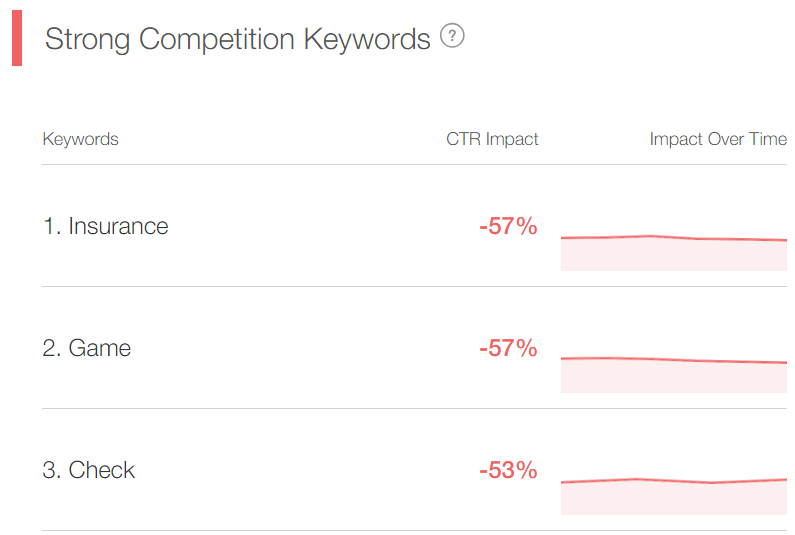 Avoid focusing your campaigns around them. If they are relevant to you, try looking to long-tail keywords or variations to boost your CTR while using keywords that face high competition.
Building Your Creative: Producing Videos
Not all native campaigns are combinations of photos and headlines. The advertiser's use of native video is rising rapidly; in fact, it will make up 38.1% of US digital ad spending in 2019.
Producing video is really difficult, and often expensive. When and if you choose to invest in it, make sure that the creative itself—including scenery, models, actions, and more—are backed by data to drive higher completion rates.
Here is how to do it.
Men over women: Consider featuring a male as the 'lead role' in your native ad video campaigns. Data shows that videos with men trigger a staggering 574% increase in the number of viewers who watch the whole video.
Black and white over color: Viewers love the nostalgic feel of black and white. Data shows that black and white videos have a 31% higher viewability rate and a 27% higher completion rate.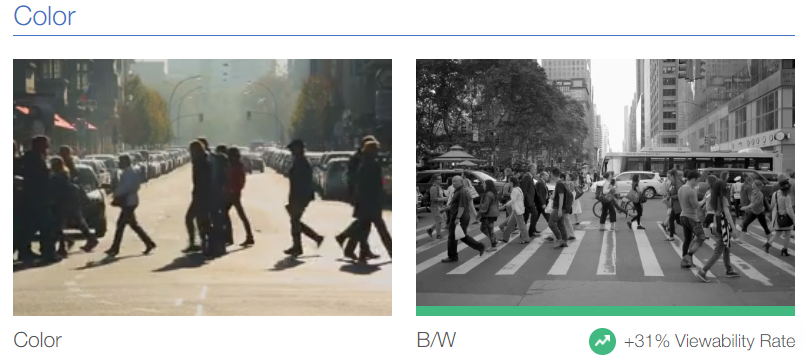 Video duration makes a difference: We looked at three video lengths: 6 seconds, 15 seconds, and 30 seconds. We found that the most successful viewable activities changed for each of these video lengths.
In the 6-second category, eating was a clear winner with a 258% boost in viewability. In the 15-second category, driving garnered an 81% increase. In the 30-second category, singing videos saw an 82% jump.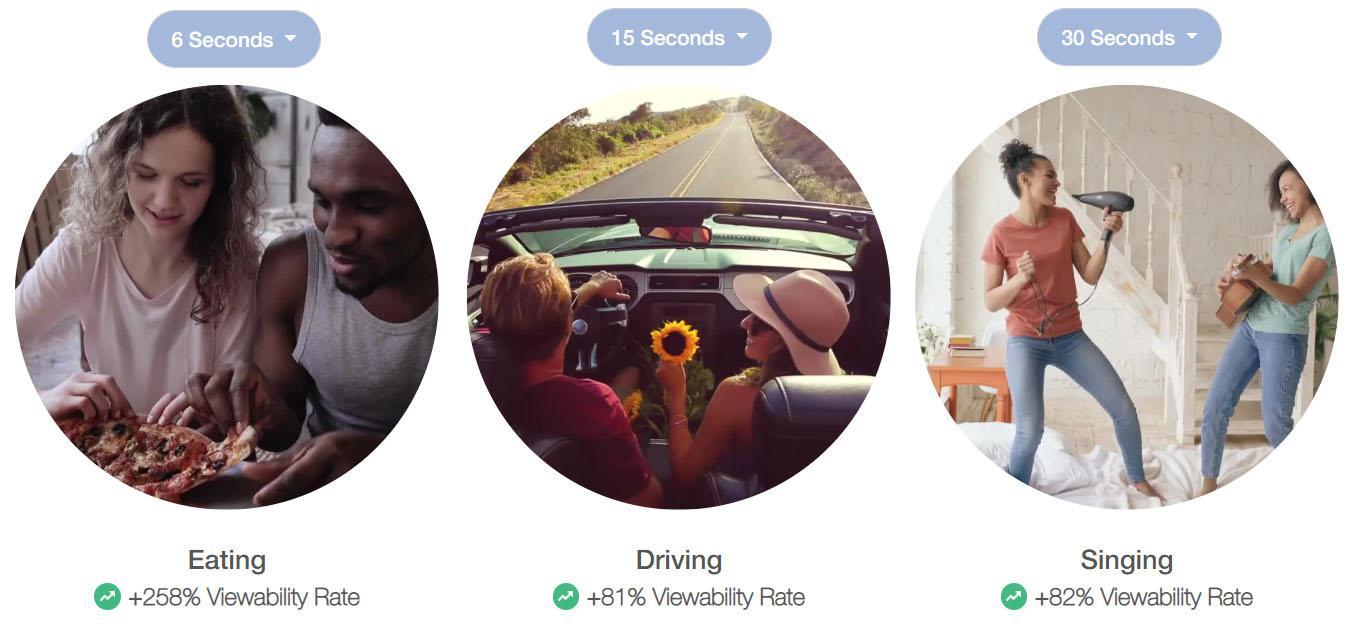 Not to sound like a broken record, but again, staying authentic and true to your brand is key here as well. One of my favorite video ads of all time is from the Dollar Shave Club, who nails the combination of engaging video characteristics and brand messaging:
Vertical Specific Best Practices and Examples
While it is great to keep your campaigns in line with general best practices, they don't always work for everyone.
Just like a beautiful butterfly, a thumbprint, and good first date, your brand is unique, and the audience of every vertical has its own personality and unique trends. What works for the auto industry might not work for the fashion industry.
I am going to review finance, education, travel, auto, fashion, and beauty to illustrate this.
Finance
Breaking from the mold, most native ads in the finance industry perform better with photos taken from a distance. There's an 11% CTR increase for photos with a bigger perspective.

Not to mention, the headline keywords that trend are entirely different. Their top keywords are 'day,' 'drivers,' and 'rule.'
Here are some examples that follow finance vertical best practices: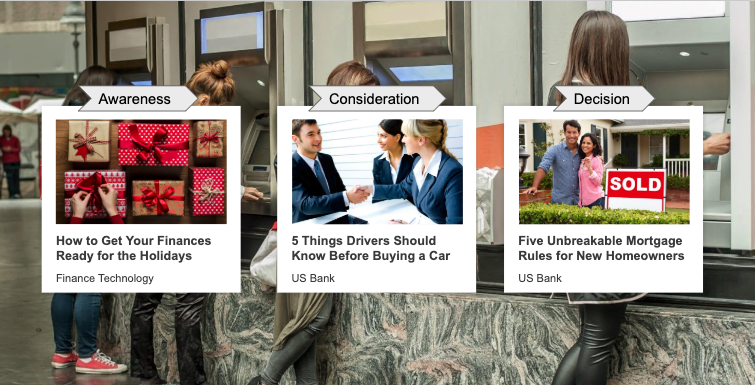 Education
Most native ads get more clicks when they feature photos of the great outdoors. The education vertical, however, gets a 20% higher CTR for indoor photos.

And, true to form, their top keywords are different too. Education consumers click on headlines that include 'result,' 'here' and 'speak.'
Here are some examples:
Travel
Instead of black and white, opt for color photos if your brand is in the travel industry. You might get a 77% CTR boost.

Their top keywords are different too. Travel consumers click on headlines that include keywords like 'never,' 'dangerous,' and 'places.'
Here are some examples:

Auto
While native ads tend to perform better when they show people, the auto industry is different. Statistics show that images without people garner a 37% higher CTR. For automotive campaigns, showcase the cars without any distractions.

Their top keywords include things like 'classic,' 'amazing', and 'quiz.' Here are some examples:
Fashion
General best practices say that photos including women get only increase CTR by 9%, but our data shows that the fashion industry garners a 75% increase in CTR when including them.
Words like 'dresses,' 'clothing,' and 'throw,' are driving clicks on fashion content. Here are some examples: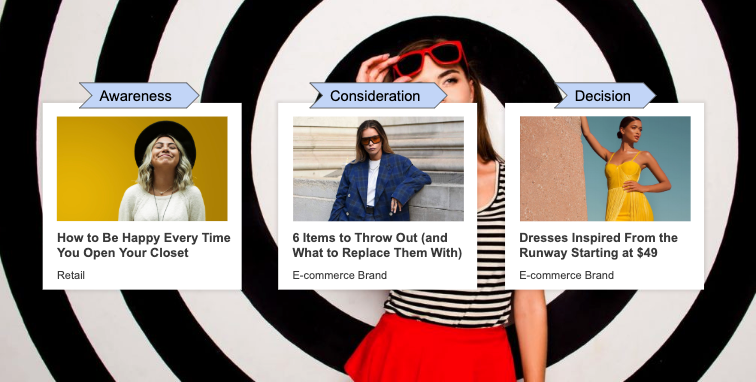 Beauty
Just like travel, the exception that provides beauty marketers with the biggest CTR increase is using colorful images— a 113% increase, in fact.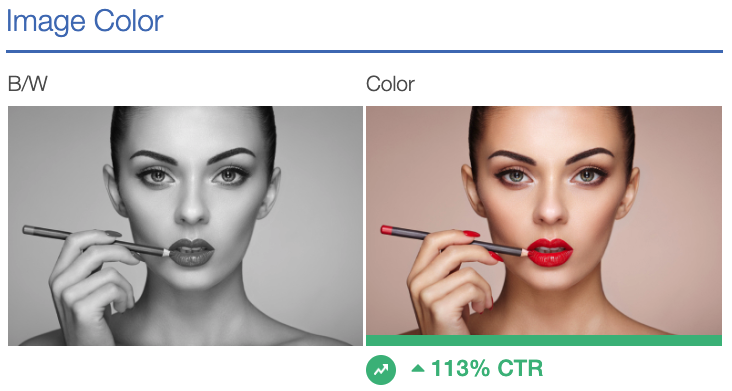 In headlines, words like 'hairstyles,' 'shapes' and 'look' are driving clicks in the beauty vertical. Here are some campaign examples:
The Golden Rule: A/B Test Consistently
Time traveling back to the beginning of this post, we mentioned that best practices won't always work for everyone—but are a good place to start diving in testing with your own audience.
Nothing beats tracking and measuring how your own native ads are performing.
When you have a system for doing this, you can continuously tweak and improve your campaigns until you have met – and exceeded – your campaign goals.
This is where A/B testing (also called split testing) comes in.
With this strategy, you can compare two different variations of your native ad: like the image or the headline. Pay attention to version A to a random 50% of your audience, and version B to the other 50% and analyze the data to find the top-performer.
Use Cold, Hard Data to Create Killer Native Ads
When it comes to digital advertising in today's competitive landscape, there is no time – or budget – to play the guessing game. We take the guesswork out by providing you with targeted data on millions of ads so you can create, test, and optimize your best campaigns yet.
Our analysis isn't a guarantee of future behavior, but it is a great starting point for anyone looking to complement their search strategy with a killer brand-awareness campaign.