Estimating ROI of a company's SEO effort is a common issue most of the SEO managers face today. In fact, it is a 'blanket statement' which is tough to measure.
You may think of several ways to calculate the returns from SEO investments as many do in their cases, such as:
Calculating the number of customers coming via organic searches
Calculating the number of customers filling out contact form on the website
Installing phone system for customers using website for calling
Installing live chat services for sales people
Using landing pages to collect lead conversions
But, none of the systems prove to follow a standard process that is applicable across all companies and industry verticals, especially e-commerce stores that have a physical existence. I believe there are a lot like this.
ROI Calculation is Dynamic and Complex
Measuring SEO performance is not such a simple task. What if someone searched for a keyword, came to your site, bounced and then walked into your physical store for purchasing something. You cannot attribute that customer to organic search because you are neither sure about it, nor can you ask a customer for such details.
The process requires a lot of stuff to measure and with lots of internal analysis.
The ROI calculation for Ecommerce sites has been easier with Google Analytics. This article " 15 Reports and Insights That Really Matter for Online Store" proves that. SEO marketers place e-commerce tracking code in their product pages and then set up $ values for product SKUs.
However, that always does not work for non-e-commerce websites. Setting up goals and conversion values for those goals may be useful. A conversion could be an email registration for webinar session, demo sign-up, email opt-in, multiple page views or a long visit duration – anything that drives your advertisement goals and subsequently transform visitors into customers.
Steps to Follow in Effective ROI Calculation
Distribute the ROI Responsibility
The buying cycle in any company – e-commerce or non-e-commerce based is somewhat similar as follows:
So, it is not just the SEO team who create brand awareness who should be held solely responsible for ensuring ROI; the subsequent lead holders like solutions specialist, sales people and customer support should also put equal effort to convert a prospect into a customer. It is a team effort. Here are a few strategies to increase sales conversion for SEO marketers.
Separate Brand Specific Keywords
You should exclude company name specific branded keywords from your analysis before calculating your SEO efforts. The reason is many visitors who already know your brand will type your company name during searches, but they cannot be attributed to your SEO efforts.
So, it is better to segregate branded and non-branded keywords and then analyze the growth of traffic for non-branded keywords. Here is how to exclude your brand name using Google Analytics.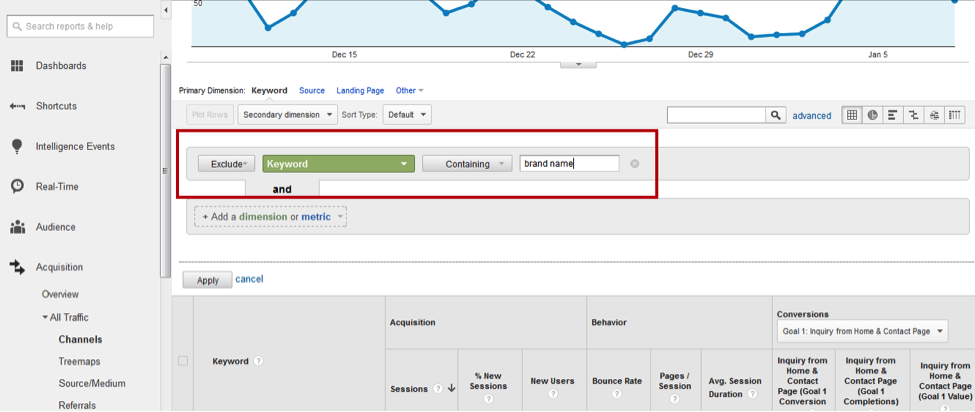 Set Up Your Business Goals in GA
Business goals could be of different nature to different businesses. For a technology company, the goal could be demo signup or workshop registration; for an e-commerce store, the goal could be a product buy. So, decide on the type of conversion action you want to make happen from search traffic. This is only possible when you discuss with the business owner and understand the business model and service type.
The cost of providing services and the retail value of the product or service should also be taken into account to decide on the conversion value in dollar format.
To set up Goals in Google Analytics, go to Google Analytics Dashboard > Admin > View > Goals > New Goals and you will land in a page where you can choose preferred Goal Template based on your business criteria. The figure below shows four types of pre-configured Goal templates and Custom options.
Determine Customer Conversion Rate
Setting up conversion value is the most challenging and crucial step. An SEO marketer should consult with the sales team and understand customer conversion rate for the inbound leads. They should be able to tell you for every 10 leads they get how many end up buying the product or service.
If 1 out each 10 leads converts into customers i.e. the conversion rate is 10% and the average value of one product / service is $500, then each lead can be assigned $50 value in Google Analytics. Because, with 10% conversion rate if you have 10 leads come in, and 1 converts as a customer you still make $500 in total.
Know the Keyword Conversion Rate
Once you accumulate all the non-branded keywords the next step is to figure out their importance in terms of relevancy and conversion probability. To ensure quality traffic, you also need to use quality keywords. For example, keyword X may bring in leads that convert at 25%, whereas for keyword Y the conversion rate is 10%. You should spend more time and money in getting traffic for the keyword X than Y. If you run a small business and rely more on location-based keywords, experts may help you explore targeted local keywords having good search volume and high conversion rate.
Enable E-Commerce Tracking System
Google Analytics does a great job in this regard. Go to Google Analytics Dashboard > Conversions > Ecommerce. Fill out the required fields for a Product item and Transaction data and finally generate standard reports for Product performance, Sales performance, Transactions and Time to Purchase. Read this article from Google Analytics to learn more about e-commerce tracking and its steps.
In addition, you can use some other SEO key performing metrics to measure your SEO efforts such as the number of non-branded keywords driving traffic and number of landing pages getting mostly visited by organic visitors. Having them grow with time indicate you have a constant source of new and quality traffic.
Hope the above discussion helps you to identify the KPIs of your SEO campaign and track ROI with much confidence. Calculating SEO ROI is fun once you get involved into the process. So keep juggling your analytical power and see results with time.