Cart abandonment is one of the most serious problems faced by e-commerce businesses.
Baymard Institute analyzed 37 separate studies containing cart abandonment statistics and came up with an average cart abandonment rate of 69%. For your average store owner, that is a significant loss of revenue.
Featuring a product page with killer sales copy, compelling images, and a powerful CTA will improve your chances of getting a visitor to convert - but it won't guarantee it.
If a visitor adds your product to their cart but doesn't complete the purchase, all hope is not lost. They have already signified an interest in the product; it might be that they just weren't ready to purchase at that particular time.
Common reasons for cart abandonment include:
Temporary distractions

Unexpected shipping costs during the checkout process

Fears over data security

Lack of adequate payment options
While you should constantly be improving your user experience and checkout process to mitigate these issues, cart abandonment emails work particularly well at reviving visitors who didn't purchase because of distractions.
While Facebook retargeting ads are also powerful for cart revival, I recommend starting with email marketing since it costs nothing to send an email.
1# Give Value
When someone enters their contact information but fails to complete the process, you have the opportunity to send them an ultra-targeted sales email in order to achieve the conversion.
According to Sales Cycle, nearly 50% of all abandoned cart emails are opened, so don't think you are harassing people by reminding them about a product that they showed interest in.
Your products provide value to your customers, so you are giving them another opportunity to enhance their lives when they purchase (if you don't actually believe in your products, I recommend going back to the drawing board).
When you write a cart abandonment email with the mindset of giving rather than extracting value, the process is much easier.
People are compelled to purchase due to emotional rather than logical reasons. By helping your customer to see how your product will allow them to avoid pain or move toward pleasure, you will maximize your impact with cart abandonment emails.
#2. Subject Line
Please don't be tempted to send an abandoned cart email with Shopify's default subject line: "Complete Your Purchase!"
This comes across as corporate and transactional. Instead, appeal to the reader's self-interests and aim to spike their emotions. The average person receives 88 emails per day. It is important that yours stands out from the rest.
Consider incorporating one or more of the following elements into your subject line:
Personalization
Unique brain activation patterns occur when we hear our own name. Embedding the customer's name in your subject line is an easy way to make your abandoned cart email stand out from the other generic marketing messages in their inbox.
Example: "Forget something Andrew?"
Fear of Missing Out (FOMO)
If someone is on the edge about making a purchase, you can push them over the edge by leveraging FOMO.
Tell your customer in no uncertain terms what they are missing out on, and how they can take action immediately.
For example: "Only 200 widgets left! Save 20% today."
Alternatively: "Hurry! Your cart is about to expire."
Humor
If you want to grab someone's attention, make them laugh. Behaving as if their shopping cart has a mind of its own is a lighthearted way to re-engage customers.
Example: "Your shopping cart is lonely!"
Alternatively: "Your cart forced us to send this reminder!"
Education
Sometimes, users don't complete a purchase due to lack of information. Instead of focusing on landing page optimization, you can improve conversions using education.
Example: "Do you have any questions about [Product]?"
Instead of pushing for a sale, this allows you to open a dialogue. Once you are aware of the customer's concerns, you can link them to FAQ content, blog posts, external reviews or start a live chat with one of your customer service representatives to alleviate fear.
Often, taking a P2P (people-to-people) approach to marketing is the best way to increase sales.
#3. Body Copy
Your mission when crafting body copy is to encourage a conversion with emotive language and imagery.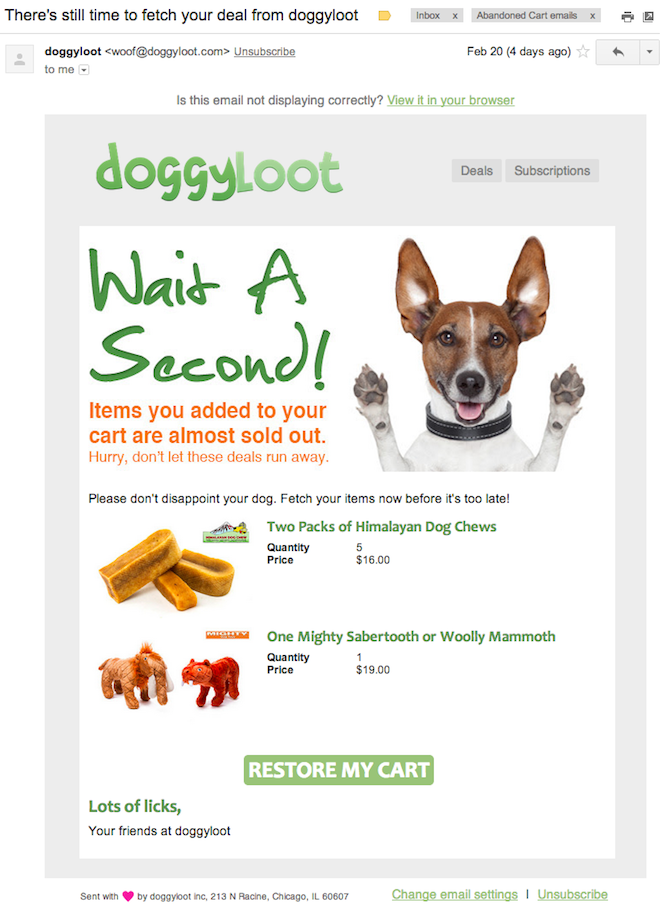 In this fantastic cart abandonment email by Doggy Loot, many emotional levers are being switched.
By stating "Hurry, don't let these deals run away" and "Fetch your items now before it's too late!"; this evokes a sense of urgency for the reader. The fact that the copy is consistent with the dog branding is an added bonus.
As mentioned previously, avoidance of pain is a core emotional driver.
This copy is written with a specific buyer persona in mind (someone who loves their dog). The phrase "Please, don't disappoint your dog" tugs at the heartstrings, particularly when coupled with the emotive hero image of the animal.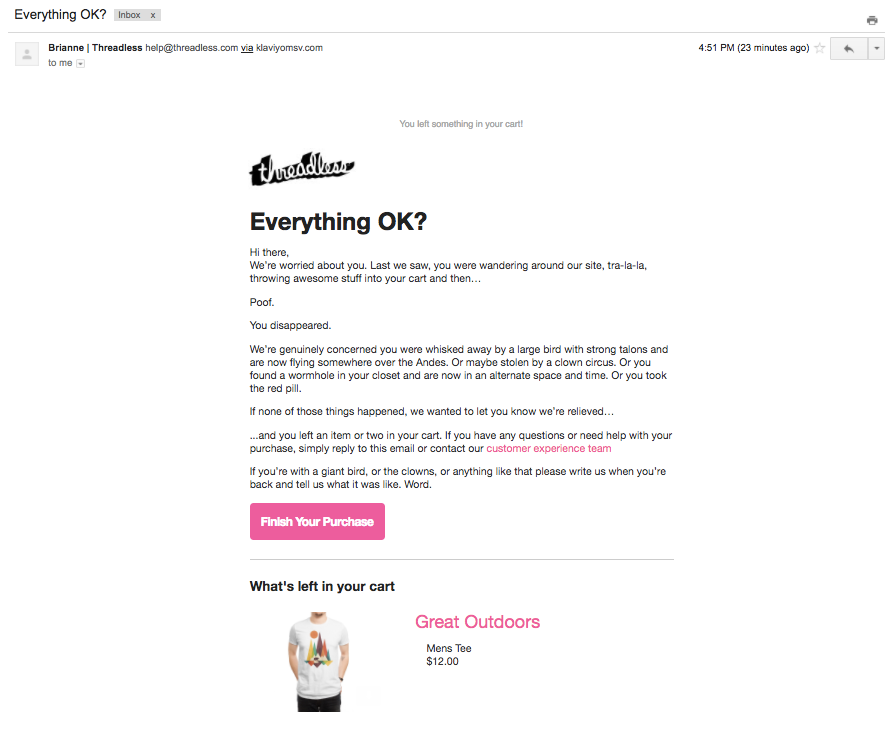 In this abandoned cart email by Threadless, it feels as if one of your friends is sending you a funny message - instead of a faceless corporation pushing you to convert.
After giggling at the thought of being captured by a giant bird or marauding clowns, you are left with a visual reminder of the product you nearly purchased.
In a predominantly black and white email, the pink elements immediately draw attention - especially the "Finish Your Purchase" CTA button.
Once you have leveraged urgency, FOMO, and humor in your body copy, always finish strong by imploring your reader to take action and complete the purchase.
#4. Incentivization
For most online stores, there is an inverse correlation between the amount of time that has elapsed since the add to cart and the likelihood of achieving the conversion.
Put simply: your chances of reviving an abandoned cart are highest within 48 hours of the initial engagement. After this, your chances become lower over time.
Many store owners offer special discounts in their cart abandonment emails. I think this is a great idea, but I also recommend increasing the discounts over time.
Since it is much harder to revive a cart that's been inactive for 2 weeks compared to 2 days, offer these users a more substantial discount.
Your 48-hour discount could be 10%, whereas your 2-week discount could be 20%. A sale with lower profit margins is still better than no sale at all.
For stores with younger demographics, an abandoned cart may signify that a person is interested in the product, but doesn't have the money to pay for it presently. To combat this, try sending out your abandoned cart emails at the beginning of the month when your customers have more disposable income.
Can you think of any other tips for crafting a killer abandoned cart email? Please let me know in the comments below.