If you talk to any marketer, it is inevitable they will have strong opinions on which tactics are the most effective for promoting a business. At times, it can feel that PPC advertising and content marketing are two conflicting ideologies - each with their own vocal proponents.
In my opinion, these two schools of thought aren't mutually exclusive. In fact, they can complement one another nicely.
Content marketing is unquestionably a long-term game. By publishing high-quality content that educates your readers, you can boost brand awareness, build trust and eventually, drive sales. In a survey on B2B content marketing, 86% of respondents say that they use content marketing in their business.
On the other hand, PPC advertising can drive explosive growth very quickly (once you have done a lot of testing and tuned your campaign to be profitable), but it isn't as sustainable.
The Power of Remarketing
There is one aspect of PPC advertising that is extremely powerful and works excellently in combination with content marketing: retargeting.
If you don't already know, retargeting is a PPC tactic that allows you to identify and target website users with contextually relevant social media and search ads.
According to research, 96% of first-time website visitors are not ready to buy. Unfortunately, if a visitor doesn't opt into your mailing list or buy one of your products - you have lost the opportunity to market to them unless you use retargeting.
If someone visits your website and doesn't convert, it doesn't mean they aren't interested; it just means that they weren't interested at that particular time. In the current era of perpetual distractions, there are plenty of reasons why a potentially good customer wouldn't purchase from you on their first interaction with your brand.
If you are selling high ticket items, achieving conversions isn't always an issue of tweaking your offer or crafting compelling sales copy - often it is an issue of education. People need to fully trust your brand and be properly informed before making a sizeable purchase from you.
This is where content and retargeting comes into play.
By delivering educational content to your website visitors in the form of retargeting campaigns, you can build trust and encourage conversions.
Setting up Facebook Pixel
While you might want to experiment with Google, I find Facebook to be the most effective platform for retargeted content campaigns.
To track your visitors and target them, you will need to install Facebook Pixel.
In Facebook Ads Manager, click on 'Business Manager Settings'. Click 'Pixels' under 'People and Assets' and then click 'Create a Pixel'.
This will generate a piece of code that you need to install on every page of your site. Platforms such as Shopify have an inbuilt Facebook integration where you only need to paste the code once.
For more detailed instructions on implementing your pixel, check out Facebook's comprehensive guide here.
Audience Segmentation
In a survey of marketers, 94% stated that personalization is "important," "very important," or "extremely important" in terms of achieving marketing goals.
Personalization is one of the key benefits of retargeting. You can plan your campaigns based on the behavior of different audience segments.
For example, someone who has visited your sales pages or requested a quote would resonate with very different messaging compared to someone who has viewed a few blog posts but has shown no buying intent.
Once your pixel is up and running, you can target users based on the pages that they have viewed.
While your audience segments will be unique to your business, it is wise to build a custom audience of all visitors who have shown high intent to buy. For an e-commerce business, this could be someone who has added the product to their cart but has not visited the URL of the thank you page (indicating that they are not a customer).

Consumer Products
When marketing low-margin items, I like to use retargeting to push visitors further along through my funnel.
Typically, I like to send people who visit my homepage (or more ideally, specific blog posts) through to a sales or product page. Alternatively, I like to retarget visitors who visit sales pages back to the same page using a limited offer or discount to encourage the conversion.
Again, this comes down to audience behavior.
The blog posts that a person reads will give a clear indication of the types of products that they would be interested in.
For example, if you are selling fitness supplements, your audience will share the ambition to improve their health, appearance and/or physical performance - but there differences too.
A 20-year-old single guy might read and appreciate a blog post entitled 5 Exercises for Gaining Muscle Mass, but this content would be useless to a 45-year-old working mother who wants to lose a few pounds and feel healthier - despite the fact that both individuals could be loyal customers for the same brand.
In this example, you could build a custom audience of people who have visited the URL of your blog post, then fire off a retargeting campaign promoting a mass gainer supplement (because it relates to the initial interest a person reading that article would have).
If your product is gender or age-specific, you can exclude certain age groups and genders from your retargeting. For instance, if a woman has read your blog post about beard trimming (perhaps out of sheer curiosity), you will probably want to exclude her from your retargeting campaign promoting beard care supplies.
The higher your ad resonates with the target audience, the lower your CPC will be.
Higher Ticket Items
To market higher ticket items, I like using retargeting to convey social proof and educate potential buyers.
Your best results will come from targeting people who have shown high buying intent.
This audience doesn't need to come from your pixel. Perhaps you have got a mailing list of customers who have contacted you for a quote but who haven't completed a purchase.
Fortunately, you can input this list into Facebook and build a custom audience for your retargeting campaign.
If you are promoting a course on driving website traffic, send this audience to a blog post giving free strategies for driving traffic - then plug your paid course at the end or offer a content upgrade where you can get their contact information (and then promote your paid course via email marketing).
Alternatively, if you have some beautifully shot customer testimonials or case studies, consider using Facebook retargeting to put them in front of your high intent custom audience. Sometimes, a little bit of social proof can be the difference between a conversion and a flake - particularly if the prospect can recognize him or herself in the customer conveyed in the case study.
Promote Special Content
No matter how much research and planning you do, publishing a piece of content is a gamble.
While it is not the end of the world if a blog post fails to get engagement (you can post a new one tomorrow), it is definitely painful if you have poured hours and money into a special piece of content like an infographic and it fails to generate attention.
Consider retargeting all of your website visitors for the past 180 days to your new infographic. You could also include a separate campaign specifically for your mailing list.
So long as your piece of content is genuinely high value, you can install a relevant lead capture form or link beneath the content to turn your visitors into leads. For each of Kissmetrics' great infographics, you can find a lead capture form in the left column, and a "Learn More" CTA above the comments.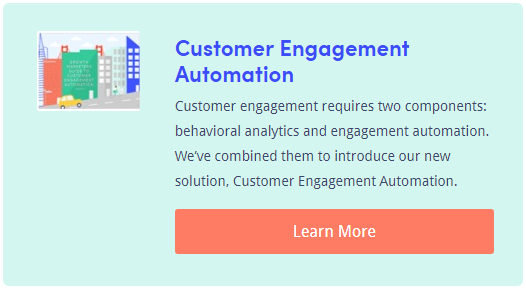 Do you have any tips for combining retargeting and content marketing? Please let me know in the comments below.