Despite spending hours on a great piece of content, the digital world is not always kind to content marketers. Most of the time, your content gets lost in between cat videos and memes. So, what can you do to make sure your content stands out and gets noticed to attract the right kind of traffic?
Last week, Casie Gillette, Senior Director of Digital Marketing at KO Marketing, joined in on the conversation along with our other chat guests, to answer the most pressing content marketing questions. Here's what they had to say:
The Biggest Challenges When Creating Content
All content marketers at one point or another face challenges while creating content for their marketing efforts. Here are some of the top challenges our chat participants shared:
1. Establishing a Goal
Content cannot succeed without a purpose. It is important to identify why you need to create your content and what you need to achieve afterward. Setting a goal is crucial; is it for lead generation or is it just simply for SEO purposes? Aligning your business goals with your content strategy can get tricky, you need to ensure that the content fits with your ongoing marketing campaign.
You can't start creating content without knowing what the goal of that content is. People want to have content because they 'think' that's what they should do. The goal dictates the type of content, how it's written, who it's for.
For me, the biggest challenge I face when creating new content is deciding if it fits within a current campaign or if I should use it to begin a new one. Is this content going to be used beyond this point and time.
Learn different ways of setting up content goals by reading  Ultimate Guide to Content Marketing Strategy. It explains both the SMART and CLEAR frameworks, and also explains how to evaluate KPIs and set OKRs.
2. Keeping it Fresh
Your audience is already inundated with a wide variety of content from various channels. To ensure that your content gets the attention it deserves, you constantly need to reinvent it and make sure you are putting out fresh and unique content, which can get extremely challenging.
The biggest challenge is always finding a fresh perspective. With the abundance of content online, it's always important to find a twist to make your content stand out.
Resources: 
3. Understanding Your Target Audience
Creating fresh and unique content only works if it also delivers value to the audience that it is meant for. Therefore, it is crucial that you understand your audience to give them a fresh perspective, which is critical for the success of your content. This isn't always easy to do and can pose a major challenge to marketers.
Creating unique, valuable content that still captures relevant long-tail keywords! There is so much high-quality content out there that it takes some serious creative strategy to write something different that is still meaningful to the target audience.
So many challenges! But one of the biggest is trying to create fresh content that hasn't already been covered countless times before. You always want to give the audience some value so you need to create something to intrigue and benefit them.
Learn more with  How to Find Marketing Insights Using Audience Overlap.
4. Measuring Your Content Campaign
Most marketers these days know that their content strategy should be measured. Otherwise, it would be impossible to know the kind of impact that your strategy has and you know what to tweak and improve upon. The challenges lie in measuring the correct metrics with the right kind of tools so that you can get optimal results.
JP Sherman explained 3 of the biggest challenges:
Giving it a user and business purpose.
Measuring efficacy by distribution channel.
Monitoring it to create a content pipeline.
Learn more with  Content Marketing ROI: How to Measure Your Success
5. Lacking Resources
Whether it is having the right tools or the competent manpower, simply having enough time to create quality content is something that can be a challenge for marketers. It can be hard to generate quality content with the minimal resources and content editing tools that some content marketers have.
Strategy is critical when you have minimal resources. Everyone needs ways to gather information and research. Here are some great suggestions: 
We keep a live sheet with infleuncers and media contacts and I also use @news360 to filter and #AI browse my news. It is an amazing tool to tailor the kind of content you need.
Places to find information - Pew Research Center, Twitter, LinkedIn, Feedly, Medium. Quora. Statista, Alexa Audience Overlap Tool, SBA's Office of Entrepreneurship Education Resources, Surveys, U.S Census Data Tools, Competitive Keywords SEMrush, Google trends, and conferences.
A lot of businesses believe they cannot afford tools, but after analysis, they find that by saving time (which is money) and resources, tools can actually save you money — it is all how you look at the process.
Resources
Intelligent Content: 4 Characteristics That Describe It
Well-written content doesn't always mean 'good' content. Despite using numerous images and videos and formatting your content to make it visually attractive, the content you create is not always 'intelligent.' Here are some of the characteristics of good content:
1. It is backed with data. 
"When I talk content, I always discuss data. Intelligent content uses real data to inform the content itself. Ex: If you are creating content to share, BuzzSumo can show you the type of content that is typically shared by your audience. " — Casie Gillette
2. It is created with a purpose.
"Intelligent content is authentic, creative and it serves a clear purpose." —  Comparisun
3. It resonates with your target audience and adds value.
"Intelligent content satisfied user queries and add s value. Ideally, it would also answer questions the user has as they read the article as if you're one step ahead of them, user intent." — Brian Kato
4. It is unique/fresh and attracts attention.
"Good content is unique content that offers value to the users, it has to be interesting and you have to make sure you also get it in front of the right eyes." —  Craig Campbell
Content that successfully overcomes the challenges mentioned above, while ranking highly in the SERPs is the winner.
---
Tools to Streamline Your Content Marketing Workflow 
If my goal is organic search presence, I use SEMrush to figure out the type of content that is already ranking. Intelligent content is built to do something."
Content marketing is not as simple as just creating a blog post. The process includes planning, strategizing, creating the content, distributing it, measuring it, and finally, if necessary, tweaking it. Unless you have a well, thought-out plan in place, and enough technology to help you to streamline this process, it can end up being a hot mess.
The good news is that creating good content doesn't have to be hard. In fact, it is doable with a variety of tools that can help you make data-based decisions. Using a tool like BuzzSumo or SEMrush can help you to analyze what will work for your business and what will not.
You can use the SEMrush Topic Research tool which can give you an overview of the content that your competition is creating. You can also see the questions people are asking in real-time. 
Using a combination of both tools and data, you can get a clear picture of what your target audience expects and ways to come up with a strategy to get your content to rank.
Tool List by Category
For Keyword Research:
Organization, Project, and Workflow Management:
Asana

Trello

Basecamp

Google Drive
Finding Relevant Content:
Editing and Writing
Scheduling and Distributing Content
Strategizing
Google Analytics

Google Trends

Google Search Console 
Choosing Tools
It is important that you pick the tools that work for your business goals and requirements. Whatever tools you choose, they need to help you to streamline both measurements and analytics, find out which content is not performing well, and add it to the content repurposing or revision pipeline.
This is fun (for me) I look for the content that gets low conversions, low interactions, high impressions but low clicks, minuscule time on page, then add that to a content revision pipeline.
Quick Tip: Even the best quality tools will not help if the content calendar is not planned and you don't stick to your schedule.
We have our own content marketing calendar! Planning in advance makes life much easier. Also, automation is a time saver. We currently use Hootsuite for scheduling to social media. Then analytics tools to measure and report engagement.
---
Finding External Resources For Repurposing Content
Repurposing your content doesn't mean just copying and republishing it. It involves bringing additional value to your user base in different ways and using those new resources to reach a variety of audiences in different ways.
Casie mentioned, "Part of repurposing content is also finding opportunities on your own site. Blog posts into social clips - infographics into slideshares."
For example, we have this article called  The Definitive Brainstorming Guide. Our social team repurposed this content and made an infographic for social shares: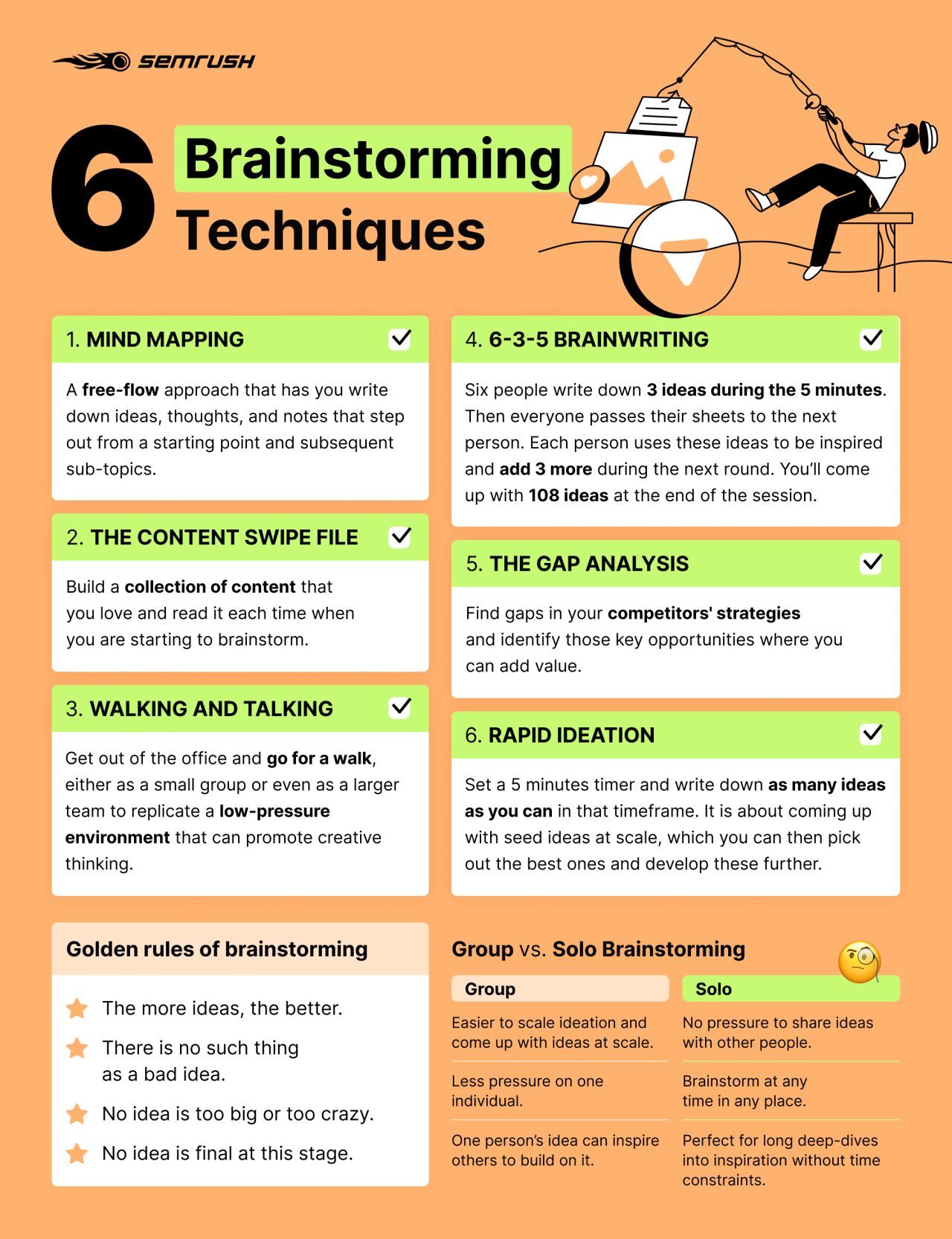 This infographic educates followers and helps build trust in the brand; it also can help drive traffic to the original article. And ever time people share the infographic, the reach and traffic potential grows.
Analyzing your website is a great way to find repurposing opportunities. Although it can be fun to create new content, it can be time-consuming and requires a lot of resources. 
Since a lot of effort and resources are spent on each piece of content you create, it makes sense to get the maximum benefit out of repurposing to reach a larger audience base.
As with any content marketing strategy, you don't have to go into repurposing it blindly. You should monitor the kind of engagement the topic gets on public social media forums like Reddit, LinkedIn, Facebook, and Twitter and decide if editing and repurposing your content is right for you.
Repurposing Tips
Check out  8 Tools For Repurposing Content.
---
What to Consider When Investing in a Content Marketing Strategy for New Versus Existing Customers
Did you know that it costs five times as much to attract a new customer than to keep an existing one ( resource)? Customer retention is as important as getting new customers and clearly more affordable.
For many businesses, their content marketing strategy is not focused on customer retention. They are often focused on building more brand awareness, driving new eyes to their products, and building brand reputation and authority. 
While providing a great customer journey and meeting expectations are great benefits when trying to gain new customers, it should be noted that you also need a strategy you for existing customers.
When thinking about existing customers, the strategy changes - it's answering questions about the product/solution, addressing industry challenges, and much more focused on the help side of things.
For existing customers, your strategy should involve more support and assistance geared towards product implementation, solutions, or solving industry challenges. You need content that answers questions your current customers have. Consider troubleshooting guides, FAQs, product walkthroughs, tutorials, etc.
"For existing customers - we write more about our product/service, faqs, troubleshooting, etc. For new customers we write more about research, how-to guides, why, etc. kind of content. The content strategy depends on the customer's position in the buying journey."
Ultimately, the strategy you choose will depend on your business requirements and what makes the most sense for your company goals. You can always look at competitors for inspiration:
#1 for us is establishing brand reputation and authority. Provide beyond-expected value to viewers in top of funnel content."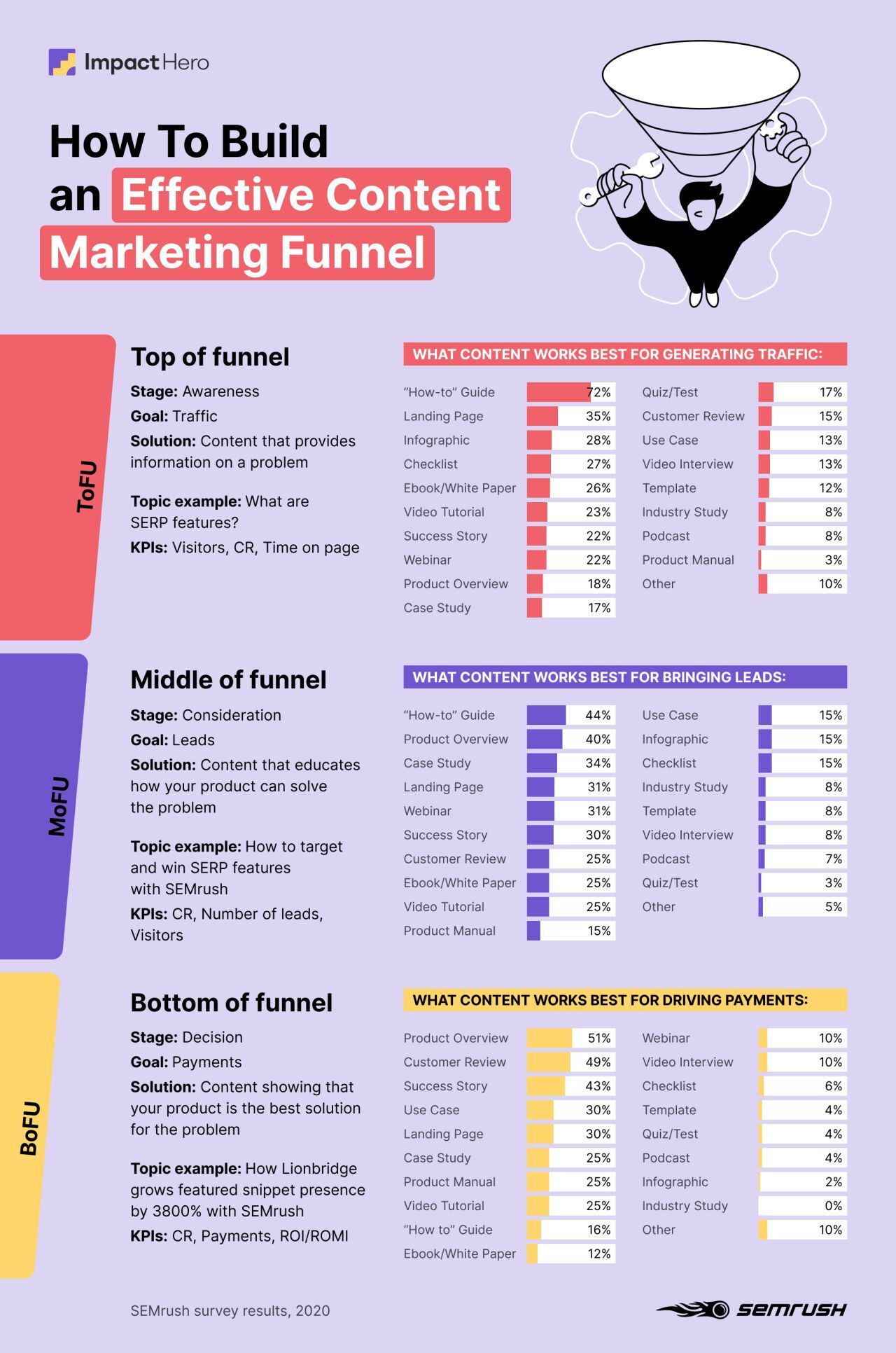 ---
How to Use Social Listening to Fuel Your Content Strategy
Social listening is essential to a successful content marketing strategy. It allows you to understand the pulse of your target audience, see the content they are (and aren't) engaging with, and then, come up with the perfect strategy.
A great way to utilize social listening is to curate a set of different topics and articles to see which receives the most engagement. The topic that gets shared more can help to guide your content marketing strategy.
I like to curate a ton of content from other sources to see what is getting the most engagement. That's usually what then resonates and guides some of my content strategy.
By listening to what your audience is actively saying on all digital channels, you can also identify the gaps in your current marketing strategy or product offerings and make the necessary tweaks to adjust it.
Kind of standard operating procedure - but we take a deep look into our community's responses - develop responses, fixes & communication plans wherever people are talking. If you understand feedback loops, like the Krebb's Cycle of photosynthesis, removing one part collapses all of it. Social listening is a critical part of the content feedback loop. Maintain that loop.
By using JP's strategy, you will be creating content that answers questions and addresses concerns, adding unexpected value that will impact conversions and create trust.
Reputation Management
Monitoring your brand mentions can also help you to get an idea of how your brand is perceived by your audience. You can further understand whether or not your brand needs more awareness building or needs to address reputation management issues.
Listen on all channels — feedback is special and often an untapped resource. This can drive ideas for new content or improvements to evergreen pages - even the criticisms!
Think of social listening as live feedback for your brand and the content that you put out there. The less engagement you get, the more improvements you need to make to your strategy.
---
Join us every Wednesday at 11 am ET/4 pm BST for #SEMrushchat on Twitter and gain insights from some of the best marketers in the industry.