Detailed and highly customized proposals have been a big factor in my agency's success since I was a one-man operation back in 2001.
A well thought out, custom proposal can bring in high-value clients you actually want to work with.
The problem is, a great proposal can require serious time and effort to compile. Back in the day when I was doing these by myself (in addition to many other things) a good proposal would easily take 6-12 solid hours. That meant a constant back-and-forth battle between trying to grow my business and trying to service the clients I had.
If I was going to grow my business and eventually let others create proposals to my standards I had to make this process more efficient.
Today I'm going to share some of the strategies that have allowed us to create awesome proposals in half the time it used to take.
Show the Prospect You Understand Their Company, Industry & Goals
Have you ever received a "proposal" that you know was created in 5 minutes by inserting your name into some prefabbed boilerplate?At that point, it doesn't matter how good that content is, you feel like you weren't worth the effort and the relationship is already tarnished.
Your prospect wants to feel confident you've listened to their concerns, asked good questions, and did your homework before hearing your pitch. If you're competing with other agencies, this becomes a critical factor to differentiate your offering from the others.
In all my years of doing this, a new client never said they signed on with us over one of our competitors because we were less expensive.Instead, it's almost always something like "you guys really took the time to understand us, they didn't."
We've maintained a 70% close rate by presenting a clear case of "here's where you are," "here's where you want to be" and "here's how we'll get you there," packed with juicy data and realistic expectations.
Use the Right Tools to Gather Data
Most of our proposals can be created using 2 tools: One to dig for data, the other to collect and present the relevant bits.
SEMrush is one of my favorite tools for gathering data, because you can quickly get a view of an industry, trends, competition, and where your prospect is in all the noise.If you plan to present a proposal with any combination of digital marketing services, you'd better have data to back up your recommendations.
Throughout the process of using SEMrush, we find out more about their industry, search terms, and competition.We continue prying SEMrush for specifics, such as effort and tactics needed for SEO, budgets & ROI for paid search, and our prospects' share of voice.By looking at their competitor's profiles and leaders in similar industries, we're quickly able to see the gaps and where our prospect is falling short.
Once we've done the research, we need to simplify our findings into what's needed to understand our recommendation.
Instead of pulling pages of reports and overwhelming the prospect I like to use Jing. This little screengrab tool allows us to easily grab sections of screens that matter.It's great for highlighting things, drawing arrows, and adding comments without the need for something like Photoshop.
How to Create the Proposal Story
Using the tools above, we are able to create a story in our proposals, which provides a convincing case. In short, it goes like this: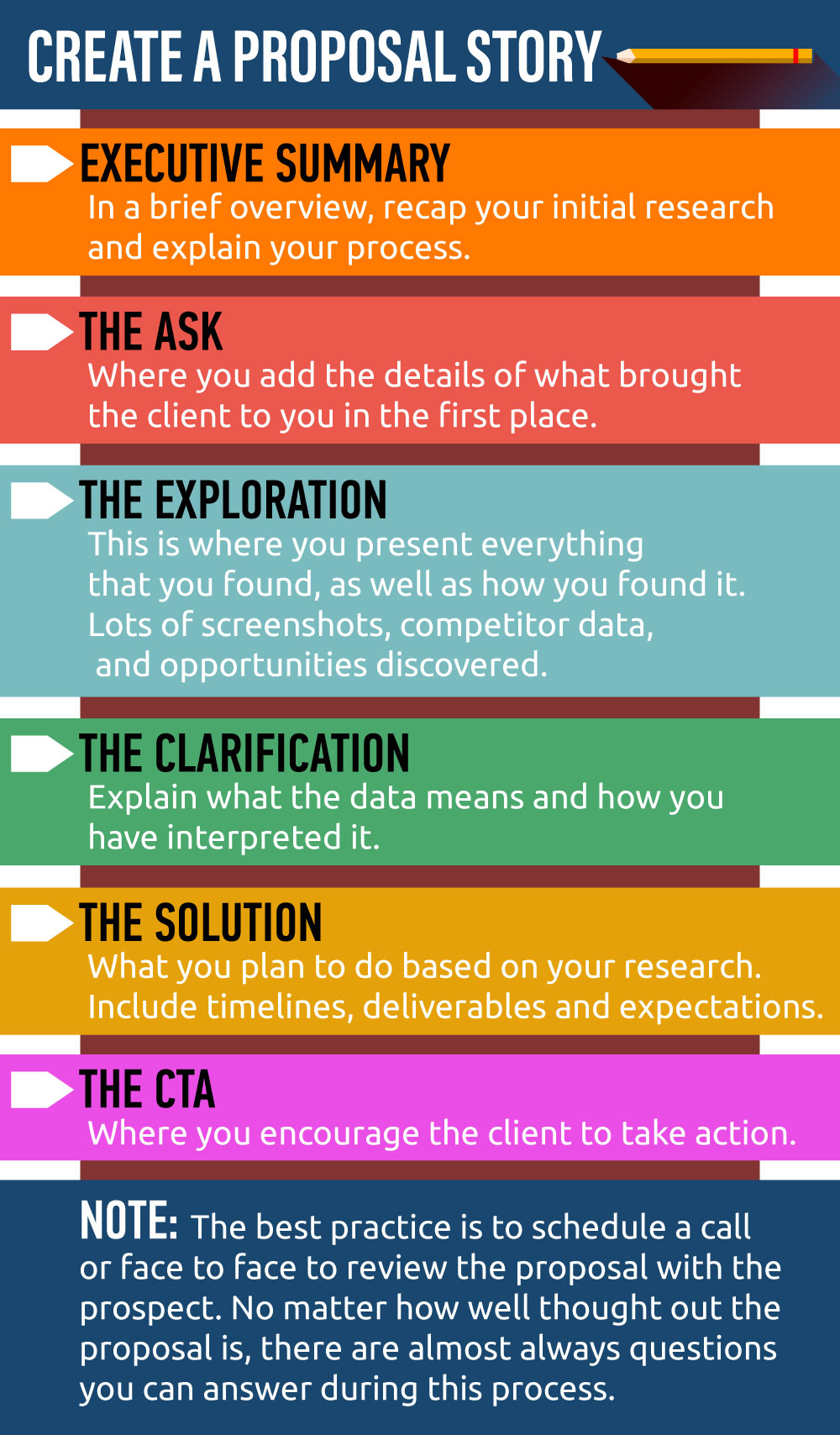 How Much Information Should You Include About Your Company?
One question you may have is whether to include information about your company, experience, portfolio, etc.
All I'll say here is - it depends.
In our situation, most of our prospects have already consumed that information before they reach out and we've already been over it through several exploration calls and email exchanges.
As a result, we don't usually include it unless our contact is re-presenting the proposal to a leadership team.
Do What Works for You
That is how we go about creating proposals that allow us to consistently work with our preferred clients.
However, what I want to emphasize is this: What works for us, works for us. You need to find out what works for you.
We use SEMrush because it allows us to condense down what used to take us many hours of work and multiple team members into a much shorter process—without sacrificing data quality.
Finally, remember that your proposal is not just about winning business for your company. It's about setting realistic expectations for the project. You want to onboard the type of client your entire staff is excited about working with.
Never pitch a prospect you wouldn't want as a lifetime client.