If you're a marketer, you've probably heard the term "content marketing" about eight million times — to the point where it's started to lose the pizzazz it once had.
We're all inundated with content in our inboxes, newsfeeds and other digital channels ad nauseam. So as marketers, how do we build a B2B marketing strategy that gets above the noise and generates high-quality content that boosts conversions and revenue?
To answer this question, I'd like to start by addressing a common — and growing — misconception of what content is and is not.
Content is not just blog posts, cheeky tweets, and other top-of-funnel activity. 
While content does fuel top-of-funnel activity, it's so much more than that. Content is all the messaging that touches an individual at every step of the buyer's journey, from first engagement, to closed deal, to satisfied customer.
The graphic below depicts the basic stages of a buyer's journey and the associated marketing functions and content types that drive prospects deeper into the purchasing process. It demonstrates that content fuels the entire buyer's journey and requires multiple departments to form a closed-loop B2B marketing strategy.
So how do you ensure that the content you create across this journey is high quality?
Here are some critical steps showing how to create high-quality content at every stage of your buyer's journey, and why it's critical to the success of your B2B marketing strategy.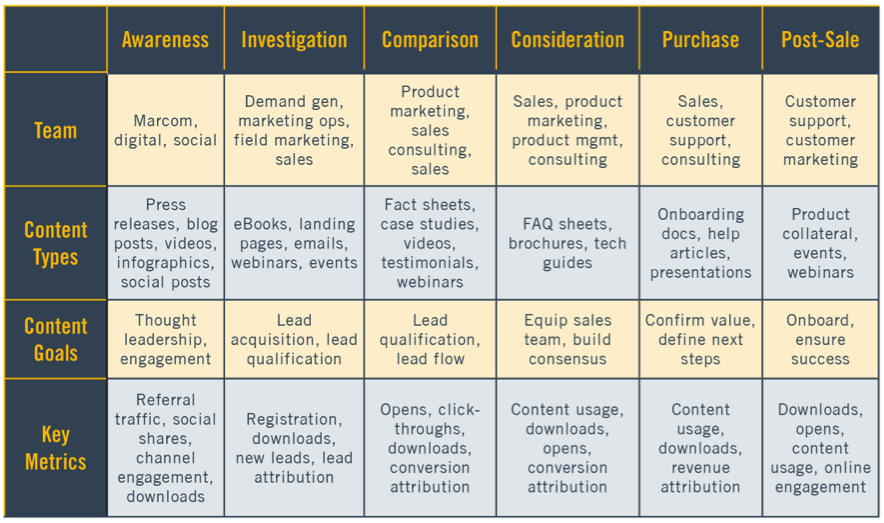 1. Assemble Your Stakeholders: Form an Editorial Board 
A closed-loop strategy ensures a seamless journey for everyone who interacts with your brand, requiring a consistent message from first engagement to satisfied customer. In short, content is at the center of a closed-loop strategy, and it takes collaboration across multiple teams and departments to achieve this.
The first step to a unified process is to gather at least one stakeholder from the departments managing content distribution at all stages of the funnel: the top (social and web), middle (marketing operations, product marketing, and demand generation), bottom (sales), as well as post-sale (customer success).
Each department needs to have a seat at the table — literally. These representatives will make up your editorial board, and should plan to meet at least quarterly to decide upon key themes, corporate initiatives and the content types needed for each stage of the buyer's journey.
Not only will this meeting keep all internal stakeholders aware of campaign timing, but it also ensures a cohesive strategy and consistent messaging from start to finish.
2. Define Your Buyer's Journey
The secret to high-quality marketing content isn't "create more, faster." If you're not producing relevant, persona-based content that captivates potential buyers at every single stage of the buyer's journey, you're wasting your time and resources.
This is a consistent challenge for B2B marketers across functions and industries. SiriusDecisions found that 65% of B2B content goes unused because content isn't strategically mapped to buyer interests and topics they care about.
The truth is, to have a truly closed-loop B2B marketing strategy, marketing, sales and customer success teams must aligned on the following:
The definitions of each stage in the buyer's journey
The sales stages associated with the steps of the buyer's journey
Desired buyer activity within each stage
Key messaging across every stage
In the chart below, you can see the basic stages of the buyer's journey, the desired buyer action within that stage, and the teams responsible for producing content within that stage.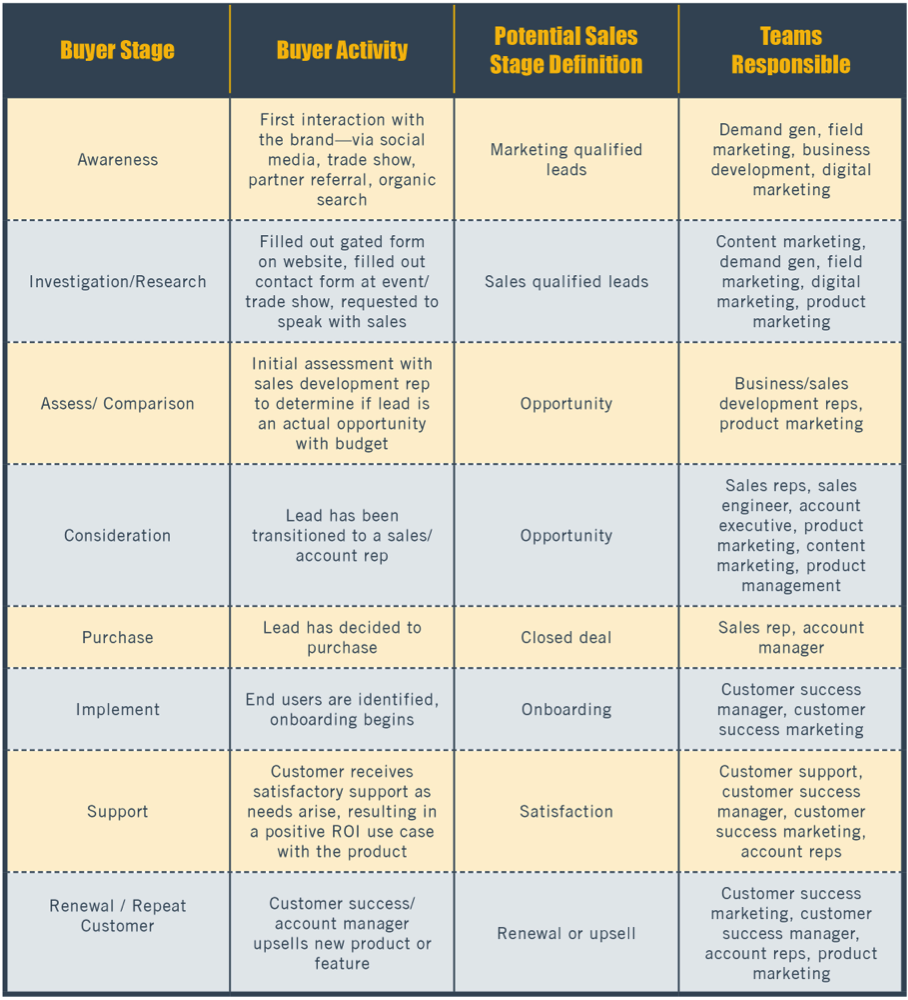 3. Crowdsource Ideas Internally: Set Up a Committee
Here's a scary fact: 99% of marketers say that a constant stream of ideas is crucial to effective content marketing, but only 50% believe they have enough ideas to fuel their content operations.
Marketing shouldn't be the only team carrying the ideation responsibilities for your company. In fact, almost 70% of marketers want to be able to crowdsource ideas more easily from internal employees. Your internal subject-matter experts, sales reps, and customer service teams are brimming with buyer-centric ideas; they just need to be mined appropriately — and frequently.
Almost 70% of marketers want to crowdsource ideas more easily from internal employees. #content Click to Tweet
The answer? Set up a content committee of subject-matter experts that meets monthly or quarterly to brainstorm topics.
By forming an official content committee, you'll be able to cluster scattered ideas into themes and content types that will resonate with buyers at various stages of the buyer's journey. The committee model also fosters further internal buy-in and alignment around marketing content among executives.
Using this model, AT&T's marketing team recruited nearly 150 of their own IT savants to be content contributors, not only blogging but also contributing to other social media sites and digital forums. You can read about their process here.
4. Track and Measure the True Value of Your Content
B2B marketers create content for a complex array of buyer personas and sales stages that, when working efficiently, should consistently reach its target audience. But top-of-funnel metrics don't tell the full story.
Without insight into performance at every stage of the purchase process, marketers can't prove which strategic content initiatives contribute to revenue or not. As marketing becomes smarter and more investment gets put into content, it will be imperative that B2B marketing teams report on content's true value and ROI.
Here are some key metrics to track the true value and impact of your content.
Internal
Finding the true value and impact of your content requires tracking not just external reach, but internal reach as well. But only 27% of B2B marketers track content utilization metrics. The result? Marketers can't clearly determine which assets provide value to internal teams like sales and customer success
Without a unified process to track internal content use across departments, time and resources are wasted on ineffective assets that burn up your budget and deliver little to no impact on company revenue.
Some key metrics to track the internal reach of your content include:
# of month-over-month (MoM) internal views of assets
# MoM internal downloads of assets
# MoM internal shares of assets via email or social
# MoM referral traffic from internal shares
External
Measuring your external reach is so much more than just tracking "likes" and clicks. But surprisingly, 17% of marketers in a Demand Metric study said they have no content effectiveness measurements in place, and 49% are using only basic metrics such as clicks or downloads.
For your metrics to drive real insights, you must dig deeper and more strategically to have a truly data-driven B2B marketing strategy.
Some key metrics to start tracking include:
Engagements per month by type of engagement (e.g., views, downloads, opens)
Traffic by channel category (e.g., direct, paid, organic)
Referral percentage by channel source
Engagements by content type
Engagements by buyer persona
Engagements by sales stage
Ten most engaged assets per quarter
Ten most shared assets per quarter
What about you, fellow marketers? What are some of your tricks of the trade for ensuring high-quality content in your B2B marketing strategy?