These days, technology evolves at lightning speed. This can present an interesting challenge for writers, especially when creating paid content for a client. Not only do you need to choose the perfect topic; you also have to know which details (technical and otherwise) your readers are really looking for, and optimize it all to rank in the country you're targeting.
Below, we at 7awi Global will share our best tips on choosing blog post topics and creating strong articles for our tech clients, all using Semrush.
Step 1: Understand Your Audience 
To choose the perfect article topic, you first need to understand the audience you're targeting. To do this, we start by creating a custom audience persona, targeted toward the client's goals. 
Keep in mind that this process might vary, depending on the client's unique needs, audience, location, and other factors. 
Here are a few examples of what this might look like for clients with different needs:
Technology companies looking to sell products: For this type of client, we would start with market research, focused on the age group most likely to be interested in those products, as well as being able to afford them. Most likely, that would include actively-employed adults between the ages of 18 and35.
Technology companies looking to build brand awareness: These types of clients often want to show off their technical capabilities, meaning we might write content to attract tech geeks. Topics might include the technology infused into their products, studies and research they have published, and differentiating features in their products or services, as well as heavily describing the details aiming to attract tech geeks.
Step 2: Competitor Keyword Analysis 
Next, we'll analyze the content already being produced and read by our target audience, through a competitor analysis. This helps us to understand:
How much traffic competitor pages are getting 
Which keywords they target
Which articles are doing well 
Seeing which pages perform the best can also help you better understand what your audience is looking for. And by studying which keywords your competitors target, you can identify keywords with high search volume and relatively low competition. All of this can help you to spark new topic ideas. 
If you're not sure who your competitors are, you can find out in Market Explorer, which is part of .Trends. Select "Find Competitors" and enter your client's domain, and take note of which competitors appear in each Growth Quadrant (found in the Overview tab). Once you've identified your biggest sources of competition, then start researching them.
Here's how it works:
First, select a competitor to research, and enter their domain into the Traffic Analytics tool. 
Open the Top Pages tab to find out which pages are getting the most traffic on the competitor's site. You can also note the source of their traffic — e.g. are they attracting their audience primarily through organic search, or do they have a strong social media or advertising strategy?

Next, navigate to the Organic Research tool, and make a note of which keywords they're targeting that might also work well for your client.

In the Keyword Gap Tool, enter both the client and competitor domains and note which relevant keywords the competition ranks for that your client is missing. Use these keywords to generate even more ideas.
Then сollect all of your ideas in an Excel sheet, Then compare them with your client's goals and requests, as well as your targeted audience criteria. Finally, pick the best topics that align with all of them.
Step 3: Write Your Article 
Now that you've selected your topic, it's time to build your article. For this example, let's imagine we're writing for a tech client who wants to share information about their products. 
Because the intent behind this article is to share product information with potential customers, the first thing we do, in this case, is not competitor analysis. Instead, we'll start by searching the brand name itself, to see what products are the most popular online
Here's what this process might look like:
Conduct keyword research focused on the client's brand, rather than the competitor's brand.
Identify the most popular products, based on page traffic and keyword volume.
Enter the product you want to write about into the Keyword Magic Toolto compile a list of related keywords.
Choose one brand and product-specific keyword to focus on. 
Use your related keywords in the article headers and throughout the body.
Include the focus keyword in the slug, meta title and description, and in the alt attributes of the featured image.
Of course, that's not the end of the process. Once you complete your article draft, you'll still need to optimize it using quality focus and supporting keywords.
What Is a Quality Keyword?
Choosing the best and most efficient keywords to target can be one of the most challenging aspects of the content writing process. When we choose our keywords, we look for:
High search volume.
Low competition
Relevance to the topic
Fewer search results
Using the Keyword Magic Tool and Keyword Overview, create a list of supporting keywords to optimize your article. To do this, enter the primary keyword you're targeting with this article into the Keyword Magic Tool, and in the filters, select "Related." 

Click on any keyword you're interested in to research it in the Keyword Overview tool. Here, you'll find even more related keywords and questions, SERP results, search volume, Keyword Difficulty, and more. With this information, we can ensure we have a better understanding of what our target audience wants to learn from our article.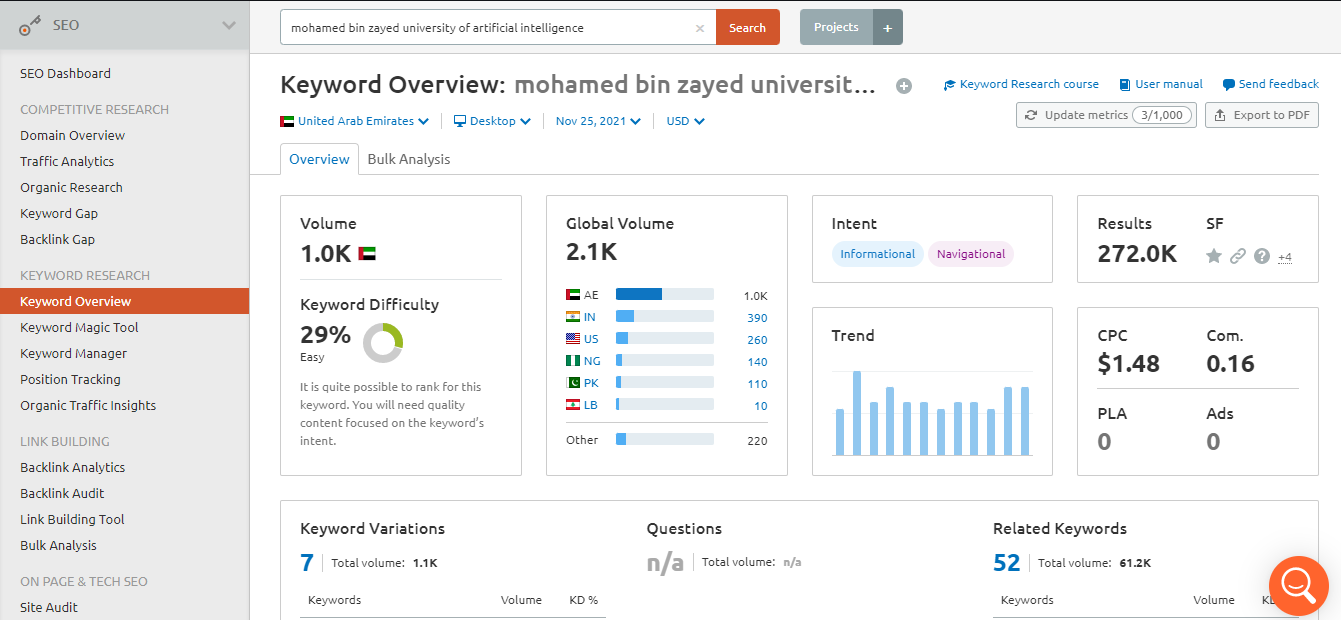 Step 4: Optimizing Your Article
Once you've chosen the perfect topic and created content for your client, the next step is to optimize it, using the list of primary and supporting keywords you compiled in the previous steps. 
Here's how we optimize our articles. 
First, check the title, first paragraph, and header. Make sure all of them include the focus keyword we're optimizing for. 
Next, check all of the article headers. Make sure the article is structured logically, using a variety of header levels such as H2, H3, and H4, using primary and supporting keywords where they fit best. Also, try to use bullet points in each section where it makes sense to do so. 
After you've optimized your headers, double-check the content of the article. Verify that you've answered all of the most important questions your reader might ask about your topic. For example, if you're writing about an upcoming new product like a phone or laptop, you probably want to include pricing, new features, or release dates. On the other hand, if you're writing about a more technical topic, quality research that cites authoritative sources may be more important.
Next, optimize your images. Use alt attributes to add detailed descriptions. Not only can this improve accessibility, but it can also improve your SEO if you incorporate relevant supporting keywords. 
Finally, go back and double-check your optimization. First, make sure all the keywords you wanted to include are present in ways that support your article. Then make sure you didn't overdo it. Keyword stuffing is frowned upon, so if necessary, go back and remove some.
Remember: New articles often take three to six months before they reach their true potential in terms of ranking, so be patient. Track your article's progress through Google Analytics, and if it doesn't deliver the results you were looking for, revisit the optimization process and update your article. 
Create Content That Stands Out
Remember, a big tech client might have seen hundreds or thousands of articles covering their services and products. So while it might be a good idea to write about their most famous products or features, you might want to spice things up with a more unique topic. 
It all depends on the client's request. If they were looking to increase sales, then go for the most famous service or product they provide. If they wanted to increase awareness and brand identification then a more unique idea is key.
Tech-related blog post topics can be quite a challenge. But once you have a good process in place for generating and narrowing down your ideas, you'll be able to write content that skyrockets through google pages and dazzles your readers.