How To Define Your Brand's Tone of Voice: Infographics & Examples
May 21, 2019
20 min read
In today's era of content overproduction, the web offers a constant stream of content choices for your audience. By 2020, it is estimated that for every person on earth, 1.7 MB of data will be created every second, while in 2018 it was every minute:
Twitter users sent 473,000 tweets,

Buzzfeed logged 208,333 content views,

Google conducted 3,877,140 searches. (Source: Domo, 2018)
And in this content chaos, 55% of all pageviews got less than 15 seconds of attention.
This data shows that attracting readers to your content and retaining their interest can be a real challenge. How can you stand out from the crowd and make your brand stick in people's memory?
The answer is making your brand's tone of voice distinctive and memorable. Tone of voice applies to creating any piece of content and communicating with your audience online.
Tone of voice reflects your brand personality, helps you connect with your audience, and makes you different from the rest.
I have created this article to help you find and implement a tone of voice for your brand if you haven't done so yet, and to improve it if you have. The article will also explain why it is crucial for any business to have a consistent tone of voice and who has the expertise to define it. Lastly, I will show several examples of tone of voice illustrated by brands' 404 pages.
Is your content casual or formal?
Check your tone of voice with Semrush SEO Writing Assistant
Contents:
Let's start with a tone of voice definition.
What Is a Tone of Voice?
The tone of voice describes how your brand communicates with the audience and thus influences how people perceive your messaging.
Your company's tone of voice represents your brand personality and values. This includes the words you choose and the order in which you put them and applies to all the content you deliver — website content, social media posts, emails, and any other formats.
As different purposes require different measures, your tone of voice may vary from time to time, depending on:
The audience you communicate with if you target more than one persona;

The media you use, as content formats and lengths vary;

The goal you are pursuing, e.g., the goal of a news piece is different from that of a how-to article.
But your overall tone of voice should be consistent and observed in every piece of content you deliver.
Successfully defined and implemented tone of voice allows your brand to get recognized by your audience using text alone, even if they don't see your logo or company's name attached to the content piece you produce.
Let's now see how your company can benefit from having a clearly defined tone of voice.
Why Does Your Company Need a Tone of Voice?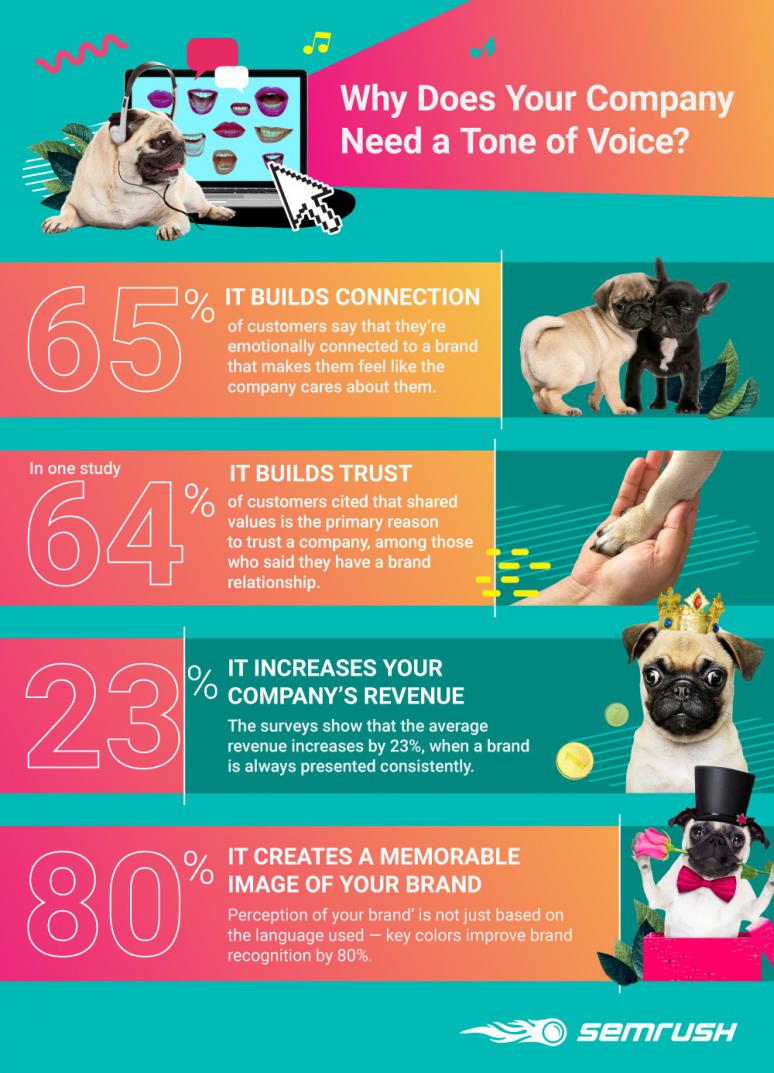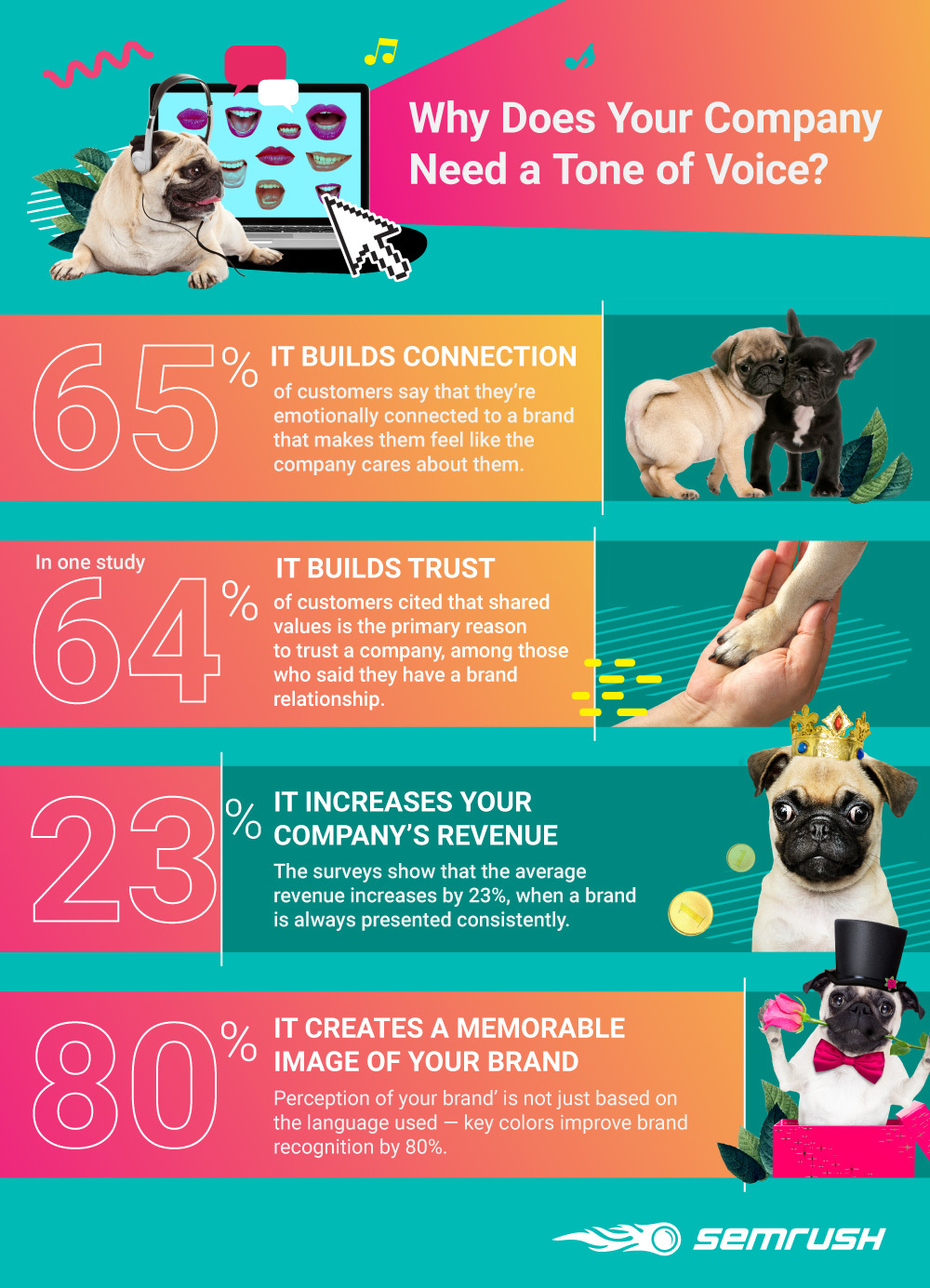 According to the surveys and research on the impact of brands' tone of voice, I came to the following conclusions:
If this data has convinced you that your company needs a tone of voice and you are eager to define how to express your brand personality, discover next who is capable of defining a tone of voice and how to do it step by step.
Who Has the Expertise to Define Your Tone of Voice?
This question is tricky, as there is no position that specializes solely in defining tone of voice for a company and implementing it. This could be an in-house specialist — a brand strategist, a content marketing strategist, a creative director, a writer, an editor, etc. — or an external such as a brand consultant, a branding agency, or a freelance writer.
Now, with so many different roles and responsibilities, every brand has its own organizational structure and unique branding story. No matter what position they occupy, the vital point here is that a person or a team who is going to define their brand tone of voice should have:
Analytical skills to conduct audience research,

In-depth knowledge of your brand culture to define your values,

Writing skills to determine how to express your brand personality, and

A will to change and unify the way your company uses language.
Let's now see how a tone of voice is defined and implemented, with examples.
How to Find Your Brand's Tone of Voice
Finding your tone of voice starts with understanding who your audience is and choosing the right language to reach them. The next step is to identify your brand's values you should keep in mind when creating content and communicating to your readers.
With these elements defined, you can establish clear tone of voice guidelines to ensure that the tone comes through in every communication your brand sends out. As team members become more familiar with the guidelines and how to use the brand's preferred tone, it becomes easier to create new content that falls in line with this vision.
Let's now start with your brand's audience research.
Step 1: Get to Know Your Audience
A report by Econsultancy and IBM showed that 56% of consumers felt most brands' communication was irrelevant. To understand how to approach them and deliver relevant messages, you have to research your audience properly and adapt your content to their personas.
Defining a tone of voice for your brand is an integral part of your overall content marketing strategy. So, if you are into content marketing, at this stage, you should have already conducted in-depth audience research. While it is a broad and complex process, in this article, my focus is researching audience in the context of tone of voice only.
Research Who They Are
Discover their gender, age, interests, education, job title — all the info you have access to. Examine their demographic information by delving into Google Analytics and social networks analytics.
Compile this data to craft a portrait of your persona. Remember that your audience isn't made up solely of buyers — all people that are interested in the topics you develop are your audience.
Think about how you are going to address this persona if your brand were a human — as a friend, as a teacher, as a caring grandma?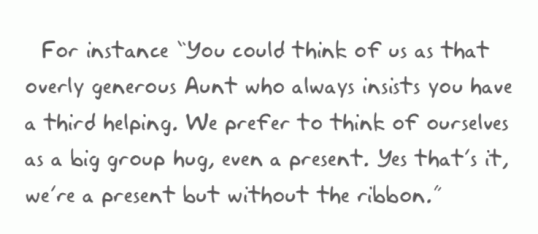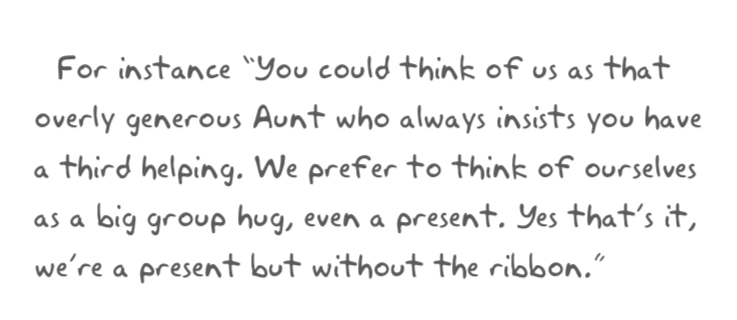 Source: Skype's Brand Guidelines
Tip: Identify the generation you communicate with, as there is a big gap in addressing millennials and baby boomers — they prefer different communication styles and types of content.
If you target millennials, try to be entertaining, yet informative, when creating playful content, sharing trending memes (if you dare) or phrases that plug your product, like Denny's does in their Twitter.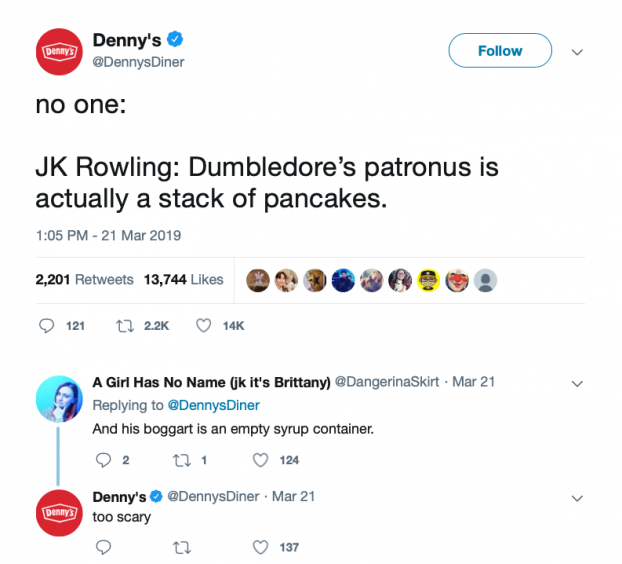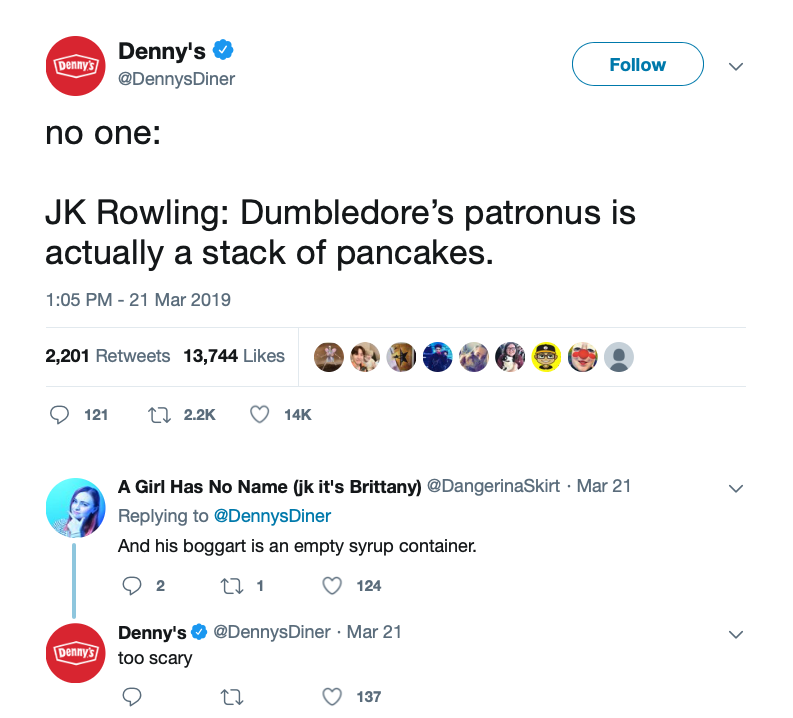 If you target baby boomers, try to provoke discussion around your topic — create question-based content such as quizzes or opinion pieces. Baby boomers approach your content as a place for a debate. Take a look at how Medibank does this using their Facebook page.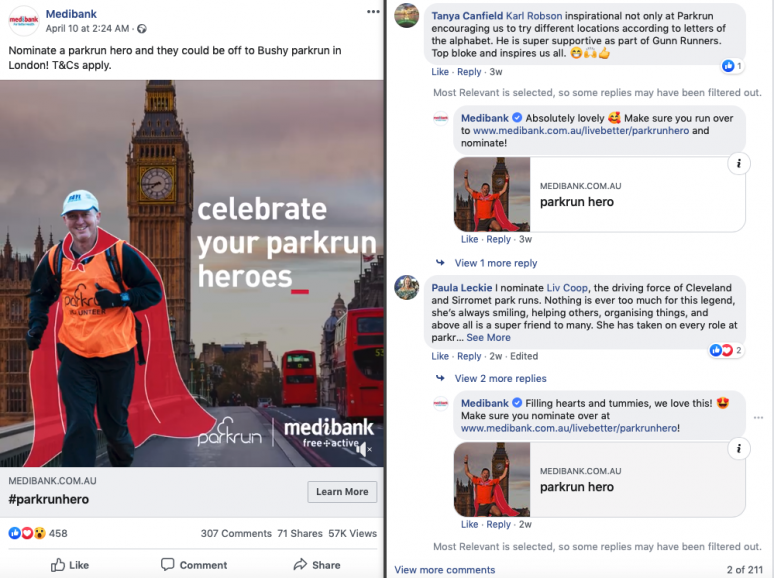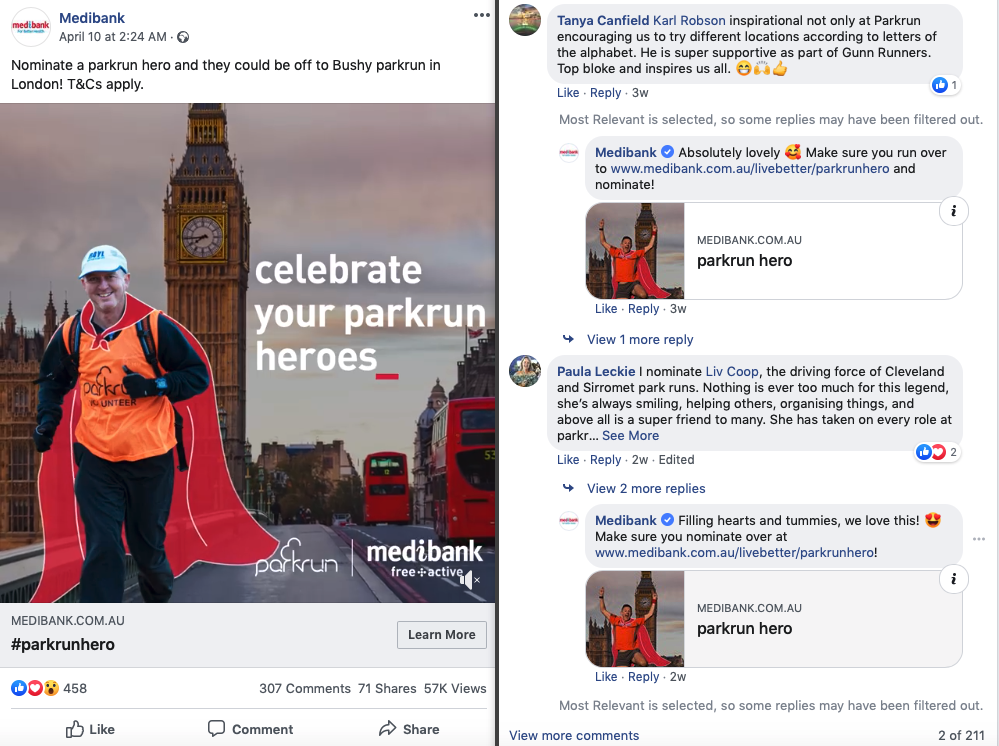 Discover What They Are Reading
When your persona is created, figure out what channels they prefer to use for communication with brands to better adapt your tone of voice — delve into reliable online research.
Continuing the generations topic, according to a Yes Lifecycle Marketing survey,
Centennials (18-21 y.o.) use Instagram and Snapchat as their primary channel for shopping and expect quality experiences across all channels,

Millennial shoppers (22-37 y.o.) value emails more than any other generation and seek personalized interactions.
Apart from this general info, check the social profiles of your real customers and find out what resources and brands they follow.
Your goal is to identify the most authoritative resources and top social media pages where your audience discusses your industry-related topics. Use automated tools like Brand Monitoring that will help you find top forums talking about your industry terms.
Tip: Don't focus on your competitors too much, as you want to differ from them; instead, watch how brands from other industries communicate with your audience.
Watch How They Talk to Each Other
Next, dig into these resources — and take your time to research. Watch how your audience communicate with each other, what they like and dislike in discussion threads, what the overall tone of discussions is, and what language people use to create the most popular content.
Experts say that mimicking the vocabulary of a particular group allows members to feel a sense of belonging. Mirroring your audience's language will make your content pieces more relatable and bring your brand closer to them. If done right, this will eventually lead you to an increase in sales.
Empathy is key, focus on your customer's voice, and make it part of your brand tone of voice to build trust and credibility.
Tip: At this step, you can collect a list of slang words or colloquialisms used by your audience that you can incorporate in your speech (e.g., social media communication), but only if it is natural to your brand. Be aware, however, that many of them may go obsolete in a few weeks.
Ask Them to Describe Your Brand
Traditional market research techniques, like customer surveys or interviews, are a great way to hear directly from people who are already familiar with your brand. If you haven't outlined your tone of voice guide yet, this doesn't mean that your brand doesn't have an evident personality.
Ask your clients what their perception of your brand is and what events or content pieces have influenced this view. Here are some questions that you can send to them:
How would you describe our brand in three adjectives?

If our brand was a human, what type of person would it be?

What content piece/email/tweet of our brand best represents us?
Keep the descriptions you get, for now; we will get to them in the third step.
Tip: Head to our Ultimate Guide to Content Marketing Strategy in 2019 to find more advanced audience research techniques, like:
The Empathy Map to improve user experience based on what your audience think, feel, see or hear, and

The "Jobs to Be Done" Framework to better understand your customers' needs and to find the reason why they are buying your product.
Step 2: Identify Your Brand's Values to Communicate
Before you decide on how you should write, define the core purpose of your communication.
This is where you need to refer to your company's core values. Identifying your core brand values will help you not only to find the language needed to communicate your message effectively, but also shape the community of your brand, and ensure that you connect with your customers.
Define Your Core Values
Nearly 94% of consumers are likely to be loyal to a brand that offers complete transparency. Try to be as transparent as possible when communicating your company's values, or at least find those that you can speak about clearly.
To define your core values, try answering these questions:
Why was the company set up?

What makes your brand unique?

What do you stand for as a brand?

What values do you want to share with your audience?
There are no perfect templates for outlining them, but you can learn from others — here is an excellent example of a core values statement by Zappos; this makes it easy for both employees and customers to know what to expect when dealing with Zappos.
You can keep this for internal use only; there is no need to publish your company's core values anywhere; just keep them in mind.
Create a Mission Statement
After you have defined your brand values to communicate, compose them into a concise brand mission statement for your audience. Show your readers who you are, the people you care about, and how your brand can help them. You can also specify what your company does for your team and owners.
Here is an example of an editorial mission statement by Stephanie Stahl, CMI's tone of voice and brand messaging manager. (Source: Foleon)
Content Marketing Institute is the leading global content marketing education and training organization (that's who we are), teaching enterprise brands (that's the audience we are creating content for) how to attract and retain customers through compelling, multi-channel storytelling (that's how we are going to help them).
Remember that your entire team must operate in alignment with these values.
A well-defined mission statement shapes your brand's culture and allows your audience to relate to your company, especially if the values are shared.
Establish a Message Architecture
To keep your communication aligned, a message architecture guides precisely what we say.
A message architecture summarizes a brand's prioritized communication goals in a short list of terms, phrases, or statements. Its primary goal is to allow all content creators in a company to deliver consistent messages across all types of content.
A message architecture is an outline or hierarchy of communication goals that reflects a common vocabulary.
Margot Bloomstein, Brand & Strategy Consultant and an early proponent of the term, shares her advice for building a message architecture.
Compile a list of up to 50-100 adjectives most applicable in your industry (or take a list from her book), invite your stakeholders and sort them together into three groups:
Who we are.

Who we would like to be.

Who we are not.
Focus on the "Who we'd like to be" column, group your adjectives into affinities and prioritize them. Next, document the hierarchical outcome, create sub-bullets that clarify meaning and add color and update your content strategy with your message architecture.
A message architecture can take various forms. Margot's interpretation for a "stately financial institution" looks something like this: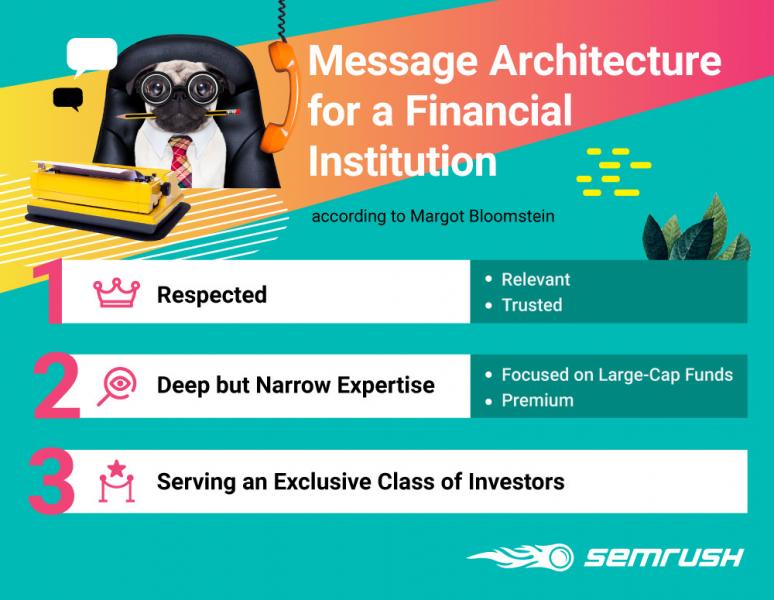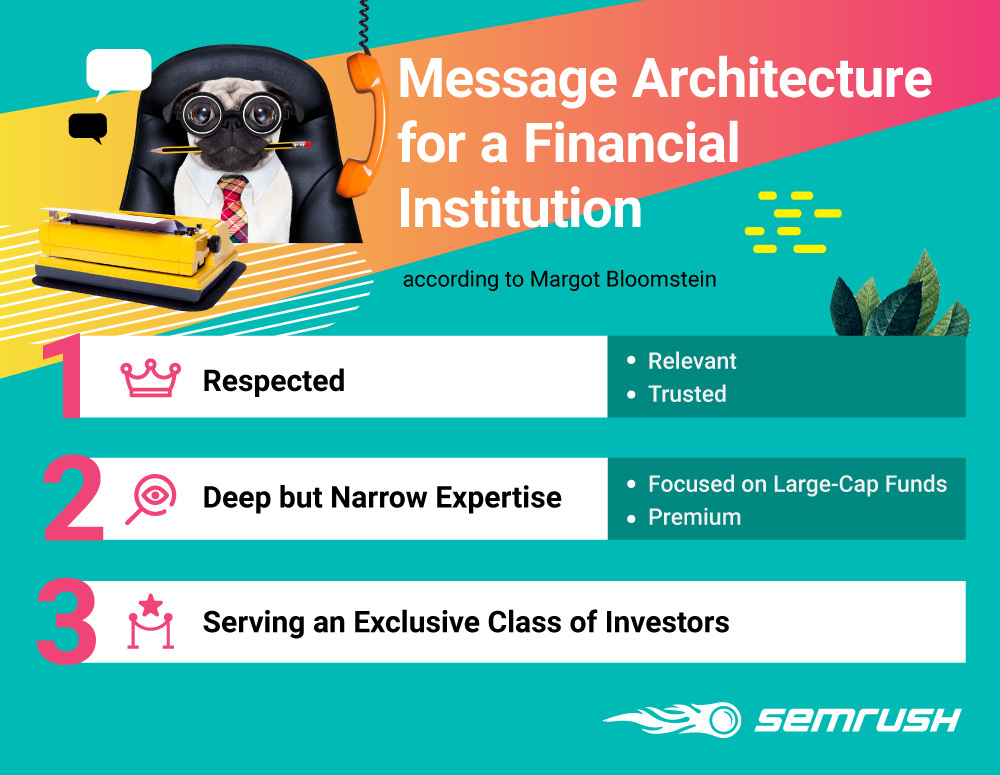 Source: CMI, 2016
This type of message architecture describes not just what this institution is like, but also what it does.
A message architecture is not a brand voice chart but should complement it — it is what we want to communicate to our audience, not how.
Also, keep in mind that a message architecture is not a glossary of words to use in your content, but prioritized reference points for your team to decide what to communicate in order to convey your organization's messaging priorities.
Make sure you distribute your message architecture to all content producers in your company and all people involved in content creation.
Step 3: Audit Your Content and Communication
Before creating a tone of voice that fits your company, audit your existent content pieces and communication to see what your brand sounds like right now.
To do so, make a list of your top performing (according to your content metrics) and best (in your opinion) content assets, and ask yourself if your current tone of voice:
Fits the brand values you want to communicate?

Reflects your values described in your mission statement for your audience?

Corresponds to your message architecture?
Go through each content piece and register (e.g., in a spreadsheet) what your brand sounds like. To help content strategists and other specialists to analyze a website's tone of voice, Nielsen Norman Group identified four dimensions of tone of voice:
Funny vs. serious

Formal vs. casual

Respectful vs. irreverent

Enthusiastic vs. matter-of-fact
Spoiler: We will analyze each of these in the next chapter.
Use the SEO Writing Assistant to make sure each of your content assets aligns with the formal or casual tone of voice. The tone of voice feature is powered by a machine-learning algorithm and thousands of human-rated pieces of text. The release of this feature wouldn't be possible without this research.
Check where your brand's tone of voice falls the most — it could be at either extreme of each dimension or somewhere in between. Express your tone of voice as a point in the 4-dimensional space described by these dimensions, like this: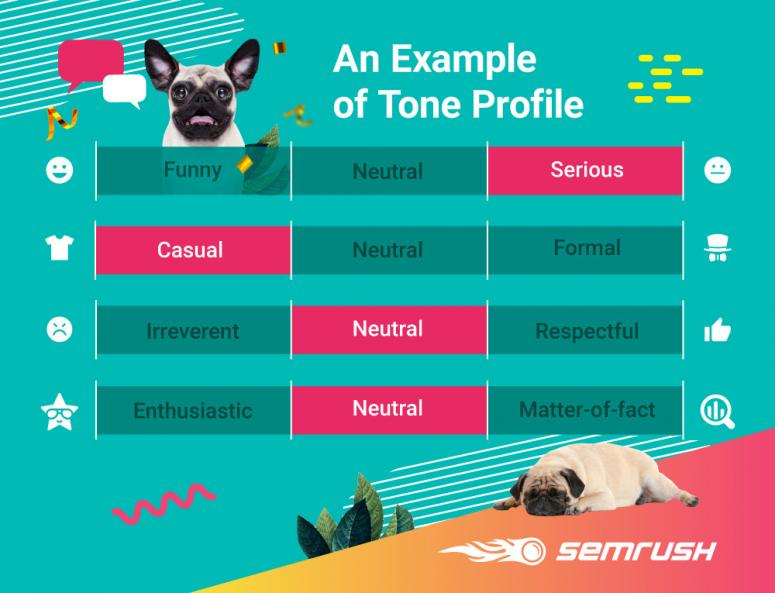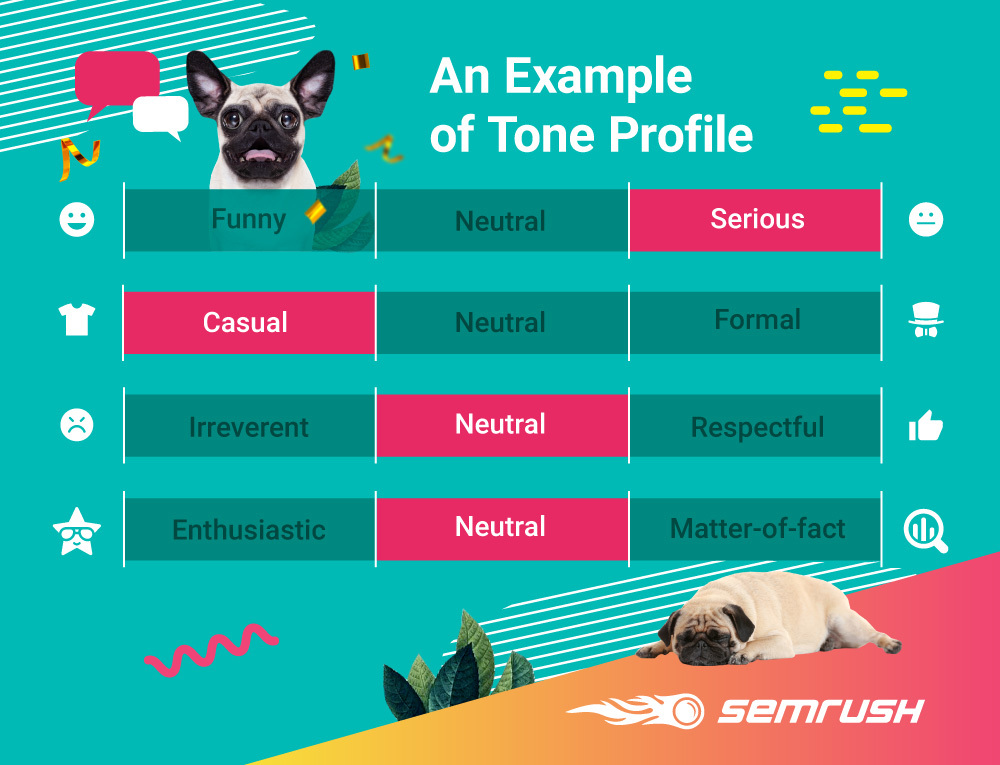 Source: Nielsen Norman Group, 2016
Tip: Don't forget to go back to how your customers described your brand in the interview/surveys and check how their description aligns with yours. If it doesn't, include their characteristics in your findings.
This visualization will tell you what your brand sounds like right now and eventually get you to what you want to sound like in compliance with your brand values.
Step 4: Define Your Brand's Tone of Voice
We have finally got to the step where you combine all the information you got from this lengthy research — your audience portrait and brand values — and actually, define your future brand tone of voice.
A tone of voice is composed using these two elements:
What we sound like.

What we want to sound like.
As we have already found out what we sound like in the previous step, you have to work on what your brand wants to sound like and what it doesn't — use the Nielsen Norman Group's dimensions.
I will break down each tone of voice dimension and show different companies' tones of voice exemplified by their customized 404 pages.
Choose the Dimension of Tone of Voice You are Aiming at
Spoiler: casual, conversational, and moderately enthusiastic tones perform best.


Formal vs. Casual
Formal language makes you appear more authoritative but can leave readers feeling cold thanks to the impersonal tone it creates.
In contrast, casual language may give a feeling of a personality and friendliness that formal lacks, while an overly casual tone can make readers think you are inexperienced or unprofessional when used in the wrong context.
Surveys show that 65% of customers preferred their support staff to have a casual tone during their interactions. However, the perception depends on the context, according to Jay Ivey, an analyst at Software Advice — 78% of customers would be dissatisfied if their request was denied using a casual tone. In contrast, if a request was granted in a formal tone, only 35% said it affected their satisfaction. Researchers attributed this to a casual attitude being perceived as condescending or insensitive in specific contexts.
The Alfa Romeo brand is a union of both rational and emotional. However, their brand voice tends to be more formal than casual. Here is an example of their 404 page, explaining in detail why an error appeared in a formal passive voice.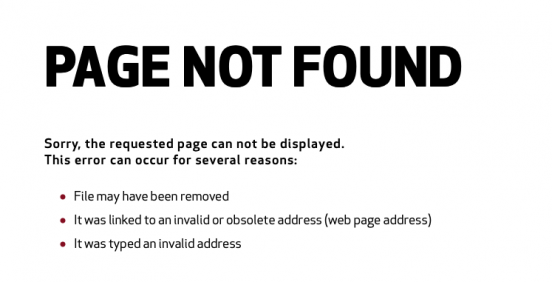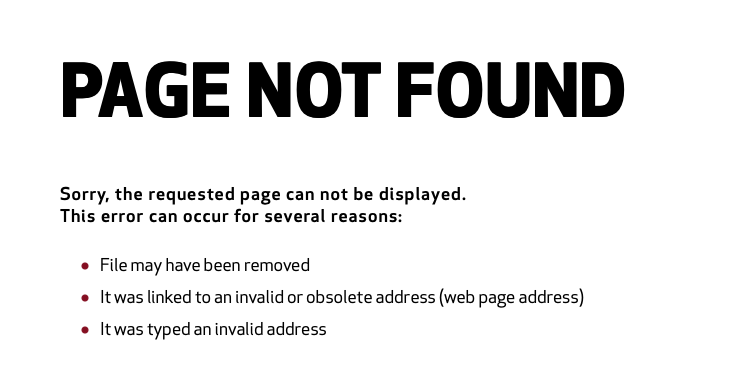 Source: Alfa Romeo
Mini is straightforward, sincere, and engaging. Their 404 page reflects their personality in a casual way — in contrast with Aston Martin, they use an active voice and add a romantic touch.

Source: Mini
Funny vs. Serious
Humor can increase the power of memory recall and get more shares, which allows you to stand out from competitors — as long as your audience finds you funny. However, humor is always a risk in brand communication that can backfire — it could alienate your users, leave the impression of a lack of seriousness, and as a consequence, unprofessionalism.
Introducing a more serious tone will help to build credibility and foster trust. But it may seem that serious language lacks in personality and emotions, and even gives a sense of tension.
When making a choice between a funny and serious tone, remember that a funny tone won't fit all companies, but most importantly, humor shouldn't get in the way of actually communicating with your audience.
Mailchimp is an iconic brand that doesn't take themselves too seriously. They use offbeat humor and a conversational voice in all brand communication, and their 404 page is no exception.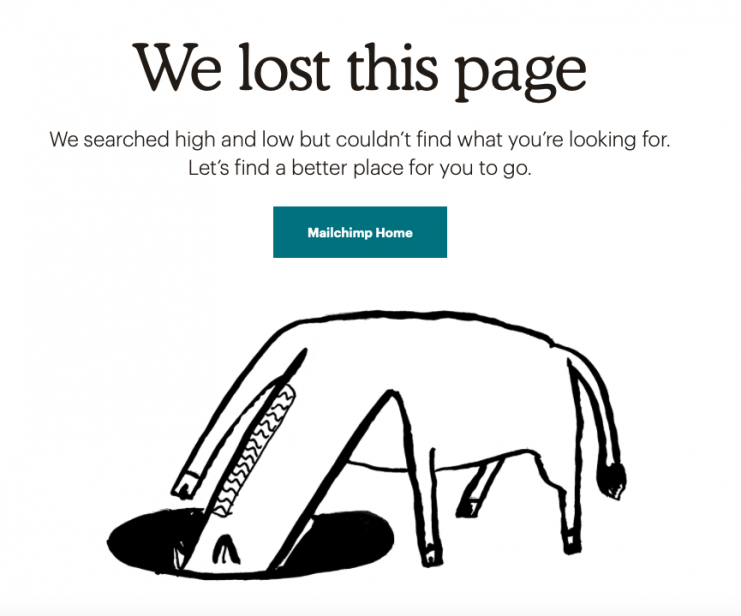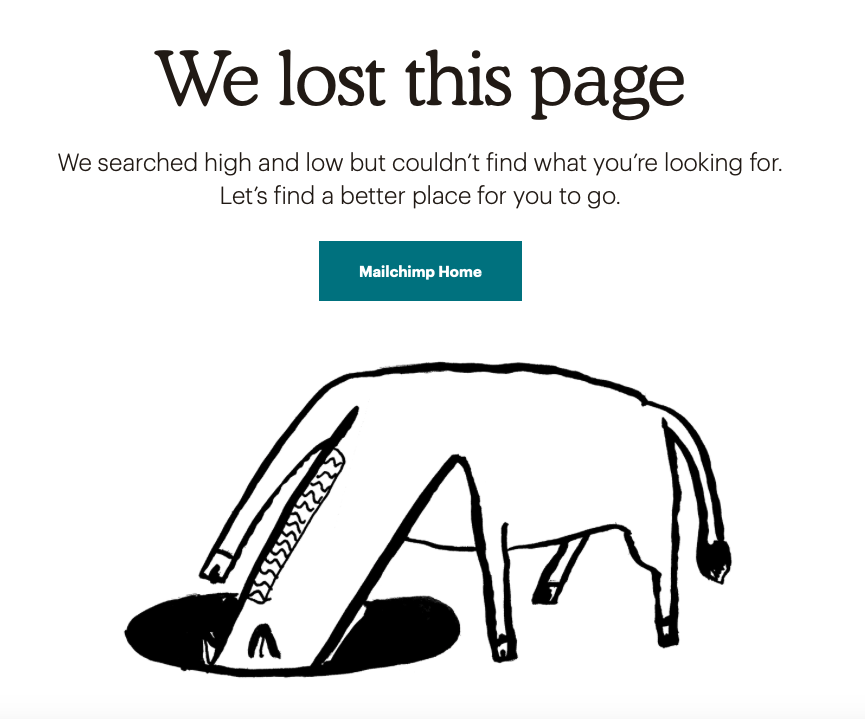 Source: Mailchimp
SendinBlue, in contrast, is positioned in a more serious way, in spite of the fact that they both offer very similar services. Their 404 page is completely different from Mailchimp and doesn't include any humor.

Source: SendinBlue
Respectful vs. Irreverent
Respectful language gives a feeling of friendliness and cordiality. But, an overly respectful tone, especially used at inappropriate times, may give the impression that you are trying to ingratiate yourself with a reader.
An irreverent tone helps your brand seem confident and authoritative, and even give a feeling of supremacy over competitors. However, irreverent language can intimidate or offend a reader.
Dollar Shave Club is an excellent example of a successfully implemented irreverent and disruptive brand voice. Here is their customized 404 page, which perfectly illustrates this — Dollar Shave Club offers a gif and an invite to buy some of their products.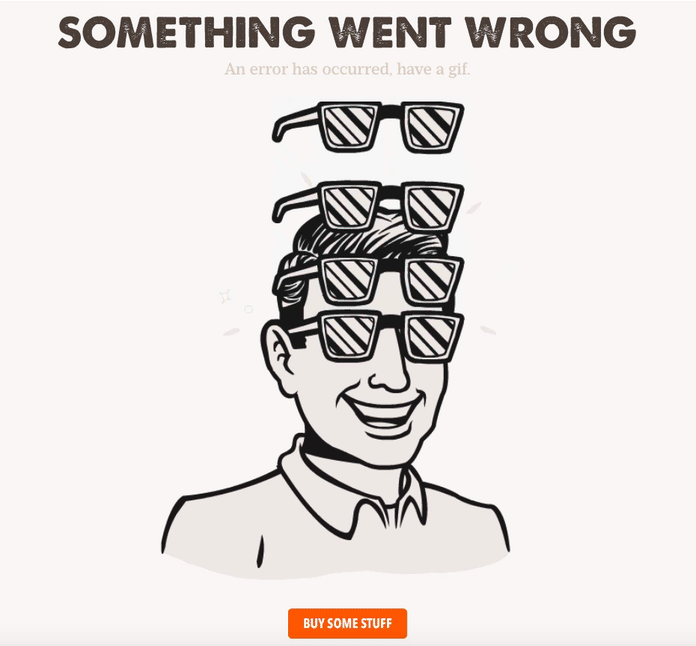 Source: Dollar Shave Club
Gillette, in contrast, tends to communicate respectfully and use a caring voice when addressing their audience, which is reflected in their 404 page where they say that it is Gillette's job to fix it.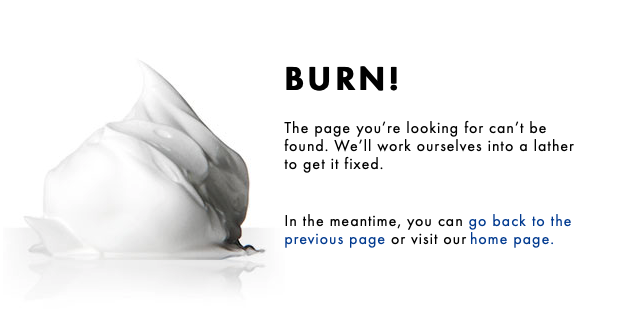 Source: Gillete
Enthusiastic vs. Matter-of-Fact
An enthusiastic tone gives a sense of friendliness and helpfulness, but used at inappropriate times it may fatigue or irritate a reader.
Matter-of-fact language gives a feeling of honesty and simplicity. But it may be seen as indifference and lack of personality.
Taco Garage takes a matter-of-fact attitude, selling "real tacos for real people that taste real good." Their tone of voice is uncomplicated and straightforward; their 404 page is as simple as they are.

Source: Taco Garage
In contrast, Taco Bell's brand voice is enthusiastic, adventurous, humorous, and extremely creative. Check out their 404 page to get a sense of their personality.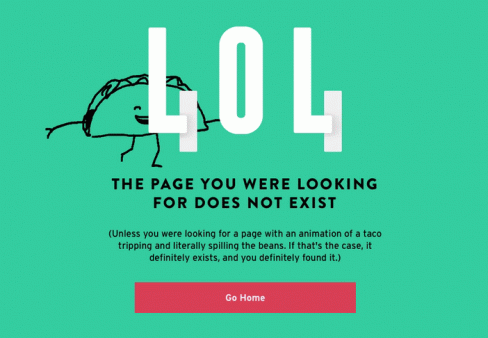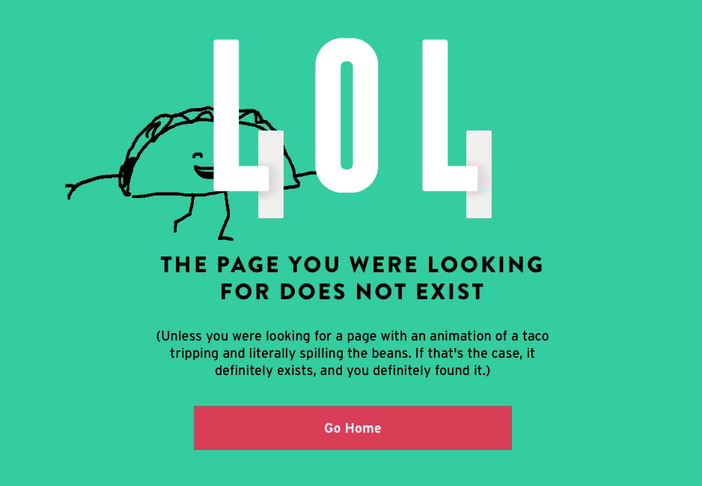 Source: Taco Bell
Refine Your Tone of Voice with a List of Tone Characteristics
After you have identified where your brand falls within each dimension, refine it by choosing more specific tone characteristics, like "playful," "quirky," or "sarcastic."
Norman Nielsen Group created a list of 37 tone-of-voice words that you can use for this. We broke down this list for you into four dimensions. However, you can attribute some of these words to another dimension or choose any other words to describe your brand.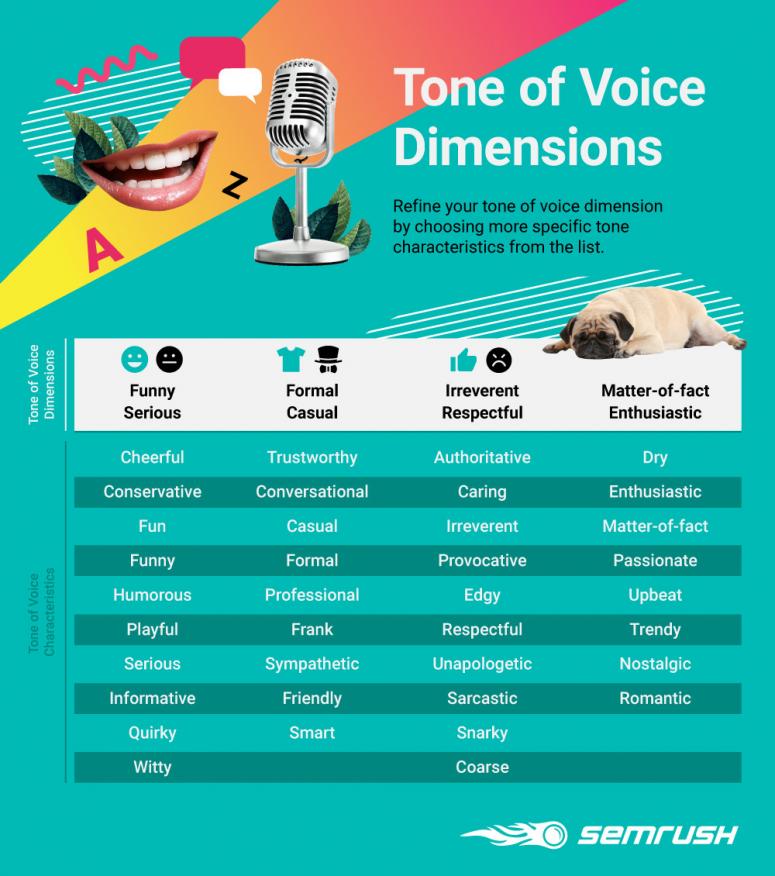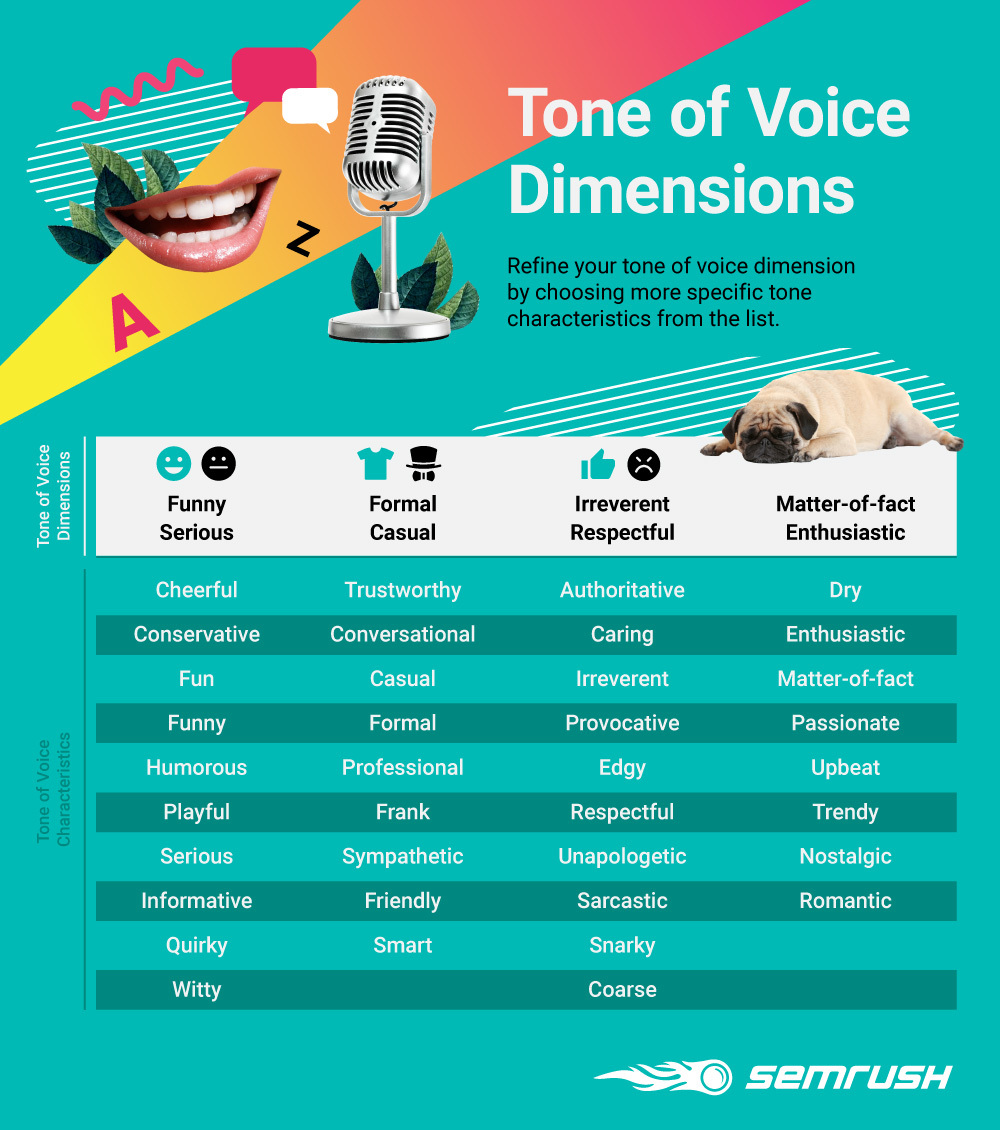 Once you have defined and refined your desired tone of voice, merge "What we sound like" and "What we want to sound like." Check if you have conflicting ideas and unify them.
Create a Brand Voice Chart
Combine all voice characteristics into a single chart using the CMI template below, describe each of them in detail, and give examples of how you can achieve the specific voice. The critical part here is to illustrate what you should avoid.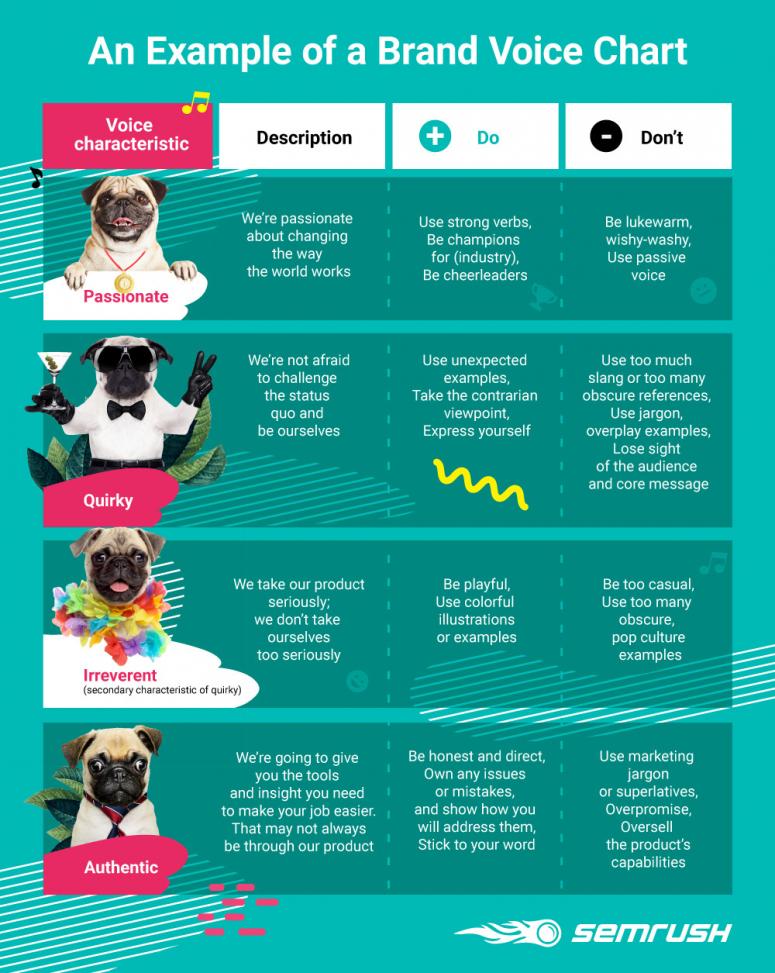 Source: CMI, 2018
If you need help here, work with writers on how to express your voice characteristics linguistically.
The next step is to create a brand's tone of voice guidelines, share it with your content team, and ensure it is followed in each communication type.
Step 5: Implement the Tone of Voice Into Your Brand Communication
To successfully implement your tone of voice, start by setting clear brand guidelines, and make sure they are reviewed every once in a while, especially when there are changes in your positioning and target audience.
Create Your Brand's Tone of Voice Guidelines
Clear guidelines, rules, and positive examples give people the confidence to write in this new way. Many brands have them, but only one-fourth have formal guidelines that are consistently enforced.
Start with writing your guidelines in the brand's tone of voice you have defined — this will be a perfect example of correctly using it when writing.
To ensure the guidelines are easy for team members to follow, include some examples of the tone of voice to strive for in each piece. In addition, examples of the incorrect tone of voice will assist writers on what not to do.
Your internal guidelines should include:
A portrait of your target audience and their voice,

Your brand's attitude to your audience (a best friend, an aunt, a teacher, etc.),

Your brand's core values,

Your mission statement,

Your message architecture,

Your brand voice chart,

Specific vocabulary, and grammar rules,

Clear examples in different contexts.
Get inspiration from other companies' brand voice guidelines and style guides:
Introduce Rules for Your Brand's Tone of Voice Usage
Over 60 percent of organizations in the study report that materials are always, often or sometimes created that don't conform to brand guidelines. Remember that tone of voice should be consistent across all your communication.
Assign accountability for enforcing the guidelines to one team member, such as an editor or content manager. This will help to ensure that all of your brand's communications use the right words to distribute the right tone in all of its deliverables.
In Conclusion
Defining your brand's tone of voice and establishing clear guidelines will help that tone move to the forefront in every content piece. This is a key part of developing a content strategy that is true to your vision and appears authentic to customers.
With a clear idea of where your audience lives online and what topics they want to hear more about, you can develop a vision of what your brand wants to say and determine how to use the right language to get this message across.
By keeping a uniform tone across all your communications, your audience will gain a better sense of what the brand stands for and what commonalities you share with your target audience.
Empower Your Strategy with Data
Using Semrush Content Platform
Eugenia Verbina
Content marketing specialist with 5 years of experience in content creation and management in English, Spanish and Russian. Digital marketing enthusiast and horror stories fan. Still undecided whether I love writing or reading more.