What Is SEO Competitor Analysis?
SEO competitor analysis is the process of studying your industry's competitive landscape to understand competitor strategies and leverage those insights to improve your own SEO performance.
Competitor analysis in SEO typically involves looking into keyword rankings, backlink profiles, content strategies, and conversion tactics.
A competitor analysis lets you:
Discover your competitors' winning strategies and replicate them
Discover your competitors' weaknesses and capitalize on them
Benchmark your current SEO performance against your competitors
Understand the overall competitive landscape of your niche
Why Is SEO Competitor Analysis Important?
A competitive analysis allows you to review the search landscape for important keywords.
So you know how difficult it will be to outperform your competitors.
Plus, it can reveal new keywords, content ideas, and link building opportunities you may not have considered.
Insights you gain from an SEO competitor analysis can help you improve your site's rankings and drive search traffic. 
How to Run an SEO Competitive Analysis
Let's walk through the process of performing an SEO competitor analysis.
Identify Your Competitors
Your SEO competitors are websites that rank highly for your target keywords in organic results in search engines (like Google).
Start by Googling your target keywords and review the websites listed at the top of the results page. 
You can also use Semrush's Organic Research tool to identify your SEO competition.
For example, let's look at Home Depot's competitors.
Open the tool and plug in the domain. Then hit "Search." 

Now, navigate to the "Main Organic Competitors" section of the report. This shows websites that compete with Home Depot for the same keywords.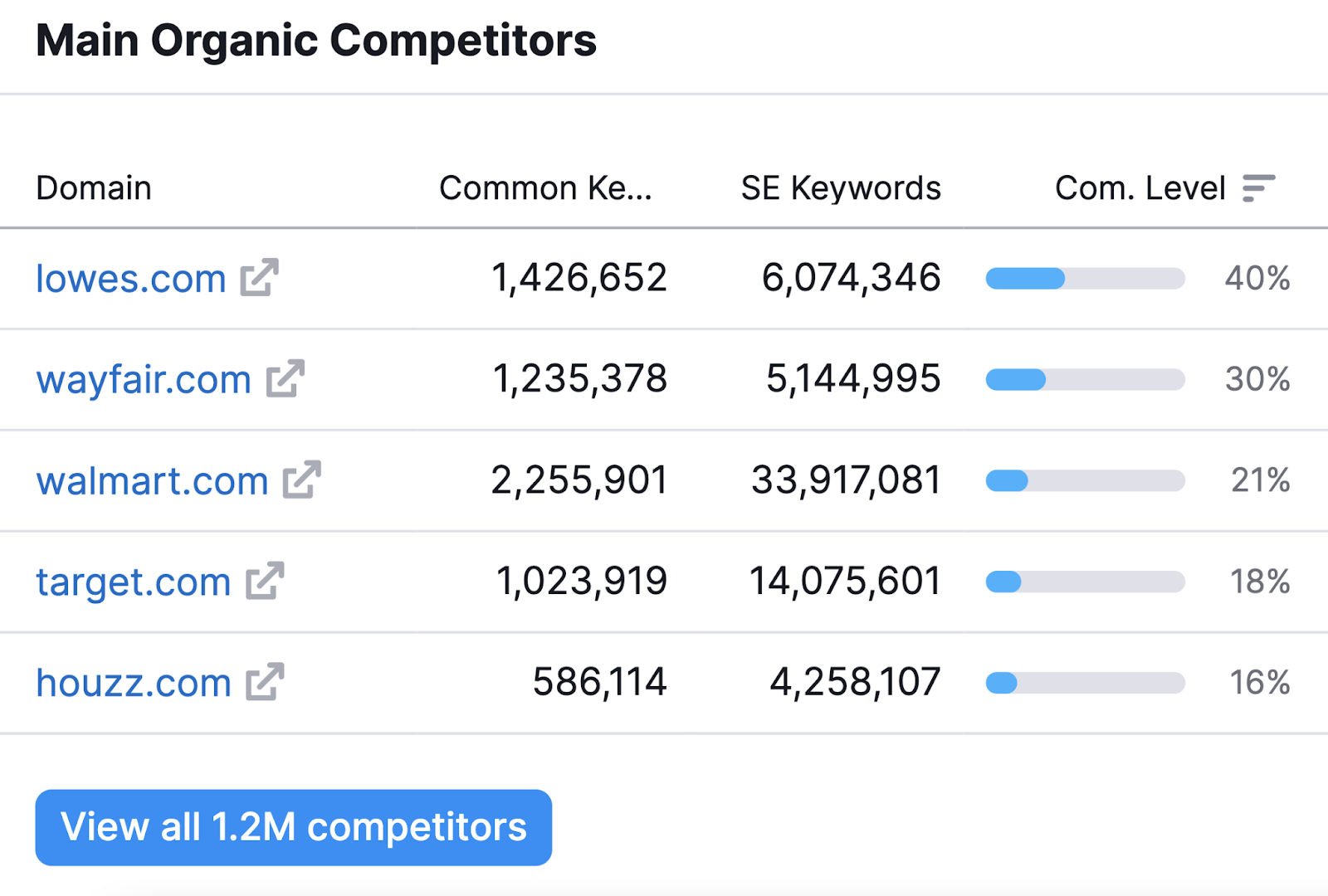 To see a complete list of competitors, click "View all competitors."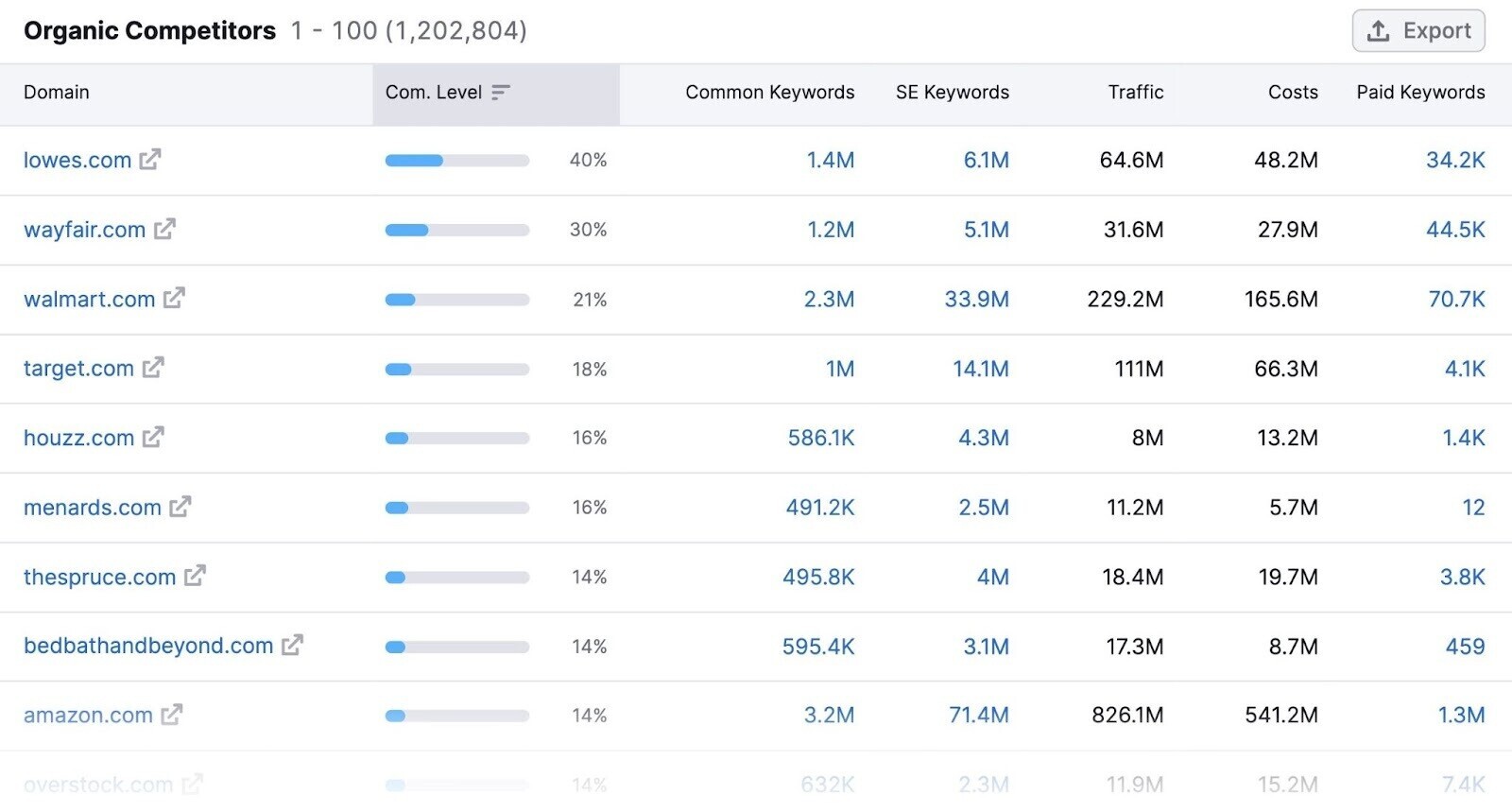 Also, consider competitors for a specific segment of your overall market. 
For example, Home Depot's organic search competitors include other hardware stores like Lowe's. But they also include other stores that sell tools, such as Walmart and Target:
With the Market Explorer tool, you can discover your competitors more broadly.
Open the tool, select "Find Competitors," enter your URL, and click "Research a market."

Then, navigate to the "Growth Quadrant" chart and select "Search" to see only organic search competitors. (Which excludes any keywords acquired through pay-per-click (PPC) strategies.)
The Growth Quadrant chart sorts the competitors into four basic categories:
Game Changers: Emerging companies with a comparatively smaller audience size but quick growth rate
Leaders: Companies with both a large audience and a rapid growth rate
Established Players: Companies with large, established audiences
Niche Players: New or relatively small companies with smaller audience size and a slow growth rate
In the Market Explorer tool, you can also view competitors by navigating to the "All Industry Domains" tab. Here, you can see where you fit among your competition in terms of site traffic.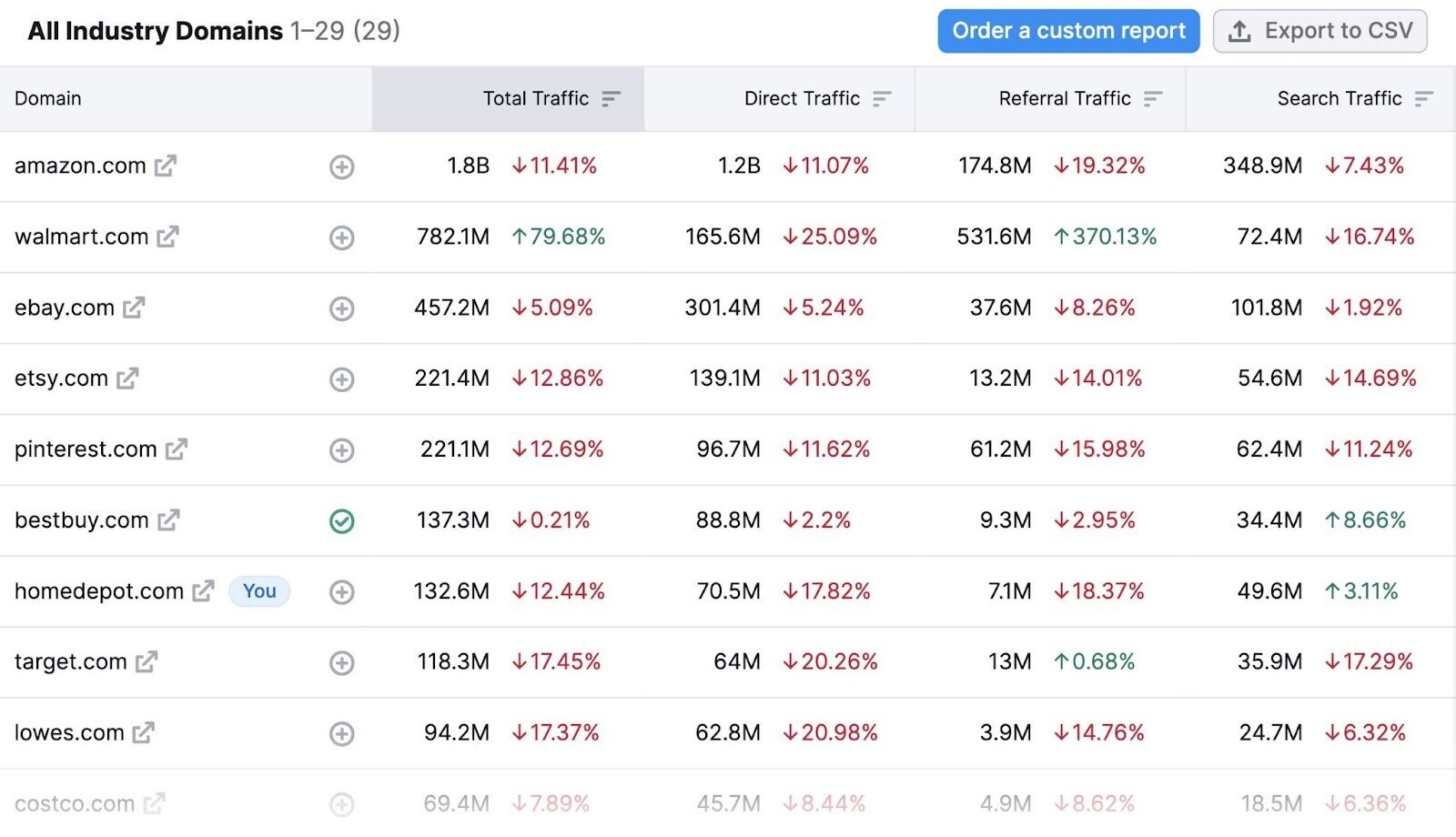 Deciding Who Not to Compete With
Every competitor you see won't be your true competitor. 
For example, it's generally not worth trying to outrank sites like Wikipedia. 
Even though these websites could be your organic search competitors, they may not be your direct business competitors.
Your true competitors are websites that sell similar products or offer similar services. Or websites in the same niche that serve a common audience.
Find (and Close) Keyword Gaps
Pay special attention to the keywords your competitors rank for, but you don't.
That gap is your opportunity.
To find keyword gaps, use Semrush's Keyword Gap tool.
Open the tool and enter your URL and up to four competitor URLs. Click "Compare."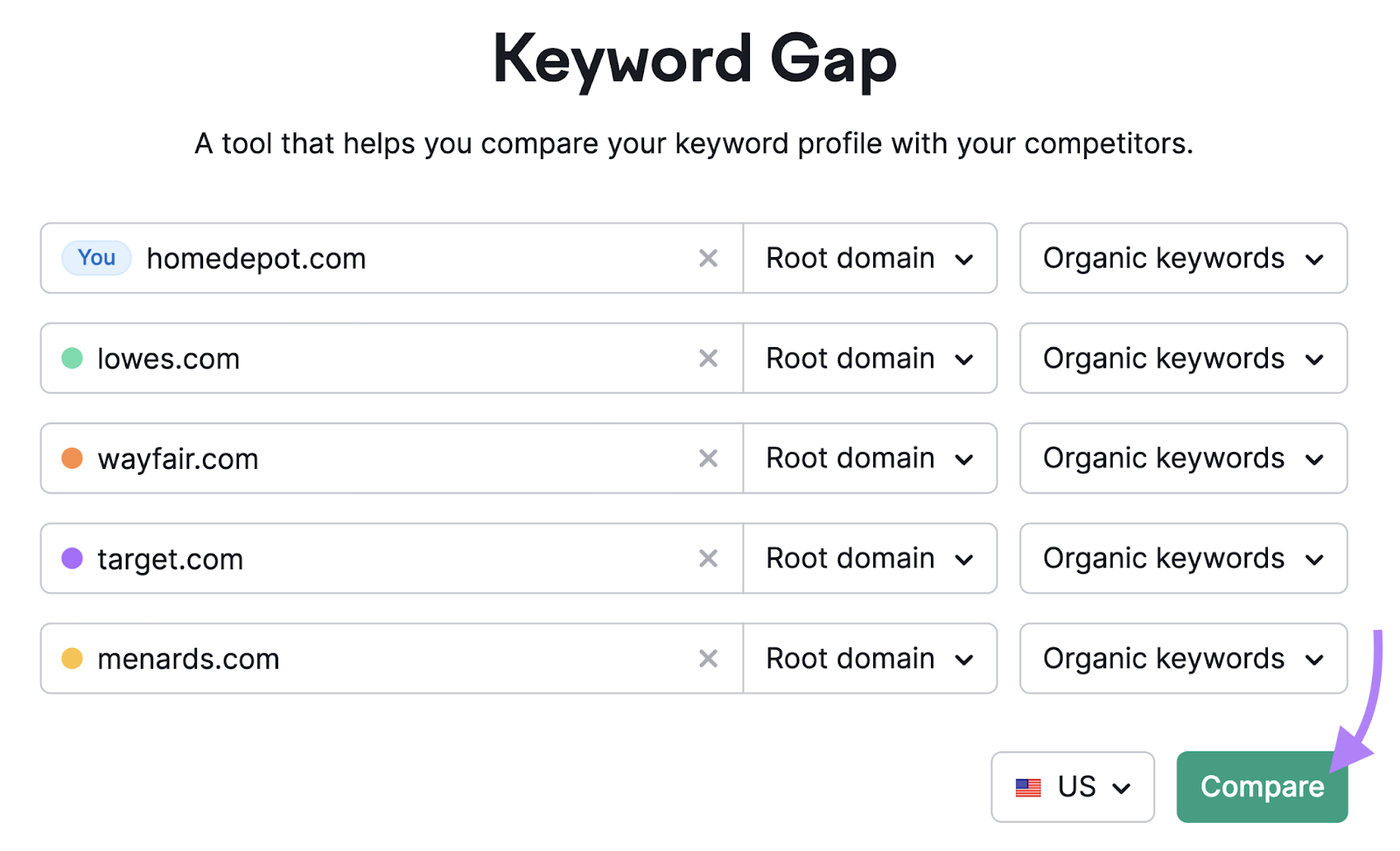 Click the "Missing" tab to see the keywords your competitors rank for (but you don't).
Analyze each keyword individually. Not all of them will make sense for your business.
For example, "checkers board game" likely isn't a relevant keyword for Home Depot.
But other keywords, such as "bissell crosswave" and "little green machine" are likely relevant. And, therefore, may be worth targeting.
Often, you'll need to create new pages addressing these keywords. But if you already have relevant existing pages, focus on improving their keyword targeting. We'll get into that later. 
Identify Strengths and Weaknesses
Every website has multiple weak points. Even massive ecommerce sites like Amazon or eBay.
Identify your competitors' strengths and weaknesses by considering these factors: 
Authority
Authority is a metric that runs on a scale from 0 to 100. It measures a site's SEO performance and overall quality using a variety of factors.
The higher the score, the better chance of higher rankings for relevant keywords. 
Generally, if your competitors have a higher authority score than your site, you'll have a harder time outranking them.
Use Semrush's Bulk Analysis tool to analyze your authority score against your competitors. To start, enter your URLs and up to 200 competitor URLs. Click "Compare."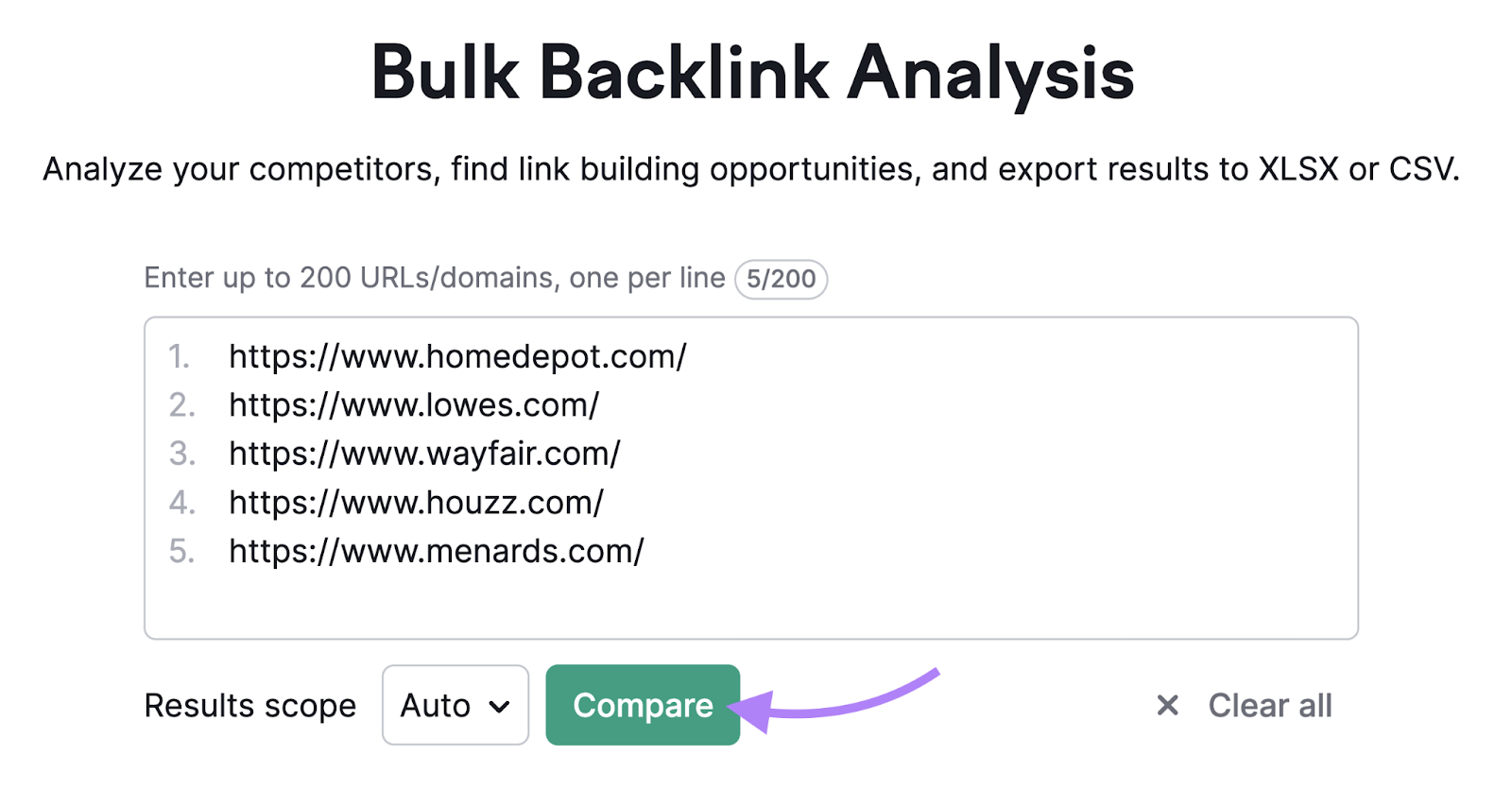 Here, AS stands for Authority Score.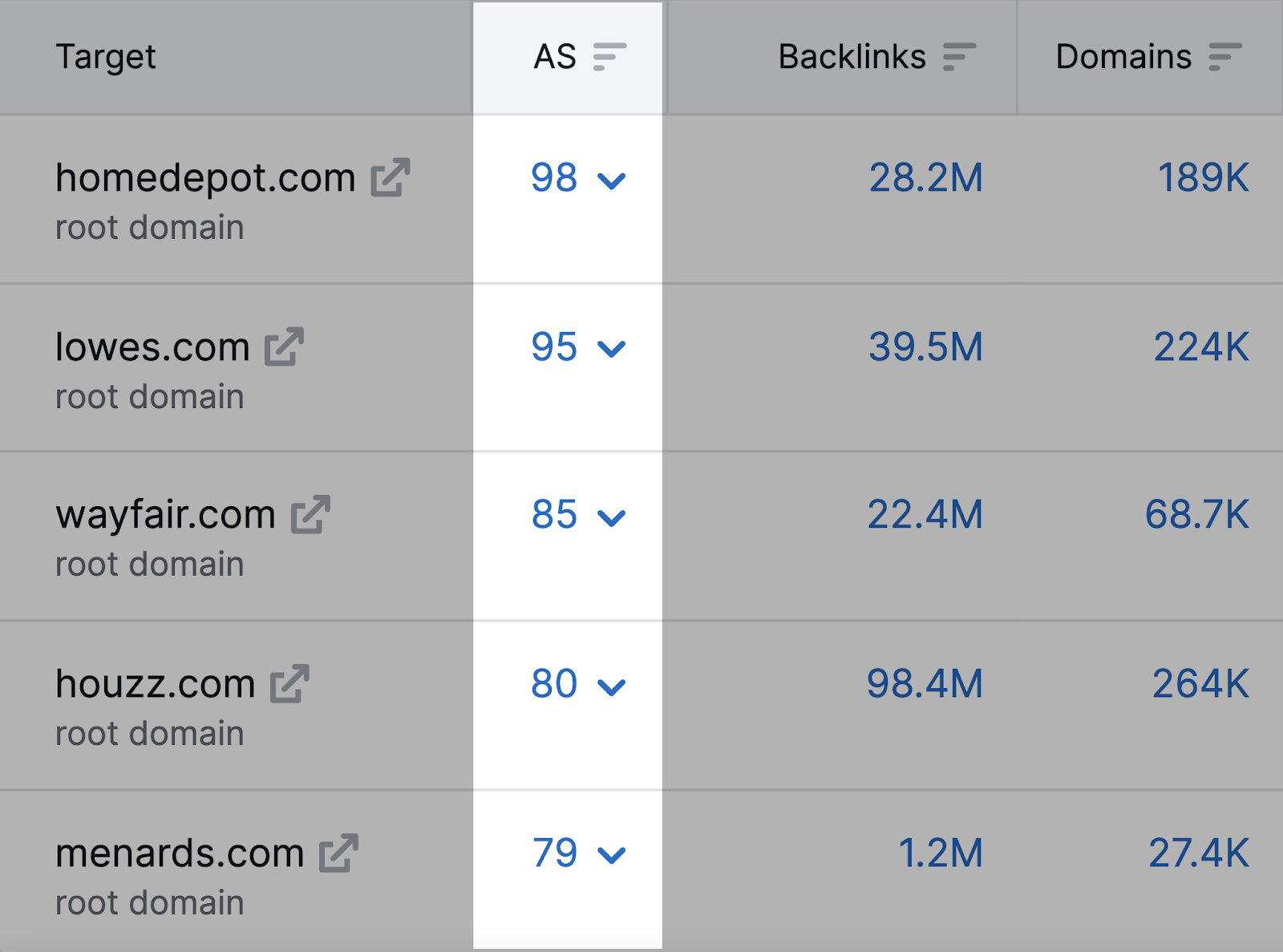 To improve your authority, build high-quality backlinks. These act as "votes" of relevance and authority to Google crawlers. Check out our guide to link building strategies to learn more.
Content
Analyzing your competitors' content can help you answer questions like the following:
Do they publish quality content?
Do any related articles appear to be thinner and less thorough?
Do they focus only on product pages rather than topical pages or how-to guides?
Are they only creating one type of content or several?
Review each competitor's content and make a list of the strengths or weaknesses you notice.
You can replicate their strengths. And capitalize on their weaknesses. So your content is better than your competitors' content.
Technical SEO
Technical SEO is the process of optimizing a website for search engines and improving user experience.
Semrush's Site Audit tool can help analyze the health of your technical SEO compared with your competitors.
Set up projects in the tool for your and your competitors' sites and run crawl-based audits.
Once audits are complete, you'll see an overview of the technical health of each website. 
Indicated with the Site Health metric.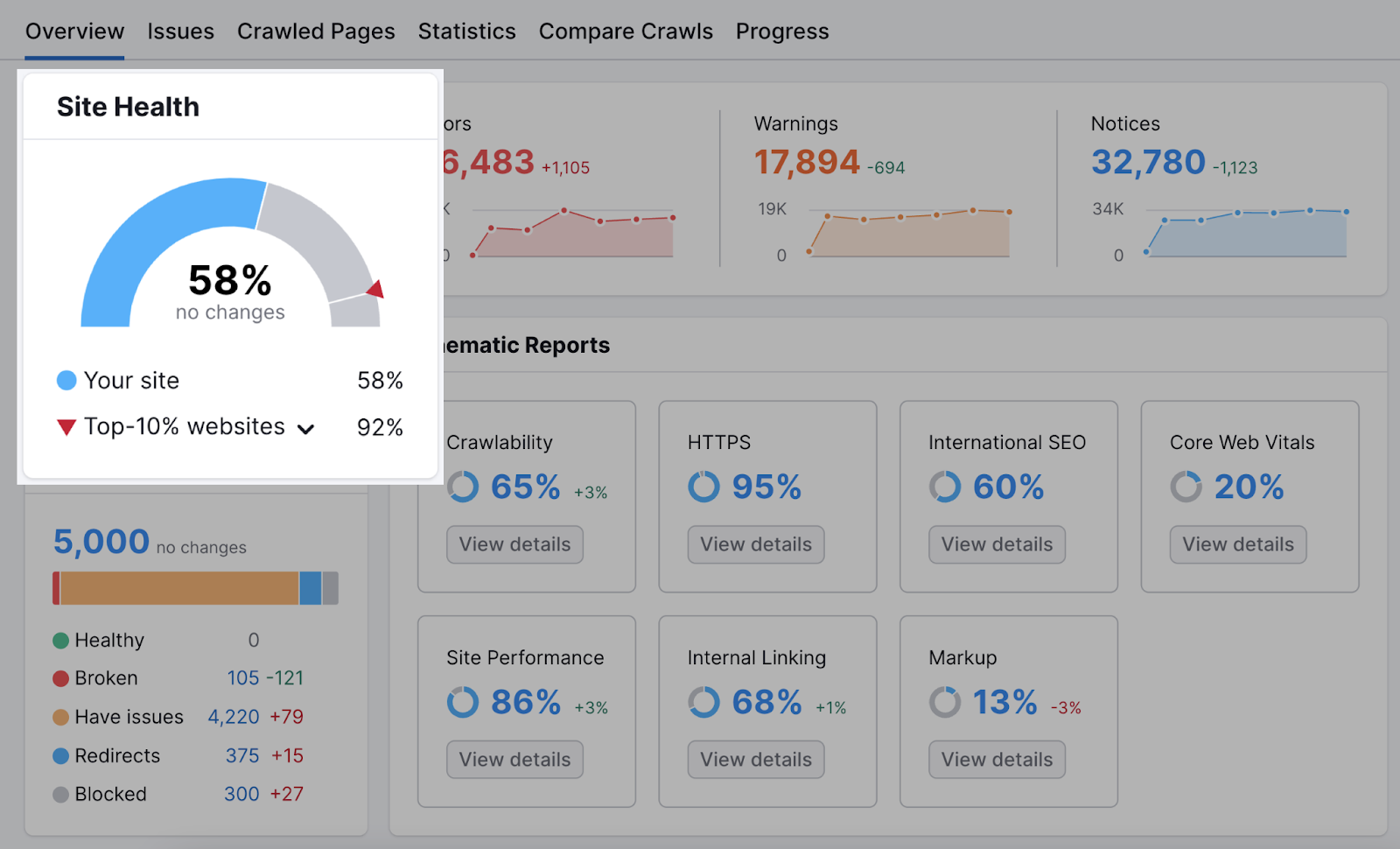 This metric measures website technical health on a scale from 0 to 100. It takes into account technical SEO issues that could hinder your Google search performance.
The higher the score, the fewer technical SEO issues. To improve your score, work to resolve errors and warnings listed in the report. 
Go to the "Issues" tab to see them.
The tool also offers advice on how to fix each issue.
Use the tool to regularly audit your website, monitor your site's health, and fix technical SEO issues. Compare your score to your competitors' scores. So you can stay one step ahead of your competition.
New Keyword Rankings
If your competitors are targeting new keywords, it's worth knowing about. And you may want to target the same keywords.
Semrush's Organic Research tool helps you discover new keywords your competitors are ranking for.
Consider housebeautiful.com, which shares a niche and common audience with Home Depot.
Open the tool, plug in the URL, and click "Search."

Then, navigate to the "Position Changes" tab and filter the report to show only new keywords.
Analyze each keyword individually. And identify whether you need to create new pages to target these keywords. That could include blog posts, product pages or category pages. 
Deciding the type of page you need starts with considering your business focus and the published pages currently ranking for your keyword.
For example, if you search "bathroom design ideas" in Google, the SERP is dominated by blog posts.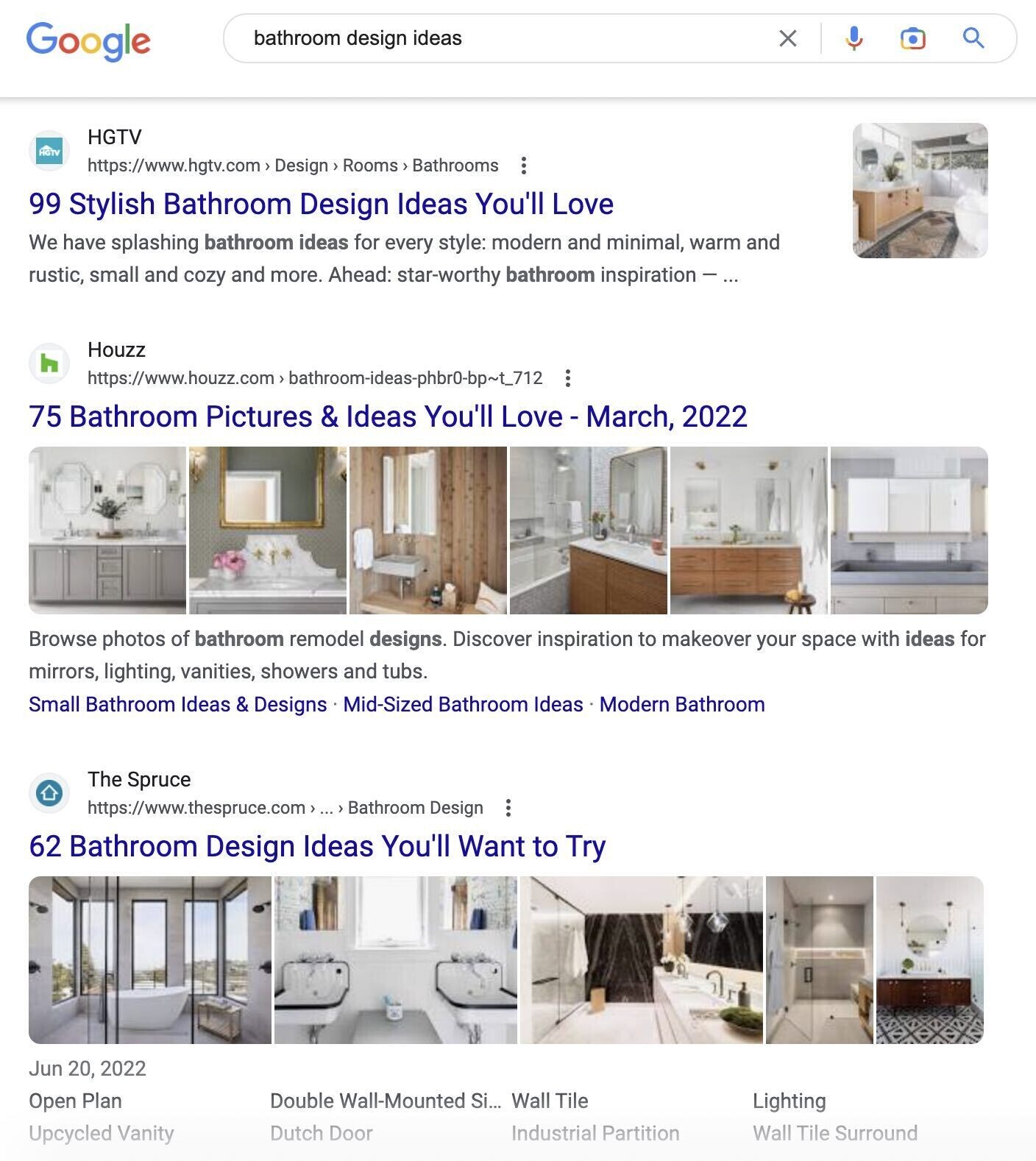 To rank for this new term, we could create a high-quality blog post that helps users get bathroom design inspiration.
Doing this well is called matching search intent (the reason a search engine user searches a keyword) . For every new keyword you want to target with your website, you must create the right types of content to serve the user's search intent.
Lost Keyword Rankings
When your competitor has lost rankings for specific keywords, you could capitalize on those losses and turn them into wins for you.
You can view lost keywords in Semrush's Organic Research tool.
For this example, we'll analyze Houzz's lost keywords.
Open the tool, enter the URL, and click "Search."

Then go to the "Position Changes" tab. 
From there, apply filters: 
Top 20 positions in the SERPs to see only the most relevant keywords 
Lost keywords to see where you can capitalize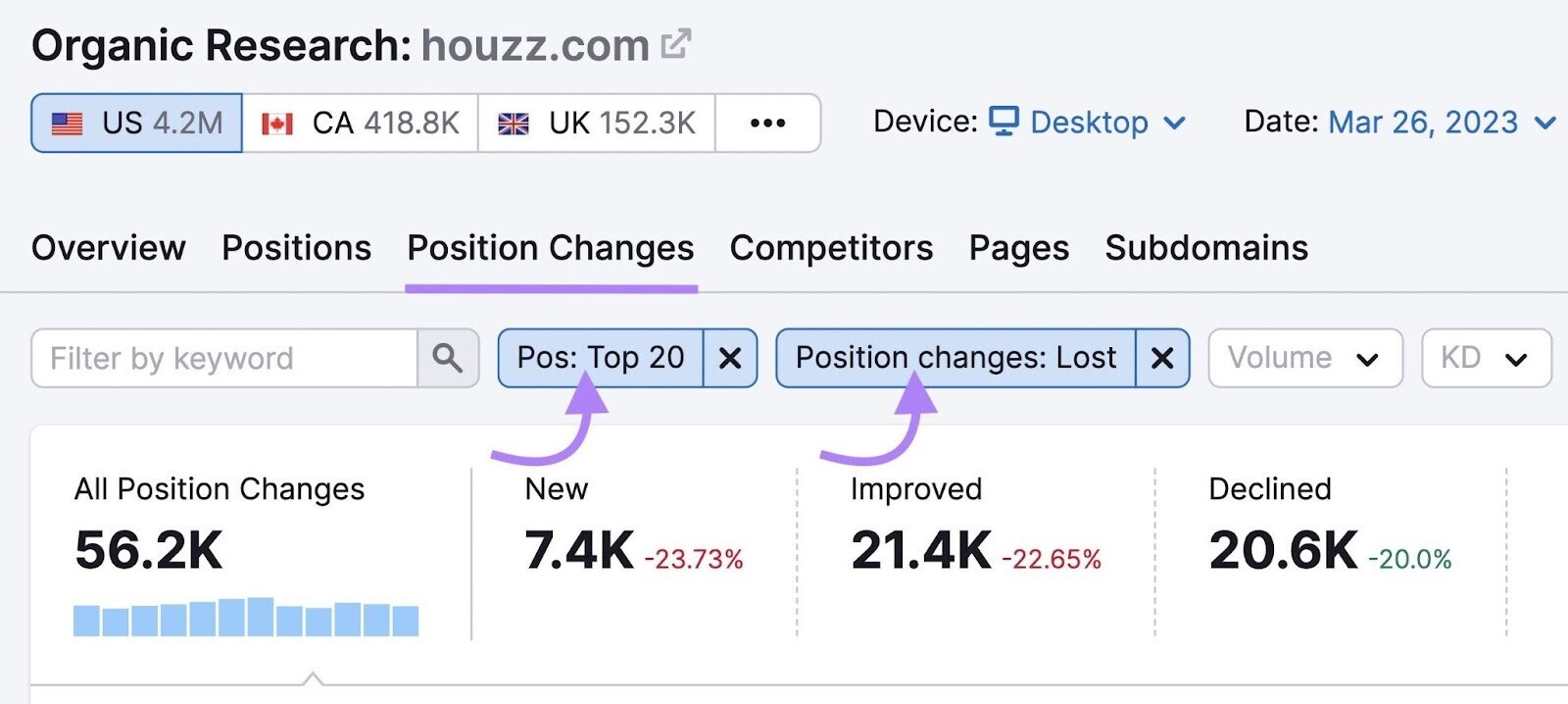 These are keywords Houzz used to rank for but dropped out of the top 20 search results spots. 
Sites can lose keyword rankings for a variety of reasons. Maybe the site was affected by the latest Google algorithm update, for example.
Regardless of the cause, these keywords can be your opportunity. 
If you already have pages targeting the keywords you find but they're not ranking well, use the On Page SEO Checker tool for specific suggestions on how to improve the pages' performance. Or create new, high-quality pages that satisfy the user's search intent. 
Analyze on a Page-by-Page Basis
Pay special attention to the following on-page SEO factors when analyzing pages during your competitive analysis:
Title Tag
Look at the title tags of the competitors' pages that outrank you. When analyzing, ask yourself the following questions:
Do your competitors integrate keywords better than you?
Do the target keywords appear near the beginning of the title tags?
Do they include special, click-enticing modifiers such as "easy," "best," and "free"?
This should give you an idea of how to craft your title tags for search. So you can rank better.
Meta Description Tag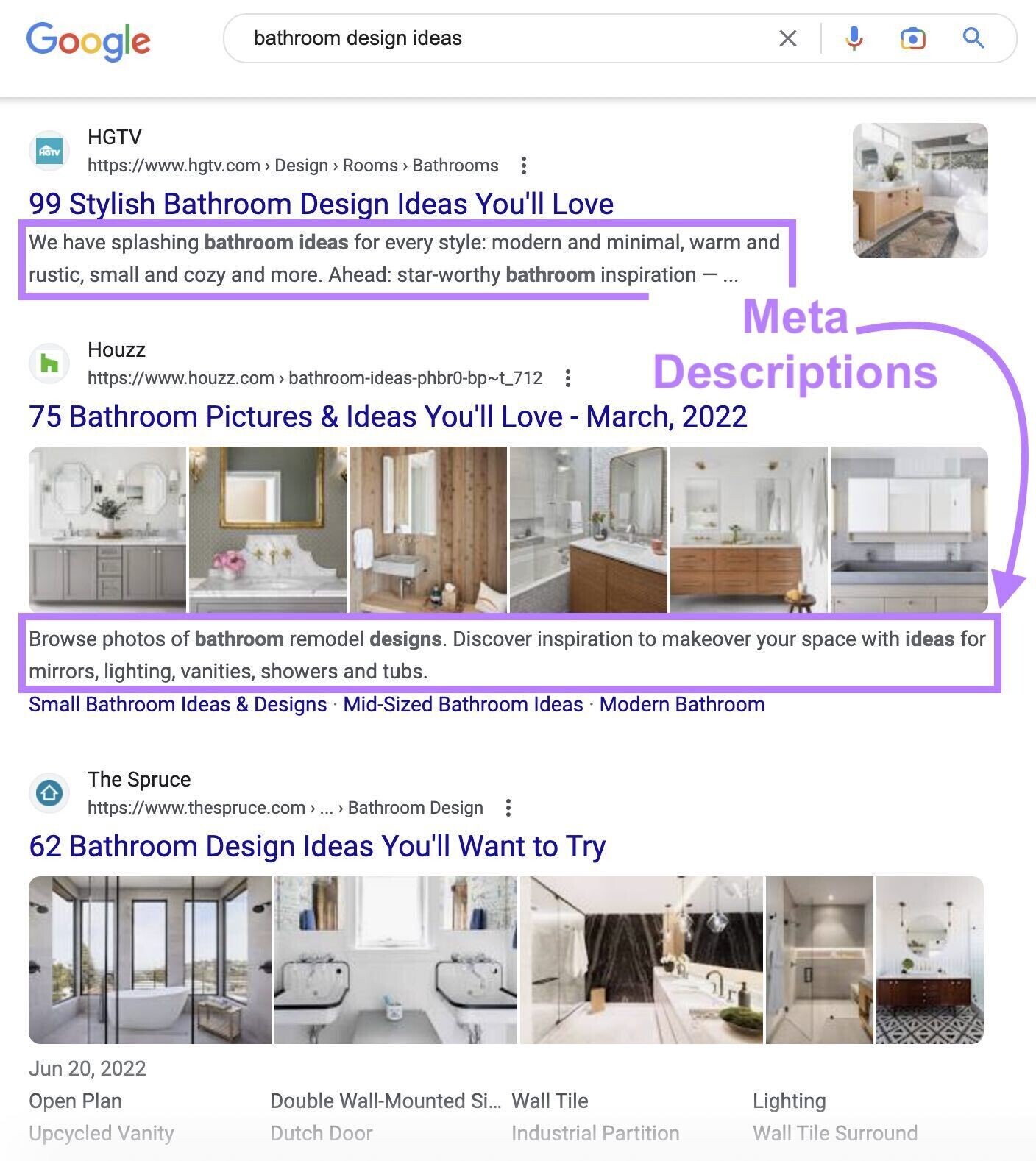 The meta description isn't a direct ranking factor, but it provides a summary of the page's content. Which is an important factor for click-through-rates.
Meta descriptions are often overlooked. Particularly on large sites. 
Note how your competitors use meta descriptions. And ensure yours are optimized to entice a reader to click. 
Header Tags

Google gives SEO weight to <h> tags. Always use HTML <h> tags rather than defining headers via CSS.
Google can also use these headings for featured snippets and other search features. 
Compare your header tags against your competitors' header tags to find opportunities for improvement.
For example, is your competitor finding more natural ways to use target keywords in H2s and H3s? You may want to do the same. 
URL Structure
Compare the URL structure of the competitors' pages that outrank you in search results. When analyzing, ask yourself the following questions:
Do your competitors better integrate keywords in their URLs?
Do they use shorter URL slugs?
Do their URLs describe the contents of the page?
If you notice something your competitors are doing better than you, you now have an action item. Improve your URLs so they're as good as—or better than—your competitors' URLs.
Content & Keywords
Look at your competitors' pages that outrank you. And analyze their content.
How are your competitors using keywords throughout the page? 
Are there relevant secondary keywords you could add to your content? 
How high-quality is the writing?
Do your competitors cover topics in similar levels of detail? 
Is your readability score higher or lower than your competitors?
These are all things to consider when analyzing and comparing content.
Semrush's SEO Content Template tool and SEO Writing Assistant tool can help you create better content that satisfies search intent.
Let's say you want to create a blog post about "home decor ideas."
Enter your keyword into the SEO Content Template and click "Create content template."

The tool will review your rivals' content and offer suggestions like semantically related keywords you can consider, specific referring domains you can build links from, readability information about existing top-ranking pages, and more.
As you start writing, the SEO Writing Assistant tool will provide real-time feedback on readability, tone of voice, originality, and SEO.
Review Backlinks
Backlinks are links from other websites that point to your webpages. Analyzing backlinks is an important part of SEO competitive analysis.
When your competitors have better backlink profiles, you'll have a more challenging time outranking them. At least until you can build a similar backlink profile.
It starts with distinguishing between high-quality backlinks and low-quality backlinks.
High-Quality vs. Low-Quality Backlinks
Focus on high-quality backlinks, such as those from essential news sites, high-profile sites, or well-established sites in your niche. 
Low-quality backlinks—ones that originate from private blog networks, link farms, or spammy sites—don't boost your rankings. At least not for long.
Use Semrush's Backlink Analytics tool to check your competitors' backlink profiles. 
Enter a competitor's URL and click "Analyze."

You'll see an overview of the backlink profile, including Authority Score, number of referring domains, and the number of backlinks.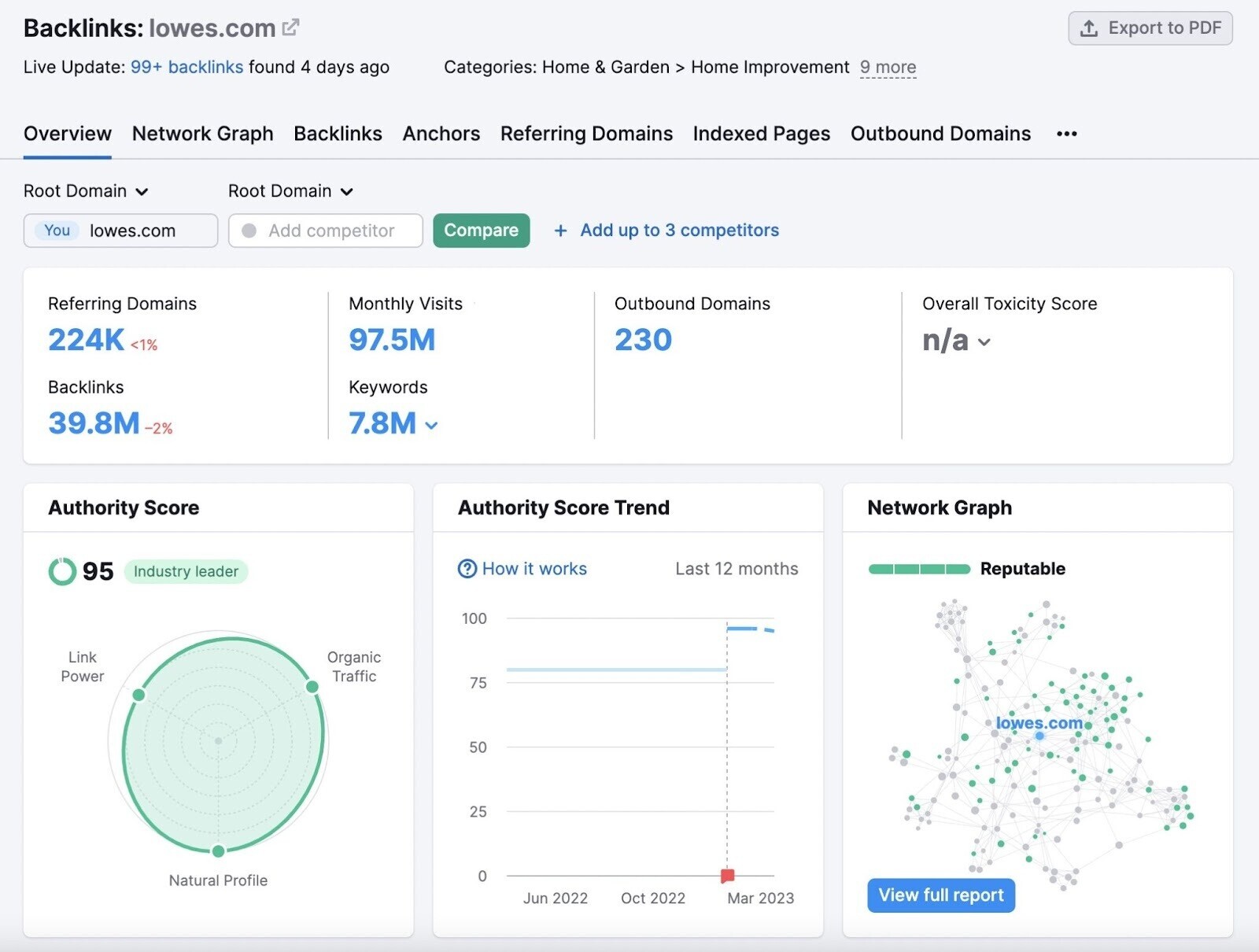 From the overview report, navigate to the "Backlinks" tab.
Now the tool will show you all the backlinks pointing to your competitor's site.
Like this: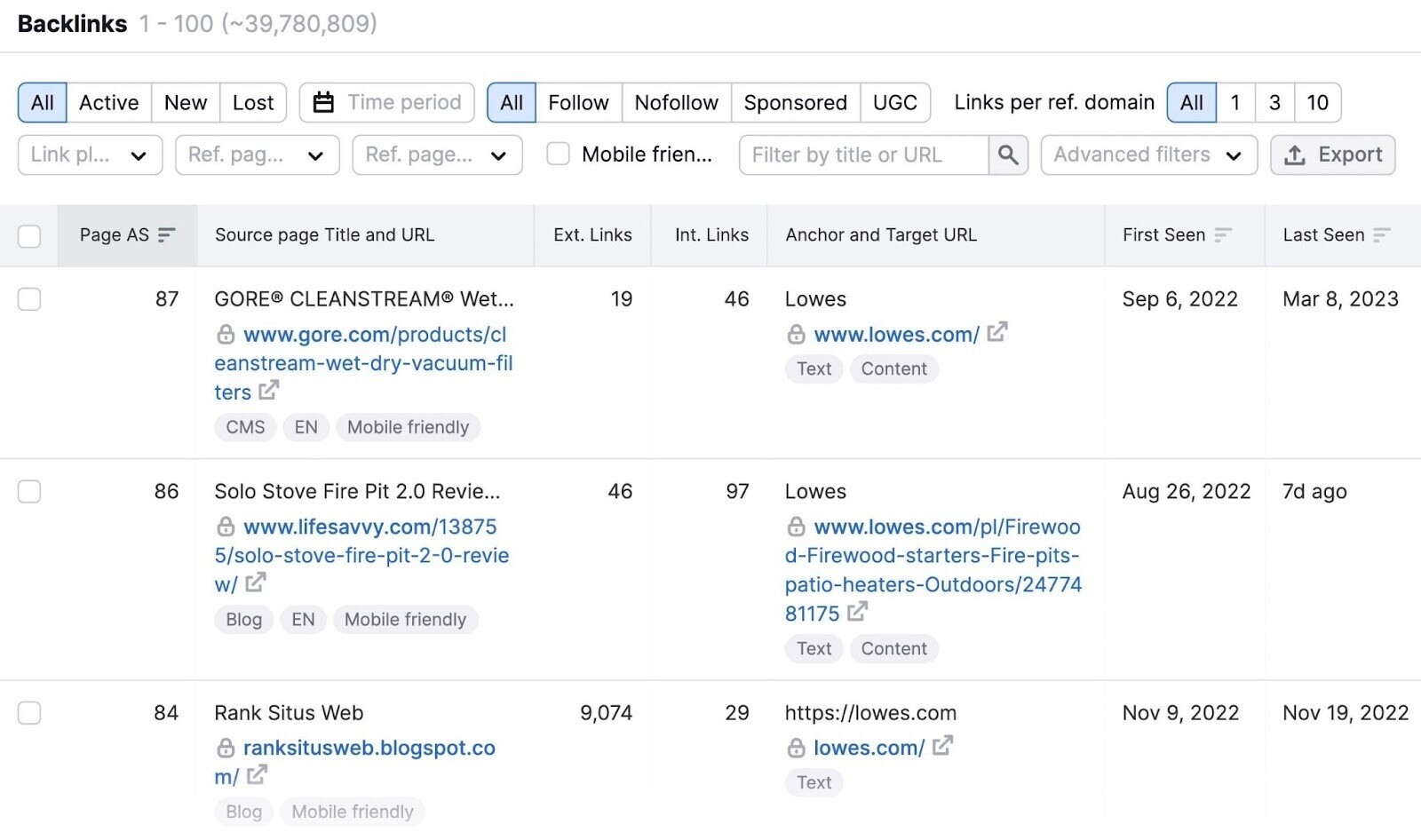 From here, analyze each link manually. When looking at competitors' backlinks, consider these questions:
Have they received press from major news organizations? 
Are they a recommended source on well-established sites in your niche?
Often, you'll need to do outreach to build links to your site. Read our full guide on link building outreach to get started.
Nofollow vs. Follow Backlinks
Ideally, you want lots of high-quality follow backlinks to your site. Because they transfer PageRank.
Nofollow links tell Google not to pass PageRank. Although they can still help with referral traffic and various brand signals.
Don't ignore high-quality links simply because they are marked nofollow. If they're coming from reputable websites, they have some value.
You can see your competitor's follow and nofollow backlinks by toggling the "Follow" and "Nofollow" tab in the backlinks report.
Both of these parts of the report can help you understand your competitors' backlink profiles. And give you ideas for where to pursue backlinks for your site.
Backlink Gaps
Backlink gap analysis reveals websites linking to competitors but not you.
If someone is linking to your competitors, it could make sense to request a backlink for your site, too. You can perform backlink gap analysis using Semrush's Backlink Gap tool.
First, insert your URL and two or more competitor URLs. Click "Find prospects."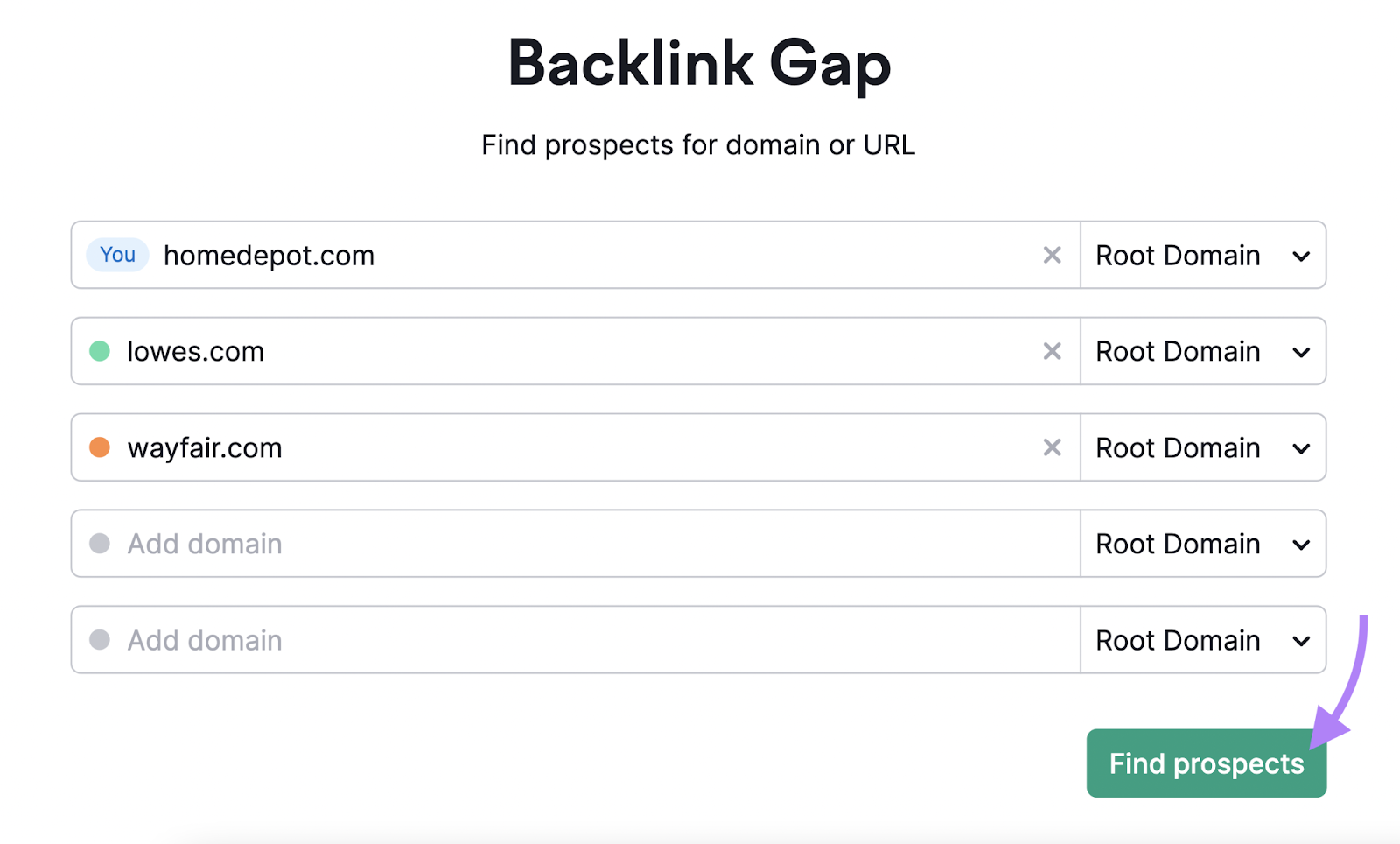 The tool will generate a list of sites that link to your listed competitors but not you.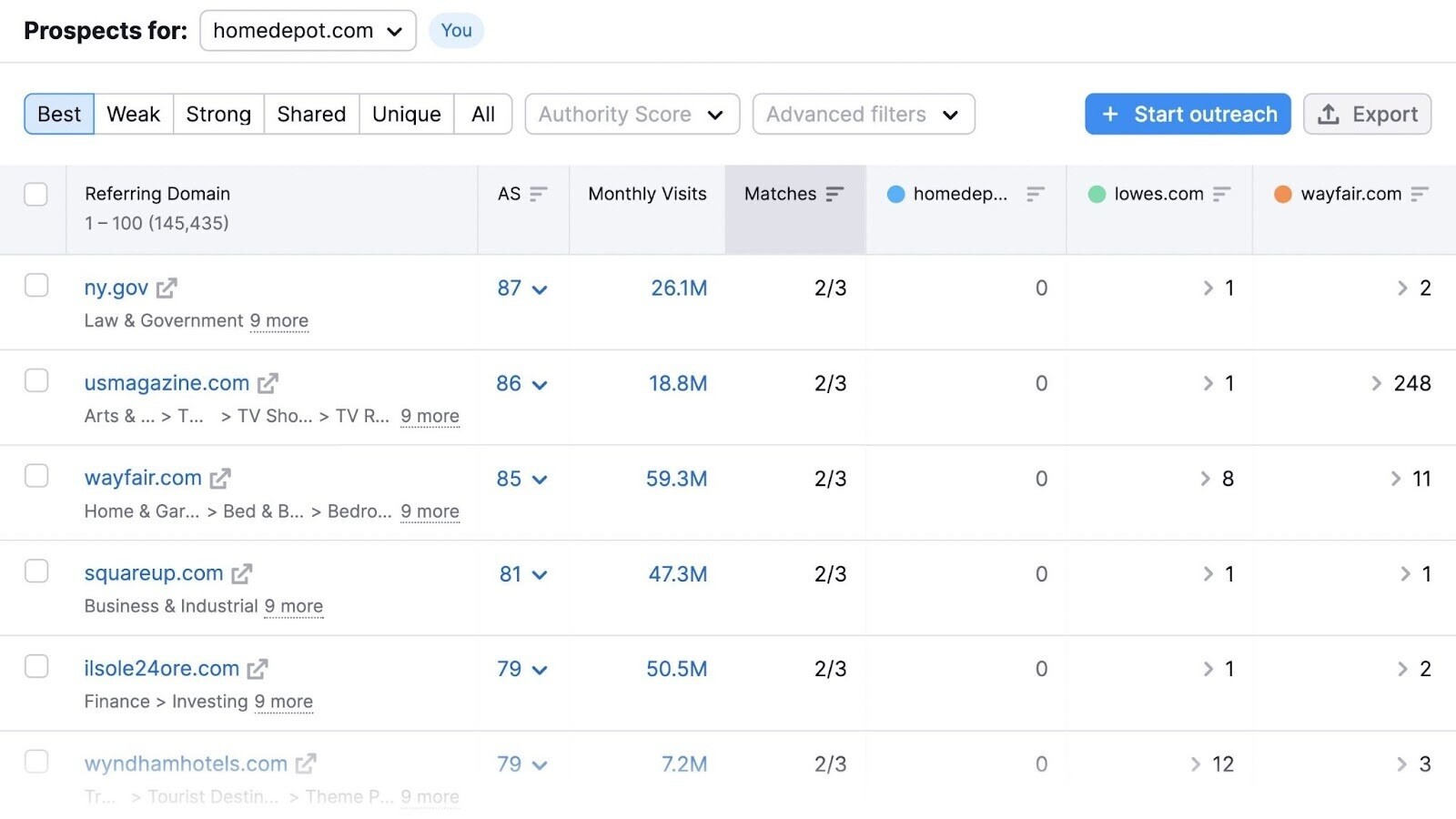 Use this list to analyze the common links your competitors have that you're missing. 
Or you can look for patterns in the data to see the types of sites your competitors get links from. You may see specific niche sites, news sites, and/or bloggers that regularly link to your competitors. And consider going after those sites, too. 
Analyze Content Types
Analyze the types of content your competitors publish. 
Are they making videos? 
Infographics?
Podcasts? 
Analyze the traction each type of content sees. 
For example, if your competitor has a YouTube channel and regularly publishes videos with only a few views each, they may not be optimizing that channel
In this case, you could start your own YouTube channel and publish high-quality, relevant videos. Check out this YouTube channel guide to learn more. 
If Google is displaying video results for your top keywords, then your videos can appear in search results and generate more views and authority for your site.
Grab Featured Snippets
Pay attention to the SERP features, such as featured snippets, for which your competitors rank. And try to win those featured snippets with your own website.
Featured snippets show up for 19% of search results in the U.S., according to a Semrush study.
To see which featured snippets your competitors own, use Semrush's Organic Research tool. 
Open the tool, enter the URL, and click "Search." 

Then, go to the "Positions" tab and filter the report to show keywords for which your competitors own featured snippets.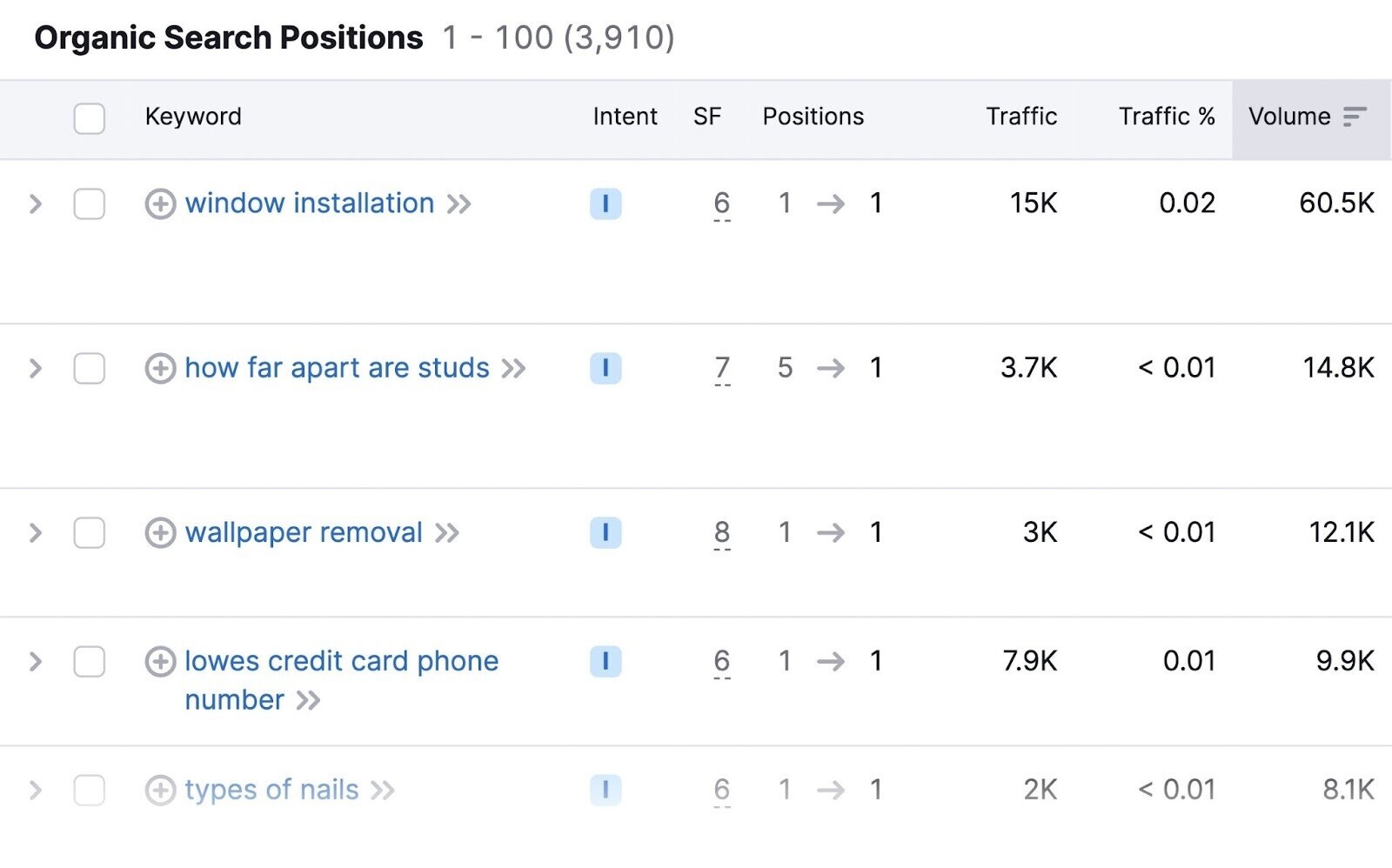 If your pages target the same keywords, optimizing them to take over the featured snippets from competitors can be worthwhile. 
Look at the featured snippet for this keyword from the above report, for example: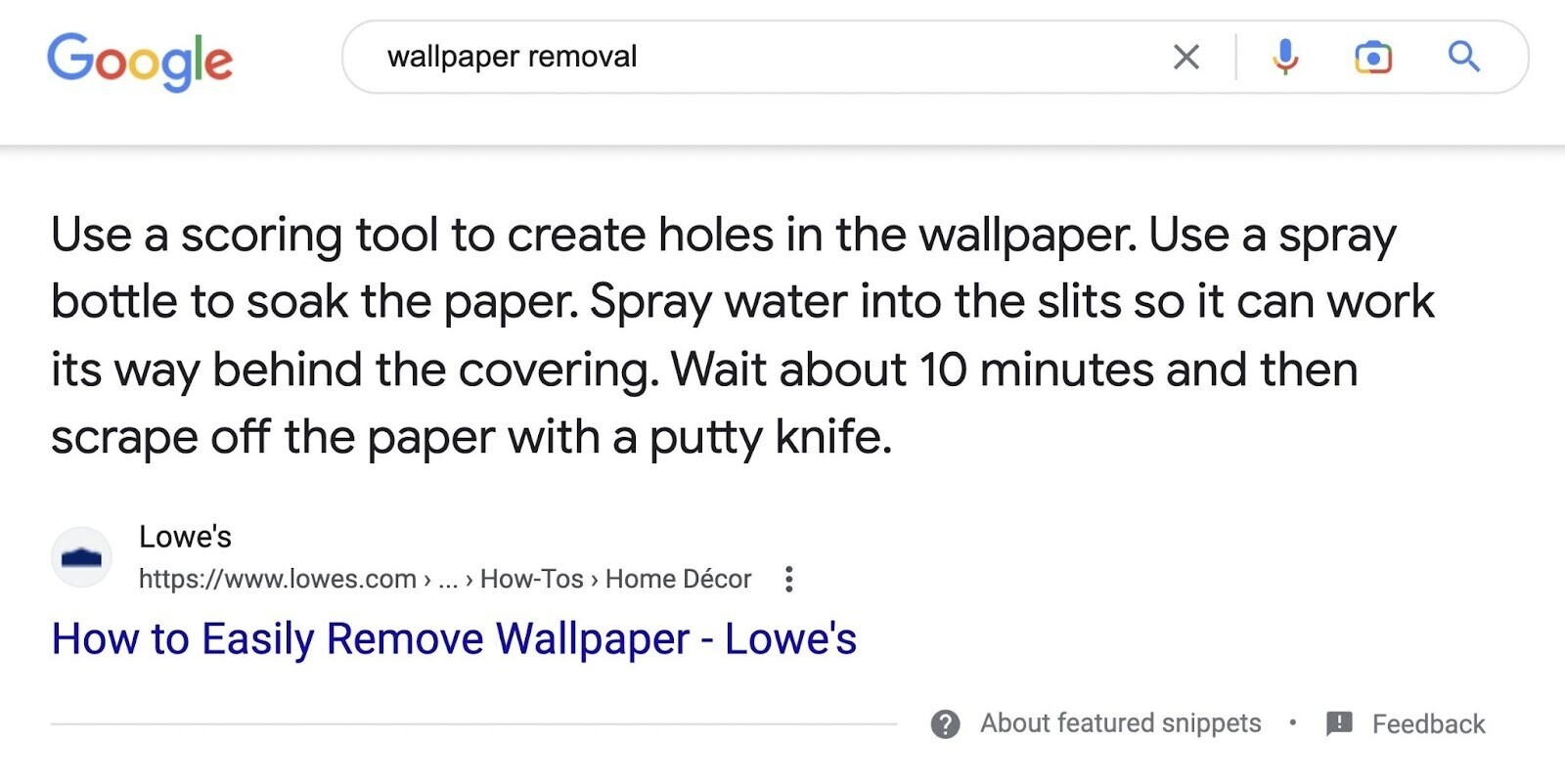 To improve our chances of winning this snippet, we'd have to write a better, more objective answer than Lowe's.
Note: Featured snippets are not guaranteed. Even if you adjust your content to rank for featured snippets, other factors are involved.
What to Do After Major Algorithm Updates
Each major Google algorithm update is a time to reevaluate your and your competitors' most important keywords.
Did you both retain your rankings?
Did one of your competitors suddenly start ranking higher for your keywords?
Did another competitor drop out from the top 20 spots in the SERPs altogether?
Competitive Analysis Is an Ongoing Process
Competitive analysis is an ongoing process.
Depending on the size of your site and the number of active competitors, you will need to rerun SEO competition analysis about every six to 12 months.
Parts of it should be performed every month to remain competitive. Such as looking at your competitors' new keywords.
Regularly keep an eye out for SEO-related strategies your competitors are implementing. So you can respond and implement your own.
Start Your Competitor Analysis with Semrush Tools and Data
Semrush has a suite of web marketing tools to help you with SEO competitor research. 
Sign up today and keep tabs on your competitors.