There's no denying the future of business is digital. Even before the pandemic forced consumers online for everything from groceries to entertainment, ecommerce was growing. And as our recent study shows, ecommerce has remained popular since 2020.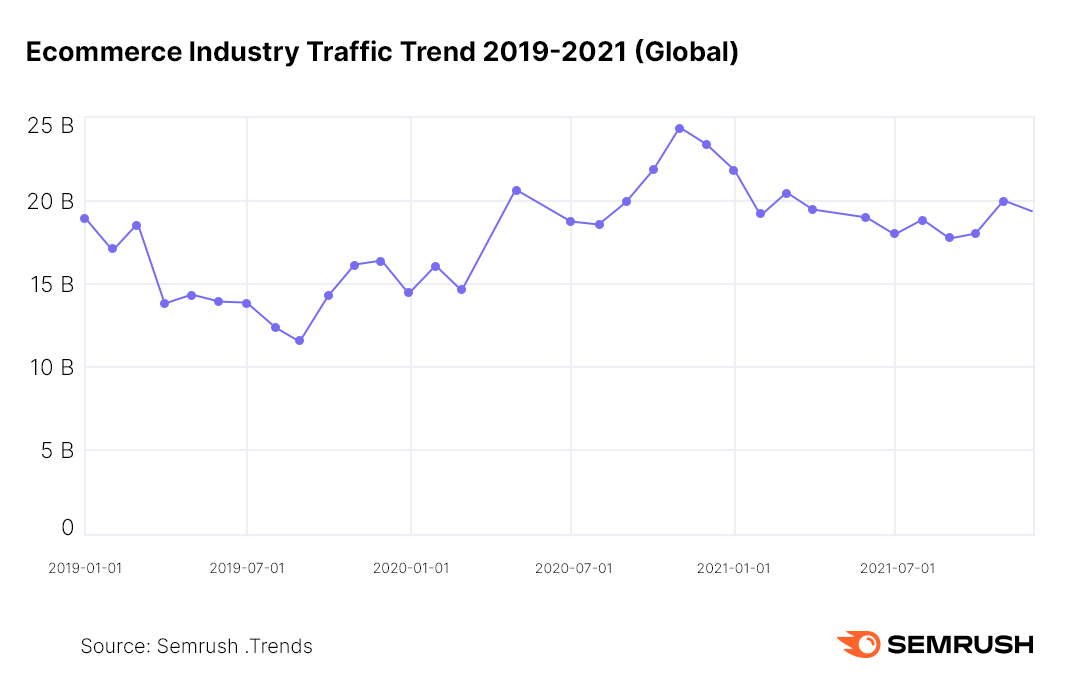 Online marketplaces create many opportunities. They allow businesses to launch with lower overhead, open doors for creative marketing, and expand customer bases. For businesses operating in a brick-and-mortar context, expanding online can grow the available market share exponentially. 
Along with the opportunity, however, comes a tough competitive landscape, and generating website traffic is the name of the game. In this article, we'll explore a variety of techniques for driving traffic to your website so you can build your brand, expand your market share, and increase your revenue. 
What's the difference between high quality and low quality traffic? 
Before we get into techniques for growing your traffic numbers, let's explore the concept of web traffic more deeply. It's easy to assume that traffic is just a number. The more the better, right? Honestly, it's a bit more complicated than that. 
If you're going to put resources into generating traffic, make sure the traffic you're driving to your site is high quality. This may mean different things to different businesses, but generally, high quality traffic consists of customers who fit your business's buyer persona. 
So, before you get into the technical aspects of traffic generation, make sure your buyer personas are defined. This way, you'll be able to benchmark the impact of your efforts beyond simply tracking site visits. 
5 Methods for Increasing Traffic to Your Website
With your defined buyer personas, you can begin taking steps to increase your website's traffic. The first two steps involve research to broadly understand your market. The remaining steps include targeted actions for improving your marketing. 
Understand Your Market's Traffic Trends
With any strategy, it helps to start broad and get a grasp of the market as a whole. When it comes to market research for traffic growth, this effort will help: 
Define your long-term traffic goals 
Identify competitors for market traffic 
Understand the channels users travel through to reach websites 
For exploring your own site traffic, Google Analytics is always your best bet. For exploring your competitors traffic, however, Semrush's .Trends tools can help. 
Using the Semrush Market Explorer tool, we entered Expedia.com to view broad traffic trends for the online travel industry. The tool gathered the top 50 competitors and generated this Market Summary.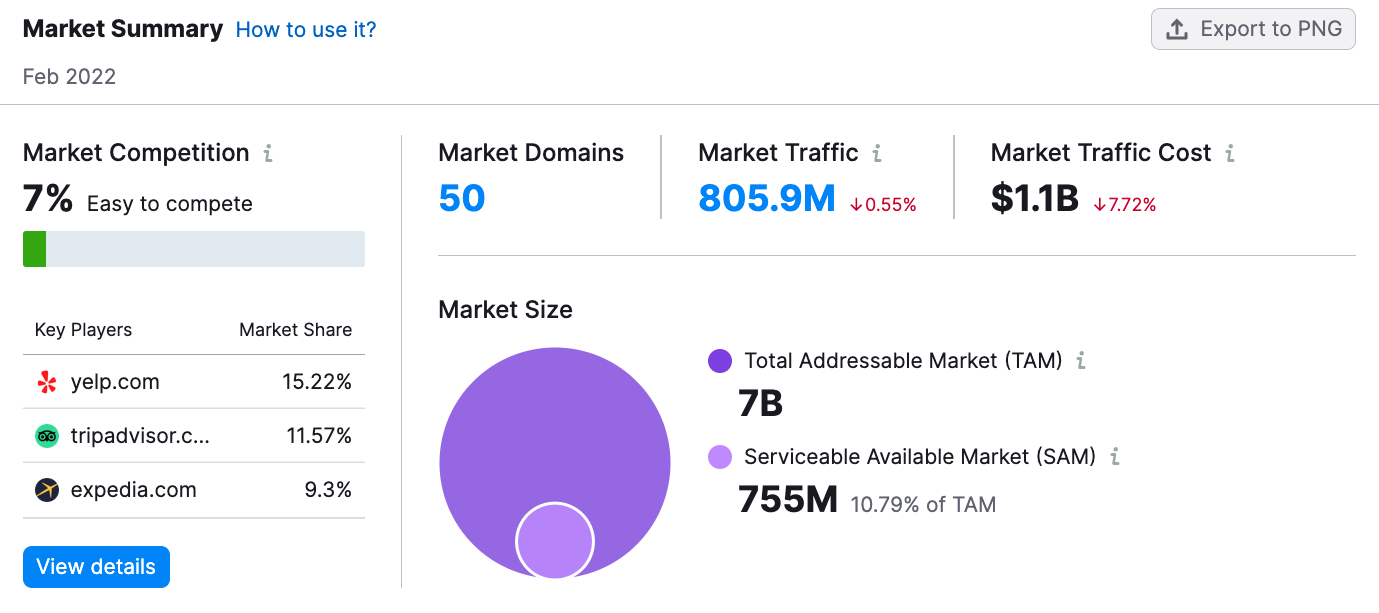 The Market Summary offers a few pieces of useful information. For example, it shows the market is "easy to compete," meaning there's a large number of players, each capturing a small percentage of the market traffic. 
More specifically, Yelp owns 15.22% of the market share. Furthermore, the market traffic cost is $1.1B, which is the amount of money domains paid to rank for organic keywords in the month of February 2022. 
With these metrics, you gain a sense of what is realistic for your business in terms of available market traffic and the costs of capturing it. 
A look at the Growth Quadrant can help you understand the competitive landscape. This chart provides a few options for viewing shifts over time. We selected the "quarter-over-quarter" option and deselected airline specific websites for a more specific look at travel websites. 
Notice the blue line reflecting Vrbo.com's traffic growth for 2021. While the majority of other companies experienced a decline in growth, Vrbo continued to rise. This kind of information can be important later as we begin to look at competitor strategies. 
Finally, the Market Traffic widget offers a broad look at traffic sources to websites in your market. This graph shows market traffic to the 50 domains in our target market based on Expedia.com. 
This data can help you understand what channels drive the most traffic to sites in your specific market and look for opportunities. 
Break Down Competitor Marketing Strategies 
Understanding your market's overall traffic dynamics, you can explore how competitors bring traffic to their websites. Replicating what works can provide a foundation for your traffic generation strategy, even as you experiment with additional strategies. 
Sticking with Semrush's Market Explorer tool, the Domain vs Market Dynamics section of the Overview Report offers a wealth of information. You can view an individual competitor's traffic strategy and compare it with the market as a whole.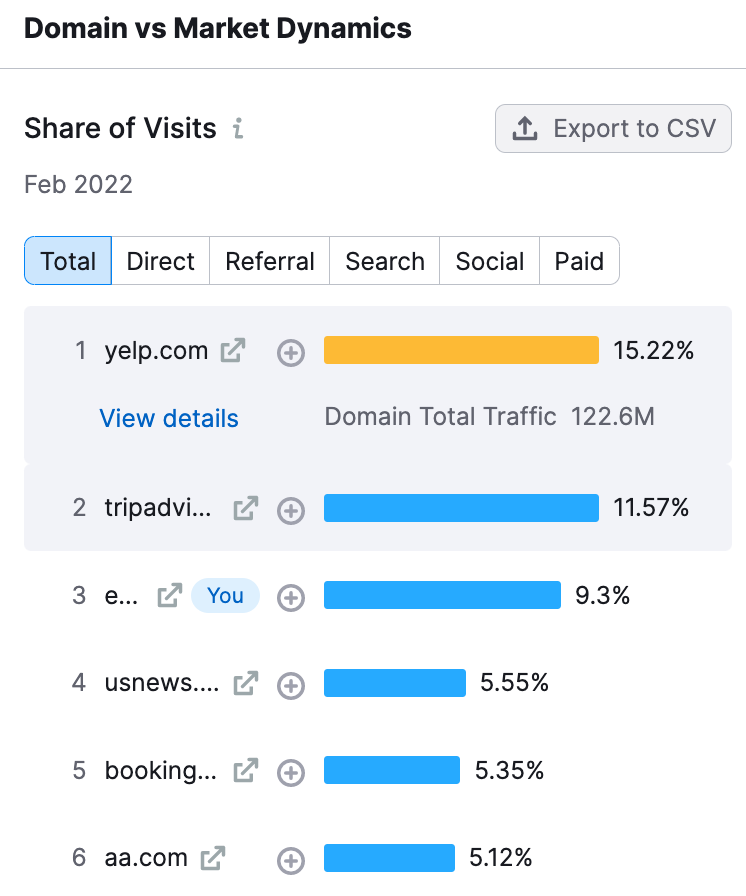 The Share of Visits widget depicts a visual breakdown of market traffic among top market competitors. Select the type of traffic you'd like to study with the buttons at the top of the widget. For example, you might select "referral" traffic to explore the market for this particular traffic type. 
When looking at the results for referral traffic, we discover Expedia.com rises to the top of the heap. Compared to the market, Expedia's trend follows closely. This is to be expected—as a top performer, they've played a large role in setting the trend.
The Benchmarking Report reveals more about how Expedia compares to other market players. The Market Traffic vs Selected Domains Trends graph depicts trends among competitors over the selected period of time. 
With this graph, Expedia's success with referral traffic is clear. We can also see that their success with referral traffic really took off around January of 2021. 
For a closer look at the referral traffic during this period, jump to the Traffic Analytics tool. Using the Traffic Journey report, we can uncover which sites referred the most traffic to Expedia.
This chart shows the referring domain, the share of traffic sent by that domain, the number of visitors sent, and the percentage of change over the selected time period. The top sites on this chart may be of interest as you think about partnership and link building, which we cover in the section on backlinks below. 
Optimize for higher search traffic 
Ensuring your audience can find your website through search engines is crucial for any business. While search engines include paid advertisements—typically at the top of the results page—they also offer free results for pages that best match your search criteria. Traffic that comes through search results that aren't advertisements is called "organic traffic."
Optimizing your web pages so they appear on search engines—a process called "search engine optimization" or "SEO"—is the first step. 
SEO is a huge topic. It involves everything from keywords and meta descriptions to technical features of your website like HTTPS implementation and sitemaps. Instead of going in depth here, we'll share some valuable resources that will point you in the right direction: 
This post guides you through the main steps of developing an SEO strategy. 
This video provides a solid foundation for optimizing your site for all things SEO—keywords, on- and off-page SEO, technical SEO, content, and more.
Before you go deep with SEO, it's a good idea to understand what search engines your audience uses. This is especially important if you run a global brand. 
The Traffic Journey Details widget in Traffic Analytics can help you identify the search engines sending traffic to your rivals. This information helps you make sure your website is optimized to share in that traffic. As a global brand, Expedia's traffic may be interesting to consider. 

In the US, most of their traffic comes from Google and Yahoo, while Bing and Duckduckgo fall lower on the list, bringing 1.5% and .67% of the traffic share respectively. Now, let's look at Canada. 

While Google still comes out on top, Duckduckgo takes third place. With this in mind, a company looking to target a Canadian audience would want to make sure their site is optimized for Duckduckgo, alongside Google. 
For more on this topic, This comprehensive post on 18 alternative search engines will guide you through optimization strategies for each of them.
Create content & build your backlink profile 
Like SEO, content marketing is a huge topic. People often assume it's as simple as writing a few blog posts and creating a couple videos. In reality, it's a strategic approach to content mapping across your business platform. 
We'll cover some basics here, but for a full breakdown, check out this article. 
When it comes to traffic, quality content can attract unique visitors and encourage return visitors. Once you understand your target audience, the goal is to create a variety of content types that appeal to every member of your customer base. 
There are many different types of content, including: 
Interactive—quizzes, tests, games, surveys 
Video—tutorials, live events, interviews 
PDF—manuals, white papers, templates, checklists
Text—blogs, research, studys, news, articles
Visual—infographics, slide presentations 
Content can go hand in hand with your email marketing and social media marketing efforts. Through these channels, you can share your content to draw people back to your site. 
While it takes time and effort to create content, you can look to your business partners and audience for help. For example, guest blogging on other websites, offering guest posts on your own website, or sharing user reviews can add to your content base. 
As an example of the power of good content, Semrush has been using a content strategy to drive traffic for years. We've been conducting unique industry studies and in-depth research on topics related to our field, offering unique data and insights into the market we are in. 
As a result, our findings are being consistently published by the leading media outlets worldwide, giving our site high-quality backlinks:
Backlinks are great for driving traffic for a number of reasons. They not only direct people to your website, but links to your content on other sites improve customer trust in your brand and have a positive impact on your SEO strategy. 
You can analyze your backlink profile and backlink data for your competitors using Semrush's Backlink Analytics tool. 
With tools like Backlink Analytics and Backlink Audit, you can dig up a goldmine of information 
Like:
Who links to you and your competitors
Whether or not you've gained or lost links
Whether links to your site are generating positive results
Where the links come from geographically, and more. 
We've just scratched the surface when it comes to content and backlinks. For any business looking to increase their traffic numbers, a strong strategy in these areas can make a tremendous difference. 
Get smart about paid traffic 
Paid traffic is made up of visitors who come through advertisements. There are a wide variety of advertising methods, including:
Display ads on websites
Ads on search engines
Social media ads
Sponsored content 
For example, Adobe pays Linkedin for traffic this ad drives to their website. 
Unlike other forms of traffic, paid traffic can produce quick results. That said, it's important to understand how it works ( try this article for a deeper understanding). 
Depending on the platform, advertisers often offer a variety of keyword bidding and targeting options. And the quality of your ad copy also impacts results. So, before spending money on advertisements that don't attract your target audience, do some research. 
Begin by looking at how your audience overlaps with your competitors. You can do this using the Audience Insights report in the Traffic Analytics tool. We entered Expedia again, along with 4 competitors.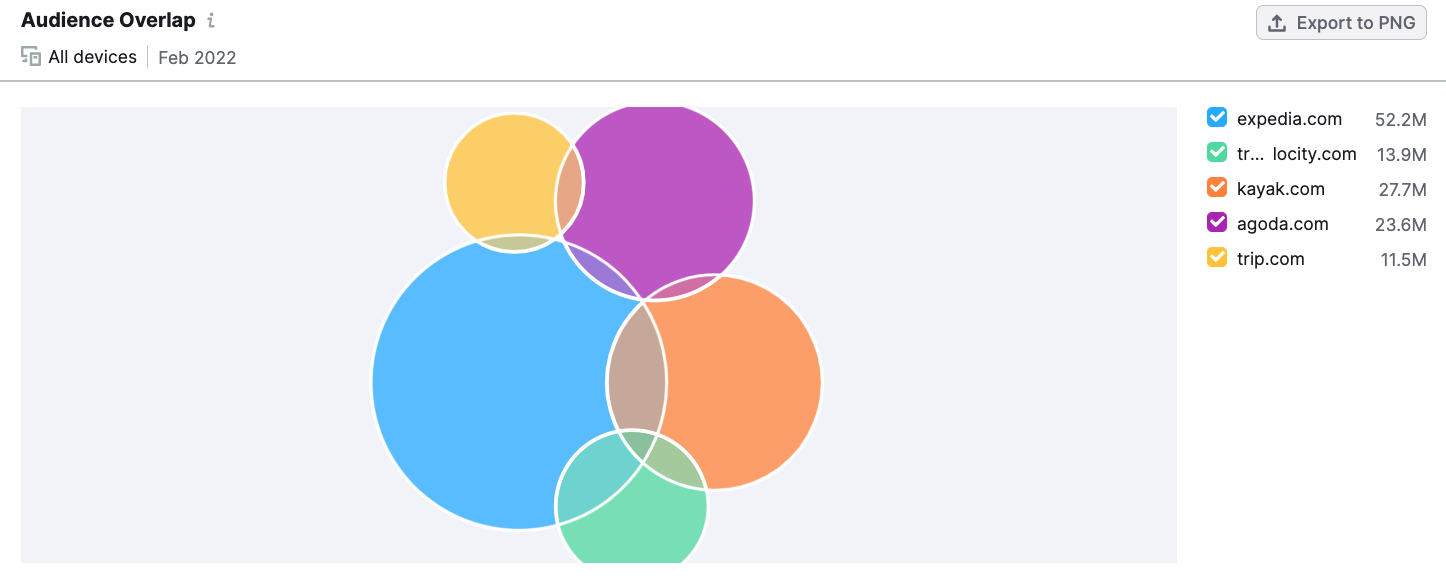 Looking at the graph, the two largest competitors have a large distinction in overlap. 
Kayak, with 27.7M unique users has an overlap of 5M users with Expedia. 
Agoda, with 23.6M unique users has an overlap of just under 1M users. 
Though their audiences are similar in size, the overlap is smaller between Expedia and Agoda. So, Expedia might decide to try to capture some of the large portion of their audiences that doesn't overlap.
Using the Audience Insights chart, Expedia could view websites where Agoda's audience spends time, and filter according to category to find the perfect place for their ads. We set the tool to display sites Agoda users visited that fall under the category of "News>World News".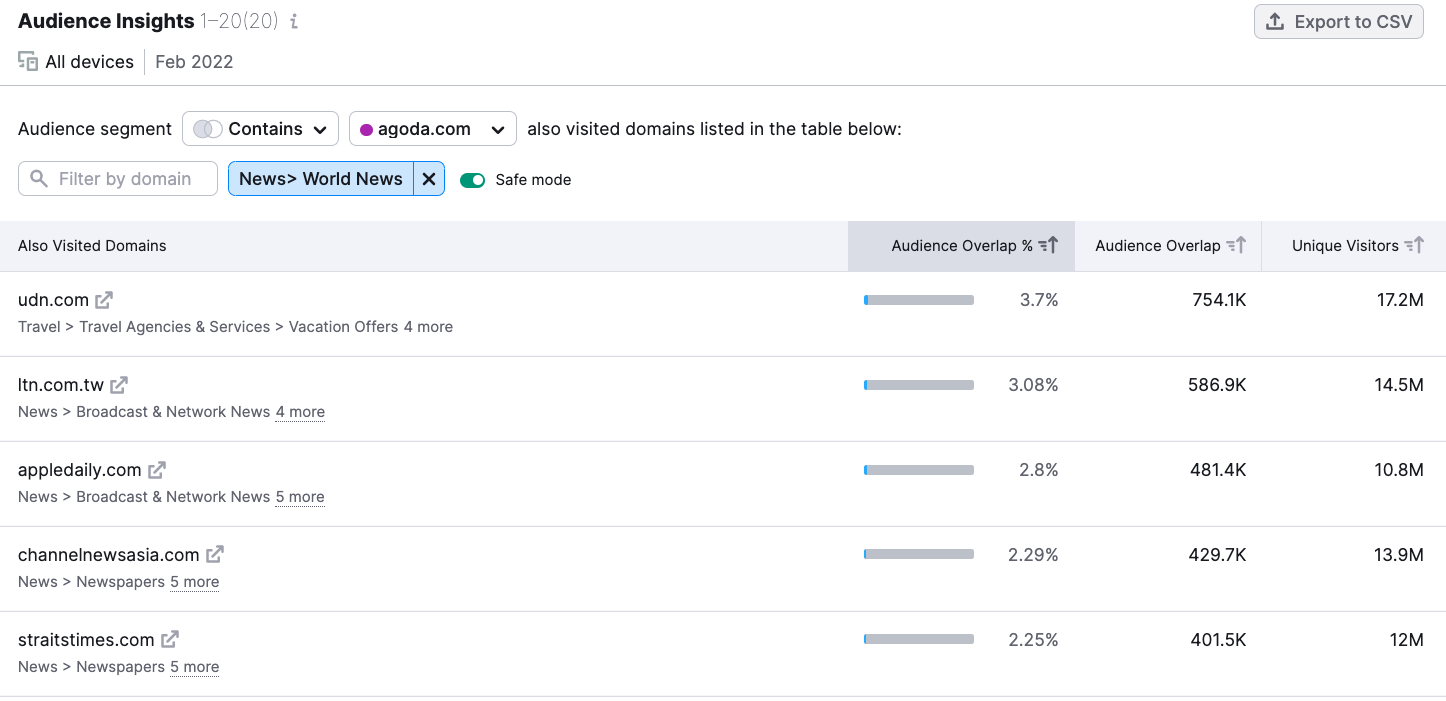 Expedia might place ads on one of these news websites to pull in some of Agoda's audience. 
Finally, the Top Pages Report provides information about pages your rivals have promoted with Paid Search. Click the "Paid" tab to bring the top paid search pages to the forefront. 
Here's the data for Expedia's "/things-to-do/search" page, which allows users to search for sports, concerts, festivals and other activities based on location. Noting the success of this page, it might be an asset to replicate. 
Track trends and adjust your Traffic Generation Marketing Strategy Accordingly 
Like any strategy, efforts to increase traffic require trial, error, and regular adjustment. Along with watching your own traffic numbers grow, keep an eye toward the market. Digital markets constantly evolve, and consumer behaviors can shift quickly. As you push forward in the traffic race, an adaptable strategy will give you the extra boost you need to take the lead.