There's no denying the future of business is digital. According to some estimates, experts predict online sales to reach $8.1 trillion by 2026. The opportunities are massive, but the competition is fierce. And this means businesses without a strong traffic strategy risk missing out on their share. 
Developing a strategy to drive more traffic takes work, but it doesn't need to be complicated. In this article, we're going to offer 14 actionable strategies to increase traffic to your website. And along the way, we'll highlight some tools to help you succeed. 
1. Understand Your Market's Unique Trends to Drive More Traffic 
To increase website traffic, start by identifying the traffic trends that have the biggest impact on your market. 
In general, there are 8 types of traffic businesses think about when considering their strategy: 
Direct

—traffic to a domain via URLs entered in a browser's search bar, saved bookmarks, or links from outside a browser (such as PDFs or Microsoft Word documents).
Referral—traffic to a domain from a hyperlink on another domain (as long as it is not a Social Media domain).
Organic search

—traffic to a domain directly from organic results on a SERP from a search engine such as Google, Bing, DuckDuckGo, etc.
Paid search

—traffic to a domain driven by text, PLA, local, or any other kind of paid advertisement on a SERP from a search engine such as Google, Bing, DuckDuckGo, etc.
Organic social

—traffic to a domain from links on social media websites like Facebook, Twitter, Reddit, Pinterest, YouTube, etc. 
Paid social

—traffic to a domain from paid advertisements on social media websites like Facebook, Twitter, Reddit, Pinterest, YouTube, etc.
Email

—traffic to a domain via email services such as Gmail, Yahoo, iCloud, or domains with corporate email addresses. 
Display ads

—traffic driven to a domain through a display or video ad supported by an advertising platform such as GDN or double-click.
Different markets and industries show different results for each of these 8 channels. For example, here's a look at the traffic breakdown for the Advertising & Marketing industry from Semrush's Market Explorer tool. 
The first bar, labeled "Market" shows the overall traffic breakdown for the entire market.

Notice the green section of the traffic trend bar representing Referral traffic. It's the second biggest driver of traffic in this industry, making up more than 20% of the market's traffic.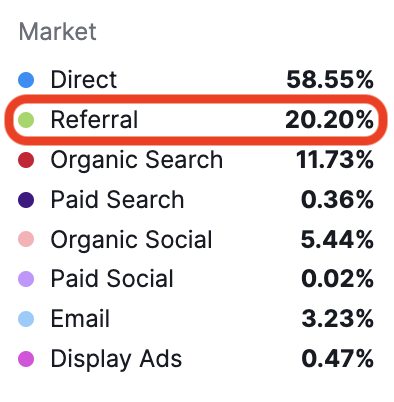 Compare these numbers to the Beauty & Cosmetics industry:

Here, we see that Referral traffic is much less important. For the Beauty & Cosmetics industry, Organic Search has a much greater impact.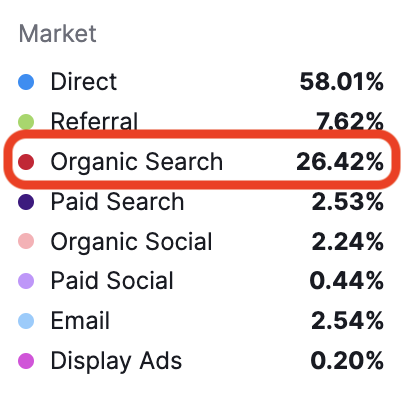 Now, let's consider the Banking Industry: 

For most industries, Direct traffic is king. But with the Banking Industry, Direct plays a much greater role than it does in the other industries mentioned above. Almost 75% of all market traffic in this industry is Direct.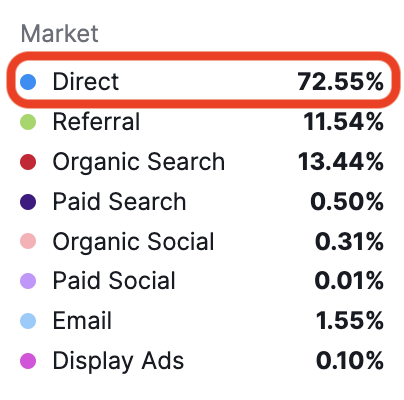 If you understand that Referral traffic is important in your industry, you should focus on this channel in your strategy. On the other hand, you might also look to less popular channels as a way to gain an edge over your competitors.
Either way, industry-wide traffic insights can guide you as you move forward. 
2. Drive More Direct Traffic with a Strong Brand Identity 
When seeking to drive traffic directly to your site, it pays to invest in a consistent and memorable brand identity. 
A brand identity is a collection of visual, auditory, and other experiential elements a company uses to communicate the essence of their business to the public and make it distinct from competitors. 
Some key components of a brand identity include: 
Logos 

Colors 

Typography 

Slogans 

Packaging 
Here are a few logos for businesses with strong brand identities. Can you identify them all?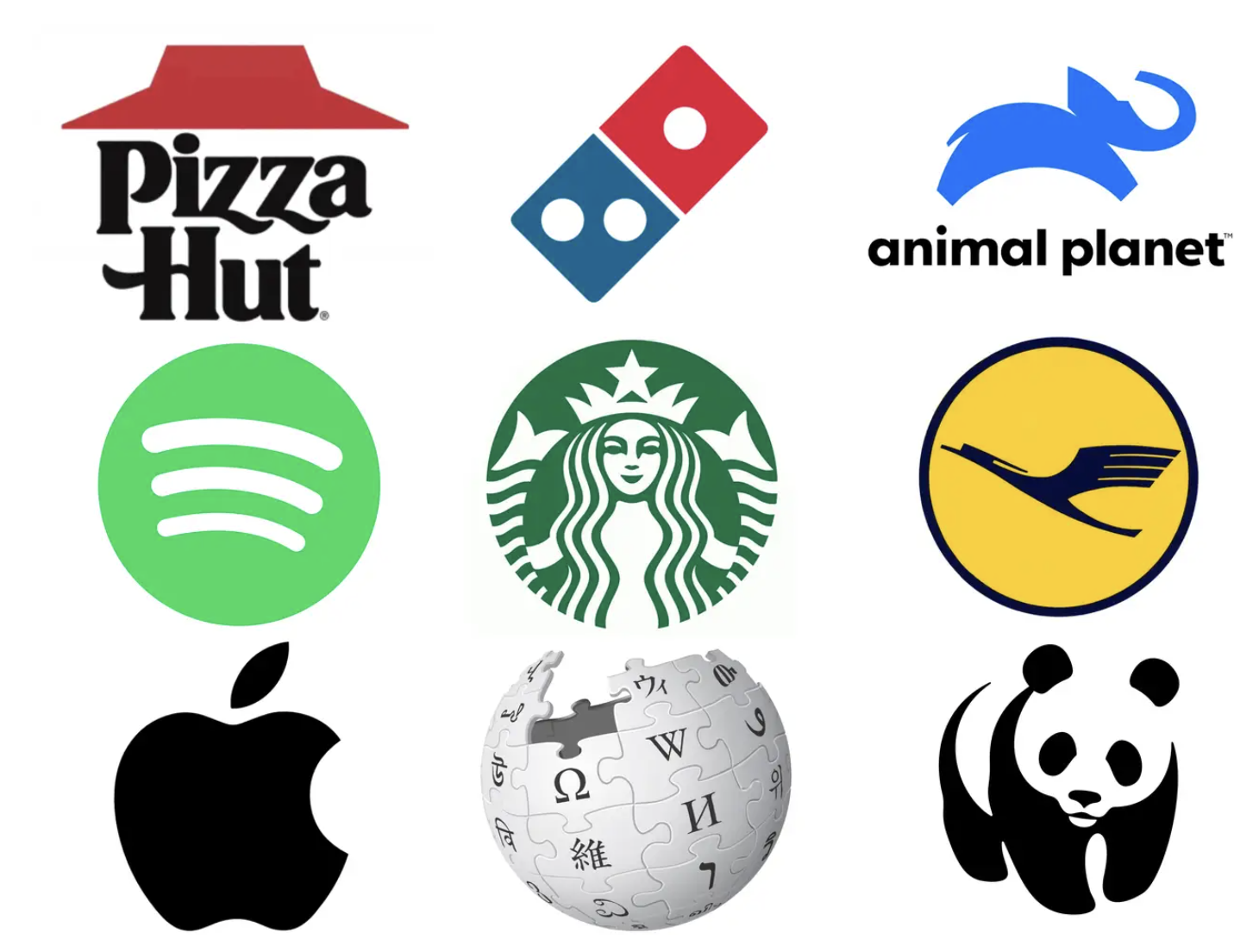 Developing a strong brand philosophy is another key aspect of branding. Your brand philosophy encapsulates the values of your business and how you communicate them to your audience. 
For example, Spotify's Newsroom includes plenty of content that speaks to their values. Here, they focus on several, big and inspiring ideas like their commitment to driving creativity, protecting the environment, and fairly compensating artists. These ideas reflect their overall brand philosophy.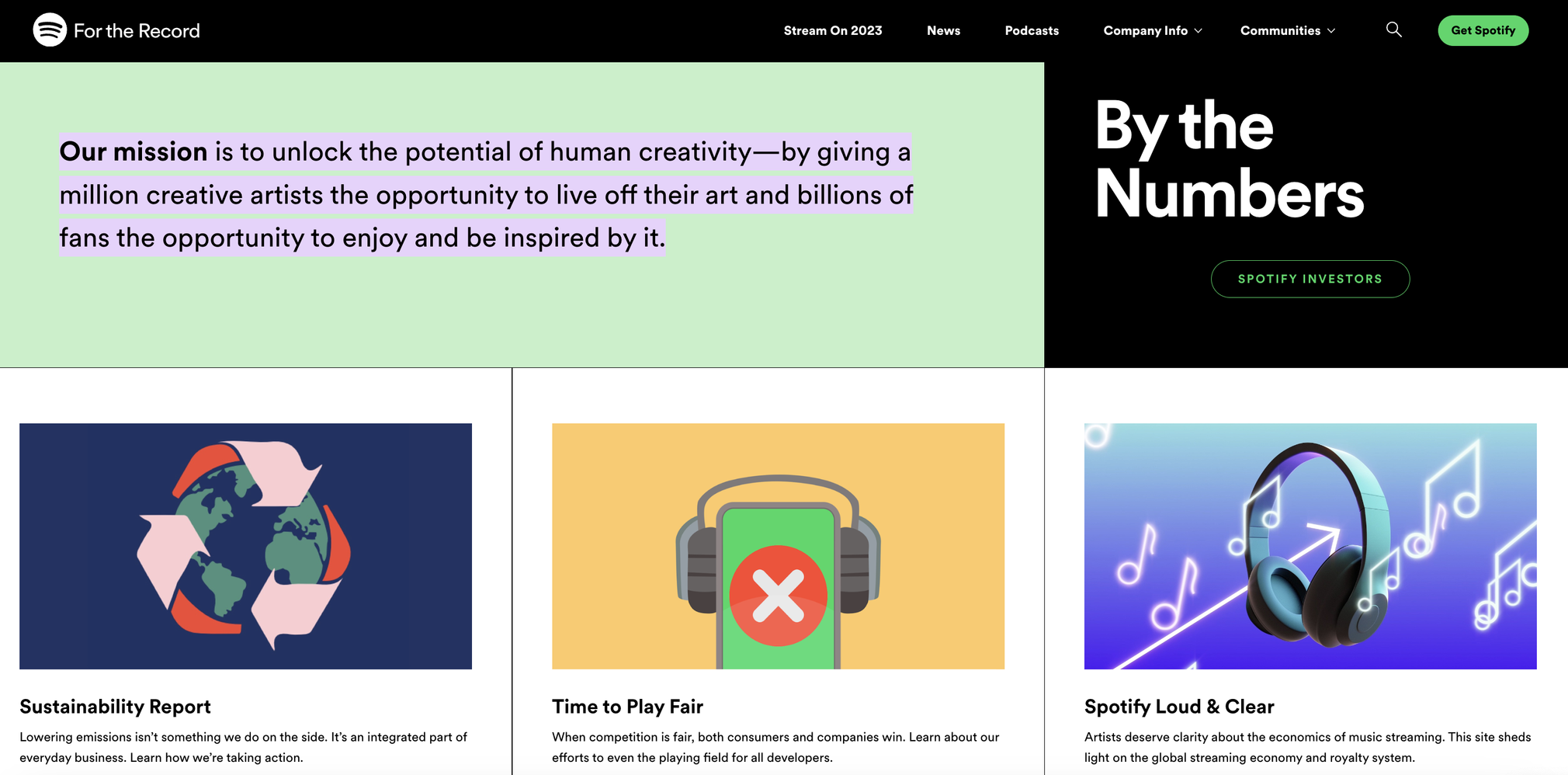 Likewise, their Band Manifesto is another good example of how the company lays out their brand philosophy. This page is targeted specifically at individuals who may want to work for Spotify.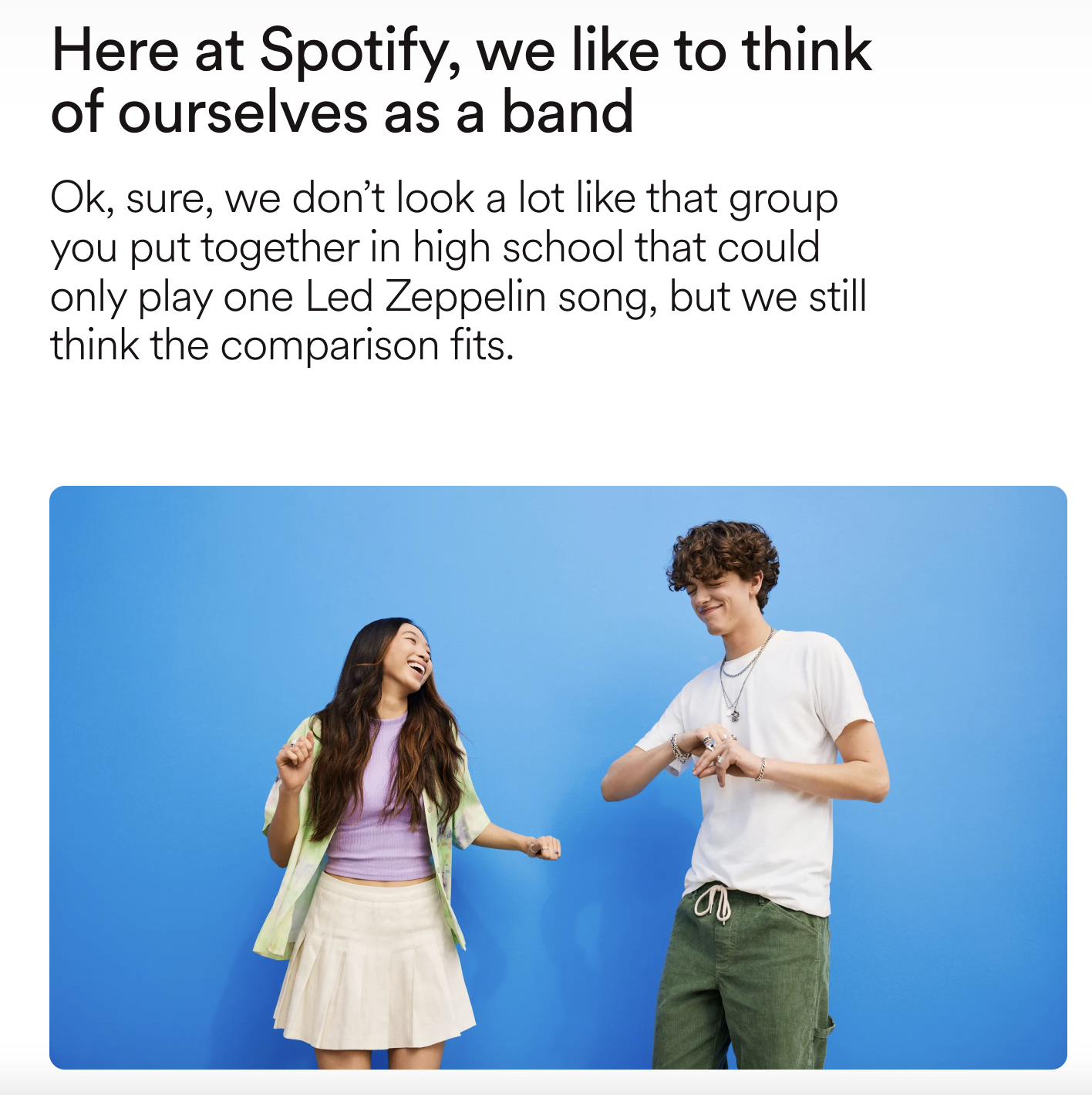 If your brand identity is clear and unique it will resonate with your target audience, making them more likely to remember you and want to connect with your business. As a result, they'll head directly to your website when it's time to make a desired purchase or access a service.
3. Encourage Return Visits with an Amazing User Experience 
Modern consumers want seamless experiences whenever they visit a business's website. This is especially true if they intend to make a purchase.
One bad experience on a website can seriously damage your relationship with customers. In fact, 88% of consumers are unlikely to return to a site if they have a negative experience. 
Having positive experiences on a website can increase trust, engagement, and brand loyalty, leading to repeat visits. 
So, how do you provide an amazing user experience? Here are a few things you can focus on if you want to keep visitors coming back to your site. 
Clear navigation

—Customers should be able to find what they're looking for easily. Visitors who are unable to find what they want will often leave to search elsewhere. In one

case study from the Nielsen Norman Group

, the site they studied reduced bounce rates from 30% to 2.5% with a simple navigational redesign. 
Accessibility

—Make your website accessible to all users, including those with disabilities. This involves following web accessibility guidelines (such as WCAG) and ensuring compatibility with screen readers and assistive technologies. This

manual from Microsoft

offers an array of resources to get your started. 
Semrush's Site Audit tool can reveal a variety of technical UX issues across your website. You can also conduct your own usability testing with the help of tools like Maze or Dscout. 
All in all, an intuitive and delightful user experience is crucial when you're looking to bring customers back to your site again and again. 
4. Leverage QR Codes for More Direct Traffic 
QR codes, also known as "Quick Response" codes, allow customers to easily access your website with their smartphones. They're an excellent tool for bridging the gap between your offline and online business and marketing efforts. 
Open your phone's camera and give this one a try to see how it works.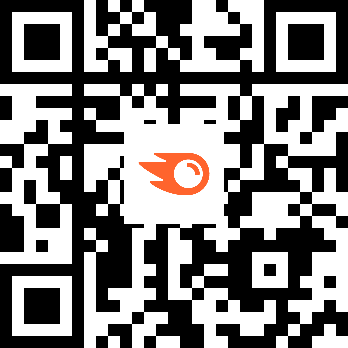 There are many free QR code generators available online, including these offered by Bitly or Canva. They're simple to make and including them on your physical marketing materials can be a huge help when it comes to driving more traffic to your site. 
5. Track Your Market's (Hottest) Keywords to Increase Organic Search Traffic 
Search Engines are one of the best ways to drive traffic to your website if you put time and effort into your strategy. To make your web pages appear on search engines, you need to optimize them. This is called SEO. 
SEO is a huge topic. It involves everything from keywords and meta descriptions to technical features of your website like HTTPS implementation and sitemaps. 
Instead of going in depth here, we'll share some valuable resources that will point you in the right direction: 
This post

guides you through the main steps of developing an SEO strategy and introduces some SEO tools to rank higher on search engines. 

This video

can assist in optimizing your site for all things SEO. It covers topics such as keyword research, long tail keywords, on- and off-page SEO, technical SEO, content, and more.
For easy wins in the traffic race, keep an eye on trending keywords in your market. Creating content optimized for hot keywords can get your site noticed by new customers and boost traffic. 
A tool like Semrush's Market Explorer can help you discover unexpected trending keywords in your particular market.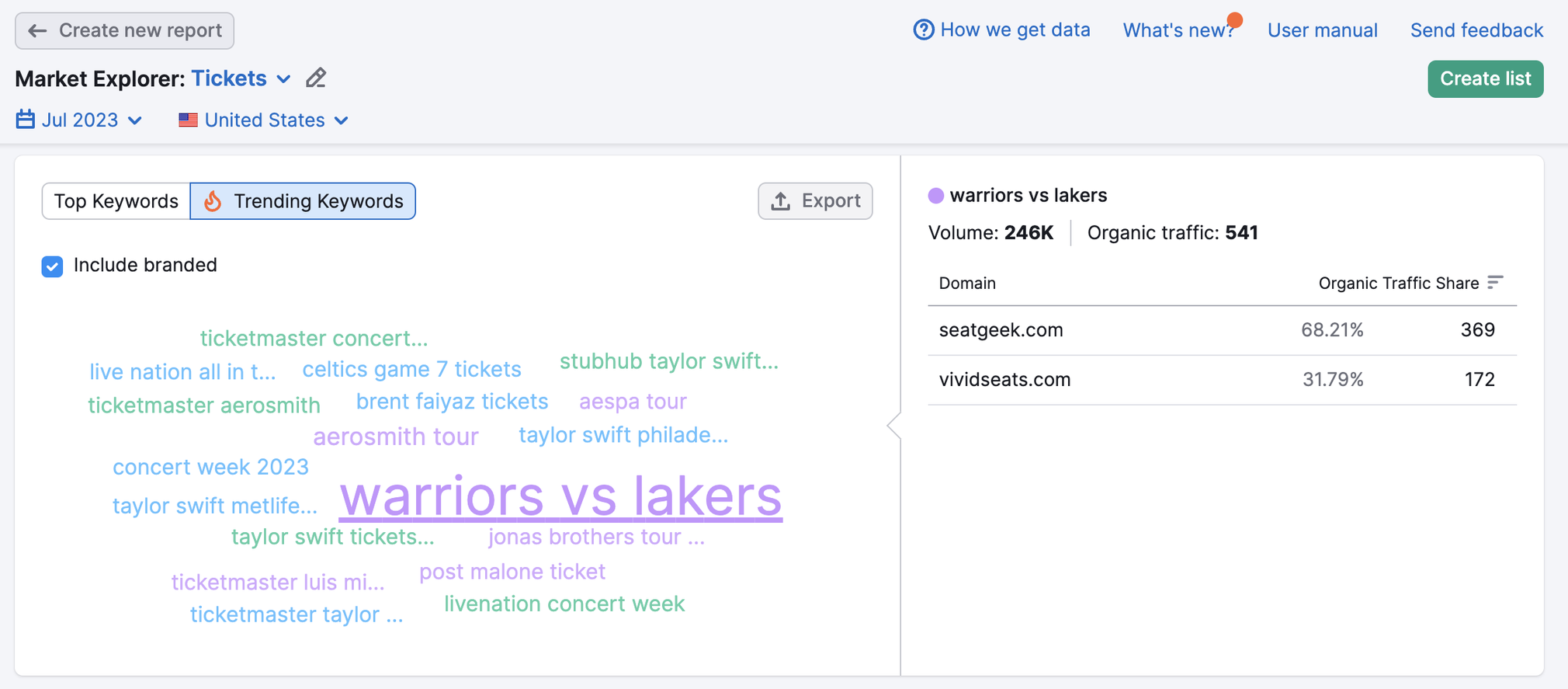 As an example, consider the keyword cloud for top domains in the Event Ticketing industry. If you want to capture some traffic, you could try to target these trending keywords with some unique content. 
Ultimately, you'll want to develop a well-rounded SEO strategy that targets the most important keywords in your particular market. But staying on top of emerging trends can provide a boost that drives more traffic to your website. 
6. Make Your Domain Easy to Find with Listing Management
Listing management is the process of creating, updating, and maintaining business listings or profiles across various online directories, search engines, social media platforms, and other websites. 
The goal of listing management is to ensure accurate and consistent information about your business is available to potential customers. This consistency is crucial for both online visibility and customer trust. 
There are many tools available, like Semrush's Listing Management tool, to help you make sure your website listings are available and consistent across the web.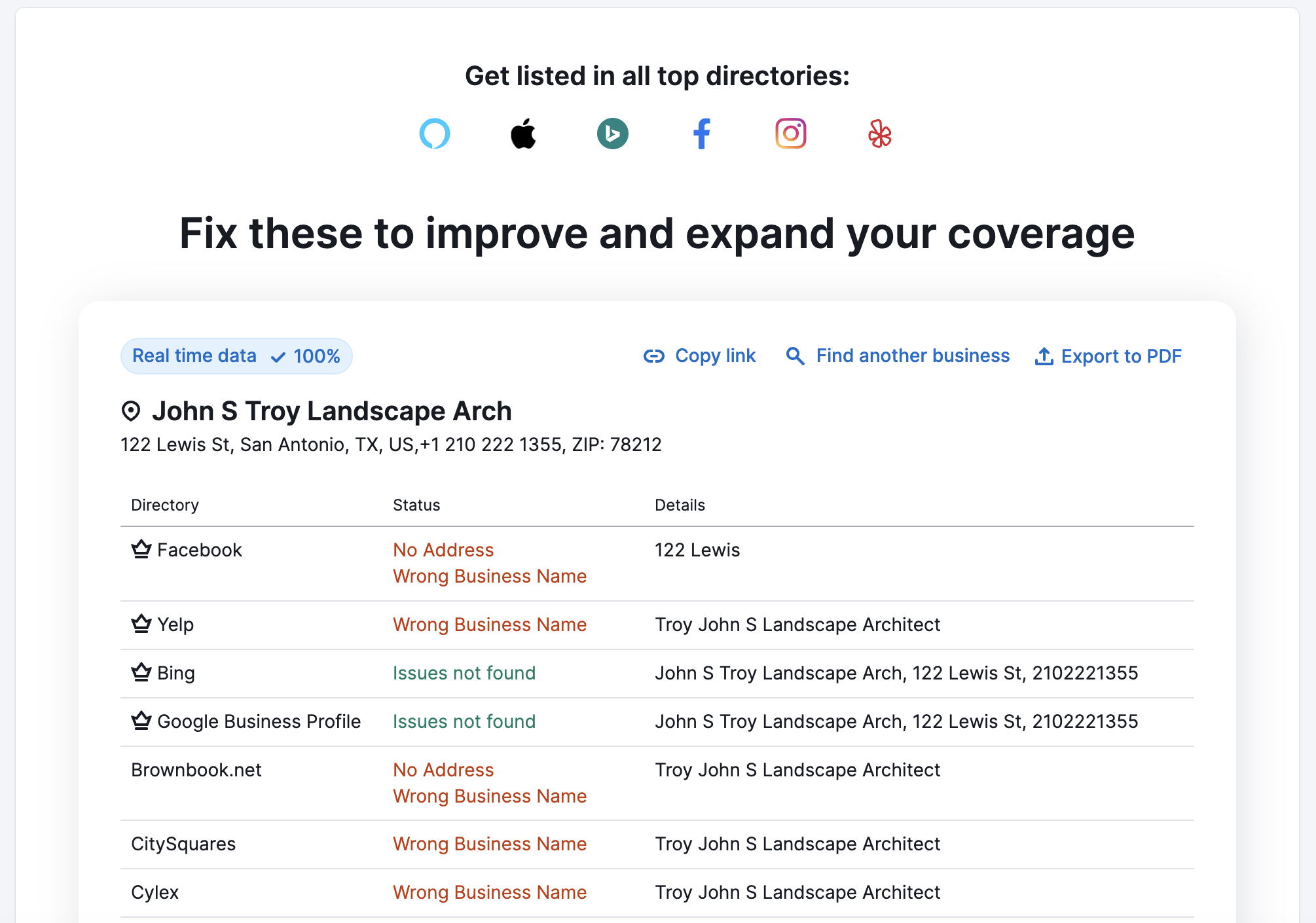 Staying on top of your listings demands ongoing commitment. As platforms shift and algorithms change, maintaining consistency across the web is important. 
So, whether you're a local business owner or an international brand, listing management should be part of your ongoing referral traffic strategy. 
7. Reach Out to Potential Partners to Generate More Referral Traffic
Collaborating with businesses that share a similar target audience can be a great way to drive Referral traffic to your website. 
Collaborations could include things like: 
Guest posting on their blogs

Co-hosting webinars

Exchanging mentions in newsletters

Sharing reviews of products or services 
To find potential partners, look for other businesses that are in alignment with your business's product portfolio, market niche, or audience overlap. 
For example, Nike recently did a partnership with Apple, focused on the apple watch. The Apple watch offers several fitness tracking options and Nike's audience includes athletes interested in fitness metrics. There was great alignment here in terms of audience.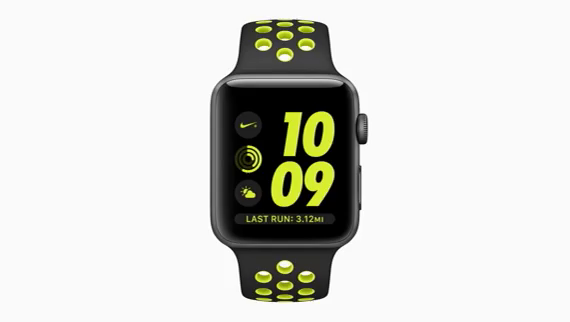 Audience research tools like Semrush's One2Target can also help identify audience overlaps that can lead to interesting partnerships. 
Here's a look at nike.com's audience overlap with apple.com: 
Here, we discovered an overlap of 4.9 visitors between the two websites. Clearly, there's a large market for products generated and offered through a partnership between the two companies.
Likewise, it's useful to consider the size of the Potential Audience. For nike.com, they have the opportunity to tap into the massive potential audience that has already visited apple.com, but hasn't yet come to their site. 
When reaching out to a potential partner, write a personalized message highlighting the potential mutual benefits of cross-promotion. The key lies in building genuine partnerships that create a win-win for both parties and their audiences.
8. Create Linkable Content for Others to Reference and Share 
Creating timely and interesting content that others can reference and share is a great way to earn backlinks and drive more traffic to your website. 
What kind of content will generate engagement? Well, it really depends on your industry. For example, gossip, exposes, and memes might fare well in the Entertainment industry, while the Pharmaceutical industry may respond better to data-driven research studies or infographics. 
Semrush has been driving traffic through sharing data-driven market insights for years. Each year, we provide a variety of research reports, such as our State of Search and Ecommerce reports. These reports generate a lot of buzz in our industry, and across other industries as well. 
No matter the industry in which your business operates, focus on discovering unique content on the cutting edge that has the potential to go viral. The goal here is to inspire others to share links to your original work that will drive traffic back to your domain.
9. Drive Social Media Traffic with Great Content 
To create quality content that will inspire your audience to come to your site, you need to know who your audience is and where they spend their time online.
Along with third party market research and customer surveys, tools like Semrush's One2Target can help you get to know your market's audience. For example, the Behavior report shown below reveals the social platforms Chewy.com's audience frequents most often.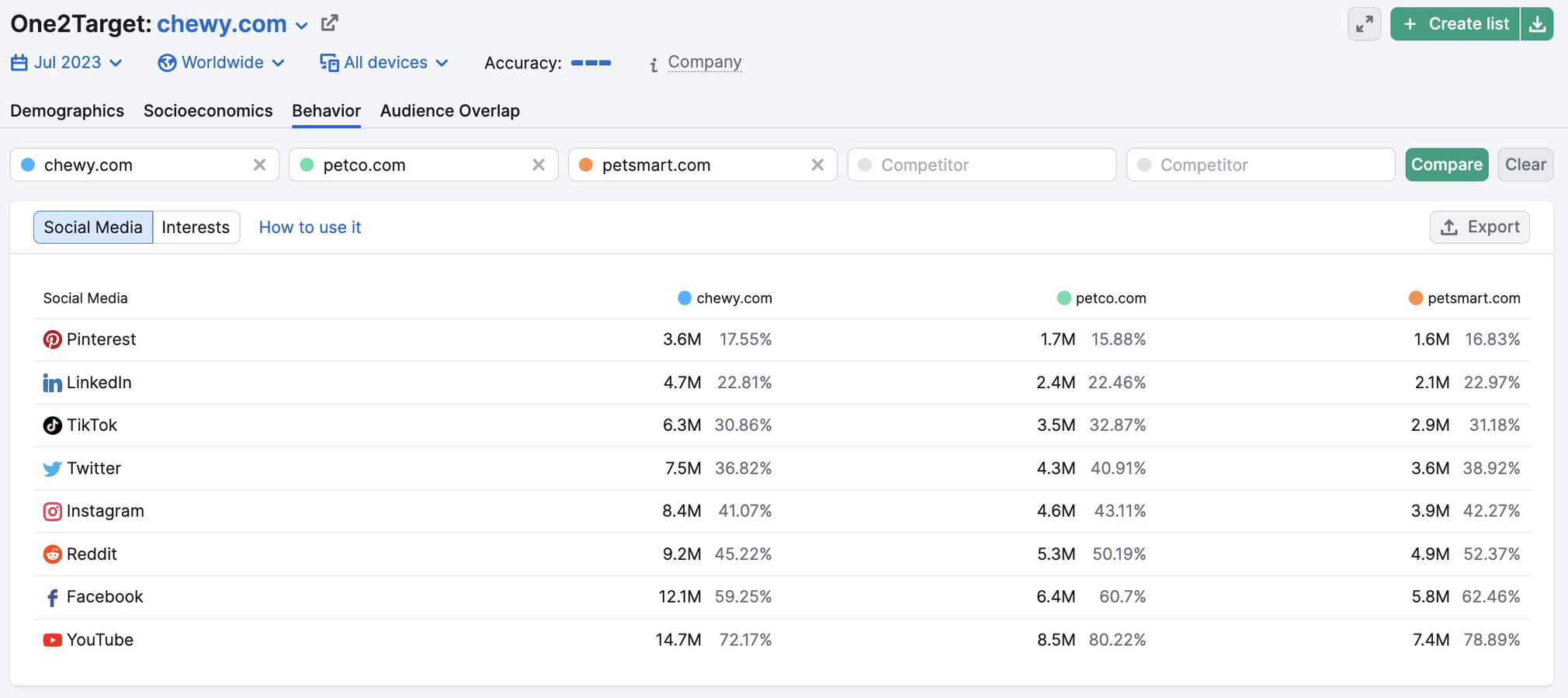 Likewise, you need to know your audience's pain points, preferences, and needs. Insight into what the audience wants and needs allows you to create content that will connect on a deeper level. 
Focus on quality over quantity with social media. For some additional thoughts on Social Media Marketing, check out this article. But in general, quality has two main aspects: 
Design content specifically for your

target audience

.

Whether you're creating educational content or sharing new promos, make sure your target audience will respond to them. 
Ensure the content looks amazing and is easy to understand.

Take time to create beautiful, well-written content. Images and videos tend to perform exceptionally well on social media. Use high-resolution photos, compelling graphics, and well-edited videos to capture your audience's attention.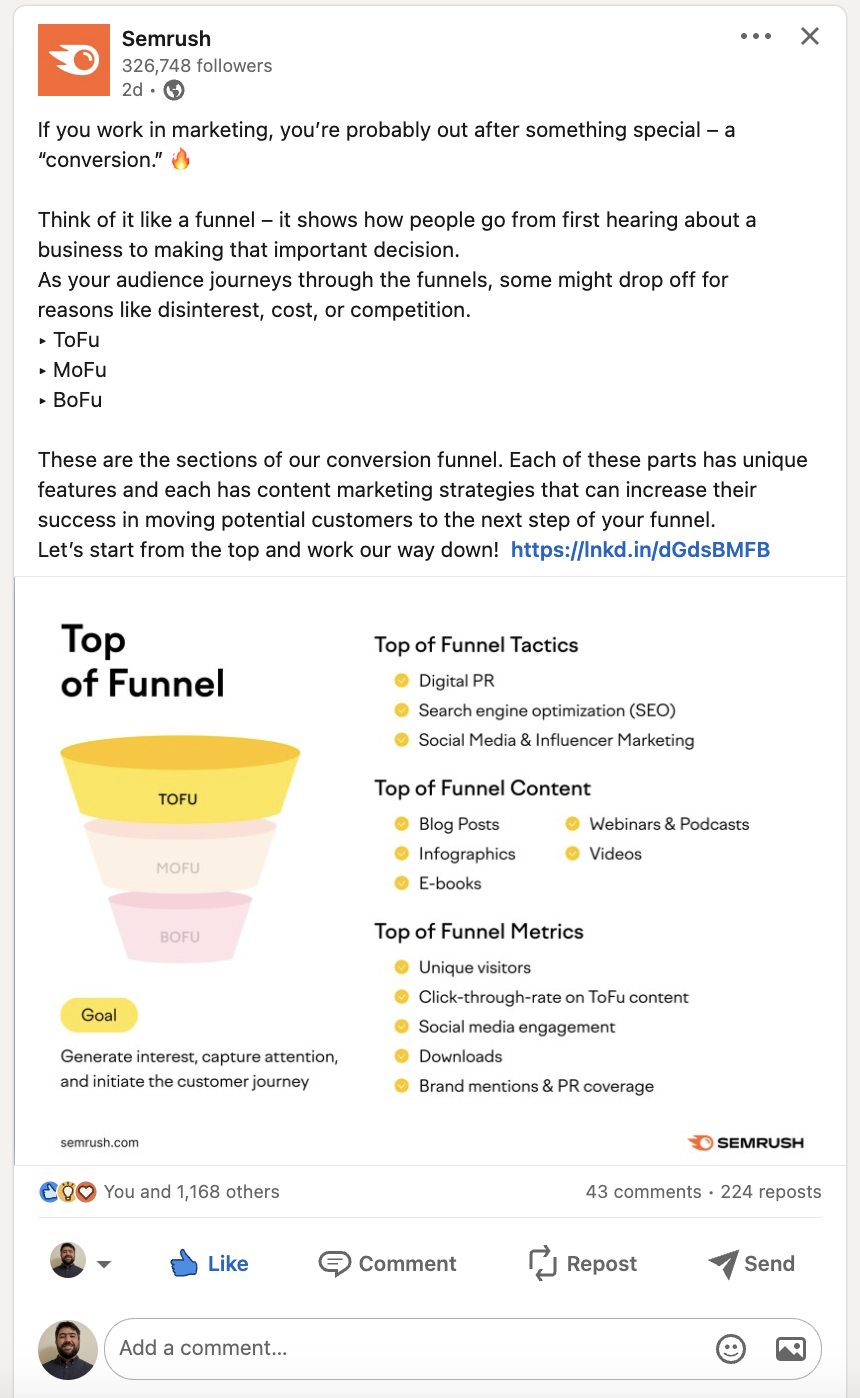 By tailoring your content to your target audience's preferences and ensuring it is visually appealing and easy to digest, you can set yourself apart and drive higher engagement, ultimately leading to increased traffic to your website.
10. Drive More Traffic Through Audience Engagement 
Today's customers seek authenticity and trust from the brands they choose to support. They want more than products or services. They're also looking for genuine connections with brands they can rely on to meet their needs and help them live up to their values. 
Audience engagement isn't a one-size-fits-all endeavor, and you'll need to discover what avenues work best for your unique customers. But here are a few ideas: 
Respond in a timely manner on social media 

Participate in online communities of forums with helpful or engaging insights

Offer webinars or classes where people can learn expertise within your business

Host Ask-me-anything (AMA) sessions with company leadership

Provide quality customer onboarding and support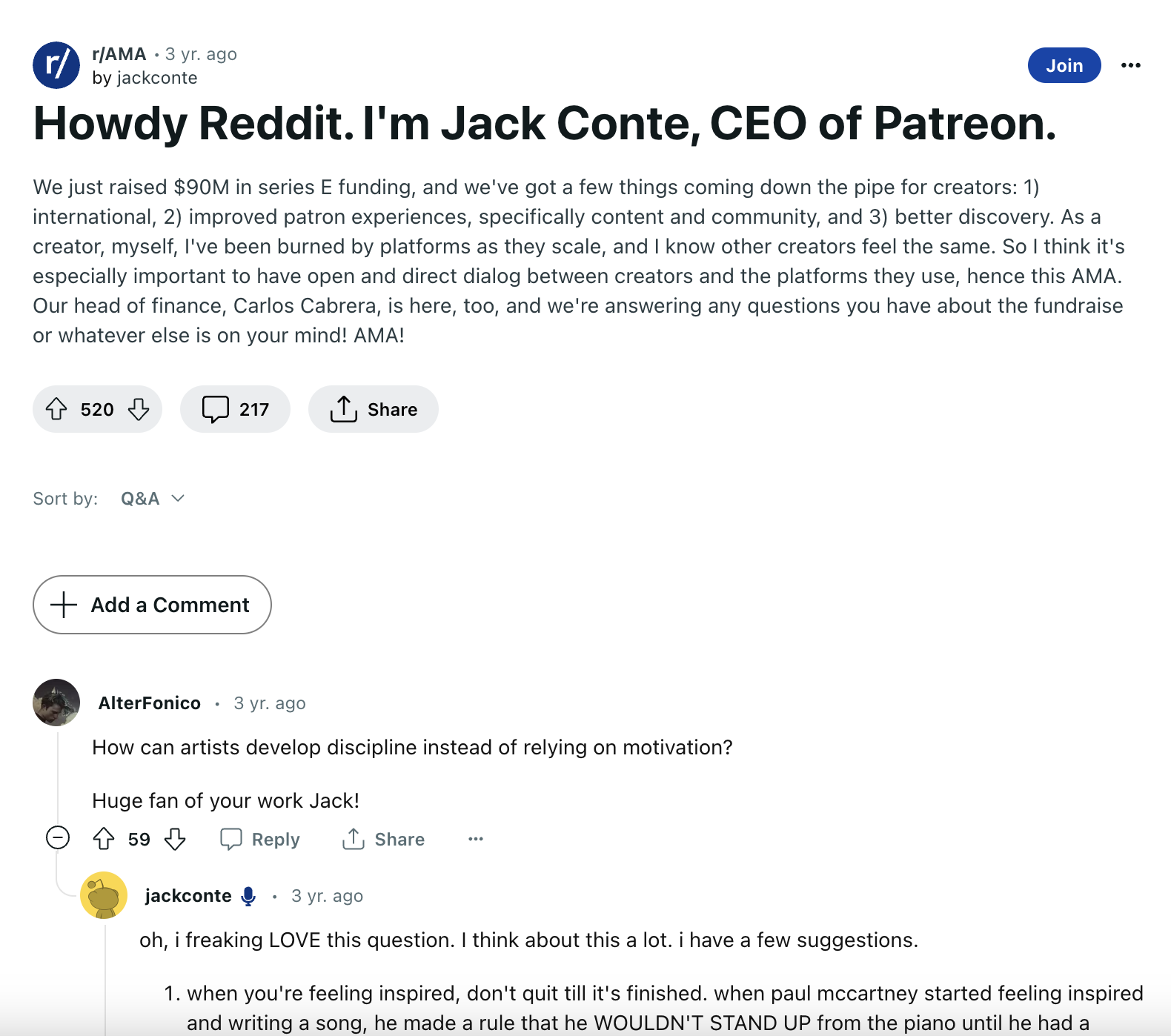 While driving traffic back to your website is important, it's best not to be pushy or salesy when engaging with your audience. Instead, try to be genuine, empathetic, and helpful. 
Remember, the goal here is to create authentic connections that not only drive traffic to your website, but also foster brand loyalty and advocacy among your audience. 
11. Work with Influencers to Drive Traffic from New Audiences 
Influencer marketing is a powerful way to drive more traffic to your website. With this tactic, your business pays an "influencer," AKA a person with a large audience that trusts them, to promote your products or services. 
Modern consumers are savvier than the consumers of the past, and more resistant to traditional advertising. Instead, they look to people they trust for recommendations and new products or services. In fact, 31% of social media users find new products through influencers, and the number rises to 43% among Gen Z users. 
Here's video of big-time influencer, Mr. Beast, promoting the Honey browser extension: 
There are a few things to consider when looking into working with an influencer to increase your web traffic: 
Relevance to your niche or industry: 

Audience demographics: 

Content distribution channels: 

Engagement and reach potential: 

Authenticity and credibility: 

Brand alignment:
There are a number of ways to find influencers to work with. To start, you could begin looking to sites like Buzzsumo, Upfluence, or BuzzGuru. 
The latter, BuzzGuru, is especially useful as you can search influencers by channel or keyword and also see data on their social media metrics. 
12. Increase Paid Traffic with Retargeting 
Retargeting, also known as remarketing, is a powerful tactic to re-engage visitors who have previously interacted with your website. With retargeting, you identify users who visited your site (typically using pixels or cookies) but didn't complete a desired action, such as making a purchase. 
Typically, before retargeting you'll segment your audience so you can make the best possible offer for their specific needs. 
Some of the most popular retargeting tactics businesses use are: 
Dynamic product remarketing:

Retargets users with the specific products they viewed on your site in retargeted ads. The highly personalized nature of this method makes it effective.
Abandoned cart remarketing:

Retargets users who added products to their shopping carts but didn't complete the purchase. You send them follow-up messages or ads, often with incentives like discounts or free shipping, to encourage them to finalize their orders.
Sequential messaging:

Retargets users by delivering a series of retargeting ads or uses email marketing strategies to send emails with a cohesive narrative. Each message builds on the previous one, gradually nurturing leads and guiding them through the sales funnel.
Cross-sell and up-sell remarketing:

Retargets users by suggesting complementary or upgraded products to users based on their previous purchases or interactions with your website.
Time-based remarketing:

Retargets users by sending messages based on the time elapsed since the user's last interaction with your website. You can use different ad creatives, offers, or messaging for users who visited recently versus those who haven't returned in a while.
There are a number of ways to engage in audience retargeting. Google Ads, Youtube, and the major Social Media Platforms offer retargeting options. Ecommerce platforms such as Shopify and Woo have built in retargeting tools. You can also look to native advertising platforms such as Taboola or Outbrain. 
13. Diversify Your Ad Strategy for Increased Paid Traffic 
Using multiple advertising sources can expand your reach and reduce risks. This approach also helps to mitigate the impact of platform changes or competition in your ad campaign. Consider incorporating multiple advertising channels into your strategy. 
Some common ad placement channels include: 
Search engines 

Social media 

Display 

Video 

Mobile apps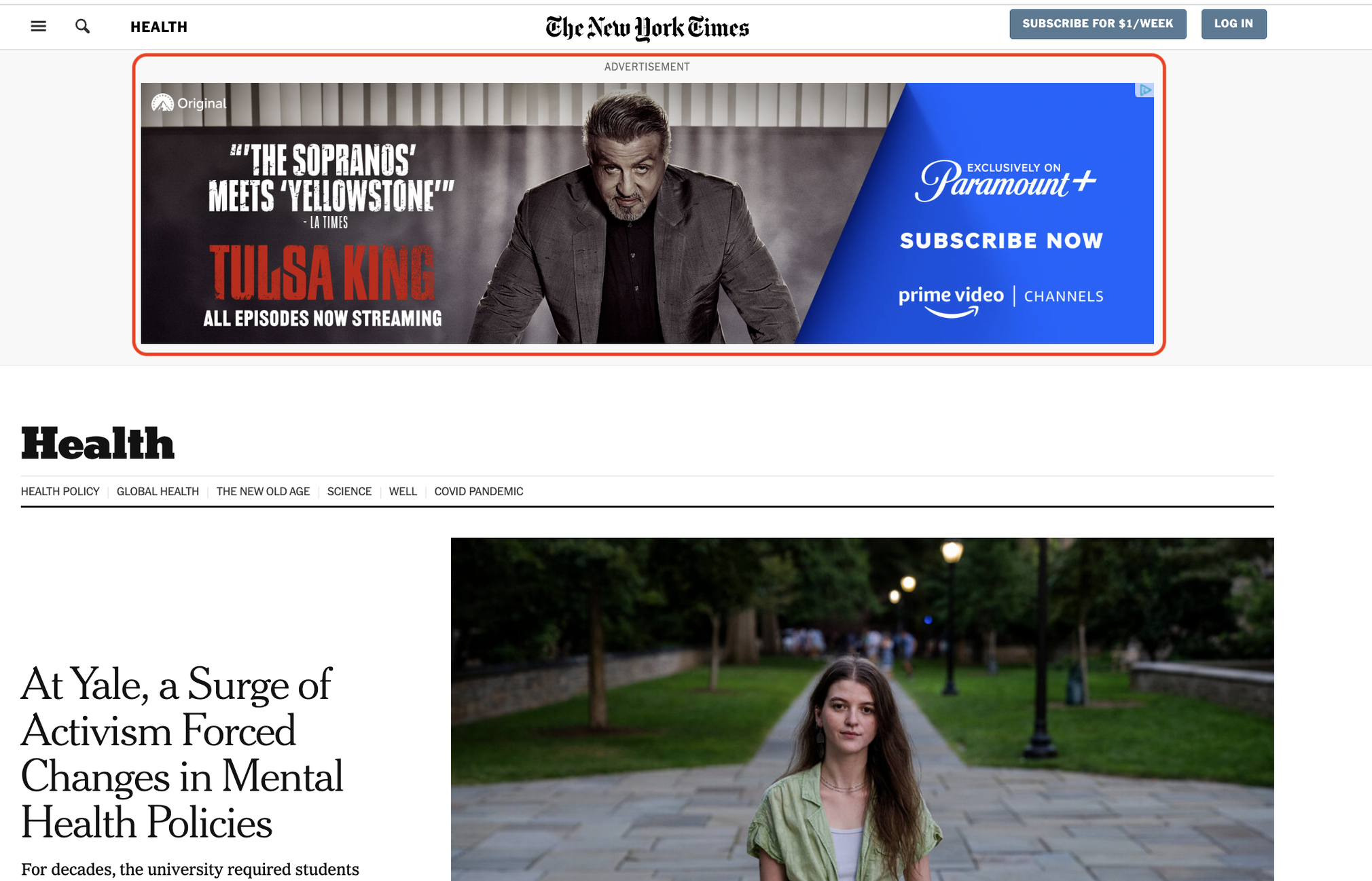 Try various combinations to see what produces the best results. For example, combine PPC advertising with social media ads or explore native advertising on industry-specific websites. Diversification can expand your reach and enhance your overall digital marketing efforts.
14. Boost Traffic with A/B Testing 
Continuous optimization is crucial, especially for paid traffic campaigns. A/B testing, also called "split testing," involves creating two or more variations of your content (ads, emails, etc.) to determine which performs better. 
You can A/B test various elements of your content, for example: 
Ad copies

Graphics and other visual elements

CTAs 

Landing page layouts

Headlines and subheadings 

Pricing and offers
When it's time to A/B test your content, make sure you design your test to produce the most useful information. This A/B testing article offers an in-depth structure for running your test, but in general make sure you: 
Clearly define your goals

Test one element at a time

Define and segment your audience carefully 

Gather plenty of data 

Continue to iterate and test 
You can run a simple A/B test by tracking the results of two different pieces of content and comparing the results. But there are also many tools if you're looking to up your split-testing game. 
To A/B test your content with more precision, software provided by Optimizely or VWO offer simple-to-use split-testing features for optimizing your content.
Adjust Your Strategy: Track Ongoing Trends to Learn How to Drive Traffic to Your Website 
Like any strategy, efforts to increase traffic require trial, error, and regular adjustment. Along with watching your own traffic numbers grow, keep an eye toward the market. Semrush .Trends can assist you in discovering overall traffic patterns and determining the top performers in various traffic channels. This will allow you to assess their performance and track their progress. 
Digital markets always evolve, and consumer behaviors can shift quickly. In the traffic race, a flexible strategy will help you get ahead and stay in the lead. They want real connections with trustworthy brands that can meet their needs and align with their values.