I've been there.
You create the perfect website for your business and sit back to wait for the leads to magically appear, only to be disappointed when they don't.
Then suddenly, you're second-guessing your digital strategy and it all starts to seem more difficult than you ever thought possible. The truth is: it doesn't have to be.
Here are a number of tactics and tools that have helped me consistently build an email list of engaged prospects. You can use these tactics and tools to build your own list to market your products and services, or promote your content.
Generating more leads from your blog is easier than you think
A lot of businesses find it challenging to generate leads from their blog, but the truth is that it doesn't have to be so difficult.
Make it super easy for your readers to hand over their details
Don't add anything that could cause friction or complicate the process
Make your offering clear, concise and the entire process simple – you'll soon start noticing results
It all starts with your content
Your content will be your biggest asset.
It will be what draws your readers in and gets them to read all the way to the end. So make sure it's optimized.
A headline that draws your readers in
Sub-headings that grab your readers attention
Eye-catching visuals
A clear call to action
Your content also has to be:
Evergreen or timely
Useful
Engaging
Written to solve a problem
Utilize your blog's sidebar effectively
You need to make things easy. Since your sidebar is going to get a lot of visibility, while being the place that people usually expect to find an opt-in form or call to action, it's a great place to start. I have included examples of both below for you, but it's worth picking one that fits best with your business goals. It's worth testing to see which works best for you.
Your opt-in form
There are plenty of examples all over the web. In fact, the majority of websites that I see have an opt-in form in the sidebar. It's possible that this could contribute to a similar effect as "ad blindness" because people are so used to seeing an opt-in form there. It's also worth considering that because of that people may just expect it to be there which can be a good thing.
The below example is taken from Brian Dean's website, Backlinko: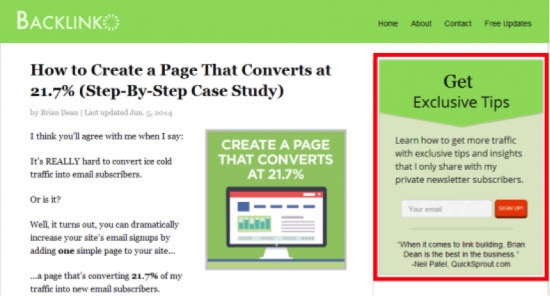 A solid call to action
Calls to action are a great way of promoting your product or service, but it's important that they are as strong as possible. Consider the fact that you may be able to generate more leads easier by offering people something of value in exchange for their email address. But, that may not be the case — what works in one industry may not work in another. That's why it's important to test this.
A great example of this is right here on the SEMrush blog, it's a strong call to action and it's even interactive:
Tell your readers what to do next
When someone has finished reading your blog post, if they've found it valuable they could just be ready to learn more. It doesn't need to be anything complicated.
Below are some options to consider:
Add an opt-in form after your post
You could use this space to encourage readers to share their email address in exchange for more information, like in this example below from Social Triggers:

The downside of this is you only have an email address, which isn't much information to go by when vetting your leads.
Add a strong call to action to promote downloadable content
An alternative would be to display a call to action that links to a landing page which contains additional form fields like how KISSmetrics does.
Here is an example of the landing page: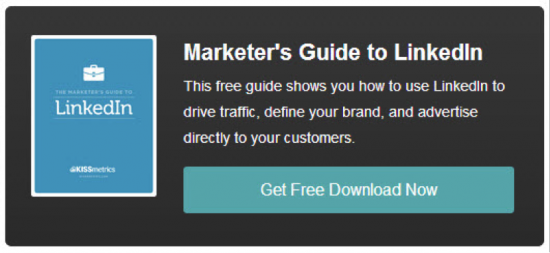 It's important to consider the fact that the number of form fields matter: the more you have, the more data you will get. But, you run the risk of lowering conversion rates.
Offer a free trial for your product or service below your posts
Another solid alternative is to use a call to action that offers a free trial for your product or service. It's important that you're able to put together a very strong call to action here that is hyper relevant to your blogs readers.
A good example is this call to action on the PageWiz blog: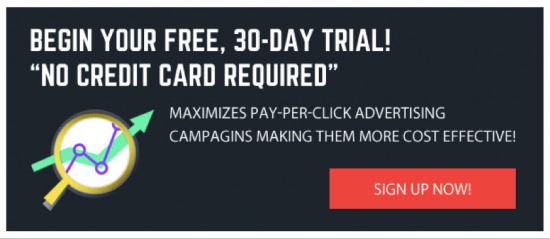 I particularly like this because all of the content on the blog is hyper relevant to the product that they offer.
Offer downloadable content
Some people call them lead magnets, others call them bribes. One thing is for certain — they can work very well when done right. You can make them hyper specific to your target audience so that you can filter out people who aren't interested in buying from you.
Most people won't make a purchase the first time around, which is what makes this so important. First off, you need to create a landing page that converts.
This is because your offer is the only thing and the single objective of that page is to convert a visitor into a subscriber. There should be no distractions, just one page with one goal.
Don't worry — there are tools to help you
Gone are the days when you needed to pay a designer or developer thousands of dollars to create one for you. Tools like Unbounce and Pagewiz offer an easy to use solution to this problem. You need to get traffic to your landing page and make sure that it stays there once it arrives.
You need to drive traffic to your landing page
Here are a few ways to do that:
Paid traffic (e.g. Google AdWords, Facebook Ads, Twitter Promoted Posts)
Calls to action in your sidebar or below blog posts
Use Hellobar to add targeted notification bars
Targeted status updates via social media profiles
Use a popover the right way
A lot of people find popovers annoying, and I can see why. When you're just getting into reading a blog post, the last thing you want is another distraction. We have enough as it is. But, there's a better way to use popovers. This will allow you to make the most of visitors that bounce off your site (and they probably won't return) and leave those that are reading your content to do just that.
Enter Exit Intent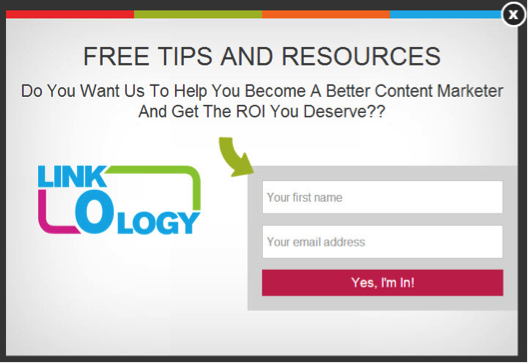 Exit intent is a feature that a growing number of popover plugins and tools are using today. It tracks the movement of the readers' mouse and detects when they're about to exit your site. There are affordable ways to implement this type of technology, for example, WordPress users can add it with the help of a plugin like OptinMonster. For those looking to manage all of their popovers from a single dashboard (no matter the CMS) tools like Optin Architect can work well.
You need to know what's working
If you don't know what's working or where your leads are coming from — the rug can be pulled from beneath you very quickly.
Get the data you need from tracking goals in Google Analytics
Google Analytics is perfect for this, and you can get started tracking goals for free. This tutorial will show you how to track email sign ups, and get up and running quickly.
You need to test and keep testing
If you want to get more leads, you need to test to find out what works. All the best practice advice in the world will only get you so far because your audience is different. Testing used to be a challenge, but thanks to the level of technology and innovation there are plenty of tools to help you improve your conversions.
Over to you
What tactics and tools are you using to generate leads for your business?
I'd love to hear more in the comments below.