CPS, CPA and other partnership schemes offer low risks and high rewards. Do you dream about affiliates who can drive high volumes of traffic and make your sales skyrocket?
In this article, we will describe the main ways of finding new prospective affiliates and offer a simple method of assessing their salesmanship with the help of the SEMrush Traffic Analytics tool and Competitive Research toolkit, which were developed to solve the problems of digital marketers of all levels.
Get Prepared
Before you begin your search consider all the factors that can affect your affiliate program and brand strategy, that is potential demand for your product, awareness and recognition of your brand in the target market, local common practices, audience specificity, and, of course, the availability of high-potential publishers in the niche of interest.
Make sure you have reasonable expectations and that your affiliate program fits well into your marketing strategy.
Lay the foundations. For example, if you are looking for affiliates in a non-English speaking country, make sure your website is well localized.
Start Seeking
Research Competitors' Affiliates
Targeting your rivals' partners costs nothing and lets you be sure that your potential affiliates have relevant experience and can contribute to your business goals. Begin by making a list of your strongest competitors*. Then look at the Traffic Sources tab in the SEMrush Traffic Analytics tool to see the websites that send the most traffic to your rival's website through hyperlinks.


This information will let you identify the domains that are sending your competitors the most traffic.
After creating a list of the websites yielding the most traffic, export the list and refine; then go to Bulk Analysis to evaluate these websites' authority and spot the most profitable partnerships. The tool allows you to enter up to 200 URLs at once.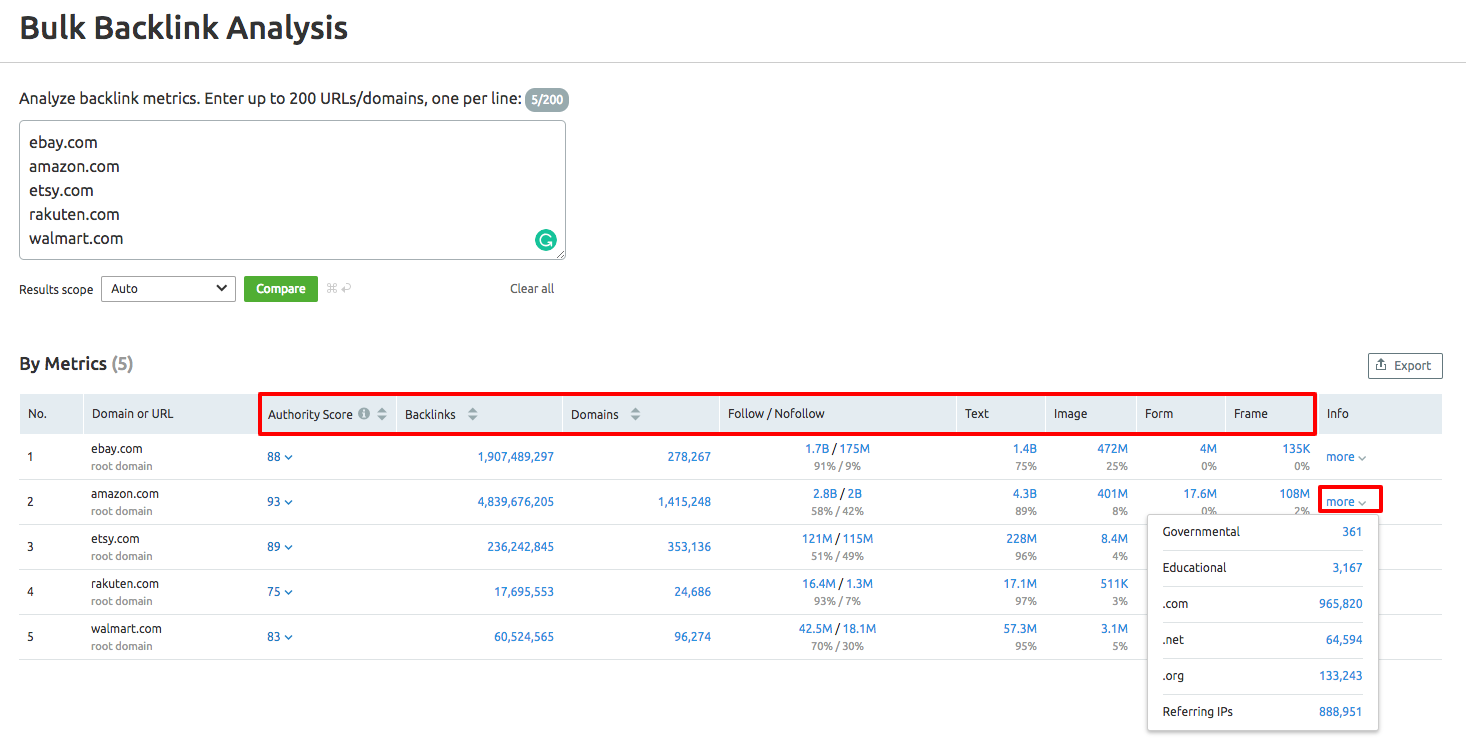 Metrics available (for each URL) include:
Authority score

Number of backlinks

Number of referring domains

Number of follow & nofollow links

Number of text, image, form, and frame links

Number of governmental, educational, .com, .net and .org links

Number of referring IPs
To see the number of referring IPs and TLD backlinks, you can expand the "info" column.
Useful tip: "Export to CSV" or "Export" buttons in the top right corner of the screen let you export the data from the target report in one click.
Uncover Similar Websites
You may already have in mind an affiliate or two that could satisfy your needs. To find more of the same, use the Organic Research, Advertising Research, and PLA Research tools' Competitors tabs to also discover their competitors and their competitors' competitors (that target the same audience in SERPs and Google ads).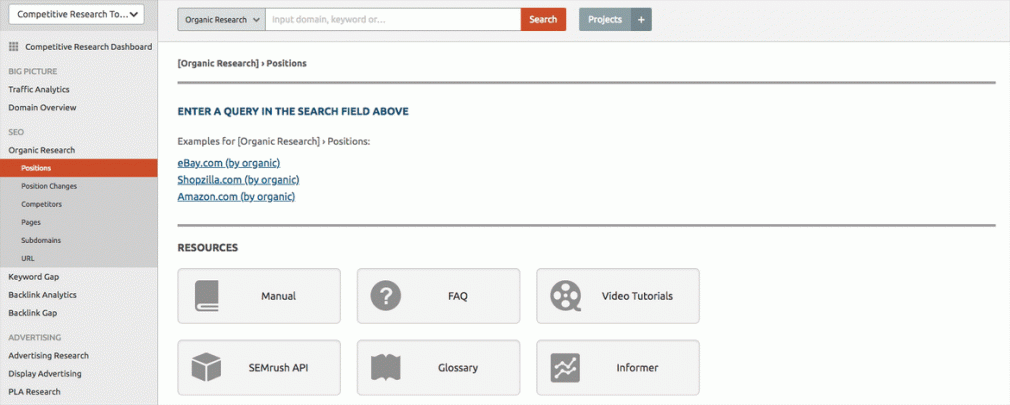 Alternatively, you can also use Backlinks Competitors report in Backlink Analytics to do the same.

Find Online Mentioners and Referrers
Those who have already reviewed your or your competitors' brands have great potential as affiliates, especially if they have a good reputation in the niche.
To expand your outreach list to include the new prospects use the Link Building tool. In the Prospects tab, you will see the link building opportunities based on Organic Search (the keywords you entered), Competitor backlinks (the competitors you entered), Mentions, Manually uploaded links, and Lost (gathered from the Backlink Audit tool) and Rejected backlinks.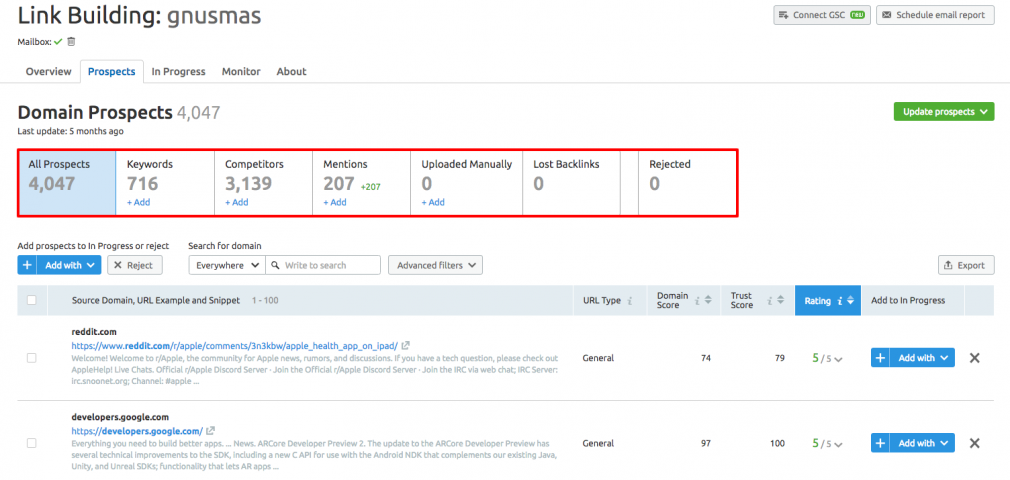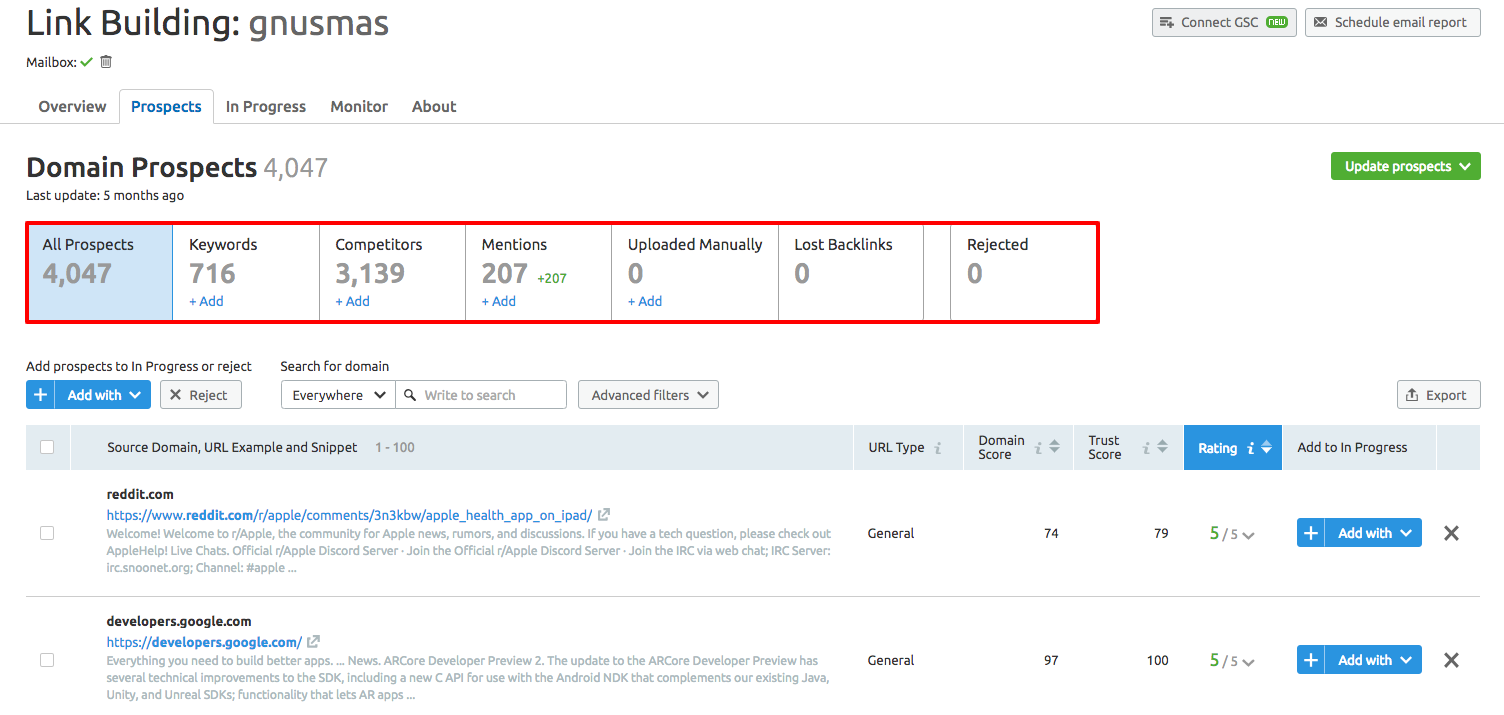 Filter your potential referring domains by URL type (forums, blogs, news, review, wiki, or general), keyword, or TLD to find the websites that suit you best.
To find online mentions of your/your rival's brand name or your target keyword, use the Brand Monitoring tool. The mentions feed contains the links to the mention itself and the mentioner's website, information about its authority (BM Score), estimated reach (based on the domain traffic value, its tier and tier-related reach ratio), estimated traffic, and the sentiment of each mention, which will make finding suitable mentioners and influencers more convenient.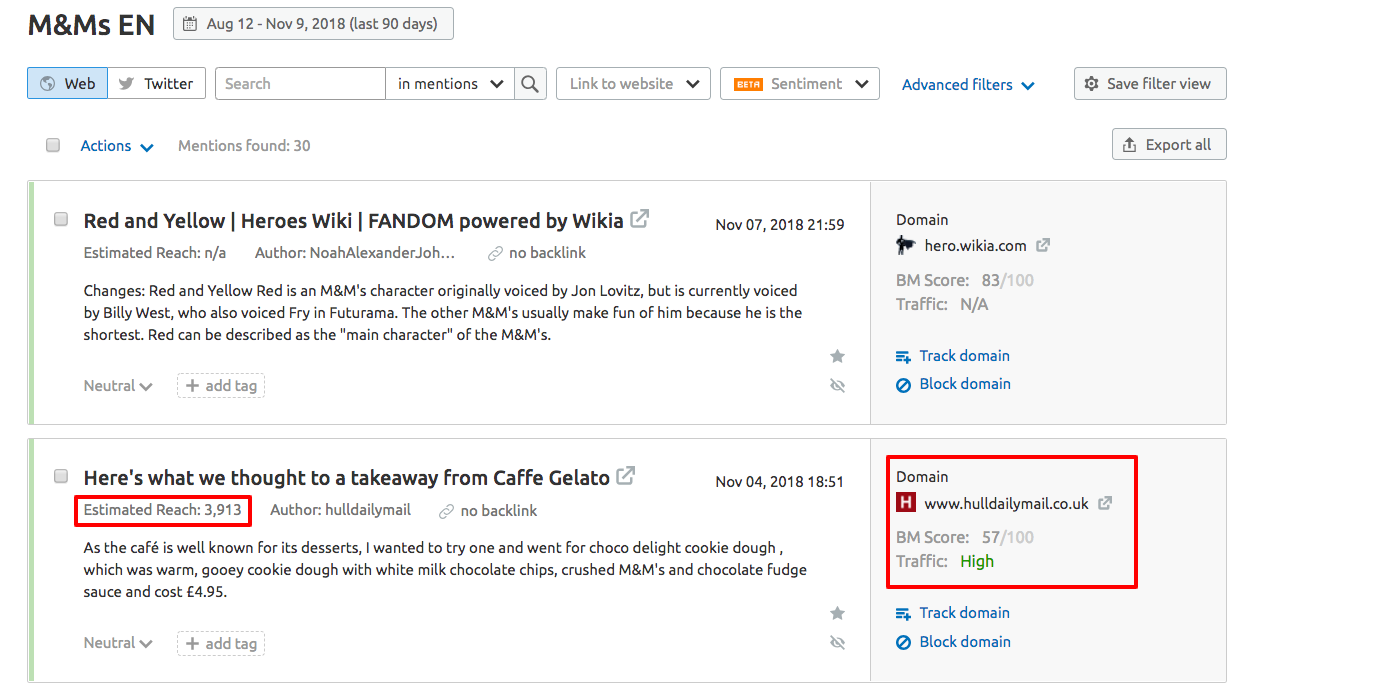 With the help of the Brand Monitoring tool's Twitter feed and Social Media Tracker Twitter Mentioners report, you can likewise find those who mention you or your rivals on Twitter.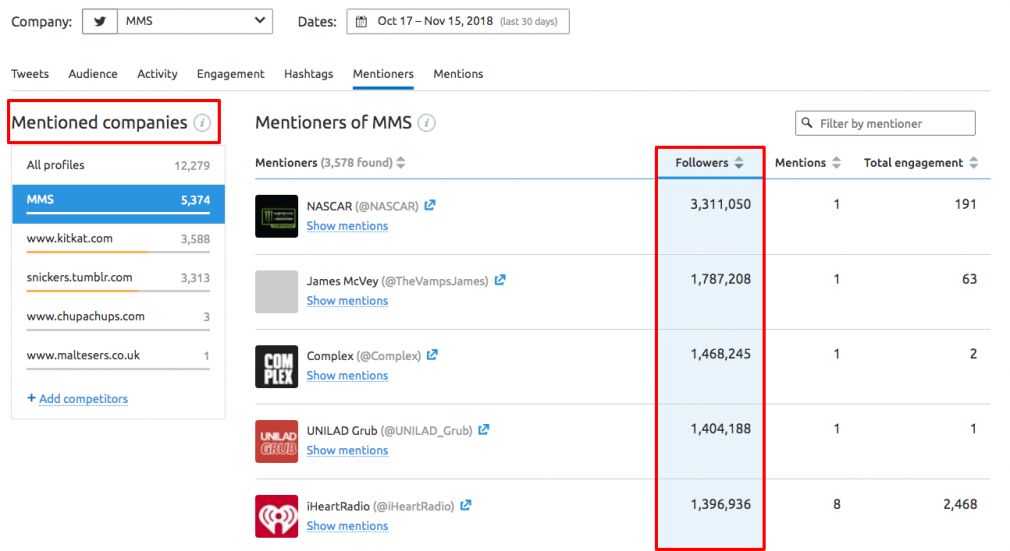 Browse Affiliate Networks
Another way to compile or expand a list of your would-be affiliate partners is to surf a trusted network. However, this approach has its pros and cons.
Pros:
Wide choice of publishers

Tracking, reporting, payment, etc. from one place

Straightforward interface
Cons:
Membership fees

Override (percentage charged on top of affiliate commissions)

Numerous preset programs to track and get on to
Choose the Best Ones
Now, when you have the list of your prospective affiliates at hand, it is time to try and estimate the conversion potential of each of them and single out the best ones. Collect and evaluate the data about their traffic, online presence, reputation and partnerships with the help of SEMrush tools and compare the picture you get with the characteristics of a dream affiliate we offer at the end of this article.
Traffic Quality
The first sign of a high-potential affiliate is their ability to attract quality traffic. You wouldn't want to pay for useless leads that never convert into paying customers, would you? So, start by using the Traffic Analytics tool to look at your future partner's website's overall traffic and critical user engagement metrics.
Visits and Unique Visitors metrics will let you estimate the size of your affiliate audience, Pages per Visit, Average Visit Duration, and Bounce Rate indicate the quality of the user experience on their website.
Explore your future affiliate's traffic
Identify the most promising partnership
Check that the metrics remain stable or demonstrate steady growth over time.
Traffic Relevance
The next question you need to answer is "Where does this traffic come from?" regarding audience geo-distribution and traffic acquisition channels. Corresponding reports can also be found in the Traffic Analytics tool.
Look at the GEO Distribution tab to learn where your future affiliate's audience comes from.
And the Traffic Sources tab will let you understand whether your traffic acquisition channel matches the strategy chosen by the affiliate.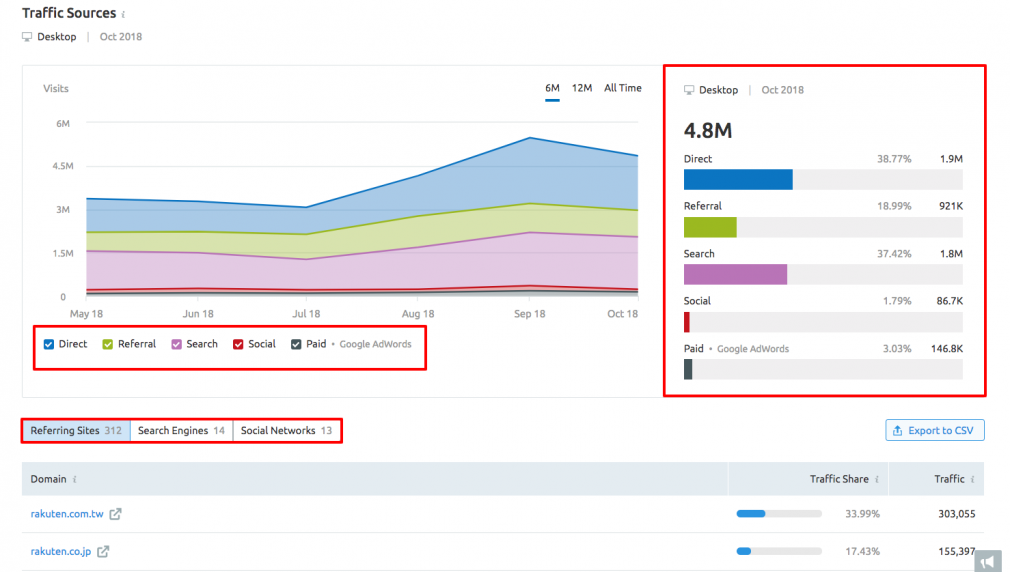 Useful tip: If you plan to target specific websites, search engines, or social networks, filter the report accordingly.
Evaluate your potential affiliate
Find out your future partner's website performance
Advertisers' Relevance
It is also important to check what ads your affiliates-to-be run and if they are working with the relevant advertisers. In the Display Advertising Advertisers tab, you will find information about all domains that have ever placed ads on your prospective partner's website.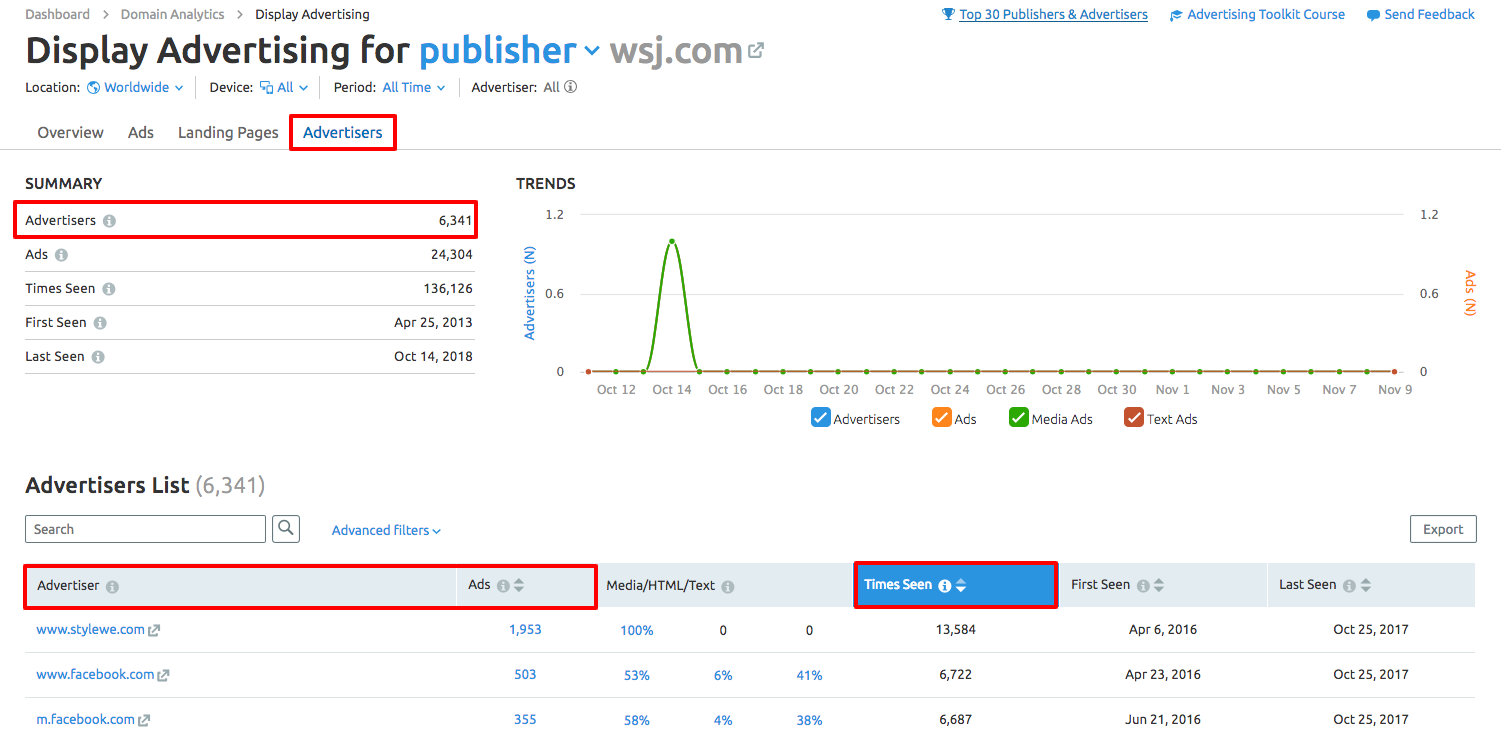 Useful tip: If the nature of your product implies certain types of ads only, it is also advisable to look at the correlation between ad types in the Display Advertising Overview tab.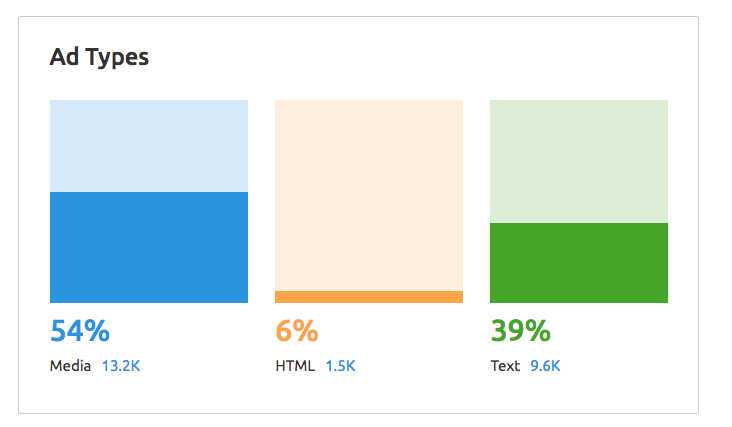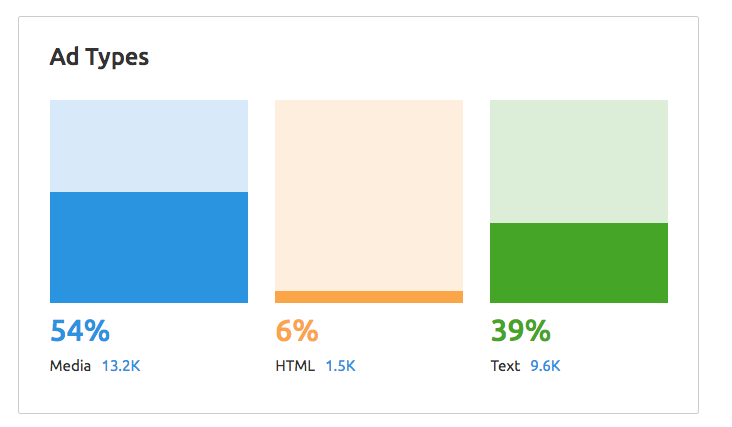 Reputation and PR
It is never a waste of time taking a closer look at your future affiliate's reputation using the Brand Monitoring tool. With the help of the above-described Twitter feed, which is refreshed every 5-30 seconds, you can follow their reputation management efforts and their efficiency on Twitter.
Backlink Quality
There are various ongoing arguments about whether or not Google passes value across the links that appear to be affiliate based but either way, a clean backlink portfolio is a sign of credibility. With the help of the Backlink Audit tool, you can have your prospective affiliate backlinks evaluated by 50+ toxicity parameters in a click.


Social Media Coverage
And the last but not the least point to consider is your desired affiliates' ability to successfully spread the word about a product across social channels. With the help of our Social Media Tracker, you will be able to see how well your prospective affiliates' social media accounts perform and how strong they stand against their competitors from your list.

The Picture-Perfect Affiliate
In the end, you are supposed to know your prospective affiliates inside out. To help you summarize the data obtained we teamed up with our Berush affiliate program team, who are quite fond of researching all kinds of partnerships and sketched out a scale that would help you distinguish between a very efficient and quite useless affiliate.
Look at the parameters you have just measured (traffic quality, traffic relevance, reputation, advertisers relevance, backlink quality, and social media coverage) and grade them by degree/extent. Then look at the pictures below and try to figure out what your prospective affiliates are like and if they are worth partnering with.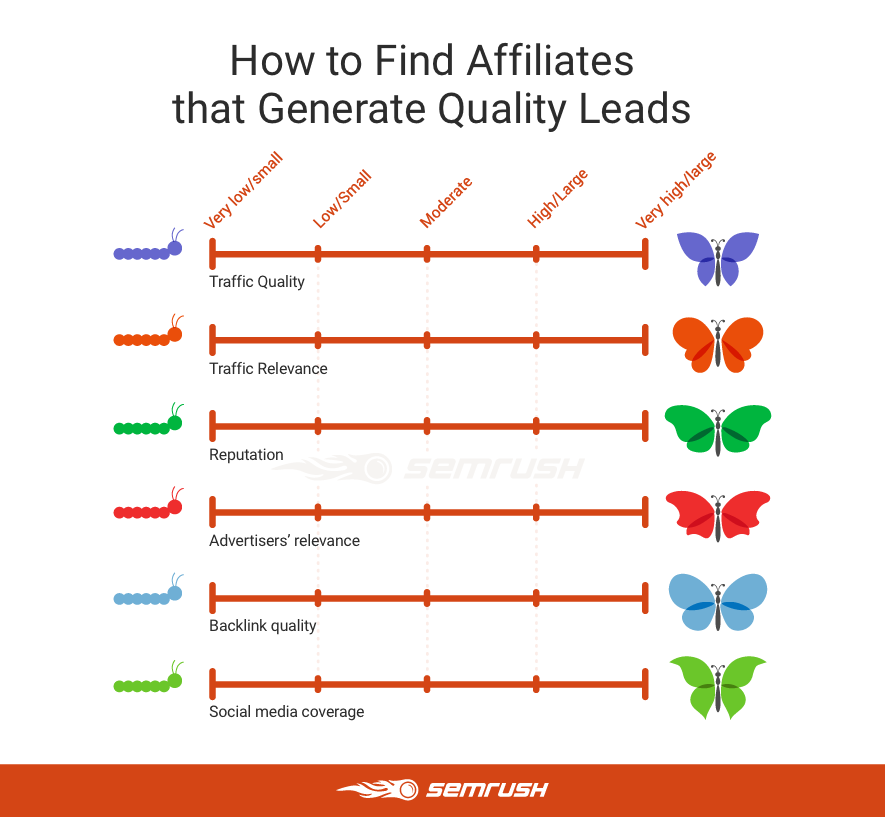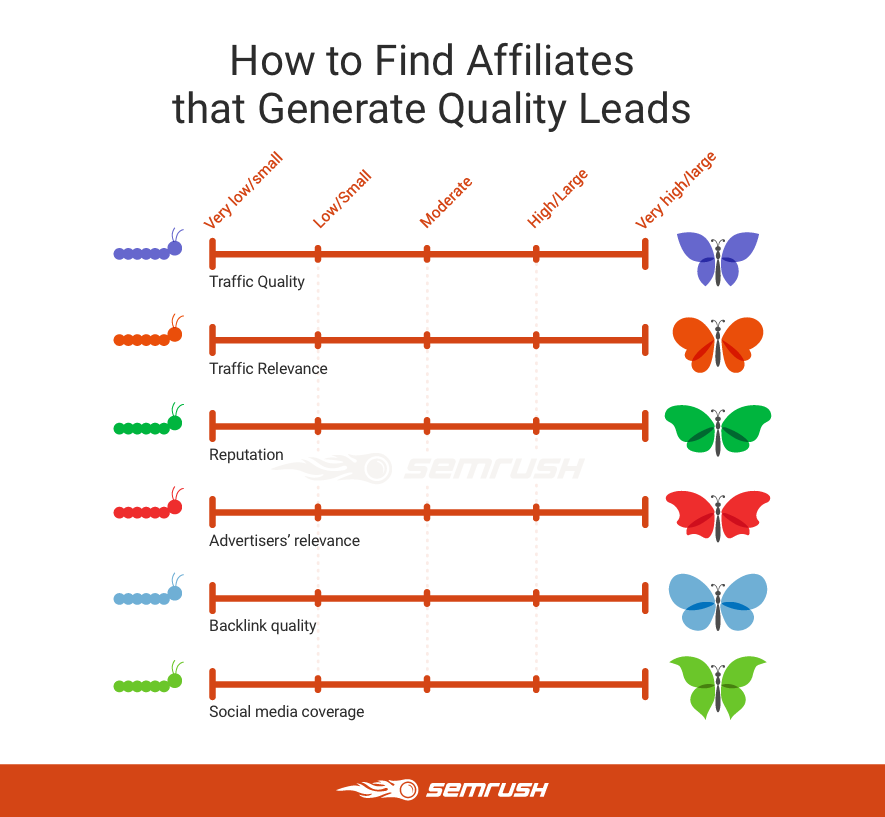 But please remember this scheme requires a sensible approach, as some parameters can be interpreted differently and some compensate for each other. In case of doubt, you can always set up a project for the target affiliate's website in SEMrush and track its performance by many more parameters than described above.