When it comes down to getting your business recognized, you have to establish your presence and put the necessary steps in motion to establish your credibility and future success. The way you establish yourself online is through your SEO strategy. In order to build a successful SEO strategy, you need to focus on one thing: Keyword research.
By focusing on certain keywords you would like to rank for organically, you are telling your audience you are knowledgeable in that area. For example, if you were a candy company, you would want to focus on a keyword such as "candy for sale" as opposed to something like "electronics" because that would not be relevant to your business. By focusing on these keywords and building content around them, you will be setting yourself up for success.
Now it might be easy for you to say what you want to focus on. However, before you can make this decision, you must conduct keyword research to ensure that your targeted keywords are in plausible range for your business to be able to rank for.
Keyword Analytics
Semrush makes it seamless for you to be able to search for a certain keyword and to take the necessary steps to find the "shoe that fits."
For small business owners, it's much harder to rank for certain keywords based on their popularity. Lets say, for example, you are a local shoe company. It will be very hard for you to rank on the national level for a keyword such as "shoes" because companies like Zappos, Amazon and Macy's are such big companies. This is where using a keyword finder to choose the correct keywords comes into play.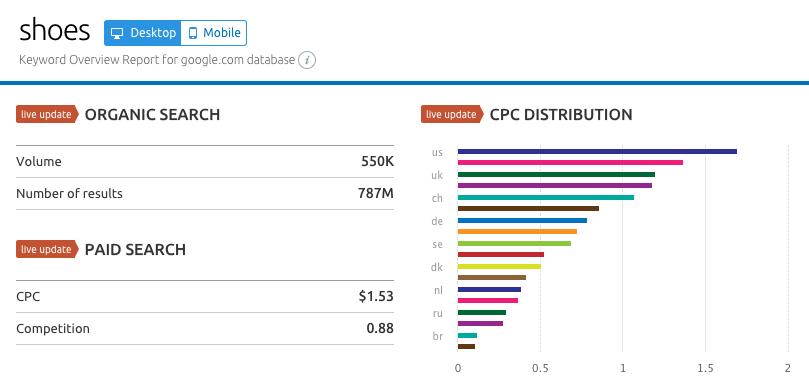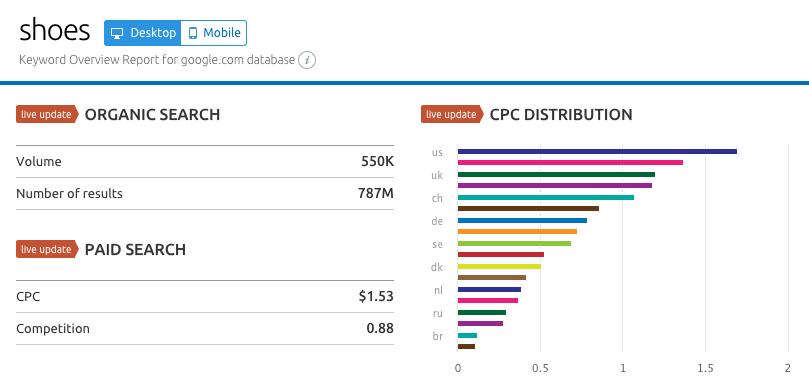 If we search for the keyword "shoes" in Semrush, we will see detailed information that will help us in making these decisions. The first block you will notice will be the Organic & Paid Search sections. This reveals some key statistical information. We can see Volume show up as the first number. This tells us on average per month, 550,000 people search the keyword "shoes" in the Google US database. That is quite large for a business to target, especially a smaller business. Now, that does not mean that this is an impossible feat.
When it comes to keywords such as this, which have such a large search volume, you need to build up a great deal of authority in your brand. You can build authority through content and establishing your presence. To see more on creating content, please see this blog post.
This is why it is important to know your limits and understand what is and is not in your target range. In order to find your target range, your initial step should be to know your competition. If you already know a competitor, you can feel free to enter it into the search bar of the SEO keyword tool at the top. Once you do so, you can then review their organic and paid keywords. By reviewing what this competitor is already ranking for, you can then go ahead and determine what keywords may suit your domain best. By picking a median search volume, you can use this in your keyword research.
If you are unaware of any competitors, that is okay too. We can still find a target range for you. You can also look up your own domain in Semrush to determine the search volume of the keywords you already rank for. You can apply this same method described for your competitors above to yourself in order to receive the necessary results.
There is also the chance that you receive no data for either you or your competitor. This is due to how we get our data in our system. To see more on how we get our data, please review this blog post. If this is the case, you may want to use your own internal analytics to determine what keywords you are currently ranking for. If you are not ranking within the Top 20 results for the keywords you are ranking for, you will want to enter your keywords into our Keyword Difficulty tool. This will report back analytical data on the keywords you are ranking for and can then give you a target range.
Not Sure Where to Begin? Focus on Categories and Phrases
If you do not rank for any keywords, the best thing for you to do would be to make a list of the categories you are looking to focus on in your business. By making this declaration, you can then determine what keywords to focus on. By searching these various categories, we can then determine what keywords will suit your SEO efforts best. Let's go back to the Keyword Overview page for a moment. Directly under the Organic and Paid Search data at the top, we can then see two reports that will help us discover new keywords.


We can see both the Phrase Match and Related Keywords section will display variations of keywords you can look to target in your SEO efforts. Now, we know that the keyword "shoes" is out of your target range. After using the keyword finder to uncover targets or areas you are looking to focus on, we can then narrow our list down. The Phrase Match keywords will display different keywords that contain the Phrase you queried. This is where you will find long-tailed keywords to rank for. The longer the keyword gets, the easier it will be to rank for. This is because as the keyword is getting longer, the query is becoming more specific. This way, we are now limiting the amount of people we are targeting and getting into a smaller demand. This will then ultimately give you a starting point as to what keywords you would like to begin with.
The other report, the Related Keywords report, will give you variations of the keyword you searched. This will help you when you are looking to rank for multiple keywords focusing on one particular category.
By clicking the "View Full Report" button in the bottom right of either of these (shown above) you can then further see that report broken down. Once you open either one of these reports, you will see that the keywords are listed in descending order by search volume. You can adjust this list to show you information that will work best for your SEO efforts.
You can also apply filters to your report in order to get more specific with your data. Say, for example, you are looking at the Related Keywords report and you only want to see specific data for keywords with a specific Search Volume. By creating a filter, you can then narrow your list down to only show keywords within a certain search volume range.
Another way of determining possible keywords is through your competitors. By searching your competitor's domain in Semrush, you can then navigate to either their Organic or Paid Search Positions. This will then show you what they are currently ranking for. As mentioned in the blog article on content, in order to improve your ranking and become more authoritative, you need to create helpful and useful content that will draw in an audience.
By reviewing your competitor's position for keywords as well as what landing pages they have associated with these keywords, you can see what makes more sense for your business. For example, you may take a look at your competitor's landing page and see their ranking for a keyword and be able to determine that you have stronger content. In result, you can then determine if this is a keyword you would like to include in your SEO repertoire.
Increasing Keyword Limitations
It is also possible to get even more specific with keywords than with what is shown with the SEO keyword tool in either the Phrase Match or Related Keywords reports. Once you find some keywords that you wish to target, you may want to specify more within the keyword such as a location. If you are local business targeting a specific region, you can then add this geo location to your keywords. For example, you may be a fruit vendor in Tallahassee, Florida and come to a keyword such as "local fruit vendors."
You can then get more specific by targeting the keyword "local fruit vendors Tallahassee Florida." By adding this location, you are specifying to the search engines you are looking to rank for a specific keyword for a specific location. Anyone who searches this in the search engine is most likely going to want to click your site due to how relevant your site is to this keyword. You can apply this same concept to your business model and what you plan on doing with your SEO.
There are ways that Semrush can provide you with the competitive data you need to enlarge your web presence. Through both keyword research and competitive analysis, you can find helpful information that will help in improving your SEO and in gaining a larger audience.
If you still have questions about any of this information, please feel free to reach out to our Customer Success Team at: (855) 814-4510 or by email at mail@semrush.com.