While we now have data at our fingertips, a simple finger-to-the-wind approach to content production just won't cut it anymore. All marketers should be utilizing data research for almost any and every decision.
But the problem is the large scale of data available and how to assess it, let alone learn from and gain points to action. With the surplus of content out there, it's not always easy to identify what's useful or is going to bring in the most traffic and shares.
Furthermore, producing content such as blog posts, news and guides is a huge investment. Many businesses don't have the time, money or resources to be working on such a channel whilst they focus on the bottom line of what makes them money. To truly convince a business of this opinion to invest in content, you need evidence up front that the piece of content you're about to invest in has reason to exist.
What About the Long Tail?
SEO is now a much more complex thing than it was five years ago when you'd go after a handful of high level keywords and those keywords had high conversion rates.
With Google's Hummingbird update and its advances to understanding natural language search, together with the increased difficulty to rank for top level terms, long tail targeting is more important than ever. A handful of reasons not to ignore longtail reasons include:
Long tail phrases are usually less competitive in organic search
User intent is clearer on long tail phrases, allowing you to serve the best and most relevant content
Long tail phrases convert as good as, if not better than, your top level keywords
Long tail targeted content fits within Google's current semantic search eco-system as opposed to traditional keyword optimization
Long tail phrases can be pieced together topically and show the bigger SEO picture.
Step Up Query-Based Content
Query-based searches are a great starting point when it comes to targeting long tail search with content. Your audience will have questions, and even if they're not ready for direct conversion yet, an early foot in the door with that user is beneficial to the larger search marketing funnel.
It is by using query based content already existing on the web I have devised the following method to quickly and easily identify potential content ideas based on what your competitors are doing.
I often use this method for my own clients and I have found it not only helps bring more relevant users to the site, but also helps get clients who aren't as invested in content as they should be excited about the prospect of producing it.
Step 1: Get your keywords
Chances are you already have an idea of your top level keywords and the markets you want to target, but it's worth a scan of your competitors in SEMrush to see if there is some missing potential.

Take these phrases and group them into buckets. For the example in this piece, I'm going to be doing content ideas for a digital agency, and will be basing it on the following niches:
Search Marketing
SEO
PPC
Content marketing
Link building
Step 2: Use an advanced search to find queries around those keywords and export results
Take each phrase and put it into Google with (intitle:who OR intitle:how OR intitle:why OR intitle:where OR intitle:when OR intitle:which) affixed onto the front. This will discover Q&A content in your niche.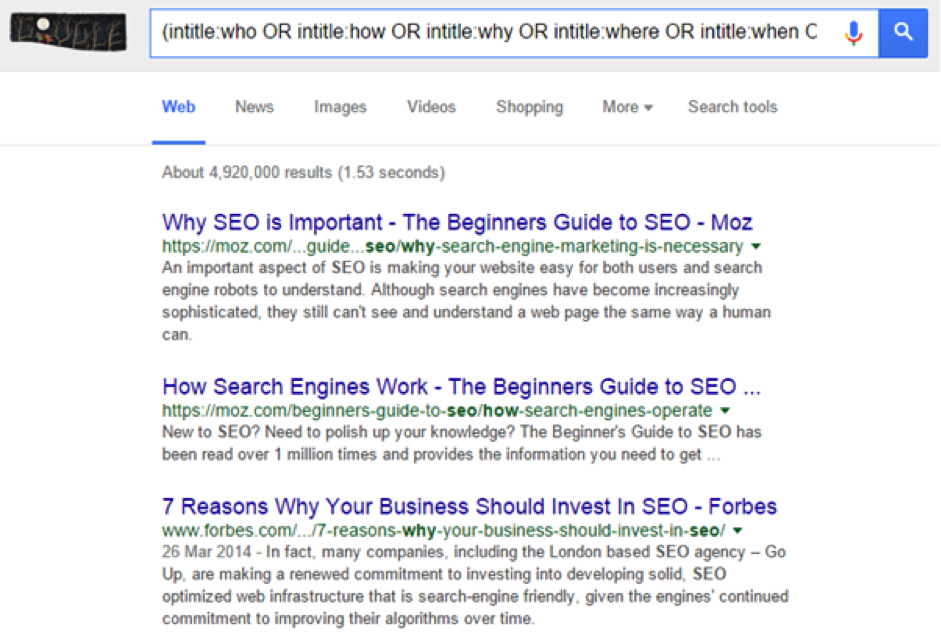 You will then need to export these results into Excel. I know everyone has preferred methods of extracting search results. Mine is to use Linkclump to copy and paste URLs (it's quicker to do this with "Results per page" set at 100).
Do this for each relevant phrase and paste into an Excel document.

Step 3: Get the titles of the pages in your SERP export
The next step is to get all the page titles of the pages in your export. My preferred method of doing this using the "Upload list > Paste" function in Screaming Frog.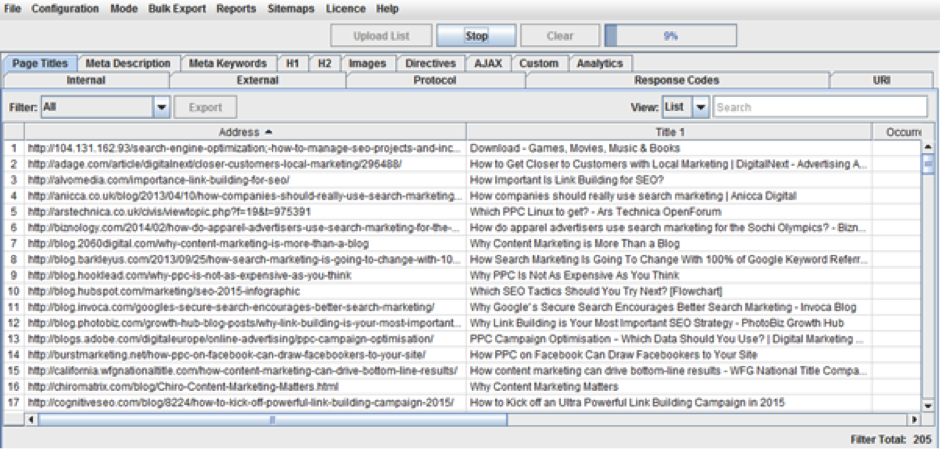 Step 4: Count phrase occurrences in page titles
Put all page titles into a phrase frequency counter to see how many words appear together in the same order.
I'm sure there is an excel formula that can do this for you, but my preferred method is this online tool, which will count phrase occurrences in a bulk of text for you.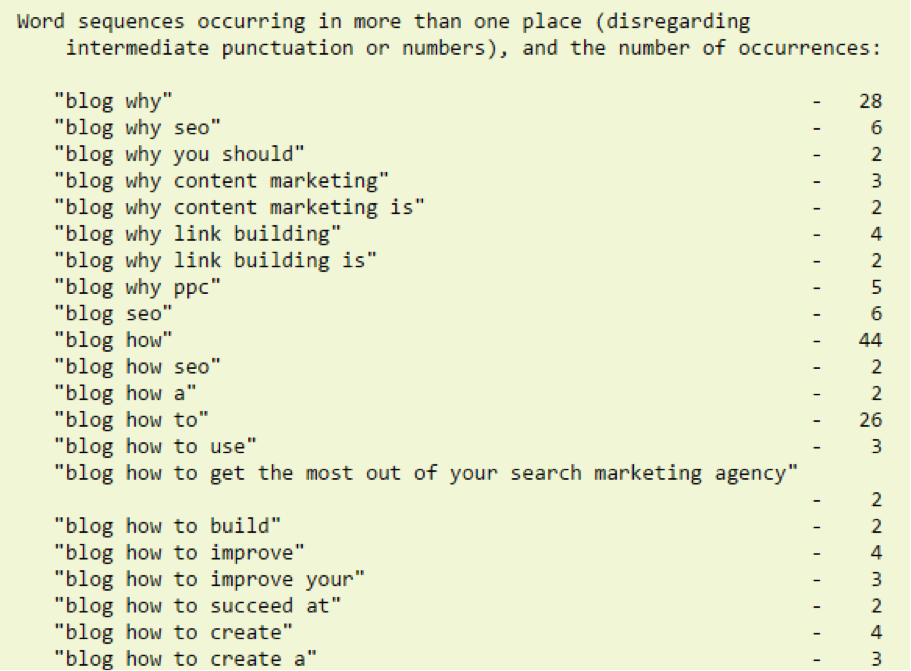 I then copy and paste this data into Excel and tidy it up using "text to columns" with the delimiter set as "-". I also use the formula =LEN(TRIM(INSERTCELL))-LEN(SUBSTITUTE(INSERTCELL," ",""))+1 to count the number of words in each multiple-appearing phrase.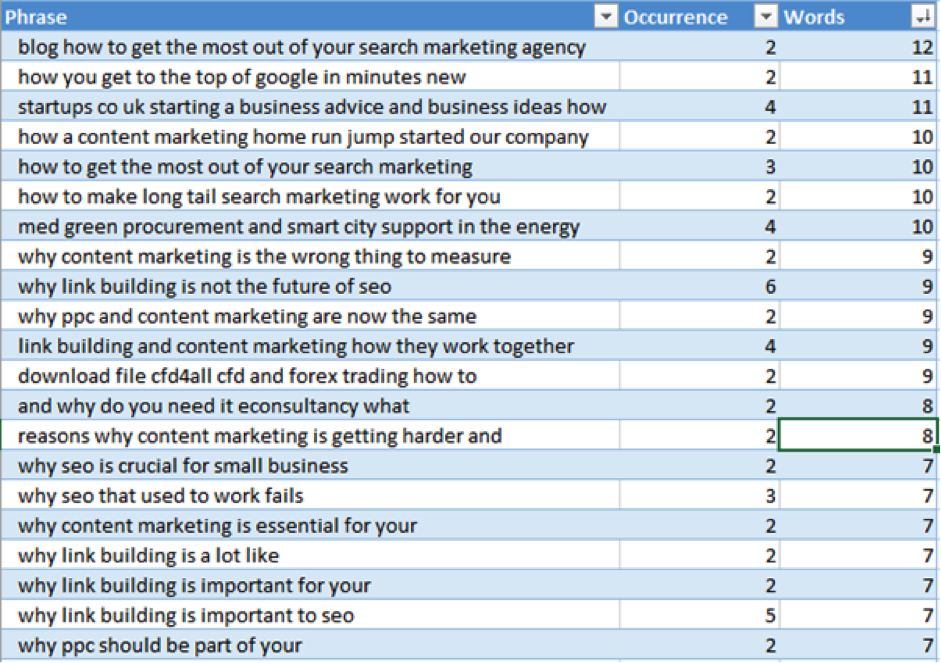 Step 5: Manually audit sheet for potential title ideas
The final step of this process is to skim the list and assess any potential title ideas that stand out.
I usually do this by sorting my table highest to lowest in phrase occurrence, and then filtering my table by word count per cell, starting with the highest number and going down.
I usually stop once I hit phrases containing only 2 or 3 words; this is when the phrases become vague in my opinion, although they are still useful for other areas of keyword research. From experience, you'll usually find the real golden nuggets around phrases containing 4-6 words.
And there you have it; 1000s of potential long tail phrases to help you shape content!
And there you have it; 1000s of potential long tail phrases to help you shape content! Click to Tweet
From the example I've used for this blog, I've identified potential in the following phrases from a quick scan through my Excel table:
get the most out of your search marketing agency
why link building is important to seo
link building and content marketing how they work together
why seo that used to work fails
why content marketing matters
how seo has changed
the future of seo
why content marketing fails
how link building has changed
why content is king
how seo is changing
which link building methods
how to become an seo
Step 6: Use the data to your advantage
Once you have identified the key phrases around query content in your industry, it's time to put on your content marketing hat and dot the dots.
It will be likely many of the phrases your spot cross over into one another; this could lead you to produce a content series, a listicle or perhaps have something less relevant as a subheading in a more relevant piece of content.
To give you an idea, I've quickly pulled some content examples of content together based on the above potential phrases list:
A two-sides-of-the-coin piece around link building – one side from an expert pro-link building and another against it.
An interactive piece where you can select 2 or more online marketing channels and give examples of how they can work together.
Old SEO tactics that no longer work, and what we can learn from them in the present landscape.
A curated soundbite piece aimed at graduates from various professionals with their tips on how to get into the SEO industry.
Bonus tips: More data to play with
There are several ways you can further improve the scope and efficiency of this method which I have not included in this post to avoid the step-by-step process spiralling out of control. I have included these below for consideration:
Get even more content page titles from competitors by using the advanced search query (inurl:blog OR inurl:article OR inurl:guide) [KEYWORD].
Pull in data from Google Keyword Planner for each set of phrases to deeper analysis the search traffic potential of content.
Pull in data from Google Search Console and Bing Webmaster Tools to measure against your current search visibility and pages already on your site with potential crossover relevance.
If you're to a higher Excel skill level to me you could work out the formula to do the phrase count in the spreadsheet.
Feel free to leave your own suggestions on how you would improve this method in the comments below.