So you have a client who wants to dominate his market, and he has come to you — out of all the SEO professionals out there — to make it happen.
He wants to "be on Page 1" for a group of keywords that you, frankly, can't change his mind about. His company is hell-bent on ranking for these keywords. Despite your views on how they should think about organic visibility, you are left thinking you might actually take on this project with the one primary KPI being a couple of keywords your client thought up. Sound familiar?
I want to share an approach to competitor analysis and keyword research with you, which will get your client to think about achieving results with a more sophisticated strategy. SEMrush has helped me personally turn many prospective clients into real paying clients, with a healthy outlook on the modern world of search.
It is not groundbreaking in the slightest. But it simply makes this type of data easier to work with for the busy, decision-making business owners and marketing managers.
As SEOs, part of our duty is to educate business owners on the ever-changing search giant that is Google. More important than that is the duty to educate these same people on the importance and sensitivity of their website content, navigation and formation of the website on a granular level.
All too often I am approached by business owners in a state of panic, reporting "things have gone seriously quiet." When investigating their Google Analytics, I often find they've lost 50% or more of their organic traffic in a recent Google Panda or Penguin update. This is, of course, bound to happen because not everyone can spend their time considering the world of SEO when they are running a business. This is where we enter.
Using SEMrush for Competitor Analysis
I like to use SEMrush to get a deeper understanding of my client's competitors from the perspective of search performance. I can quickly find out who is dominating the market, who is barely surviving and even those who have come unstuck along the way after long periods of dominating. The one problem we have is communicating this data to our clients when we don't get to meet them and our communication is through emails, which can potentially alienate our clients despite our best efforts to speak in plain English.
Recently, I was invited to meet up with a client of mine for a communications meeting with the company to discuss their business and share my input on the performance of their website. I was keen to present some SEMrush data that I knew would stimulate some thinking, but my fear was — yet again — that I could be that guy who is talking SEO jargon to a group of people.
We all like to know how our competitors are achieving organic traffic and getting that chunk of the market that we want. But the skill is in presenting that data in a friendly way that our client can absorb. If done properly, your client will begin to see that the few "big head" keywords aren't your only chance for month on month organic growth. Your strategy can show that traffic can be achieved through multiple streams of various topics and long-tail phrases, and if big head terms are achieved then that's a bonus!
Below is a snapshot of one of my client's competitor's search data.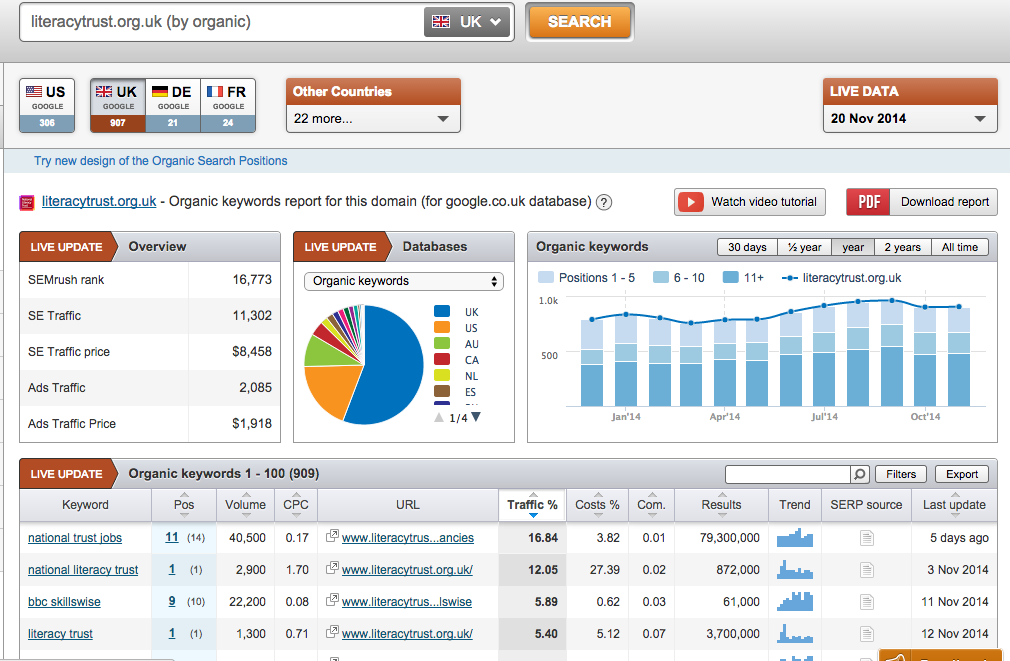 This snapshot really does give you a lot to work with, if you know what you're looking for and what it means for your client. You can use the graph in the top right to show how the competitor is weighing in, in terms of the volume of different keywords they are ranking for in the top 20 results. A competitor who has experienced a sudden drop in the volume of keywords they rank for could well have experienced the negative impact of a Google algorithm update. This "under the hood" information is critical in shaping who we essentially study in greater detail.
The panel at the bottom shows all the different keywords that the site ranks for, along with ranking position and most importantly for this exercise, the page that ranks!
Keywords for Your Content Strategy
If we can understand what made a piece of content rank so well for a topic/phrase or big head keyword, then we can aspire and plan to raise the bar and compete for these terms. Of course, you do need to be realistic about the overall authority of the competing site(s) in relation to your client's, as there are times when you need to understand that "above the fold" presence on page one of Google is unlikely. More often than not, in my experience, this understanding of what makes content rank so well is highly powerful in the long-run for your client.
When I export the data as a spreadsheet and pull it through to my Google Drive, I do a little bit of cleaning to strip the data down to the following, shown below. This shows everything I think my client will care about. They can see their competitor's ranking position, the search volumes for the given keywords, the content that they are ranking for and the rough percentage of their overall organic traffic that this keyword ranking represents. I go through the list of keywords that their competitor has (in the first first pages of Google) and highlight keywords potentially relevant for my client in yellow.
The problem is that this is not overly pleasant to look at when you are profiling multiple competitors, and it could soon become a headache for your client to look at. (I found this out through sharing the Google doc with the team and not getting any feedback!)
As the company already has a PR team who gets content placements on some high profile industry blogs, as well as the national newspaper sites, I have been keen to push the importance of the site as a hub of organized information and not do offsite work as much. It is no good getting super high-profile links pointing to a site with nothing but some sales copy, because you can bet that your competitor has super high-profile links pointing to top-class onsite content. Guess which one Google prefers?
I stumbled across a useful (free) tool called Xmind for mind mapping and within no time I was able to create PDFs of the competitors' search visibility. This is easier to look at and allows you to cross-reference between the spreadsheet to see more detail, like the ranking page and the ranking position for the keyword. This can highlight whether the competitor is doing a pretty good job of serving that search intent, or if in fact, it wouldn't take much for you to overtake them.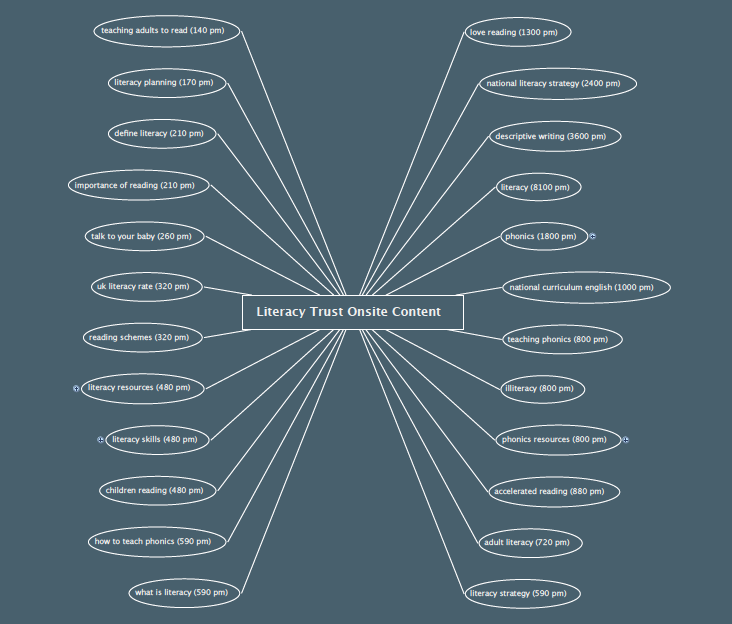 With this primitive diagram you can get your client to understand how much of the pie they are missing out on, and how ultimately to grow they will end up pumping money into AdWords and other forms of advertising as an alternative, if they don't think about organic traffic.
You can stress the importance of decreasing the risk level of organic rankings, by achieving hundreds of different rankings that are laser-targeted to the visitor, so also have a higher chance of conversion.
Categorizing Content into Authoritative Hubs
As you and your client look over the various mind map PDFs you will see patterns of topics that have been covered to achieve rankings. The forward-thinking SEO in you should now stress the importance of thinking in terms of grouping content ideas into categories so Google can process the information with ease and understand what your site is all about. This way you can avoid lightweight content being produced, which won't rank and could even lead the client into a Panda hit. You can build a content strategy that taps into your client's wealth of knowledge, while doing so in an organized manner. You can constantly consult on the content and manage the meta data to help your client achieve the goal of top-rank content.
Another bonus of working in this way, is that your client won't run the risk of creating content too similar to previous titles and landing pages published on the site as time goes on. Why is this important? If you are producing content too similar to another piece of content on your site (in terms of the search intent it fulfills) then you will either cannibalize your efforts, or worse, fall into a Panda trap and spend months trying to recover.
Your efforts should then focus on refining the content topics into ideas and into content titles, which you can structure into an editorial calendar.
Results
So what does all this work do for your client? Well, having worked this strategy for another client in a very competitive niche, the results were very pleasing! Working with the client with this approach actually led the site out of a previous negative Panda hit and saw the site rocketing up in rankings and most importantly organic traffic that converts.
What are your thoughts on this approach? I look forward to your comments.