YouTube is a big deal.
It is the world's second most popular search engine, with over a billion hours of video watched every single day.
But what is more interesting is that the average viewing session lasts 40 minutes. YouTube has an engaged audience that continues to grow. And for that reason, YouTube should be a crucial part of your marketing strategy.
Opportunities exist on the platform for pretty much every business in every sector, but you need an audience for your efforts to drive a return. We will share tips and tricks to increase your subscribers on your YouTube channel, specifically covering:
Why YouTube Needs to be Part of Your Marketing Strategy
If you are not already using YouTube as part of your marketing strategy, you are missing out on a huge opportunity to reach new audiences and engage your existing ones.
The appetite for video content is on the rise. While this is due in part to social platforms like Instagram, Facebook, and LinkedIn, improving their native video features, YouTube is still the hub of activity.
As a marketer, YouTube can help you to:
Reach new audiences who are actively looking to learn from businesses and individuals just like you
Help both existing and potential clients and customers to get to know you, and your team, as people, not a faceless business
Drive ongoing engagement even when someone is not ready to buy from you
Build an active following of subscribers to grow your video presence
Occupy additional space on SERPs
Repurpose content that you created for other channels
Of course, video might not have quite as low a barrier to entry as some channels, especially given that you need at least some basic equipment ( although a smartphone is capable of producing exceptional video nowadays).
But that is what should make it a strong contender for your attention. Even a low barrier to entry can prevent some businesses from putting in the effort, and if you can do this, you are already one step ahead of many others. Need help getting started? Our Social Media Toolkit can help you as you try to build your YouTube subscribers and social media influence.
The YouTube Stats You Need to Know
In case you needed to justify your increased efforts on YouTube, these are the key stats that should make your decision that little bit easier:
12 Ways to Increase Your YouTube Channel's Subscribers for Free
For this guide, we are going to assume that you have already set up your YouTube channel, have started creating video, and begun to promote it. If not, be sure to check out our guide on " How to Create a YouTube Channel and Promote It." 
But once you are up and running, it is time to grow your channel. But the question remains - how do you get subscribers on YouTube? We put together a list of 12 ways that you can increase your subscribers for free without having to advertise to get in front of new users. 
1. Pick a Theme and Stick to It
What do you want to be known for?
This is a question that you should ask yourself as you put together a strategy to grow your channel, and it is all based around your potential subscribers.
Just like any other social platform, your YouTube channel needs to have its own identity. That means figuring out where you are going to put your efforts on the platform.
It might be that you want to be known amongst your industry for:
Detailed product reviews
How-to guides and tutorials
Industry news
Build your strategy around this and focus your efforts here, and this can be one of the best things that you can do to grow your channel's subscribers.
2. Focus on Quality of Content over Quantity of Content
You might be tempted to put your resources into creating as much content as possible on YouTube, hoping that this approach will mean that something sticks, gains popularity, and wins you a whole load of subscribers. 
But this should not be the approach you take.
Always focus on quality over quantity.
When you try to output as much content as possible, the quality slips, and the reality is that audiences want to consume great content - not just good content.
But how does this help you to land subscribers?
Very similar to the point above. 
When you create great content, people share this. They tell others about it and reference it as a resource. They might cite it in a blog post, include it in their newsletter, or share it on their social platforms. This way, your channel is watched by new audiences who, in turn, become subscribers.
But two things happen when you focus on quantity over quality:
You end up producing too much content that people stop sharing every video.
The quality of your video's content drops, and people do not feel compelled to share it.
When your priority is putting out great content that stands out against what your competitors (or content creators in your space) are producing, you are more likely to earn subscribers.
3. Improve Your Video and Audio Quality
Creating video content has become even easier in recent years, especially as the camera quality on smartphones has improved drastically.
Although a smartphone is not a professional video recording device, we will let you into a secret...
Poor quality video often isn't due to a 'bad' camera. More often than not, this is a result of poor audio lighting, framing, or background. And you can improve these things for free.
We said we would share tips to help you earn more YouTube subscribers for free, and we are going to stick to it.
This means we are not about to tell you to go out and buy expensive lighting or audio equipment (but if you do want to improve your set up significantly, check out this guide from Vlogger Gear).
So, how can you improve the quality of your video and audio for free?
Improve Your Lighting
Lighting can make or break the quality of your video and is one of the most common causes of bad video. 
If you want to see what a difference lighting can make, check out this video:
But we are talking free here, so what can you do?
To improve your video's lighting without investing in equipment, it is as simple as sitting in front of a large window and filming during daylight hours.
You will be amazed at what a difference natural light can make to your videos; just be sure to face the window with the natural light lighting your front.
Improve Your Audio
One of the most significant issues that people have with video is poor audio.
While the best solution here is to invest in an external microphone (even a cheap one will be a lot better than one built into a laptop or smartphone), our top tip is to record in a room that has a low echo.
Echo is one of the main reasons why audio on video sounds so poor. Echoes are caused by sound waves bouncing off hard surfaces such as uncarpeted floors, walls, and desks.
Record in a room that is carpeted, has heavy curtains, and, if possible, large items such as sofas (with plenty of cushions on) that absorb sound rather than reflect it.
Improve Your Video's Framing
According to Tuts+, "In filmmaking, framing refers to how you choose to compose a shot for a specific scene. Framing allows you to emphasize or show emotions, thoughts, sensations, and ideas. It is the ingredient that adds weight and feeling to the moment."
Essentially, it is what you have in your shot. Even if the video is just of yourself, it is essential to take the time to get it right.
And YouTube themselves have a great tutorial on how to do this:
Improve Your Video's Background
The background of your video can have a more significant impact on the overall quality of your video than you might think.
As an example, check out The Canonical Chronicle by Ross Tavendale:
The background helps to add character to the video and create consistency between each one that is created.
But there has been thought put into this.
Or, as another example, this tech gear review channel:
There is no right or wrong background, but getting creative does not have to cost money. 
Think twice before you film in front of a white wall and ask yourself whether or not that will come across as boring to your viewers and truly engage and encourage them to subscribe. 
4. Create Better Channel Trailers
According to YouTube, "You can have a video trailer shown to all unsubscribed visitors to your channel. Your channel trailer is like a movie trailer. Use it as a way to offer a preview of your channel's offerings so that viewers will want to subscribe. "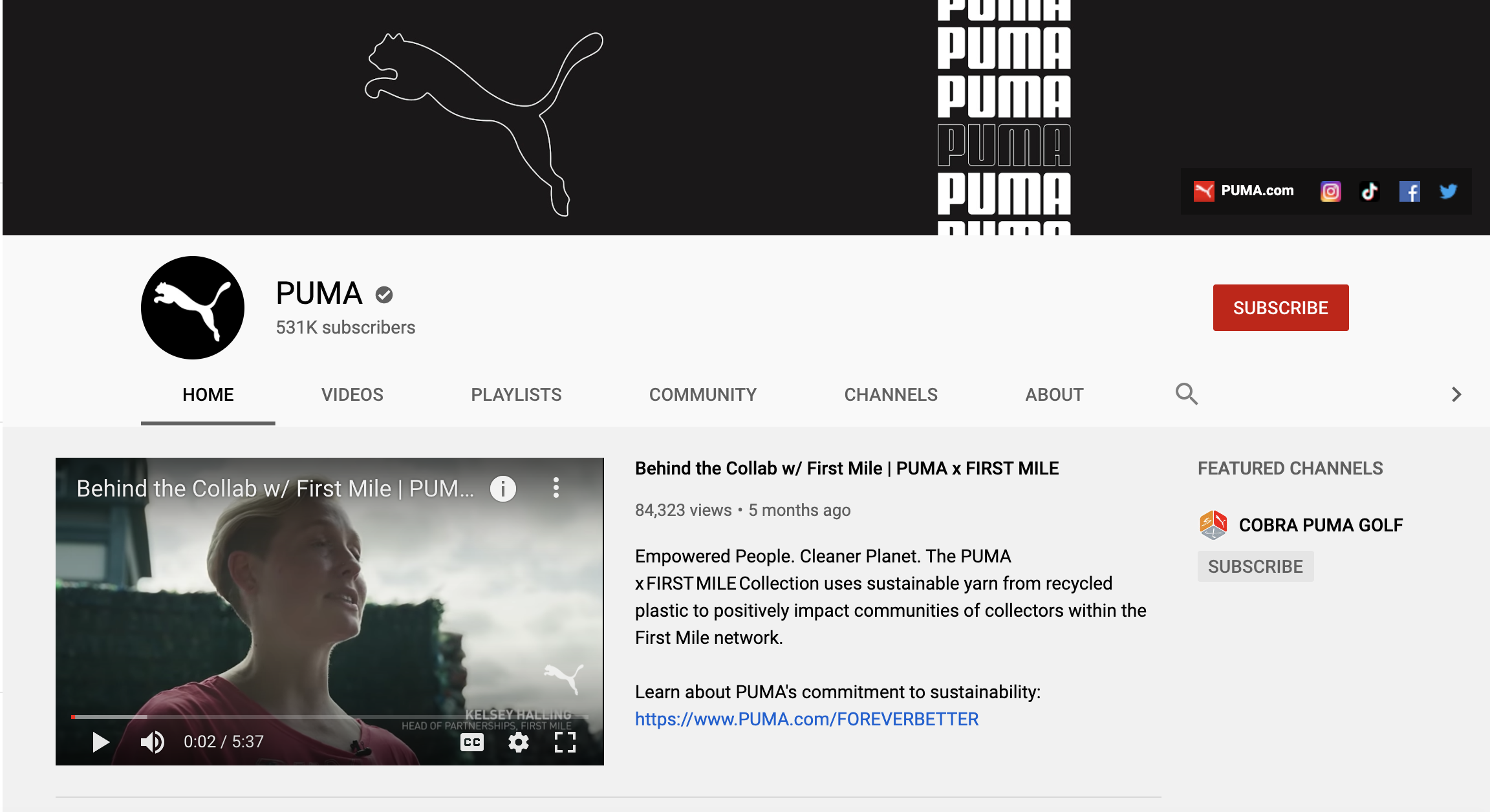 This is your opportunity to turn subscribed viewers of your channel into subscribers. So you better make it enjoyable!
Another big plus of having a trailer - when a video is being watched in the trailer spot, no ads will show for its duration.
Go all out and create a trailer that genuinely stands out and convinces anyone who watches it to subscribe, considering:
The target audience here is people who have not heard of you or are not familiar with your business
You should keep it short and sweet to be impactful
How you can hook viewers in the first few seconds
This is your chance to land those subscribers! 
5. Collaborate with Another YouTube Channel
Even if you spent time promoting your channel and have built up a strong following of subscribers, one of the most effective ways to increase this (for free) is to collaborate with another channel.
This means finding a complementary (but not competing) business or channel and working together on collaborations, primarily appearing in each other's videos. 
This benefits both channels by:
Opening you up to someone else's audience and sharing your expert insights or entertaining their viewers. It is a great way to get in front of an audience who may not already know you.
It can be reciprocal, in that each of you can introduce the other to your own audience.
Try to think where you can add value to an audience and reach out and start a discussion. Everyone wants to grow their subscribers, and if you can work together to achieve this, everybody wins. 
6. Publish Longer Videos
This all comes back to the approach of creating quality content.
But longer videos rank higher on YouTube search, as well as keeping viewers engaged.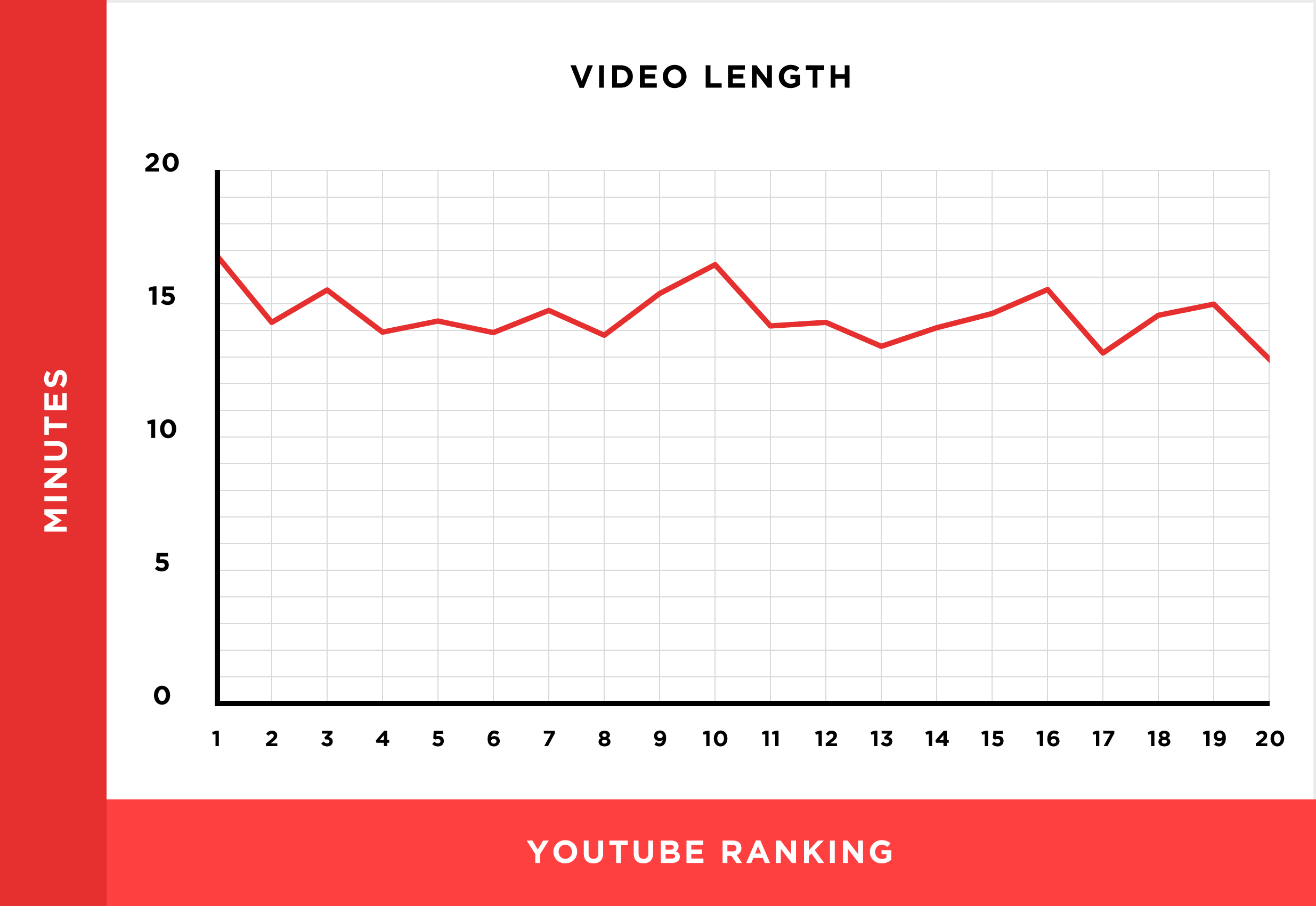 Source: Backlinko
And an engaged viewer is far more likely to subscribe.
Just be sure that you are not creating long videos for the sake of doing so, though. Instead, create longer videos that add value and pack great insights into every second. 
7. Reply to Comments
Sounds simple, right?
But you would be amazed at how many comments left on YouTube videos go unresponded to. And this is a missed opportunity to land new subscribers.
If someone has taken the time out of their day to leave a comment on your video, they deserve a reply. Replying to comments on your videos can help to increase your subscribers because this encourages engagement. When viewers see you take the time to respond, they are more likely to leave a comment in the first place, too. 
YouTube themselves even state that:
When creators take the time to interact with their loyal community, it can encourage audience participation and ultimately result in a larger fanbase.
You can also go one further and heart comments, and the viewer who left this comment will be notified. 
8. Use Better CTAs
Ever wondered why you hear so many YouTuber's and creators asking viewers to subscribe to their channel? That is because it works.
If you have watched a video and the creator asks you to subscribe to their channel, you are more likely to do it then than at any other time. Why wouldn't you want to see more content like the video you just watched if you enjoyed it?
Strike while the iron is hot and include a request in your video to hit the subscribe button. It sounds simple, but you will thank yourself for doing this when you see those subscriber numbers continue to rise. 
9. Promote Videos on Your End Screen
The more videos of yours that someone watches, the more likely that they are to subscribe.
So one of your goals should be to make sure that someone that watches one of your videos goes on to watch another. You can do this by promoting other videos using an end screen.
These are other recommended videos that show at the end of one of your videos. 
And they are a significant next step for someone who is watching, so long as they are related and relevant. You can add these via templates in YouTube Studio.
10. Add a Watermark
Have you seen YouTube channels adding a watermark in the bottom right-hand corner of their videos? 
You may have, but the problem is that most are only using a brand's logo, and it is nothing attention-grabbing or action-driving.
But it is time to get smart.
Go ahead and add a watermark to your videos, but instead of uploading your logo, upload a 'subscribe' button, just like we do on the SEMrush channel: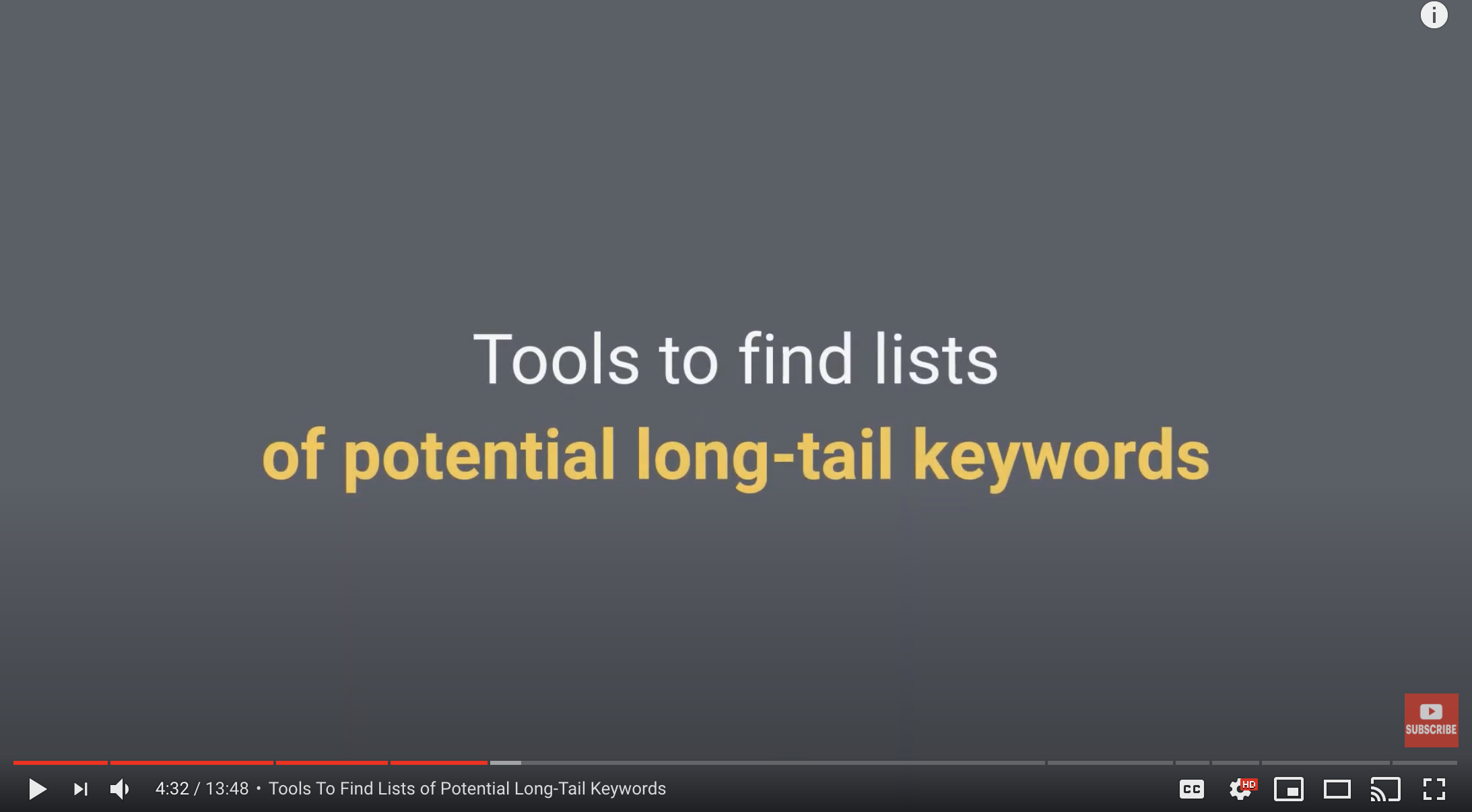 You will be amazed at how many extra subscribers this lands you. 
11. Promote Your YouTube Channel to Your Existing Audience
Again, it might sound simple, but you would be surprised by how many people do not think to leverage their existing audience to increase their subscribers, especially when they first launch their channel. 
Consider sharing your YouTube content with those who already follow your business and are connected with you, with the easiest opportunities being:
Announce your YouTube channel (and continue to share videos) in your company newsletter. Your latest videos could even make a permanent feature.
Add your own YouTube content into your blog posts, or even embed these on a 'videos' page of your website.
Share the videos that you post across your other social channel to encourage views from audiences who are connected with you on other platforms. 
12. Master YouTube SEO
Perhaps the best, and most effective, way to earn new YouTube subscribers at scale is to increase the number of people who view your videos in the first place.
And this usually means you need to ensure that these rank prominently when a user searches for videos relating to the topic that yours covers.
Enter YouTube SEO and our recent webinar with Aleyda Solis:
---
While you can run ads to increase the views on your videos and increase the number of subscribers that your YouTube channel has, you do not always need to. There are other ways to optimize your channel to get subscribers.
One of the attractions of YouTube is that, when you focus on creating and promoting the very best quality content, you can generate real organic traction, grow your channel, and increase your subscribers organically.
This is an untapped opportunity for many businesses and one that we hope you will make the most of!