Multichannel marketing will be familiar to anyone working in the online retail space. The challenge of keeping up with the latest innovations can be difficult, whether you are coordinating strategy or focused on one specialism. But the opportunities available via the relatively new introduction of Google Comparison Shopping Services (CSS) are essential knowledge for anyone involved in promoting an E-Commerce business.
Most marketing and advertising campaigns are designed to target one section of the conversion funnel to lead customers to make a purchase. But Google CSS effectively shortens the customer journey, removes any brand disparity, and can deliver more sales for less budget.
While it doesn't replace the need for multiple marketing channels, it puts you immediately onto a level playing field at the top of search results pages.
Why Use Google CSS?
When it comes to Google Shopping, most brands have focused on advertising via Product Listing Ads to target specific long-tail queries. And that has worked fairly well alongside SEO, Direct Marketing, and Social Media. In the UK, Google Shopping Ads account for around 82% of all retailers' search ad spending (76.4% in the U.S.). SEMrush shows the occurrence of shopping ads in SERPS as high as 60% for a typical month in 2019.
Some industry research showed click growth slowing on PLA inventory in early 2018, before massive growth, particularly on mobile devices. This is attributed to the increasing presence of Google Shopping carousels on increasingly generic top-of-funnel queries in addition to specific product searches.
The ability to appear in those prominent advertising spaces for queries at each level of the conversion funnel is a valuable opportunity for E-Commerce brands operating in the European Economic Area and Switzerland.
Following an EU antitrust ruling in 2017, the cost of Google CSS has also come down significantly. To promote competition, Google has worked to improve the visibility of product comparison services and increase ad inventory for Comparison Shopping Partners.
In addition, Google Shopping Europe has also been split into a separate company from the parent group.
That has led to several big benefits for retailers and agencies working on their behalf:
Google has operated a discounted Cost-Per-Click model to increase the presence of other CSS providers, which has meant CPCs around 20% lower for third party services on the Google platform.
In addition, Google Shopping Europe is now required to show a profit and takes a 20% margin from your advertising spend. By contrast, CSS Partners can utilize your whole budget, and a few Premium CSS Partners are confident enough to work on a CPA basis, meaning you only pay a commission on completed sales.
You are not limited to a single CSS provider. By design, only one instance of the same offer should display in each ad unit, but different products from the same merchant can appear via different CSSs.
More display inventory won't mean higher costs; a merchant won't be second-priced against itself. This means all CSS bids competing against each other on behalf of the same merchant are treated as if they came from the same place.
CSS Partners also have access to their own sales channels, including potentially large networks of comparison and E-Commerce websites. They can also provide access to the new second carousel for Comparison Listing Ads, displaying multiple products from a CSS's website. This appears in addition to any CSS carousel on a SERP.
There is also no material overlap or cannibalization with other display advertising. This means your CSS conversions will either be in addition to existing sales or can replace them at a lower cost, enabling you to lower your advertising spend and drive incremental sales.
On top of all this, it is relatively quick and easy to set-up in minutes.
Freelancers and smaller agencies can work with a CSS Partner on an individual account basis. Larger agencies, typically those with over 100 clients, are able to white label the services of some Premium CSS Partners to give clients access to the same range of benefits and expertise offered directly by the provider.
How to Set-Up Google CSS:
It is fairly simple to set up everything required to benefit from Google CSS. The only requirements are a Merchant Center account, and a linked Google Ads account for each CSS service you want to work with. And some way of uploading your products manually or automatically into your accounts.
There is a lot of flexibility in how you can choose to work with Google CSS. You can create the required accounts yourself and manage it, or let your CSS partner do the work. Or potentially split the product data feed and campaign management.
Creating a new Merchant Center account begins with some quick business details in a fairly familiar Google process. Then you will need to verify your website using the standard HTML file, HTML tag, or linked Google Analytics and Tag Manager accounts.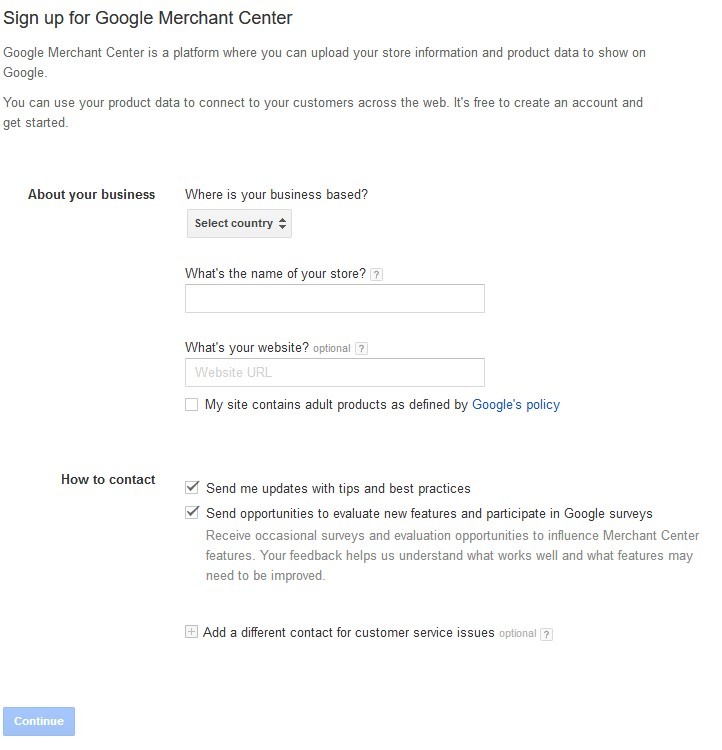 The biggest step is to upload your products; this can be done manually or with an automated product feed as long as you meet the format requirements for .txt, .xml, or Google Sheets. You can also use the Google Content API for Shopping, which is particularly helpful if you have a large and frequently updated product inventory.
The minimum details required are product names, brands and prices, an id, description, and an image. These should be set up in your Primary Feed. Additional details and changes can be included here, or via a Supplemental Feed. The benefit of a secondary feed includes quickly reverting from sale prices back to original costs without amending thousands of individual product details.
It is important to note that all products expire from your Merchant Center account after 30 days unless resubmitted. And best practice is to keep 'Out of Stock' items in your feed to keep valuable performance history, as they will automatically not be shown. And when they are available again, they'll reappear much more quickly.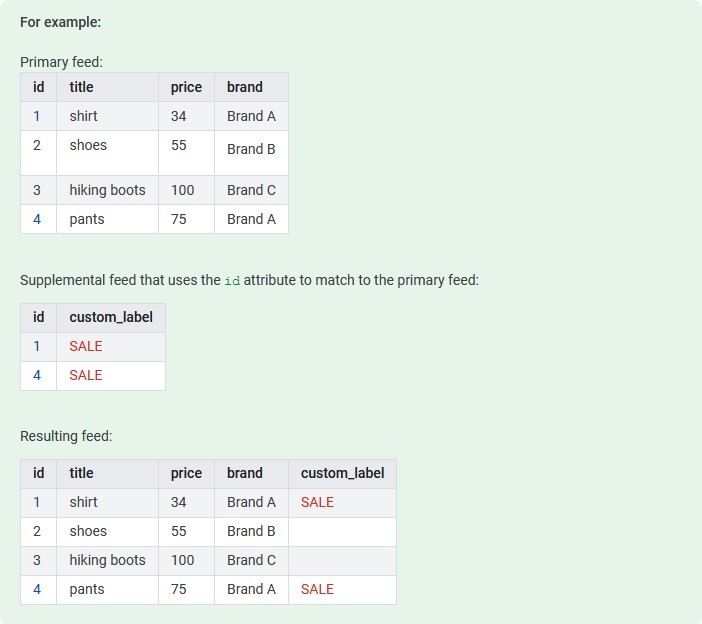 From that stage, you can either work on your bidding and product optimization strategies or let your CSS partners take over.
In either case, it is well worth using a tool like the SEMrush PLA Research Tool to look at competitor target keywords, ad copy, and product pricing. The research will help you to set the right prices for your own products, and promote those with the best chance of converting sales in volume.
Once you start receiving data in the Merchant Center or using information from previous Shopping and Display campaigns, you can begin optimizing the performance of your Google CSS activity.
Recommendations for optimization of the product data are to start with the Brand and GTIN (Global Trade Item Number) for checking the product validity. The product title and a high-resolution image should be the next priority, followed by pricing (including shipping). The Product Category is set by Product_type and Google_product_category in your feed.
Alternatively, an experienced Google CSS Partner will be able to get you off to the best start and continually refine your product feed and performance.
Picking the Right Partners
Working with one Google CSS provider is good, but working with multiple services is better, and won't impact your bid costs. Some retailers will want to work with Google Shopping Europe alongside one or more third-party CSS services. Others may wish to run their own campaigns against their partners.
Given the fairly recent introduction of Google CSS, picking a partner may seem more difficult. But many of the recommendations for choosing any external resource will apply.
Look for certification. Although Google CSS is a recent creation, there is already a small group of Google Premium Partners across Europe. These businesses get access to in-depth knowledge and training and exclusive access to additional incentives when available.
A proven track record is also valuable. Experience in Google Shopping Network advertising, Product Listing Ads, and other previous related areas will demonstrate experience applicable to CSS.
Check out the other channels offered. A CSS provider can also provide sales through its own network of comparison sites and offer additional services such as remarketing, social network advertising, and more to complement your CSS activity.
Be aware of their technical capabilities. With such large data sets and high volumes of optimization required, Google CSS is an area where investments in machine learning and AI really pay dividends.
Commission-based CPA services provide the benefits of CSS without the risk. Pay-for-performance shows the confidence a CSS Partner has in their ability to drive sales, and can also mean a higher budget or commission will be used to drive more traffic.
CSS Benefits for Other Marketing Channels
Despite the opportunities available, Google CSS isn't a magical replacement for all of your other multichannel marketing and promotional activity. But it can take some of the weight off longer-term investments – for instance, in organic SEO and content marketing, which can often be challenged by requirements to deliver results immediately.
By providing an advertising method which requires a fairly simple set-up, and with CSS partners to handle the optimization on a commission basis, there are relatively little resources required to manage your campaigns.
And with CPCs currently lower than for Display advertising, you are able to get the valuable data on high performing products more cost-effectively to inform your SEO and other marketing efforts.