As a SEMrush user, you already know the importance of consistently tracking your digital data, whether it is basic web traffic, comparing your performance to that of your competitors, following the results of your PPC ads, or anything in between.
But to effectively create, put into place, and track all of your digital efforts, you are no doubt using a multitude of tools; SEMrush is just one of many.
And while it may seem more natural for you to jump from one tool to the next each time you need to check up on a campaign or follow your SEO results, the truth is, it can be a bit exhausting. Plus, it is far from optimal from a strategic standpoint.
When you discuss your digital results with your team, you never use just one tool's data to do so, right? You probably collect your data from across all your digital tools and compiling them manually for your strategic analysis. After all, your strategies are built on the idea that each of your individual campaigns, web pages, ads, etc., have their part to play in your overall success, but nothing works alone.
That is why it is so important to create SEMrush reports that include data from each of your tools - not one report PER tool. This way, at a glance, you have all the information you need at your fingertips.
Step 1: Connect SEMrush and Your Other Integrations to DashThis
Contrary to a lot of other tools in the digital marketing reporting space, DashThis is a system that enables you to not only connect multiple tools into the same account but also create individual SEO reports with multiple data sources presented side-by-side.
And with the right tool, this can be a very simple process.
For starters, it is essential that you have a SEMrush Business Plan. Tools like DashThis use your SEMrush API access to fetch your data, so an active Business Plan and available API units are a must.
The only thing you need to connect your SEMrush account to DashThis is your API key, which can be found in the "Subscription info" part of your SEMrush account profile. Copy your API key, and then head on over to your DashThis account.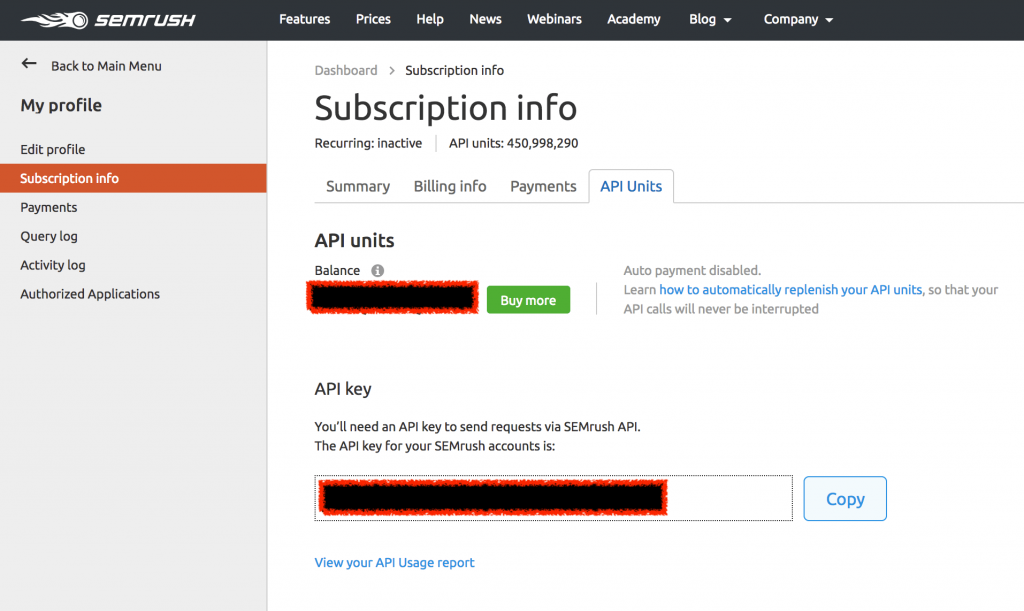 In DashThis' integration manager, you will be able to add all the marketing data tools that you want. Some of them, like SEMrush, require you to input your API key. Others, like Google Analytics and Facebook, for example, just ask you to input your access information for those tools, and DashThis does the rest.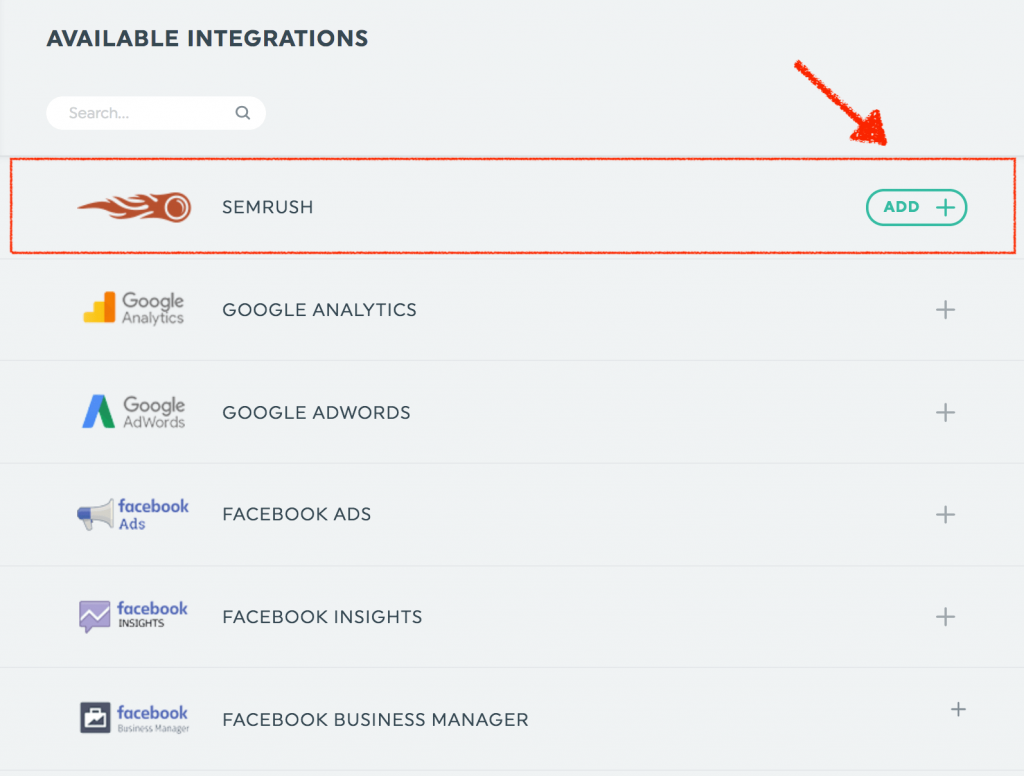 Scroll down the integration list and add each of the tools that you use in your everyday marketing tasks. If you use tools with several different subaccounts (for example, one account for each of your clients), you can connect them all at the same time, and then pick and choose the exact sources you want when the time comes to create your individual reports.
Step 2: Create Your SEMrush Report
Once you have added SEMrush, as well as the other integrations you use, to your DashThis account, you are ready to create your first all-in-one report.
At this point, you have two options, the quick way, and the not-so-quick way.
The Quick Way: Use a Preset Template
When you are in the process of creating a new report, if you have chosen to create a report using just SEMrush data, you will be offered the possibility of choosing the SEMrush Template in the drop-down menu. Selecting this option is the quickest way to see your SEMrush data in a DashThis report.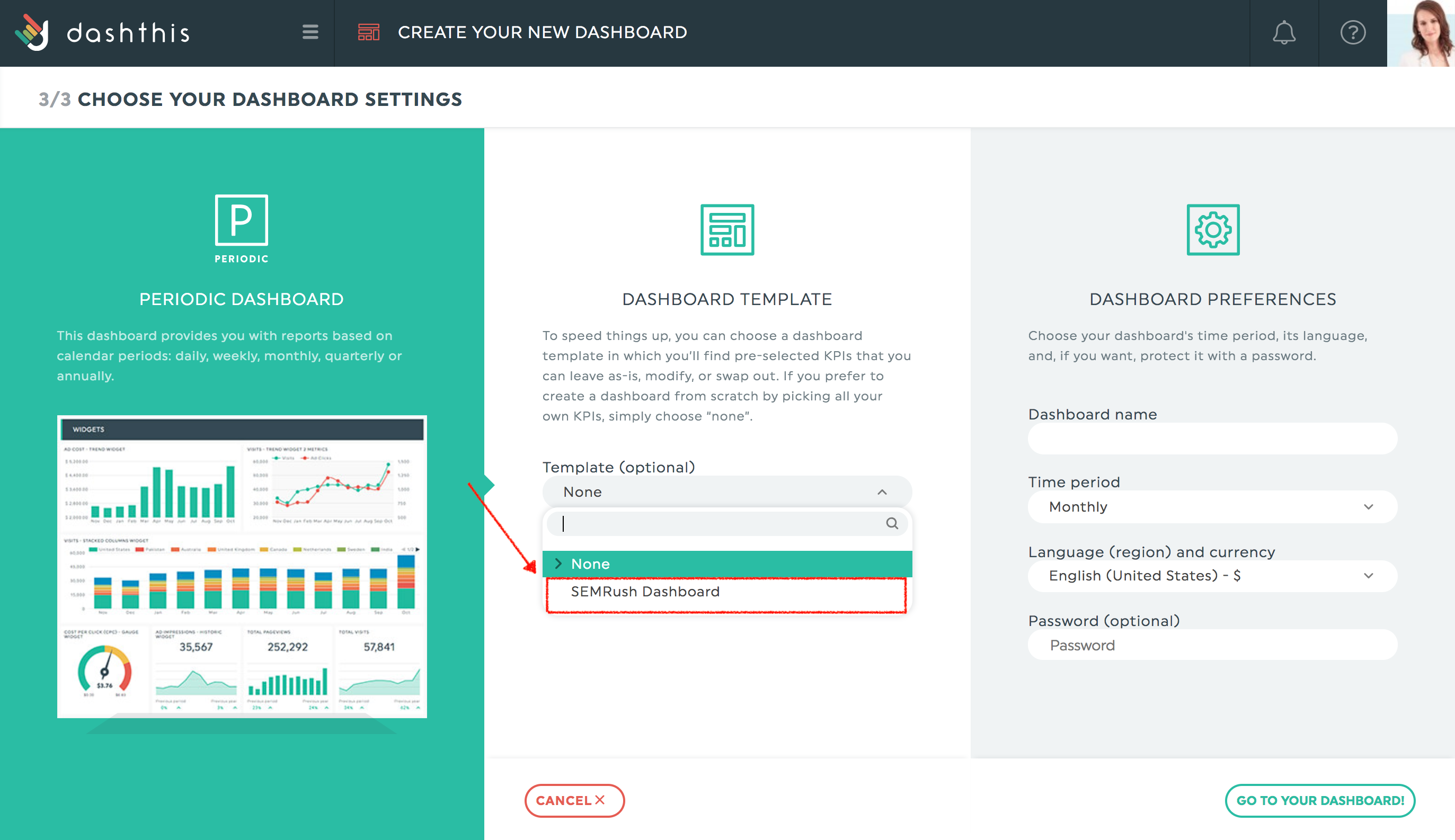 This template was created as a collaboration between the DashThis and SEMrush teams by selecting the most useful and common KPIs that SEMrush-DashThis users tend to want to track; things like organic visibility, keyword ranking distribution, and position change are all covered here.
Don't worry though, if this doesn't cover everything that you want, or if there are some KPIs that aren't what you were looking for, even a preset template is entirely customizable. You can delete the KPIs that aren't for you, edit some, add new ones, and modify the layout as you see fit.
This template is a way for you to start with something other than a blank page.
Further reading: Essential Marketing KPIs for Agencies and Businesses
The Other Way: Start From Scratch
Although the process of starting your report from scratch is obviously a bit more time-consuming, it has the distinct advantage of giving you free reign to do what you want.
For starters, you can add whichever integrations you want to your reports, and add as many of them as you wish. When you are creating your new report, add all the sources that you would like to see in your new dashboard.
Once you land in your new report, you will see that it is empty; this is where the real fun starts. First, you will want to add your KPIs. To display your KPIs, you can choose between either preset or custom widgets.
Preset widgets are the most commonly used KPIs for the chosen integration that they are associated with. These are perfect if you are looking to create a pretty straight-forward dashboard quickly. All you need to do is select the integration you want to use, such as SEMrush, and choose the KPI you want.
Your data will appear automatically.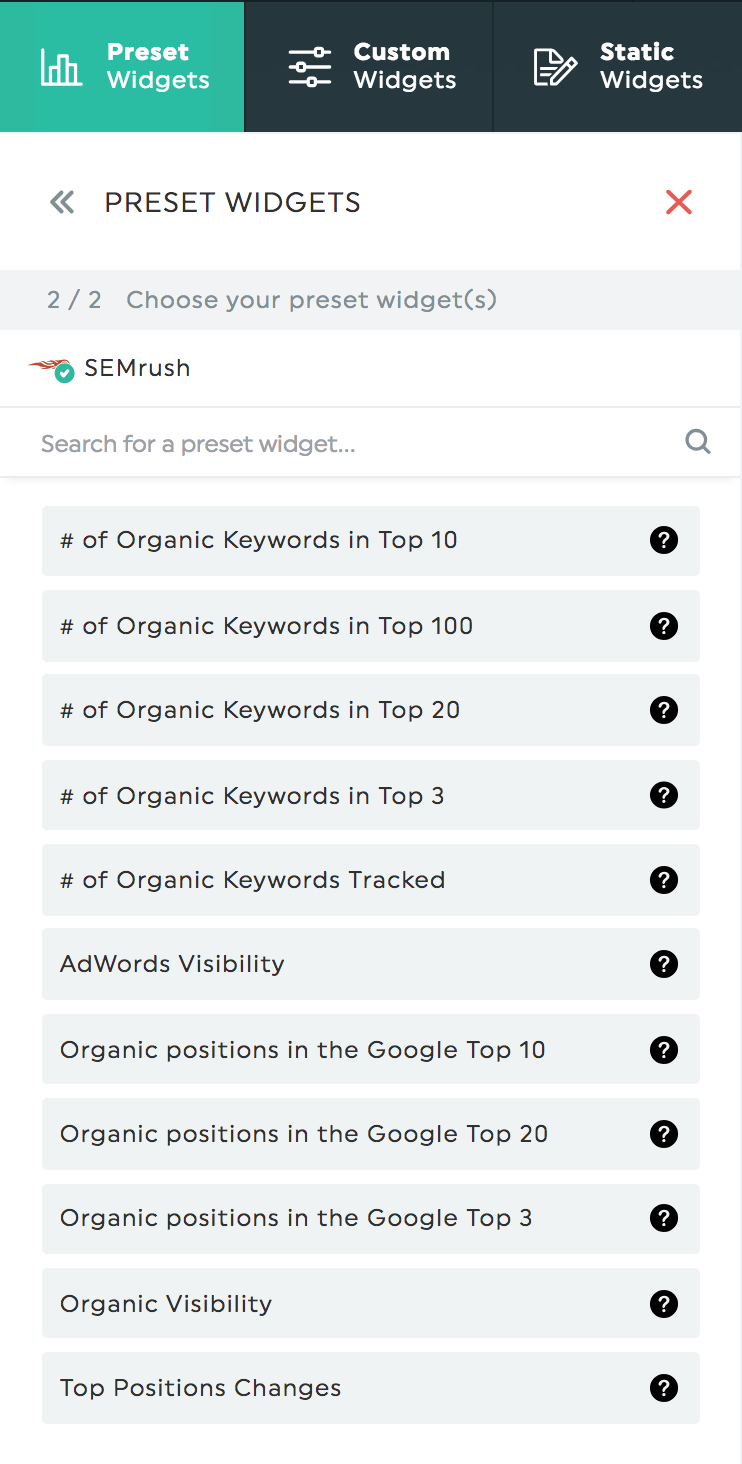 If you are looking for something different than what is available in the preset options, you can also create custom widgets.
Custom widgets allow you to choose precisely what metric, dimension, filters, and segments you need, as well as how to display your data (list, pie chart, graph). It is kind of best of both worlds since your data is still fetched automatically, but you have the freedom to personalize its display as you see fit.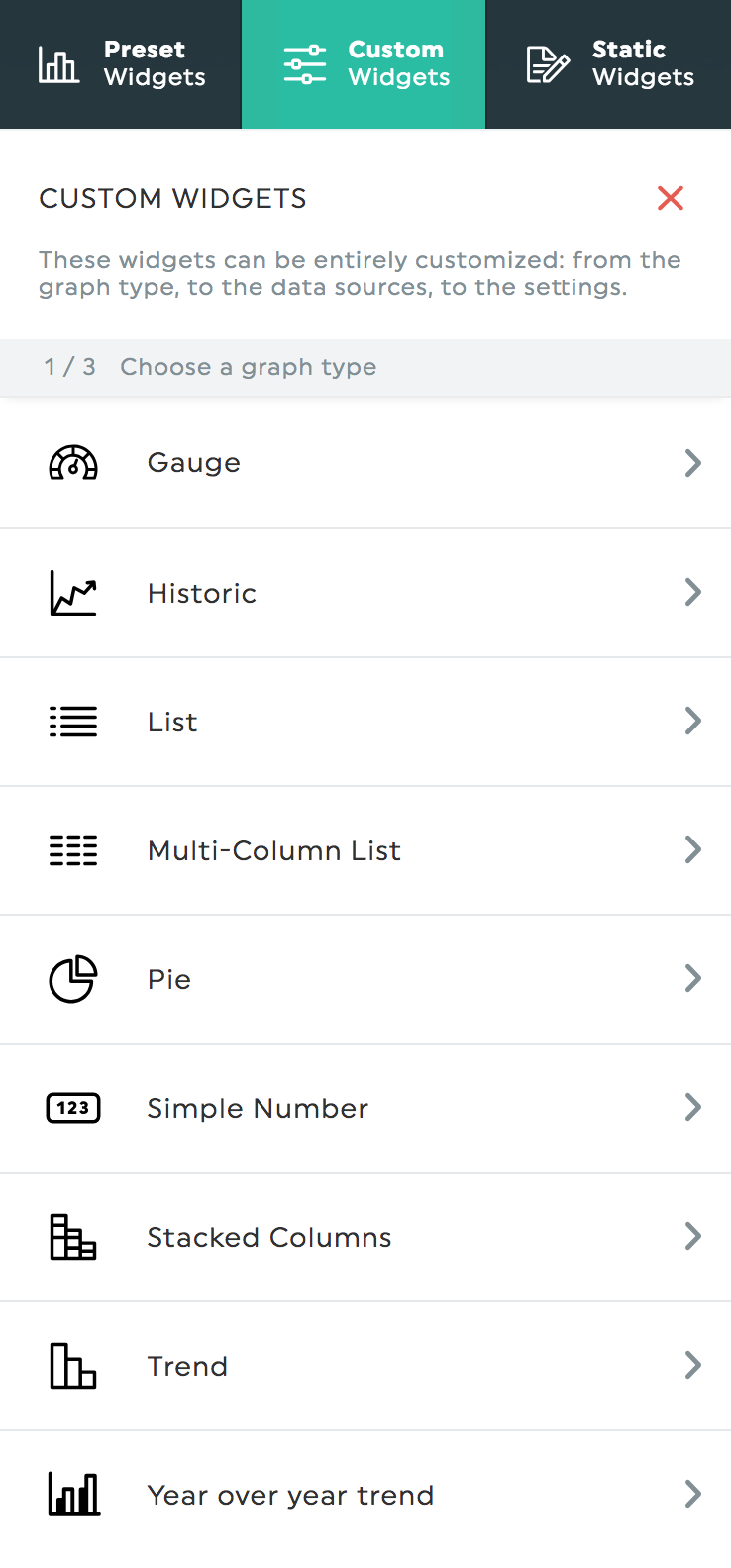 To create a report perfectly in line with your objectives, don't hesitate to mix and match multiple integrations and multiple widgets.
Make sure your reports are easy to understand by displaying all your data in a way that make sense not only to you but to your client as well. You could, for example, divide the dashboard into sections like SEO, organic vs. paid traffic, or keywords.
I guarantee you, your clients will really appreciate how simple it is to get the information they need at a glance!
An "Extra" Way: Clone Your Report
You might think that creating a new report for each of your clients would be quite time-consuming, and if you start the process over again for every single client, it might be. But don't worry, once you have found a formula that makes sense to you, you can easily clone your report!
Being able to clone your work and adapt it to another client is a lifesaver! We all know that most clients have similar needs in terms of SEO reporting; cloning your reports is a great way to save hours of hard work yet still give yourself the advantage of having reports that perfectly match your client's needs.
To clone your report, go to your dashboard options in the dashboard manager. You can then change the source information for the new client. Of course, you can also modify or switch-out individual KPIs according to each client.
You can now have as many reports as you want that include your SEMrush data side-by-side with your Google Analytics data, AdWords, Search Console, and basically any combination of marketing tools that you can think of.
Step 3: Share Your SEMrush Report
How to Share Your Report
We are not creating reports just for us, are we? They are for our clients, our boss, and sometimes, the rest of our team; we create reports for them to clearly understand what is going on with their accounts, marketing efforts, and SEO optimization, and we want them to have access to their information in a timely manner.
The only problem is that it can be time-consuming and even stressful to remember to send all your reports at the same time every month. Whether you have one, ten, or a hundred reports to send, chances are you spend a good chunk of your week on them.
That is where an automatic dispatch comes in handy. You can schedule your reports to be automatically sent to the email addresses of your choosing every month, week, day, or year. Just click on the sharing options and schedule your dispatch. You don't even have to think about it anymore; you can be on vacation, sick, or just in a rush; no matter what, your reports will get to where they need to be.
Your clients will receive their report's direct URL, so they always have easy access to their up-to-date information.
Since not every client has the same preferences, you might also want to export your report as a PDF, to either send manually by email, include in your automatic email dispatch, or just print out for your next meeting or presentation. Just head to the sharing options of your report and click on whichever choice you prefer!
Work With Your Team to Tailor Your Reports to Your Clients
No one wants to feel like a number, right!? So before your reports are dispatched, make sure to add some notes and comments, so your clients will know that you took the time to focus on their account and give them the insights they need to hear.
Your client may not grasp some intricate details if they are not explicitly pointed out. They could even panic at the sight of a particular spike or drop if there aren't explanations that come along with it. By including notes and comments, you can better explain how your campaigns are affecting the numbers, and how certain KPIs play off each other or affect the bottom line.
Including personalized information and insights also contributes to a positive relationship between you and your clients; showing your comprehension of their goals and challenges through great insights is your way of demonstrating your expertise and that you have their best interests at heart. So go ahead and either choose a comment box in the static widgets or create a note by clicking on the envelope icon in your existing widget.
Team Access
It is also very likely that you are not working alone on your client's account and every member of your team needs to work with the same data. Having reports that your entire team can consult and work on simultaneously, enables you to work cohesively towards the same goal. With DashThis, you can have unlimited users collaborating on the system together. All you have to do is add them by going into "User Management" and clicking "Invite New User." Yes, it's as simple as that!
Keep On Striving for Efficiency
As marketers, you already know how reporting is a vital aspect of your relationship with clients. However, it can be extremely time-consuming when done by hand. Not only that, but it takes energy away from the more important aspects of the job, like creating campaigns and strategies.
Multi-integration reports allow marketers to understand performance without continually having to switch from one tool to another. You can easily see the global impacts and ramifications of your marketing efforts, all in one place, and get all the advantages of regular reporting, without having to put in the manual effort, time or energy. And that is what I call efficiency!