Infographics have become commonplace in magazines and our favorite websites. They help us easily navigate through seas of information. Not all infographics are created equally though, and a poorly designed piece can do more harm than good.
Are you overwhelmed with data and need a way to make it easy to communicate your impact to stakeholders? These seven tips can supercharge the impact of your infographics. Use these infographic enhancers to build more traction around your content and better focus viewers on your materials.
Start With Five Facts
Your infographic needs to convey at least five facts. Any less and it would be simpler just to write out the information instead. The maximum of facts you can convey in an infographic is fifteen. Think about it: to illustrate that many facts, you would need a very large medium or an interactive infographic. If you attempted to illustrate more than 10 facts in a normal-sized medium the information would get too cluttered and difficult to read.
On a normal 8.5" x 11" piece of paper, eight facts is the maximum you could illustrate without going overboard. The whole point of infographics is to simplify information: do not let your desire to convey too many ideas at once get in the way of understanding the key facts that are the most important. Use common sense when deciding how many facts to include. Your viewer would rather look at a simpler infographic than one crawling with text.
Use Photography Sparingly
If you have a limited budget but want to visualize your data, using a background photograph with some key data points overlaid on top of it is one way to go. Photographs must be used selectively in infographics or they can take away from the effectiveness of the image. They're primarily used as background, with text and information superimposed on top of them. The text has to contrast with the background image so that the viewer's eye can focus on both separately.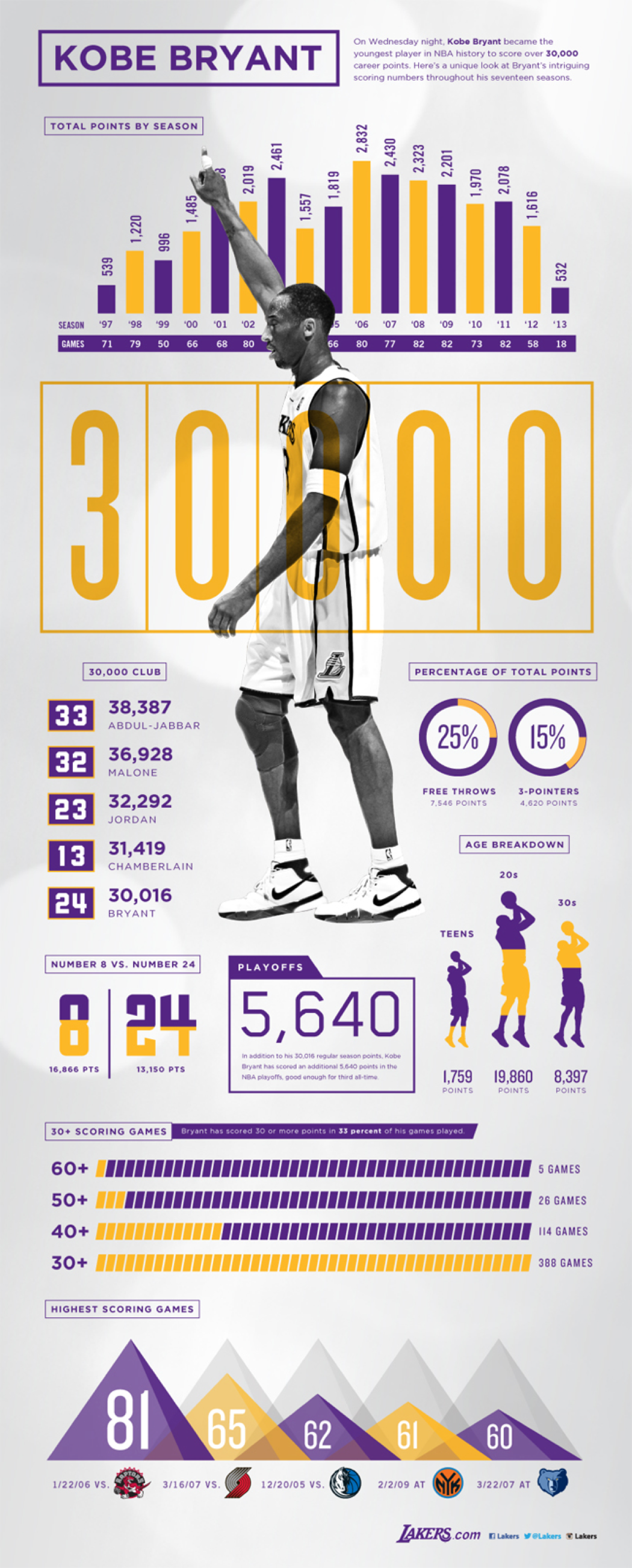 (Image Credit: Lakers.com)
Photographs can also be split up and arranged around an infographic to explain certain data points or categories. The best designs integrate photographs seamlessly so that the amount of photos doesn't become distracting.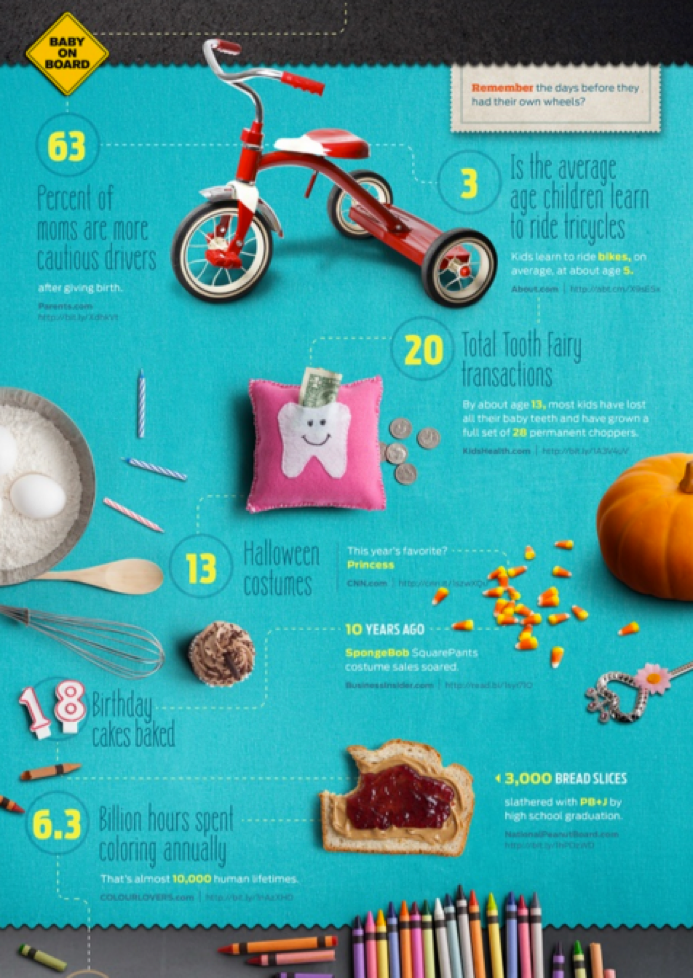 (Image Credit: Road to College)
The whole point of an infographic is to be clean, clear and simple. Oftentimes photographs might not help you do those things. When kept to a minimum, they can have excellent impact and lend a more journalistic feel to the overall piece.
Make It More Shareable
Attributing sources of information for your infographics is a critical component to getting your images shared. If the data comes directly from the organization that is sharing the infographic, than it usually doesn't need sourcing. If it is pulled from external sources, always include a reference at the bottom of your graphic. This protects your organization from copyright issues and provides legitimacy to the imagery.
Good branding and shareability are linked; the best infographics seamlessly blend branding into the overall piece. The images you promote must be of the highest quality while still retaining the brand essence of the organization they represent. That way, viewers are both likely to share the content and likely to remember where it came from.
Size Does Matter
Blogging websites like WordPress provide the ability to resize images, though the major blogs usually size their infographics to be around 600 pixels wide. Full width for an original company website can reach 1000 pixels, but infographics rarely reach that width because they would be less adaptable.
An infographic around 600 pixels wide can be used across multiple mediums – a newsletter, blog, print. This negotiable size provides the most flexibility when reusing the graphic. The advantages to distributing the digital version on your newsletter and blog are the ease of sharing as well as zoom and stretch capabilities. When creating an infographic through print you need to make it much larger so that the viewer can see smaller details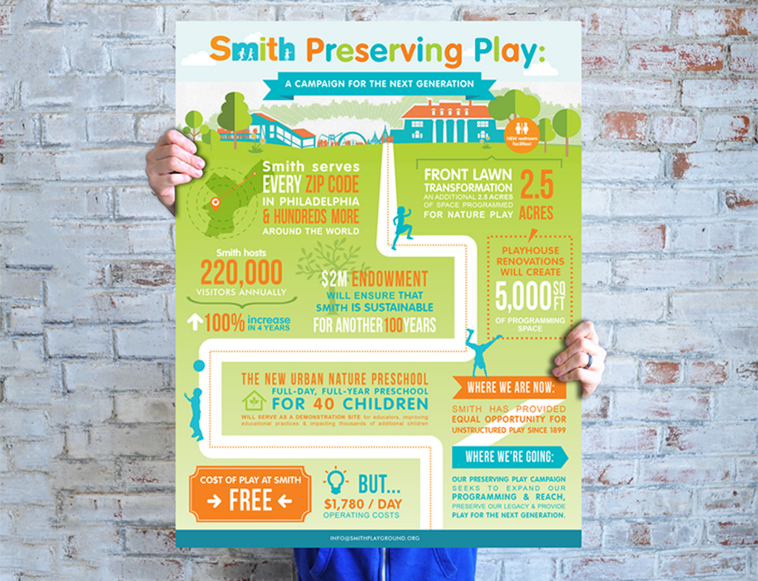 (Image Credit: Here's My Chance)
Match Your Design to Your Sector
Infographics are effective within all professional sectors when used to simplify information and capture viewers. Companies often look to their values and audience when deciding on the nature of their infographics. Every sector has different preferences with infographics, but the core techniques are effective across the board.
Nonprofit organizations especially may find it easier to share their message with an infographic rather than a detailed list because the causes they are tackling can be complex and their responses multi-variable. Nonprofits most often use infographics to explain their organization as a whole: what the challenge is, what they do, how they help people, and the effect they've had in a community.
Annual report infographics are the most universal: they function well within all sectors to concisely spread information to an organization's stakeholders, but mostly those who already have some familiarity with the organization. An outsider would rather read surface-level facts about an organization than the deeper details that an annual report holds.
The content that gets the most traction through shares isn't usually nitty-gritty details about an organization, but rather those that convey the overall objectives and outcomes in a comprehensive, easily understandable way. Think bird's eye view rather than worm's eye view.
Prioritize Social Media to Get Engagement
Choose your social media channels wisely when pushing out your infographics. Twitter has the least impact, since it's a text-based platform. Yes, photos exist on the site, but they're mostly used for gifs or other placeholder images that require little attention. Facebook gets a good level of attention because it is a more interactive medium that is easy to include a link with the image and receive a lot of traffic.
Instagram is the most visual of social media, but since the user can't zoom in, infographics are often broken up into smaller components and pushed out separately. A large infographic like the one HMC designed for the Federal Reserve Bank of Philadelphia can be easily broken down into six separate images. By distributing one infographic through several Instagram posts you can stretch content while enhancing important details. Think one pie chart or one data point, not many comparative ones.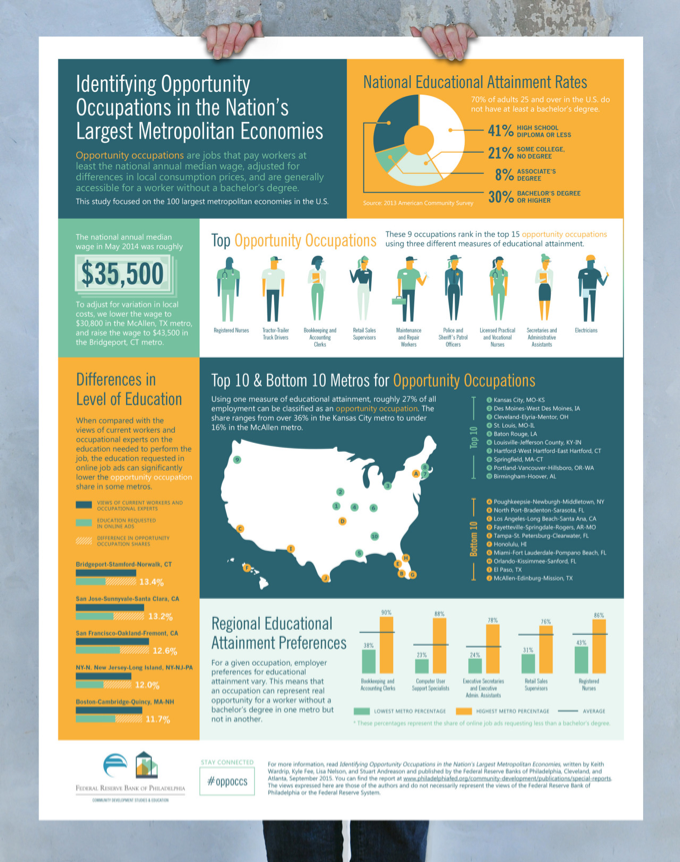 (Image credit: Here's My Chance)
Less traditional social media outlets like Snapchat and Pinterest are valuable for infographics as well, because they are visual platforms. Since Snapchat works through a short window of time it requires pieces of infographics, similar to Instagram. Pinterest, like Facebook, favors larger images as the viewer can study the infographic at their leisure. Pushing out content through several platforms is profitable, and pushing it through Instagram and Facebook makes it feel and appear to be different content on each channel.
Icons Are Not Universal
The skill of your infographic artist is evident by looking at the icons that they select. The context of your business is highly important to how icons are perceived. For example, a heart icon has many meanings: in a Valentine's Day graphic it relates to love, in a videogame setting it means "lives," and in a pharmaceutical situation it relates to cardiovascular health.
Some icons are universal – a stick figure in men's bathrooms, a stick figure with a triangle skirt (or superhero cape!) for women's bathrooms. It's up to your graphic designer to use creativity to capture your attention with icons while making those icons easy to understand. Consider factors such as your company's values, your demographic, and the size of your infographic when choosing icons.
Conclusion
Infographics simplify data into quickly consumable, sleek and interesting products. With all of our tips, always consider your company's mission and demographic when making decisions on your infographics. With careful attention to these details your infographics will command high levels of influence on a broad audience.
Do you have more questions about infographics? Let's discuss in the comments below.
Elliot Cowan is the Creative Director at Here's My Chance.