There are endless ideas for social media campaigns, and sometimes you just don't know where to start. While some of the most influential and effective companies on social media have larger budgets than the average business does, there is always something to learn from them.
One of my favorite companies to watch on social media is Nike. They are always at the top of the game with effective marketing strategies, and they make efforts on multiple platforms. In fact, every video they produce makes me feel like I should give the gym another chance. Their videos evoke emotion, are thought-provoking, and they always deliver a clear message to the viewer. This is a great formula for effective content.
So let's review how Nike creates a successful strategy for each social network when designing a campaign. In this article, we will analyze their #Breaking2 campaign and see what we can learn from it.
Creating an Event That Would Meet Goals Both Offline and Online
All campaigns must start with a goal(s). You have to know what you need to achieve so you can create strategies that will get you the return that you want. You can't create strategies that work unless you understand the loves, needs, and desires of your audience.
Nike had a clear goal - to increase sales of their products, but the strategy they came up with could have met several goals for them at once. They sponsored a long-distance running megaphone named #Breaking2, which was basically a marketing campaign that supported a long-distance marathon sponsored by Nike.
They started working on this in 2014 and set out to prove that an athlete could run the marathon distance is less than 2 hours. This would mean runners would have to practice for years and also learn about new running shoe innovations that could help them. In the end, three athletes competed for the title of the fastest marathon runner in the world; spoiler - none of them made it.
Another lesson learned from Nike, cover the social networks your target audience is on. Not every business needs to be on every network, but you do want to be where your audience is. Nike promoted their event on Instagram, Youtube, Facebook, Twitter and Google Plus. I spotted one of the #Breaking2 posts on Facebook, and since I am a fan of Nike, I took an interest in this campaign and decided to see what else they did to support it. This is the right way to catch your target audience.
Nike took the time to make sure they had the right social platforms in place and had an engaged audience for this event. Then they had their marathon run, and it was promoted across their social channels and live-streamed. We all know that going live on social is a huge trend and everyone wants to do it the right way. Nike took the time to set up different strategies for each social network. So, let's look at some of the strategies they used.
Making a Killer YouTube Post
If your aim is creating a truly successful YouTube video, think strategically. People can always watch one stand-alone video, but you need them to watch more. A series of videos that add on to your previous videos is really an effective way to get your audience to watch more and more. There are tons of tips on how to film, cut, and format videos, but you have to go beyond the technical aspects. You have to create a video that grabs the user. Tell an exciting, breath-taking, and captivating story. Stories, when done right, stir emotions and create trust.When you offer repeated greatness your videos will lead to more and more subscriptions to your YouTube channel.
Nike is known for their inspirational videos, and it was the core of their content during this campaign. They created a series of pre-story videos with runners and posted them on YouTube on May 4th. They used these videos to create an introduction to their social media campaign and to help tell their story.
Their video content was not about Nike, and it was not about the marathon itself. It was about doing the impossible, and the audience loved it. And let's not forget about how beneficial the frequent exposure was for the brand. Their most successful video got 7,118 likes and 380 comments.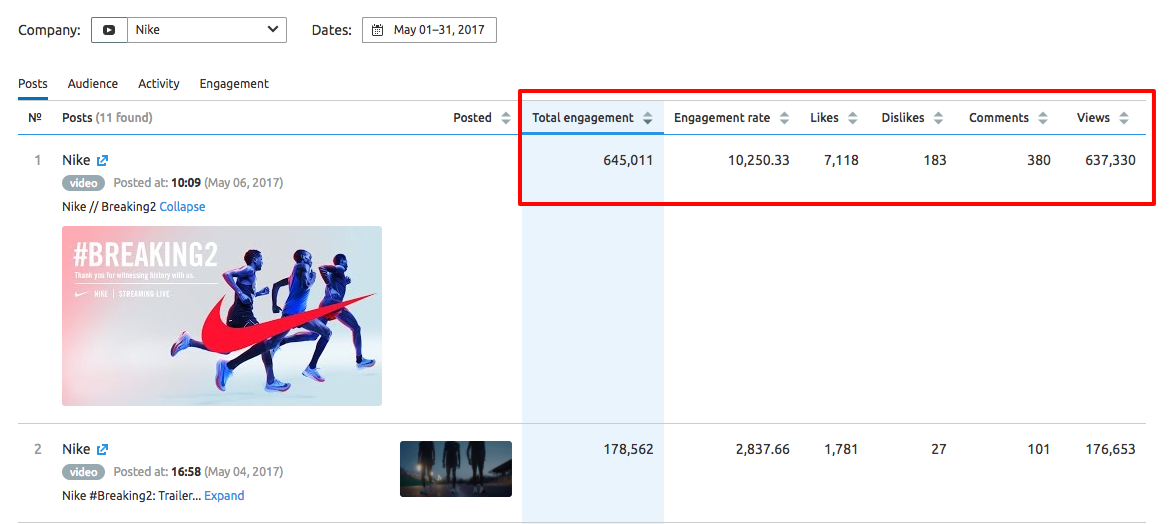 SEMrush Social Media Tracker
Tips For Creating YouTube Content
Tell a story. You need someone that can handle the producer role or hire the one.

Optimize your YouTube channel. Use YouTube's internal SEO elements: pay attention to the titles, pick the rights tags, write descriptions thoroughly. People may not read it, but it is essential for crawlers. Let the audience find it through the millions of other similar video content.

Analyze your content performance. Use an analytics tool to manage your social media success and measure each video performance.

Unite all your content within a campaign. Interconnect your videos with content from other social networks. Use the same hashtags, similar descriptions, etc.

Try to keep videos at 2 minutes in length. The average recommended length of a typical non-educational video is 90 seconds these days, as a significant increase in length leads to audience engagement loss. Here is a cool guide on understanding your video audience retention.

Pitch the product at the climax point of the campaign. It is like Super Bowl commercials, they offer a great story and mention the product or service at just the right time.
How to Make a Killer Facebook Post
Nike used Facebook to promote the event. They made an event page, promoted it on their own page, and also promoted it on similar pages like Runner's World. They found groups with their target audiences for further promotion opportunities.
They used the same hashtags #Breaking2 and #JustDoIt on all social media channels. There is a rumor that people don't search on Facebook by a hashtag much, but that's not true, they do.
Nike's posts on Facebook were different from those on YouTube's, but the overall concept was the same – telling a story. Working to create inspiration with their ads was effective
Pro Tips
Pick the most effective day and time and post systematically. Let your viewers get used to the idea that, say, every Wednesday morning you are going to show them something interesting.
With each post, you want to increase the audience interest. Give your viewers a sense of an impending culmination. If you haven't started to analyze the right times to post for your audience yet, we recommend you check out the SEMrush Social Media Toolkit. They can help you track the effectiveness for each post, and you can see which days/times are best for reaching your audience.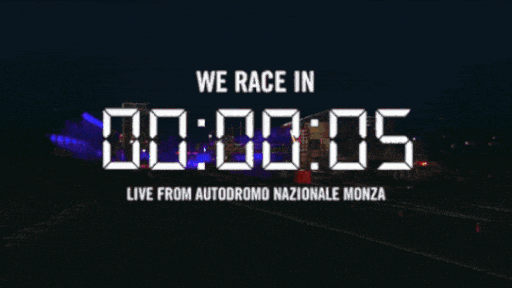 Tips On Creating Effective Facebook Content
Use paid promotions because Facebook has made it very difficult to reach your audience organically. Facebook offers a variety of paid options. Test the and check out boosted Posts.

Use live videos, it's a trend, and almost every social network has the option.

Use storytelling to interweave your posts. A stand-alone post might not get as many views as a series on the same topic. Interlink them, make them pieces of a bigger picture.

Increase the interest with each post and let your viewers know that the big news is yet to come.
Experiment with formats. Use videos, pictures, status updates. See what your audience likes most, and what drives most engagement.
How to Get the Most Out of Twitter
Twitter now has become one of the most powerful social media channels to spread news quickly. It may not be your primary network of interest, but it has proven to be effective for many businesses, and it will surely help to promote your content and drive traffic to a YouTube channel, a blog, or landing page.
What can we learn from Nike's Twitter content? Most social media campaigns, especially a Twitter campaign, can benefit from a hashtag. It is important that the hashtag is unique. Nike made the #Breaking2 hashtag and even bought it. They also made a special emoji that replicas the Nike sneakers.
Moreover, they continue to use their brand's main hashtag, #JustDoIt. So all the campaign's posts could be found using either or both hashtags.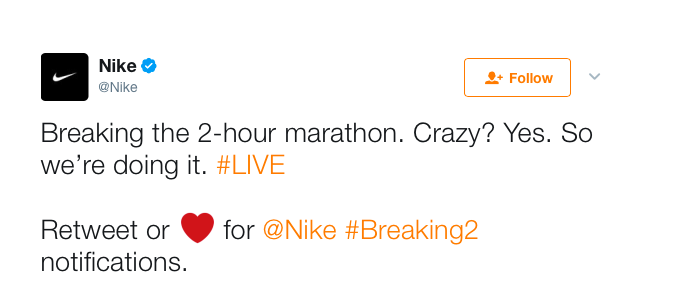 Tips For Creating Twitter Content
Use catchy titles and a clear CTAs. The goal of the tweet should be clear and actionable.

Use Twitter to promote your content on other social networks.

Add visuals: tweets with pictures and videos drive more engagement. See what works for your audience, what gets liked and shared; continue with what works.

Use live videos. Nike had a live video supporting the marathon run in almost every network. If the occasion is big, go big too.

Use Social Listening to get mentions of your social media campaign.

Reuse your tweets. Your audience may live in the different time zones, so they will read their feed in the different time of the day.
How to Write a Killer Instagram post
Instagram is one of the most demanding social networks when it comes to formatting. People scroll quicker; they make a decision on whether something is worth their attention quicker. So, your content should be as catchy as it gets.
I took a look at all the #Breaking2 Instagram posts in the Instagram tab of the Social Media Tracker tool. What I found is Nike's Instagram content is different from other social channels. There are backstage pictures, product pictures, event coverage photos, etc. They tailored this content to reach a different kind of audience.
You always want to post what matters to your audience because it helps your audience connect with the brand on a personal level. Obviously, Nike creates products for runners, and all runners want to win. In one post they shared a picture of a culmination of the runner's efforts — crossing the finish line. It gained the most engagement, most likely because getting across the finish line is what matters to their audience.

SEMrush Tracker tool
Tips For Creating Great Instagram Content
Fuel your Instagram content with emotion. It should drive excitement, surprise, and be inspiring in order to distinguish itself from other posts in your viewer's feed.

Hire a photographer for high-quality shots. Imagery is powerful and beautiful imagery does well on Instagram.

The same applies to video quality: work with professionals. High-quality video content gets more attention than amateur video.

Post systematically. Groom your viewers to anticipate your posts.

Encourage your audience to post content about your brand. Watch your hashtag, see what people post, and respond to their posts.
Summary
Don't get discouraged thinking it is impossible to create a social media content strategy as strong as Nike's. You don't need to copy anyone's strategies to the letter; you just have to find your own unique perspective that will make you stand out. However, it is always good to get some inspiration and some cool ideas from big brands. They have the money to invest in the best tools, the best social media teams, and have they a massive budget to test what works and what doesn't; borrow the ideas that work.