Blogging is always a challenging task from the perspective of promotion. There are a lot of things to keep in mind: content, search engine optimization, audience engagement and so on. While individual users are rarely concerned about achieving worldwide fame, for enterprises, blogging is a major marketing activity. Find all the blogging secrets shared by Kerry Butters, CEO of @markITwrite, author, tech and social media speaker and blogger.
Today we're going to get some blogging tips from SEMrush chat participants. Without further ado, let's begin with question number one.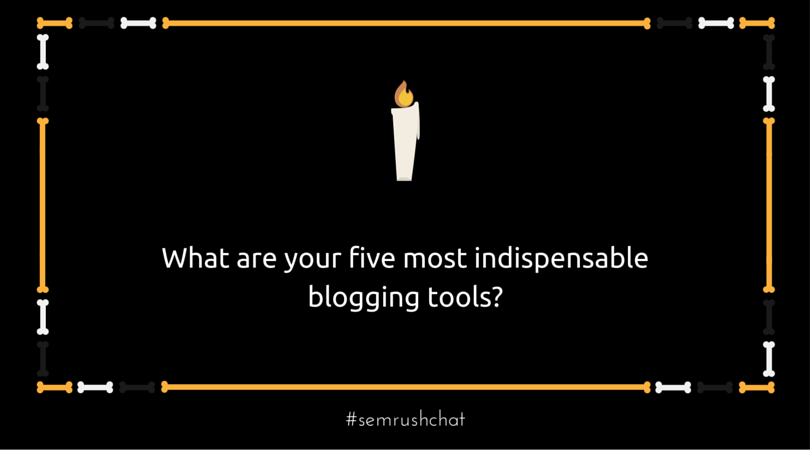 The tools you're using for your blog may impact its performance. Whether you are looking for the best CMS or just creating some visuals for your article, you won't get far without professional tools. Let's look in the toolbox of a successful blogger.
A1: My five most indispensable blogging tools are my brain, pen & paper/Word document, inspiration, motivation, and passion. #semrushchat

— Morgan Mandriota (@MorganMandriota) October 28, 2015
What an inspirational message! Indeed marketers sometimes rely on tools heavily to detect trends and forget about the good old pen and paper (or a Word document) approach. But still what tools could we use to improve blogging efforts?
A1: Analytics, Adsense, @Semrush, @screamingfrog & social media!! ;-) #semrushchat — Martin Kelly (@MartinKSEO) October 28, 2015
Yes, Google Analytics is the first choice for any digital marketer. Besides that, it is also a good idea to consult AdSense too.
A1. @Canva, @buffer, @googleanalytics, @IFTTT, @WordPress #semrushchat https://t.co/ItV4eqAdB1

— Joe Gullo (@joegullo) October 28, 2015
We also use Canva to create astonishing visuals for our social media pages and blog posts. It is the ultimate weapon for grabbing consumers attention. Anything else?
A1) 1) BuzzSumo for finding interview subjects 2) keyword planner 3) G Analytics 4) https://t.co/f9NFZcT2O3 5) sxc.hu #semrushchat — Ryan Johnson (@rsj8000) October 28, 2015
Keyword Planner allows bloggers to create a content plan for the next week, month or even year. When used correctly, it helps you anticipate trends and deliver content your audience is interested in. More tweets and toolboxes are on the way.
A1. @Wordpress, @yoast SEO plugins, @Buzzsumo for content planning, @semrush for SEO, @buffer for sharing after #semrushchat

— Julia McCoy (@JuliaEMcCoy) October 28, 2015
Buzzsumo is the ultimate social media tool for finding key influencers in your niche, and Yoast supports bloggers with different WordPress plugins, which you might find useful. Thanks everyone for mentioning SEMrush among the best blogging tools — our very own Keyword Research tool allows you to determine the most relevant keywords and build your marketing strategy around them. Let's sum up.
It's time to move to question number two. Some bloggers are real enthusiasts and their posts are intelligent and engaging, but even an expert can face stagnant audience growth. Below we will try to identify an approach that works for everyone.
Blog posts that mention key influencers will draw more attention to your product or service and are likely to be read by influencers. This tactic could help you improve bounce rates for your blog posts and build important relationships.
A2 Blogs that mention industry leaders. Share it, let them know = big growth. We did this yesterday: https://t.co/bMiXmSoXno #semrushchat — Express Writers (@ExpWriters) October 28, 2015
If you upload content regularly, you can expect an increase in rankings for your whole website, because search engines like a systematic approach. But the quality of your content is the main point of interest.
A2:Insightful, regular content. Does the stuff youre creating buck trends/change a readers perception? If so then youre winning #semrushchat

— Andrew Åkesson (@andrewakesson) October 28, 2015
One more thing about changing the reader's perception: you should always have knowledge to answer the accompanying questions or even prove your points in discussion with an audience.
A2: I also think that it's easy to be opinionated but if you are, you have to be able to have the knowledge to support it :) #semrushchat — Kerry Butters (@kesbutters) October 28, 2015
Writing guest posts and reaching out to other sites and getting them to post your articles are also important strategies for growing your audience and increasing conversion rates.
A2) Writing for other sites, syndicating your content, interviewing influencers for articles. #semrushchat

— Ryan Johnson (@rsj8000) October 28, 2015
Also, don't forget to fix any major bugs in your user interface to achieve a better user experience. E-newsletters and subscription buttons boost user engagement and brand awareness.
A2: Offer quality content! Fix any UX/UI issues. E-newsletters. Twitter chats. Guest blogging. Paid posts on FB. Engage. #semrushchat — Kathleen Garvin (@KGarvSEO) October 28, 2015
All in all, the best all-in-one tactics are knowing your audience, creating great content that answers your readers' questions, publishing guest blog posts and promoting all this with social media!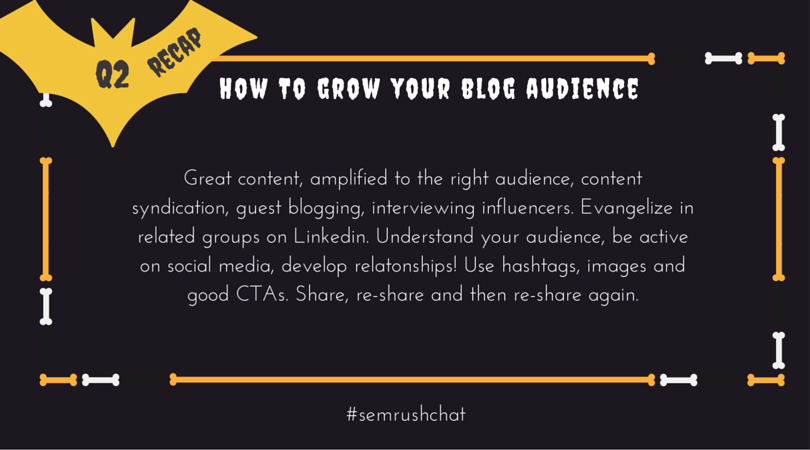 It's time to talk about personal experience and lead generation because high conversion rate is vital for many enterprise blogs. So how could we combine direct marketing with blogging? Let's ask our guests about that.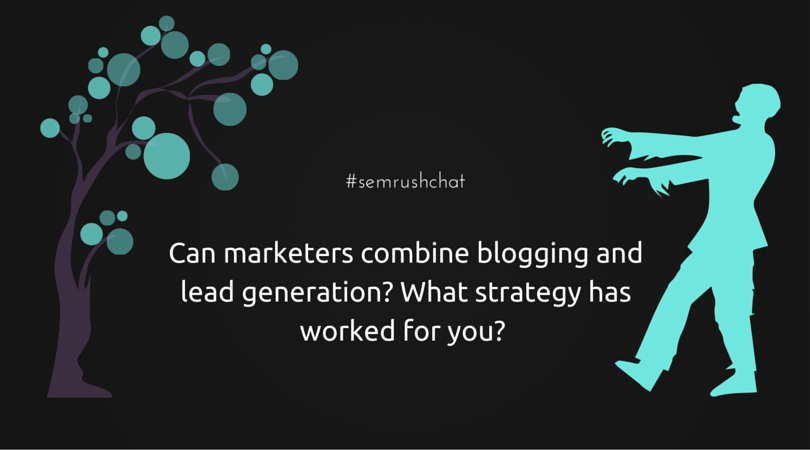 Some tools like MailChimp and subscription pop-ups encourage people to follow your thought leadership. After some time they usually convert to customers.
A3 B We have @Mailchimp plugged in w/ a popup after someone's been reading for a while. Some blog subs have converted later on #semrushchat

— Express Writers (@ExpWriters) October 28, 2015
And again it is all about writing for your audience. When you increase you blog audience it is more likely some of them would reach you in person and make a decision to try or even buy the product.
A3: Again, write for your audience, the majority of my leads come through people noting my work and interacting personally. #semrushchat — Kerry Butters (@kesbutters) October 28, 2015
The next thing you should consider is a style of your text materials. It shouldn't sale anything in a direct way, it has to be interesting on the first place, but as a marketer you should always look for the way promote your product. Be creative!
A3: Don't be salesy, but look for ways to cross-promote. Offer it as a value add: "more tips like this, join our newsletter." #semrushchat

— Thom Craver (@thomcraver) October 28, 2015
Marketers are on the sales front line, so combining lead generation with awesome blogging is one of the demands of the profession. Steve Hill suggested to use cookies to track user activities.
@semrush A3 I think you have to. Cookies work great for tracking that activity, it's frustrating when ppl clear cookies though #semrushchat — Steve Hill (@epiclysteve) October 28, 2015
Guest reviews and blog posts are in the heart of blogging. If you're developing software kit it is crucial to have reviews, but even if your product has nothing to do with IT niche you can also request reviews from popular bloggers via YouTube or social media. Don't forget to include call to action in the review to generate more leads.
A3 My blog/lead gen strategy is getting our software reviewed & the reviewer writing a CTA in the post to trial the product. #semrushchat

— David Cohen (@explorionary) October 28, 2015
From the personal experience of our guests we can see that the most common and working strategies are: use calls to action, encourage people with email sign-ups and shares andcross-promote your content.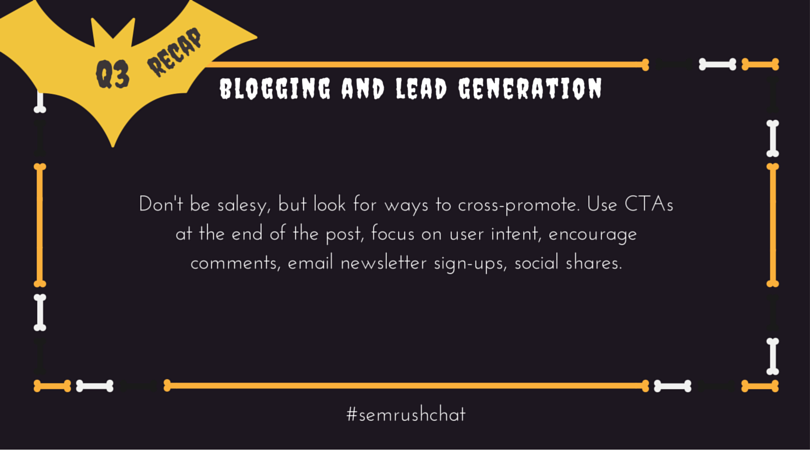 What about some analytics? As a part of their job marketers should measure KPIs to report about and to know if the brand is walking the right way. Our guests and participants kindly shared their measuring tools and methods.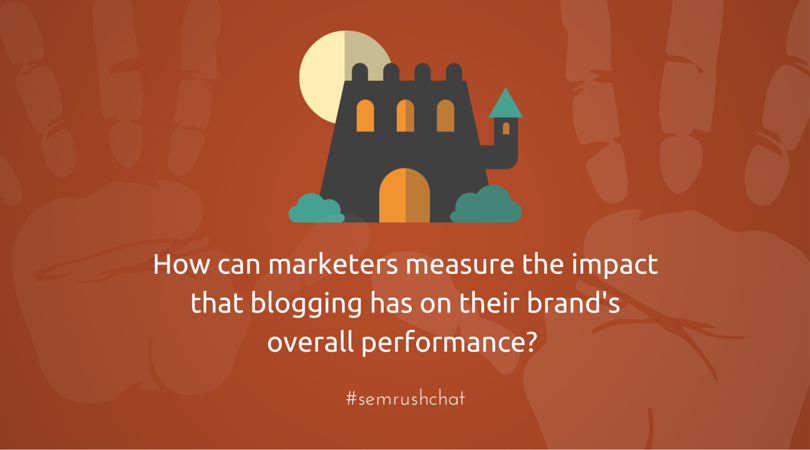 The common advice is to use Google Analytics to monitor engagement and improve content, old sessions versus new and overall website performance.
A4:@semrush Through Google Analytics we can track what type of content is generating the maximum engagement & conversion ! #semrushchat — IPSSWEB SOLUTIONS (@ipssweb) October 28, 2015
It seems Google Analytics is the major tool to identify KPIs for marketers and also monitor its completion. Audience increasing would be the sign that your blog is successful.
@semrush A4 New/Returning users, bounce rate, time on page/site, avg pages per session in GA = indicators of user engagement #semrushchat

— Marianne Sweeny (@msweeny) October 28, 2015
Good marketers also remember about assisted conversions and it was kindly pointed by Thom Carver.
A4: Use Web analytics. Set goals; measure based on blog assists, not just last touch. Use lookbacks to see multi-visits. #semrushchat — Thom Craver (@thomcraver) October 28, 2015
Let's recap the question: it's all about data, setting measurable goals and use UTMs. It's essential to analyse your traffic and compare results with your competitors.
When marketers are trying to promote and write articles without understanding the basics of blog promotion they obviously make some mistakes. Let's ask our participants about the most common fails and learn how to avoid them.
At first, check you titles, meta descriptions and urls. Make sure they include keywords that you're aiming.
A5: So many! Biggest mistakes are not writing your own, unique <titles>, meta desc & URLs. #semrushchat https://t.co/RS36P4fq4R — Sarah Bernier Danks (@bernier) October 28, 2015
The second is alt tags and optimized images. Always set proper self-explaining alt tags to each image and shrink their size to increase the downloading speed.
A5. Forgetting to optimize images -- hello missed opportunities! #semrushchat

— Ecreativeworks (@ECWseo) October 28, 2015
Keyword abuse is also a huge mistake for SEO beginners. Remember keyword density should correlate with body text. SEOquake tool will help you to estimate density on each website page. Alongside come the lack of keyword research and long-tails ignoring.
Q5: too many keywords, lack of k/w research and not using long tail and contextual k/ws. #semrushchat — Kerry Butters (@kesbutters) October 28, 2015
Creating quality content is not the same as chasing the right keyword. Make sure your blog deliver new information and educate audience. Google will help you to promote such posts in organic search.
A5:Quality content shouldn't just target a keyword. TF-IDF, Hummingbird/RankBrain will serve your content to the right audience #semrushchat

— Andrew Åkesson (@andrewakesson) October 28, 2015
Your pages should link to another meaningful resources to help readers to see the whole picture. Another point of interest is cross linking — blog posts should be linked with each other in order to help crawlers visit other pages more often and educate readers.
A5c) not including inbound & outbound links to give readers further understanding & resources from your site and others. #semrushchat — Annaliese Henwood (@MktgInnovator) October 28, 2015
Let's recap the most common blogging mistakes, according to our chat participants they are: keyword stuffing, non-optimized images and pages, lack of unique titles and meta descriptions.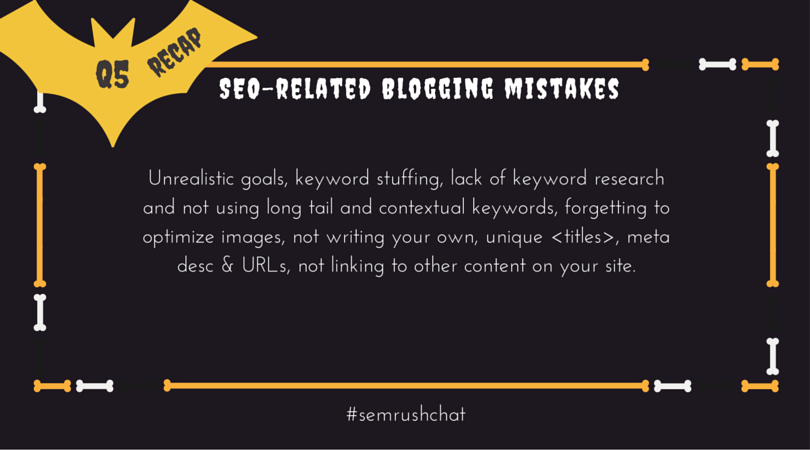 The last question appeals to our guests and experts as an ordinary readers. It's not a secret marketers read a lot of different media and blogs. So, from the reader's perspective, what could they advise to bloggers?
Promote products is good, but there's a limit for an advertising in a reader's consciousness. Being way too promotional will not add your blog some score points in the eyes of your audience. Also promotional posts clog the SERP and interfere users to find some useful information.
A6 Being way too promotional. Not being useful enough or relevant to what I was searching for. #semrushchat

— Julia McCoy (@JuliaEMcCoy) October 28, 2015
Well, there's a limit for everything and according to Sara Jade it's time to reconsider the common sales pitch underneath your blog posts.
A6: Ending every single post with a cheesy sales pitch. STOP IT. #semrushchat — Sara Jade (@jadeinteractive) October 28, 2015
The next thing bloggers should stop doing is to target their CTA pop-ups to users who don't even familiar with the brand yet. Very disturbing.
A6: Pop-ups. Please stop with the CTA pop-ups unless you know I'm familiar with your brand already. #semrushchat.

— Granular (@GranularPPC) October 28, 2015
Self promotion is another annoying type of advertisement. Good bloggers should avoid writing too much about themselves (if you're not a beauty blogger of course:) ) and focus on really important things.
A6: Write too much about themselves. Massaging their ego. Focus on the audience pls. #semrushchat — Martin Kůra (@HermanTinkura) October 28, 2015
Using "sensationalized" headlines wouldn't get your blog too far. If the headline is strong and the body text gives no actual value you will get higher bounce rate which isn't good for SEO purposes.
A6: Stop sensationalizing headlines. Clickbait won't get you qualified leads, only clicks and bounces. #semrushchat

— Thom Craver (@thomcraver) October 28, 2015
Summarizing all said above bloggers should reconsider headlines and pop-ups, blog rarely and with more value, use images with right alt tags and don't be salesy.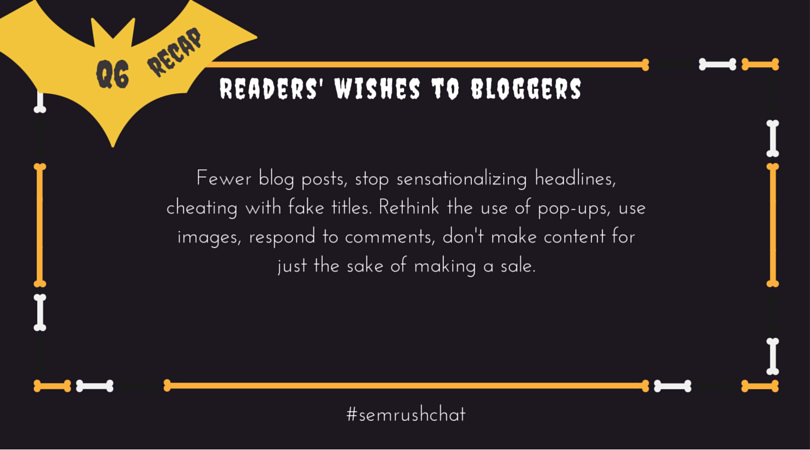 That's it for today, we hope you were having fun — we certainly did. Hugs and kisses to all participants from SEMrush chat team!