GIFs! They are starting to be used a lot more nowadays, not just for fun but also for increasing engagement and interacting with customers over social media.
I recently published an article on how to publish GIFs on LinkedIn Pulse, but this blog post will cover that and also other platforms including Twitter, Facebook and Google+.
Before I go on about how to publish GIFs on social media, I'd just like to point out that GIFs are brilliant for increasing engagement. They are also much more eye-catching than just plain text – as we all know.
Where Can I Find Some Really Great GIFs?
Good question! I'd recommend a site called Giphy. You can search for various GIFs and then download them. Here's a little preview of the search for "Back to the Future."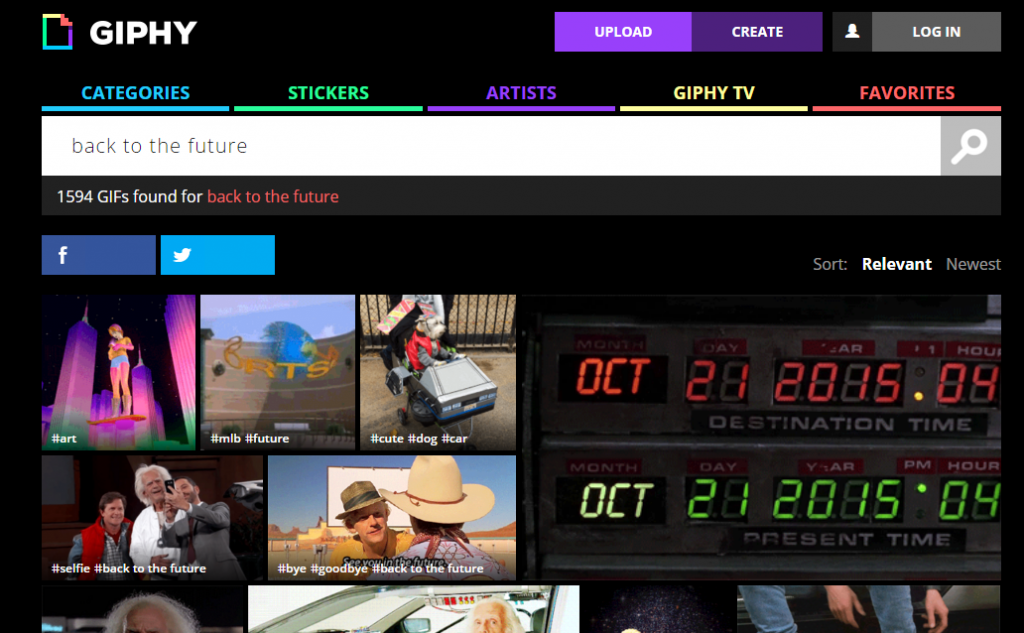 How to Publish GIFs on Twitter
You've probably seen GIFs on Twitter. Well here's how you can jump on the bandwagon and start publishing them yourself. Twitter has been very kind and allows us to upload GIFs without needing to use tools. Simply head over to Twitter, compose a new tweet and upload a GIF like you would do usually with an image. Add some text and tweet! That's all you need to do.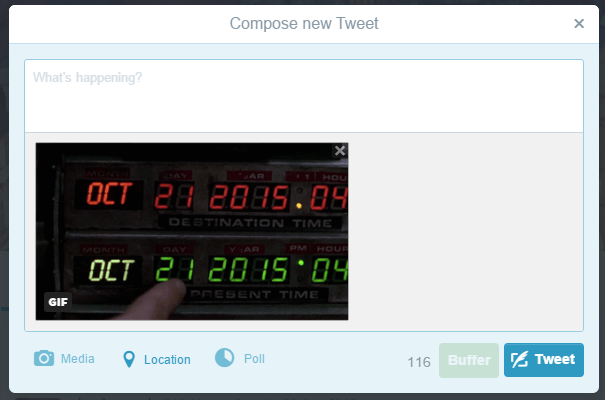 How to Publish GIFs on Facebook
Ahh Facebook! If you've tried uploading a GIF you probably would have noticed it didn't work.
That's because Facebook still doesn't support the use of uploading GIFs. To get around this, we can do a little trick.
You'll want to find the GIF you want to use then right click the and select "copy image address."

Then head over to Facebook and paste the link. It should look something like the below screenshot.
You can do this both on your personal account and also Facebook pages.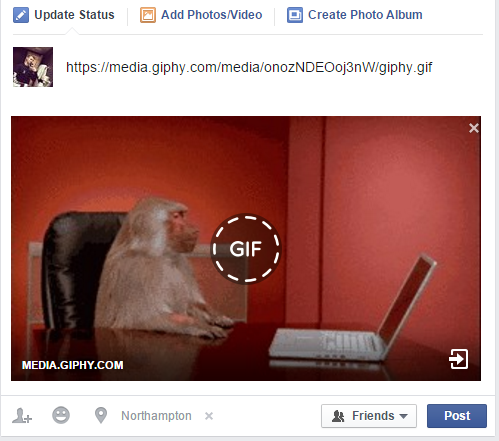 Once you've pasted the link, you can then delete the link and type some text. The GIF will still be attached to your post.
How to Publish GIFs on LinkedIn
As with like Facebook, LinkedIn doesn't support the ability to upload GIFs. So in order to get around this, we'd need to use a social media management tool like Buffer.
You'll need to connect your social media accounts and then you can proceed with writing out your content. Once you are happy with it, you can attach your GIF by uploading it like you would with an image. After you've uploaded it, you'll see a preview of it like below.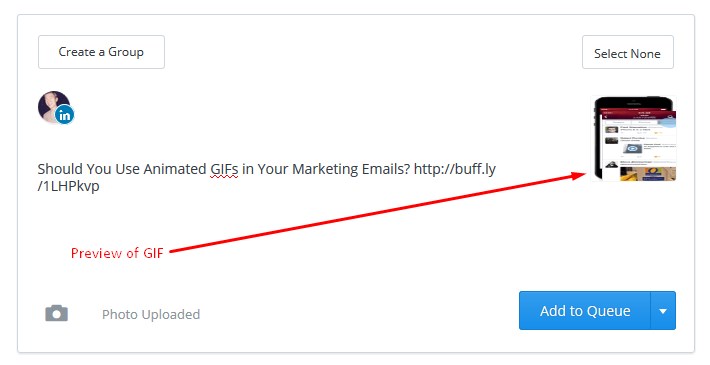 If you are ready to publish it, then go ahead and click the drop down arrow and choose from the available options.
How to Publish GIFs on Google+
Likewise with Twitter, Google has allowed us to upload GIFs without any worries. It's easy to do and also encourages a lot of engagement on Google+. All you need to do is write up your post and attach the GIF like you would with an image and there you go! Your GIF will be published on Google+.
So there you go, that's a quick article on how to publish GIFs on several social media platforms. Usually it will be the same method for uploading GIFs on other social sites.
Got a favorite GIF? Let us know about it in the comments!