Thinking about starting your own SEO business? Whether you're launching your own company or simply going freelance, by embracing your entrepreneurial spirit, you could: 
Be your own boss
Choose your own clients
Do your best work on your own terms
Best of all, you'll rest assured that your hard work helps other businesses thrive in an ever-changing digital landscape.
Below, we'll take you through the process of setting up your SEO business step by step. 
Step 1: Decide Which SEO Services to Offer
The field of SEO is always growing and changing. As a result, there are many ways an SEO agency could serve a client. While they often overlap, the SEO services you might offer typically fall into five basic categories.
Before you move forward, consider what types of SEO skills and experience you have on your team. 
Then, using that knowledge, decide exactly which SEO services you want to provide your clients. Depending on your team's skills and interests, you might offer all of these SEO services or specialize in one or two, expanding your offerings later as your business grows.
Not sure which areas you should focus on? We'll go through each of them below. If you already have this answer, you can skip to the next step.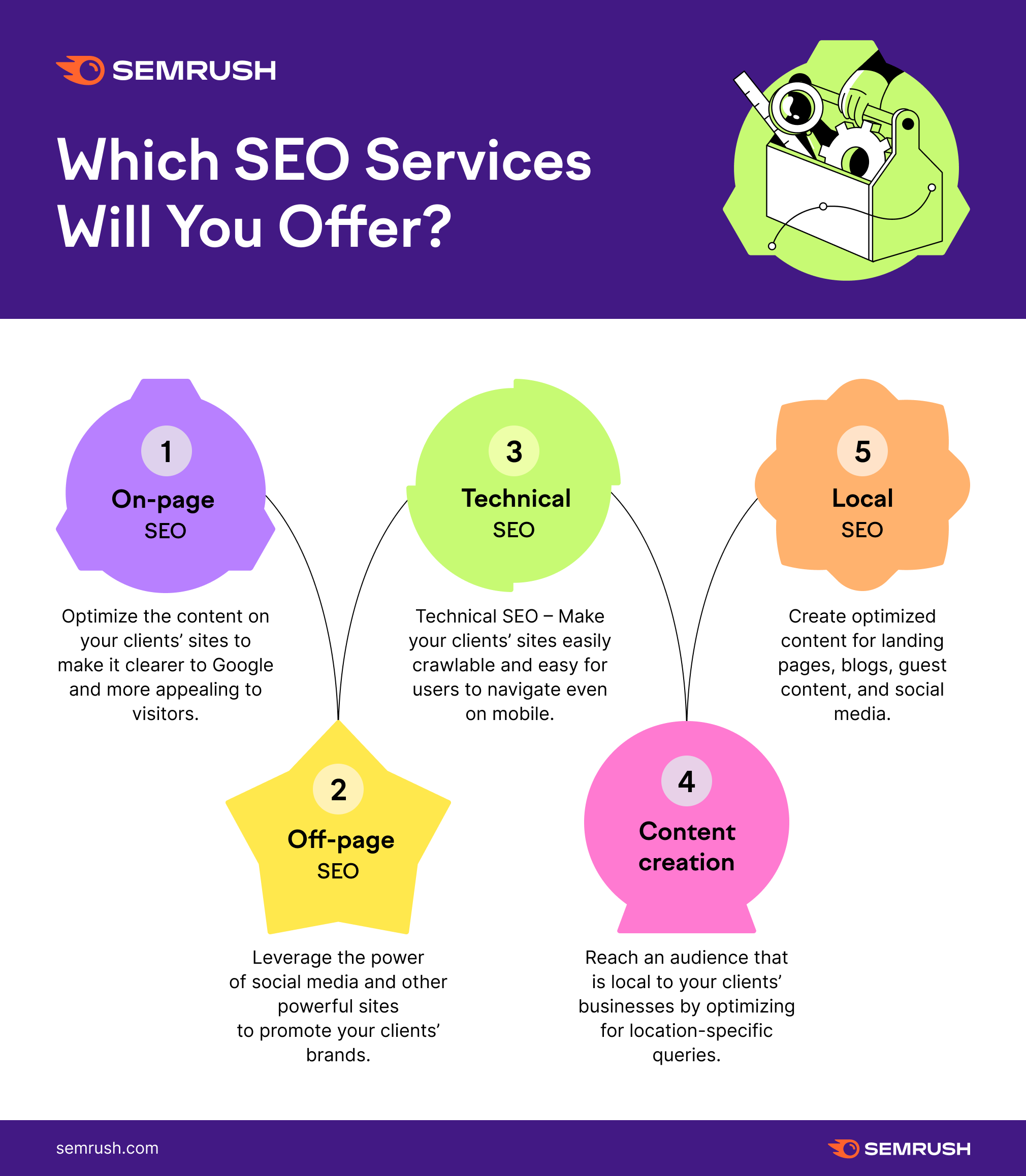 On-Page SEO
On-page SEO focuses on optimizing the content currently on your website. The goal is to ensure that search engines like Google can access and understand your site content and can deliver it to users in the most relevant search queries.
Examples of on-page SEO optimization in practice:
Updating title tags and descriptions to be more accurate and enticing
Optimizing content and images to align with more effective keywords
Maintaining internal links to keep visitors on your site longer
Ensuring consistent, reader-friendly URL structure 
Because this is such a broad category, it's very likely that some of your services will fall under the on-page SEO umbrella.
To offer on-page SEO, your team will need a broad array of skills and knowledge, including: 
Familiarity with Google's current algorithms and ranking factors
Analytical skills to perform an effective website audit
Fluency with SEO tools like Google Analytics, Google Search Console, and (of course!) Semrush
Technical skills to update and manage a website (like HTML, CSS, and other common languages)
Content skills to edit and optimize pages effectively
For more details, check out our in-depth guide to on-page SEO.
Off-Page SEO
Off-page SEO refers to all of the SEO tactics you can use that do not involve updating your own website. 
For example, have you ever reached out to request a backlink, created guest content on another site, or used social media to promote your brand? Have you implemented Surround Sound SEO, where you get mentions on high-quality editorial sites that already rank for your important keywords? 
All of this could be considered off-page SEO.
To provide your future clients with off-page SEO services, here are a few of the skills you'll need: 
Social media management
PR
Content writing
Link building
Brand building
Sound like you? Learn more about off-page SEO in our comprehensive guide. 
Technical SEO
Technical SEO focuses on optimizing the technical aspects of a website so that it is easily crawled by search engines and functions well for users. 
Because technical SEO is accomplished on your own site, it can also be considered a subset of on-page SEO. 
Technical SEO in action: 
Creating and maintaining an XML sitemap
Maintaining an up-to-date robots.txt file
Implementing structured data
Improving your site speed
Adding canonical tags
Ensuring your site is mobile-friendly
If you want to offer technical SEO services to your clients, you (or someone on your team) should be confident in: 
Programming and development skills (such as HTML, CSS, JavaScript, or Python)
Data management
Problem solving 
Crawling and indexing
Tools like Google Search Console
Enhancing user experience 
You can learn more about technical SEO on our blog. 
Local SEO
Local SEO brings together on-page, off-page, and technical SEO to help businesses succeed in their local community. 
In other words, it focuses mainly on location-specific queries (generally targeting an audience physically close to the business in question) and makes it as easy as possible for potential customers to reach out. 
Successful local SEO helps a business appear in local searches (e.g., "near me" or "in [city name]" queries), Google Maps results, or in the Local Pack. 
Skills and knowledge helpful for local SEO include: 
General on- and off-page SEO skills
Review management 
Citation building and management
Small business needs and pain points
And the use of tools like Semrush's Listings Management
Depending on your approach, you may also create content for local audiences, create a social media strategy, and more. 
If you're new to local SEO, you can learn more about it on our blog. 
Content Services
Content touches almost every corner of SEO. Whether it's landing pages, your own blog, external guest content, or even social media, all of that content first needs to be created by a skilled writer, designer, or videographer. 
Not all businesses have the capacity to create their own content in-house. If you plan for your business to create content for clients, you'll need a team skilled with content strategy, writing, editing, and optimization. If you plan to offer image or video content, you'll also need team members skilled in those areas. 
Step 2: Differentiate Yourself from the Competition
Now that you know which SEO services you're focused on, pinpoint how, exactly, your business can differentiate itself from the competition. 
First, identify other SEO consultants or agencies serving your community or niche. Make note of: 
What services they provide
What communities or industries they serve
Their price points
Unique services or benefits
Challenges they face
Use this to reevaluate your own business. 
To stand out in a crowded marketplace, ask yourself:
Can I provide an important service my competitors don't offer?
Is my pricing competitive?
How does my target customer base compare with theirs?
What are my competitors' biggest challenges, and how can I avoid or overcome them?
What can you do to set yourself apart from the pack? Read more about how to do a competitor analysis on our blog or read up on cutting-edge SEO strategies such as Surround Sound SEO. 
Deliver Faster SEO Results with PageImprove
One common challenge faced by SEO agencies is getting changes implemented. Often, teams have to wait weeks or even months for development teams to get to their updates. As a result, it might be a long time before clients start seeing results.
This can happen for a few reasons, including:
Inflexible or hard-coded websites that are difficult to update quickly
A small development team with a long wait time
Lack of access to a client site's backend or CMS
You can set yourself apart from your competitors by making your changes more quickly and delivering results faster. 
One way to do this is with a tool like PageImprove, which enables you to make real-time, indexable changes to a webpage without ever touching the backend.
When you use PageImprove:
You can make on-page SEO updates quickly and easily
You can start showing results right away
Once set up, you don't need any additional access from your client
You can seamlessly revert to the previous version of the page if the change does not produce the desired results
Plus, because the changes have already been implemented, developers can make them permanent by updating the backend whenever it's most convenient for them. They're visible and can be crawled the moment you publish the change with PageImprove.
Step 3: Price Your SEO Services
Next, figure out how you're going to price your SEO services.
To price your services, find out: 
How your biggest competitors in your region and niche price their services
How many hours it typically takes to complete different types of projects
Number and cost of talent needed to complete different types of projects
Overhead costs (access to software and other necessary tools and other costs associated with running the project)
Once you gather this data, use it to inform your pricing strategy. Ideally, your pricing should remain competitive while also enabling you to compensate your talent fairly and still turn a profit.
Many agencies use one or more of the following pricing models: 
Project-based 
Package-based 
Per hour
Value-based
Project-based pricing means that your client agrees to pay a set price for an entire project, as spelled out in a contract or statement of work. 
Here's how it usually works: 
Your potential client sends out an RFP or reaches out to you directly
You audit the client's site to identify problems and your proposed solutions
You determine pricing based on the timeline, approximate hours required, number of staff needed, types of services, overhead costs, and other important details
You present your proposal to the client (ideally during a meeting), answer questions, and negotiate a statement of work
Once all parties are satisfied, you can formalize a contract and get started
Package-based pricing means that clients pay a standard rate for a standard set of services. This might include optimizing and maintaining a certain number of pages, creating a set number of new assets each month, etc. These are typically not negotiated.
Hourly pricing means that you charge per hour for the duration of a project. This pricing model is used by freelancers and agencies alike. 
To use hourly pricing effectively, you should have a good understanding of how long different types of projects generally take to complete so you can provide an estimate up front.
Value-based pricing is typically based around a defined return on investment—e.g., a KPI that can be tracked and counted. For example, this could be the number of conversions or new leads generated by your work. 
For this type of pricing, it's important to clearly define exactly what KPIs you're focusing on and how you'll measure and attribute them.
Remember, you're not limited to only one pricing model. Instead, you can mix and match to serve the needs of different types of clients. For example, you could advertise SEO packages on your website while also negotiating project-based work with clients who need something more personalized. 
Step 4: Figure Out the Logistics
By now, you've identified and priced your SEO services and pinpointed what makes your services unique compared to the competition. 
Before you move forward, take a moment to review. 
Consider your team. If you're starting an SEO company (as opposed to going solo), ask yourself: 
Do you have enough people to complete each type of SEO project you plan to take on?
If so, do they have the right experience, or does your team have significant gaps? 
What is your current capacity? Will you need to outsource to complete projects on time?
SEO experts aren't the only help you might need. For example, what about accounting, HR, IT, sales, and marketing? For that matter, who is going to work on your own site? Figure all this out early to avoid unnecessary roadblocks down the road.
Next, make sure your team is equipped with the technology they need. (We might be a little biased, but we think a Semrush subscription would be extremely helpful!)
Spend some extra time making sure your team has everything they need to do their best work. That way, they can spend more time focusing on what matters: exceeding your clients' expectations. We recommend a streamlined marketing platform like Semrush complete with a CRM to keep client details organized, collaborative to-do lists, reporting, optimization ideas, auditing tools, and marketing checklists to keep everyone as productive as possible without juggling a myriad of tabs or logins.
Step 5: Proof of Concept: Build & Optimize Your Site
How can you sell your SEO expertise if you don't have an informative, fully optimized website representing your business? 
Answer: you probably can't.
Your website is more than just a digital storefront. It's also a point of contact for prospective clients, a first impression, and a proof of concept, showing those clients that you know what you're talking about. 
If you haven't built your website yet, it's time to start. But most likely, you have built it—and now is the time to review it. 
Your website should clearly communicate: 
Who you are as a business
Which SEO services you offer
The types of clients you serve (if applicable)
How interested parties can get in touch with you
Educational content to entice new visitors
Apply all of your on-page, off-page, technical, and content expertise to your own site, increasing its visibility on all your most important keywords. 
This will not only demonstrate to clients that you're capable of helping them climb the ranks but also help new audiences find you more quickly.
Pro Tip: Use PageImprove on your website to test out new SEO strategies and to make temporary changes (like a limited-time offer) without modifying the backend.
Step 6: Attract New SEO Clients
By now, you've got: 
A list of SEO services you're prepared to offer
Differentiating factors to help you shine brighter than the competition
A pricing strategy in place
A capable team ready to deliver
An impressive new website
All you need now is your first client!
When it comes to attracting new SEO clients, it's best not to put your eggs all in one basket. Instead, use a diverse array of strategies to generate leads. 
Here are a few suggestions.
First, become a Semrush Agency Partner. The Agency Partners Platform can put you in touch with Semrush's large and diverse marketing community, helping you to find top quality leads looking for exactly the type of work you do.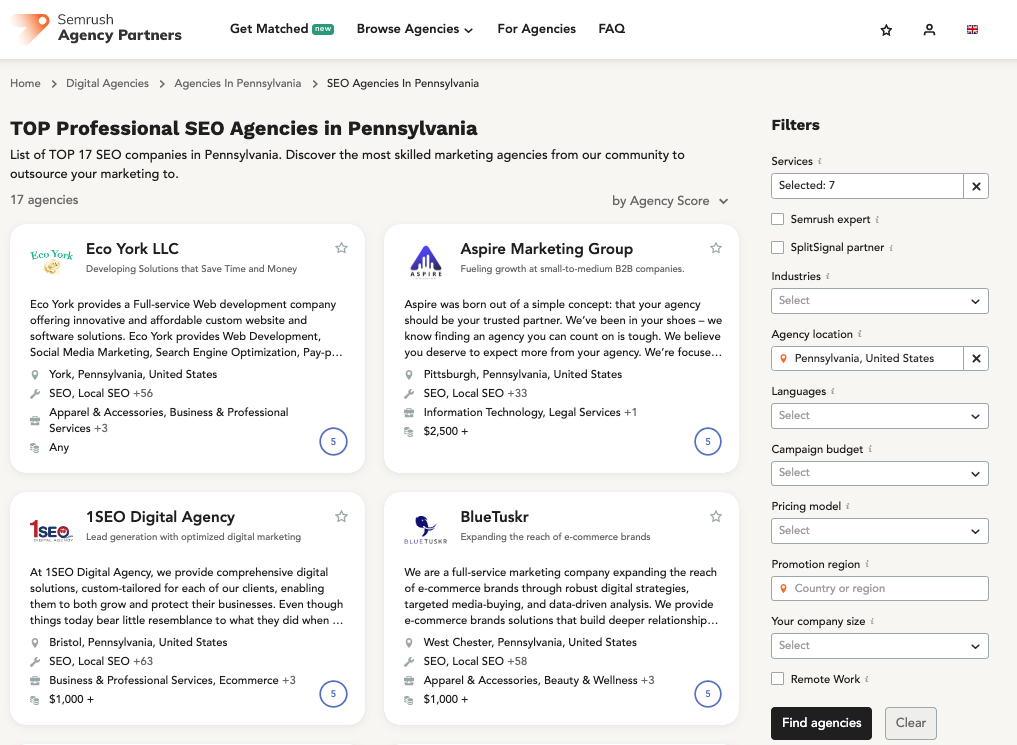 Second, go where your future clients are. For example, do you serve B2B clients that spend a ton of time on LinkedIn? In that case, make sure you've got a rock-solid social media strategy that emphasizes LinkedIn.
If you're not sure where your target audience spends their time, Semrush can help you find out. If you're a .Trends user, enter one of your closely aligned competitors into the Market Research tool. Then navigate to the Demographics report.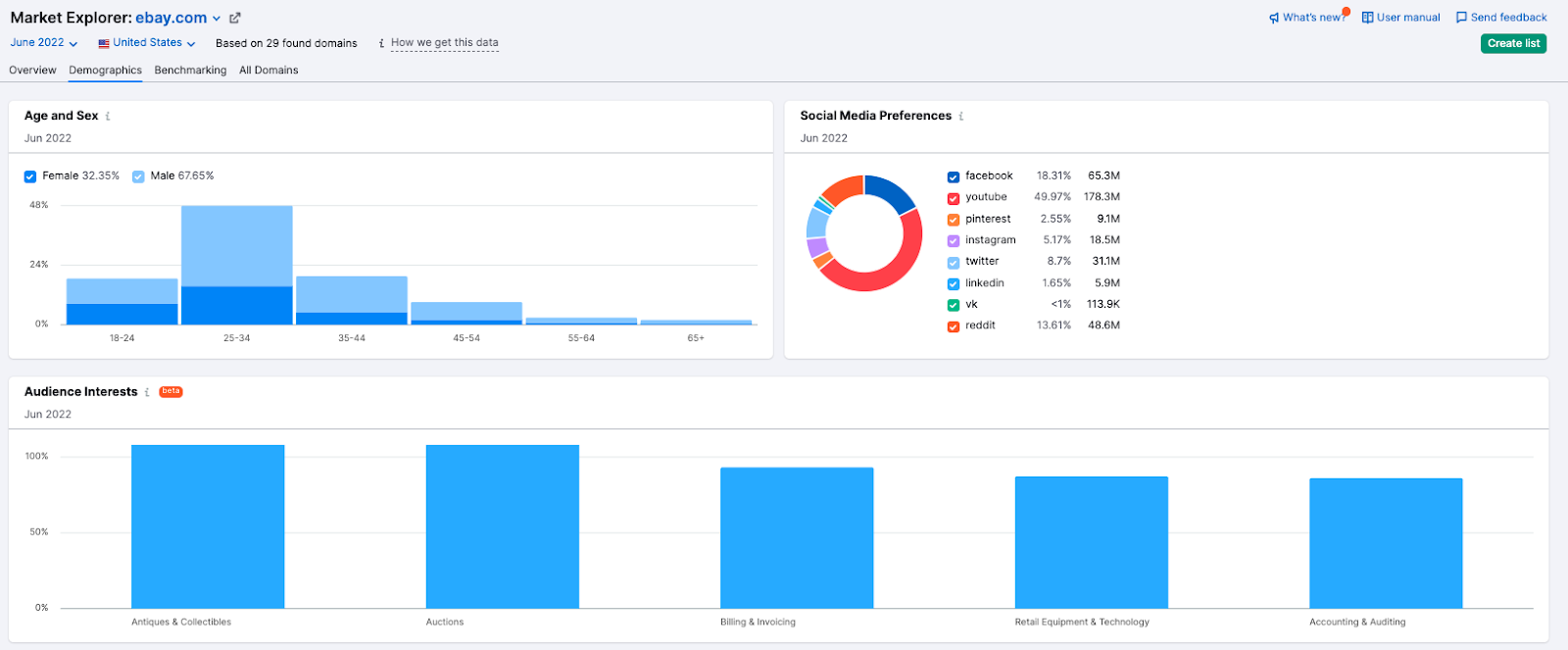 Here, you'll find your target audience's age and gender breakdown, preferred social media platforms, and areas of interest.
Then navigate to the Traffic Analytics tool. Here, the Audience Insights report tells you the domains most popular with that same audience.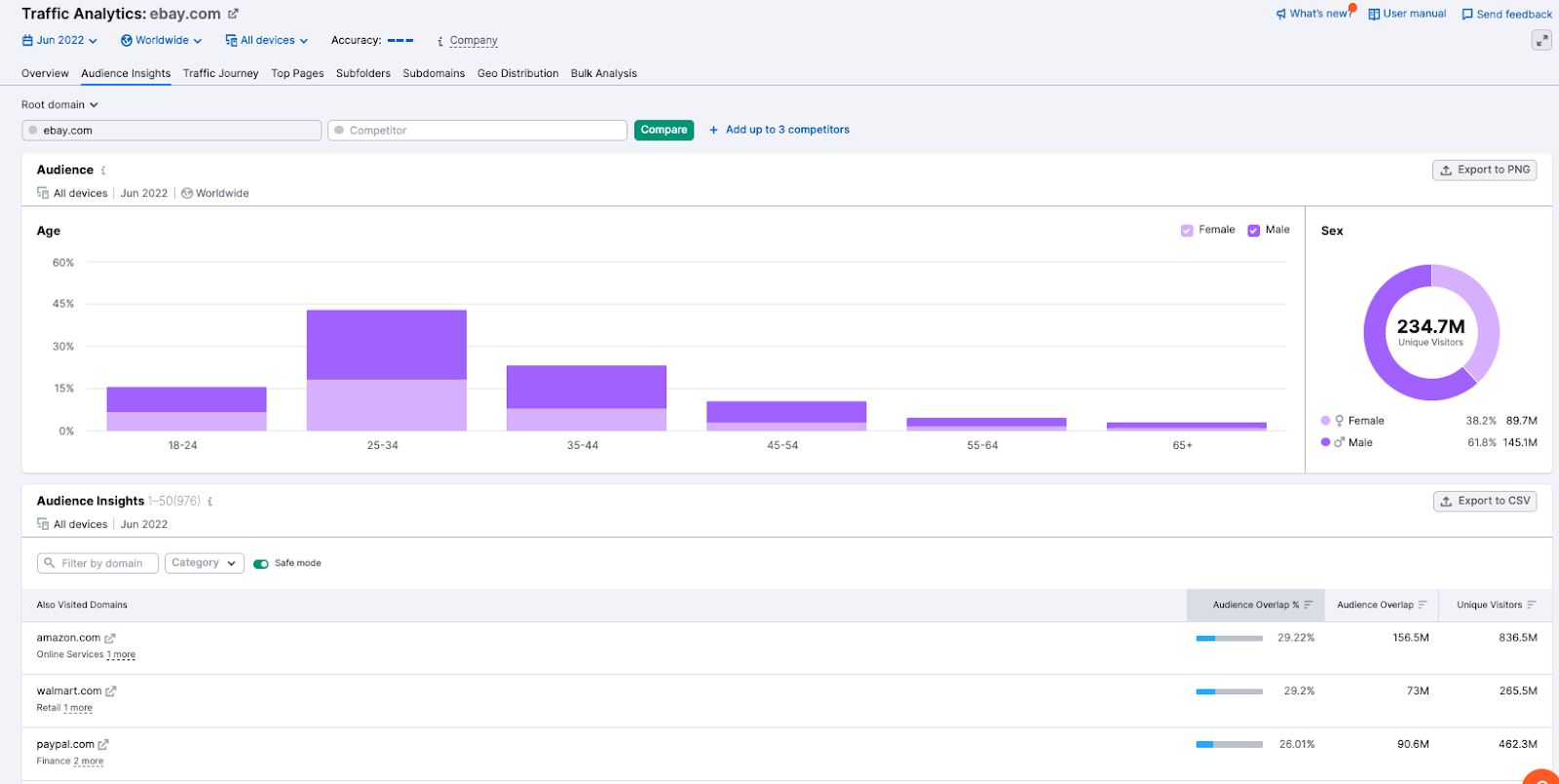 Use this information to guide your content, advertising, and social media strategies and generate relevant leads more effectively.
Finally, don't forget direct outreach.
To illustrate, let's say you know a business whose site could use improvement. You've already got a few ideas percolating on how to do it. Luckily, you know they're super active on LinkedIn. 
So you send them a direct message, offer a free SEO audit, and deliver it complete with a few recommendations on how to perform better. Before they ever convert, you're already showing how valuable your work could be.
Of course, this is just the tip of the iceberg. You can find even more ideas over on our blog: How To Get New SEO Clients.
Ultimately, your strategy for attracting clients is going to be unique to you, the services you offer, and the types of clients you want to work with. Whatever your approach, keep your clients' needs at the front of your mind, and leverage your creativity and digital marketing expertise to grab their attention.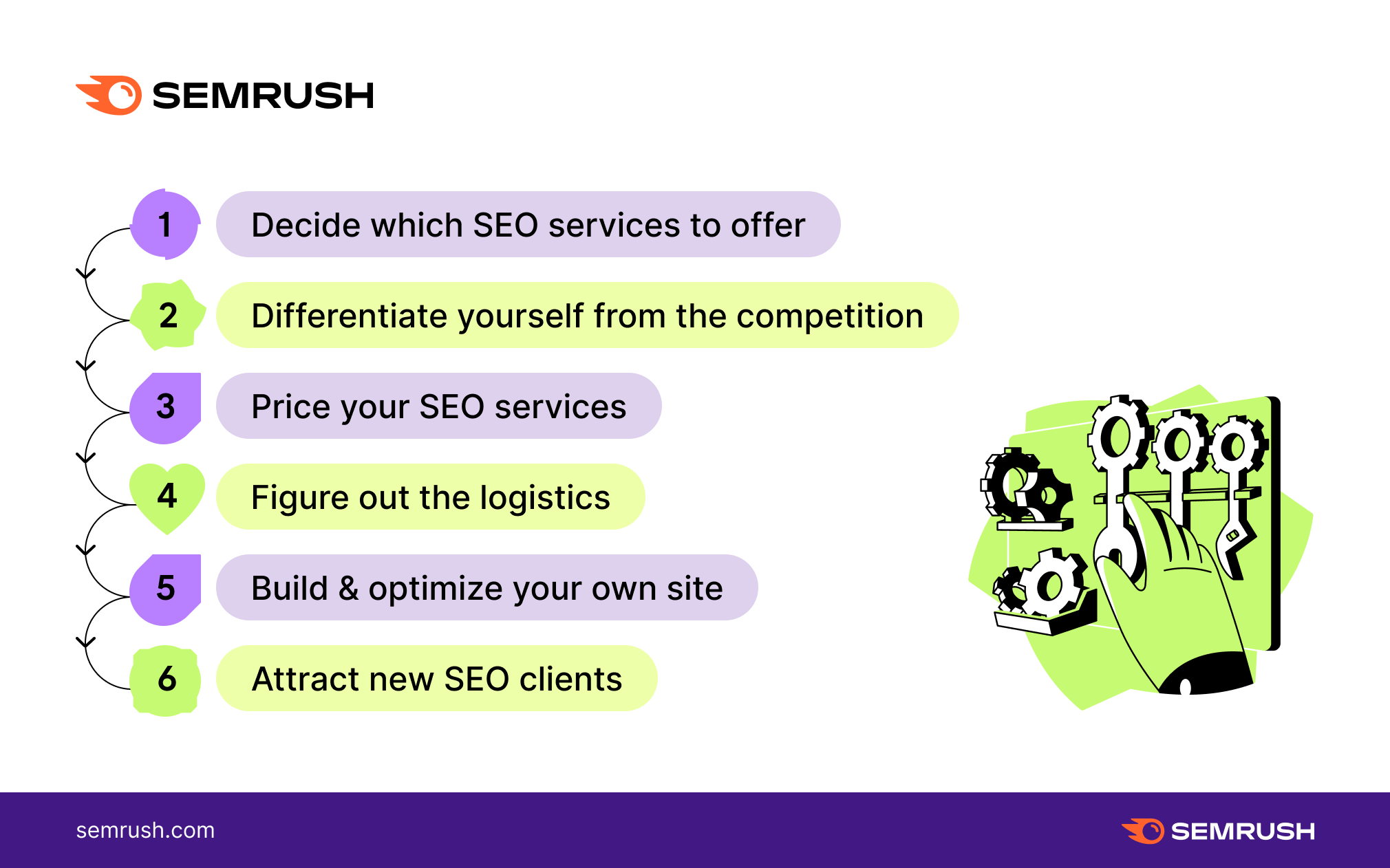 Bonus tip for Selling SEO Services: Implement SEO Optimizations Right Away
When it comes down to it, every SEO client wants the same thing: better organic search performance, with instant results. 
As an experienced SEO, you probably know that almost nothing is instant. But with PageImprove, you can get pretty close. 
After all, with PageImprove there's no more waiting around for development teams to make your suggested updates, only to have to revisit them because so much time has passed. Instead, you can make your changes right away so Google can index those pages and send you straight to the top of the SERPs.
Try PageImprove for yourself today. We wish you all the best in starting your new agency.