In the past, brands may have had success in growing awareness using one powerful channel–PR, for example. But as brand equity sources expand and new media channels provide endless choice for consumers, reaching the widest audience requires brands to use multiple channels. 
Meeting this challenge is not optional for today's marketers. Neilson's 2022 Global Marketing Report reveals that despite the difficulties, brand building is the number one marketing priority for brands today. It also reveals unique challenges to meeting brand-building goals, including:
Fewer consumers engaging in in-person shopping, where they might be exposed to your brand's products and logos 
Ever-increasing competition
Disrupted supply chains requiring consumers to try alternative brands
Granted, some of these are due to pandemic-era circumstances, but they persist today and have likely changed the landscape permanently at least to some extent. 
So, if you're looking for new channels for your brand, you might think about social media, advertising, content, and others. But there's also a (possibly less glamorous) option hiding in plain site–SEO. 
Hear me out. We're not talking simply about ranking your site for your non-branded keywords (although this is also helpful). The goal of SEO when it comes to brand awareness is to take advantage of trusted 3rd-party sites that already rank for your keywords.
If you start appearing in every "Top 10" or "Best" list article a person sees when researching a new product or service, your brand awareness naturally increases in a meaningful way, and with over 8.5 billion searches on Google daily, that's a lot of opportunities to make people aware of your brand.
1. Create a Keyword Strategy for Your Target Terms
Done right, choosing the right keywords is the first step toward appearing in front of your customers with relevant content (whether on your site or someone else's) in the search engine results pages (SERPs).
You're likely already familiar with the terms and phrases that people use when they talk about your brand and the ways they describe your products or services. Start with this list and then head over to our Keyword Magic tool to explore each one and start building out a longer list (use the + button to add the most relevant and promising keywords to a list you can export).
When choosing keywords for brand-building SEO, don't neglect informational OR commercial-intent keywords. This will get you in front of people who are close to making a decision to buy as well as those still in the discovery phase.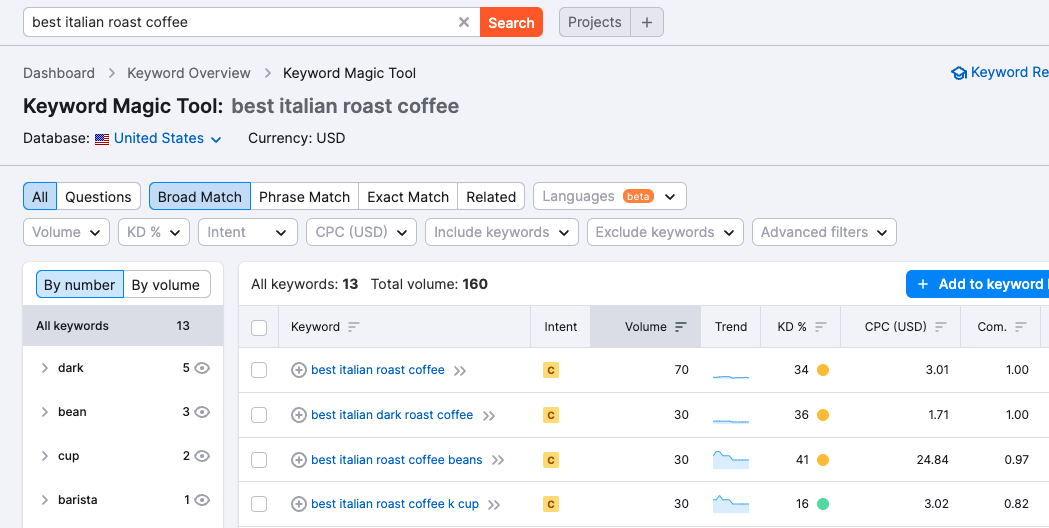 When you break down your keyword list by search intent, you learn what kinds of content you need to create to address each question, concern, and stage of the funnel. Are they looking to understand what Italian roast coffee is or are they looking for advice in buying their first Italian roast coffee?
2. Optimize a Content Plan to Reach New Customers 
Once you're happy with your initial keyword list, you can start developing your content marketing strategy to increase your brand visibility for your own site. Consistently creating content that directly addresses user needs in engaging ways can help you gain the exposure and awareness you need to grow as a brand.
The right format is crucial here—start looking for what kinds of content already rank for your competitors' terms and see how you can go one better. For example, a look at top pages from Organic Research shows us the top-performing pages on coffeebros.com and may indicate what could work for you as well.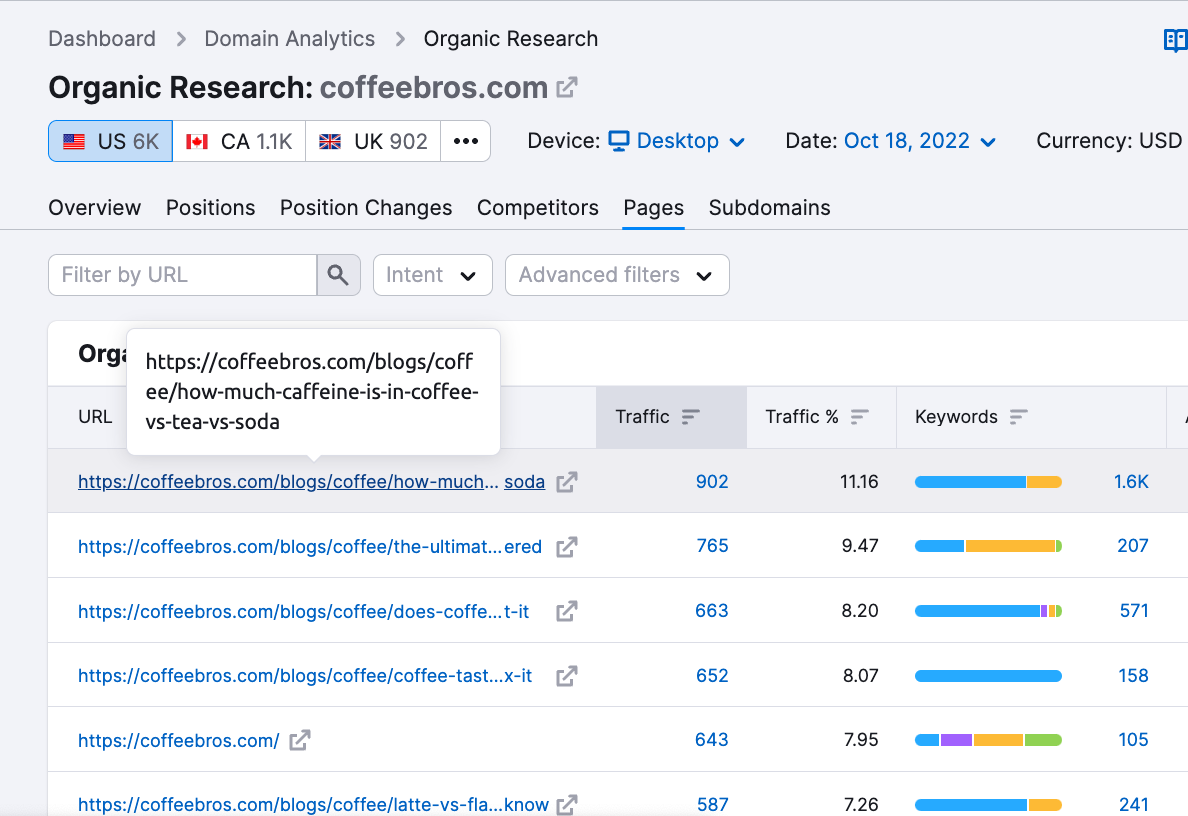 Now look at how you can make something better than what already performs well. Have they created top-of-the-funnel product comparisons, but neglected to include an analysis of the benefits to the consumer? You might create better content by including a video that outlines these benefits. Optimized video can be a great way for your brand to appear in more places in the SERPs, especially if none of your competitors is doing it well.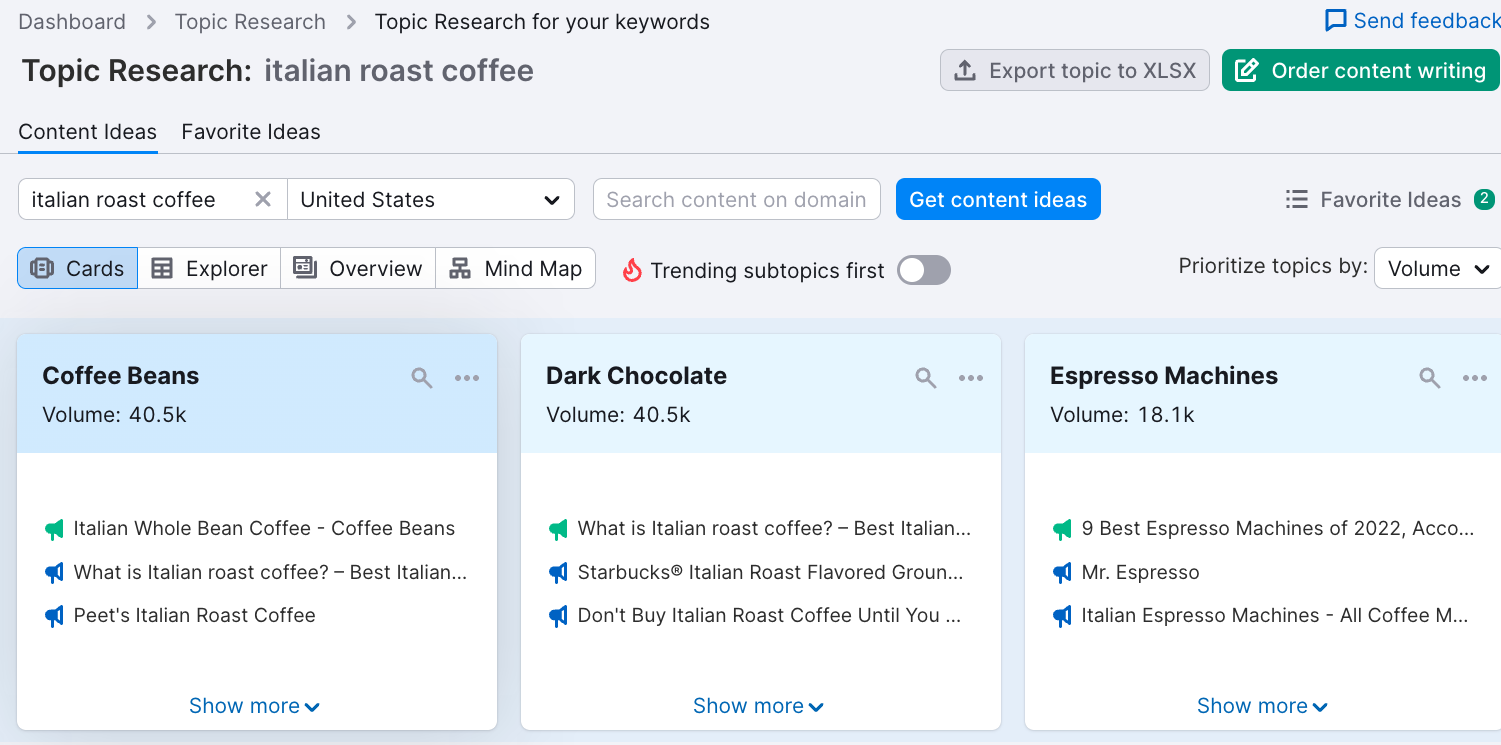 Use the Topic Research tool to help you start creating a broad mix of content to appear at more points of your customers' journeys, such as FAQs, long-form guides, testimonials, and social proof. Common search terms like 'how to do [THIS]' and 'best [THAT]' are often signs that people are looking for an authoritative voice to show them the way—expertly produced, search optimized content is your way to be that voice.
This is where we go beyond ranking our own sites to increase brand awareness. At this stage, we aim to be mentioned by as many of the sites that rank for our keywords as possible. This is sometimes referred to as Surround Sound SEO.
The idea is that when your brand appears on trusted 3rd-party sites in product reviews, list articles, and roundups, brand awareness (and revenue) increases. You become impossible to ignore as a brand and as a possible option for consumers. 
To find these opportunities, you'll want to first find out which sites are ranking for your keywords, which sites mention your competitors, and which mention you. Your sweet spot will be pages that mention your competitors and DON'T mention you as they have already demonstrated a willingness to mention brands. 
You can do this by opening dozens of tabs and scanning each article for competitor and your own brand mentions. Or, you could use Surround Sound from Semrush and get those opportunities instantly. 
For example, if I'm Hello Fresh and I'm looking at the Surround Sound report below, Cnet is going to the top of my list for outreach. Look at that authority score, the estimated traffic for that one page, the fact that it ranks for 10 of my keywords, AND it mentions two of my competitors and doesn't mention me. 
Interested in how others use this strategy? Here's a look at it in action in the real world.
4. Streamline and Scale a Link-Building Strategy 
The brand-building coverage you can achieve with Surround Sound SEO does require skillful and intentional outreach similar to typical link building. However, rather than mass emailing every opportunity in your Surround Sound report, select just a few to get started. 
Remember our Cnet example and the number of people who might be exposed to your brand from just that one mention in their article (over 13K). It's worth taking your time.
This is where we start to work on creating content with and for these high-impact sites. Remember, they're growing their own audiences, too, so it's these mutually beneficial relationships that will help you scale your outreach, one conversation at a time.
What do we have to offer? Here are some ideas:
A guest post, expertly researched, written, and edited (don't make them work)
A snippet of text they can add to an existing article (written in the voice of the existing post)
A free sample of your product or service along with a white-glove introduction (give them the VIP treatment)
An invitation for them to guest post, appear on your podcast, or live show, or anything else that could also help grow their audience
Present your ideas and make it easy for them, but don't be afraid to ask if there's something else they'd prefer.
Be sure not to fall into the SEO trap of focusing on links as the end-goal—treat these publishers as you would your brand's most valuable PR connections and the rest should follow.
Using SEO for Brand Awareness
Being in all the right places at the right time is tough, but you can give yourself the best chance of doing so with an interconnected strategy that capitalizes on every opportunity for exposure.
Combining the powers of PR with the supercharged features of SEO tools like Surround Sound can allow you to be the brand you want to be and get on track towards those goals.