Most articles that talk about PPC trends mention things like AR/VR, the new and futuristic targeting options - so sophisticated that it is hard to believe they will ever work, etc. It's all great stuff and yes - it does help you train your imagination, but it doesn't really answer the question of how you should optimize and implement them into your PPC management services and campaigns.
So we have studied the most vital AdWords updates of 2017 and those that will go live in 2018 and made a list of tweaks for you to implement in your PPC campaigns. Make sure you add them to your to-do list for Q1 of the new year!
1. Implement the AMP Versions for Your PPC Landing Pages
In September, Google introduced the AMP landing pages for text ads. This format has already been tested by some news publishers (like The Guardian and Forbes) and e-commerce websites (Zalando and AliExpress), however, only in organic search. The AMP versions of pages appeared to load "instantly" - or, to be more precise, approximately four times faster than regular pages.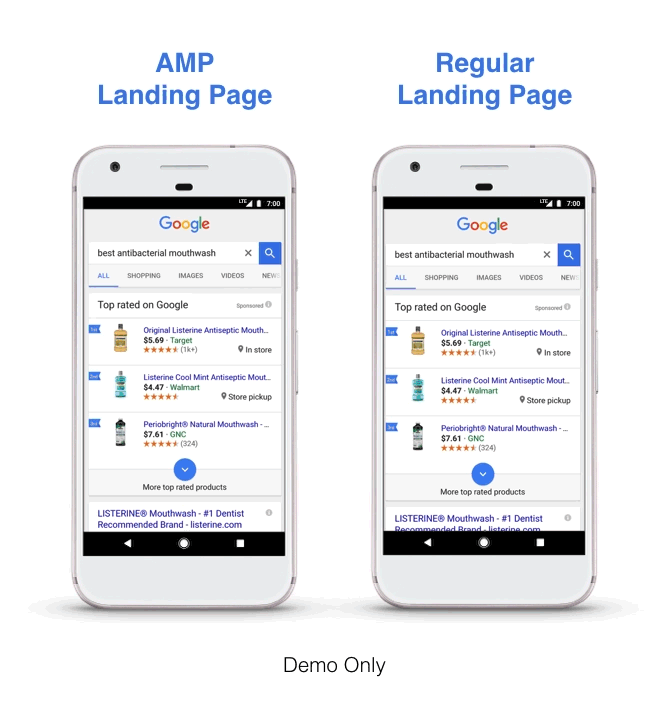 Source: adwords.googleblog.com
Cold hard facts say you need to implement AMP for your PPC pages sooner rather than later: every second it takes for a website to load leads to a 7% decrease in conversion. At the same time, 53% of mobile site visitors leave a page if it takes longer than 3 seconds to load. And since you have to pay every time someone clicks on your ad, you just can't afford to have slow landing pages anymore.
Tip: check out our study on Top 10 AMP implementation mistakes to make sure your landing pages provide the best user experience.
2. Make the Most Out of the New Ad Extensions
Ad extensions have been loved in PPC management services ever since they were first introduced in 2015. It is no surprise; they provide value, they are easy to implement, and they allow you to grab a user's attention by physically extending your ad and making it look more noticeable on the screen.
In 2017, several new extensions were introduced, mainly for the advertisers targeting mobile users:
Location extensions, callout extensions, and structured snippets for call-only ads - if a call from a mobile phone is a target action for your business, you must try them.

Click-to-text message extensions - you can use them to streamline callback requests or just to add a personal touch to your ad, as Swydo did: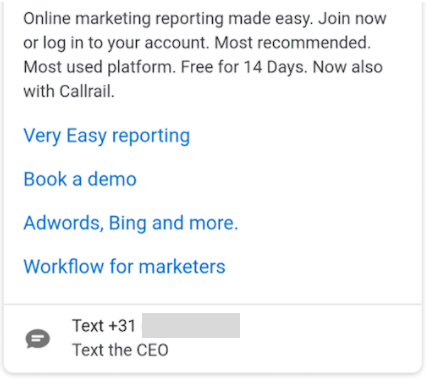 New Price extensions -as of 2017, they are available on all devices (not just mobile). Besides, you can now set separate mobile URLs as landing pages for this type of extensions.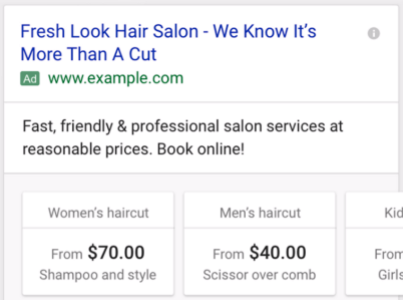 Promotion extensions (for both desktop and mobile) - instead of creating new ads for every offer, use this extension to highlight your latest promotions. If you had a chance to test it before the Black Friday, you have probably seen some amazing results.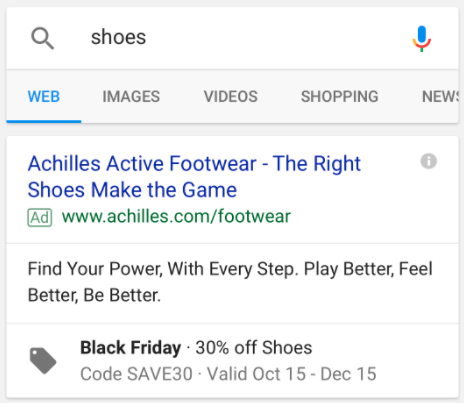 Source: searchengineland.com
Finally, in the new AdWords interface, it is possible to preview your ad with all the extensions available, both in mobile and desktop versions.
3. Make Sure You Have 3 Ad Variations Per Ad Group
One of the greatest things our PPC team did for their campaigns in 2017 was adding at least 3 ad variations for each ad group.
Why is it important? It signals Google that you care about your CTR and conversions.
When we enabled the ad rotation, we saw the CTR and conversions in some of our campaigns grow by up to 70%:
And we are not the only ones: a recent PPC Hero case study demonstrated a huge uptick in impressions and clicks after 3 ads were added to each ad group.
Google seems to be moving towards "autopiloted" campaigns when you provide it with several ads and let it do the rest. So, it is better that you get prepared and add more ad variations now if you haven't done so yet.
Tip 1: if you have enough traffic in your campaign, say 50 clicks per month, you should set your ad rotation to 'optimized for conversions.' If you have less - set "Optimize for clicks".
Tip 2: to help you create quality ads using competitors' best practices, we designed Ad Builder, a handy tool that allows you to find your competitors' ads (by keyword or by domain) and use the ones that you think will work for you.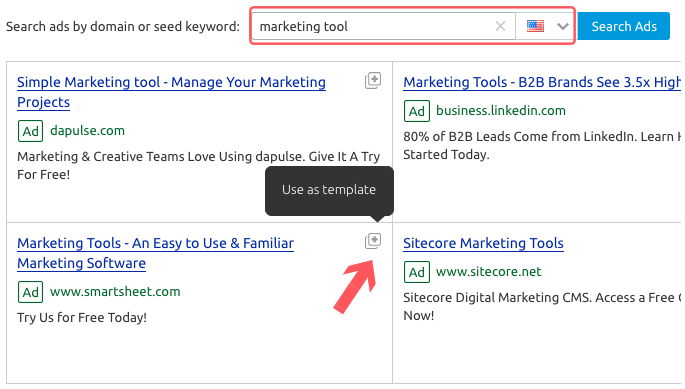 4. Try Launching Experiments In Optimize
Everyone is aware that experiments are the cornerstone of CRO. In reality, there are too many aspects to consider; choose a good hypothesis for testing, create a different version of an ad or a landing page, set up an experiment in AdWords, make sure you have enough data to work with and that you interpret it correctly, etc. Sometimes, you end up with tons of ideas and just a few of them actually tested, with a very modest progress.
Google claims its new Optimize solution can streamline this process. It is integrated with Google Analytics, and it allows you to run different experiment types (A/B tests, multivariate tests, redirect tests), but what we love most about it, is its editor feature.
With the WYSIWYG visual editor, you can change your landing page without diving into the page's code. It takes one click to move the CTA block, or change the text, or play with the button's color (if you haven't yet run the ultimate red vs. green button test, now is the time!) - this is going to save hours and hours of your and your designer's time.
Watch this video for a quick explanation of how to use the Optimize Editor:
5. Sign Up for Google Attribution Testing
Last but not least, every change you implement as part of PPC management services should be measured properly. To help you better analyze your PPC performance, in 2018 Google will be rolling out  Google Attribution - a brand new solution based on machine learning to help you measure with more precision how each cent you spend pays off. You can expect it to give you a lot of insights for optimizing your PPC campaigns, and here is why:
It is a cross-channel and cross-device: For those who run campaigns in search, display, and email, on desktop and mobile, it is always a challenge to determine which channel contributed more to the conversion and which device is more efficient. As Google claims, the new solution will bring together the data across channels and devices to give you a clear picture.
It is integrated: If you use external tools, it always requires some effort to make sure the information is transferred and displayed correctly. The solution is able to collect data from AdWords, Doubleclick, and GA; for you, this means minus one headache, so you can concentrate on more actionable tasks.
It is for everyone: Some businesses can already try data-driven attribution, but with the current limitations (at least 15,000 clicks and 600 conversions per account in 30 days to start using the model (and a minimum 10,000 clicks and 400 conversions monthly to continue using it) it doesn't seem doable for small and medium advertisers. The new attribution is expected to change this in 2018.
If you haven't been in the first wave of testing this new tool, you can apply by clicking here.
How do you expect PPC to change in 2018?
Considering all the upcoming AdWords innovations, 2018 is going to be the year of advanced analytics and the freedom of experiments. We are also looking forward to more integrations being rolled out in 2018 - for example, the integration between SalesForce and Google Analytics. Your PPC campaigns can also benefit from this merge: you can use your SalesForce data to create audience groups in Google Analytics and use it for your AdWords campaigns.
So how are you going to tweak and optimize your PPС management in 2018? Which new features are you going to test? What are you anticipating most of all?