Do you ever try to finish other people's sentences?
When you know someone well, and they take a few extra moments to get to the point, we're sometimes tempted to jump in and make their point for them. We know what they will say.
Sometimes, though, we don't know what they mean or what they will say. We think they're talking about Mission Impossible, when they're actually talking about The A-Team.
We assume we know what people are saying. We assume we know what they want and that we know their point.
Often, though, we don't.
As business owners, digital marketers and link builders, we do this with our audiences and our potential customers all the time.
How can we create content that effectively serves our prospective audiences if we don't know what they want?
We can always ask them. We can even put in the research, too.
That's where tools like AnswerThePublic.com come in.
It's not the most advanced keyword research tool on the market, but it's great for beginners. ATP is especially great for local businesses, and for content creators looking to produce useful content. It's quick and best of all it's free.
In this post, I'll be going over how to use AnswerThePublic to create one or two pieces of linkable content for local businesses.
There's no need to go in blind and just assume you know what people want when there's a handy tool right at your fingertips.
Find the Questions
So, how does AnswerThePublic work?
Here it is, in their own words, from their about page:
The auto suggest results provided by Google & Bing are a goldmine of insight for today's marketers. As you type you are presented with an aggregated view of the questions & therefore a hint of the motivations & emotions of the people behind each search query. It's perhaps one of the best but most underutilised sources of research for content ideas. Until now... … But we felt [some keyword tools] only scratched the surface of the insight that was possible by using this method. We knew that appending a search term with words like "for" or "with" gave a much richer starting point for content ideas.
So, it works by finishing sentences. It provides you with common Google and Bing autosuggest results, so you know those terms are actually being searched for at some volume. A more advanced keyword tool, such as SEMrush, can tell you the exact volume of those searches, but ATP can start you off in the right direction.
Essentially, you won't have to guess about what people in your local area want to know.
You can build a piece of content people want to read, and you can find a good idea quickly.
If you're just starting out and want to build links, you'll need great content. So, this could well help you create your first successful linkable asset – and help you serve your potential customers with content they're interested in.
How to Use AnswerThePublic
So, let's look at an example.
Depending on the size of your local city, you'll either find lots or fewer results with AnswerThePublic. New York City, NY will return more results than Baker City, OR.
So I wanted to pick a smaller city that might still give me some interesting results.
I chose Cheyenne, WY.
First, let's navigate over to AnswerThePublic.com.
Select the correct country, and then enter your city:
I knew I liked ATP from the moment I saw The Seeker. This is an example of a unique, compelling home page. We could all learn a lesson here.
Next, it takes us to the data. It presents the data to us in an interesting graphical interface: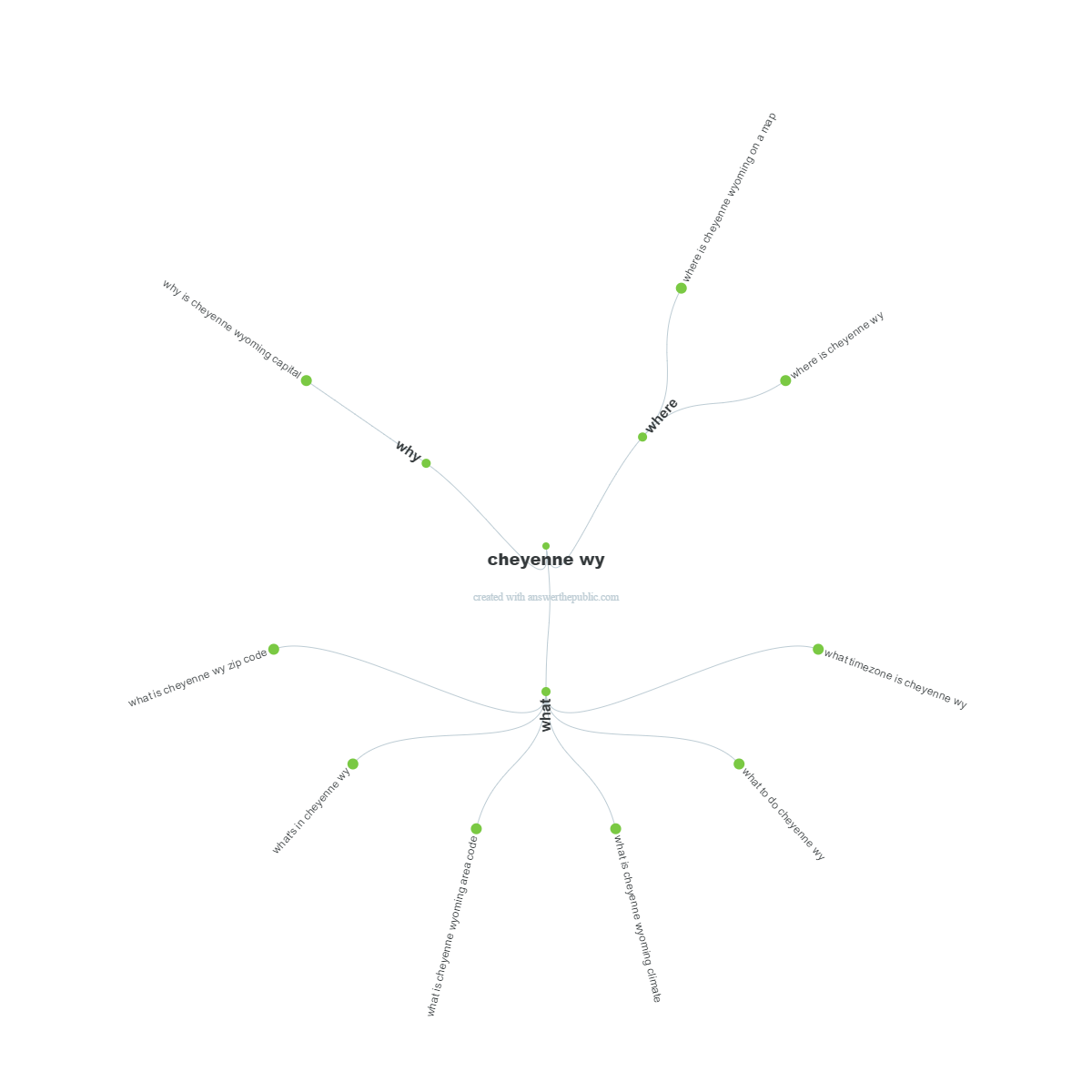 AnswerThePublic's Interface
Depending on how much data your search returns, this graphic can make your head spin pretty quickly.
Since 'Cheyenne WY' only returned nine questions, it's not too bad. But once you get to a greater number of questions, you might get dizzy.
Luckily, ATP comes with a built-in way to cure the spins.
Simply click the 'data' button for a different view: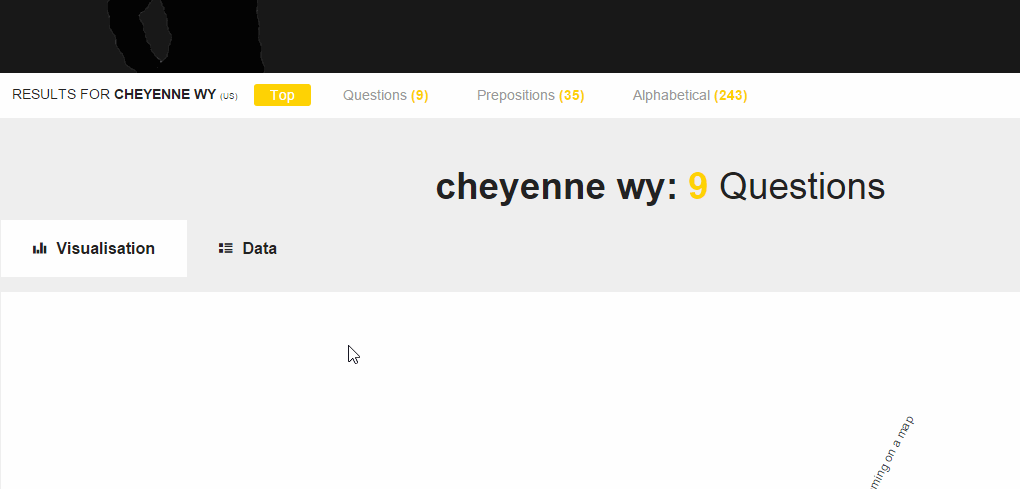 AnswerThePublic: Cheyenne WY
This gives us all nine of our questions, pertaining to 'what,' 'where' and 'why.'
It's all fairly basic stuff that might not make for great content.
You might build a local guide using these questions:
● what timezone is cheyenne wy
● what to do cheyenne wy
● what is cheyenne wyoming climate
● what is cheyenne wyoming area code
● what's in cheyenne wy
● what is cheyenne wy zip code
There are some ideas there, for sure. However, perhaps it's not ideal.
As fate would have it, even with a few questions, one stood out to me:
Why Cheyenne? on AnswerThePublic
Why is Cheyenne the capital of Wyoming? That's something I'm interested in, and I don't even live there.
So, I'm betting if you made a good piece of content centering on that question, you could score great links from Cheyenne-based websites, and from other Wyoming-based websites. I could already envision a piece of content titled "You'll NEVER guess why Cheyenne is the capital of Wyoming!"
Do Further Research
First, though, you need to see what you're up against.
I did a quick Google Search for 'why is cheyenne wy capital,' and here are my results: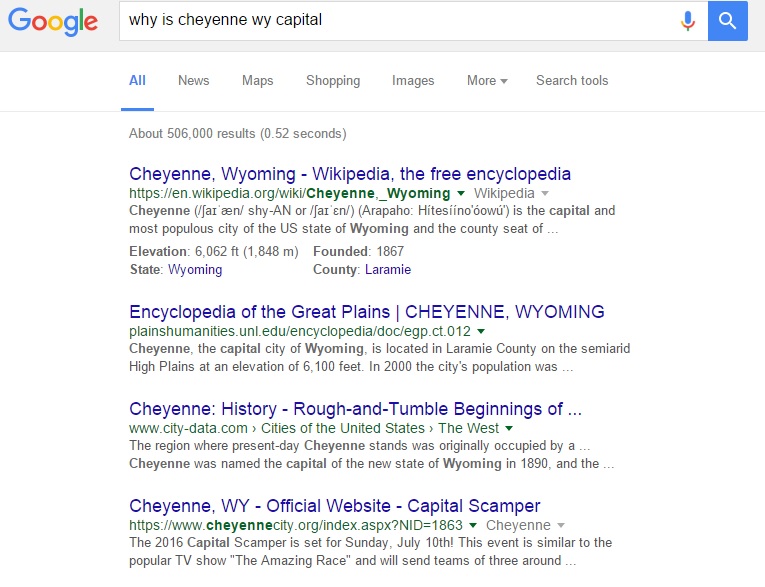 Google Results for Why Cheyenne WY
Wikipedia is the top result, and you might not be able to compete with that. An .edu site comes next, so that also might be stiff competition for now. City-Data.com could go either way as the site ranks well.
If you built a great piece of content, you might show up in the knowledge graph. But first, you need to look at the next result – the City of Cheyenne's website.
I ran it through Moz's Open Site Explorer, since it's free and I didn't need to log in. Other tools will show you much more data than a free report from Moz, but this was good enough for my basic purposes right now.
Here's what I found:

Cheyenne WY Reults
The city's own historical page only has eight links from three domains.
If you built a better piece of content, you could easily build over eight links.
Think about it – if you live in Cheyenne, you have access to the library, to historical sites, and to local experts and historians. Interview a few of the smartest people in town for your content, conduct research at the library, and take some great photos.
It would have to be an in-depth piece of content, but if you created it and did some outreach, I'm sure you could build over eight links from three domains.
And you'd also have a great opportunity to rank for something for which locals are actually searching.
From just a few minutes of research, this is where I'd start if I were marketing and building links for a business in Cheyenne, WY.
But Wait, There's More
If you don't find what you're looking for in the 'questions' section, ATP gives you plenty of other suggestions, too.
First, it gives you suggestions related to prepositions, such as 'of,' 'for' and 'to.'
With the cities I searched for, there were always more prepositions listed than questions. Again, you'll want to click the 'data' button.
You should see something like this:

Cheyenne WY Reults
To build a local guide to your city, this will provide great suggestions on what to include. I recently wrote a post about where I outline how you can build local links at every level, starting from your small neighborhood all the way up to the state level, and this list of prepositions could definitely aid you with any of that content.
In addition, ATP also gives you questions for every letter of the alphabet. 'O' was particularly useful: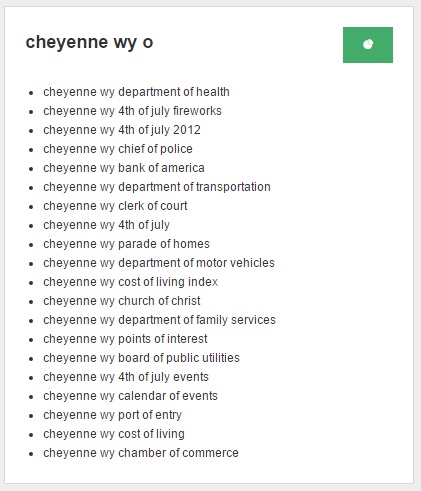 The Letter O
If you were building a local guide for Cheyenne, this would help immensely. Talk about the Parade of Homes, the 4th of July, the Cost of Living and points of interest. Again, don't go diving in blind.
This is just the tip of the iceberg. And once you're more comfortable with keyword research, or you've built links to your local-based content, you can scale it up even further.
You can use ATP for industry-related questions your customers might have. You can even combine local and industry terms, such as 'Cheyenne sushi.'
This is just one way to create a local-focused linkable asset. However, the more research you do, the more your content will resonate with local webmasters and bloggers, and the more links you'll be able to build.
For a new site, a new business, a new client for your agency, or just a website you're trying to generate more visibility for, this should work great.
When it comes to creating engaging content, there's no more need to assume you know what people are asking about. Let free tools like AnswerThePublic do the work for you!
What other tools and strategies do you recommend? Let us know in the comments section!