There are so many ways to excel at content marketing. You could try to out-publish your competition, repurpose every new piece of content into other formats or create content types no one else does. Still, nothing beats the data-driven approach.
Developing a content strategy based on the data rather than intuition allows you to learn more about your target audience, find out what they want to hear from you about, what would connect them with you more, and even how to get them to notice your business in the first place. 
Data you can extract from Google Analytics can help you:
Create more engaging content
Determine which topics and formats to focus on the most
Identify elements of your strategy you should change or drop altogether
Make more informed strategy decisions
I'm going to show you how to use Google Analytics to find the data you need to give your content strategy a boost. A lot of this advice is based on a fantastic webinar we held with Benjamin Mangold. Here you can watch the whole webinar:
Determine Your Most Popular Content
According to the Content Marketing Institute, only 20% of your content attracts the majority of your traffic.
These are most likely pages that rank high in search, get shared, are referenced by other writers and recommended by your audience.
And Google Analytics' Behavior reports can help you identify them on your site.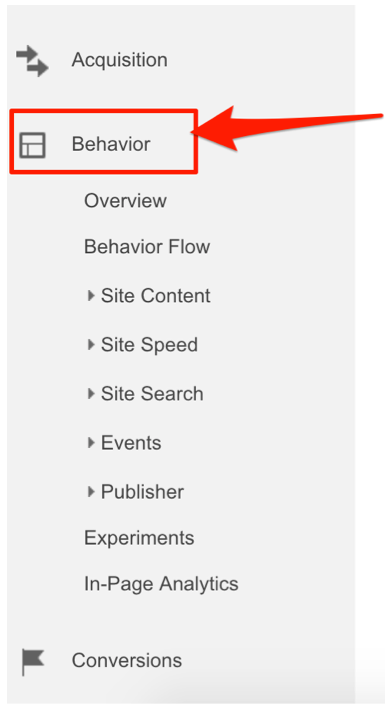 To assess your post's popularity:
Navigate to the Behavior > Site content > All Pages tab.
If possible, filter results to show only blog posts. For example, if your site uses /blog/ URL prefix, display only URLs that start with /blog/
Sort visits by Unique Pageviews.
Google Analytics will show a list of your blog posts sorted by traffic volume, and show you the most popular content on the site. Furthermore, by clicking on the Comparison icon, you can compare each page's performance with the site's average.

What you can do with this data:
Identify topics that engaged your audience the most.
Assess the top performing posts and see if you could update them (i.e. add more images, stats, graphs, videos, quotes or clear the formatting) to make them even more attractive to your audience.
Improve internal linking by referencing other relevant, yet less popular content on the site from those top posts.
Define the least popular content and try to assess the reason for its failure. And who knows, perhaps there are ways in which you could update it to make it more interesting for the audience.
Reveal The Most Popular Content Types
Analyzing your most popular posts is one way to improve your audience engagement.
Another way is to take a broader view and assess what content categories, types, or tags engage the most.
Google Analytics offers an option called Content Grouping that allows to group relevant content, be it by format, category or even a particular campaign you ran, and then see the aggregated data for the whole group and individual URLs it contains.
You could, for instance, group content by categories or tags to identify general topics areas your audience finds engaging. Or collect data about specific content types to measure their collective performance and its effect on your strategy.
What you can do with this data:
You could gain insights into the most interesting categories or content types and use that information to make future decisions about your strategy's direction. In this article you will find great practical examples on using Content Grouping for different types of business.
Find Which Posts Convert Best
Let's face it, most likely, the purpose of your content is not just to educate the audience. You want to attract customers to your brand, position your company as expert and gain prospects' trust, and convince people to start doing business with you. And Google Analytics allows you to see what content helps you achieve those goals.
To extract this data, though, you'll first need to set up specific goals in Google Analytics.
Some examples of good content marketing goals include:
Visits to certain page
Sign up / conversion
Spending specific time on a page
Downloading a material or performing any other specific action
Playing a video and so on
In general, your goals should relate to objectives you want visitors to complete on a page. For example, if you want them to click on a banner and learn more about your product, then set it up as your goal. If you want them to sign up for a newsletter, you should track visits to the signup page. And if your aim is to increase engagement, then set goals to measure if they stay on a page long enough.
After The Analytics has accumulated some data on each post, go to Conversions > Goals and check the performance of each page.
What you can do with this data:
Analyzing goals allow you to see which content helps achieve website objectives.
Coupled with this knowledge you can:
Decide to create more similar content
Test different methods to find ways to increase conversions on poor performing content
Use this data to plan the strategy forward
Set up goals for all your calls to action (CTAs)
Make sure you're setting goals for all interactions that visitors can have with your content. To illustrate how you can identify goals for your content, Ben has brought an example from Buffer blog:
At the top there is a very clear call to action to schedule your post with Buffer. So we'll definitely want to make sure you're measuring that as a goal in Google Analytics if this is our blog.
On the left-hand side we see social widgets. Again, you want to make sure that we're measuring that in the social reports inside Google Analytics, because we want to understand the engagement.
If we travel down in this particular post we see a video. So we want to measure if people are watching this video content embedded within our page.
So far we've got three key areas that we need to make sure we're measuring to understand people's engagement with our content.
If we travel down further we'll see also:
Comment section
Email newsletter sign-up form
Call to action to schedule the post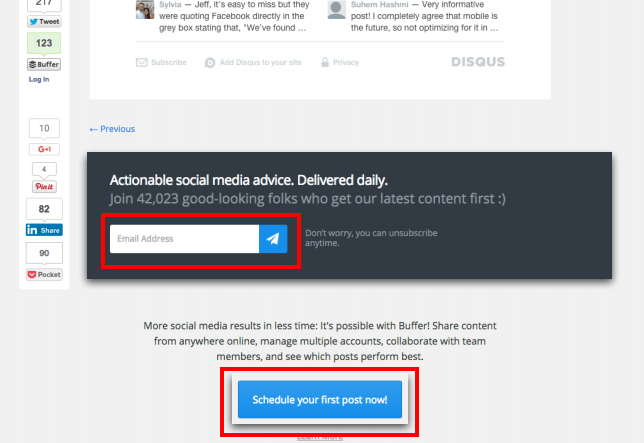 And we want to make sure that we have clarity in our reports for all of these different types of interactions that are occurring. So I definitely encourage you to take the time to travel through your pages and make sure you make a note of all of these different things. And then you want to make sure you're measuring it into Google Analytics.
Learn Whether Your Content Is Optimized For Mobile Users
It's not a secret: more people consume content on mobile devices than on desktops. For example, according to Smart Insights, mobile media time has already exceeded desktop and other media.
But here's the catch: Mobile audiences don't engage with the content the same way as people using desktops. And so, your task is to monitor if your mobile users are as engaged with your content as the desktop ones.
To check your mobile engagement, go to Audience > Mobile > Overview. Then, select the Performance view to get the data on any relevant metrics you want: number of new users, bounce rate, page views, session duration and even goal completions:

What you can do with this data:
By analyzing audience engagement, you can assess if you need to create more mobile-friendly content.
Conclusion
There are many ways to excel at content. But to me, nothing beats developing strategy based on solid data about your users, their content preferences, and expectations.
And if you're wondering where to get this data, take a peak at the Google Analytics reports. The platform offers a wealth of information you could use to give your strategy a boost.