Social Media: Big companies have it, smaller companies have it. Celebrities, housekeepers, infants, 60-year-olds – even cats and dogs have it. Billions use social media every day, and millions of marketers are helping businesses grab customers via social. So how do you stand out? And how do you beat your competitors on social media? 

Photo credit to @oliviamreyes, @saramaijewels, @ddonvand, @angelbengal
Social users are free to choose which accounts they want to follow and which content they want to read, so to be seen you have to create social content users want and need.
Coming up with content that is more effective than your competitors' is not easy. You have to know which types of content work best for them and you need to see where they failed – this is where using competitor social media analytics comes in, and we can help you with that.
In this guide, we will walk you through each step of setting up one of the most essential parts of online competitor analysis - analysis of a Social Media, using the SEMrush Social Media Tracker:
First, we will reveal your biggest online rivals and analyze their best practices on Facebook, Twitter, Instagram, LinkedIn, Pinterest, and YouTube.

After that, we will help you identify the best-performing content in each of the social networks, paying attention to special offers and promos.

Finally, we will show you how to track hashtags used by competitors and how to track mentions featuring your brand.
Setting Up a Tracking Campaign
Let's say you are a business that offers pet food delivery services. This niche has a lot of competition, so how do you stand out? 
It is always good to use competitive analysis for social media to compare your social media strategies with your competition's on a consistent basis, and there is an easy way to do that. Just set up a Project in SEMrush and select 'Social Media' on the 'Projects' dashboard.
The tool will automatically suggest your own social media accounts to track – just double check and make sure they are all correct. Next, enter your competitors' domains and make sure their suggested social accounts are correct as well.
Now that you have added the competitors you know, it is time to discover some you might not have been aware of. You can do this with some incredible social media market research tools that are on the market. It's certainly simple with our Organic Competitors report.
Just type in your domain, choose the relevant language database, and you will get the following report:
Pay special attention to the bubbles located above you and to your right. They represent the competitors whose total traffic exceeds yours and who are ranking for more keywords than you are.
Then go back to the settings of the social media tracking tool and add these domains to your campaign. The tool will then automatically find their social media accounts: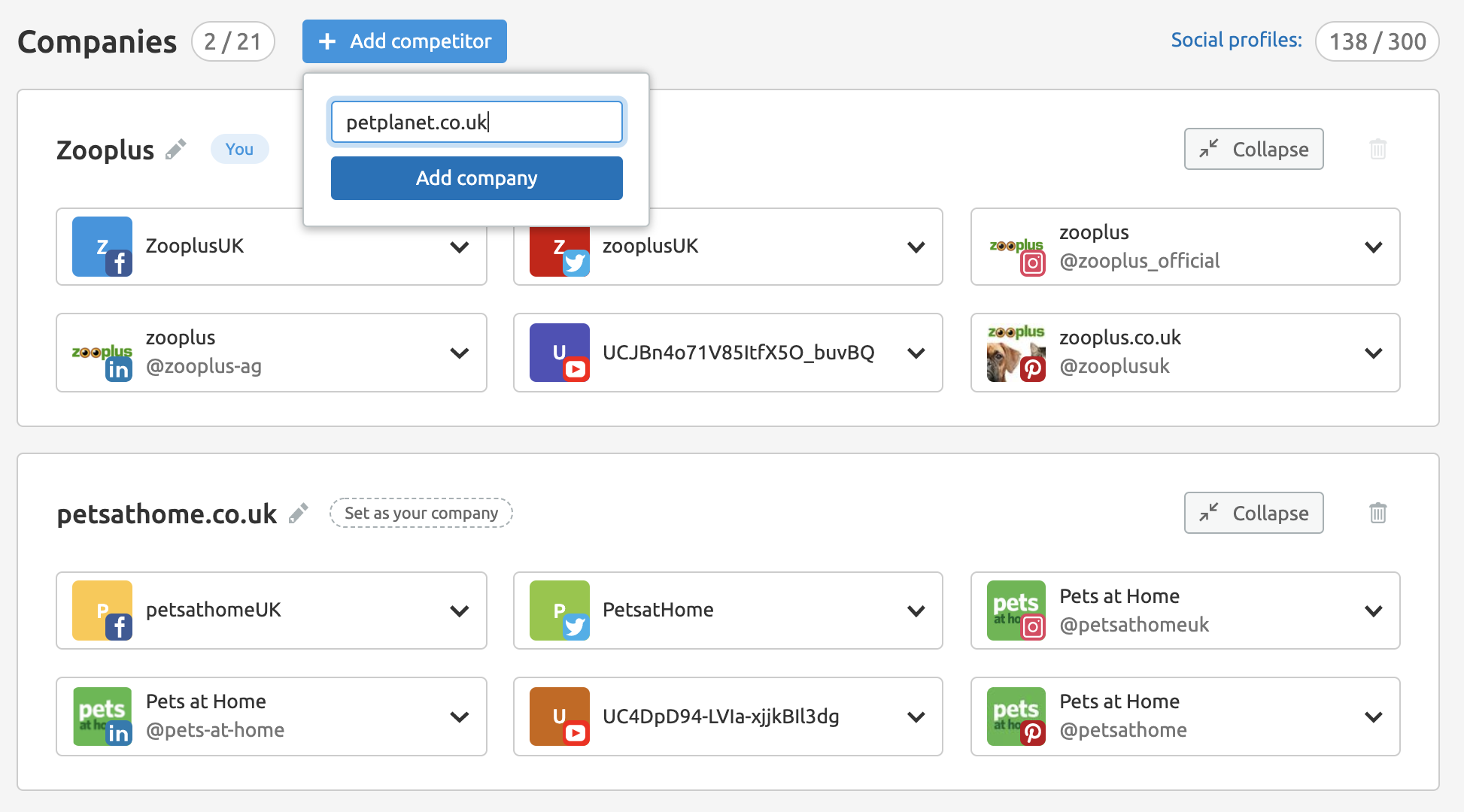 Next, take a look at the 'Overview' report to get a general idea about your social media competitor's audience size, activity, and engagement for the selected period of time:
You can switch between the company domains to analyze other competitors.
Identify Top Performing Content
To find out which posts worked best in a particular social network, refer to the 'Top Content' report below. To get more details about these posts, choose the social network you wish to analyze and click on 'View all (choose your network) posts.'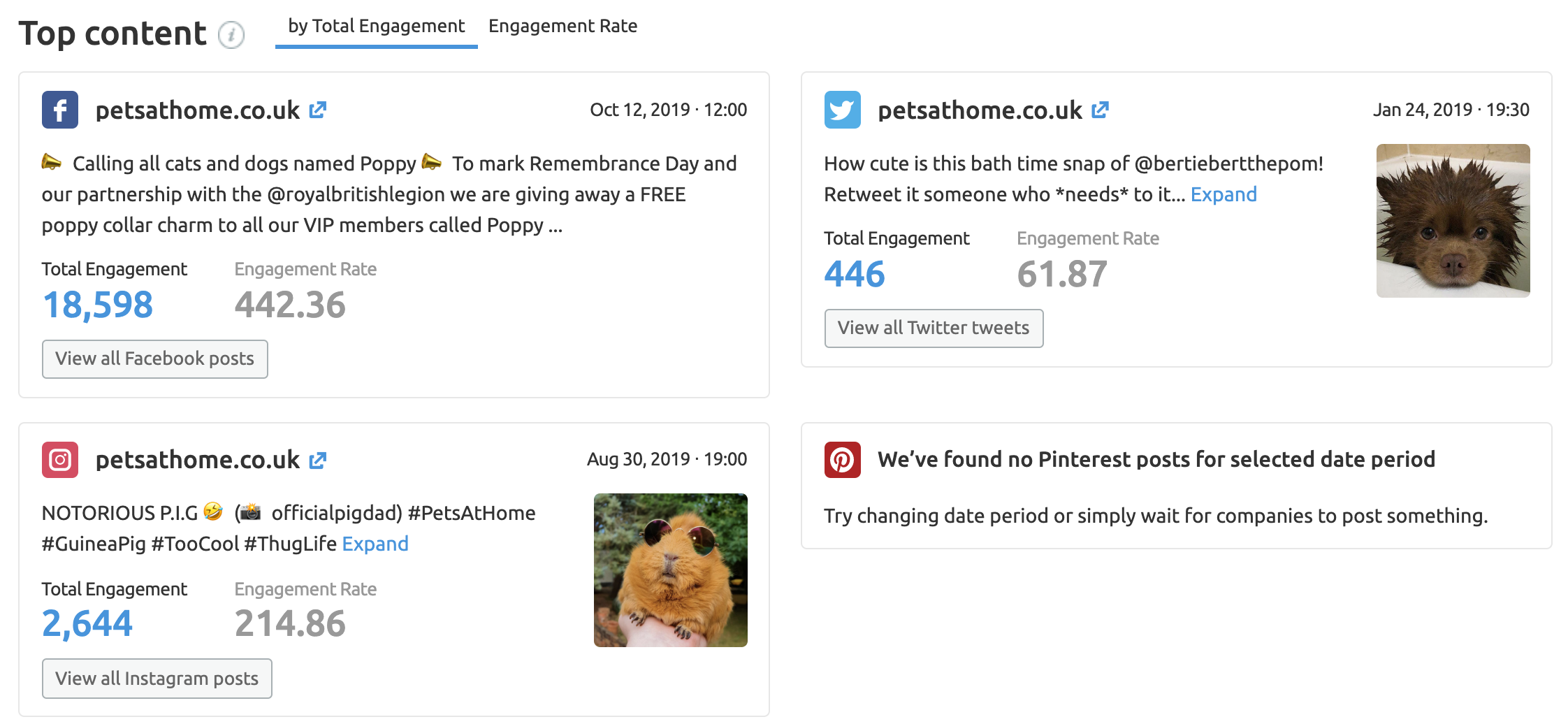 You will then see a list of the most engaging posts for either all profiles or a selected profile: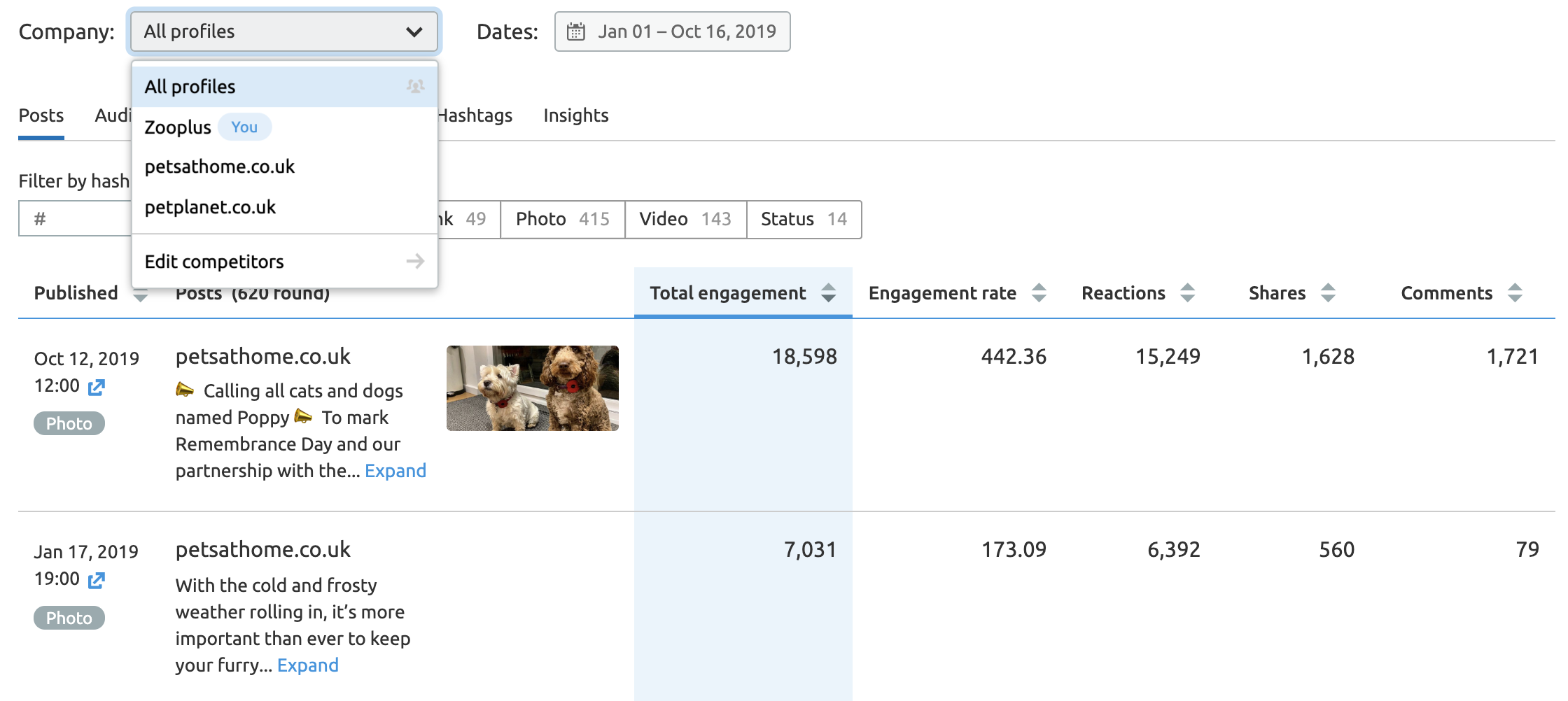 Above you can see all profiles at a glance, but when you select a particular profile, you can find out more information about which content strategies worked for each social media competitor.
Targeting a holiday (Easter, for example) is an opportunity you don't want to miss when the next holiday rolls around.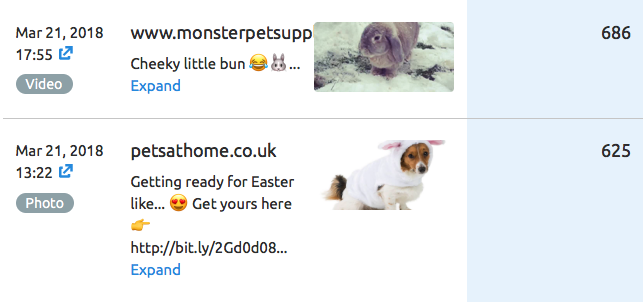 When scrolling through the list of posts, pay attention to your competitors' special offers to see which deals performed best. Look at the words used and the imagery; what worked and what didn't? Based on this information, you might want to change something in your sales strategy, i.e. find a charity to partner with, provide coupon codes, or sign a deal with a particular supplier to secure further discounts: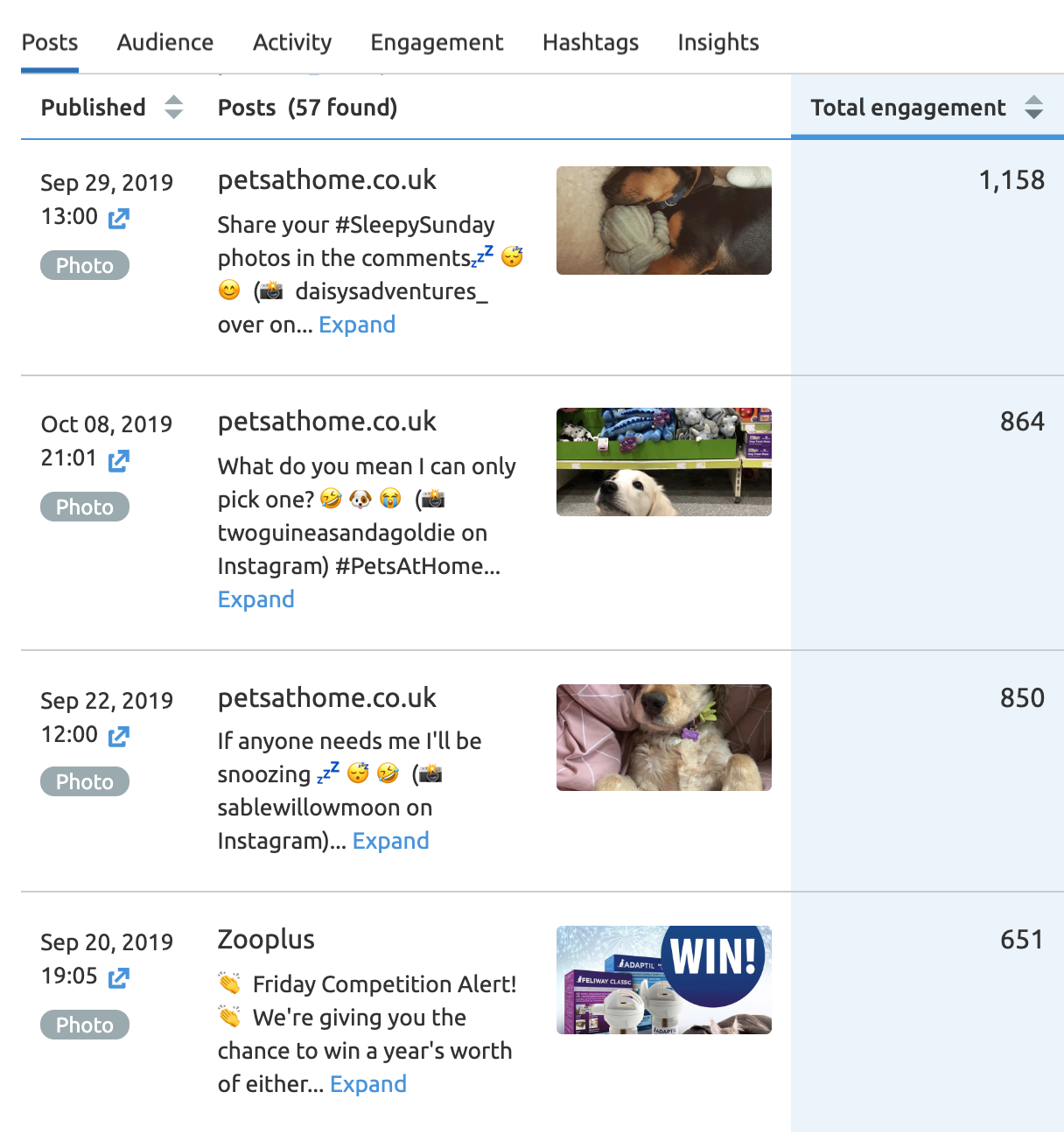 Track Your Competitors' Audience Growth
Your social media competitors may focus their efforts on particular social networks, or just one.
You need to know which networks each competitor is targeting, how often they are posting, what they are posting, and keep an eye on their monthly audience growth.
Go to the 'Audience' analytics section, which is available in each social network tab:
Once you have figured out who is dominant in each social network, try to find out how often and what type of content they post. These insights could give you some direction with your own social media strategy.
Analyze Your Competitors' Activity
In the previous step we found that out of all the domains we analyzed, petsathome.co.uk was particularly good at promoting themselves on Facebook. If your targeted audience were on Facebook, this data would be crucial for creating a competitive social media strategy.
With the 'Activity' report, you would be able to analyze their Facebook activity in more detail.
You could discover how much and what type of content (photos, videos, etc.) they are posting: 

You could see when exactly their posts get published and when they get the highest engagement, and schedule your social posting accordingly:

You could compare their overall publishing trends to yours and your other competitors':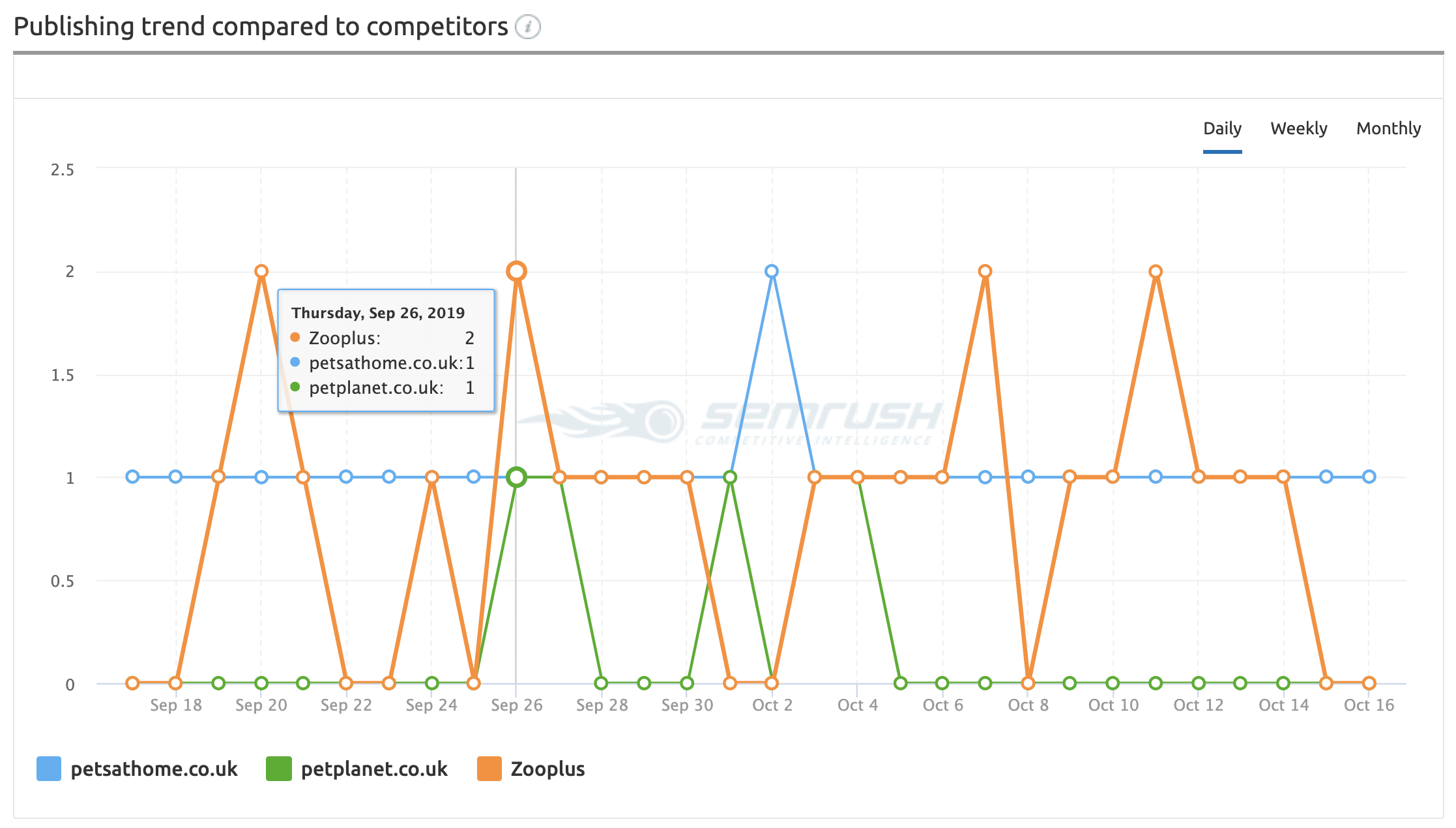 Spot Hashtags
Clicking on the 'Hashtags' report, which is available on the Facebook, Twitter, and Instagram tabs will take you to a list of hashtags used by your competitors. Again, you can see what they are up to in the social media space.
If a particular hashtag catches your eye – for example, #win –and you want to find out what kind of online competitions your competitors are running, you can filter out all the posts that contain that hashtag by clicking on it:

Analyze Engagement Trends
You can switch to the 'Engagement' tab and take a look at the 'Engagement Trends' graph to see spikes in your or your competitors' user engagement. You can also identify which pieces of content caused them by clicking on the peaks: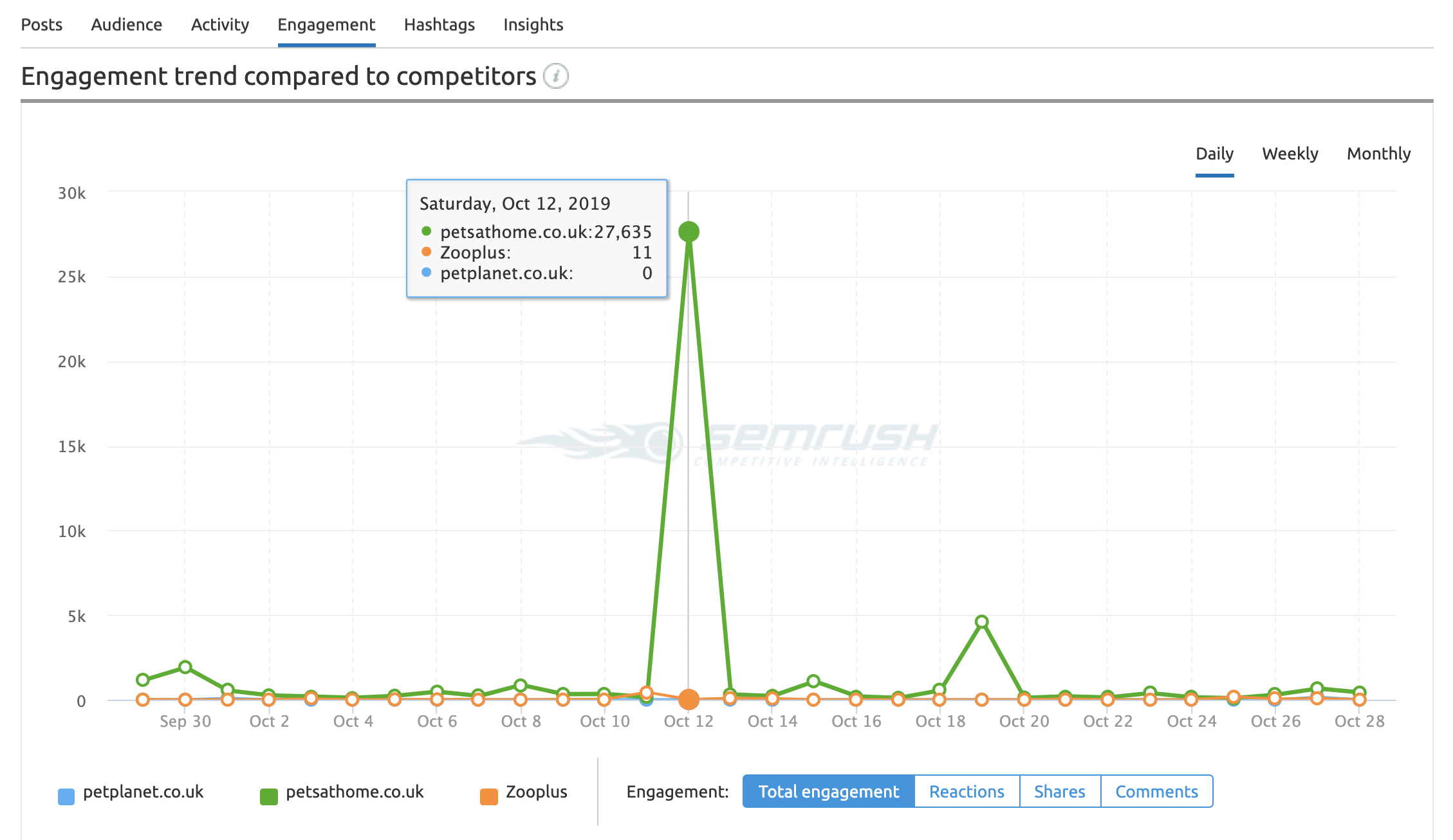 Track Your Mentions and Get To Know Your Fans
No need to explain how important it is to monitor your reputation. Get to know your customers and their mentions of your brand through the 'Mentioners' and 'Mentions' report in the 'Twitter' tab.
You may want to treat your most loyal customers to something special: sometimes even something as simple as posting a picture of their pet in your news feed can make them happy.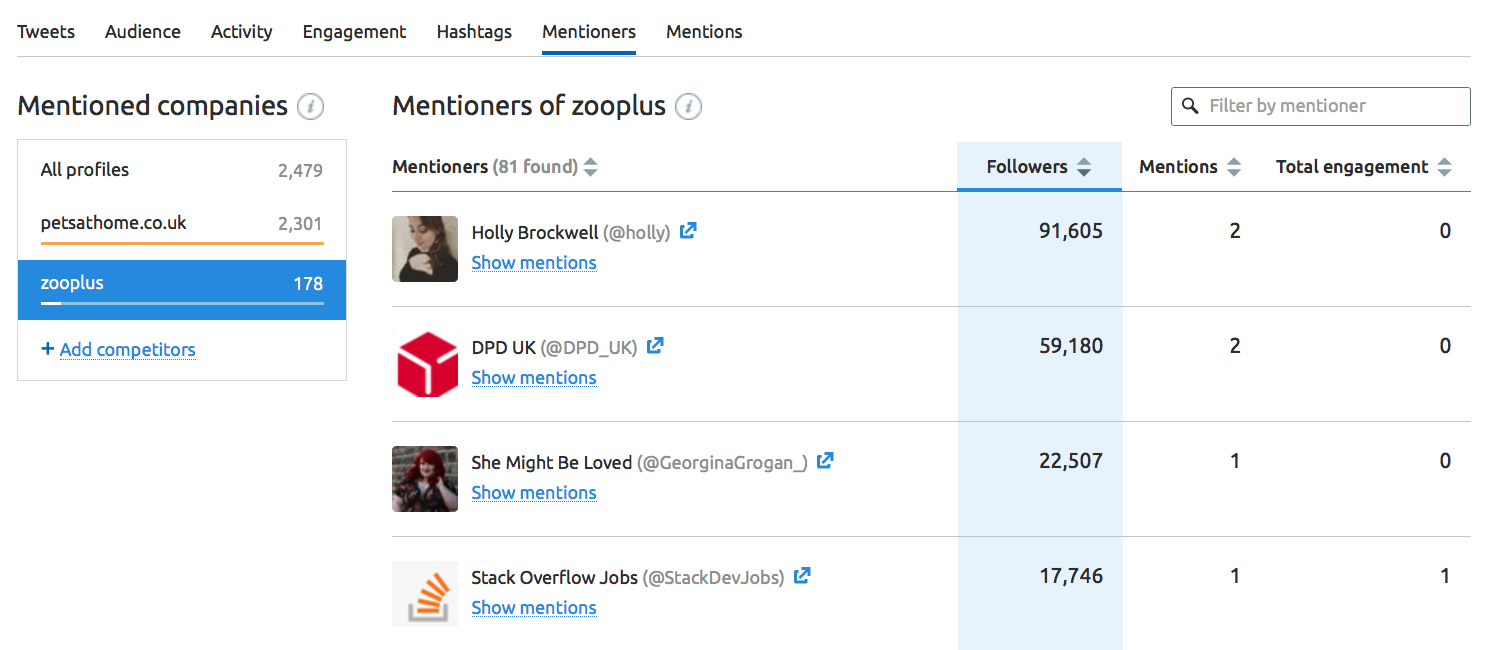 If your company followed all of the steps above, you would have a good arsenal of information that you can use later when planning your social media content:
You could establish your biggest online rivals, find out in which social networks they are doing a good job, and determine what types of content and tactics are helping them, as well as how often they post their content.

You could identify the top-performing content on each of the social networks you will be targeting.

You could spot some of your competitors' special offers and promos.

You could discover your most loyal customers and take note of bad reviews as well.
This competitive social media analytics data could give you a major edge over your competitors, so we recommend you check out the SEMrush Social Media Tracker today. 
Set up your first social media campaign and let us know what you think in the comments below!