Social media marketing and search engine marketing (SEM) are two distinct but very important methods used to connect with your target audience. Search allows you to put your brand in front of users who are actively looking for you at all stages of the digital sales funnel, while social media lets you build relationships with those customers. They are separate, but most cases benefit from using both.
Now, it is clear that while search and social are two very distinct specialties, they work most effectively when they are integrated together. If this sounds completely foreign to you, you are not alone — it is a strategy that isn't commonly used, despite the fact that it can be so effective. To help walk us through the process, expert and head of social analytics at Adobe Joe Martin joined us to explain how exactly you can set up search-social campaigns for best success.
Q1. In your opinion, what is the future of local search and social discovery?
While there is no telling what the future holds, we can certainly make a few educated guesses. We asked our experts and chat participants what they thought the future of local search and social discovery held.
More Personalization
Personalization is already important. The more personalized and relevant your ads or campaigns are to a specific user, after all, the more likely they are to click or engage. We are seeing incredible personalization capabilities already on social media, and even Google takes our past search history into account when listing our search results.
We do almost everything online, after all, so it is not a surprise that Google and Facebook have massive amounts of data about us, both as individual users and generalized audience members. Moving forward, both search and social will likely find new ways to utilize this information to create more relevant content.
Voice
Users are increasingly resorting to voice searches, asking Siri and Alexa what time it is, what year Angelina Jolie was born, and where the nearest Burger King is. This is changing the way businesses need to approach their keyword optimization and search engine marketing, and this trend will continue moving forward.
The Google mobile app and voice assistants are likely going to become even more important and engrained in what we do on a day to day basis. In the future, some of our chat participants think that the increased use of voice search can lead to more personalized results.
More Proximity Related Searches and Results
The increase in voice search will likely directly be tied to the increase in what some call "near me" searches. When users are taking advantage of the voice search feature, they often are asking services like Siri to find something close to them like a grocery store or bakery or event tickets.
More localized features will likely become available, making it easier for businesses to connect with local clients both in search and on social media. One chat participant believes that social beacons will likely be improved to better reach users within a close proximity to in-store businesses.
Reviews Will Remain Important
Reviews and user-generated content are already important, but the increase in localized searches may make them more crucial than ever before. This is especially true if search and social become more integrated on the back end of things, and Google starts placing even more importance on Facebook reviews for local businesses when offering suggestions to voice searches looking for nearby venues.
Integrating the OmniChannel
Omnichannel is a multi-channel business model that seeks to provide a seamless experience to customers, all the way from their storefront to their website and social media presence online. Moving forward, the omnichannel approach will become both preferred and necessary to allow businesses to more efficiently connect with users.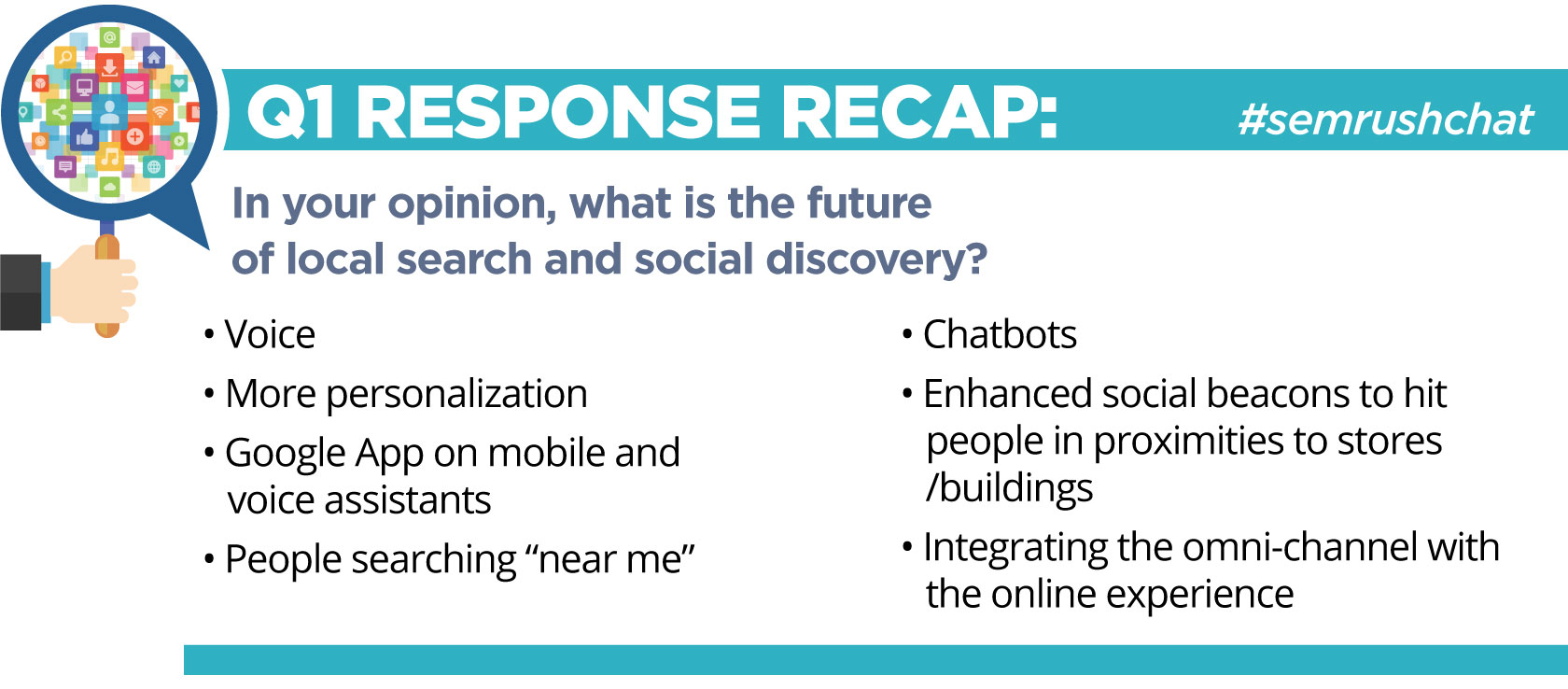 Q2. What are some ways that social can help fill in the data gaps that cause issues in search efforts?
Social media is a mine of rich data and information that we can use to better connect with our customers and create more relevant content for them, which our search marketing can then benefit directly from.
One example of how social can provide more information that can be utilized by search is the data mining opportunity. You can use social media to perform tests and evaluate your audience's habits and interests. Run organic and PPC campaigns testing different types of post content and see what offers, topics, and content interests them most. This allows you to be creative while seeing what your audience will respond to and then apply that data to your search campaigns.
While you can still run split tests on Google, the ability to get feedback and interaction with your customers in real-time is irreplaceable. You can see not only that they are clicking, but what else they have to say and whether or not they share it. This can give you immense insight that is almost impossible to replicate elsewhere.
With this information and the ability to show up in your follower's social feeds, even when they are not seeking you out, you can build stronger relationships with your customers. Not only will this keep users coming back to you (especially when you can offer great on-platform customer service), it will also provide even more of an opportunity to learn more about them and fill in the last few search gaps remaining.
Q3. How can social listening benefit SEM campaigns? #semrushchat
Social listening is the practice of seeing not only what customers have to say to you, but also about you. Tools like SEMrush's Brand Monitoring Tool can help with this, and give you valuable information to improve your SEM campaigns.
What your customers are saying can and should shape your content strategy moving forward. You should see what people are saying about you and how they are saying it; you may notice that they use different language to describe your services than you do. Instead of "flood restoration services," for example, they may be calling your services "flood clean up." This could indicate that your audience would be more likely to search for the latter, so consider including it as a keyword in your content moving forward.
With this strategy, you will likely be able to gauge what subjects your audience is most interested in reading and watching, too. Look for trending topics you can write blog posts about or the types of content they are most interested in seeing.
Social listening also lets you hear the good, the bad, and the honest. Your target audience will likely be brutally honest on social media, and you need to know how they are using your services and what pain points affect them most. Have you solved these pain points, and you can use that in your search campaigns (including PPC campaigns)? Do you still have a little more work to do? What your customers are saying on social can affect how Google views your content, so keep that in mind.
Social listening also, as always, gives you the opportunity to create remarketing ad campaigns on both social media or Google AdWords that are likely to snag higher conversions than campaigns targeting cold traffic. By being able to more effectively segment your audience, you will be able to create stronger campaigns.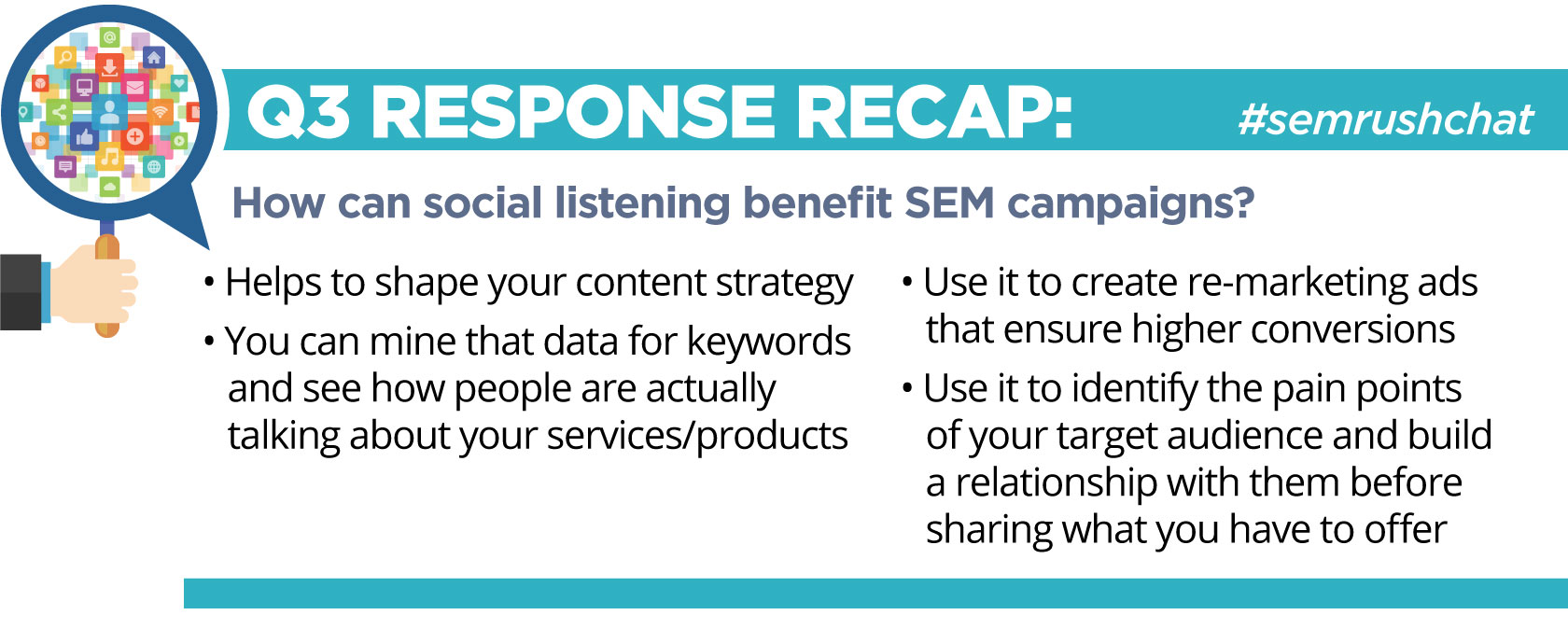 Q4. What type of data can benefit your content strategy with your SEM efforts?
Social media data is abundant and can be directly applied to your content strategy in a way that will improve your SEM efforts.
We have touched on this in the last question, but being able to see what people are engaging with and how they are interacting with different types of content is exceptionally valuable. Even generalized market research can't beat this value, because every audience will be different, even in the same industry. You may notice that your customers are asking follow up questions on your blog posts, giving you opportunities to see what they need and to create new content they are eager to engage with. Many brands even use short social media posts to test their audience's interest before investing the time into creating a blog post.
Aside from this, there is also a great deal of data you can harvest from Google Analytics to help you shape your content strategy in a way that will improve SEM efforts.
You can, for example, use Google Analytics to see how long people are spending on key pages of your site and how they are interacting with it. If users are engaging with certain type of blog posts or content (like videos) more than others, it can give you incredible insight into what users want to see and why. This helps you to see which content performs and converts best, and gives you a better idea of how to create more high-converting content moving forward.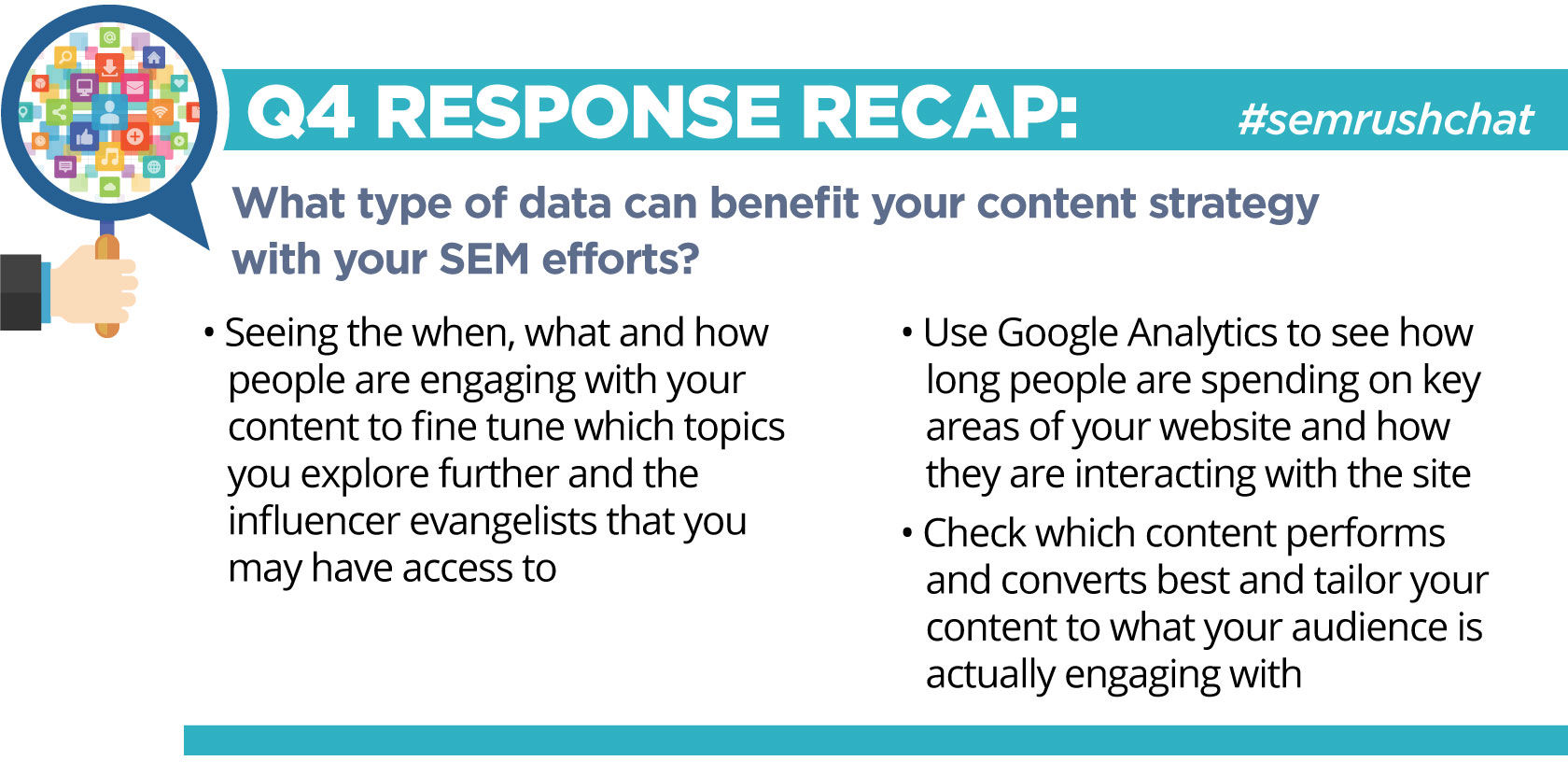 You should also closely watch to see which distribution methods — particularly on social media — are sending you the most traffic. This information can help you optimize your content distribution to get your blog posts (and your site!) more traffic.
Q5. What are the best and most effective ways to combine both your social and SEO
Full social and SEO integration can lead to best results. Fortunately, our experts had some great advice on how to make this integration possible, and they offered examples for how to implement it.
First, you should use social media to find the questions your audience wants to be answered. Social listening can help with this, and you can also look for the questions you are being asked the most. Then, create SEO content centered around answering those questions while using the language your audience used when asking the question in the first place.
You can also use social media to connect your brand with influencers, leveraging their incredible visibility and devoted, engaged audience to attract new followers. This can earn you more traffic and even potential backlinks to your site, which can help boost your SEO efforts.
Ultimately, social media and SEO are a magical combination that can help you increase site authority and traffic while also boosting social engagement and visibility simultaneously, giving you new ways to connect and build relationships with your audience while also providing a wealth of useful data for your business. Do this by integrating your social and SEO with a consistent brand voice for best results.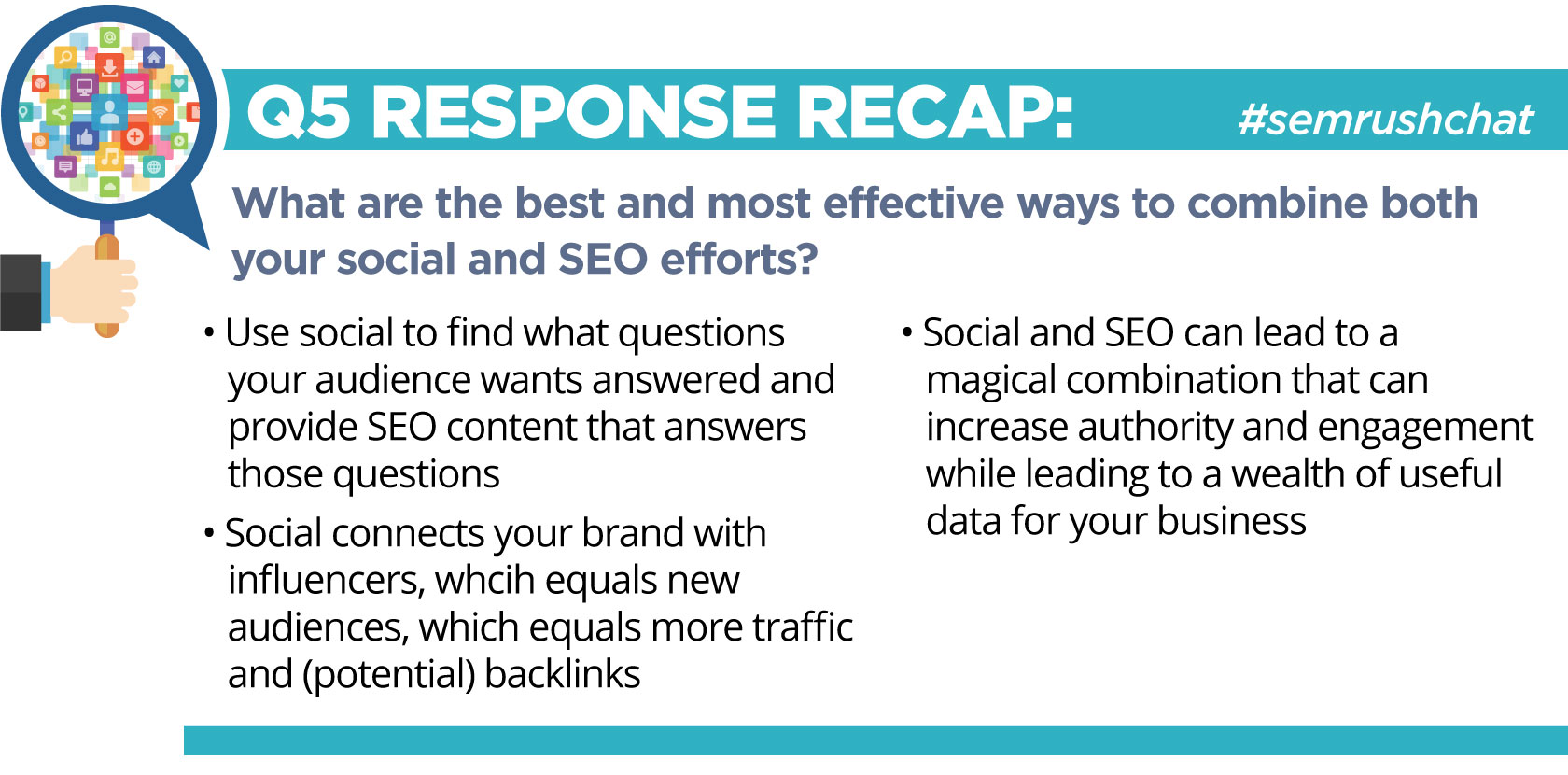 That's all for today! Make sure to join us Wednesday, March 28 to discuss "How To Make Money Online with Affiliate Programs" with special guest Harsh Agrawal!