Getting people to discover your content is not easy, especially when you're just starting out your blog. Yet, Roojoom, an early stage startup, managed to get to 12,000 monthly visits to their blog without spending any money on distribution.
Want to learn how to multiply your blog's traffic with no extra budget? Read this post.
The change happened in the course of two months and required considerable effort — and a bit of luck.
A Little Background
Roojoom is a content marketing platform and, in keeping with our core business:
Our blog focuses on content marketing and its goal is to expand awareness of Roojoom's brand and our expertise in the content marketing field.
There is a LOT of content about content marketing. Again: A LOT. Probably more than there is in any other industry. Why? Simple: everyone in content marketing has an extensive content marketing strategy. After all, it makes sense to promote content marketing using content marketing.
The bottom line is that it is very hard to get our content (about content marketing) noticed. We complete with hundreds of thousands of other blogs, many more established and better funded than ours.
We started our blog a little over a year ago. We were not sure what to expect. We decided to start without any budget since we were (and still are) a startup and spends most of our budget on building the product.
Our first few months were tough. We had an average of 500 visits a month and, because we were so busy building our business, we couldn't seem to find time to post more than once a month.
The Change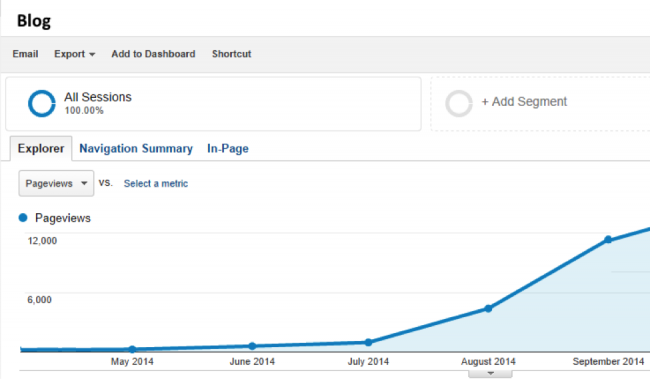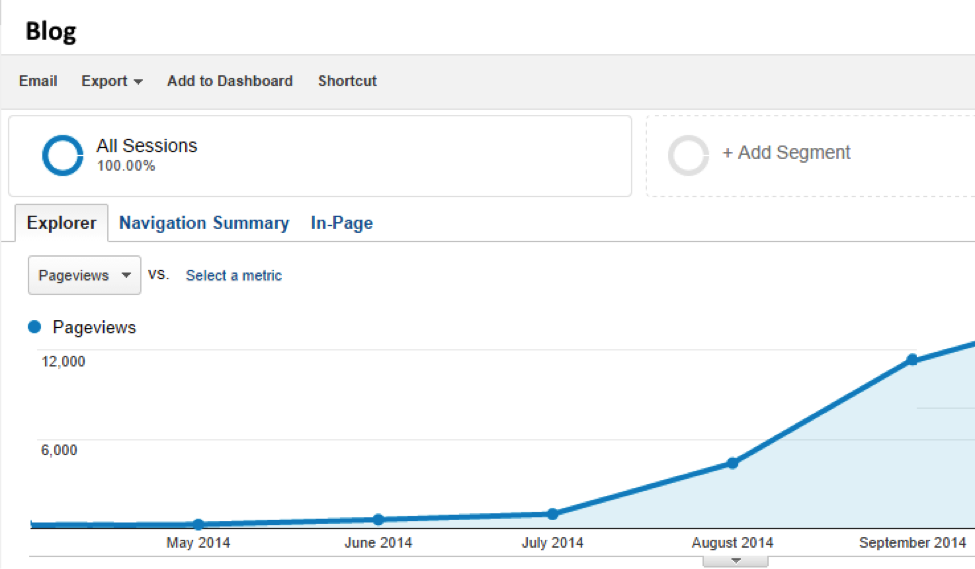 Between May and July 2014 we saw a 1200% increase in traffic to our blog even though we didn't spend anything on distribution. Here is what we did differently:
We Started Posting More Often
When we had only one post per month, we had fewer people interested on our blog. What we realized is that the more often you post to your blog the more chances you have for getting traffic.
Of course, when upping your game and adding more content you should make sure it doesn't hurt the quality of your content.
Here are a few tips for increasing your content creation without investing a lot of additional time in the process:
Roundup posts
Take some time once a week or once a month to research the web and find the best content that is relevant to your audience. Make sure to mix different types of content: articles, videos, presentations, infographics and so on. Write a paragraph or two explaining your main takeaway from each piece of content and add a link to the original article. Here is an example of how we do it.
Allow more people to chip in
If you are a marketing manager, you are probably the only person writing content for your company blog. I learned that encouraging more people to contribute can have a great impact on your blog. You'd be surprised about the amount of great information your salespeople, R&D and even your own customers have that is relevant to your audience and are willing to share.
Reach out to people in your company and your external community and give them an opportunity to share their relevant ideas. You may still need to edit these contributions before they are published, but this is a great way to increase the amount of quality content on your blog while better managing your time.
Interview people
Do you know any influencers in your niche? Someone people look up to? Great! Reach out to them for an interview. They will be happy for the potential exposure and you will have a rare opportunity to learn from them. How great is that? Plus, again, you spend less time writing content while adding even more value with more varied content.
Do you have more time-saving blogging tips? Share them in the comments below.
We Promoted the Heck Out of Our Guest Post
I am very active on many groups and online forums. These are great places to connect with new people, and indeed I was able to connect to the cool people of Referral SaaSquatch. While Roojoom and Referral SaaSquatch are not directly related products, we do share a target audience: marketing professionals at SaaS companies.
Following a brainstorming session via a Google Hangout with Referral SaaSquatch's marketing manager, a content collaboration was born. We decided that each of us would contribute one guest post to the other company's blog. Soon after, I published their guest post on our blog: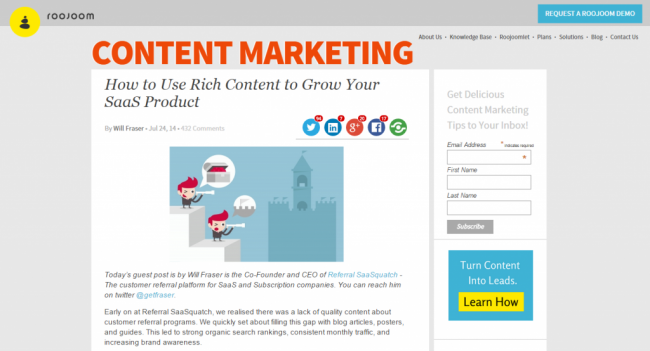 Considering how young our blog was at the time (only 6 months old), I was thrilled to receive an offer to guest post for us. I did everything that I could to drive traffic to that post: I sent on our newsletter to all of our users, I posted it to all of our social media networks, tweeted it many times via Oktopost and started discussions about it in online groups and forums. I asked Will, the post's author, to participate in the discussion and that got the ball rolling and people were more engaged.
The result was thousands of views and hundreds of shares.
We decided to invest as much effort in distribution for every single blog post going forward after we saw the difference those simple steps made.
For effective social media distribution, I highly recommend using a social media management platform. At Roojoom, we use Oktopost and find it highly effective.
One of my favorite things about Oktopost is that it makes you treat the promotion of content on social media as individual "campaigns." You can create different campaigns for every type of content, which then makes it easier to measure the campaign's ROI as you see the results of each one separately and compare them against each other.
We Seized an SEO Opportunity that Paid Off Like Crazy
Do you remember when Ello first became publicly available?
There was a huge buzz around it. It seemed like everyone was talking about it.
When I received my invite and went to check it out, I noticed that their search was hidden, and when I finally found it, it wasn't working.
I resorted to Google and searched for "How to search on Ello?".
I received a lot of search results, but none had the answer I was looking for. That got me thinking: if I'm searching for it, and there's no answer, I'd better write one myself!
So I found a way to search on Ello, and wrote a whole post explaining the potential of new social media platforms and how these are not worth anything if you can't find people to connect with.
I titled the post "How to search on Ello?" and added that as a keyword inside the post and in the summary. Within two hours the post was ranked #1 on Google for that phrase.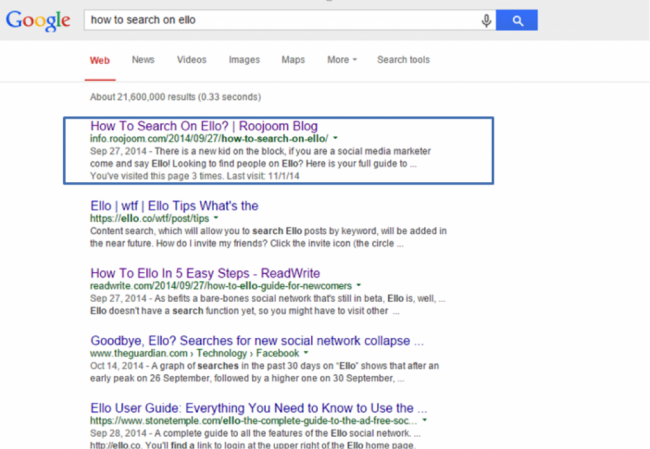 This post has brought us thousands of visitors, all from organic search results. We still receive traffic from it today even though Ello has long fixed their search feature.
I don't usually think about SEO when writing content. I think about my readers and what would interest them, and only then try to optimize for SEO. (And only if it doesn't hurt the quality of the content.)
But when I see a gap in search results with no clear answer — something that my audience is probably looking for — filling that gap can be easy and very rewarding.
Bottom line: Write for people, optimize for search engines. Try to find topics that are currently not covered and be the first to cover them or suggest a new angle — it will pay off.
We Encourage People to Read More Content
Getting the traffic to your blog is only the first step. Once you have the readers' attention, it is your job to create an engaging experience and help the reader discover more and more content inside your blog.
Here are some of the tools we're using in order to engage people on our website and encourage them to read more content and share content:
We use Shareaholic to add engaging share buttons on our website. Since we started using Shareaholic's WordPress plugin the number of shares of our posts tripled!
We use Roojoom to encourage people to read more content. By embedding Roojooms in each one of our posts we engage people with more content in each visit. This made our blog's bounce rate drop to 7.5%.
We also manually add links inside and at the end of each post to encourage people to read more content. This way people know what they can read next on our blog.
Other tools you can use are Outbrain — to automatically add links to other stories at the end of each post and BrightInfo — to add smart content recommendations across your website.
Conclusion
If you are working with a small (or non-existent budget), focus on social media distribution, content collaborations and SEO to help people discover your content.
Focus not only on bringing new people to your blog, but also on maximizing each session by recommending more content while the users are still on your site. Make sure they always know what to read next!
Yael Kochman
Yael Kochman is the Head of Marketing at Roojoom, the marketing platform that helps you turn content into revenue. You can connect with her on Twitter @yaelkochman.