Search ranking will make or break your business, and here are some stats to prove why rankings still matter. Emarketer forecasts that more than 85% of US internet users, or 246.4 million people, will search online at least monthly in 2020. The number of daily searches on Google is over 4 billion, and the top five results get 65% of the clicks. 
In fact, 75% of users don't even click past the first page of the search results. Paid Ads won't save you either, with 80% of search engine users avoiding them altogether.
With so much on the line for those lucrative top spots, the competition is fierce. Content marketing is expected to be a $412 billion industry by 2021. More and more businesses are realizing its importance and even view their blogs as an essential asset.
The SERPs have become a vicious battleground, and it is crucial, now more than ever, to focus on SEO. Every second you waste is time your competitors are using to get higher rankings and most of the money in your niche.
 For those that don't live in the SEO world, the tasks required to compete in the SERPs can seem overwhelming. In this post, I will show you some overlooked SEO tasks that will help skyrocket you to the top.
1. Focus on Structured Data
With so many sites to crawl, Google needs to be able to understand what each site is about, and structured data helps them determine the purpose and meaning of each page. Google states, "Structured data is a standardized format for providing information about a page and classifying the page content; for example, on a recipe page, what are the ingredients, the cooking time and temperature, the calories, and so on."
There are numerous structured data options through schema.org. Some commonly used markups indicate:
Here is an example of reviews.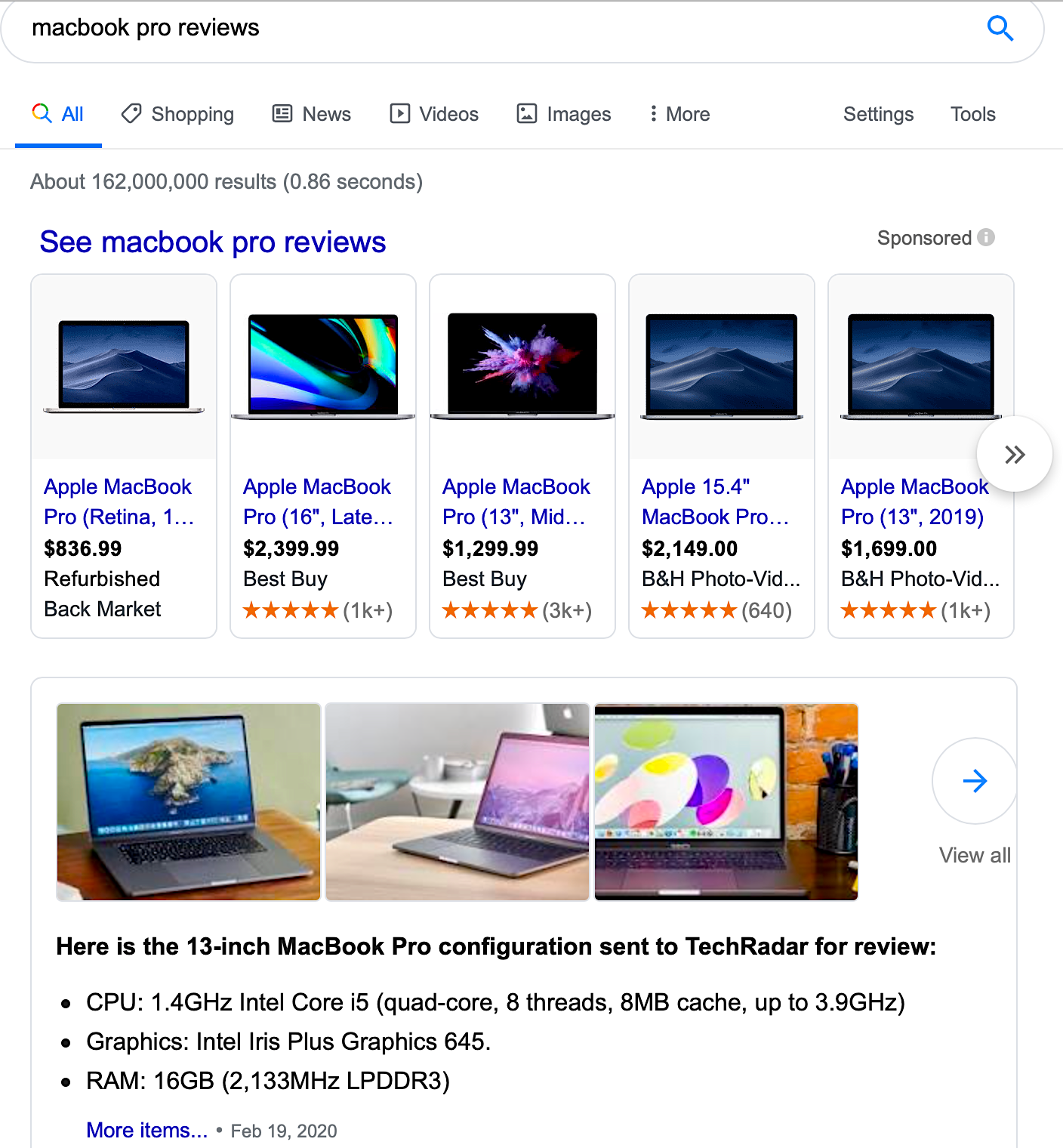 To make sure your markup is being handled correctly, Google recommends reviewing documentation on developers.google.com. Google has a Structured Data Testing Tool to use during development, and Rich result status reports webmasters can use to monitor after deployment. 
Site Note: You can track SERP feature placements for your domain with SEMrush and see if your placements improve or drop over time; this a great way to see if structured data is working and if improvements to them work. 

---
Structured Data and the Mobile Experience
Structured data gives users visually appealing information that is easy to understand and provides a flawless mobile search experience. With the rising use of mobile searches and the need for immediate information, Google uses structured data to quickly provide information users need.

---
Increased Traffic with Structure Data
Schema markup can really increase your CTR. Think about the type of content your audience is searching for that regularly displays as rich cards. Then create this type of content, and optimize them. Schema markup is an inexpensive and effective way to boost your organic rankings. You can read more about creating structured data here.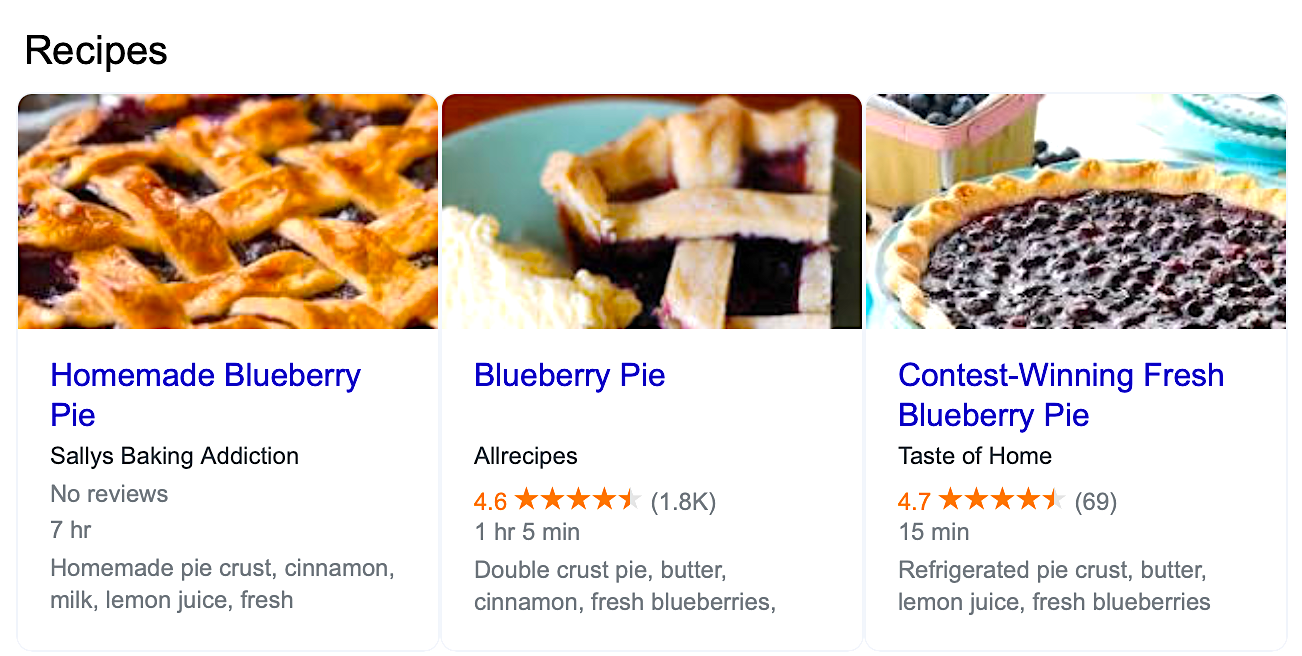 2. Monitor Backlinks
Having more backlinks does not always mean higher rankings; the quality of links matters. People that participate in link schemes Google doesn't like could actually hurt your site.
As you know, Google focuses on the authority of the website linking to your domain. What you might not know is that spammy sites linking to you could negatively impact your ranking, even if you have absolutely nothing to do with them. So you should always be keeping track of who is linking to your site, and monitor the quality of that link.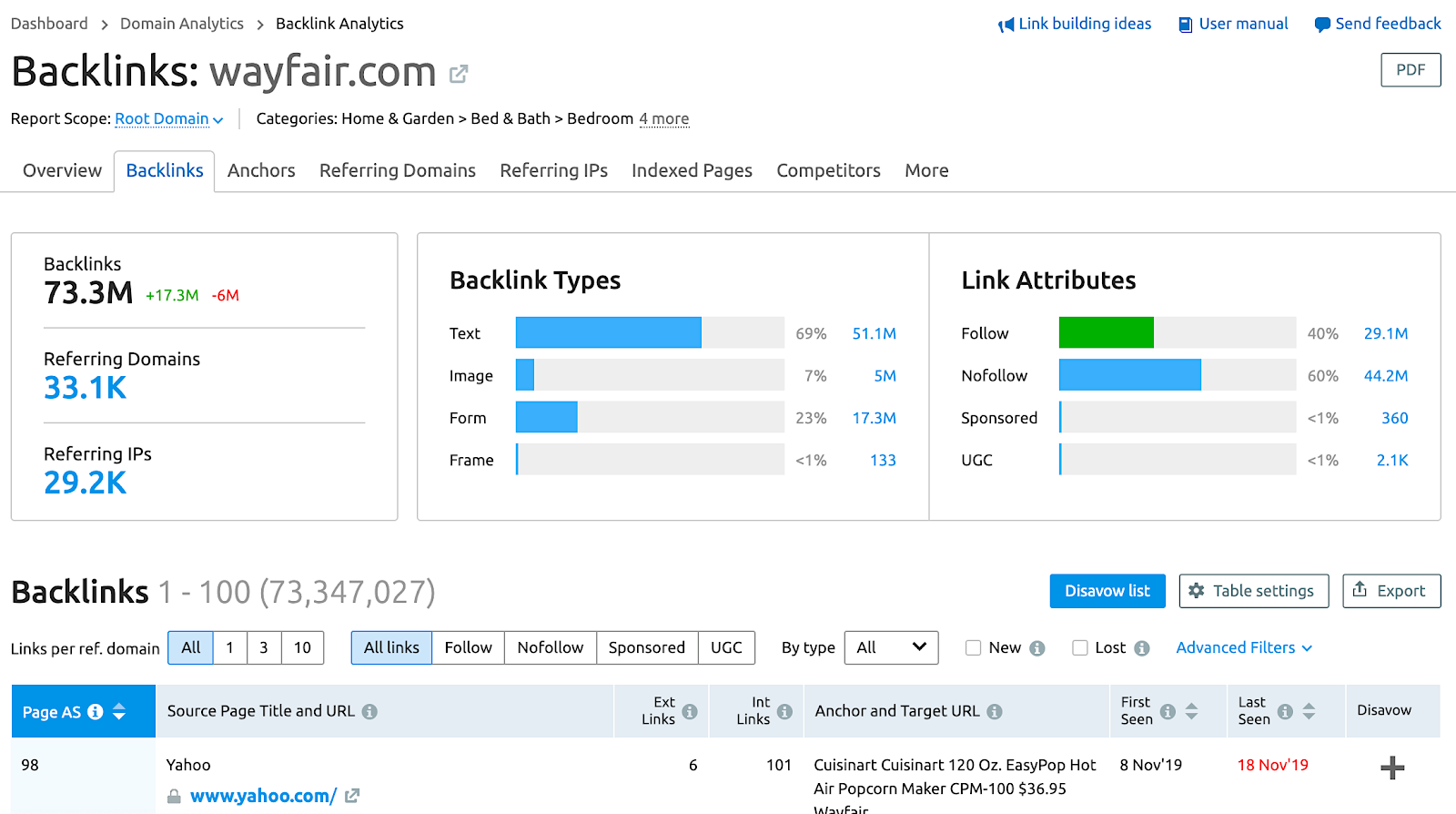 Google does monitor where your backlinks are coming from, and a lot of bad websites linking back to you raises red flags. The good news is that in the last couple of years, Google has become better at determining spammy or negative SEO strategies for what they are. And instead of demoting sites, they are ignoring some links. 
However, some SEOs have found that some link building tactics in articles have resulted in ranking difficulties, and disavowing links has helped in some cases. 
You should also keep an eye on Google Search Console to see the links they see linking to your website. 
Choose the site you want on the Search Console homepage.

On the Dashboard, scroll down to "Legacy tools and Reports".

Click Links.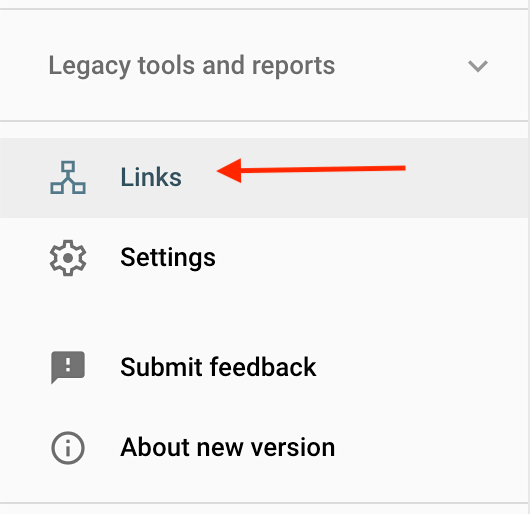 Manual Actions Google Search Console
Always keep an eye in GSC on the Manual Actions tab. If there is an issue with links, this is where you will find out. 
3. Create Skyscraper Content
If you haven't heard of or don't use skyscraper content, then you're missing out on a lot of SEO juice. The term was coined by Brian Dean, who used it to boost his traffic by 110% in 14 days.
Skyscraper content involves finding high performing content in your niche and creating something better and then shamelessly promoting it.
Skyscraper content takes a lot of work to do right, and you might get a mild caffeine high before you are done, but boy is it worth it.
Here is how to get started with skyscraper content
Find Competitors on Google
Run a Google search for keywords related to your niche.
For example, the search term 'B2B Marketing' brings up Hubspot.
You can pick the first four results for now. When you have an idea of who your competitors are, your next task is to find content that has done well for them. 
You can find your competitor's most popular content with SEMrush and Buzzsumo.
Using SEMrush
This process is as simple as inputting your competitor's URL in the SEMrush search bar. Choose organic research and examine the results. Not only will you see your competitor's top content, but SEMrush will also display the keywords they rank for.

Using Buzzsumo
You can also find popular content in your niche with Buzzsumo. All you have to do is input keywords related to your niche in the search bar, and Buzzsumo will provide you with popular content.
For example, if you are in the personal finance niche, you could use the keywords 'personal finance tips for moms'. And Buzzsumo will provide you with the most shared content for that keyword.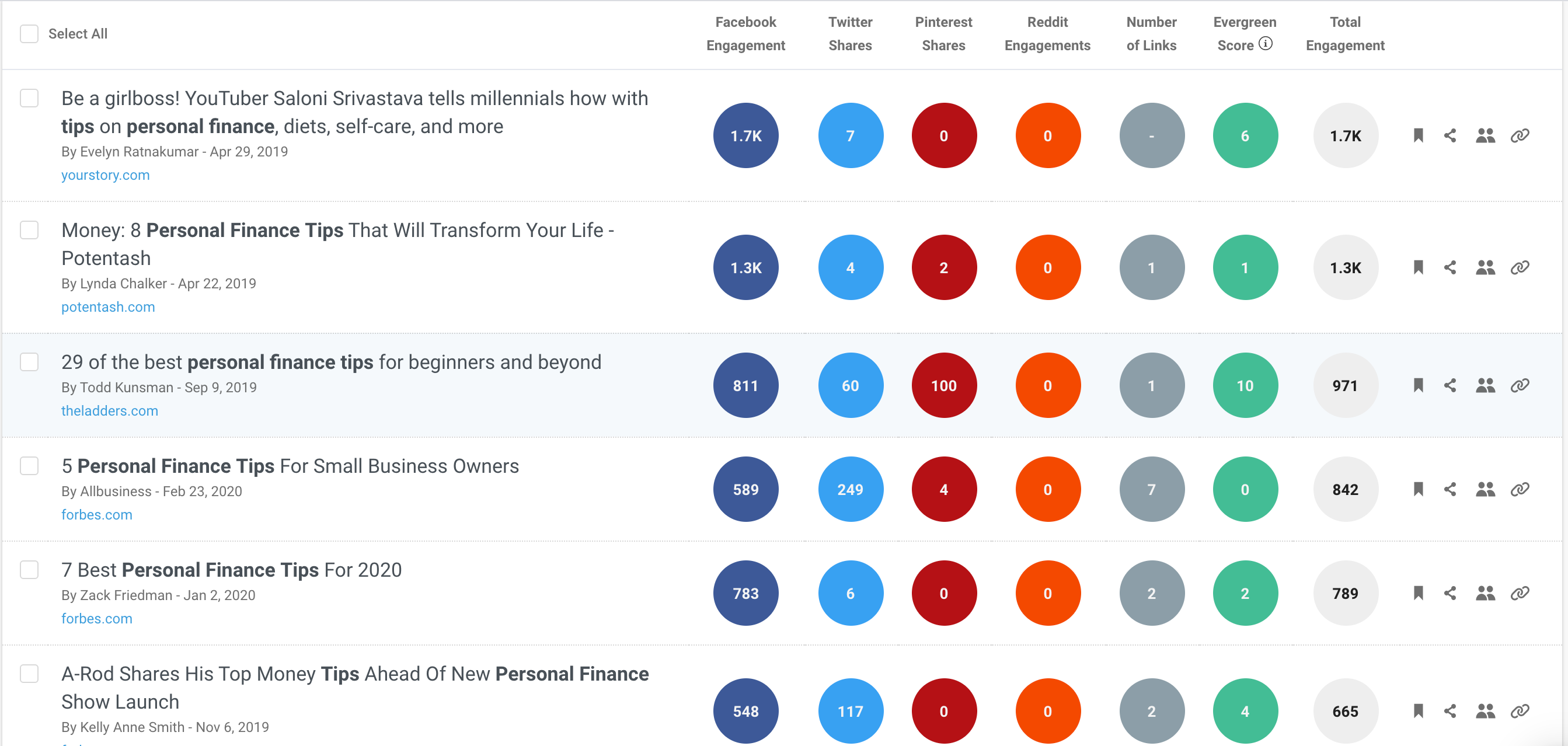 Now that you have samples of the most popular content in your niche, you can start the content creation process and generate better ideas and content based upon thorough research using the right content editing tools.
How to create better content:
Add more detail: If the most comprehensive post on that topic has thin list content, add some meat to the bones. Go in-depth on everything.

Get insights from influencers: Getting experts to give you their take on a topic can add more value to a post than mere word count.

Perform an experiment: Did the most popular content you found on your niche reference vague ideas with little or no concrete data to back them up? Perform your experiment, or link to credible research from respected source to give your content more credibility.

Make it easily digestible: You can do this by creating video content or even infographics that are easier to understand and still provide a comprehensive take on the topic.
Skyscraper content has to be better than anything else out there. No one ever points to the 245th tallest skyscraper in the world and goes, "Wow." You have to be number one. Get creative and make something better.
But you can't stop there. Once you have created great content, you also need to promote it. Go back to the top-performing content in your niche on Buzzsumo and find the people linking back to it or sharing it.

You can also see those who shared that content, along with their websites.
Then you can either send them a direct message or email them by using the contact form on their websites. Keep the message unique, short and straight to the point, and explain why your link will benefit their readers. Just asking for a link is not enough anymore; people get these requests all day. 
PRO TIP: Your message might get lost in the influencer's email, so make sure you follow up a day after.
4. Optimize Your Landing Pages
One key factor Google uses to gauge the quality of a post is its bounce rate. How quickly people leave your website after clicking on it in the search results. If people search Google and click on your website on the search results page, then discover it's not relevant to them and quickly go back.
Google takes notice, and if this happens a lot more, Google will drop your ranking for that search term.
This is where relevance comes into play. Sometimes it is not that you have poor content; it is just that what you are offering is not relevant to the user at that particular time. Every page on your website must have a goal based on where your users are on the buyer's journey. This goal will help you determine whether you should teach, convert, sell, or delight.
Trying to sell to someone looking for information will just annoy them and cause them to bounce. That is why you need to understand your users, where they are coming from, and what they need at that stage.
The team at Groove creates a different landing page for each website they guest post on.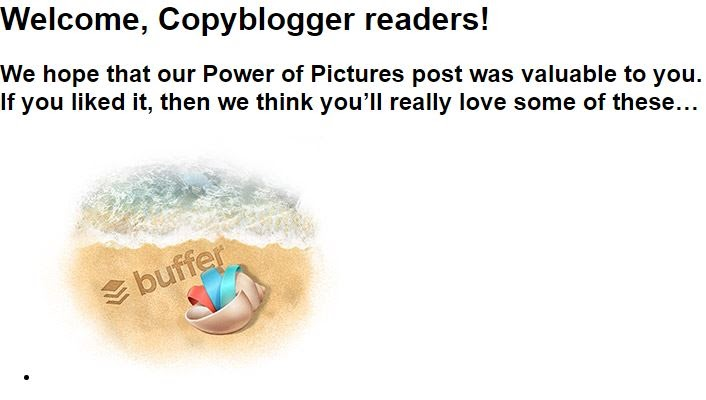 Before creating a page or posts, ask yourself:
Who is it for?

Where are they coming from?

What do they need at this stage?

What's my goal?

How can I be more relevant?
Your page cannot target everyone. When you market to everyone, you market to no one.
5. Use Infographics
People love infographics, but not a lot of marketers create them. I can't stress how much of an effective SEO task and strategy they can be.
Consider that 65% of people are visual learners and are educated by images better. Images are also easier to remember.
In Social Media Examiner's 2018 social media marketing report, 32% of marketers said visual marketing was the most important form of content for their business, above blogging at 27% and videos 24%.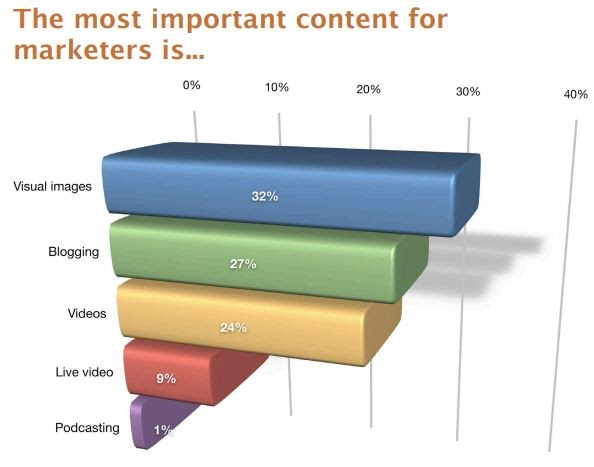 The first step to creating an epic infographic involves knowing what content to produce. What does your audience need to know, and what will people be interested in finding out? Take those ideas and brainstorm; what can you offer?
Some ways of finding similar information for ideation purposes:
Find popular but older infographics in your niche and create updated and better information.

Turn complex subjects into easily understood infographics.

Repurpose popular content on your website.
Once you have an idea that you think is good based on the above research, your next task is to create it.
How to create infographics:
Hire freelance graphic designers: The cheapest and fastest way to make infographics is to hire freelance designers on Upwork, Fiverr, etc.

Hire a design agency: You can also work with an agency if you can foot the bill.

Do it yourself: If you have an eye for design and are proficient with Canva and Photoshop, you can create infographics yourself.
You are not done yet. Once you have created an awesome infographic, the next step is to promote it.
Submit it to a few quality directories and use the skyscraper technique to find influencers that shared and linked to other infographics and get them to notice yours. You can also share snippets of the infographic on social media. 
Pro Tip: Use branding on your infographic and request a link back for the use of it. You want useful information that people will appreciate; don't oversell. 
6. Create More Videos
According to Omnicore, YouTube's monthly active users has surpassed 2 billion as of 2020.
Hubspot reports that 88% of video marketers found a positive ROI using video, that 99% of current video marketers plan to continue with video in 2020, and that 95% plan to increase or maintain their spend.
Google has incorporated videos in results pages for a while, and with better optimization strategies and Google trying to provide better results for search intent, we can only expect video results to rise. Videos have always been an important marketing strategy, but now they are downright essential.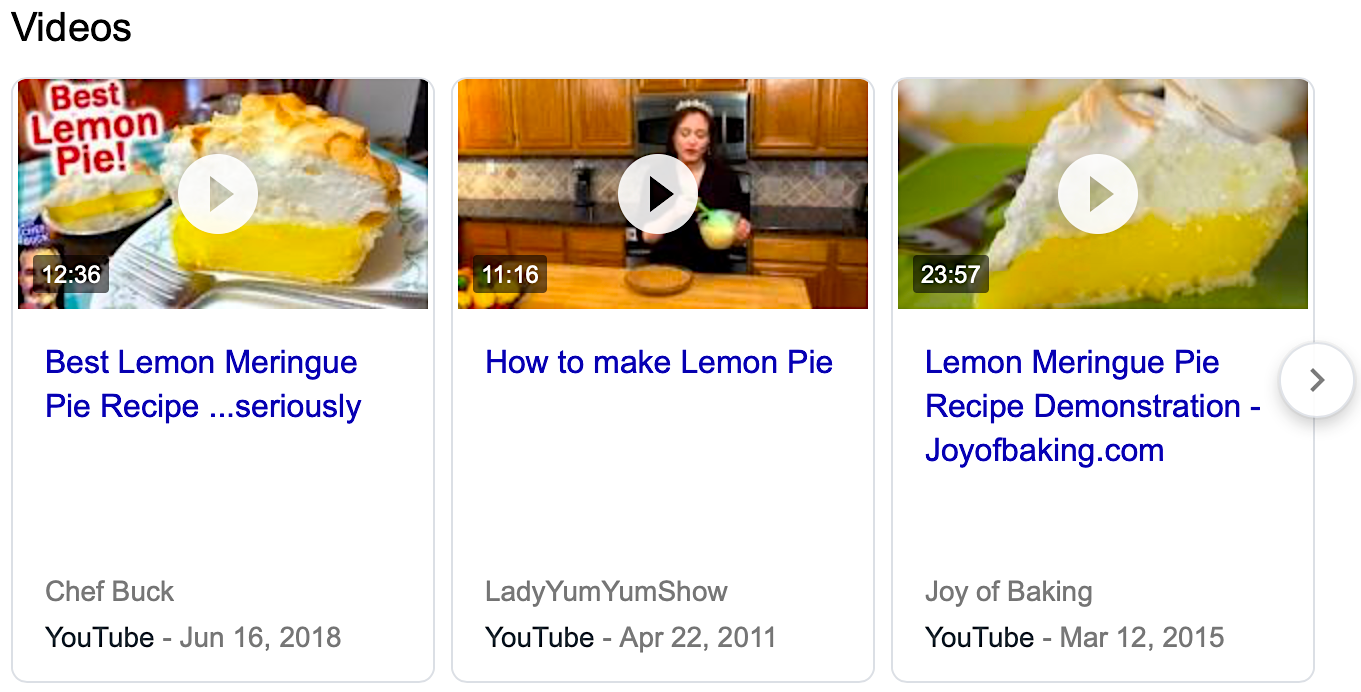 They pop up at the top of the search results page, and Google even shows featured videos: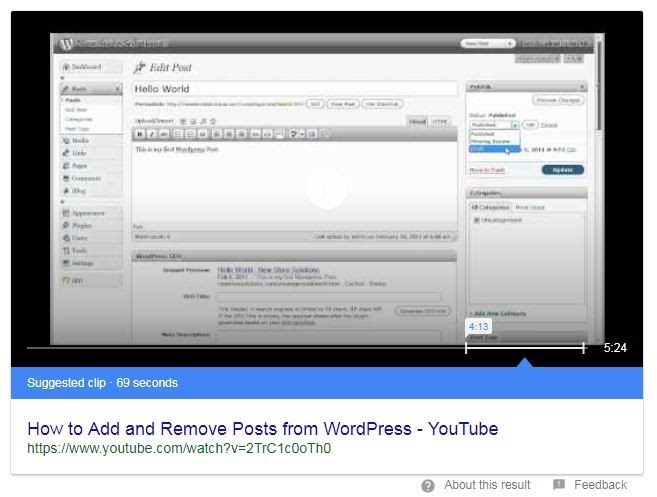 If you are not incorporating videos into your content marketing strategy, it is time to join the bandwagon.
Here is how to begin:
Find popular content on your website to repurpose into a video.

Find trending topics in your niche and make a video about these topics.
You don't have to hire a Hollywood studio or use a $20,000 camera to begin. An ordinary camera and some good lighting and editing software will do. Don't forget schema markup so your webpage will rank with YouTube videos: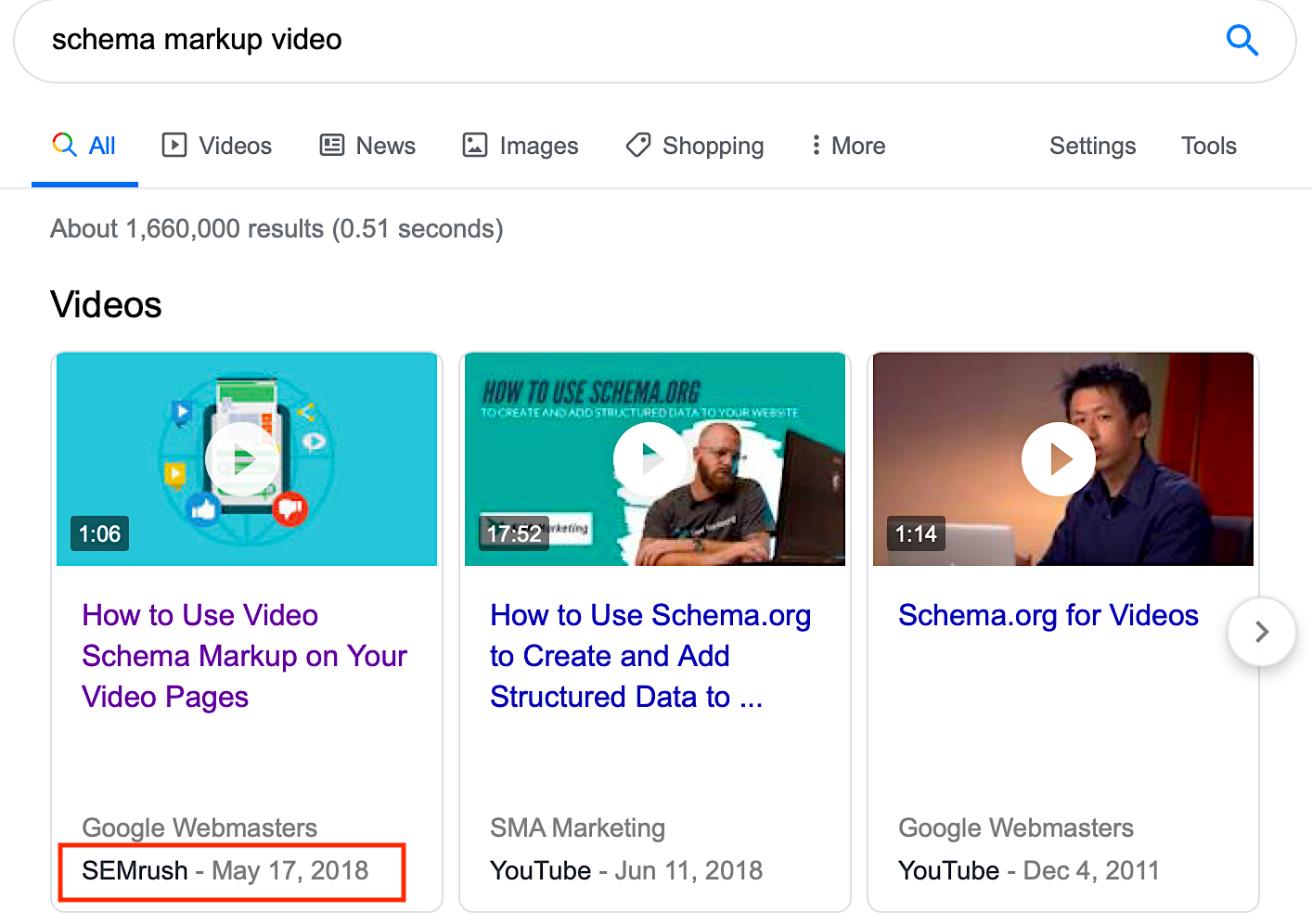 PRO TIP:
Always add descriptions to your videos; use a minimum of 200 words. Most people either avoid descriptions altogether or mash a bunch of keywords together.
Remember that Google doesn't know what your video is about. It relies on a text-based description to know if the video you just uploaded will be relevant to a user.
7. Create Your Own Keyword or Phrase
This is a bold strategy, I know. While it does require a bit of creativity, it deserves mention.
When you create a unique system, a product, or brand, you are the only one that is going to get traction for it, as long as it is truly original. And if it becomes popular, you are the default expert on the topic and could earn a number one ranking.
You can probably think of some unique concepts, systems, or products linked to a particular individual.
Maybe you know of Ramit Sethi and his briefcase technique? When you search for it the phrase, the first thing you see is a featured snippet at the top of the SERPs.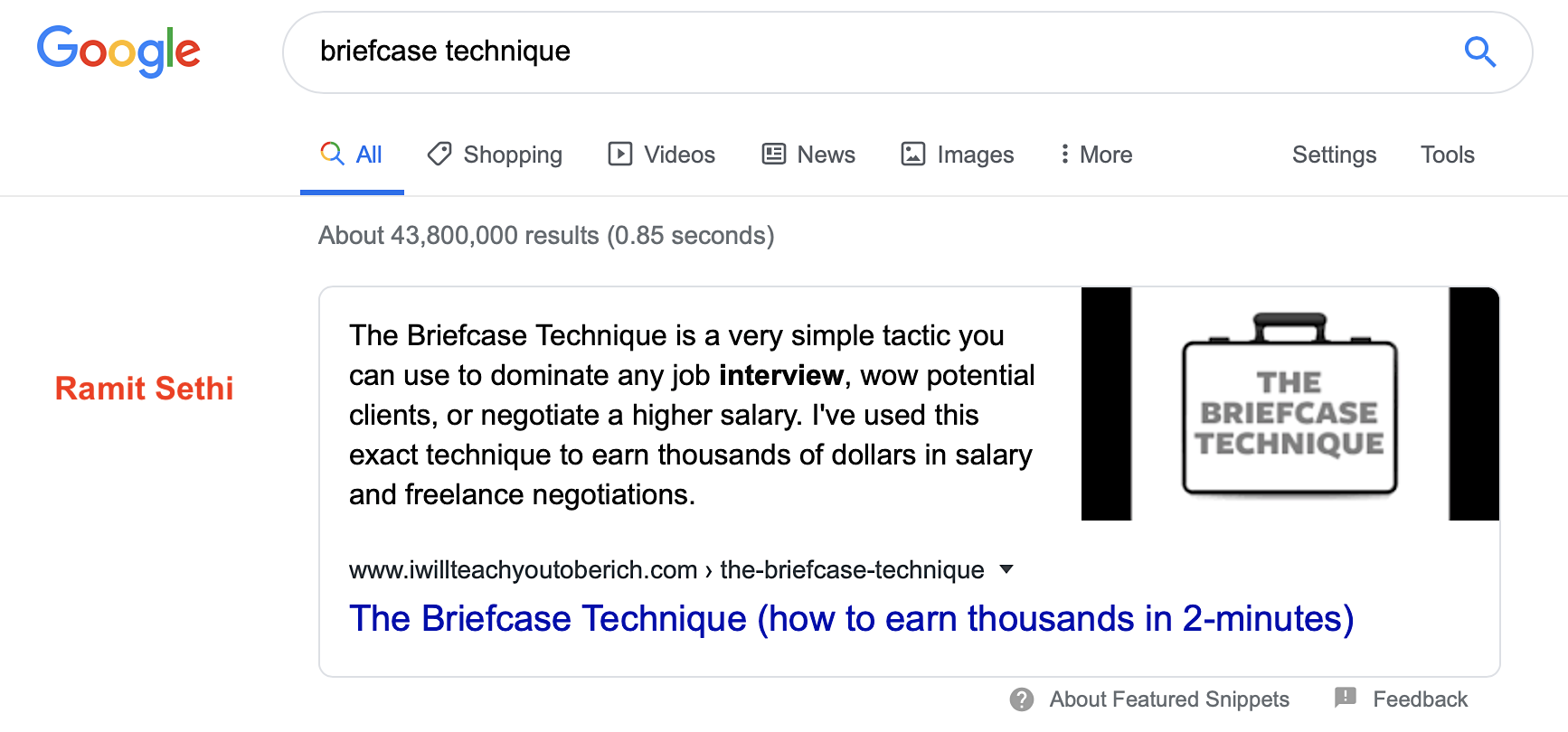 Think of a concept or system, gave it a name, and now rank for it.
Creating Your Own keyword
Name a system you use to do something really well: It can be anything from arranging home furniture or going through your inbox.

Create a name for something you have observed: A well known but unnamed occurrence in your niche or industry.
Once you have given your system or observation a name, link yourself to it, and optimize your web presence for it. Use it regularly in your posts and share with influencers.
If it catches on, you will be the only one ranking for it.
8. Take Advantage of High-Performing Posts - Linking and Improving
You know that internal linking is a good SEO practice. But, do you optimize your internal linking for maximum effect?
At the beginning of this post, I told you that 73% of users don't click past the first page. That means that your pages with less authority will be left out in the cold and will receive only the occasional stray or lucky click.
You can remedy this pretty quickly. If you have pages with high authority showing up on the first page of the search results, take advantage of this and link to lower ranking posts from these high-performing posts. This strategy can lead to more clicks and higher rankings.
Optimize Internal Linking
Identify your top ranking content with SEMrush.
Once you have found your highest performing pages, simply link from high ranking posts to a few low-performing but high-quality articles to give them an organic boost. Learn more about the organic research tool here. 
Updating Content
Google has made it clear that improving and updating content is a strategy they believe in. So, find your highest-ranking articles and the articles that drive the most traffic and update them on a regular basis (we updated this post; see dates above).
Stats change, and strategies change, so if you want Google to consider your pages still relevant, you must update them. And, if you want readers to trust you, you must offer them the latest information. 
9. Consider Entity Salience
This is an advanced SEO technique. Entity salience looks beyond keywords on a page and instead focuses on the relationship between objects or entities.
Entity salience is a relatively new concept brought about by search engines to improve the accuracy of search results by leveraging the known relationships between entities.
Entity salience steps beyond the boundaries of keywords. It is similar to co-occurrence, but instead of repeating keywords over and over again, or even variations of those keywords. It takes advantage of repeating themes for those keywords.
An example:
To make it easier to understand, Cyrus Shepard paints a clear example of entity salience at work. Let's say a page references Iron Man, Tony Stark, Pepper Potts, sci-fi, and the term Marvel Comics is only mentioned once.
That page, despite only including the term "Marvel Comics" once, has a strong entity salience with Marvel Comics because it has a lot of keywords strongly related to Marvel Comics.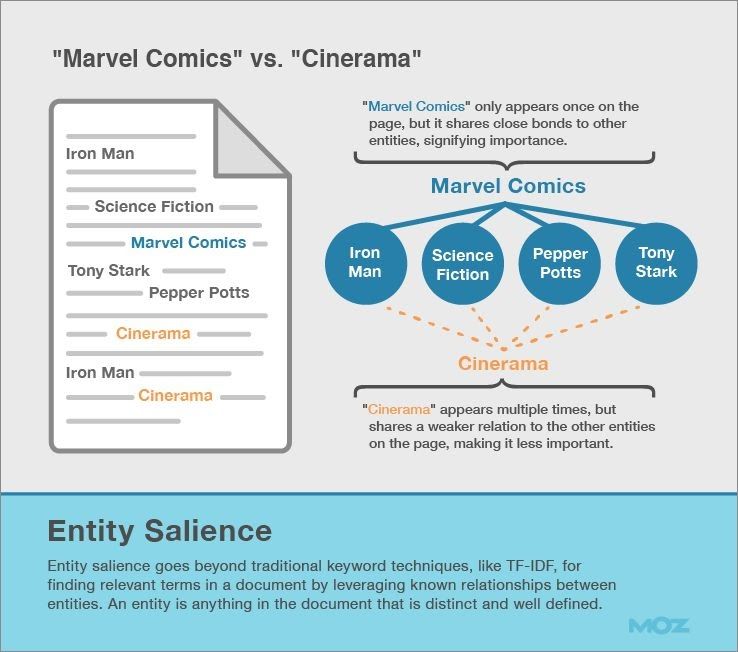 Let's take another example, say, Superman, Batman, Wonder Woman, Flash, and Cyborg appear on a page. They would have a pretty strong entity salience with DC Comics now, wouldn't they?
How does this apply to SEO?
Let's say you are a fitness blogger, and you created a post about interval training. Rather than stuffing your page with "Interval training" or even its variations, you can leverage entity salience by including strongly related subject matter in your post.
You can go into types of interval training, like Tabata, and even include individuals strongly related to it like its discoverer Dr. Izumi. This technique shows that your page is relevant to the search term "Interval training," which is better than keyword stuffing.
How to Leverage Entity Salience in Your Pages
Once you have found a topic you want to write about, all you have to do is:
Find other related objects strongly connected to what you are writing about: The easiest way to do this is a Google search that reveals related items.

Go into detail on each of them: It doesn't have to be a full post or stray too far away from the main topic but just some identifying detail.
10. Optimize For Voice Search
When was the last time you thought about optimizing for voice search? According to Alpine.ai there are over 1 billion voice searches per month. Emarketer shows the predicted growth of Smartphone searches in 2023: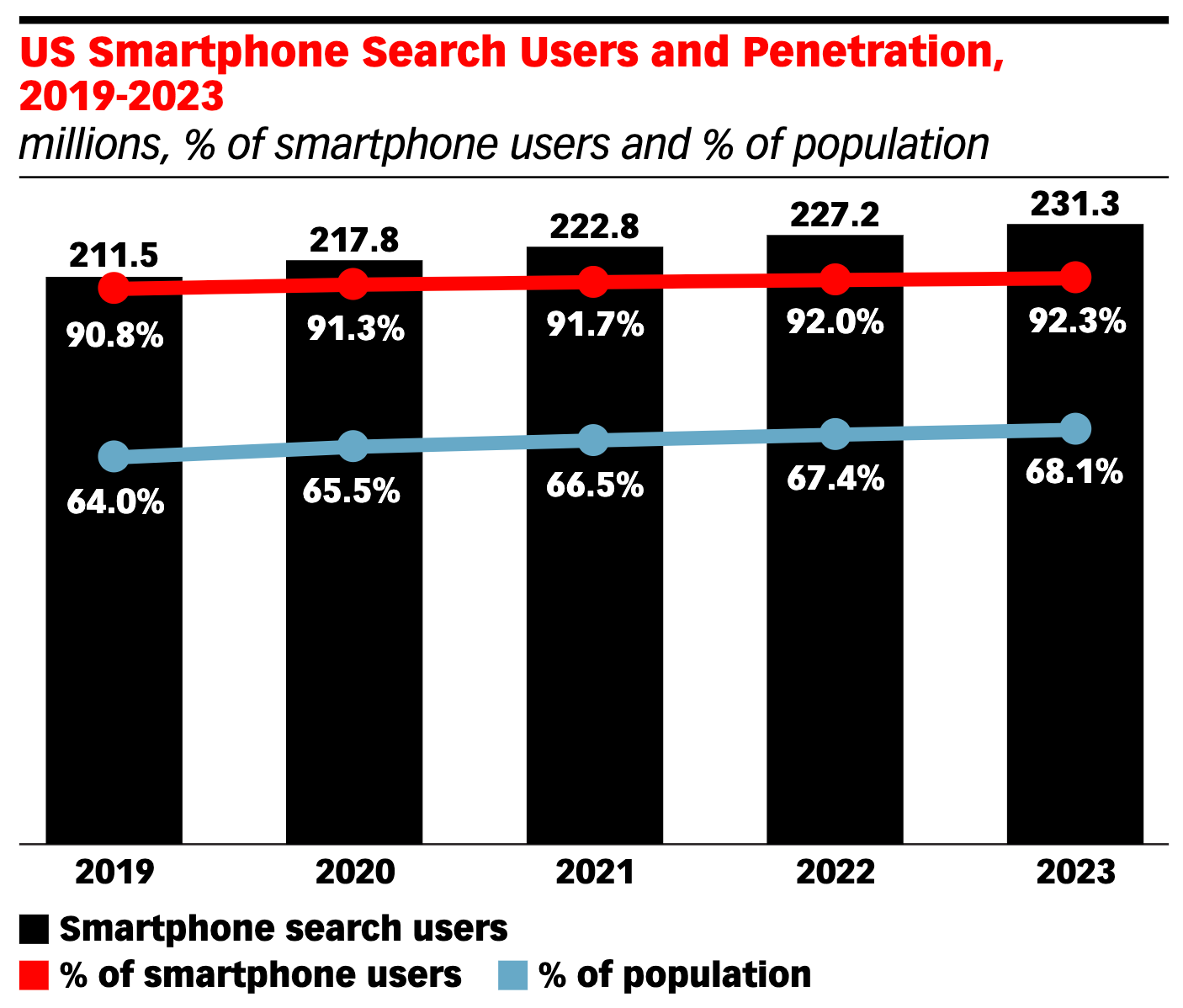 When you look at that data and then consider that at least 45% of millennials alone use voice-assisted search when shopping online, you can see this is a trend you can't avoid. 
Why You Should Optimize for Voice Search
It is predicted that mobile ecommerce sales will reach $2.91 trillion in 2020. People are buying while on the go — riding the morning train, while eating at a restaurant, scanning social media at lunch, and price-comparing while shopping inside of stores. 
Search Utilizes Long Search Queries
When we use voice search, we tend to be very specific about what we want. This verbalization makes long-tail keywords more valuable, and it gives less established websites an opportunity to rank.
Search Accurately Shows Intent
Going back to the specificity of search, when we use voice search, we tend to be more specific; hence our intentions are more evident.
Just look at this line graph showing the difference in query length between voice and text.
Compare the text search term "fridge" and the voice search term "How much does a fridge cost."
The text search query is vague and can mean anything from trying to decide the price of a fridge, reading information about one, or comparing brands.
The voice search term clearly shows that the person wants to buy. You can bet the second search term will matter a lot to someone that sells refrigerators.
Search is Heavily Local
We know that Google has begun to prioritize local search, but voice search takes this to a whole other level, voice search is three times more likely to be local-based.
If you own a local business voice search will be very important to you, could allow you to rank for a greater selection of terms than ever before.
So how do you optimize for search?
Make your content easier to read by utilizing headers, subheaders, and lists.

Use alt text and descriptions to tell Google what your images are about.

Use structured data to make clear what your content is about.

Use long-tail keywords in a conversational tone. Compare text-based search query "Hawaii travel cost" and voice search "How much does it cost to go to Hawaii." By using long-tail conversational tone, you improve your chances of popping up on search results pages.
As time goes on, voice search will become even more important than it is now, the sooner you start optimizing for it, the better.
Resource: Voice Search Study: Factors Influencing Search Engine Rankings in 2019
Conclusion
The SEO game is tough; there are very few winners and a pile of losers. Search results pages two and three have a combined CTR of just 6%; you don't want to be stuck on these pages. However, a lot of people like to avoid SEO because they feel it is too technical and boring, or it costs too much.
Burying your head in the sand won't make it go away; you have to start making SEO a priority, and optimizing on all fronts will give you an advantage. You have to build a strong SEO foundation to get the great content that you produce seen by the people you created it for and to help you do that you will need some great tools.
The ten ignored tasks I have broken down above can help any business get started. 
Are there some overlooked but effective SEO techniques you use that I failed to mention?