Changelog
Our video changelog this week highlights some enhancements to our report filters. Within the Full Search (or Phrase Match) Report found in the Tools section of our navigation menu, you'll find a new filter for "Number of Words." This filter does exactly what it sounds like it would do. You can now choose to include or exclude keywords that are greater than, less than or equal to a determined number of words in the keyword/phrase.
The second addition to SEMrush this week appears in the Site Audit Pages Report. To the top-right of the main table, you'll see a text prompt that says "Add More Columns to the Report." Clicking this will produce a drop-down menu with a very simple survey form that you can use to tell our Product Owners exactly what you would like to see in this report. So use it because we love feedback! As always, for a full demo of the features described here, please watch the embedded video above.
SEMrush Health
Looks like our buddies at Google are testing some new versions of mobile (including tablet) SERPs. We expect to see a few bugs as we adjust a data collection methods. Please feel free to report anything you see.
You may have noticed a huge spike in your traffic on Friday. Sorry! Unfortunately, it doesn't mean you can sell your Internet property for the boatload of money you've always dreamed of. It means that we screwed up :( However, it was extremely important to fix and we did just that. It took us a few hours but everything should be back to normal now. We apologize for any misleading information.
How to Use Uservoice
At the bottom-right of any page on SEMrush, you'll see a small, orange overlay tab that reads "Have a Suggestion?" This is our integration with the Uservoice Suggestion platform. However, many users often choose to utilize this for Support. In a perfect world, we would urge you to contact us directly but if you choose to utilize Uservoice, please be aware that there is a tab specifically for contacting support. See the image below. This will definitely speed up the turnaround time on your request.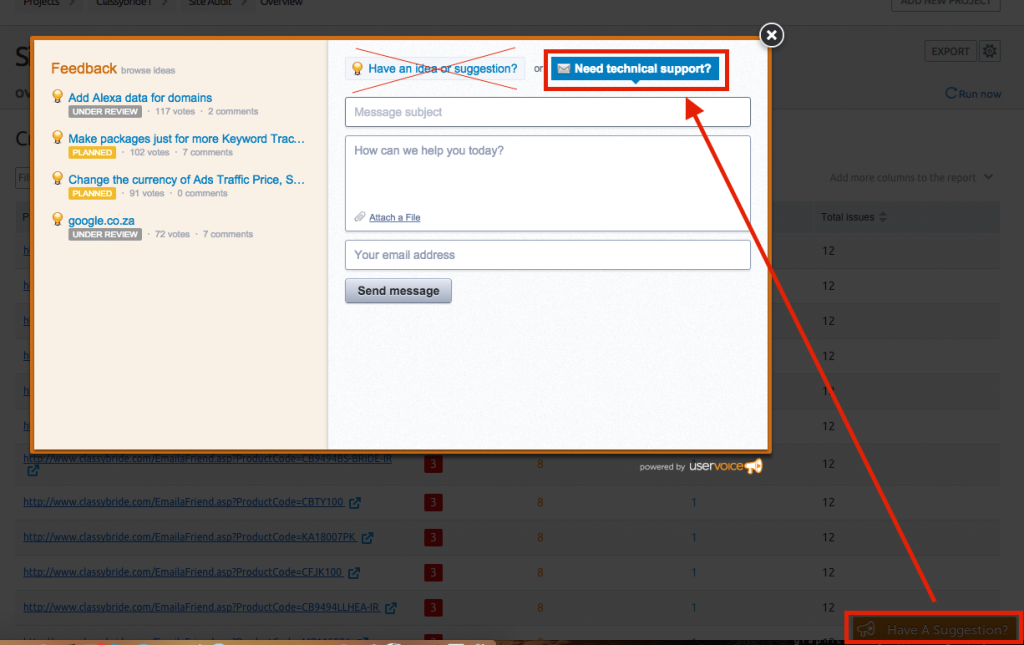 Let us know how we're doing — You can reach our Technical Support team Monday through Friday from 10am-6pm EST by phone at 855-814-4510 within the United States and, for our international users, 408-844-4633 from 4am-12pm GMT. We're also available by email at mail@semrush.com during both of those business hours and on Twitter using the hashtag #SEMrushCare.