Google is a search engine that sees billions of searches every day. 
Many of those search queries represent potential buyers. And if your brand is represented well in the search results, it's a huge business opportunity. 
In this article, we'll go over the importance of SEO and what benefits you can expect.
But let's start with the basics. 
What Is Search Engine Optimization?
Search engine optimization (SEO) is the practice of optimizing a website's content, structure, and overall online presence to improve its visibility and ranking in search engine results pages (SERPs). 
It involves techniques like keyword research, on-page optimization, link building, and technical SEO (more on those later) to make the website appealing to both search engines and users. 
Businesses engage in SEO to get found and capture demand. Which can increase website traffic, drive conversions, and increase sales. 
Note: There are numerous search engines, but we'll be focusing on Google throughout this article. 
What's the Importance of SEO for a Business?
SEO is important for businesses because it helps you attain visibility for search queries organically. This helps you earn rankings rather than having to pay for them with pay-per-click (PPC) ads. 
Here's an example of a SERP with both paid and organic results: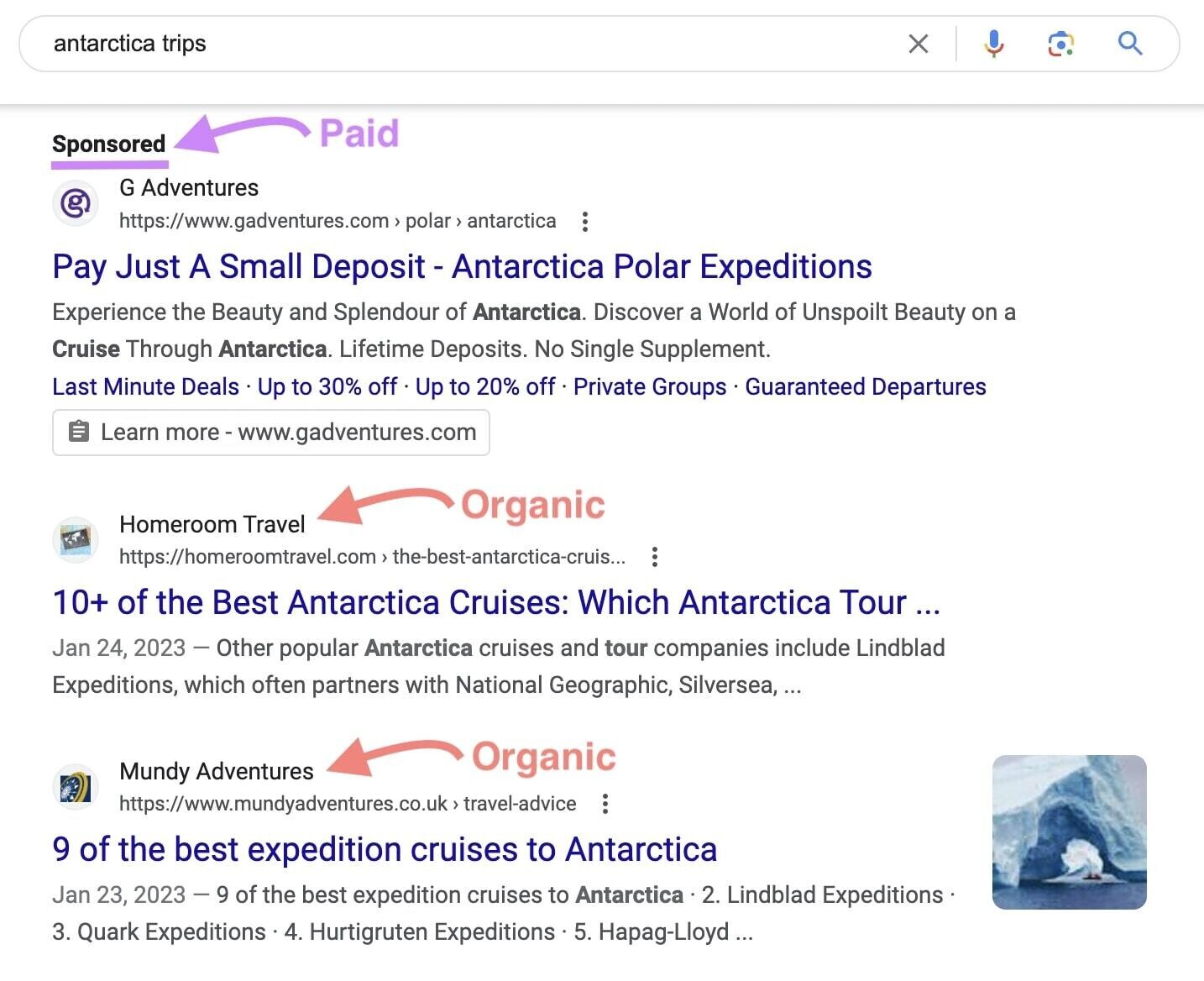 Ranking well in search results for queries related to your content, products, or services can increase your website traffic. This can translate into revenue if you convert prospects into customers. And often at a lower cost than if you were using paid Google search ads.
But SEO's importance to a business can vary.
If you're launching a new product, SEO might not work fast enough to have a meaningful effect. And paid advertising or PR campaigns may be a better fit. 
The same may apply for events like conferences or limited-time courses, where email marketing may be a better fit due to the short-term nature of the product or service.
And many B2B service businesses can achieve faster results by connecting through LinkedIn or conducting one-on-one sales than with SEO (though SEO can still be worthwhile over the long term). 
But the practices that go into SEO are beneficial for any business. To help you gain visibility and put you in front of more potential customers. 
The Main Elements of SEO
Building SEO programs involves essential components, like keyword research, content creation, website development and design, and link building. 
But before we get into those details, it's a good idea to briefly cover how Google search works.
The basics are simple to understand: Google wants to deliver relevant results to searchers. 
And it does that by crawling websites, indexing pages, and then serving the best results to searchers.
Google offers their own guide to how search works that includes five factors:
Meaning
Relevance
Quality
Usability
Context
You'll be able to touch on each of these by focusing on all the core elements of SEO: keyword research and planning, content development and on-page SEO, off-page SEO, technical SEO, and local SEO.
Keyword Research and Planning
Keyword research is the process of researching, identifying, and prioritizing search terms with the goal of creating content that ranks for those search terms. 
For example, a business that creates artificial intelligence software for content creators would benefit from appearing for search queries related to "AI content." 
Keyword research is how the business identifies potential keywords and evaluates their search volume (the estimated number of searches per month) and other search metrics like Keyword Difficulty (a score that estimates how difficult it would be to rank in the top 10 results for that keyword).
Keyword Magic Tool is an easy way to get started.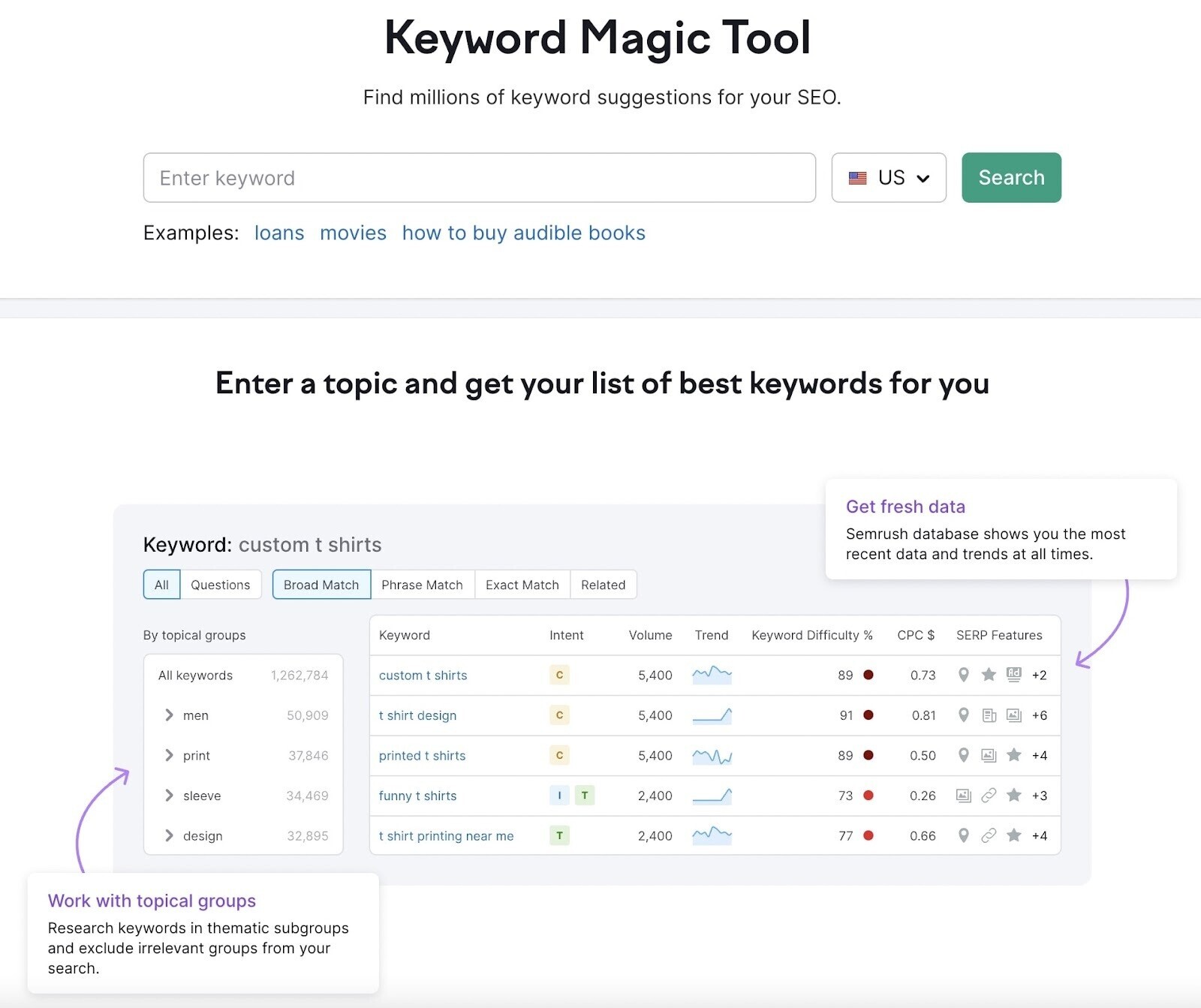 For an artificial intelligence software, we could simply start with the seed phrase "ai content." 
The tool then gives us a list of related keywords.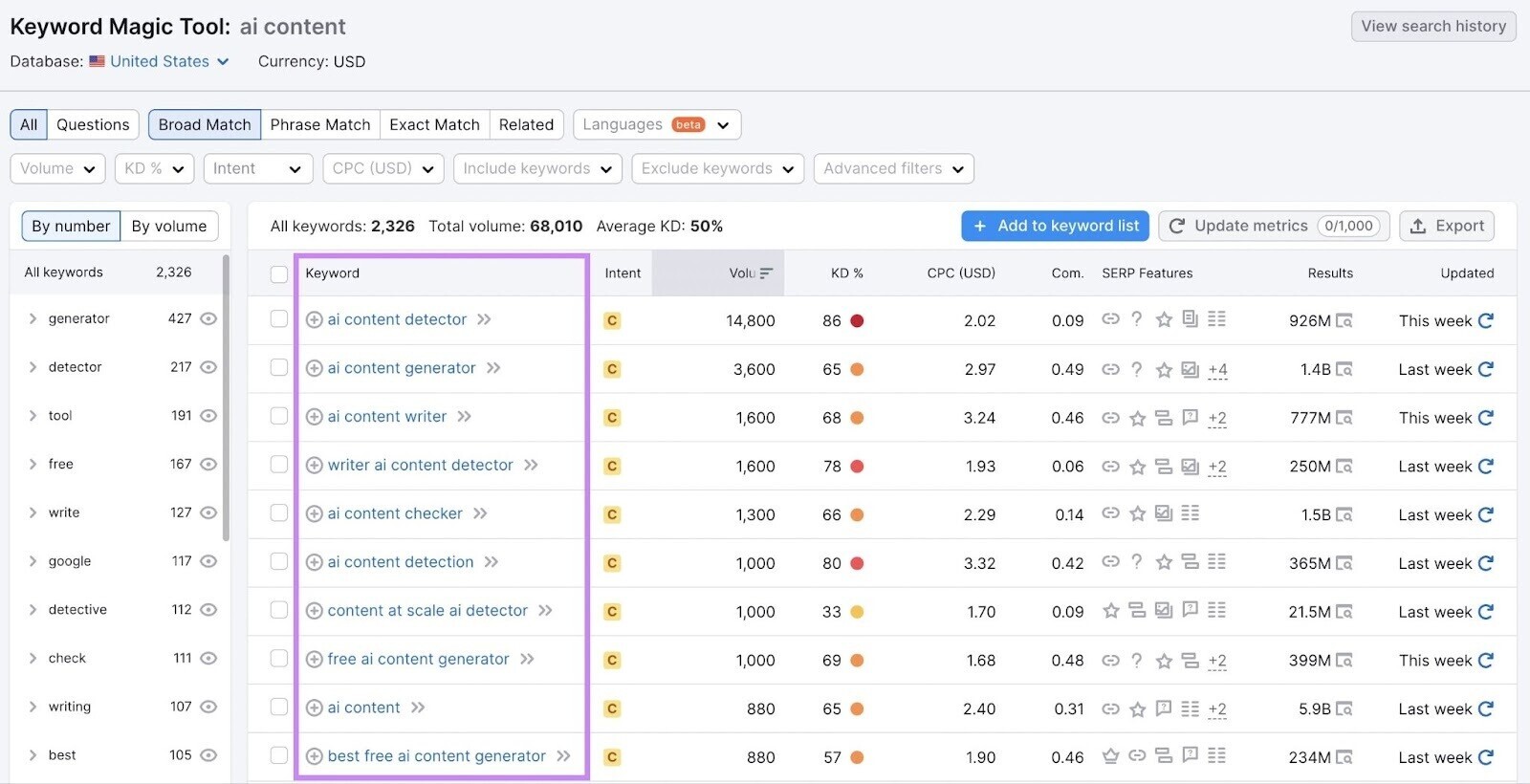 To find more specific keywords that are relevant to your niche, consider using the suggested groups and subgroups in the column to the left.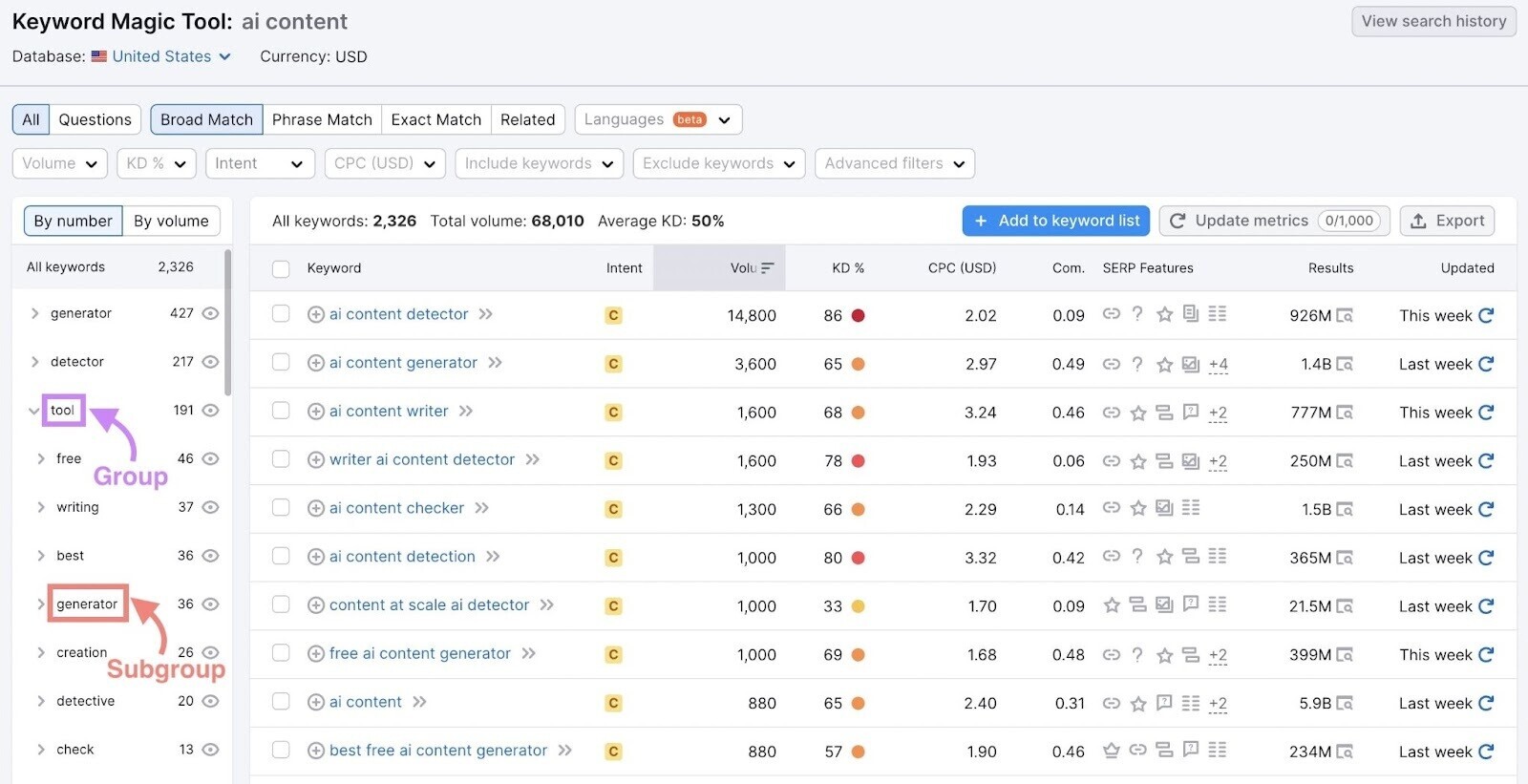 Choosing a relevant term from those suggested groupings can help you find good keyword options that are more specific and likely easier to rank for. 
Think of keyword research as the first part of content planning. It's the process of identifying topics that will then go into production. 
Content Development and On-Page SEO
SEO content development is the process of creating and optimizing content that answers search queries to help it rank for target keywords. 
It can mean creating new content. Or it could be optimizing existing content. Sometimes, even just optimizing smaller on-page SEO components like title tags, internal links, and content structure. 
To have the best chances of ranking for a target keyword, you want to provide the best possible content in a structure that aligns with Google's ranking factors. 
While it's difficult to determine exactly what "the best possible content" means, our SEO Writing Assistant can be useful. 
To begin, click "+ Analyze new text." 
Then, upload your draft and enter at least two target keywords. 
And click, "Get recommendations."
Then, SEO Writing Assistant will score your content based on SEO, tone of voice, originality, and readability.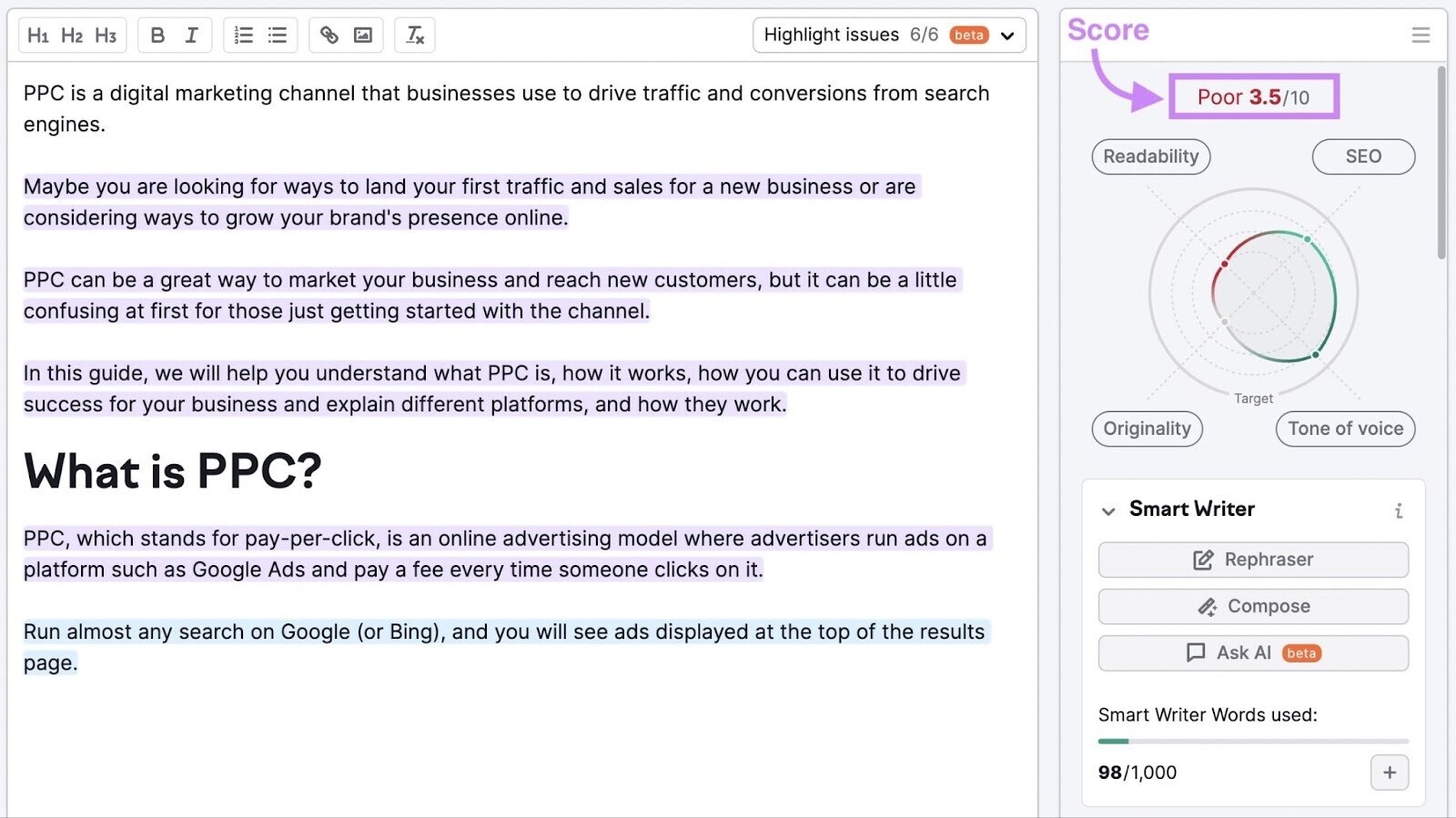 The tool will also give you suggestions based on each category to optimize your content.
Off-Page SEO
Off-page SEO refers to actions taken off of your website to improve website rankings and organic traffic. 
Largely, this means link building and backlink management.
Backlinks are links on other websites that direct to your website. Google's algorithm considers backlinks in its ranking factors, so your backlink profile matters. 
Building high-quality backlinks can be done in many ways: guest blogging, digital public relations, creating quality content that collects natural backlinks, and more. 
A great way to monitor your backlink profile is with our Backlink Analytics tool. 
Just enter your domain and click "Analyze."

You'll then see an overview of your backlink profile. With information about how many domains refer to you, and your Authority Score (a metric that evaluates a domain's overall quality and SEO performance). 
If you set up a Backlink Audit project, you can see your Toxicity Score (a measure of how healthy your backlink profile is — of importance as your backlink profile grows).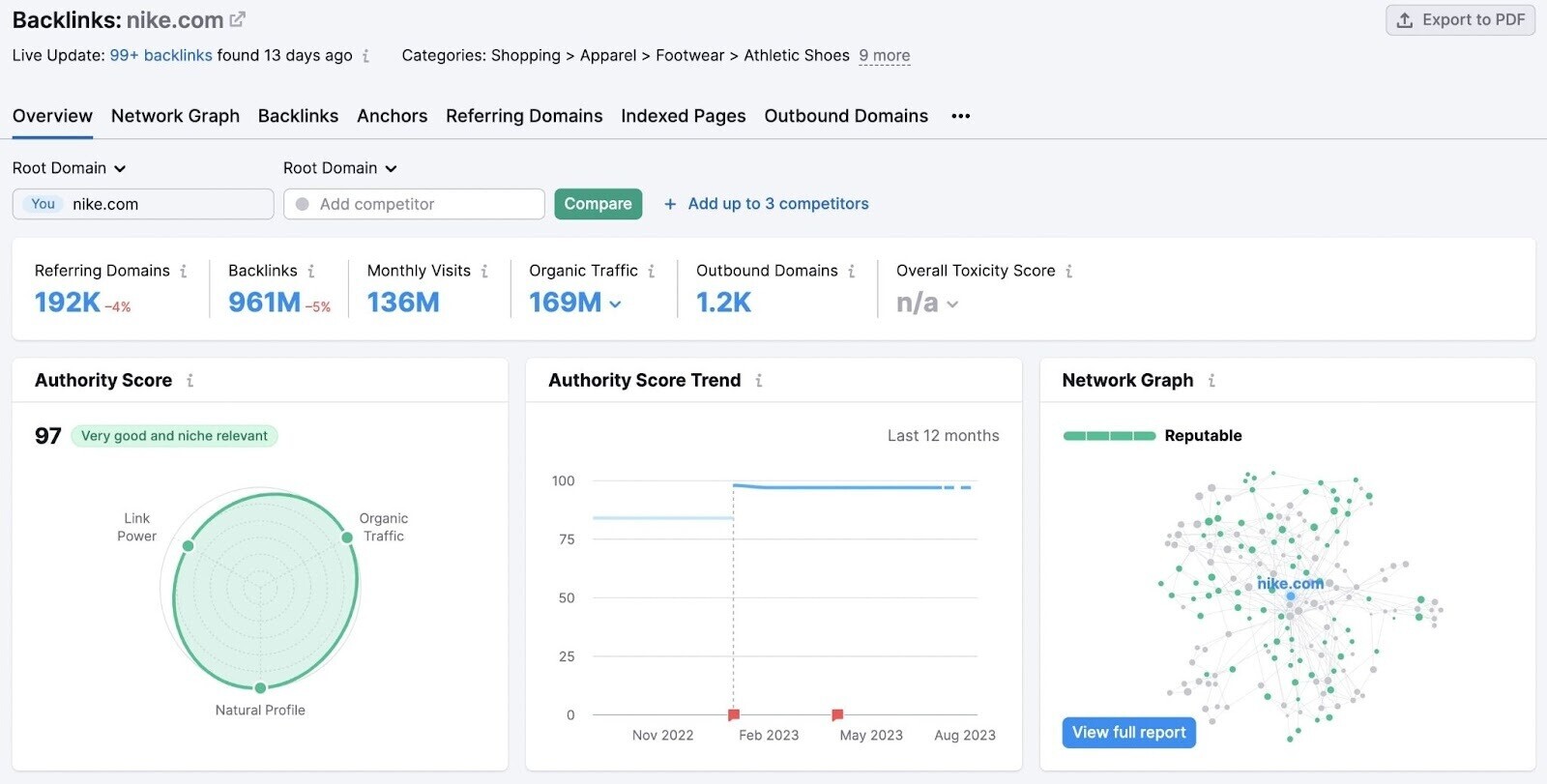 Click the "Backlinks" tab to see a list of your backlinks and information about each.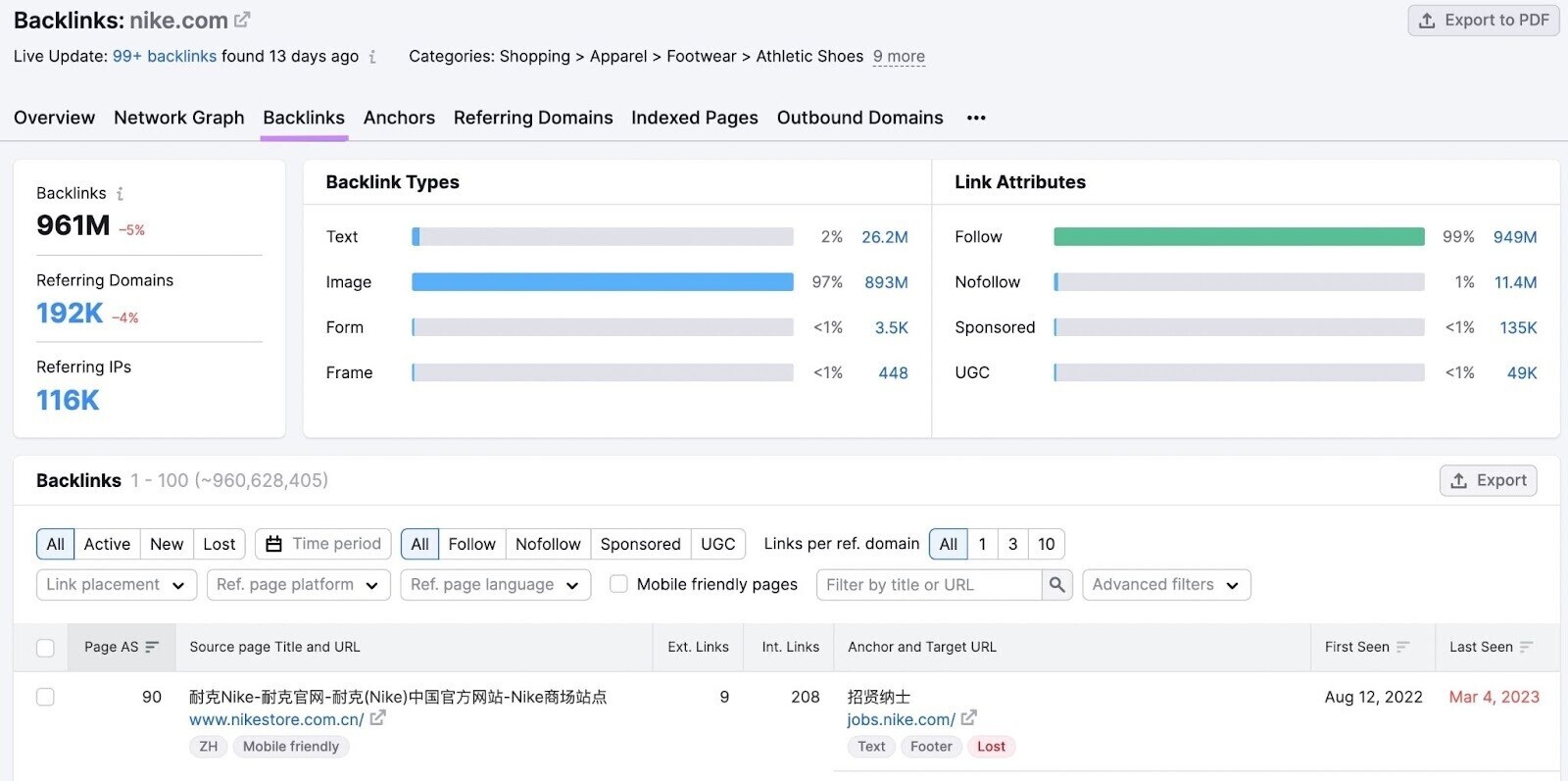 To see any backlinks you used to have but no longer do, select the "Lost" tab.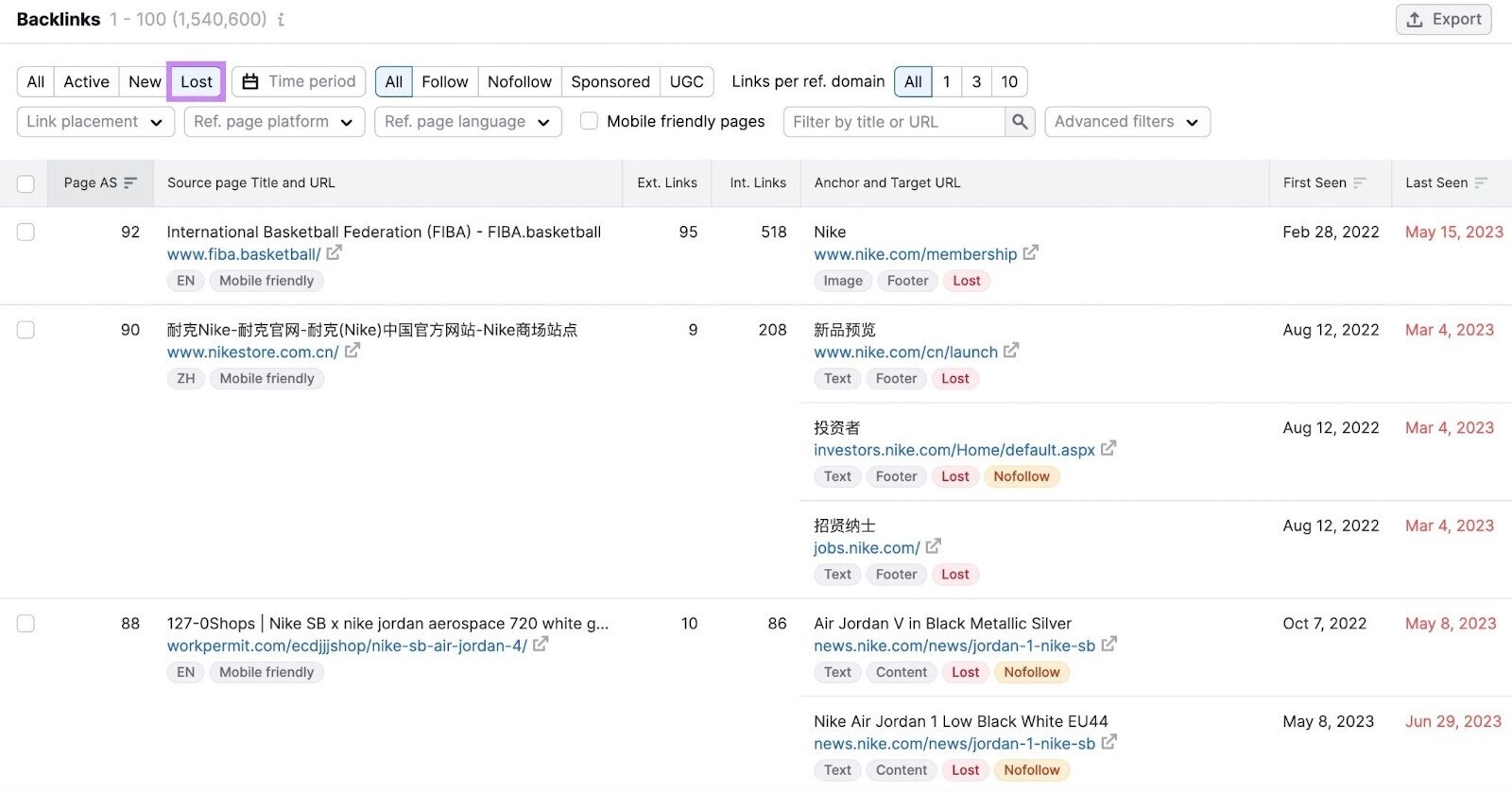 You might want to reach out to these domains to reclaim those backlinks. 
Technical SEO
Technical SEO is a broad category relating to the technical infrastructure of your website and its relation to SEO. 
Stated simply, there are factors other than content, keywords, and backlinks that lead to better rankings and more traffic. Like page speed, website user experience, and mobile-friendliness. 
Common technical SEO tasks include:
Submitting your sitemap to Google
Ensuring your website is mobile-friendly
Using HTTPS instead of HTTP
Having an SEO-friendly site architecture with logical navigation
Optimizing for Core Web Vitals (metrics that indicate how high quality a user's experience is) 
Improving your page speed
Technical SEO ensures that your website can be crawled and indexed, is usable across devices, and is organized logically. 
All of this promotes not only better SEO results, but also better website performance and more conversions. 
Local SEO
Local SEO is about optimizing your website and related properties to increase local visibility and traffic. 
While it doesn't apply to all businesses, it's extremely important for those that have a local focus or a physical location. 
Local SEO includes several factors, including optimizing your Google Business Profile, adding local business schema, researching and targeting local keywords, NAP (name, address, and phone number) citations, and more.
The importance of search engine optimization for local businesses is unique. Your directory listings are important to your ability to be discovered, but monitoring them and making sure they're accurate and effective also helps drive motivated customers to your business.
Listing Management tool offers insights on local presence, including the total number of listings, listings to fix, average ratings, and total reviews.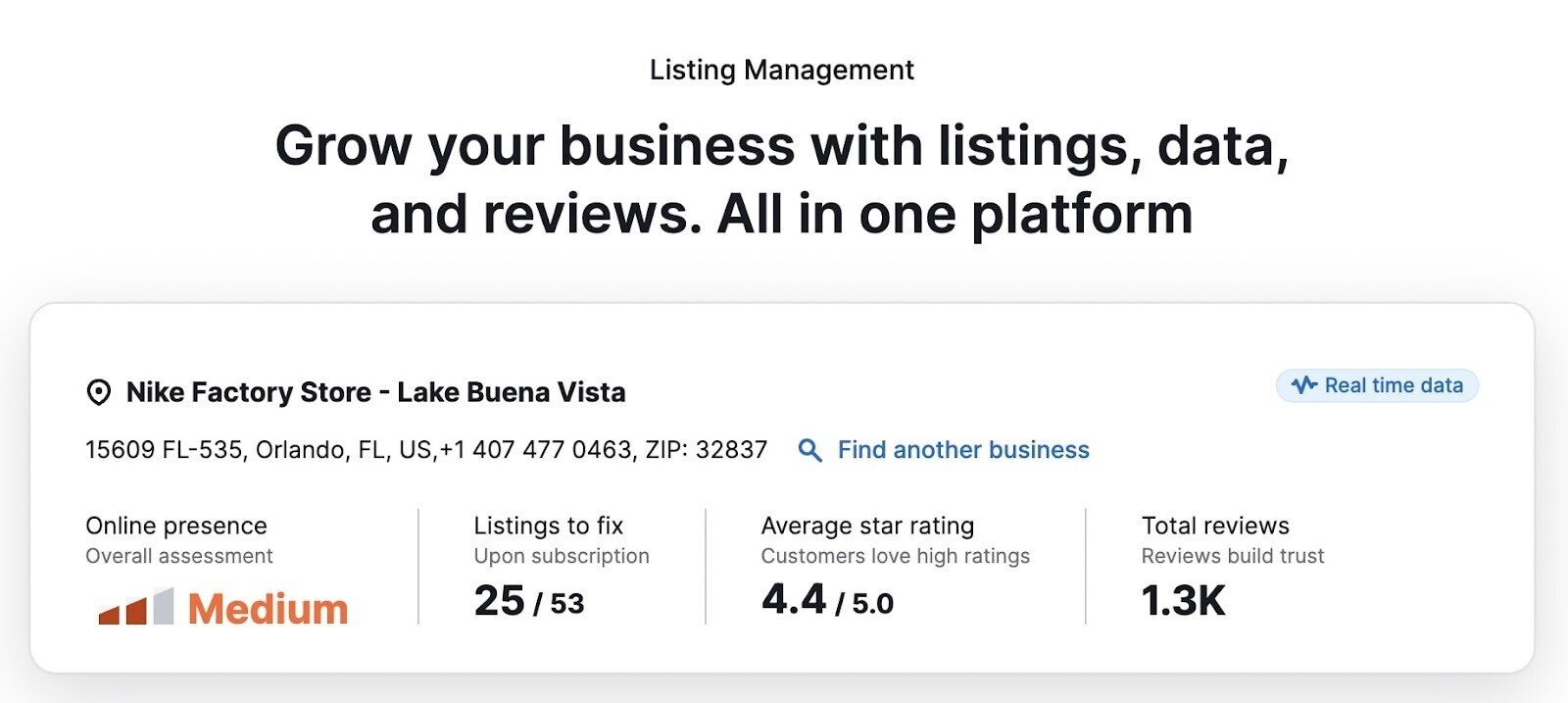 Succeeding at local SEO includes website optimization, customer service, and review management. Which makes it a complex but crucial activity for local businesses. 
Why SEO Is Important: 10 Benefits
Why is SEO important? Here are the 10 main benefits illustrating the importance of SEO:
1. Organic Search Is a Good Source of Website Traffic
Organic search is often one of the highest sources of traffic for companies. And sometimes, SEO traffic is the primary source. 
This chart from Google Analytics shows a website heavily invested in organic search traffic: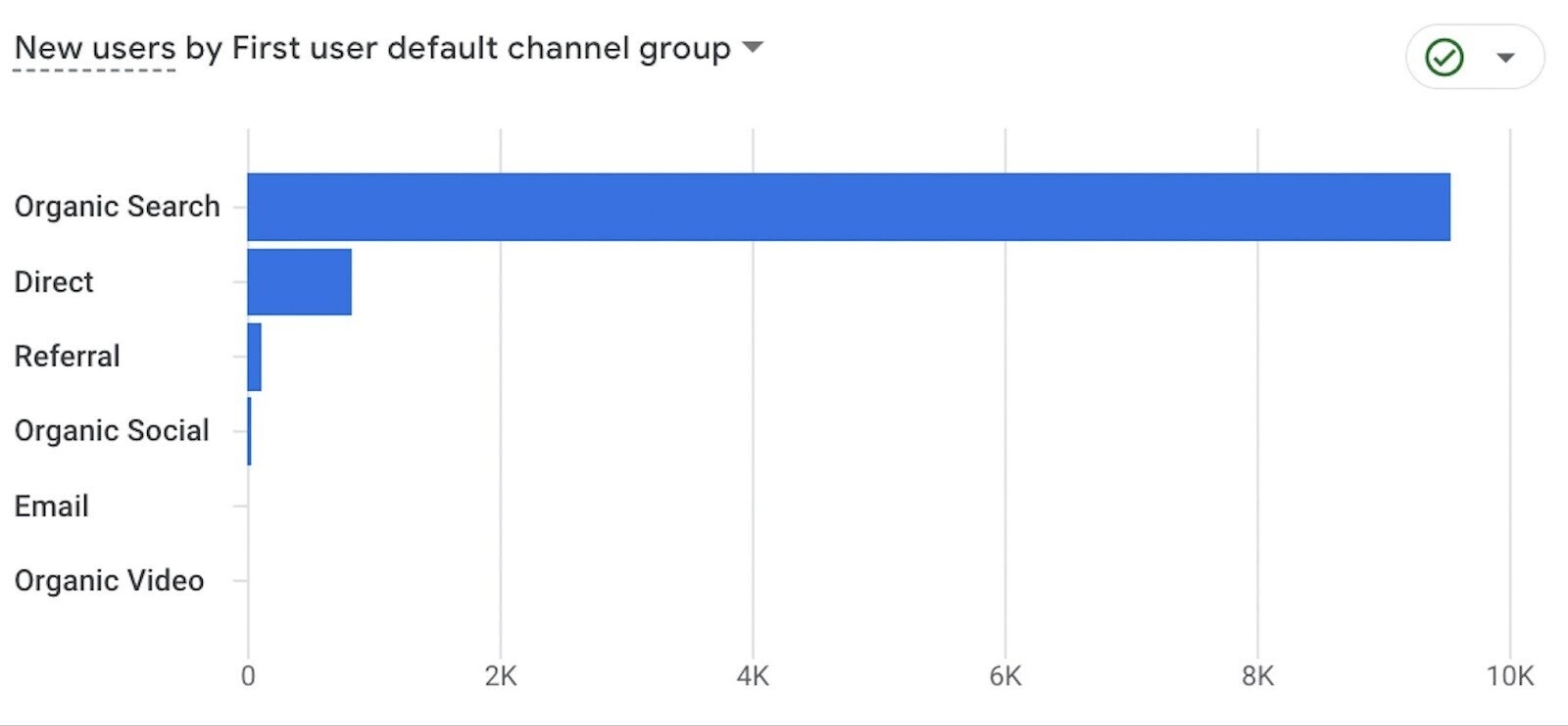 The sheer number of search queries relevant to your business every day is likely much higher than the number of clicks you can generate through channels like social media. 
And it would take a substantial investment to reach that number of clicks through paid ads.
Focusing on organic search gives you the potential to attract even more traffic over time if you're able to increase your rankings. Because (as our State of Search report shows) there's a clear correlation between high rankings and high click-through rates.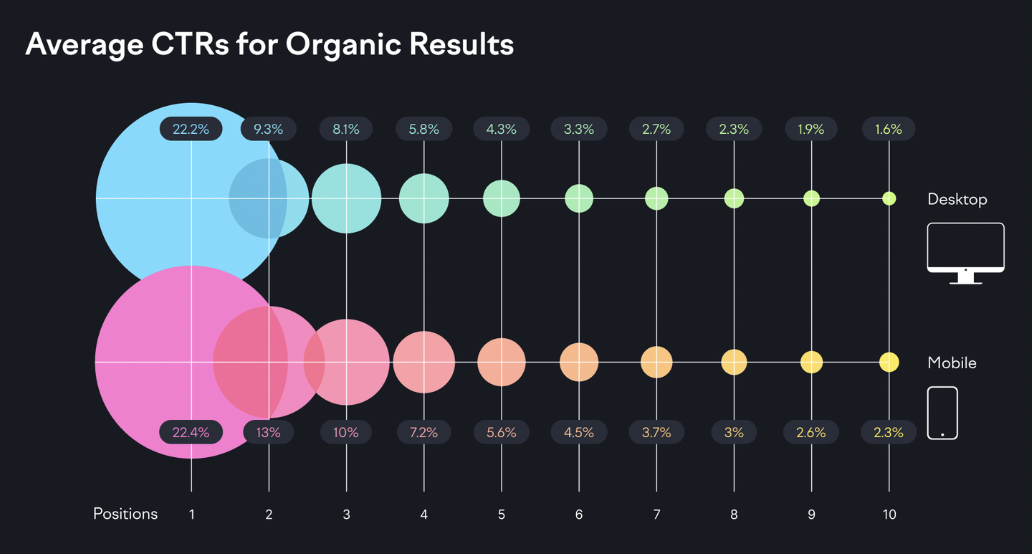 2. SEO Is Cost-Effective
SEO is usually a more cost-effective way to drive traffic compared to channels like paid social.  
Paid acquisition requires extensive spending for creative, design, copywriting, landing pages, and experimentation. Plus, the amount you have to pay to run the ads themselves. 
With SEO, you have to spend on your website and on content production. But you don't have to buy an ad placement. 
And when you start to see results from SEO, they can continue coming in. Even if you stop or reduce spending. 
That's not true for ads. This chart from Domain Overview shows just how volatile traffic from paid can be:

Companies that invest in SEO tend to maintain or grow their results over time, even with reduced effort. But paid channels require continued ad spend to remain competitive. 
3. SEO Complements Paid Marketing Efforts
There's clearly a connection between PPC and SEO. 
This could be because you simply occupy more real estate on SERPs. 
For example, Monday.com bids on the keyword "CRM for small business."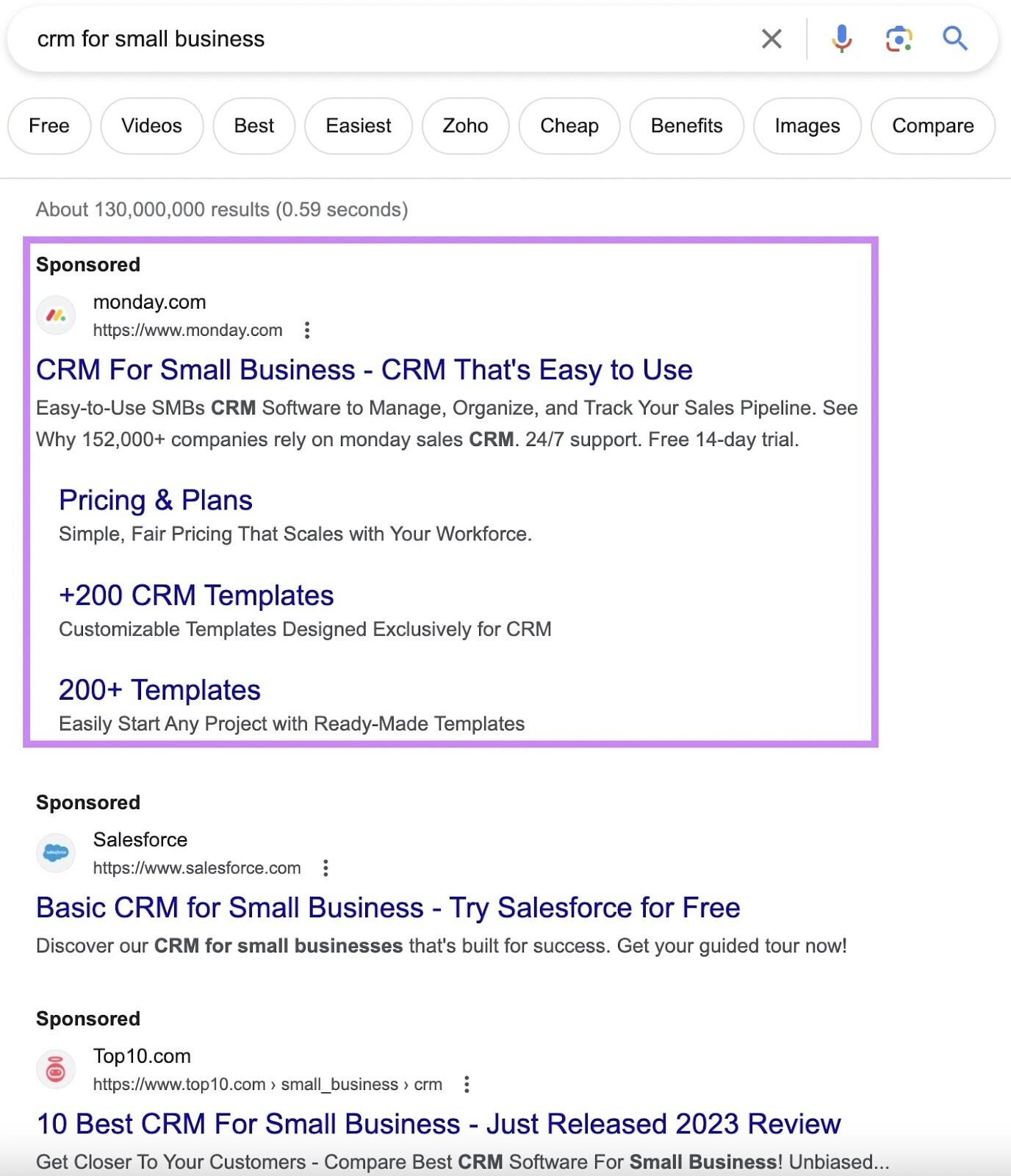 They also rank organically for the same keyword.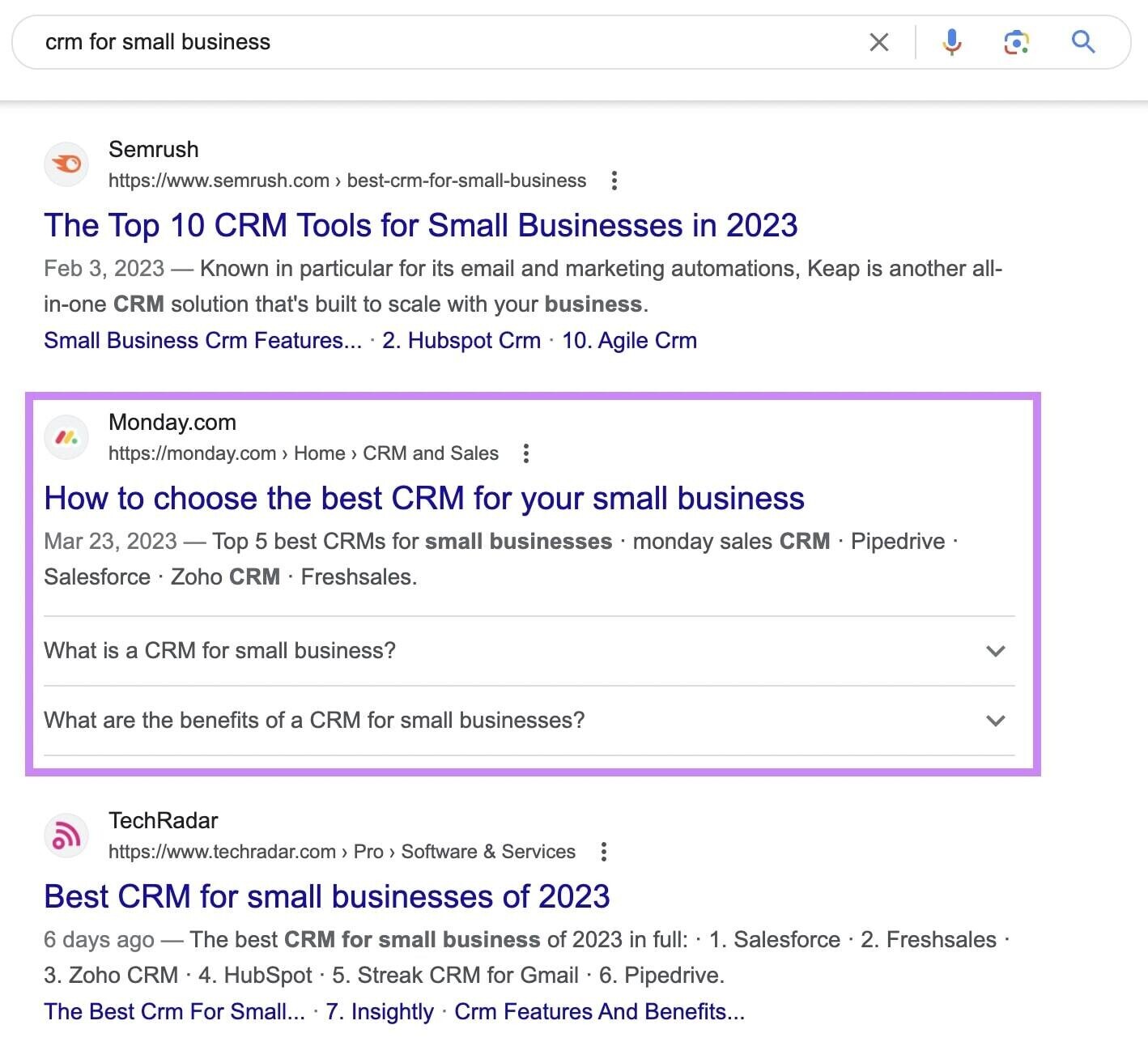 Occupying that much SERP real estate, they increase their chances of getting clicks to their site. 
And the increased brand visibility from being seen twice on the same page may also have a positive impact. Due to the mere-exposure effect, a phenomenon where people develop a preference for things because they're familiar.  
4. SEO Builds Trust, Credibility, and Brand Recognition
Appearing in search results frequently creates the perception that your brand is a trusted and credible source of information.
Think of it this way:
The SERPs are like a highway. And the pages that rank are effectively billboards. 
The more searches you appear for, the more brand awareness you'll begin to build. This brand awareness leads to a higher probability of someone choosing to do business with you over lesser known competitors. 
Google also values experience and expertise. These are large components of E-E-A-T, search quality rater guidelines that stand for Experience, Expertise, Authoritativeness, and Trustworthiness.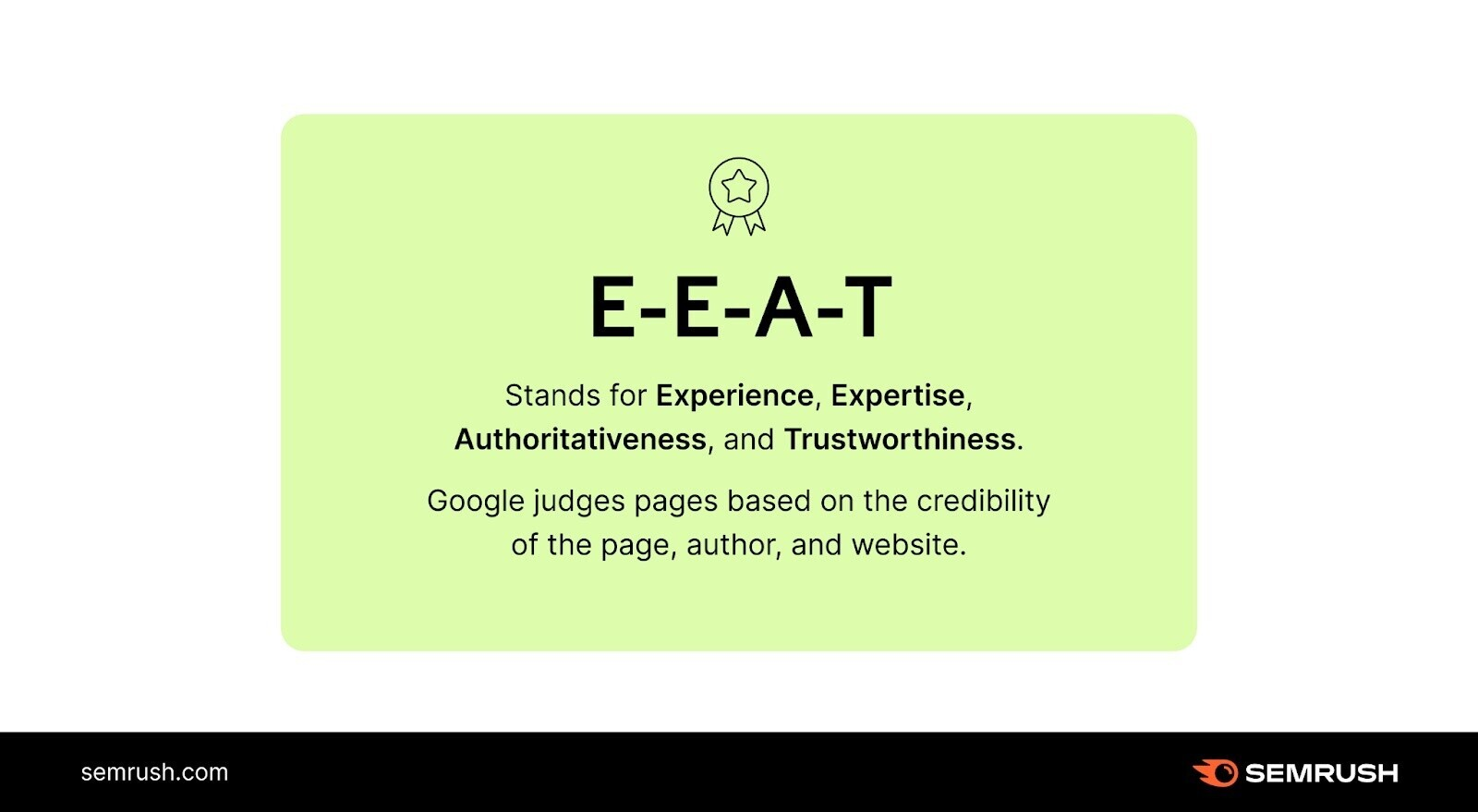 5. SEO Connects You with Customers Throughout the Buyer's Journey
You can connect with prospective customers multiple times throughout their journeys as their searches evolve over time.
Imagine a CMO figuring out next year's marketing strategy. They begin researching account-based marketing (ABM) by searching "what is ABM?" and "ABM examples."
Later on, they start comparing solutions with keywords like "best ABM platforms" and "[brand] reviews." 
You can find these types of keywords that relevant audiences are searching for by doing keyword research. Or by seeing which keywords your competitors are targeting using Keyword Gap.
Open the tool and enter your domain and up to four competitors' domains. And click "Compare."
In the "Overview" report, scroll down to the table. And select "Missing" to see keywords your competitors rank for but you don't.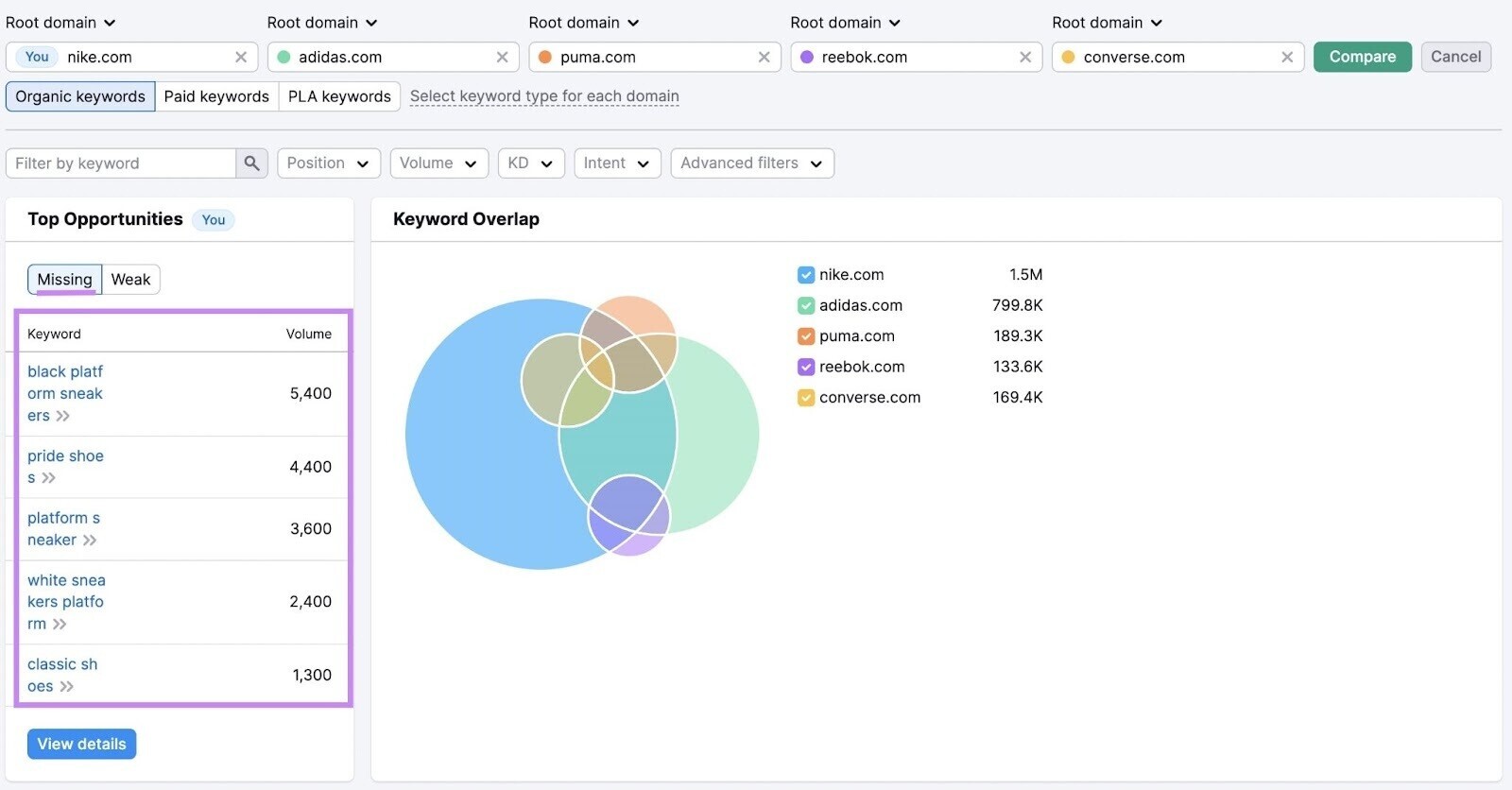 You can also filter by search intent, keyword difficulty, monthly search volume, and more to find good keyword opportunities at every stage. 
By appearing in those searches, you can help move the customers making the searches toward your solution. 
6. SEO Is a Scalable Growth Channel 
SEO is one of the few truly scalably customer acquisition channels. 
Think of SEO as a continuous cycle where your action (creating content) drives an output (rankings, traffic, and customer acquisition). 
And the revenue from these efforts can be reinvested back into creating more content that generates more rankings, traffic, and customers. 
This concept is known as a growth loop.
Scalable channels tend to generate incremental output that you can invest back into the channel.
For example, if you can invest $100 in paid ads and make $150, you can put the initial $100 back into the channel as well as the incremental $50. Which starts to compound. 
SEO is the same way with one exceptional benefit: When you stop investing, the returns tend to continue (at least for a certain amount of time before algorithm changes or competition factor in). 
7. SEO Best Practices Help Your Overall Marketing Performance
SEO best practices (such as great website UX, high-quality content, and aligning with search intent) will help improve your general marketing performance.
If you just made a website with a great user experience and tons of helpful content, that would be beneficial even if you don't get organic traffic from search results. 
And great content can improve conversions and lead to more sales, no matter where the traffic comes from. 
This blog post, for example, may very well rank in search for a keyword like "Google Analytics HIPAA." But it also makes for a great advertising campaign:
8. SEO Reflects Consumer Behavior Changes
Optimizing for search means you'll stay on top of trends and consumer behavior changes.
Because keyword research shows you rising and declining trends if you do it right. 
For example, the keto diet seems to have peaked a few years ago based on data from Google Trends. And it's experienced a steady decline since 2019 (with a few spikes around the new year). 
Or consider a rising trend nearly nonexistent a few years ago: generative AI. 
Take a look at how that term has taken off recently: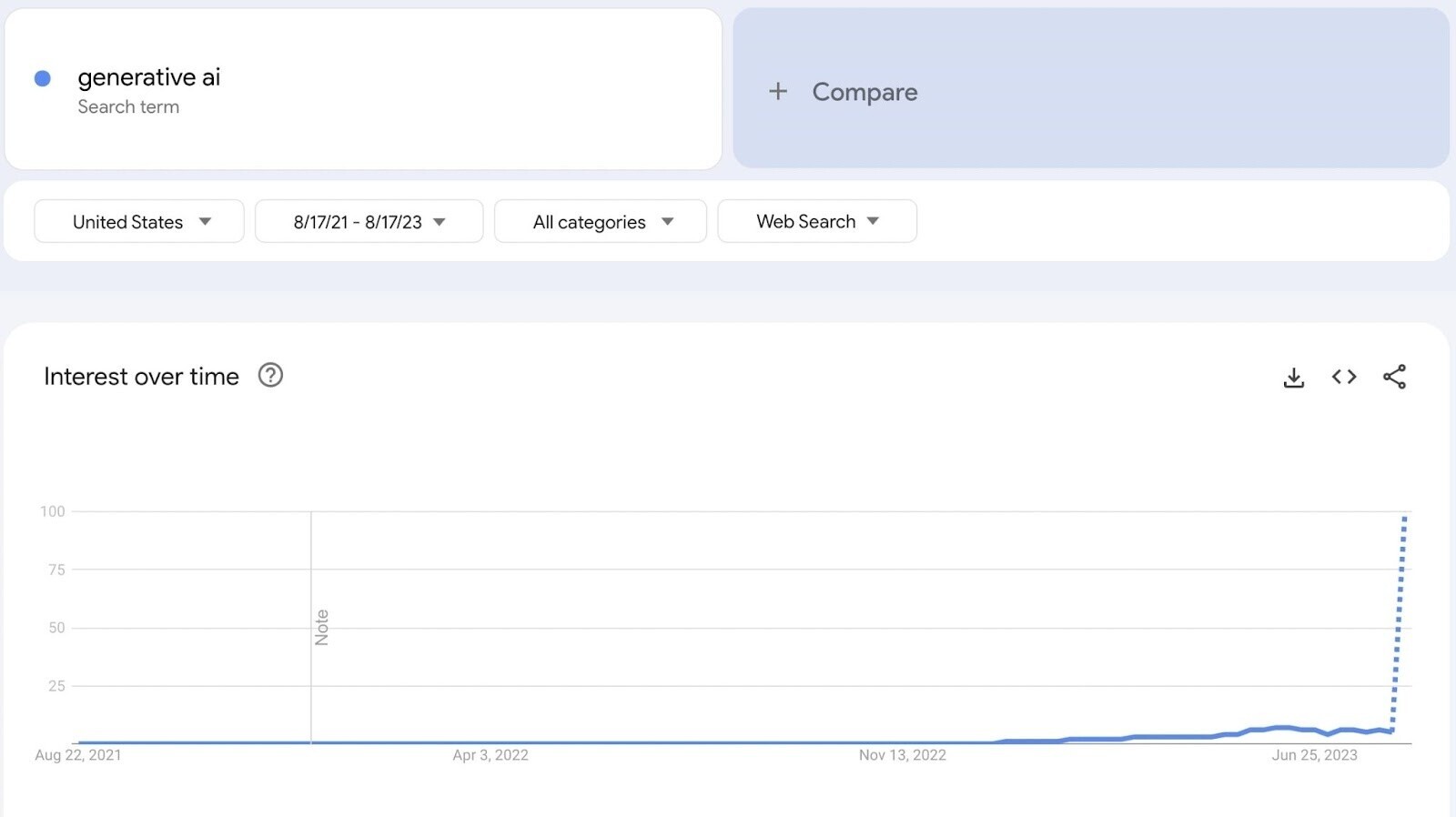 The bottom line?
SEOs are on the front lines of consumer trends. 
9. SEO Results Are Quantifiable
SEO results are easy to measure. So, you can gauge how you're performing and whether you need to make adjustments.
Using Google Analytics or an alternative website analytics platform, you can track organic traffic in relation to other channels. And you can attribute conversions to SEO and even to specific pages or blog posts. 
And you can track keyword rankings and position changes over time using the Position Tracking tool.
To get started, click the "+ Create project" button, enter your domain name, and click "Create project."

Set up your project according to our configuration instructions. And click "Start Tracking."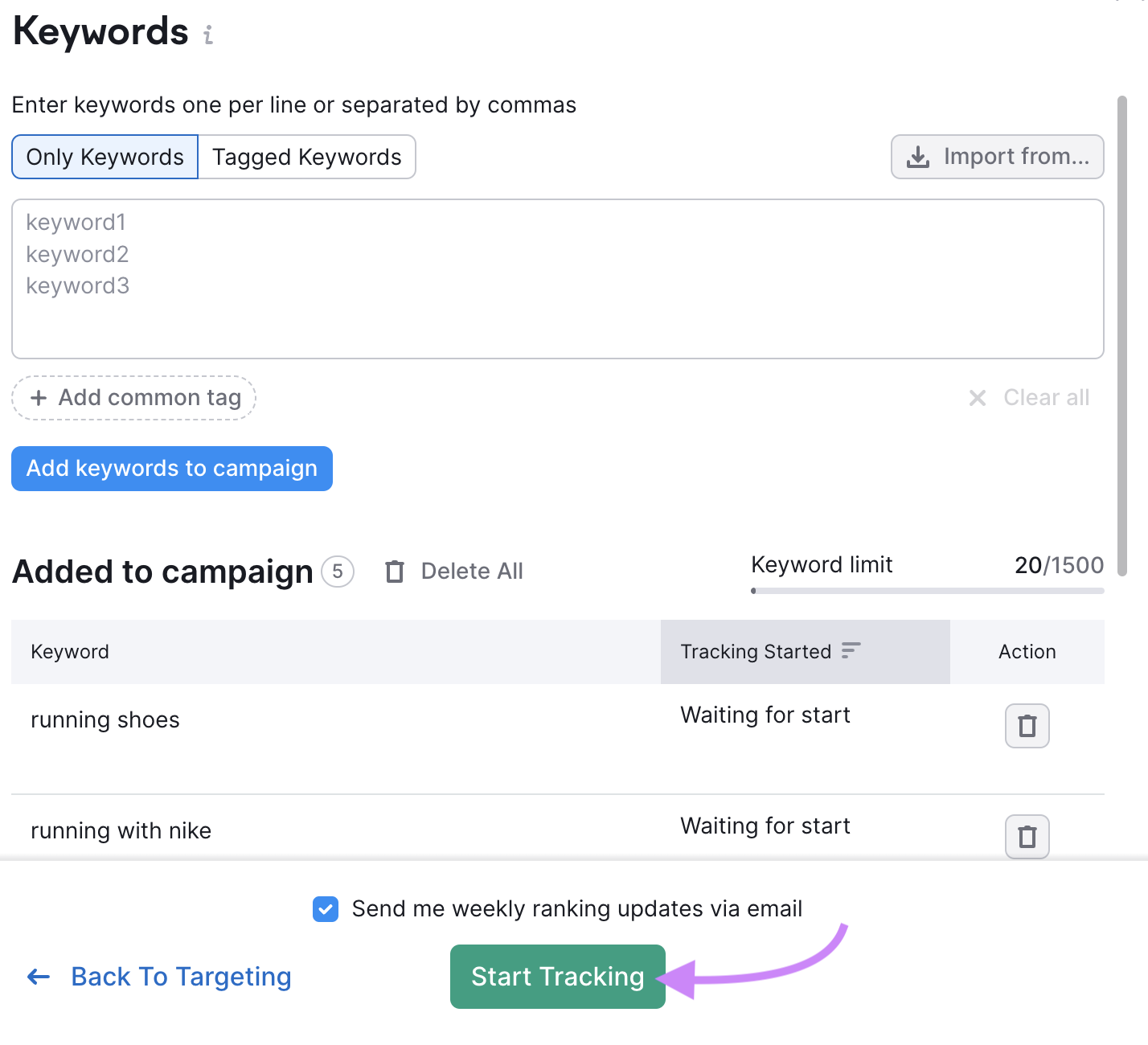 This shows your overall visibility in search results, estimated traffic from those rankings, and the average position (plus changes over time).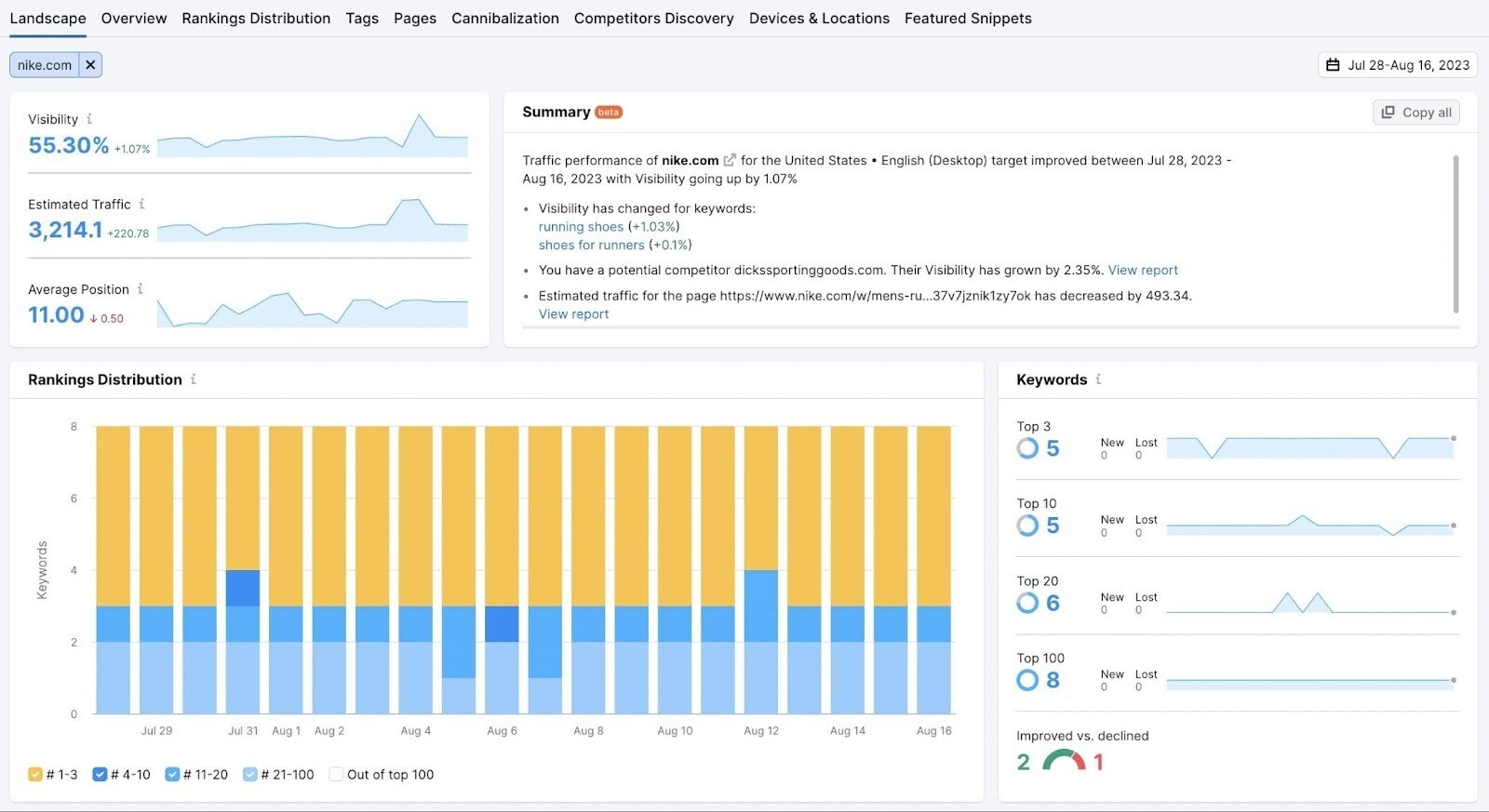 Click the "Overview" tab to see a detailed list of your specific keyword rankings. And how they've changed.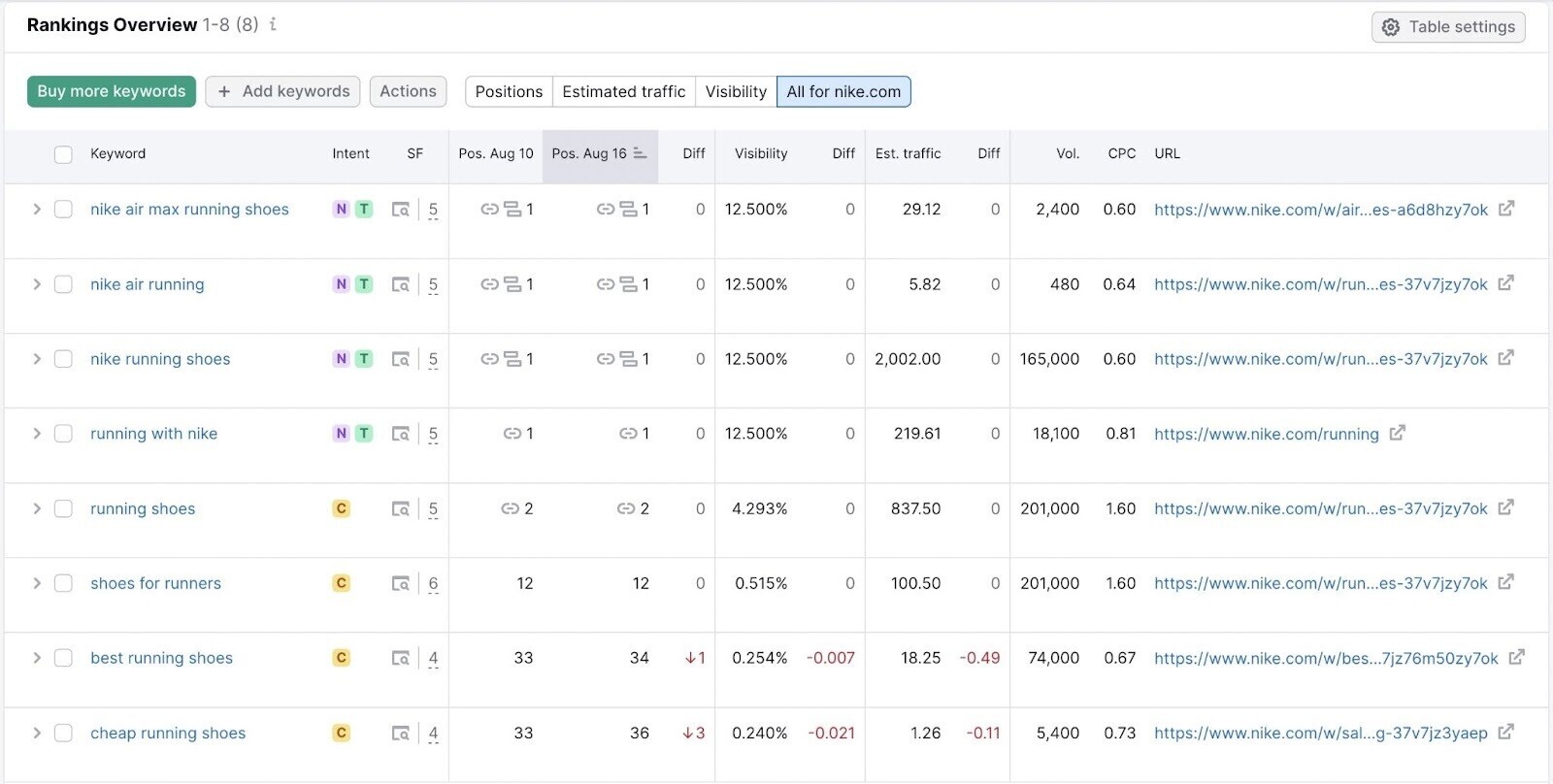 10. SEO Holds Your Competitive Edge
Investing in SEO helps you maintain your competitive edge. 
Because SEO is a must if you want to keep up with and eventually surpass your competition in the search results. Which is often key for outcompeting them as a business. 
If your competitors rank for search terms but you don't, that's a missed opportunity. 
You can find these terms using Keyword Gap.
Enter your domain and the domains for up to four competitors. And click "Compare."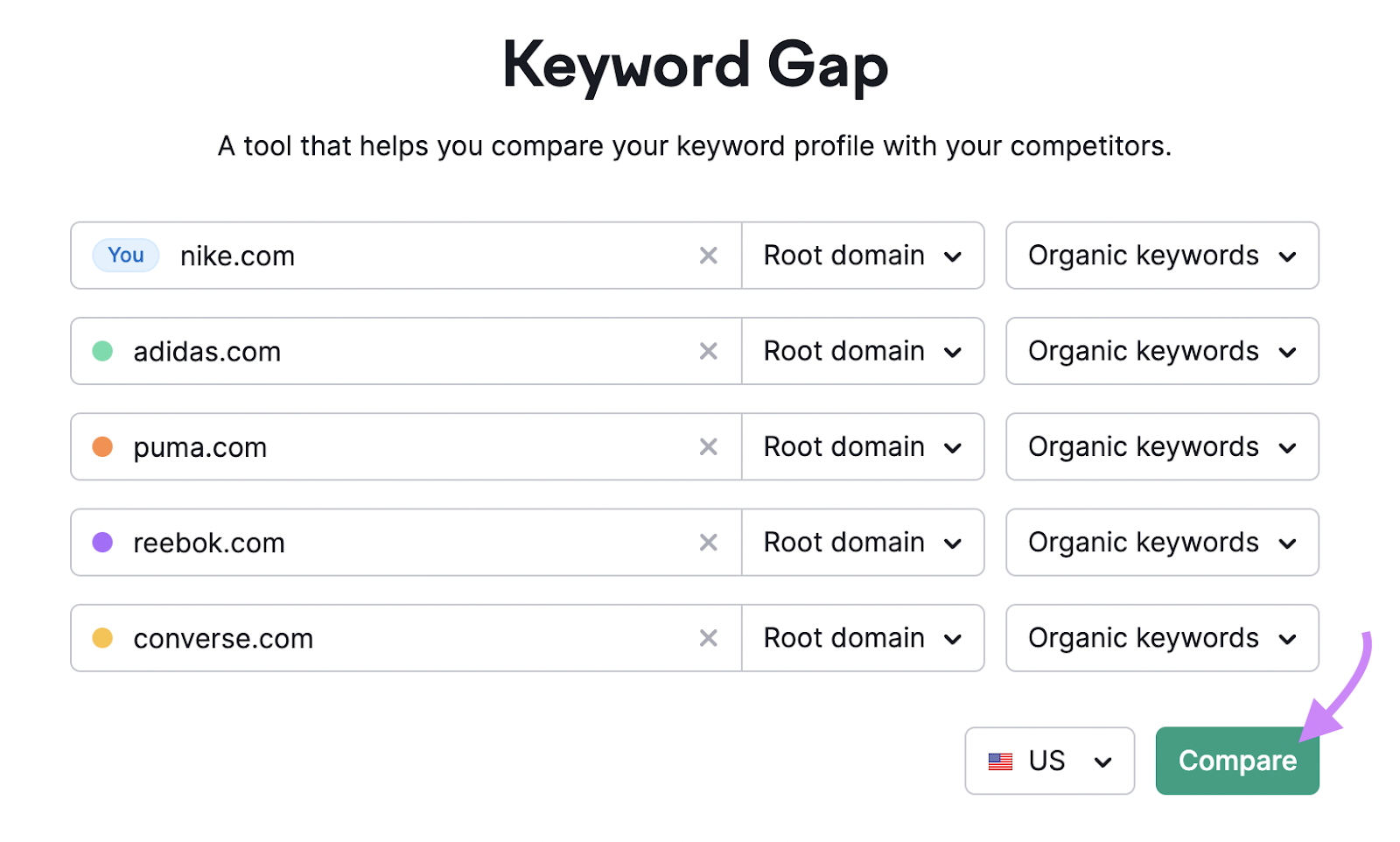 Scroll down to "All keyword details for:" and make sure your domain is selected.
Then, click the "Missing" tab to find keywords all competitors rank for but you don't.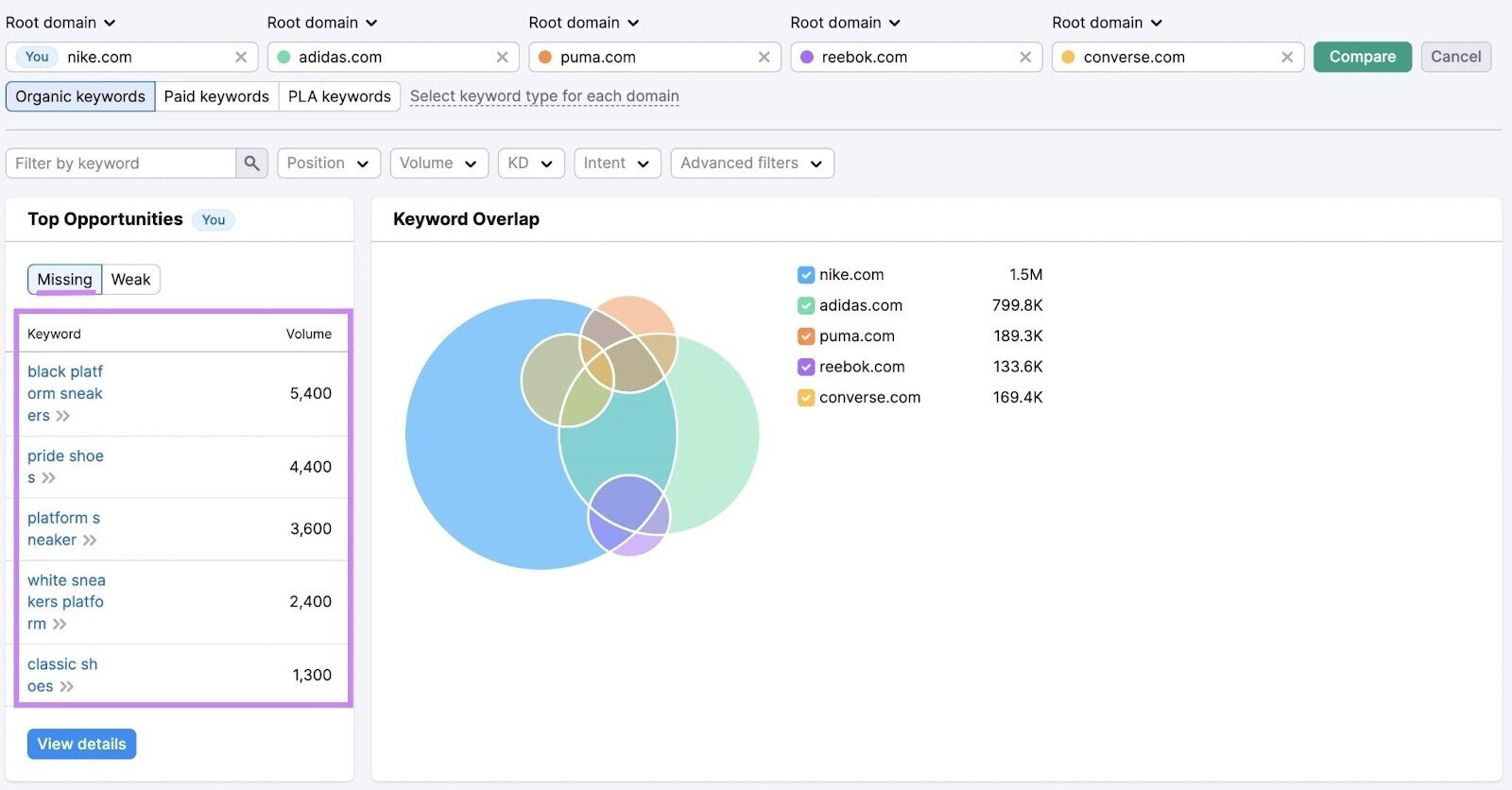 This can help you identify new topics to create content around. And help you stay visible in your industry. 
Take the Next Step to Improve Your SEO
It's clear why SEO matters.
But you'll only begin to see benefits if you establish a solid strategy and leverage the right tools.
Get started with Keyword Magic Tool. To start gathering ideas and expanding your topic clusters.