With 74% of marketers worldwide using inbound marketing as their primary marketing approach, it's no wonder that marketers across all sectors want to incorporate this practice into their ongoing strategy.
But exactly what is inbound marketing? How does it work? And why is it important for your business? This guide will tell you everything you need to know about inbound marketing. 
What Is Inbound Marketing?
Let's dive into the definition of inbound marketing. To put it really simply, inbound marketing describes any marketing method that draws in your potential audience. So that means that you are pulling your audience in rather than pushing out your brand, campaign, message, or products to potential customers. For this reason, it's often referred to as "pull" marketing, as it pulls the customer into your brand or sales pitch.
Inbound Marketing vs. Outbound Marketing Definitions
Inbound marketing is often viewed as a more genuine and organic way of interacting with and gaining customers. That's because it doesn't have a focus on repeated calls to actions and generic marketing messages. 
By contrast, outbound marketing refers to any marketing tactics where a business is actively trying to approach and entice potential customers. This is often done to a mass audience that hasn't been specifically selected or researched. That is why outbound marketing can sometimes be classed as being a "scattergun" approach. 
However, this doesn't mean that it is a bad type of marketing, as strategic, upper funnel, outbound marketing can help to reach people that can then be refined via retargeting using inbound marketing methods. Keep in mind that outbound marketing alone doesn't often yield a great return on investment, though. 
You can probably think of brands that are guilty of purely using outbound marketing methods on a regular basis — perhaps you've received the same flyer in your mailbox one too many times. 
Without the addition of some strong and genuine inbound marketing methods, these brands may be missing a lot of opportunity and business. 
Types of Inbound Marketing
Because inbound marketing is about who you reach and in what way, it can include a wide variety of marketing methods.
Types of inbound marketing include:
SEO and PPC
Press releases
Blogs
Social Media
Influencer outreach
Affiliates
Video content
Ebooks
Opt-in emails
Pillar pages and topic clusters
Newsletter
Infographics
Podcasts and webinars
Research reports
Inbound Marketing Methodology
Because inbound marketing can include so many different types of marketing channels, it's important to break it down into a methodology. This will provide lasting, genuine customer interactions that can help grow your business.
Inbound marketing methodology can include three steps:
Attract: It's important to bring in the right customer demographics in order to have meaningful, long-lasting engagement. To do so, research relevant keywords and trends before publishing content
Engage: Once your potential customers have engaged with your brand, it's essential to build on this by offering solutions to their problems. If your potential customers see you as an authority, they may be more willing to buy your product down the road.
Delight: Continue to engage with your customers even after their purchase — the goal is to create trust between your brand and your customers. Provide your user base with the tools and knowledge they need to succeed in their markets.
Inbound Marketing Strategies
Once you've become familiar with the above inbound marketing methodologies, the next step is to build a strategy.
The great thing about inbound marketing is that it's typically pretty clear which brands are "faking it." Customers gravitate toward brands that are knowledgeable and authentic, so it's important that your content comes across that way.
To create an inbound marketing strategy for your business, you should follow these 4 steps:
1. Define your Business Goals & Audience Demographic 
The first thing you need to do is understand your intended audience. You should try to learn everything you can about your potential customers, including:
How old are they? 
What's their gender?
Which content do they already engage with? 
Learning about their basic behavior can help you to know what content you need to create to encourage more of the same interactions.
To get this process started, use the Audience Insights tab of the Traffic Analytics Tool. All you need to do to gather valuable competitor data is add a competing domain. 
For further information, see our guide on how to use this tool for your inbound marketing campaigns.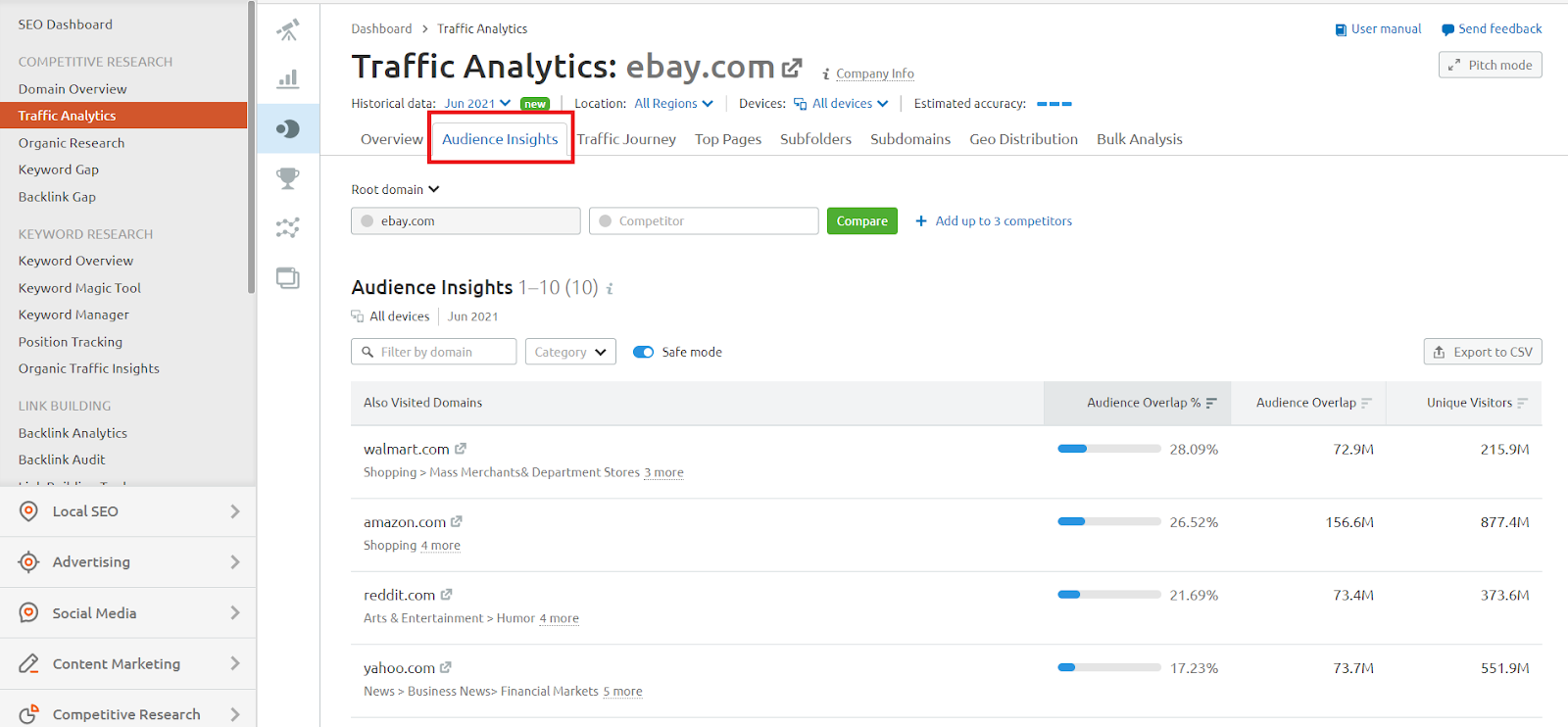 2. Provide Content Throughout the Entire Customer Lifecycle
Next, find out what type of content your customers are consuming at different points in the buyer's journey, including:
Which offers/products do your existing customers like?
Do they respond well to follow-up/after-sales emails?
Are there products for sale that align with your customer's current goals or work well with products they have already purchased?
Dig deeper by using the Topic Research tool, which can help you understand what topics might appeal to your customers. You can also do preliminary keyword research with the Keyword Magic Tool or find out what's working well for your competitors with the Organic Research Tool.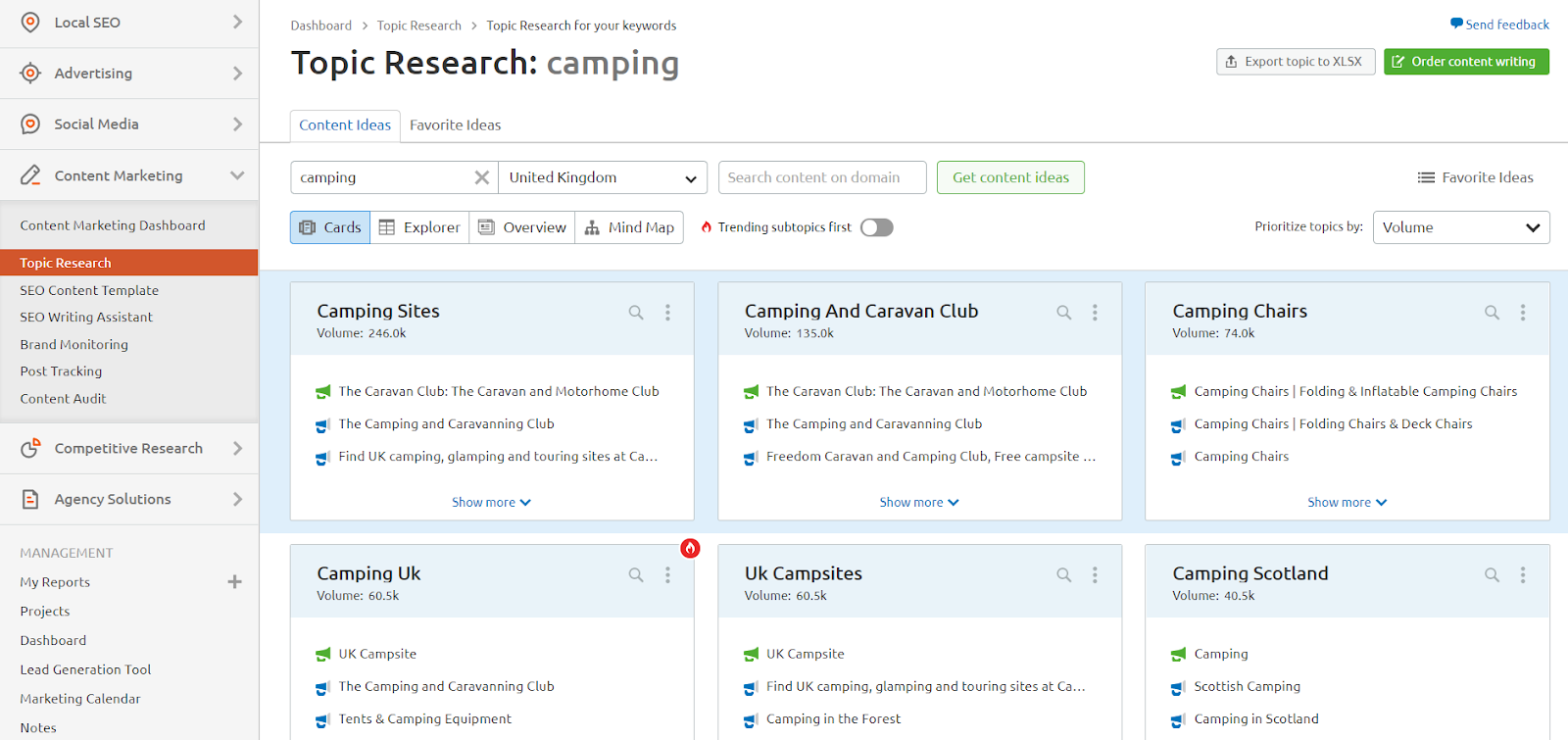 3. Choose Your Platforms Wisely
Next, determine which platforms you should utilize to generate maximum engagement. Think about it this way: there's very little point in investing a large amount of time trying to create the perfect Twitter campaign if this isn't where you normally acquire the bulk of your customers. 
You can use our Market Analysis Tools to help you to do this. The Market Explorer Tool and Traffic Analytics Tool are great resources to help you find out what platforms your existing customers are coming from as well as where your competitor's customers are coming from.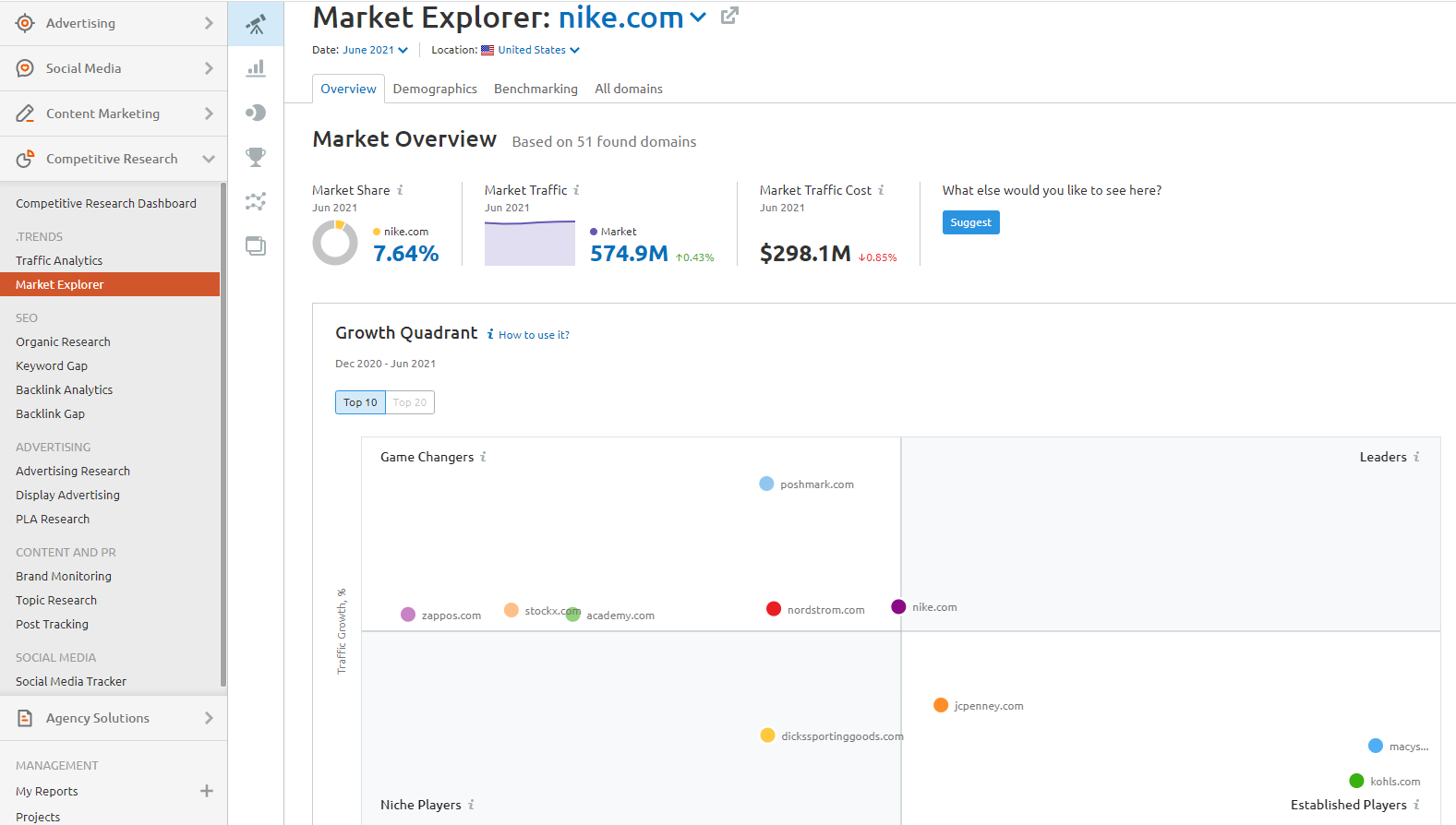 4. Create a Content Calendar
The fourth step is sometimes one that people will jump to straight away, but the market research in the previous steps needs to be completed first.
Planning your content into a calendar will help you to be consistent and organized in the creation and publication of your content. You can adapt your calendar based on the customer interaction and engagement as you go, but sticking to a strategy or planned campaign is the best way to have a coherent presence across all platforms used. 
Creating a content calendar from scratch can feel daunting, but there are lots of useful guides and tools to help you. You can use the Marketing Calendar Tool to organize your marketing and editorial activities across all platforms in one shared space. This is also a great way to keep things organized across multiple stakeholders and team members too.
5. Analyze & Optimize Results
The last step in any marketing strategy should be to analyze your results and learn from them. Whether you're tracking social media post engagement, views of a blog, or how long users watched your video, it's vital to fully understand the engagement data that you're seeing and adapt for your next campaign. 
The Marketing Calendar Tool is useful here as well, as it allows you to monitor the progress of all of your content and amend anything that isn't working.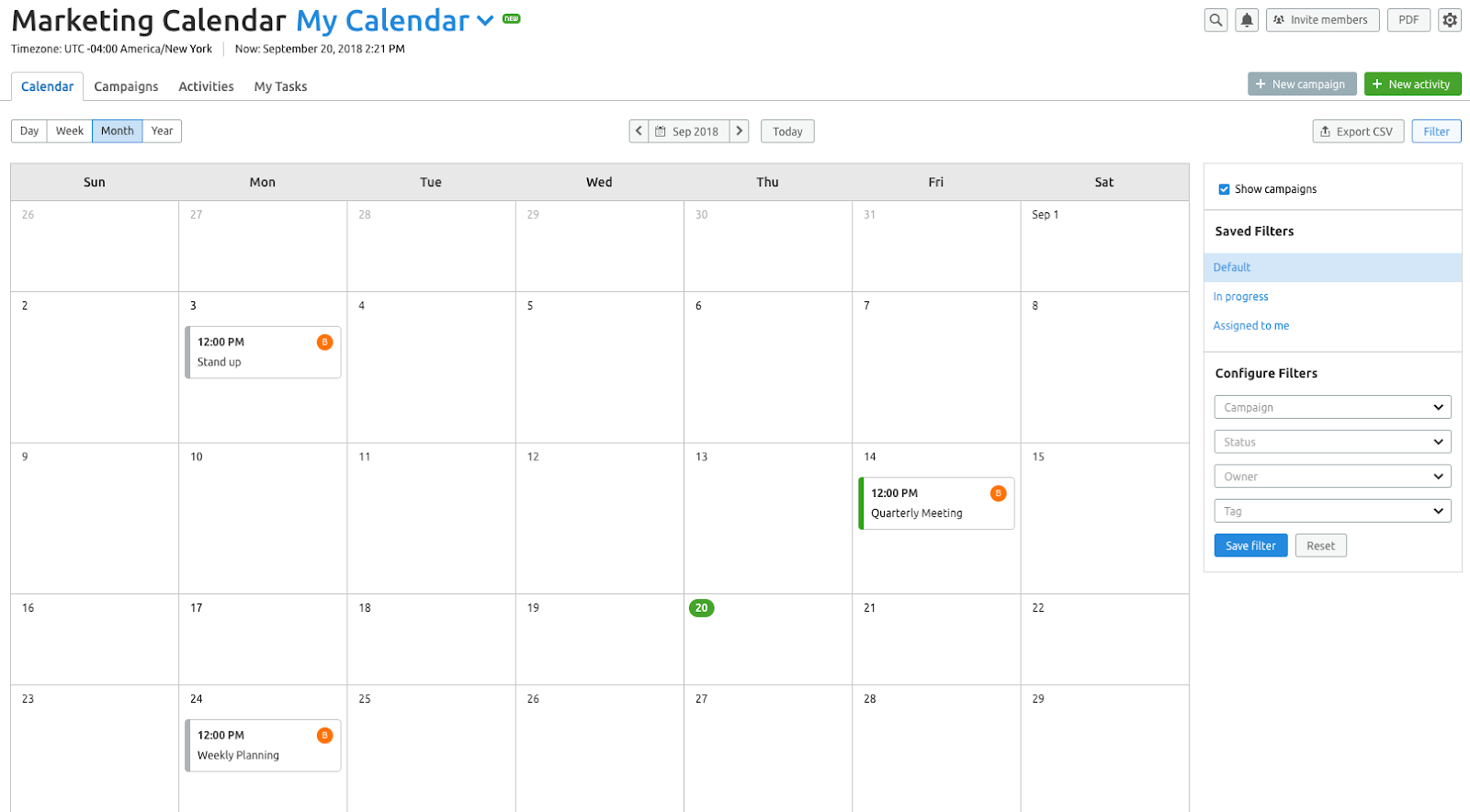 Is Inbound Marketing Worth the Effort?
Inbound marketing can take time and resources to set up and maintain. However, it can be very beneficial to your business and your topline sales numbers. 
Inbound marketing is beneficial because:
It's Cost-Effective
In the aforementioned study by 99firms.com, it was confirmed that inbound leads cost on average 61% less on average than outbound leads, while delivering 10x more effective lead conversions than outbound leads.
It Builds Brand Awareness
By regularly creating and distributing valuable content, there's an almost priceless opportunity to educate your customers about your brand. 
You can use inbound marketing to let customers know what you do, as well as establish a firm, trustworthy impression in the minds of both potential and repeat customers. 
It Can Generate More Traffic & Leads
Because it's easier to track and gain insights into inbound marketing, businesses can easily find out which content is working for them and increase efforts accordingly. Doing so can help to generate more traffic and leads.
It Syncs Sales & Marketing 
Because inbound marketing content provides a solution for the needs of potential customers, input from the sales team is important.
This helps to remove the barriers between sales and marketing teams as well as allows for a more productive flow of information to achieve the shared end goal of increased traffic, leads, and sales.
It Provides Permanent Content
Unless you actively decide to remove it, the content that your business creates will remain online permanently. 
Outbound marketing tactics such as flyers and large-scale billboard advertising are removed once a specific campaign ends or a time frame has passed, meaning it's difficult for these methods to remain memorable for potential customers.
With inbound marketing, on the other hand, this isn't an issue. A vast majority of this type of marketing is digital or requires some kind of interaction, so it can be kept online for customers to view indefinitely. 
It's also a great idea to keep some of the older inbound marketing content pieces online, as this will help to promote the longevity of your business and also allow potential customers to feel that they can trust the brand after being able to see previous interactions with other customers. 
Summary: Is Inbound Marketing Worth It?
Short answer: yes! With outbound marketing techniques like cold calling and email spamming becoming more of a thing of the past, there's never been a better time to invest time, effort, and money into your inbound marketing strategy. 
While inbound marketing isn't a quick fix or a recipe for overnight success for most businesses, it does typically produce a better return on investment and usually creates more brand-loyal customers. 
That's because inbound marketing was essentially created as customer behavior changed within the digital landscape. As this customer behavior and values changed, inbound marketing became used more widely to adapt to those changes but also to effectively use those changes to strengthen the relationship between potential customers and brands.
By combining inbound marketing strategies with our range of marketing tools, you can start the process of engaging both new and existing customers as well as continuing to build your brand's trustworthiness and overall reputation.