You have seen how influencer marketing has helped different kinds of brand and businesses. Start-ups like Daniel Wellington have used influencer marketing to build themselves from the ground up. Through influencer marketing alone, the brand was able to sell their millionth watch within just three years. Top brands like Adidas are also using influencer marketing to further expand their growth.
The point is that influencer marketing has a good reason to be popular. But if you want to start working with influencers, you have to gain a better understanding of the current trends and the future predictions in influencer marketing. This knowledge is crucial as it helps you understand what you need to do and what you need to prepare for to succeed.
This post is going to help you with exactly that. You will learn about the current trends in influencer marketing so you can execute campaigns that work. You will also gain some insights into the possible changes that will impact influencer marketing. This will help you adapt your campaigns better, so you don't lag behind.
The Current Influencer Marketing Landscape
First, let's take a closer look at what's currently going on in the influencer marketing industry. This will help you discover the current standing of influencer marketing and what you need to do to keep up.
#1: Increased Interest in Influencer Marketing
Even just by observing from a distance, you can tell that influencer marketing has become very popular. As mentioned earlier, everyone from top brands to start-up businesses are working with influencers to promote their products.
Influencer Marketing Hub conducted an online survey in which they discovered that Google searches for the term "influencer marketing" have increased by 325% within just 12 months. This goes to show that more and more people are developing an interest in the marketing channel.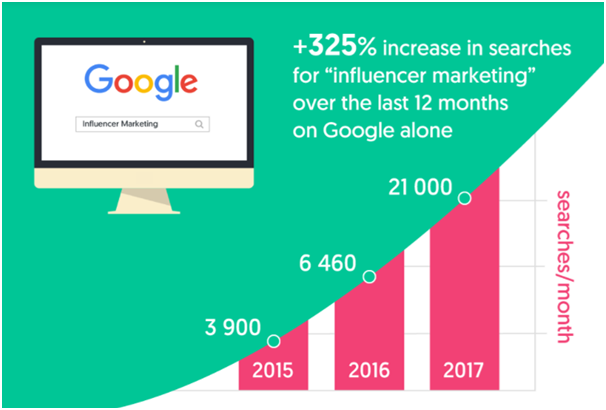 It is possible that there is a correlation between its popularity and its effectiveness. A Linqia study found that 94% of marketers who have used influencer marketing are considering it effective. So it is no surprise that other marketers are also showing an interest in executing their own marketing campaigns with influencers.
#2: Fastest Growing Channel for Customer Acquisition
This high level of effectiveness is also likely fueling the growth of influencer marketing. In the Influencer Marketing Hub survey, influencer marketing was considered as the fastest growing method of acquiring new customers. It's even ahead of organic search and email marketing, both of which have been known to be highly effective for customer acquisition.
#3: Authentic Content Creation is the Biggest Benefit
While influencer marketing is quickly becoming a popular method of customer acquisition, the biggest benefit of working with influencers is authentic content creation. The Linqia study found that 89% of brands feel that influencer marketing benefits them most by helping them create authentic content about their brand.
This authentic content engages the target audience, wins their trust, and eventually drives them to the brand website. So by creating authentic and engaging content about brands, influencers help them in acquiring new customers.
#4: Micro-Influencers Are Gaining Popularity
With an increasing need for authenticity in brand communications, brands are starting to see the value of micro-influencers. Micro-influencers do not have a massive following like celebrity influencers do. They may have somewhere between a thousand and 100,000 followers. But this doesn't mean they are any less effective.
Micro-influencers are more relatable because they are just like everyday consumers, but with a more significant following. So their recommendations and opinions are a trustworthy source of word-of-mouth promotions. That is why you can see top brands like Adidas implementing them for their marketing campaigns.
Adidas has been working with the top names in sports and fitness. But they have recently harnessed the power of micro-influencers for promoting a new line of soccer boots. They worked with 30 players from football academies in London, who were involved in the designing and naming of the boot. They also helped promote the boot along with the Glitch app, which can be used by soccer fans to test and buy the new boot.
#5: New Influencer Marketing Platforms are Popping Up
Another significant trend in influencer marketing is the rise of influencer marketing platforms. Marketers and developers, recognizing the importance of influencer marketing, have come up with new platforms for brands and influencers to get connected.
According to the Influencer Marketing Hub survey, 230 new platforms and agencies focused on influencer marketing have developed between 2015 and 2017.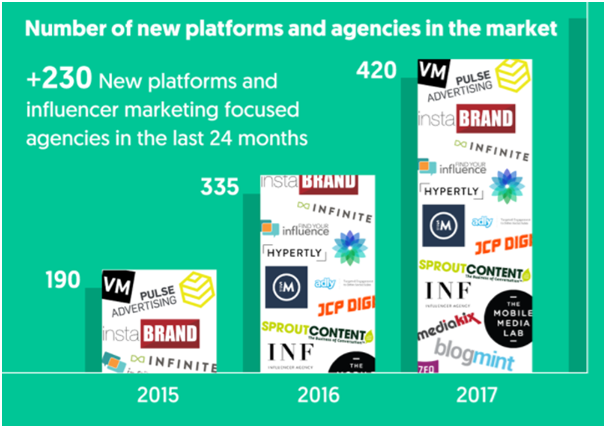 This change gives brands more options if they are in search of agencies to work with or influencer marketing platforms to use. At the same time, it also means the competition has become tougher for existing agencies and platforms.
#6: Instagram is a Favorite among Influencers
The success of influencer marketing campaigns largely depends on the social media platforms on which they were executed. Brands tend to favor both Facebook and Instagram equally according to the Linqia study. However, influencers find Instagram to be the best platform for influencer marketing, according to a study by Hashoff.
A huge majority of influencers prefer Instagram over any other social media channel. The study found that 79.7% of influencers considered Instagram to be their number one platform in 2016. The number has increased to 91.9% in 2017.
Facebook, however, saw a decrease in the number of influencers preferring it. In 2016, 9.8% of influencers considered it to be their number one platform, but only 2.7% of influencers felt the same about it in 2017.
What the Future Holds
The future of influencer marketing largely depends on the current trends and changes. By understanding the possible changes in influencer marketing, you can understand how to prepare for these changes. Here are some of the most important predictions for the future of influencer marketing:
#1: More Advanced Measurement Tools
Although there is a significant increase in the number of influencer marketing platforms, most of them are focused on identifying and connecting with influencers. Many have yet to tackle the challenge of measuring influencer marketing campaigns.
And this is a big issue because according to the Linqia study, measuring the ROI of influencer marketing campaigns is the biggest challenge for 78% of marketers.
So over the next couple of years, we should expect to see an increase in influencer marketing tools that will tackle this specific problem. Marketers will find it easier to track the performance of their campaign as a whole as well as the performance of individual influencers.
#2: Brands Will Invest More on Influencer Marketing
As we have established earlier, influencer marketing has already been proven to be effective. And it is also growing much faster than other traditional forms of digital marketing. So it is likely that brands will divert their focus on influencer marketing and make more investments to enjoy the full benefits.
In the Linqia study, almost half of the marketers surveyed express their intentions to increase their influencer marketing budget. Only 4% are planning to decrease their budget, while 23% will spend the same amount and 25% aren't yet sure of their intentions.
The Influencer Marketing Hub survey, however, showed that 67% of marketers intend to increase their budget.
Either way, it is clear that brands are realizing the importance and effectiveness of influencer marketing and will be dedicating more of their funds on it.
#3: Instagram Will Remain a Core Influencer Marketing Channel
Another important prediction is that Instagram will remain a crucial channel in influencer marketing. The previously-cited Hashoff study found that influencers have expressed their intention to keep prioritizing on Instagram even in 2018. So it is likely that other social media channels won't really overtake Instagram for at least a few years.
The popularity of Instagram for influencer marketing is only going to increase especially since the platform is making lots of effort to cater to influencer marketing. Recently, they developed a Paid Partnership tag, which influencers can include in the sub-header of the sponsored content they create for brands on Instagram. Here's an example of how it will look.
This new feature can help influencers in maintaining transparency about their campaigns and help them retain the trust of their followers. It could also help brands and drive more traffic through their Instagram influencer marketing campaigns because their business account will be tagged in the sub-header. And followers can easily click on this tag to land on your profile.
It is clear to see that Instagram is making an effort to cater to the needs of brands and influencers who are engaged in influencer marketing. If they continue to identify and meet these needs, it is possible that Instagram will continue to be the number one social media platform for influencer marketing. And brands can expect to design more campaigns to be executed on Instagram.
Conclusion
Now you know more about the current landscape of influencer marketing, and what you can do to adapt to the current industry trends. And you also have some crucial insights that will help you understand what the future holds for influencer marketing. All of this information can be used for designing and adjusting your influencer marketing strategies and expectations.