Upcoming Webinar: Cutting-Edge Tactics To Spy On Your PPC Competition
Hanapin Marketing and SEMrush have partnered together to create a new infographic.
Using Inc. Magazine's article on the 5,000 fastest-growing private companies in America and Semrush data, Hanapin — the company behind the popular PPC Hero digital advertising blog and HeroConf — documented the annual PPC spend per company.
To view the results and see the top PPC spenders per industry, continue after the jump.
PPC Nation: What America's Fastest-Growing Companies Spend On Google AdWords Each Year
Equipped with Semrush data, Hanapin Marketing looked at yearly PPC spend for companies on the annual Inc. 5000 list. Hanapin did some analysis based on Inc. 5000 and our data, and created the infographic.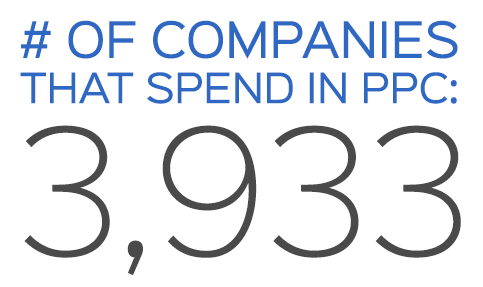 The research showed four out of five of the fastest-growing companies spent money on PPC.
Of those companies that spent money on PPC, an average of $20,404.61 of revenue went toward paid campaigns.
Mike Stricker, U.S. Marketing Director added, "This is a pretty substantial investment, considering the fastest-growing private companies include small and medium businesses. These companies are footing the bill for this; it is not funded by stockholder investors. That shows there must be ROI, otherwise, these agile, fast-growing companies would not be investing their advertising dollars in AdWords."
The IT Services industry makes up the biggest portion of the list, and also spends the most on PPC. The Consumer Products & Services industry has the largest per-company expenditures on average.
"Traditionally, among B2C companies, the auto industry is a top 10 online advertiser, and they occupy the top two spots, but dating, coupons and tickets spend the next three highest budgets," said Stricker. "Conjecturally, will the Panda update push ad budgets higher for coupon sites? That remains to be seen.
The IT industry is led by a crossover B2C/B2B giant, GoDaddy, purveyor of domain name registration (an industry in flux with new TLDs almost daily) and hosting, plus many support services. It takes a big budget to serve so many service categories. Liquid Web competes for hosting dollars, as well… when the leader outspends, those who want to compete might also have to 'bite the bullet,' and increase their own spends. Secure email, cloud hosting and services, and enterprise cloud round out the top five. Interesting to note that in addition to B2B, Plex also purveys personal media cloud services, and the crossover into B2C and D2C is certain to boost ad budget needs."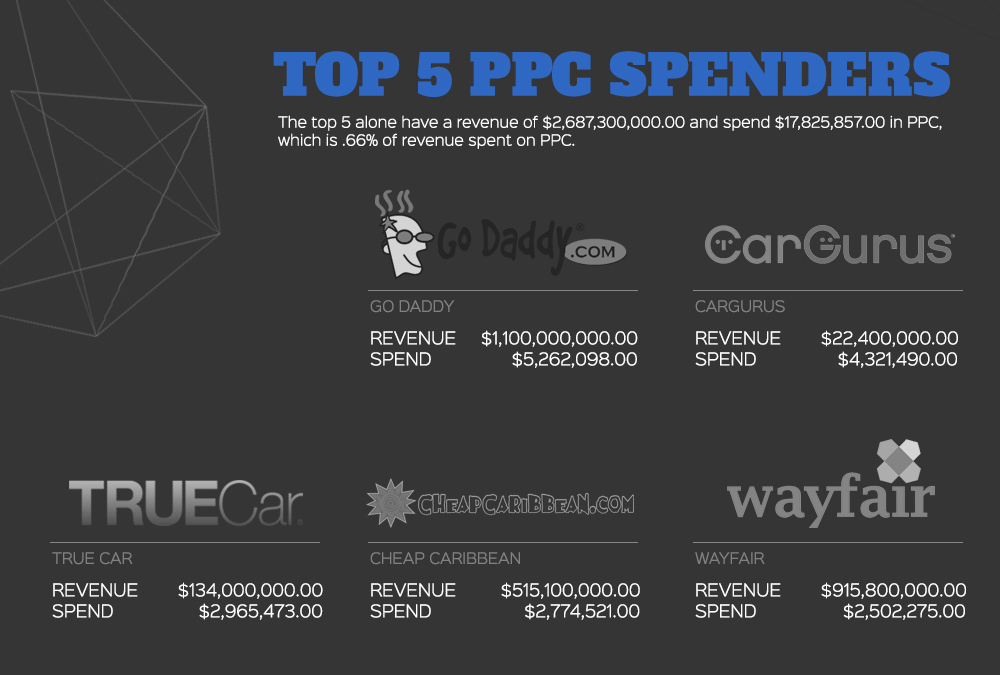 Here are the top five PPC spenders:
GoDaddy
CarGurus
TRUECar
CheapCaribbean.com
Wayfair
"Auto advertisers are two of the top five spenders. IT access once trailed auto spends closely, but here that industry has moved ahead in spend at the most-competitive levels. The travel industry is represented among top five, as is etailer Wayfair. A surprise is the absence of personal finance companies among the biggest spenders, since that segment once dominated AdWords spending," said Stricker.
Jamie Newton, Communications Coordinator at Hanapin, reported five main takeways from the infographic:
Four out of five companies on the Inc. 5000 list spend money on PPC advertising
The top spender, GoDaddy, is in the online services industry, a classic market for successful PPC ads
 IT continues as one of the fastest-growing segments, with the broadest range of advancers among both public and private companies
The IT Services industry also spends the most on PPC
The Advertising and Marketing Industry spends the largest percentage of its revenue on PPC
You can view the infographic in its entirety at the PPC Hero blog.
Want more data to play with? Access the entire data report and sort it to your heart's content. Delve into how the fastest-growing companies in America stack up against one another, both from a growth rank,and by their AdWords spend. Check out your competitors to gain insights into their advertising strategy. After all, isn't that what SEMrush data is all about?

Get this data here. Simply fill out the short form at the bottom and submit.
Upcoming Webinar: Cutting-Edge Tactics To Spy On Your PPC Competition
Join experts from SEMrush and Hanapin Marketing as they discuss leading tactics in competitor research that will give you a leg up on your competition. They will host a live webinar on Thursday, October 23 at 12 p.m. (EST).
David Black, Customer Success Director @theguyatsemrush
Cassie Oumedian, Senior Digital Specialist @cass_oumedian
You'll get expert-level PPC tips like:
The pros and cons of bidding on competitor terms
Competitor research tools and tips
Competitor PPC Campaign Performance Analysis
Register for the Cutting-Edge Tactics To Spy On Your PPC Competition webinar today!
UPDATE: View the recorded webinar and SlideShare slides: