Evaluating business and marketing performance is harder than you might think. Internal data can only reveal so much, while benchmarks - industry and competitive - can unveil much more than your own historical data.
Internal performance indicators can show a twofold traffic growth and an inflow of customers from new channels compared to similar periods year-over-year (YoY), yet the market or your competitors might be moving at a much faster pace. And if that is the case, you should always be aware of it to maintain a competitive edge within the market.
This post will guide you through the process of gaining insights into your performance level within the industry to help you focus on further improvements and be able to set more relevant goals.
What Is Competitive Benchmarking?
Competitive benchmarking is the process of comparing your company metrics against competitors and the overall market. Essentially, it is a method that helps businesses evaluate their performance, pinpoint best industry practices, and initiate their adoption to keep an edge over the competition. 
In digital marketing terms (this is what we're covering here), the purpose of competitive benchmarking is to amplify digital marketing strategies and tactics based on insights from competitors. Yet there is a fine line between competitive benchmarking and competitor analysis.
The difference between competitive benchmarking and competitor analysis
Although similar in approach, competitive benchmarking and competitor analysis serve two distinct purposes:
Competitive analysis, or competitive research, is a method that allows you to get a detailed overview of each competitor. It is a way of scrutinizing competitors' strategies and tactics - from messaging to SEO practices - to get insights into their day-to-day operations.
 Competitive benchmarking, on the other hand, provides a helicopter view of your competitive landscape. Think of it as a high-level approach to evaluating competitors' long-term strategies, where you try to gather insights into their performance over time and pinpoint overall market trends.
Why Do Businesses Use Competitive Benchmarking?
By benchmarking yourself against the industry and competitors, you will be able to get a clearer understanding of your market position and to uncover potential opportunities.
Essentially, there are three types of competitive benchmarking and, hence, three ways businesses can gain market advantage from adopting this method:
Process benchmarking helps you understand your internal processes and increase their efficacy by examining how your competitors go about a given business process. This is what Harvard Business Review described in Xerox's case study, where the company tried to look into their Japanese counterparts' operational processes to optimize costs and product pricing.
Strategic benchmarking is aimed at comparing business models and approaches to amplify business strategies. For instance, an upcoming coffee shop chain could try to emulate Starbucks's overwhelming success by getting a better understanding of its winning business model.
Performance benchmarking is all about measuring strategy outcomes - from competitors' traffic generation strategies to their social media performance.
This post will be focusing on performance benchmarking, and will define what metrics you will be looking at and what steps you should take to perform this type of competitive benchmarking.
What Metrics to Look At for Competitive Benchmarking?
Before getting started with competitive benchmarking, and even before identifying the competitors you are comparing your performance against, you have to think carefully about what metrics you are considering. 
Based on goals and key performance indicators (KPIs), keep your metrics quite simple to be able to look at them over time: 
#1 KPI: Growth assessment: site traffic numbers will help you benchmark your growth rate against the competition.
#2 KPI: Ranking improvements: to evaluate ranking wins, look at competitors' traffic in terms of keywords and top landing pages.
#3 KPI: Social media reach: from follower count and engagement metrics to how much traffic social media brings to the site, look at your competitors' social media indicators to assess your social media improvements.
#4 KPI: Brand awareness and share of voice: in the digital realm, brand awareness is measured by direct traffic numbers, while the share of voice can be evaluated by looking at the share of traffic from the overall market traffic counts.
#5 KPI: Product success: by looking at competitors' top visited pages, you can build assumptions on the most popular products and services they are offering and use these insights to adjust your own product roadmaps and offerings.
#6 KPI: Share of Search / Share of SERPs: look at where your competitors are mentioned (and you're not) on the pages that rank for your commercial keywords. Tip: Surround Sound makes this easy.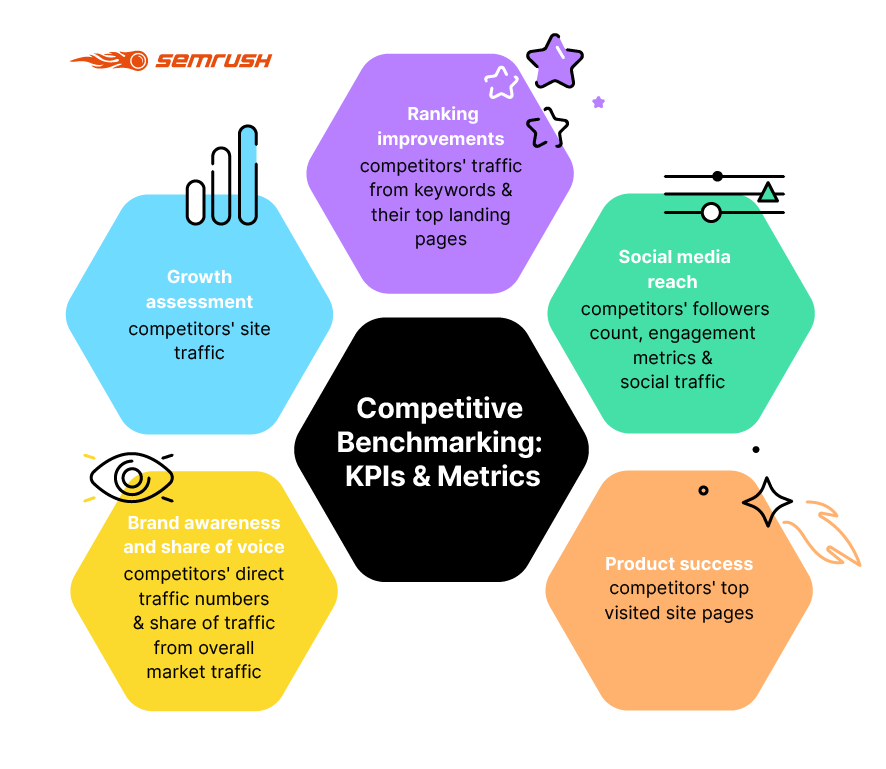 What Does the Competitive Benchmarking Process Look Like?
Once you've identified what metrics you should be looking into, you can finally get started with competitive benchmarking. 
In keeping with our step-by-step explanation, we'll show you how this process can be fulfilled for the digital media industry. 
Here's what the competitive landscape within the digital media industry looks like: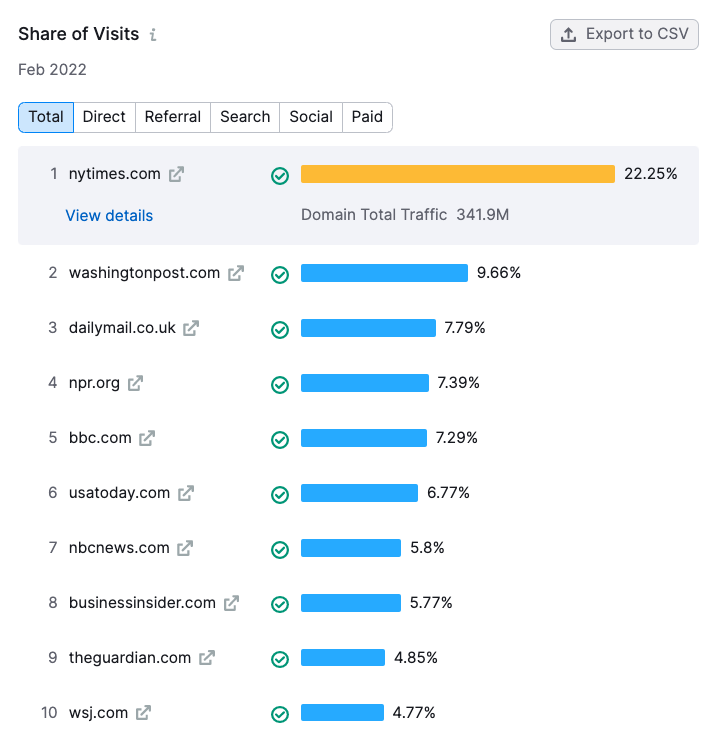 With the ongoing race towards digitalizing the more traditional print media industry, a media brand like USA Today makes it to the top 10 digital media brands and seems to be doing pretty well.
The Traffic Analytics tool reveals that digital performance-wise, USA Today has seen some ongoing improvements over the last two years:

Yet competitive benchmarking will uncover whether the brand's growth is in line with the industry's growth rate and identify gaps in USA Today's own performance. 
Step 1: Choose Relevant Competitors to Benchmark Against
Any competitive benchmarking starts with identifying the most relevant competitors for the comparison.
You might have an idea of who your top industry competitors are, or which ones stand closer to you. But you have to choose whether you want to:
Benchmark against your closest competitors - the ones that are similar to you in terms of size and market positioning. This will help you identify some immediate opportunities for getting a competitive edge.
Benchmark against the key industry players to gather insights into their success to replicate some of their winning strategies and tactics without aiming to directly compete with them.
Benchmark against the industry disruptors - those businesses that are changing the face of your niche by introducing brand-new strategies and products (think Apple back in the days when it shifted the way we perceive cell phones or music devices).
It can be challenging to pinpoint the most relevant pool of competitors to benchmark your performance against, but tools like Market Explorer can do the job for you. 
Based on common site categories and audience interests, the tool gives us an overview of USA Today's competitive landscape: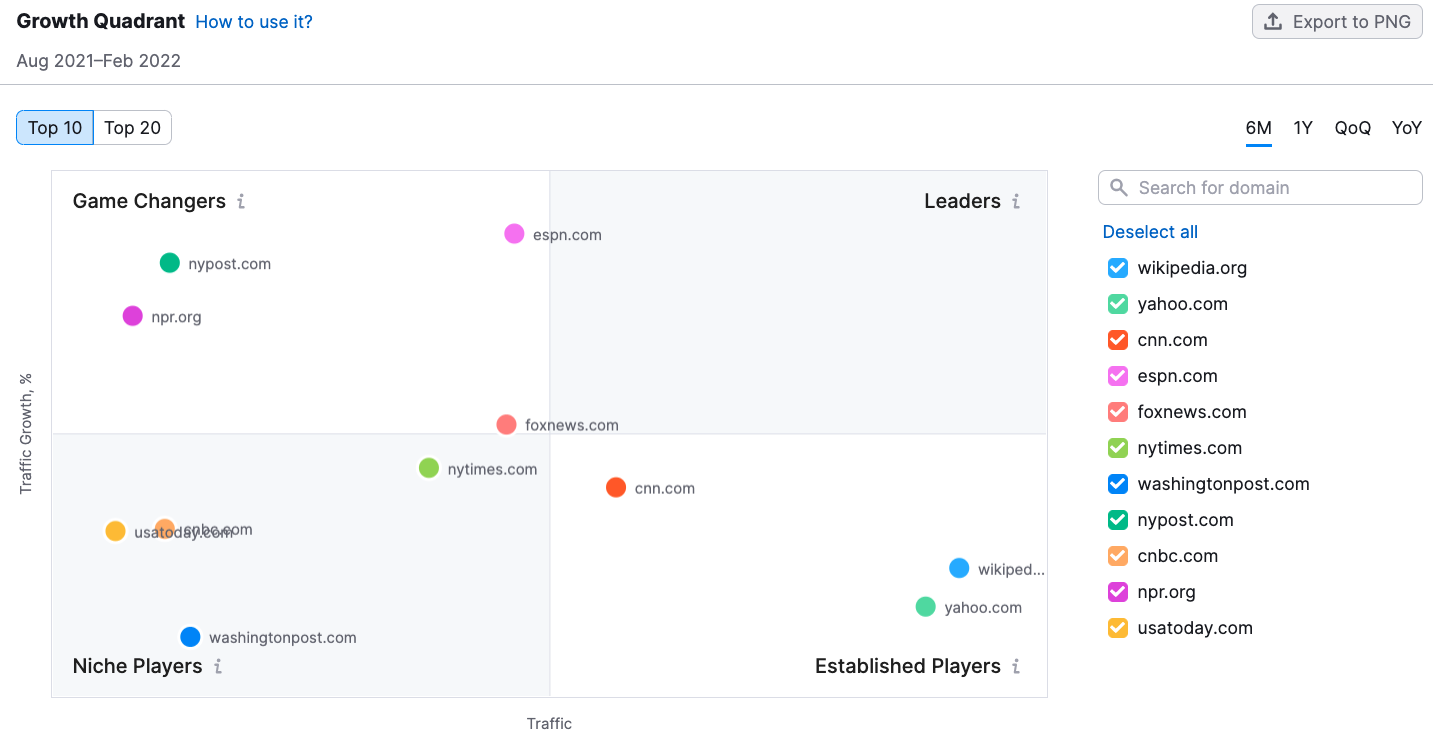 This tool provides a high-level view of industry competitors, which is what you need for competitive benchmarking, but this post will guide you through a more detailed approach to identifying your rivals.
Step 2: Look at Industry Trends and Growth Potential
Once you've gained a thorough understanding of who you are comparing yourself against, you have to measure traffic trends within your industry and pinpoint growth potential based on competitors' site traffic data.
If for step 1 you could simply rely on some common sense and general industry knowledge, this step requires you to employ tools that are specifically designed for this on top of looking at your internal YoY growth numbers.
The very same Market Explorer tool reveals that the overall industry saw a big audience spike at the peak of the COVID-19 pandemic, and though the trends has leveled out, numbers remain high.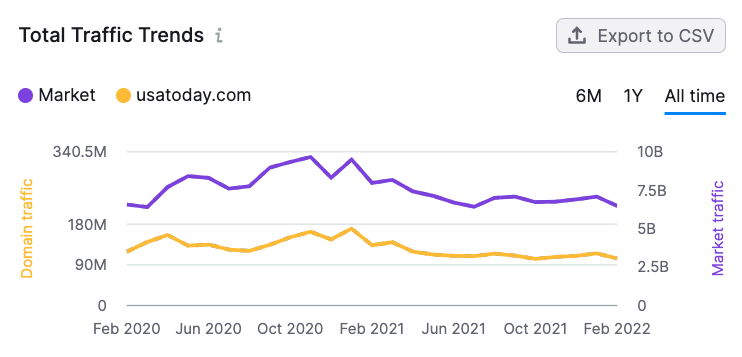 These insights into the overall industry trends show that USA Today can potentially capitalize on the rise of interest in and market growth of digital media, and needs to continue the competitive benchmarking process to dissect particular competitors' strategies. 
Market Explorer also reveals the rate at which USA Today's competitors have grown within the past year - this is an important metric to look at to benchmark your own growth numbers against those of your rivals: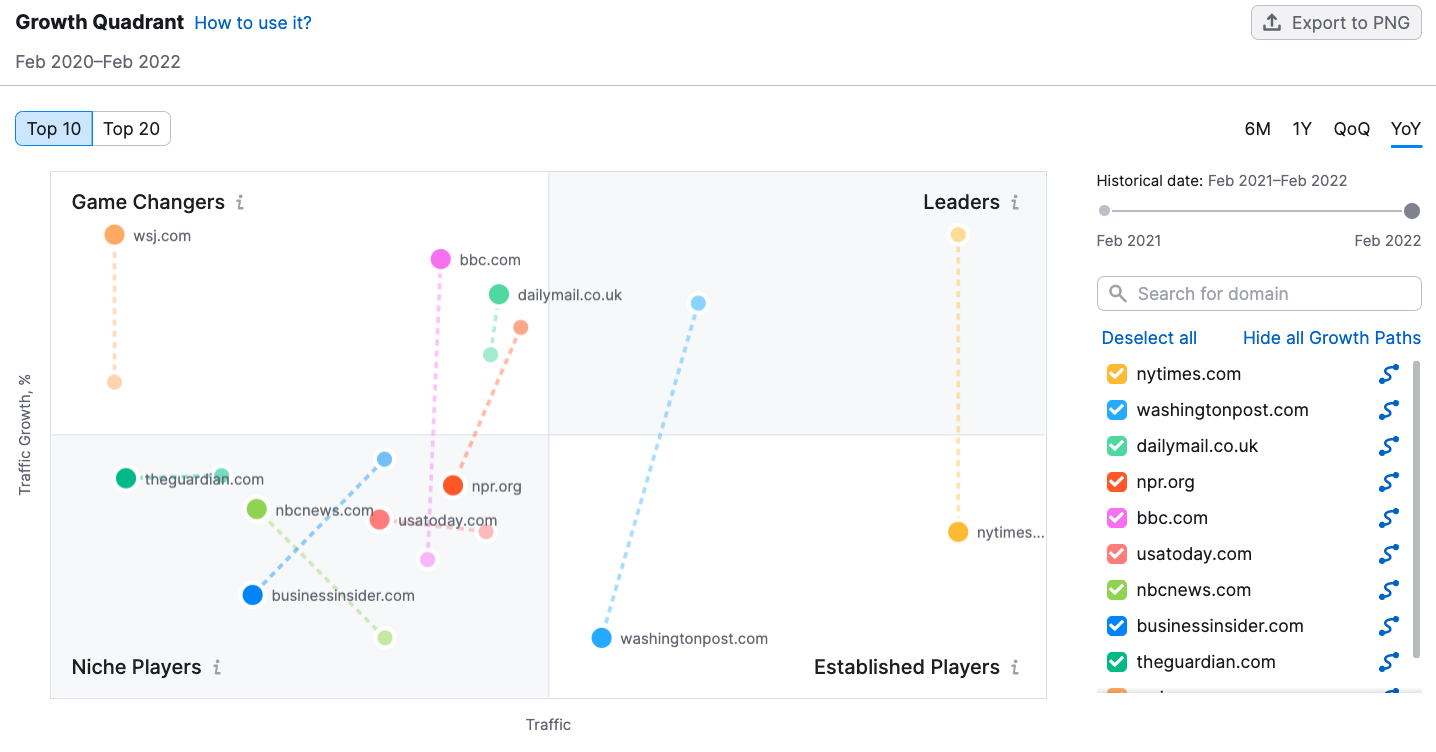 USA Today's traffic decreased YoY, much like almost every other newspaper since 2020. USA Today might take comfort in this, knowing that their slight decrease is likely fueled by a broad downward trend in the industry, instead of some mistake they're making internally.
Likewise, for inspiration on how to thrive in the market post-covid, they might look to the few newspapers that did see an increase in visits, like BBC or the Daily Mail. 
Step 3: Analyze Competitors' Traffic Sources (Channels)
Seeing that the New York Times, Wall Street Journal, Washington Post, and Daily Mail are the fastest-growing rivals for USA Today, we'll be looking into their particular traffic acquisition strategies to see where USA Today's weaknesses and opportunities are.
Tools like Market Explorer can provide a helicopter view of where competitors' are placing their bets regarding traffic in comparison with the overall market benchmarks. 
This is how USA Today's traffic breakdown looks against the key rivals we identified in the previous step:
The overall traffic trend is pretty consistent across all the media brands - direct and search traffic, or brand awareness and great SEO, are key channels that attract audiences to the digital media brands' sites. 
We can spot that the Washington Post, the second-largest media site in terms of traffic, has a relatively high flow of traffic coming from social channels - so, USA Today could invest in a stronger social media presence with fewer brands to compete against. 
Once you identify which channels you should invest in, make sure to go through this post to find out surefire strategies that bring more traffic from all traffic channels - direct, search, paid, social, and referral.
Step 4: Find and Benchmark Your Competitors' Top Products/Services
What you can also benchmark yourself against are your competitors' products and offerings.
While it's challenging to uncover which products really seal the deal for competitors' success, you can gather some insights on the key audience magnets with regard to products by looking at the top pages of your rivals' sites. 
If these pages are seeing the largest shares of competitors' traffic, it means they generate the highest audience interest and attract the biggest optimization or advertising efforts.
As the Traffic Analytics tool indicates, the main pages are almost always the most visited pages across all of USA Today's competitors' sites. However, if we look at the top five pages for NYT and WSJ, for instance, we can see that interactive coronavirus-dedicated pages and games attract incredible audience numbers for the two brands.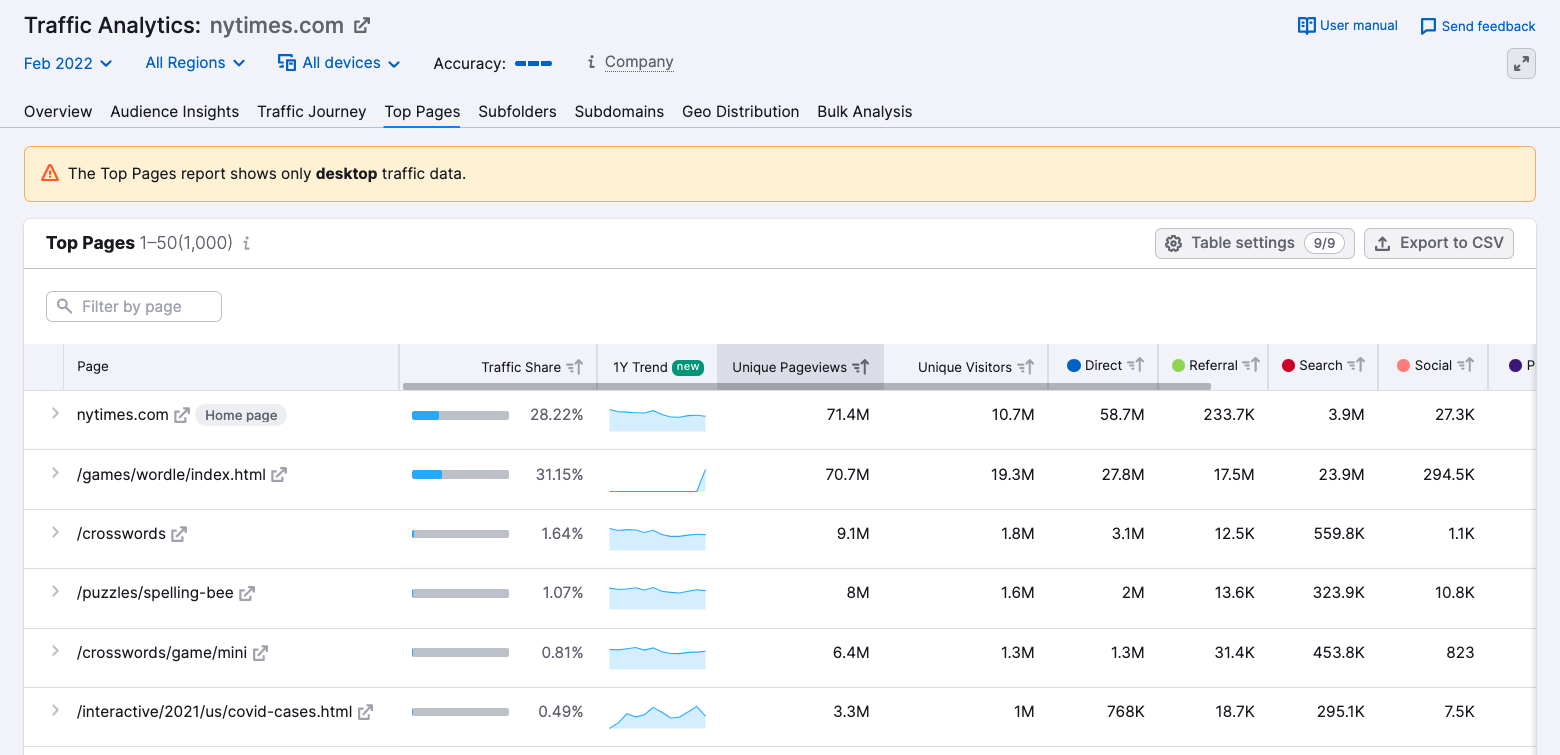 Thus, USA Today can take some of the most popular "products" of the competing brands and see if it can integrate similar offerings and products within its own online publication. 
Using Competitive Benchmarks to Optimize Your Business and Marketing Strategy
Competitive benchmarking should be an ongoing process, as industry trends and competitors' performance keep changing every year, quarter, and even month. 
If conducted regularly, this method can help you catch market trends early and fine-tune your marketing goals accordingly. Moreover, competitive benchmarking on top of other market analysis techniques will help you build a strong data-driven digital marketing strategy.
With time and ongoing effort, competitive benchmarking can alter your entire marketing, product, and even business approach in ways you wouldn't have changed it had you stayed in your lane surrounded by blind spots.