Marketers: how many of you are on LinkedIn? Sure, you may have a LinkedIn profile, but are you actually using it and taking advantage of all of its benefits?
Today, having a strong presence online is not only crucial for businesses, but for digital marketers, too. LinkedIn is one of the best way to build your professional network and connect with other digital marketers. It's packed with great features that allows you to stand out and establish an authority in this professional networking platform.
Let's take a look at some of the benefits LinkedIn can bring for digital marketers.
Build Your Professional Brand
For many of us, we want to build our personal brand online and establish ourselves as an authority. This means, we have to connect with the right people and actively communicate online. You want to use LinkedIn to its full advantage by choosing the right profile picture, crafting a descriptive headline, and a strong summary that showcases your skills, passion, and story.
Use LinkedIn as an extension of your personal website or resume. It should highlight everything you want to share with other professionals in your industry. When you're crafting your LinkedIn profile, think about what differentiates you from other marketers? What are your strengths? What are you passionate about? What makes you a valuable influencer?
A great way to analyze your performance is through the Social Selling Index tool. The SSI is a tool that measures the effectiveness of your efforts in building a professional brand, building relationships, engaging with Insights on LinkedIn and discovering the right people.
Connect with Professionals in Your Industry
One of the best features of LinkedIn is no doubt their filtered searches. Their search features allow you to find specific people in the industry that you're looking for. Connecting with professionals is important for digital marketers. You want to make the right connects and get introduced to professionals that are influential in the industry.
For example, if you're a content marketer, you may be interested in searching for guest bloggers, freelance writers or industry leaders to contribute on your site. If you're a social media marketer, you may want to connect with other influential social media marketers and develop a personal brand.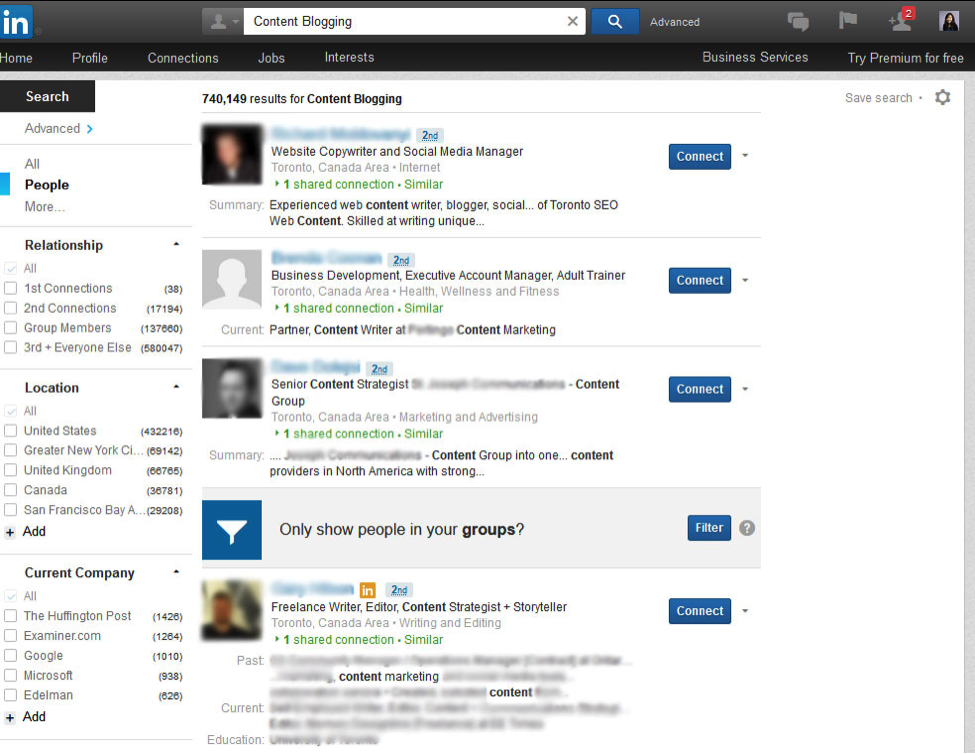 Building your network is important in the industry. It can help you establish yourself as an authority and connect with professionals that can help you. Personally, I've found that the professionals in the digital marketing industry extremely helpful. Take advantage of social media and LinkedIn to connect with others and learn from them.
Get Discovered
Just like you would use SEO on your website, you want to optimize your LinkedIn profile to include keywords that can help other professionals discover you.
Whether you're looking to establish your career as a digital marketer or you're looking for marketing opportunities, your LinkedIn profile can help others discover your skills. Based on your profession, skills and years of experience, other digital marketers or professionals can find you and connect with you.
Similar to the way you search for industry to connect with, other marketers may also be looking for you as well. Therefore, you want to structure a perfect LinkedIn profile. Check out this great infographic to structure a great LinkedIn profile.
Post on Pulse
If you're already publishing blog articles for your own website or other industry blogs, then you may want to consider publishing posts on LinkedIn as well. On the other hand, if you're first starting out and you want to write your first article, then this is a great place to start.
LinkedIn Pulse was designed to deliver personalized news from the professional world. Pulse is a self-publishing platform that allows anyone to share a post. It's gained great popularity over the years and have over 130 000 unique original articles published weekly in the platform.
If you're a newbie in the industry, consider publishing a post on LinkedIn to start. You can share it with your connections and get feedback on your content and quality. And for those who look up to elites in the industry, LinkedIn Pulse makes a great way to get discovered by other marketing individuals and connecting with professionals you're already connecting with. Best of all, it's easy to use! Simply, just hit "Publish a Post" and you'll be directed to a simple content creator. Once you've checked all your spellings and links, just hit Publish!
Keep in mind that your posts may not always succeed on the first attempt. It may require several posts before you grasp your tone of voice and style of writing that connects with Pulse readers. You can use LinkedIn metrics to analyze your posts and create better ones.
Join Industry Related Groups
Groups are a great way to connect with likeminded people. It provides a place for professionals in the same industry or professionals with similar interest to share content, build relationships, find answers, establish themselves as an industry expert or discover new content.
If you're interested in social media marketing, you can find groups on social media marketing or groups that connect you with other social media marketers. Simply, search the term you're looking for and view Groups.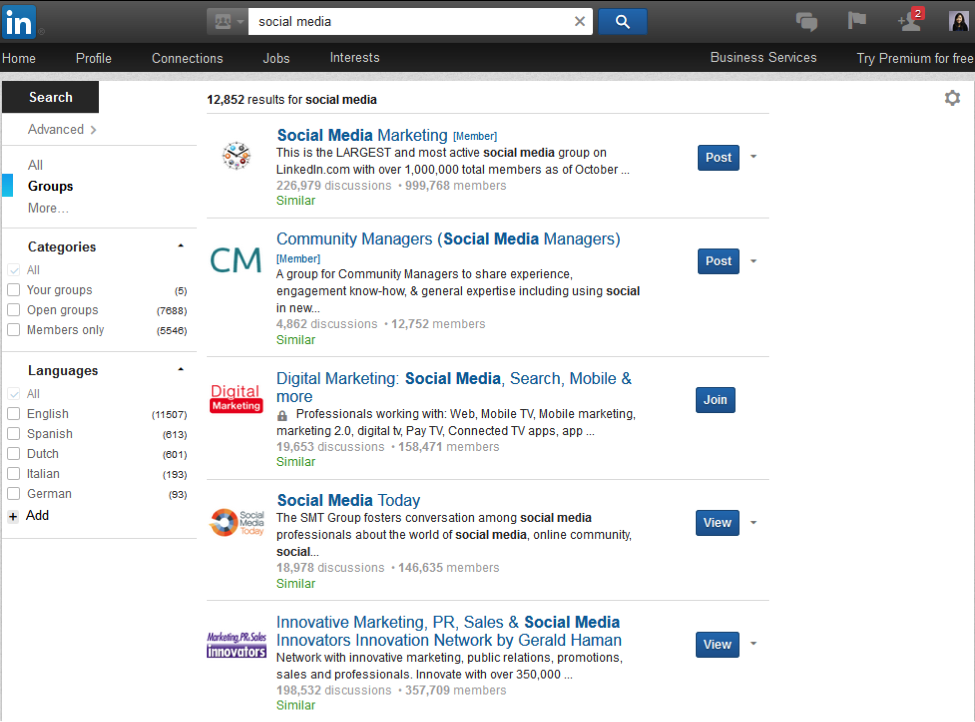 Like any marketing groups or forums, simply joining it isn't enough. You want to be active, contribute constructive feedbacks, and share valuable content for other professionals. The purpose is to generate a conversation with other digital marketing professionals. This way, you can share worthy content from other participants and build a relationship with them.
So, Is LinkedIn for me?
Yes! The answer is, YES! Whether you're new to digital marketing or an expert digital marketer, you want to use LinkedIn to its full advantage. Build your personal and professional brand through LinkedIn to help you establish yourself as an authority in the digital marketing industry.
If you're not using LinkedIn, share with us your reason and experience in the comments below. For those who have found great success through LinkedIn, tell us your experience and share with us any great tips you have!
(Image Source: Build Your Personal Brand on LinkedIn.pdf)