Editors note: This post is a translation of the original post on the French SEMrush blog.
Internal linking in SEO is one of the most popular on-site criteria. It is also the most interesting and important factors of SEO used today. We have the opportunity to improve the direction of the web project, habits and the ranking of the website in search engines.
By the way, we also work on internal linking to eradicate incoherence and classification problems. Clearly, if you have an intolerable linking/organization on your website, users and search engines will not capture the spirit and the sense of your project (thematic, universe, etc).
So today, in this post, I will try to describe my vision and one of the methodologies that I apply to optimize internal linking.
What is good internal linking?
Before making optimize your internal linking, you need to know what a good internal linking is.
Contrary to popular ideas, a good link is not just having a good/organized menu with categories, sub-categories, pages, etc. Something else matters.
The biggest problem for people is that they think of linking as it would look like on paper and they apply this representation with a simple CMS like WordPress. Lots of people forget plugins, functions and other features that turn links into HTML. All of these elements generate and cause tons and tons of links everywhere, removing any logic or coherence between the pages.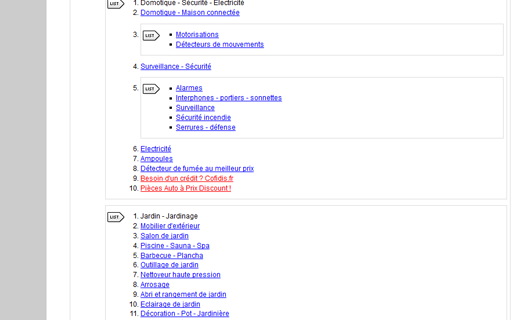 Mega menu with lot of links
Thus, when we make a visualization, we can understand why our links go in all directions. Nothing is controlled and nothing has a clean hierarchy from one to another. However, to the user, it seems to be coherent and so we continue to use these methods.
Good internal linking comes from understanding the demand and needs of the users to remain consistent. You should clean up the HTML code to classify topics and sub-topics with a principle of siloing. A good classification is like a library or a market when each object has its place.
Build internal linking from the beginning
There are several ways to achieve a mesh. Between the linking types, the size of the website, the themes, features and objectives, there is plenty to do.
However, I'm going to propose a methodology that can fix a lot of situations and that will allow you to understand the right questions for your project.
Initial assessment questions for website design
For every website, we must always ask: What do I have to propose, sell, or offer on my website?
In terms of functionalities, editorial contents, products: What do I have to offer? What are my categories? What is the order of the pages or posts?
Initially, the idea is to take a pencil and a paper to write or draw what you want on your website and think about where are the limits? After that, it's time to put aside the paper (and selfishness) to understand what your suspects, prospects, clients and ambassadors need from you.
Glossary of website visitors
Suspect = A person that ignores your offer. We need to prepare them to become a prospect.
Prospect = A person that knows your offer but we need to convince them.
Client = A person who has already trusted you. We need to continue convincing them.
Ambassador = A person who loves you and recommends you to people. (The best!)
If you combine the « users demand » with the "buyer-personas" method, the SWOT analysis, keyword research, books and more… you will understand what you need to propose on your website for each person. After that, it's just a business strategy analysis (economy and the goals of your company).
This first step will define what is useless and what is useful.
It's pointless to pollute your website with pages of little interest. We must work with the most relevant subjects and the valuable pages, otherwise, you include new links to "nothing". This is bad for your goal to optimize internal linking.
To review: work on personas, brainstorm valuable content and work on good keyword research — and it will lead you to the next step!
Categorization
Now, we need to organize our subjects/pages in different folders. We take each element and we make groups. For example, apples with apples and oranges with oranges.
At this stage, you will probably make several modifications to confirm each element in each group. You will also probably subdivide them into a group of ideas.
Find the perfect "balance," don't make 150,000 groups with one document per group and don't make 2 groups with 30,000 documents inside.
I can't recommend to you any particular number about that, but if you understand your theme and your website, you will understand what the users need. So FOCUS on the user experience and his journey on the website.
No disorder, no confusion.
Make a mindmap
We talked about what we need to propose on our website. Now, we need to make a mindmap to build the representation of our future website with branches, nodes, etc.
This step will help you understand problems, incoherences and semantic errors that could happen as you build.
Use a tool like Coggle, Freemind or Mindmeister to define the main idea with other sub-ideas. You need to make 2 to 5-6 axis, not more. Each axis is a sort of a buyer persona's journey.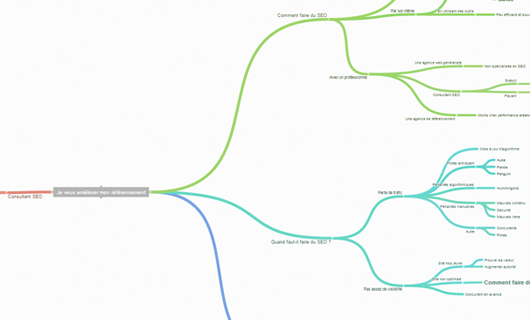 Coggle.it
Most of the time, the main axis will target your brand keyword and outside pages target the long tail. (From broad to specifics.)
You just need to delete redundancies and uninteresting aspects. Think "degrade" for the semantics of the architecture, this journey should be like an organized summary, not a basic sitemap. Focus on demand!
Implementation
Here is the most complicated part because you will need to delete several links on your website to compartmentalize themes.
The idea is to have your internal linking within the code like your mindmap. For each page, you need three major links; to the parent page, to child pages and to sister pages (same level).
Tips to clean your internal linking:
Don't install plugins that generate links
Don't use a mega menu.
Don't use automatic linking (to similar posts)
Don't use automatic solution to improve your linking
Don't have any broken links
Don't use the "nofollow" attribute (really, it's a patch!)
Any other criteria that can generate links
You need control, you need good linking with a good direction and a good coherence. Few tools can improve the internal linking, but it's rare, don't forget this. If you control your linking manually you can be distributed wherever you want. PageRank, thematic PageRank and more — you can send semantic signals and experience to users and search engines.
If you have parasites (links without sense), your linking will break. Search engines will mix up your content and it could be difficult to understand each response for each query.
Validation of your linking
Now that you have a good plan, a good strategy and improved linking, it's time to control them.
I'd recommend Gephi or Cocon.se for that job because they display a nice representation of the linking with the distribution on PageRank. Also, you can trace technical problems and more.
Lots of tutorials are available on the web for this work, so Google is your friend! ;)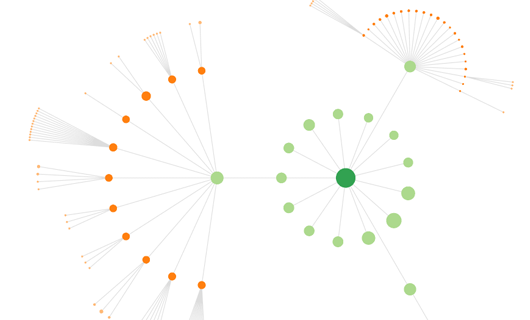 Cocon.se
If you see lots of pages that have too much PageRank or if you spot duplicates, imbalances - there's probably a problem.
Think of it as a kind of "energy hub." It propels the outside of the mesh to the center while being perfectly coherent in its place. Evidently, you need to propose an HTML sitemap to this PageRank outside to the main page. Learn PageRank sculpting to do this.
Be simple, you are here to organize and link things together consistently.
Optimize your internal linking
For this last part, I will resume and guide you to reinforce your linking.
If you want to improve the power of you new or existing links, you can build a "semantic cocoon." A semantic cocoon is an alliance of semantic analysis, PageRank, keyword research, classification and more. It was popularized by Laurent Bourrelly in France for ranking on a big keyword.
By the way, if you make backlinks on the same or a similar topic for each section of your linking (universe), the topic's PageRank will be maximized. The proximity will maximize this. For a baby section, for example, use baby backlinks. A good coherence, a good logic will provide more efficiency.
Think legitimacy and proximity: if I'm so distant from the point of the page, why am I making a link?
Also, you can imbricate network and optimize the off-site. On the web, we have millions of websites. If you integrate your website as a part of the web (your theme), it will be very rewarding!
It's like a puzzle, everything has to be in its place and just one millimeter can change the entire work, so avoid becoming an intruder.
Final Thoughts
Test, test and test! Calculate pagerank on Gephi, learn semantic, topic modeling, clustering and classification of resources. These are all the factors affecting your SEO and enriching your knowledge!
What would you recommend as a best practice for internal linking? Do you have any that I have not shared here? Comment below!