Technology has slowly but steadily taken over our lives – so much so that almost half of the households in India now have a smartphone. India is a country with a population of 1.267 billion with 375 million active monthly Internet users.
The other day I was scrolling through the Facebook page of Kunal Shah, founder and CEO of FreeCharge, when I came across a few eye-opening statistics. (Random Facebook browsing leads to great finds sometimes!)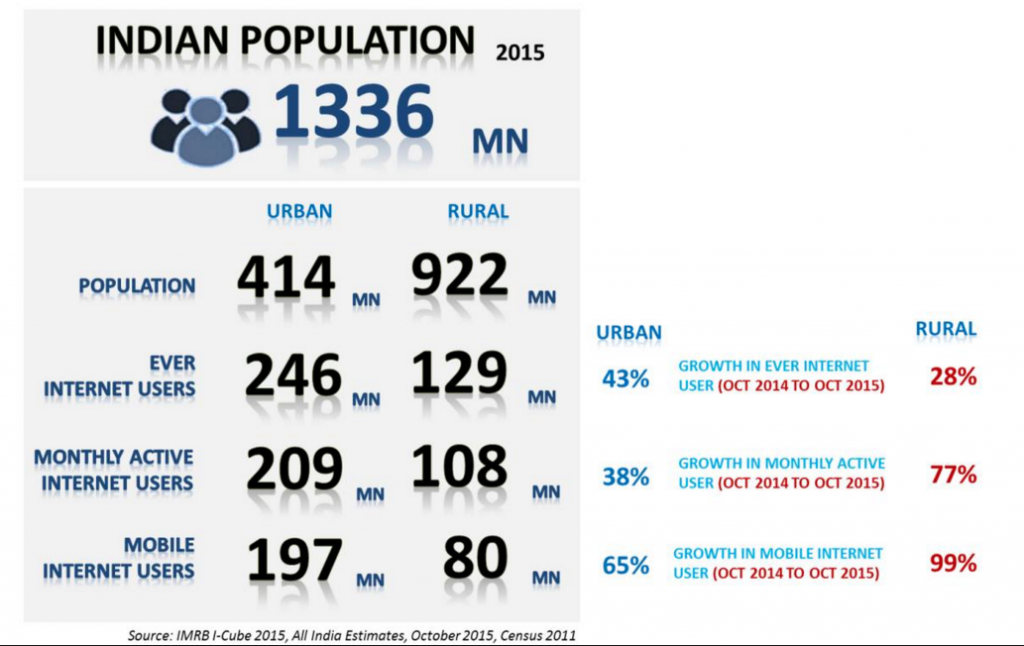 These statistics aren't surprising considering the size of the population, but they sure made me think about how digital media is being used in India and what the best practices are like.
How can a digital marketing agency reach these users and what have we learned about them so far?
What can we learn from this extraordinary statistic?
The Bad- Either more than half of the people in the world do not have access to the Internet, or they aren't aware of this technology (or maybe are oblivious to it!). Either way, they are missing out on something that has the potential to change their lives for the better.
The Good- There is scope - the Internet can either be made accessible to these people or they could at least be made aware of its possible uses, so they can choose accordingly. In fact, the Google Loon project is working on this now.
[Tweet "Out of 7 billion people worldwide, approx. 3 billion are active #Internet users! #marketing"]
Out of the three billion people who are regular Internet users, two billion have active social media accounts. Social media platforms are a great way to connect the entire world through PCs, tablets or even smartphones. The world has never been more connected before!
Internet Users in India- an Overview
Today, every incident has three aspects to it – the truth, the lie (which is probably spread to cover up the truth) and the social media story. In the last few years, almost all major incidents (or accidents) have been aggressively shared, talked about and criticized on various social networking sites. It has gotten to the point where people rely on social media platforms to know what's going on around the world and share their opinions.
India, being a developing country, isn't far behind. Out of the 375 million Internet users in India, 317 million of them are active at least once a month. And that's not all – it's estimated that the average number of monthly users will grow to 426 million by June of 2016.
From the perspective of a digital marketer, here lies a huge opportunity. The growing number of Internet users in India will create a fresh audience for brands that are seeking organic leads.
How Much Time Do They Spend Online?
Statistics show that, in the last year, there has been a 14 percent increase in the number of Internet users in India. Having said that, this could mean one more thing – more people are spending time on the Internet.
Since marketing and advertising are not limited to television anymore, it is reflected in the statistics as well. According to We Are Social, the average individual spends only one hour and 58 minutes per day watching TV, compared to five hours and four minutes accessing the Internet from a PC or tablet each day.
Interestingly enough, increase in mobile Internet activity shows that the average individual spends around three hours and 24 minutes on their smartphone.
This helps digital marketers target their audience right where they are – on their phones!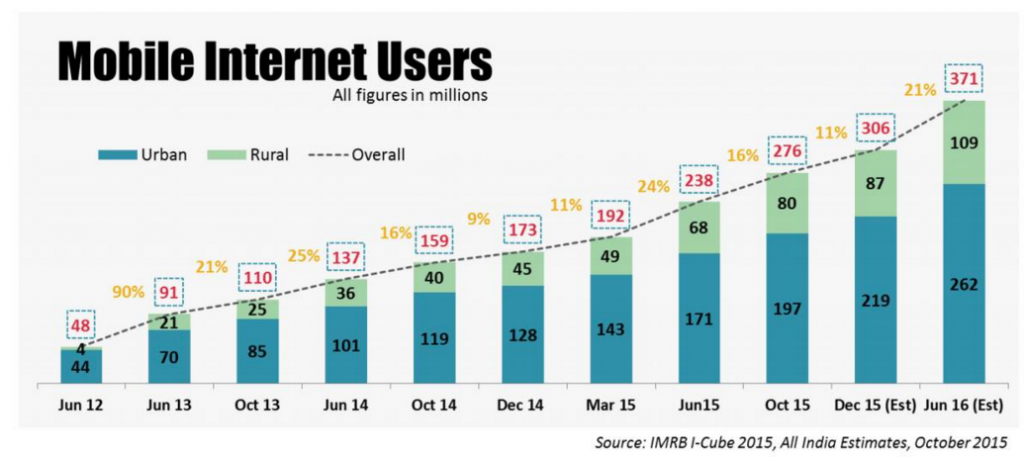 Top Social Media Platforms
The Internet is all about connecting and communicating. The globe is shrinking and people in countries around the world are sharing information easily. Thanks to the Internet, Indians are more enabled, informed and eager to participate–and not just for entertainment!
With the rising popularity of social networking sites, it would not be wrong to say that they have played a pivotal role in bringing the world closer together. Internet users in India chat, play, share their thoughts and connect with their loved ones via the convenience of social media platforms. This is one of the reasons big brands are hiring digital marketing agencies to manage their social presences.
If we go by the statistics, we get a following overview of how connected are the internet users in India:
11 percent of Internet users are connected via WhatsApp. This popular chatting platform was recently taken over by Facebook.
9 percent of Internet users use Facebook Messenger to converse online.
8 percent of Internet users in India use Facebook to connect and share.
8 percent of Indian Internet users use Skype to connect with family, friends and loved ones. Skype has gained popularity and is even used for formal conversations.
6 percent of Indian Internet users are on Twitter; a micro-blogging website that has gained popularity over the years and is now an integral part of the social media ecosystem.
Indian Internet Users:A Closer Look
India is a growing economy. With a history of rich and vibrant culture infused with traditions as varied as possible, it is taking fast steps towards growth – both at technological and modernization fronts.
Even though an average of 375 million Indians uses the Internet, more than two-thirds of the total population of the country belongs to the rural sector. Given this fact, only half of monthly internet users are from the rural sector.
In the last year, rural mobile Internet users have seen a whopping 99 percent increase!
There are around 246 million urban Internet users in India, and 209 million of them surf the Internet every month at least once!
Not much of a difference in these two statistics, right?
So what does this mean?
In general terms, this could mean that once you have used the Internet, chances are high that you'll become a regular user. This could be beneficial to digital marketers as well. Rural India would be delighted to be introduced to the amazing world of Internet technology.
Who uses the Internet the most?
There are 375 Internet users in India, but who are they?
According to the available statistics, almost 120 million of all Indian Internet users are college students. This is not astonishing because India is a "nation of youth" and the median age is less than 28 years old. By the year 2020, the median age in India will be 27 years old.
Now, coming back to demographics, out of all the men who use the internet, around 26 percent are young men, compared to only 11 percent of older men.
What could be the reason for this difference? Further market study can lead you to tread into new territory for branding!
It is also worth noting that only seven percent of Internet users in India are working women, while 17 percent of non-working women are on the web.
Statistics clearly show that just as many children who attend school use the Internet as working women. And, that's 7% of the total internet users of India!
A greater access to technology and the wide availability of smartphones has contributed to the rise in Internet usage among school-age children.
Gender: The Usage Divide
Statistics of Indian Internet users show a skewed graph when it comes to gender.
About 68 percent of all urban Internet users are male, whereas 88 percent of rural internet users are male. Male domination in the rural sector can say a lot about the accessibility and availability of Internet access and smartphones to rural women.
We may also say that rural women are less aware of this technology as well as its possibilities.
But digital marketers can leverage this difference and create an audience out of the lesser privileged or at least reach out to them.
The Internet and User Intent
People use the Internet for various reasons. Some may use it to educate themselves while some may use it just for entertainment purposes.
What do you use the Internet for?
One might say they use it for social networking or entertainment, but the possibilities are limitless. When we look at statistics, urban and rural Internet users have different intentions when they use the web.
Seventy-one percent of urban Internet users in India use this technology for online communication. Conversations these days are short, quick and mostly on the go.
Urban Indian Internet users use the web for a variety of services. From online shopping to transferring money, technology saves them a lot of time. When we look closer, urban Internet users mostly spend their time online on communication (texts and chats), social networking, entertainment, shopping and purchasing tickets online.
However, the rural Internet users use most of their time online for entertainment. With the introduction of the Internet to rural parts of India, the masses there have started trusting technology and involve in online activities other than entertainment, for example, taking classes or learning about things they are passionate about. Mobile Internet users spend most of their time on social media, apart from watching videos or playing online games.
That being said, mobile Internet usage in India has grown tremendously in the past few years. Mobile is used mostly for social media and for watching videos online. Next in line is playing online games, location-based search and mobile banking.
India ranks second in the world in terms of Internet users! Being a nation of youth, India is a huge market for digital marketers across the globe.
There is still a lot of time before Internet usage will attain its saturation in India. With a population of more than 1.2 billion, out of which 1.2 million are young and active Internet users, there is a vast scope for digital marketers to target users and reach out to them.
Are you a digital marketer? What possibilities do you think brands can capitalize on?
Please let me know in the comments section below.
Jaydip Parikh is the CEO (Chief Everything Officer) of Tej SolPro and a Digital Marketing Enthusiast, has been a known face in the fields of IT and Marketing. He is the mind behind the innovative ideas and tactful strategies for Tej SolPro's clients. You can connect with him on @JaydipParikh