Did you realize how huge video advertising has become?
Sure, you noticed ads popping up before YouTube videos more than usual. But did you stop to think about how big this market is?
And yet, the numbers don't lie. It's a rapidly growing market that opens a lot of new opportunities. Check out our new infographic about trends and prognoses of video advertising growth and get to know how SEMrush can help you to get the most benefits from it.

What's More, These Ads Work
Impressive, isn't it? We'll tell you more – video ads work! And this trend started to gain strength over time:
These numbers show that video content and video advertising is definitely worth to keep an eye on. If you didn't have a chance yet to use all the benefits of video advertising, let's take a closer look at some basics.
How to Buy Video Ads
There are many platforms where you could buy video advertising. Using YouTube as example, you publish video ads by setting up AdWords for Video campaigns. The whole process is not very difficult.
You set up a new campaign;
Enter a daily Cost Per View (CPV) budget (more on this later);
Set up targeting settings — in AdWords for Video you can target viewers based on:
Their demographic;
Content they viewed; and
Their interests.
You could also:
Manage ad placements manually and, for instance, select specific YouTube channels you'd want your ads to appear on;
Remarket to users who have interacted with your videos before; and
Specify content keywords to help match ads to content.
It might look familiar because it doesn't look much different than with text-based AdWords ads, but the core idea is all the same. This Google's page gives  the complete overview of the process.
How Much Does It Cost To Publish Video Ads?
But the key difference when setting up AdWords for Video is how you pay for it.
Text-based AdWords ads work on the Pay per Click (PPC) basis. But with video ads, you pay for views. On YouTube you pay when someone watches at least 30 seconds of your ad (or acts on it, whichever comes first). The cost per view (CPV) is typically in a region of .05 to .15 cents, but it could also be higher depending on the industry you're in and the audience you want to target. Apart from time spent watching the video, AdWords for Video also allows you to monitor other metrics like clicks, conversion, shares and viewer behavior.
Making Informed Decisions Regarding Buying Video Ads
Given the size of the video advertising market:
Videos offer an incredible opportunity for you to drive traffic and customers to your business and promote a product or service.
But…
How do you ensure you're making the right decisions when using video ads?
For one, you could start off by researching how your competitors use video advertising. Just last month we released a new report in the SEMrush suite — video advertising research.
SEMrush Video Advertising Report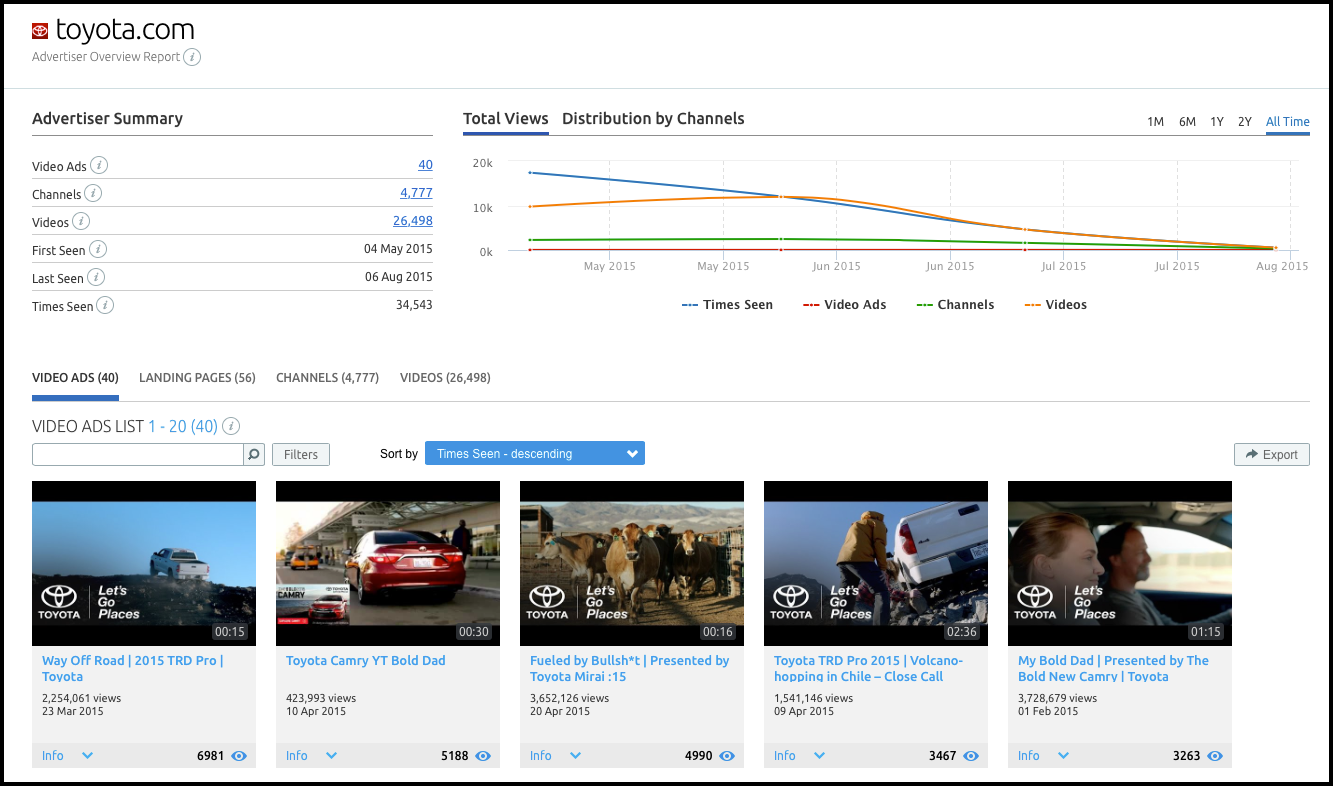 We are glad to present new SEMrush Video Advertising report. This report allows you to conduct research on other companies' video advertising strategies and find out which channels work best for them. It's a one-of-a-kind report to gather insight into your competitors' video marketing strategies.
The report reveals:
The number of various video ads they run;
YouTube Channels that displayed your competitors' video ads;
Actual video clips on which their ad was shown; and
Landing pages your competitors' video ads point to and much more.
Video Advertising Channels

The Channels report is invaluable to help you improve your ads' targeting.
One of the top features in AdWords for Video is the ability to select actual YouTube channels you want your ads to appear on. But how do you pick which channels? One way is to select your favorite ones, of course, or the ones you know your audience subscribes to. Another way is to discover the biggest channels your competition advertises on. And that's exactly what the Channel List report helps you establish.
When reviewing the report, pay attention to the following metrics:
Subscribers, telling you how popular the channel is;
Coverage by Views — the ratio between ad views and video views on a particular channel;
Coverage by Videos, revealing how many ads this channel serves out of all videos they feature; and
Video Ads — this metric reveals how many of your competitor's video ads SEMrush has found on this channel.
Video Ads and Landing Pages
Gaining an insight into how your competitors use video advertising is one thing. Seeing their ads and landing pages is another. And our new tool can deliver both.
Video Ads Report
This report displays a competitor's video ads that SEMrush has found on YouTube. Clicking on each ad displays more details about the video:
Landing page that ad points to;
The number of times SEMrush discovered the ad on YouTube;
The number of times the video ad was viewed on YouTube.
Landing Pages
Apart from the URL, our tool will also show you:
How many video ads point to this landing page; and
How many times SEMrush has found this landing page.
Final Thoughts
Fact: Video marketing is huge.
With a projected annual growth rate of 19.5% and low cost-per-view, it's no surprise more brands have begun to promote their products or services with this medium.
Now, with SEMrush you can easily research how your competitors utilize video advertising, what ads they publish and what channels bring them the best results.
If you want to get real-world, relevant answers to your questions about building brand presence on YouTube, check out recorded SEMrush webinar " Master the Art of Ranking on YouTube" with our awesome guests, Brian Dean and Tim Schmoyer!